JANUARY 9, 2016 — During the 10 years I have been writing travel essays, despite my often-introverted nature and jet-lagged induced grumpiness, I've somehow managed to make friends all over the world. Though politicians seem continually to pit countries against each other, I've discovered — as I presume most frequent travelers do — that citizenship and politics are mostly irrelevant details when you meet Kiwi families hiking over a mountain pass in Chilean Patagonia, Hong Kong students protesting a lack of true democracy in China, or a Bolivian photographer while exploring the mysterious pre-Incan ruins site of Samaipata.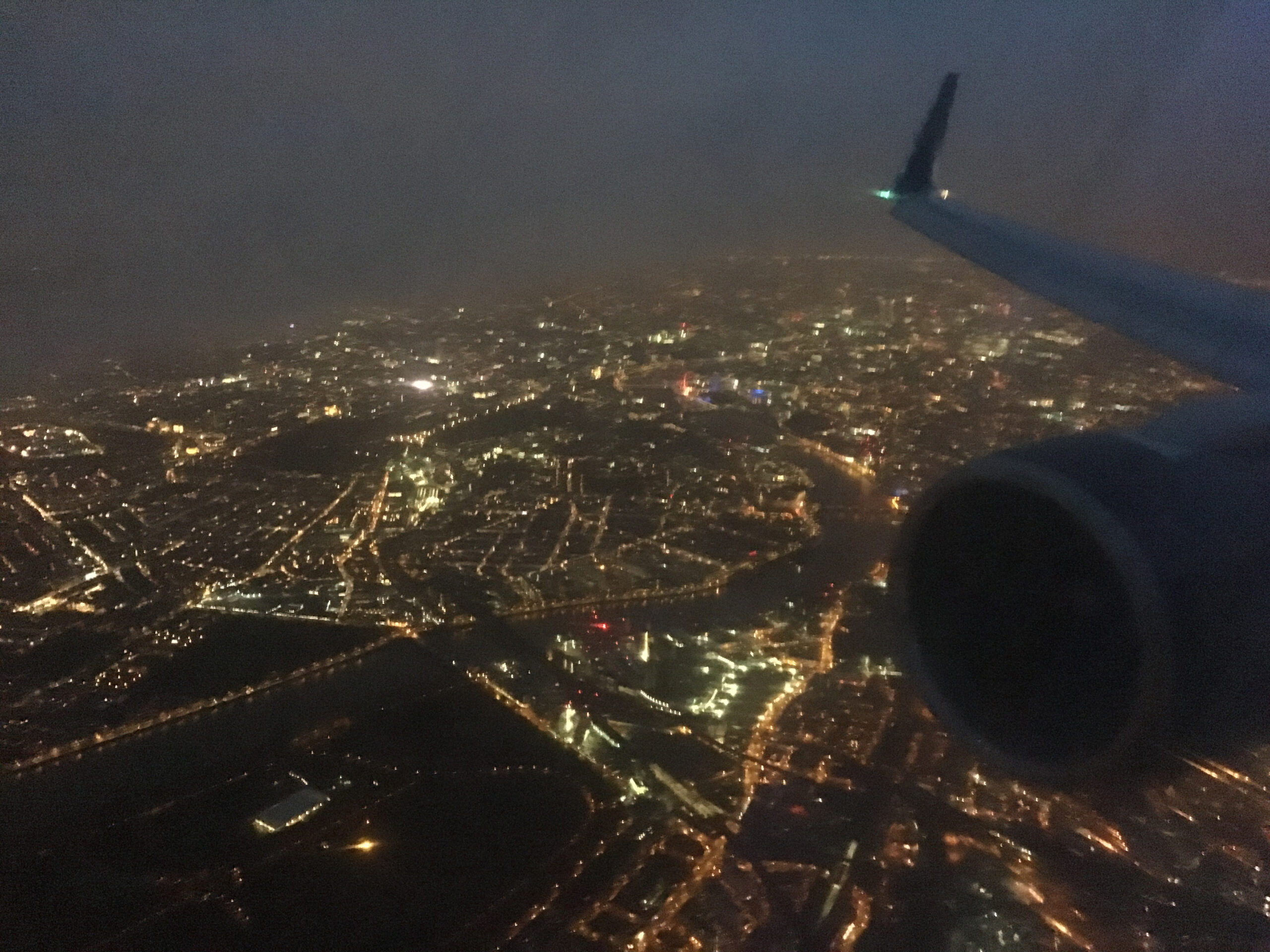 A Delta Airlines jet flies over foggy London, just before sunrise.
For years, I've dreamed about taking a complicated around-the-world journey to visit all of my foreign friends, but taking both the time and money to execute such a feat always felt like a daunting task. Nevertheless, sometime in November, it occurred to me that I had accumulated more frequent flier miles than usual during the year. After doing some quick calculations, I realized that I was "only" 25,000 flight miles shy of attaining Delta Diamond, the airline's highest elite-status tier for frequent fliers.
The thing about frequent-flier programs is that, like gambling, they're expensive games designed to incent people to spend a lot money for miniscule chances to get (sometimes dubious) rewards (free tickets and service upgrades). And, in recent years, as US airlines have consolidated, they have slowly reduced the value of their frequent-flier programs for many travelers, leaving most perks only for fliers at the programs' highest status tiers. In the case of Delta, fliers don't get much for reaching the Silver, Gold, or Platinum levels, but reaching Diamond — by flying almost 125,000 miles (or nearly 3 flights per week) in a year — has a special cachet and awards recipients four international business class upgrades on flights of any length anywhere in the world on Delta and AirFrance/KLM flights. Hypothetically, these certificates can be worth around $5,000 each, when used on the most expensive flights. Plus, Delta flight attendants are extra friendly to travelers marked as Diamonds on the flight manifest. Only an idiot would stop 25,000 miles short of reaching such a mind-blowing achievement, right? Right?!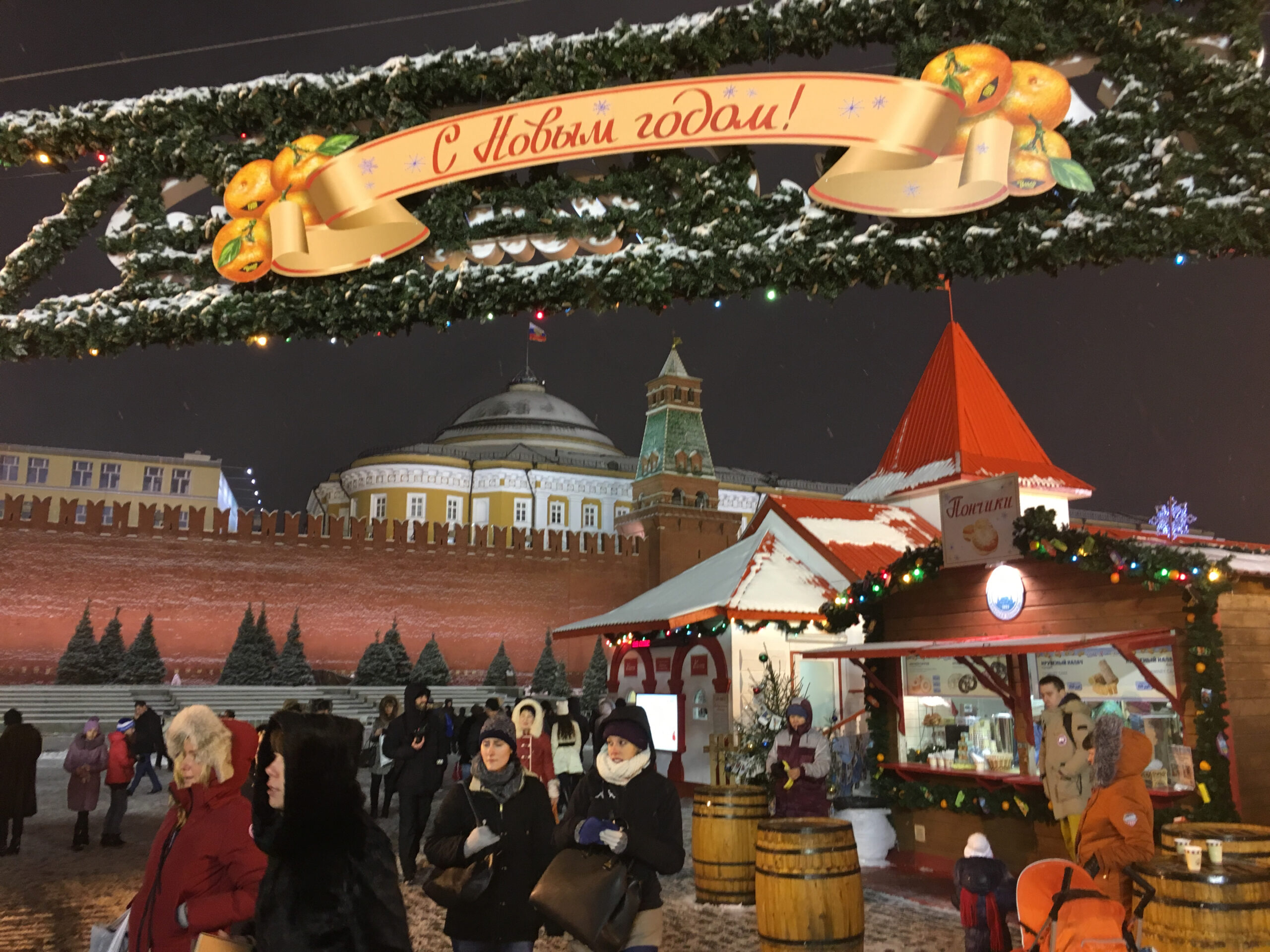 Snow falls over a Christmas market in Moscow's Red Square.
But, when I sit down to build a flight plan to reach Delta Diamond — and visit my best friends around the world, of course — I realize that my scheme won't be easy. I'll be directing a documentary film in Rio de Janeiro at the end of November, so my trip must start there, and, three weeks later, my trip must end in Buenos Aires, where I'll be meeting my family for a Christmas vacation. A sane person would simply stay in South America during the interim, but, uh… Delta Diamond.
I realize that trying to visit 50 friends spread across nearly 20 different countries will be impossible during an only three-week gap, so I quickly narrow my focus and pare down my list to ten friends spread across three countries: Russia, the UK, and Denmark. I laugh like a crazy super villain when I figure out a way — with the help of some ridiculous routing decisions — to earn 25,000 miles for this boondoggle, making my promotion to Delta royalty (and eventually to King of the Universe?) nearly inevitable.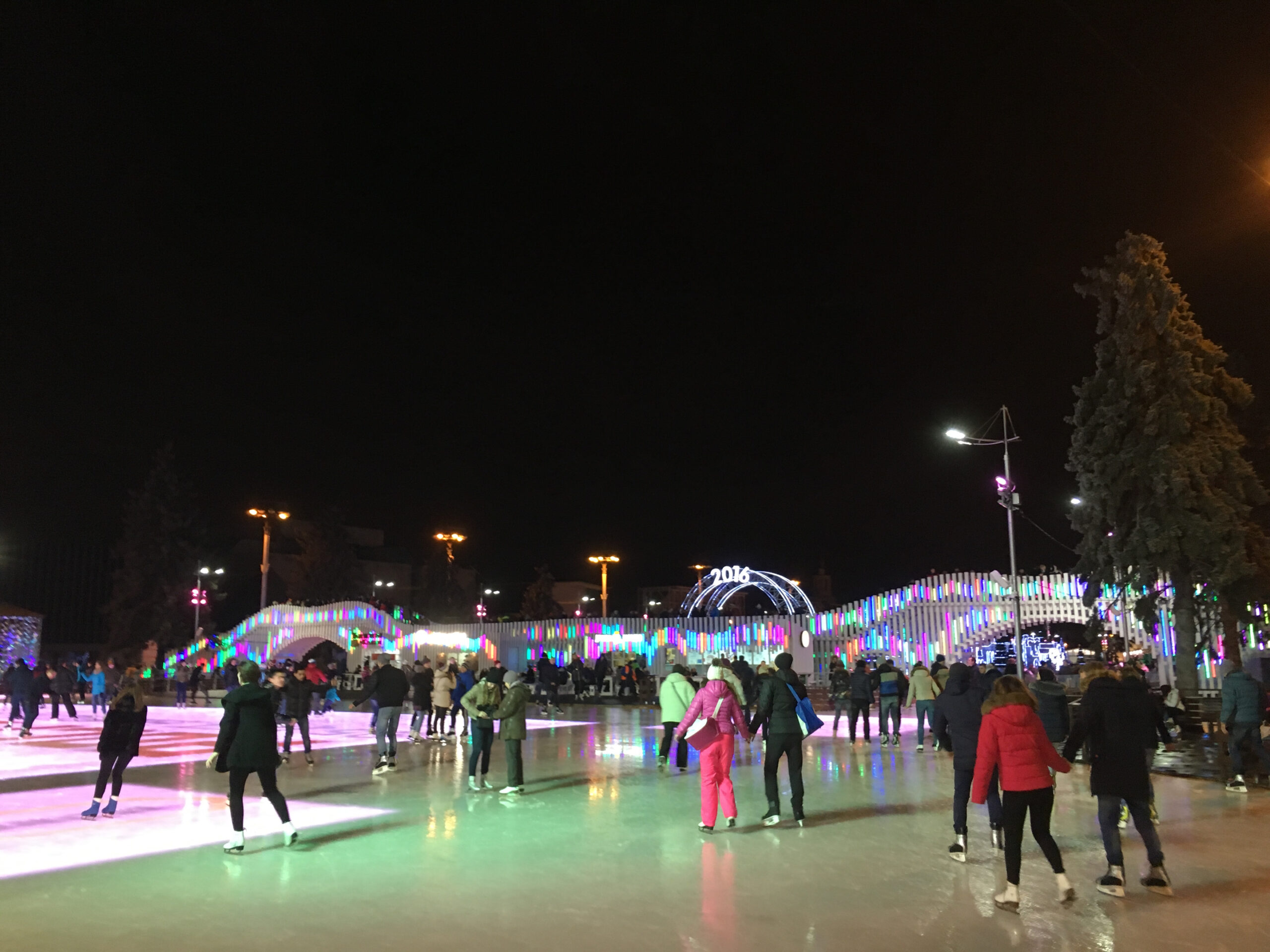 Ice skaters fill the rink at VDNKh in Moscow, Russia.
After wrapping production on my documentary film in Brazil, I jump on a flight and reach Moscow almost two days and 11,000 flight miles later — after miles-maximizing connections in Atlanta, Philadelphia, London, and Paris. When I arrive, I share a Thai dinner with Vasya, the enigmatic and enchanting Russian anthropology student who I met at a Moscow birthday party three years earlier, where she introduced me to Yuri Norstein's moody, dreamlike Tale of Tales, one of the best animated films of all time. She's even more mysterious and charming than I remember. I go ice skating at the huge VDNKh ice rink with Irina, a Russian makeup artist who I met while hiking the Three Passes trek in Nepal's Everest region. I also grab dinner with Ira and Olga — two fun-loving bankers who stayed at my apartment once during their dream trip to Los Angeles. Afterward, Ira and her banker friends Vadim and Anya take me to sing Russian karaoke. It turns out that my decision to learn the Russian alphabet a couple years before pays off in a big way: I can sing all the Russian karaoke lyrics without a hiccup, though I have no idea what any of the words actually mean. But the bankers are impressed, until, at 5 AM, I can't drink any more vodka and can no longer hold my eyes open.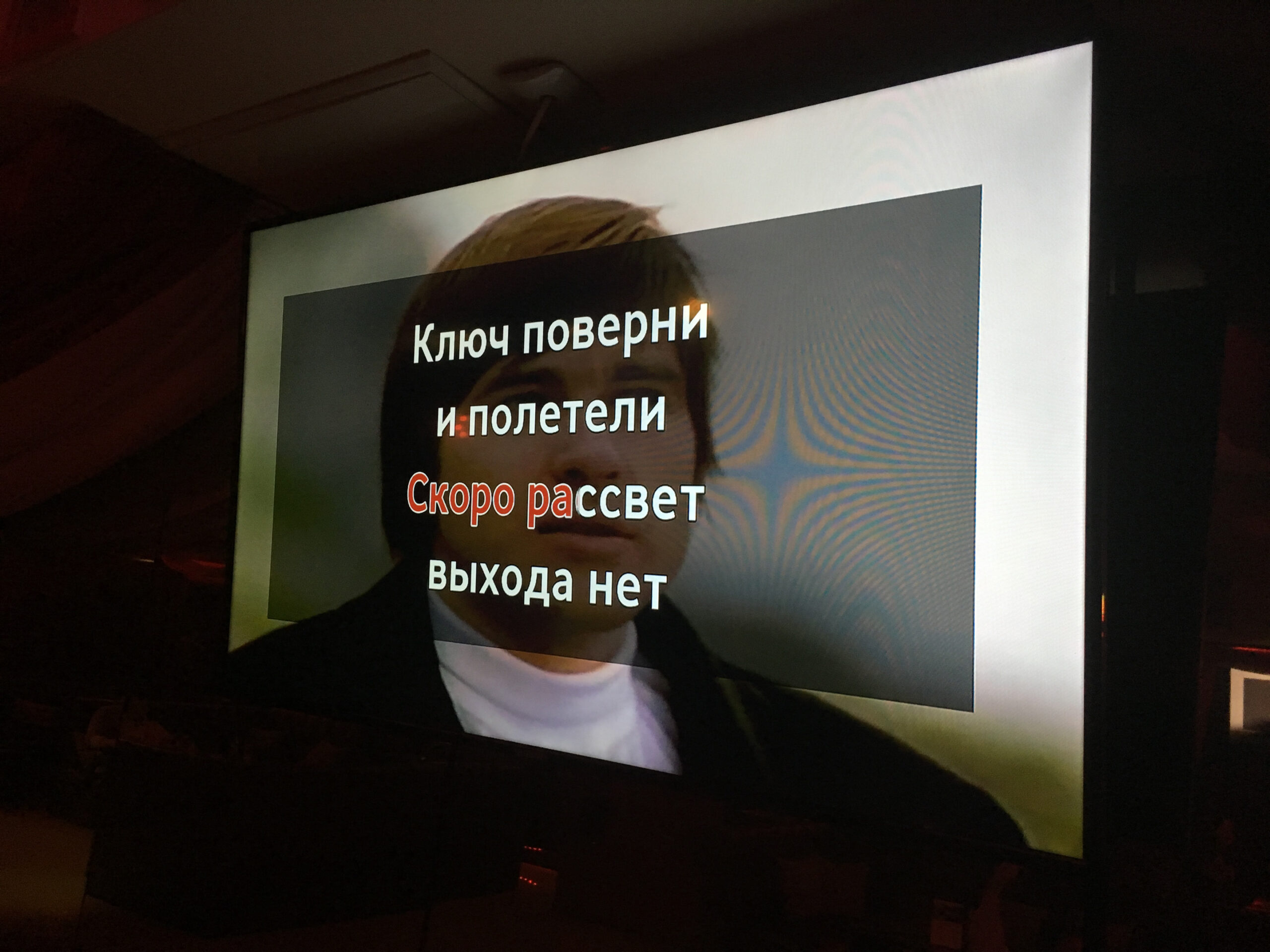 Russian karaoke is easy if you've learned the Russian alphabet.
Later in the week, I invite some of my favorite people in the world: journalist Misha, his librarian girlfriend Dasha, and health inspector Marina, to play Camel Up, a board game that I've stuffed into my suitcase for entertainment during my trip across Europe. I met Misha and Dasha while working on a TV show in Moscow a few years ago, when the two took me to a vacation house (a dacha) outside of Moscow, where I got a chance to eat shaslik (Russian barbecue) and was almost boiled alive in a Russian banya (bathhouse). Marina, of course, is the Russian medical student who taught me a host of Russian curse words and introduced me to Cheburashka, the small, bear-like animal who is kind-of like Mickey Mouse's Russian cousin and the unofficial ambassador for Russian friendship. Our game of camel-race betting becomes surprisingly competitive — especially for people from countries where camels mostly aren't culturally relevant. Even at 2 AM, when I try to kick everyone out of my apartment and go to bed, Misha demands that we play three more games. I suspect that he doesn't want to sleep until he wins.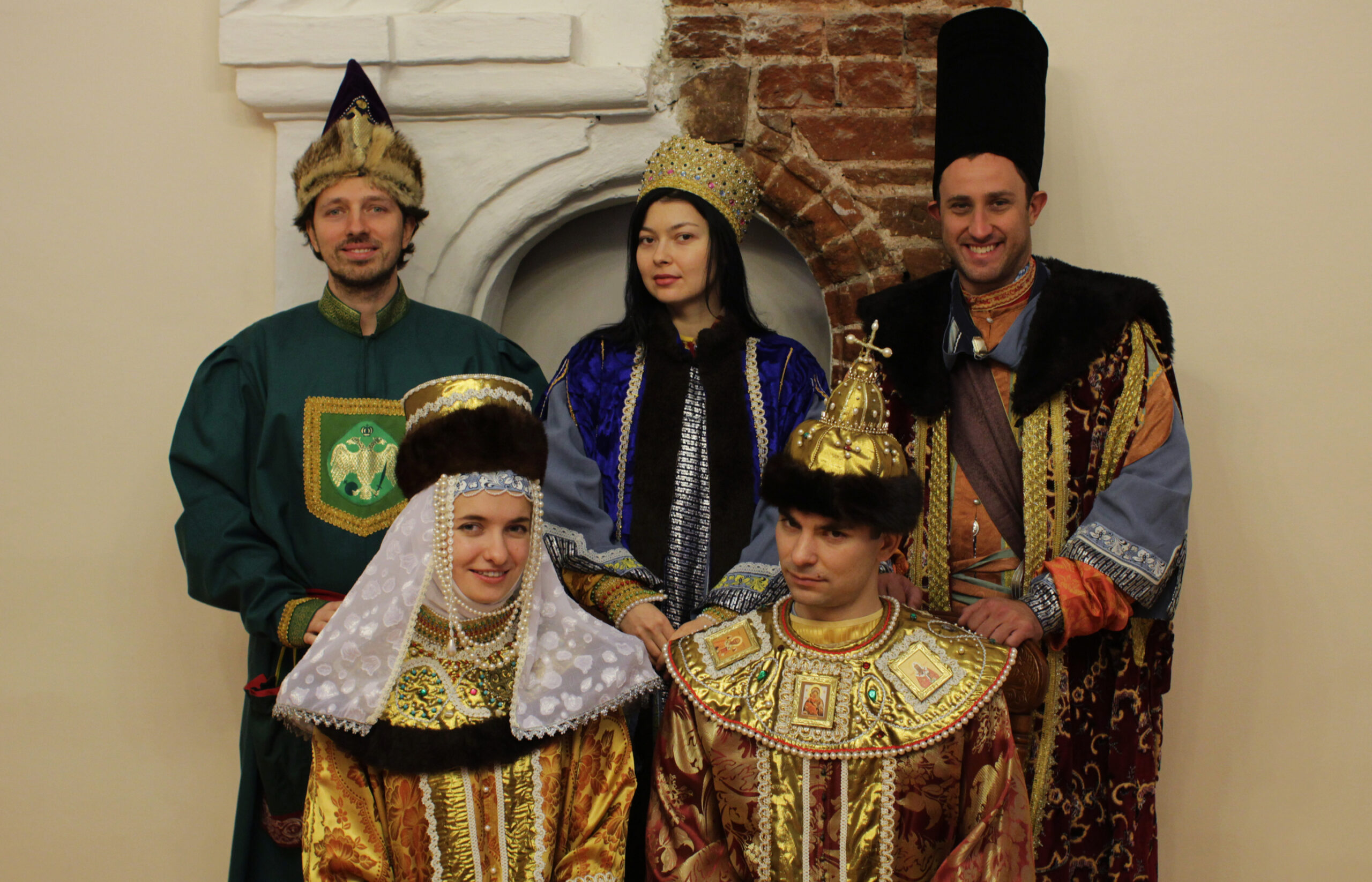 My Russian friends and I wear traditional, 17-century Russian clothes.
"On Friday, we're going on a Russian costume tour! Hope you haven't any plans," Dasha says before they leave.
Two days later, Misha, Dasha, and I meet at the Kropotkinskaya Moscow Metro station, and we walk to the Averky Kirillov Chamber, a house and museum built in the 17th century, sitting on the edge of the Moscow River. There, we meet three of Dasha's friends: librarian Arina, filmmaker Artem, and Russian folklorist Vanya. Vanya, one of Dasha's friends from grad school, tells us that he'll be our guide for the day, and he starts by explaining to us that 17th-century Russian noblemen wore many layers of clothing to show off their enormous wealth. After calling me to the front of the room, he hands me a cotton, white undershirt, with arms three times longer than mine and tells me to put it on. I look at him quizzically, worried that my Russian friends are trying to trick me into putting on a straitjacket so they can send me to a mental hospital for connecting through four unnecessary cities on the way to Moscow to reach the questionable honor of Delta Diamond.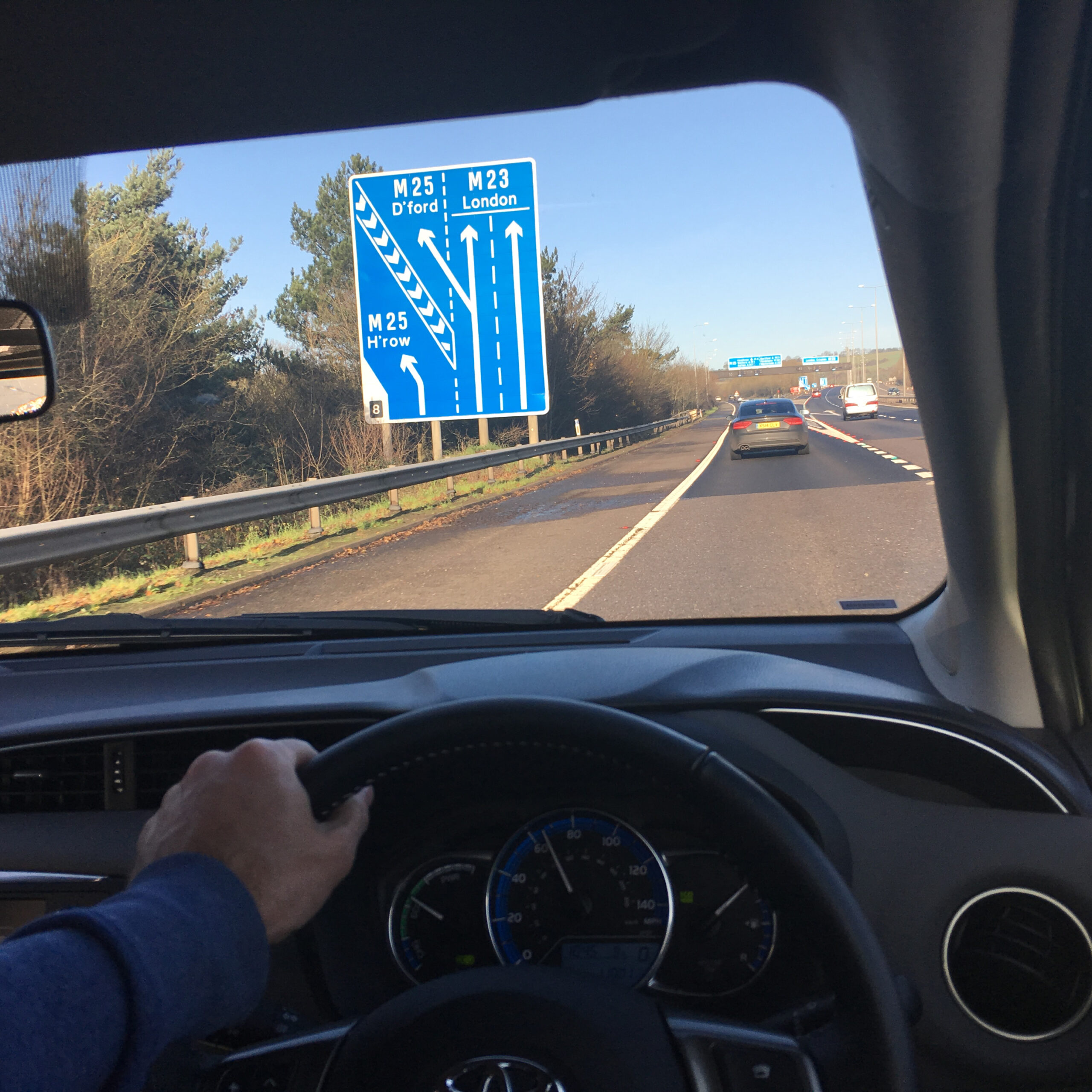 British cars have their steering wheels on the right side.
"Clothing was extremely expensive back then," Vanya explains when he notices my suspicious look. "The shirts had very long arms so, as the cuffs became worn, they could be cut off without having to purchase an entirely new shirt." He folds the shirt's sleeves back so they appear to be a normal length on my arms. Then, he hands me a red, cotton shirt and a "prince" shirt, and then adds a kaftan, chugha, and yepancha, which are all intricately embroidered jackets of increasing tail lengths but diminishing arm lengths (so the many layers of clothing underneath can be seen). Finally, he tops-off my outfit with a shuba (a lavish fur coat) and a gorlatnaya, a 3-foot tall, black hat, also known as a boyar. My Russian friends seem delighted that they're getting to use me as a Russian costume doll, and, for a moment, I feel like I've accidentally walked into an episode of a Russian candid camera show called What's the most ridiculous thing we can convince an American to do? But, my fears are quickly quelled when Vanya proceeds to dress all of the Russians in the room in similar traditional costumes. When, at the end, we all take a bizarre photograph together dressed as 17-century aristocrats, I don't feel like I'm being ridiculed. I feel like I've found my way home — to my wacky, fun-loving Russian family.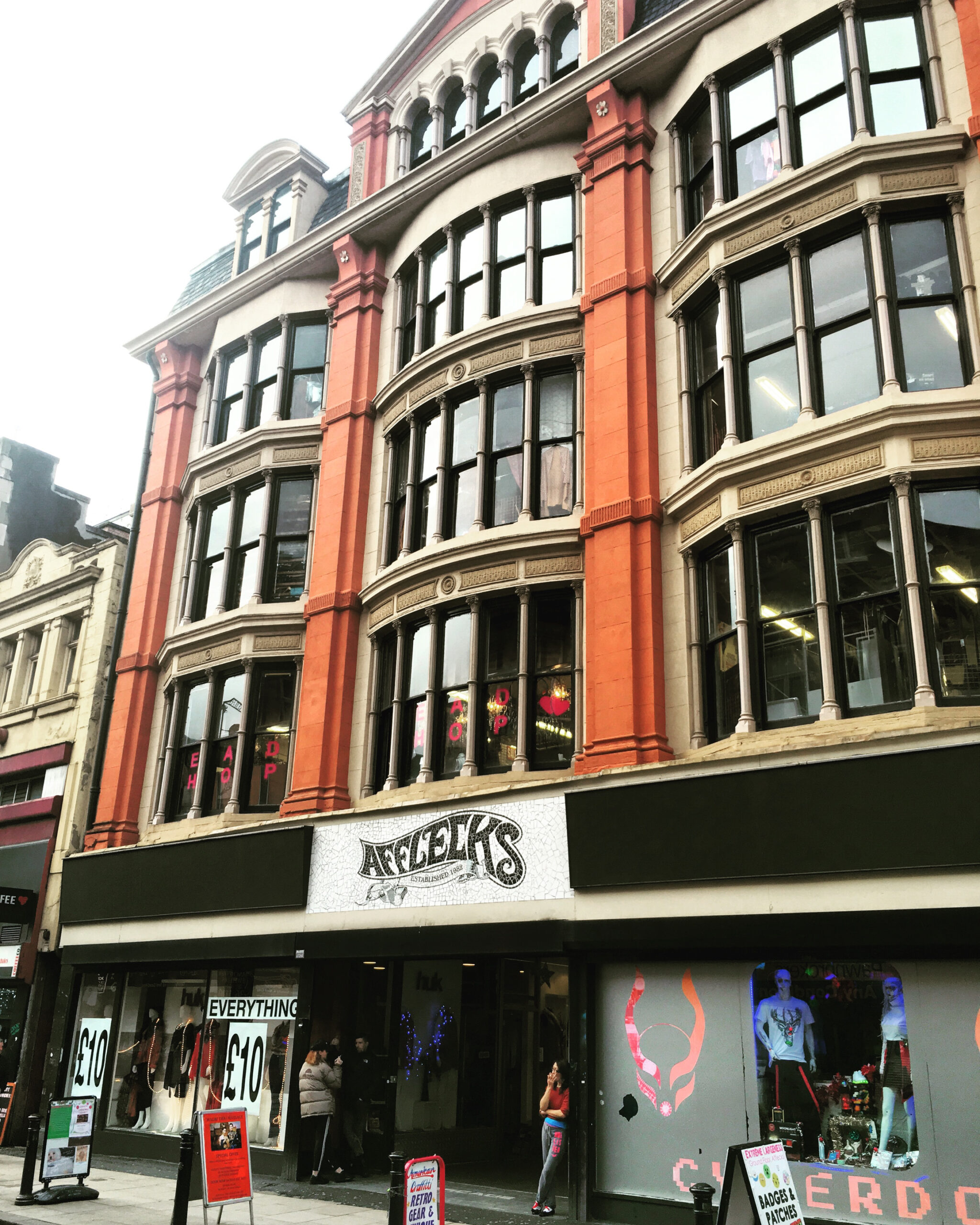 Afflecks, an edgy mall in Manchester, UK, is one of the the band Oasis's old stomping grounds.
After a week in Russia, I get 1,700 miles closer to Delta Diamond by flying back to London, where I stop to grab an Indian dinner — I always eat Indian when visiting the UK — with Chloe, a spunky music producer who I met once while traveling through Mexico's Yucatán Peninsula, and Connie & Silvia, the British duo who helped save me from going crazy while working in Fiji a couple years ago and later met me for a whirlwind tour of London.
The next day, I decide to take a big risk and go on a road trip to Manchester. The idea is risky because, well, not only are British steering wheels on the wrong side of the car, which is terrifying, but the British also drive on the wrong side of the road, which is extra terrifying. In addition, Hannah, the person I've decided to visit in Manchester, is only an aquaintance, who I met in Spain while we were hiking the Camino de Santiago. She and her boyfriend, Arnaud, were exceptionally kind to me when we met during one of the low points of my trip after a particularly long and rainy day on the Camino. The three of us ate dinner together that night, and, when Hannah and I got into a heated discussion about the differences between American and British humor and the plot intricacies of Battlestar Galactica, I had a sneaking suspicion that we needed to be friends forever. But, the next day, I fell behind the two of them on the trail and never saw them again.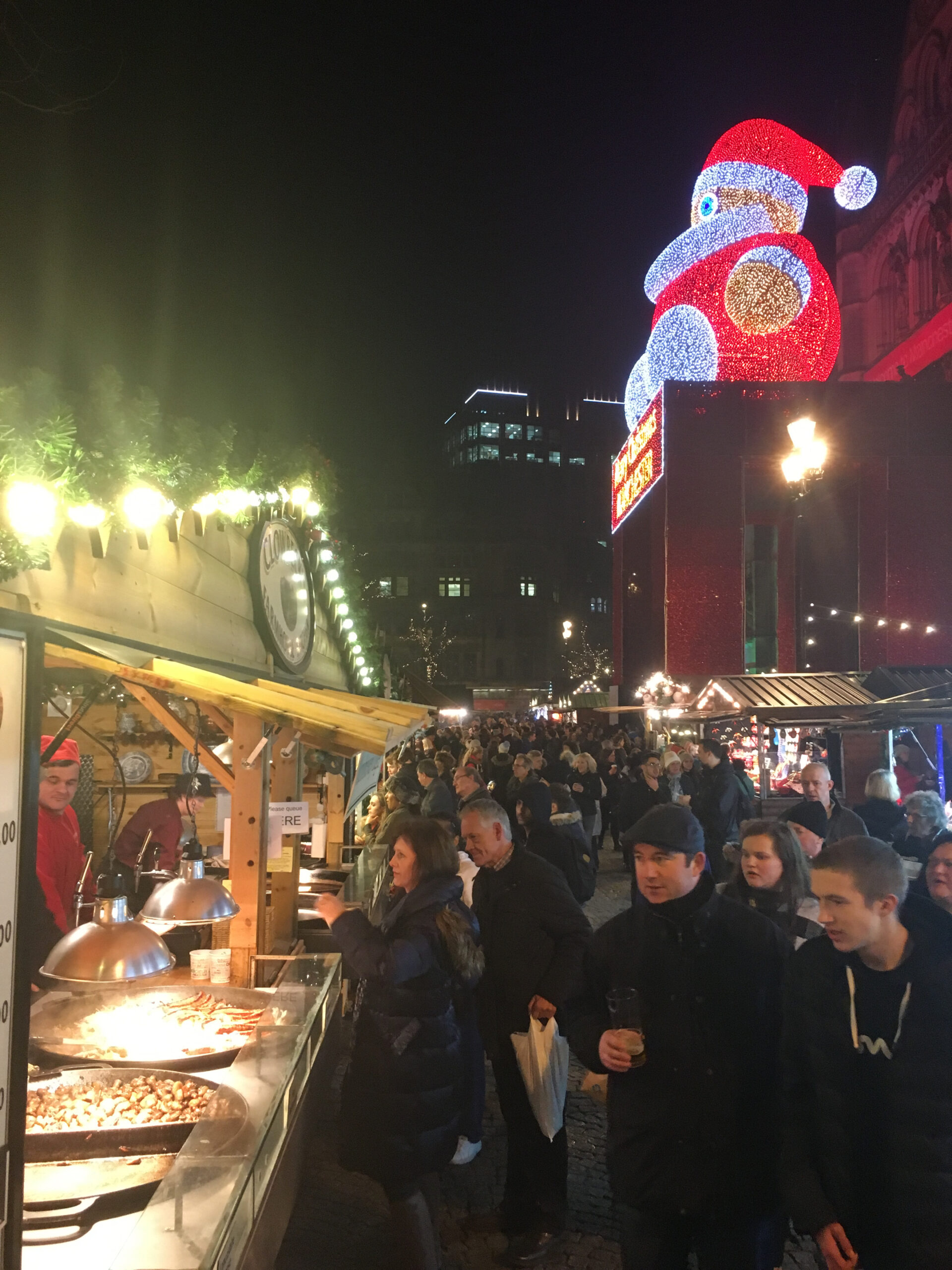 A huge Santa Claus made of lights presides over a Christmas market in Manchester, UK.
So, when I meet Hannah in Akbar's, an Indian restaurant in Manchester (look, Indian food in the UK is really good), I have no idea what's going to happen, but it's obvious immediately that my nervousness is unfounded. She kindly ignores the copious amount of curry I'm shoving into my mouth, and it's clear that — except for some extreme bouts of admitted road rage — she's as empathetic as I remember. Chatting with her feels like talking to an old friend I've known for years — albeit a quirky British friend who thinks sarcasm is "cheeky," when you're tired you're "knackered," cool stuff is "ace!", and exploring is the same as "going for a wander."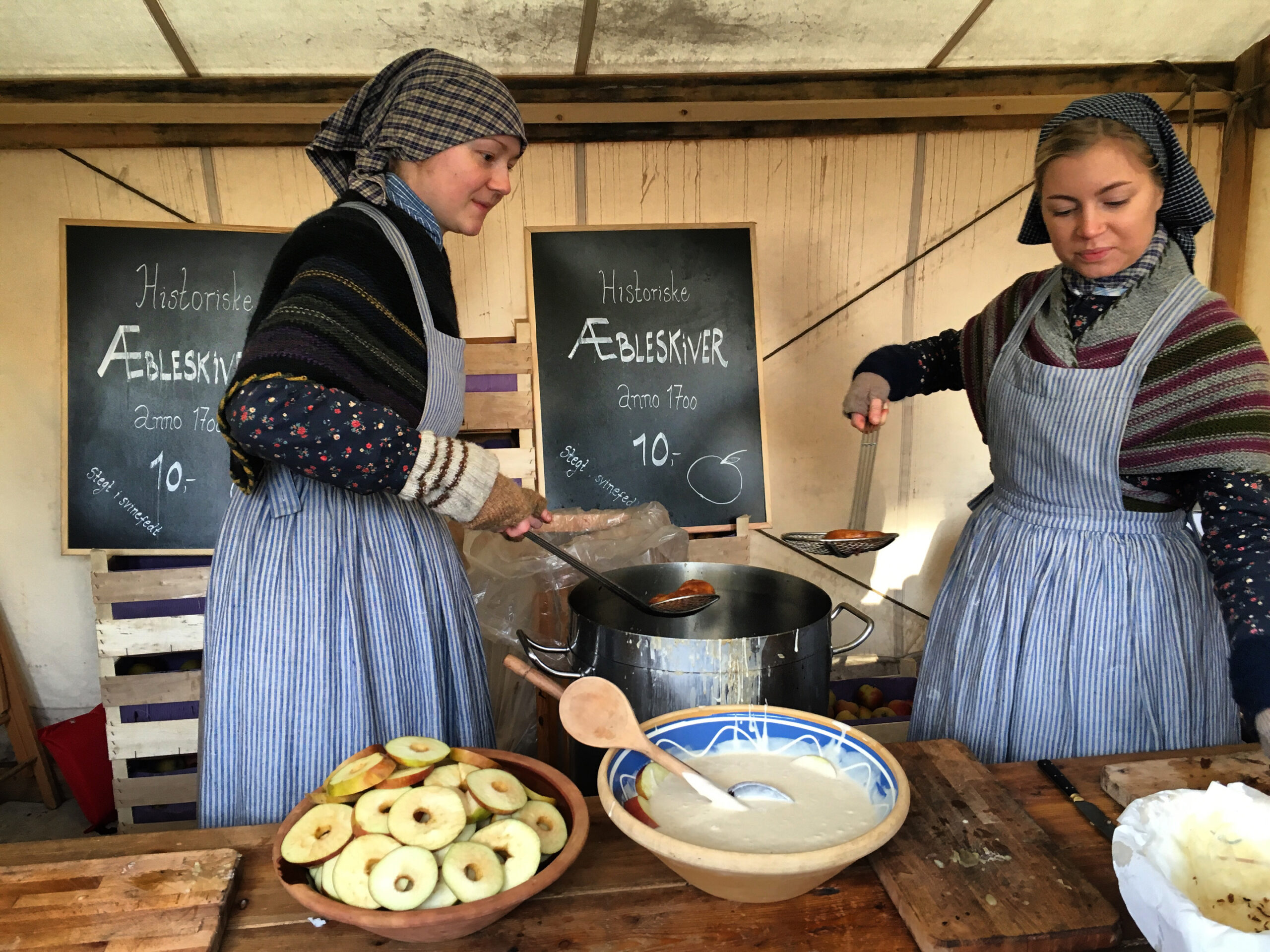 Danish women make Ableskiver, a traditional apple donut made at Christmas time in Den Gamle By, an open-air museum in Aarhus, Denmark.
The next day, while I'm going for a wander through the city — which for me means visiting all the places that the Manchester-based band Oasis used to hang out (Piccadilly Records, Dry Bar, and Affleck's Palace on Oldham Street) — Hannah texts me and suggests that we meet again in the evening, this time under a giant, lit-up Santa Claus in the city's Christmas market. We spend a couple hours walking through the market, drinking mulled wine and cider, discussing the greatness of Disneyland (distinctly American) and Roald Dahl (oh so British). It's ace.
In the morning, I get 600 miles closer to Delta Diamond by flying from London to Copenhagen. After taking the train to Aarhus, Denmark's second largest city, I meet Frederik, another friend I met in Spain while hiking the Camino de Santiago. He takes me to Den Gamle By, a fascinating open-air museum of urban Danish history made up of 75 historical buildings collected from all over Denmark and moved into a single town. Afterward, I ask to visit a beach, since it's not often that I'm standing on Jutland, the Danish peninsula surrounded by the sea. We walk north, on white sand beaches next to swaths of golden grass, along the Bay of Aarhus toward Kalø Cove, a small inlet surrounded with a medieval castle sitting at the end. It's a surprisingly sunny and clear day for a Danish winter, and Frederik seems surprised.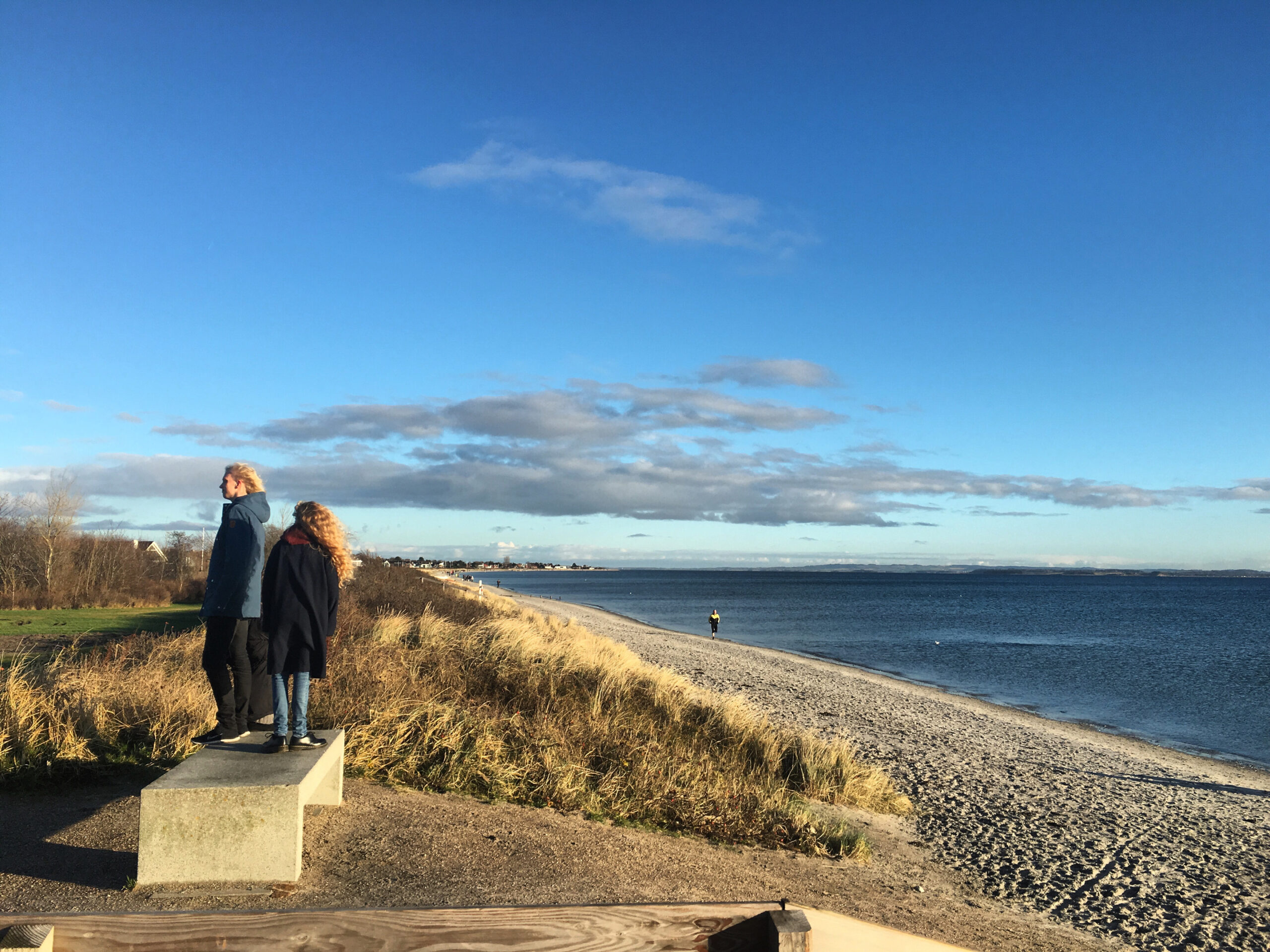 Sun shines on an uncharacteristically beautiful winter day in Aarhus, Denmark.
"Wow, I really should do this every weekend," he says. "It's beautiful out here."
"I always do the best stuff in Los Angeles when visiting friends force me to," I agree.
Afterward, I'm on the train back to Copenhagen for a few final days of relaxed, introverted sightseeing by myself, when I get a text from my friends Simona and Petra, two Slovak university students who I met in Los Angeles. They've been following my whereabouts on Instagram quite closely, and they tell me to immediately get off the train before Copenhagen in Odense, where — surprise! — they're waiting for me. When I get off the train, the girls are on the train platform clearly delighted with themselves: smiling, laughing, and holding a cardboard sign reading, "Hank from LA ♥." Quickly, we take a whirlwind walking tour of the city, visiting Hans Christian Anderson's house, devouring an enormous Italian meal ending with lots of gelato, and drinking glögg (Nordic mulled wine with raisins and almonds) in a minimalist furniture store. (Yeah, it didn't make sense to me either at first, but budget-conscious students have a knack for finding free alcohol, and we had so much fun that I found myself kicking myself for not working these two into my trip plan originally.)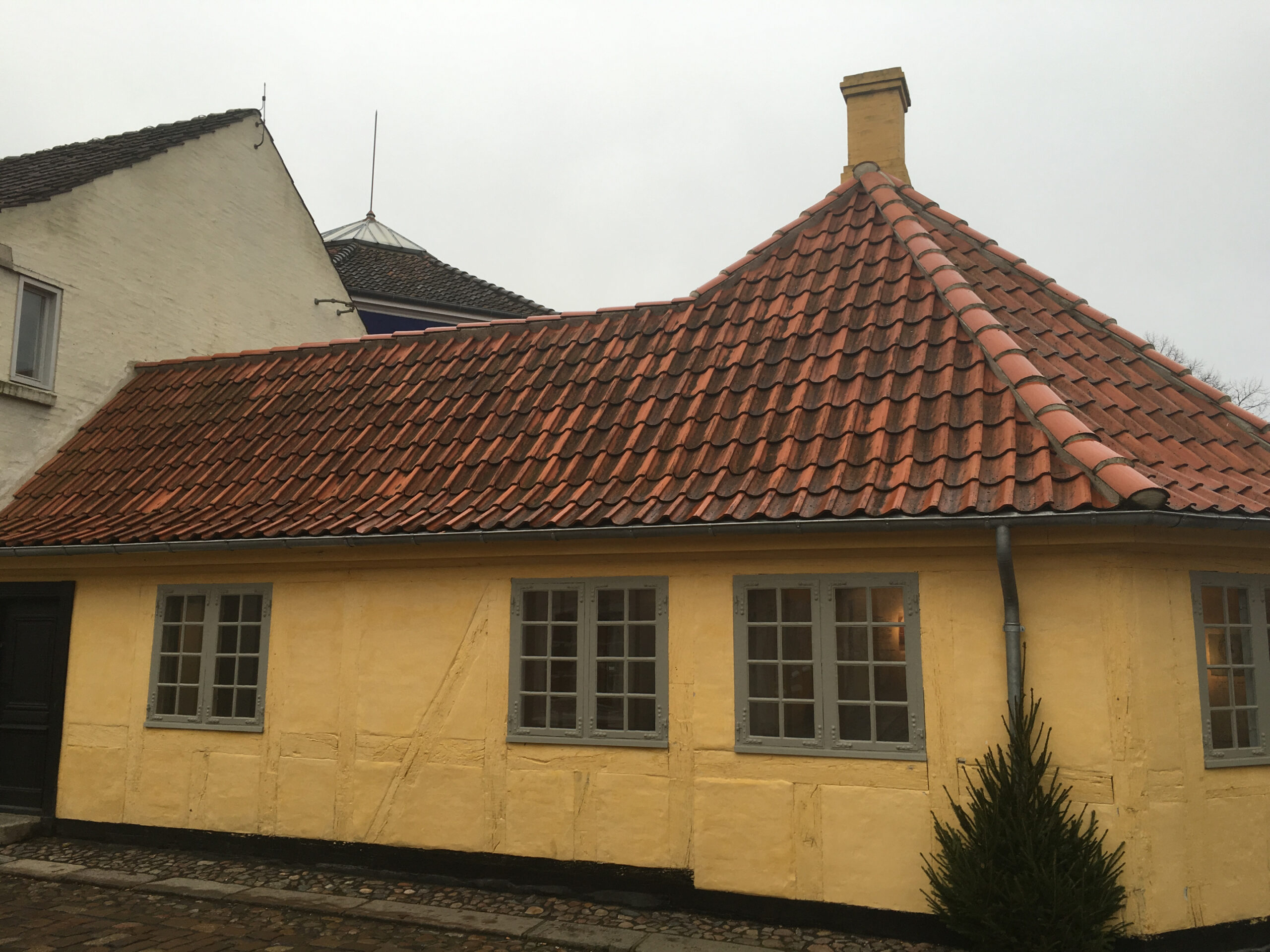 Hans Christian Anderson's house sits on Rådhuspladsen Street in Odense, Denmark.
Eventually, I return to Copenhagen, where I then fly 9,800 miles (via London and Atlanta) to Buenos Aires to meet my family for our Christmas vacation, leaving me about 3,000 miles short of Delta Diamond. But, on December 31 at 9:15 PM, with less than three hours remaining before Delta's 2015 flight mileage credit deadline, my 4,999-mile flight from Buenos Aires back to Atlanta takes off. While cruising somewhere over the Caribbean Sea on New Year's Eve, as 2015 turns into 2016, I reach the 125,000-mile Delta Diamond goal. No sirens go off, no confetti falls, and no flight attendants rush over with a trophy. Everyone's asleep.
You might think that, after so much work, I would have been disappointed by the lack of fanfare. I wasn't. By then, I didn't care much about Delta Diamond.
For three rewarding December weeks, I got to spend all of my time with some of my best friends in the world.
Europe Couchsurfers Train Trip Details