TOMALES BAY and KINGS CANYON NATIONAL PARK, California — "You're American?" my New Zealand helicopter pilot asks. "Just promise me you're not going to vote for Donald Trump, and I'll happily fly you to the hospital."
I try to force out the best laugh I can muster, despite the excruciating pain I'm feeling. Though breaking my leg in the middle of my epic, 1,300-kilometer hiking and paddling trip across New Zealand's South Island has been one of the most dramatic events of my life, it's clear that, for my paramedic and helicopter pilot, pulling up an injured an American hiker with a winch and shuttling him to a hospital is a typical day at work.
"I promise," I say. "I won't vote for him, and I don't think any thoughtful people will."
"To the hospital then," he says. "We consider the election an American IQ test."
At New Zealand's Greymouth hospital, the doctor informs me that my fall from a steep river embankment resulted in a fibula spiral fracture. She quickly decides to send me by ambulance to an orthopedic surgeon in Christchurch, who tells me that she'll need to insert screws and a titanium plate into my leg to make sure my bone heals correctly. I'm relieved when I'm told that New Zealand's accident insurance will completely cover the cost of my rescue and treatment — a taste of governmental compassion that would surely shock and offend Donald Trump.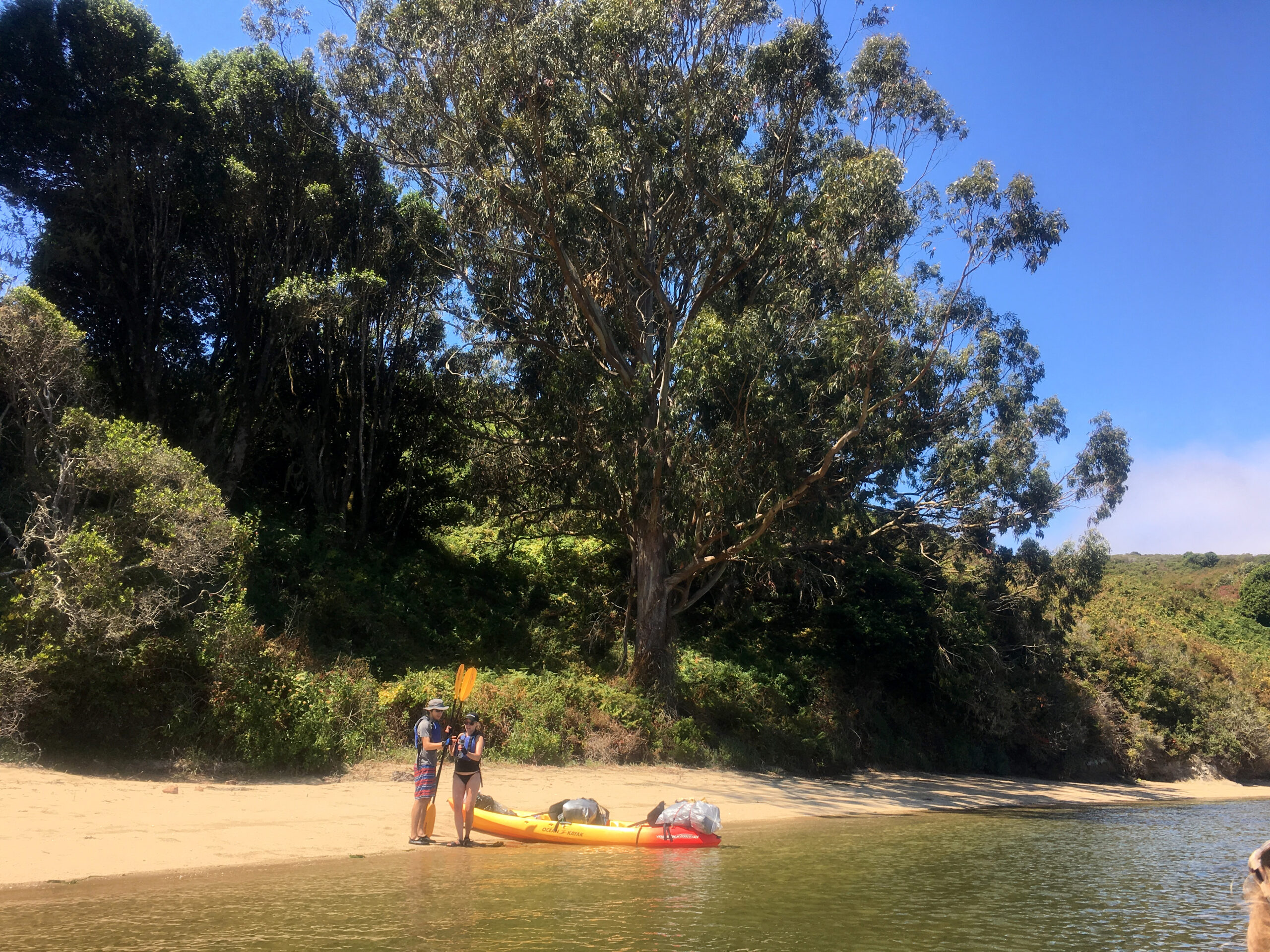 Kayakers get ready to launch from a beach in Tomales Bay, California.
The doctor tells me that I won't be able to leave New Zealand for two weeks after my surgery, erasing my fears about never being able to meet up again with the friends I met here. My kiwi friends Brittany and Andy — dubbed my "logistics team" due to the considerable help they gave me to keep my backpacking trip running smoothly — visit me in the hospital immediately after my surgery, carrying bags of my favorite gummy bears (Haribo Sweet & Sour, which are not sold in the United States). The three of us spend time catching up and hanging out with my hospital roommate, a cranky but loveable 70-year-old plumber named Jim, who manages to fight with every member of the hospital staff who tries to help him. A few days later, I leave the hospital's horrible food behind and move into Christchurch's excellent The George hotel, where I sleep constantly and survive on hotel room service. Some of my friends tell me that they're somewhat jealous that I'm living out their secret fantasy of living in a hotel room, binge watching television shows while getting breakfast, and lunch, and dinner, delivered in bed. Of course, I quickly point out that they're wrong to fantasize: the novelty of my experience wears off in a couple days and immediately gives way to utter misery about being trapped in a hotel room in one of the world's most beautiful wilderness-adventure destinations.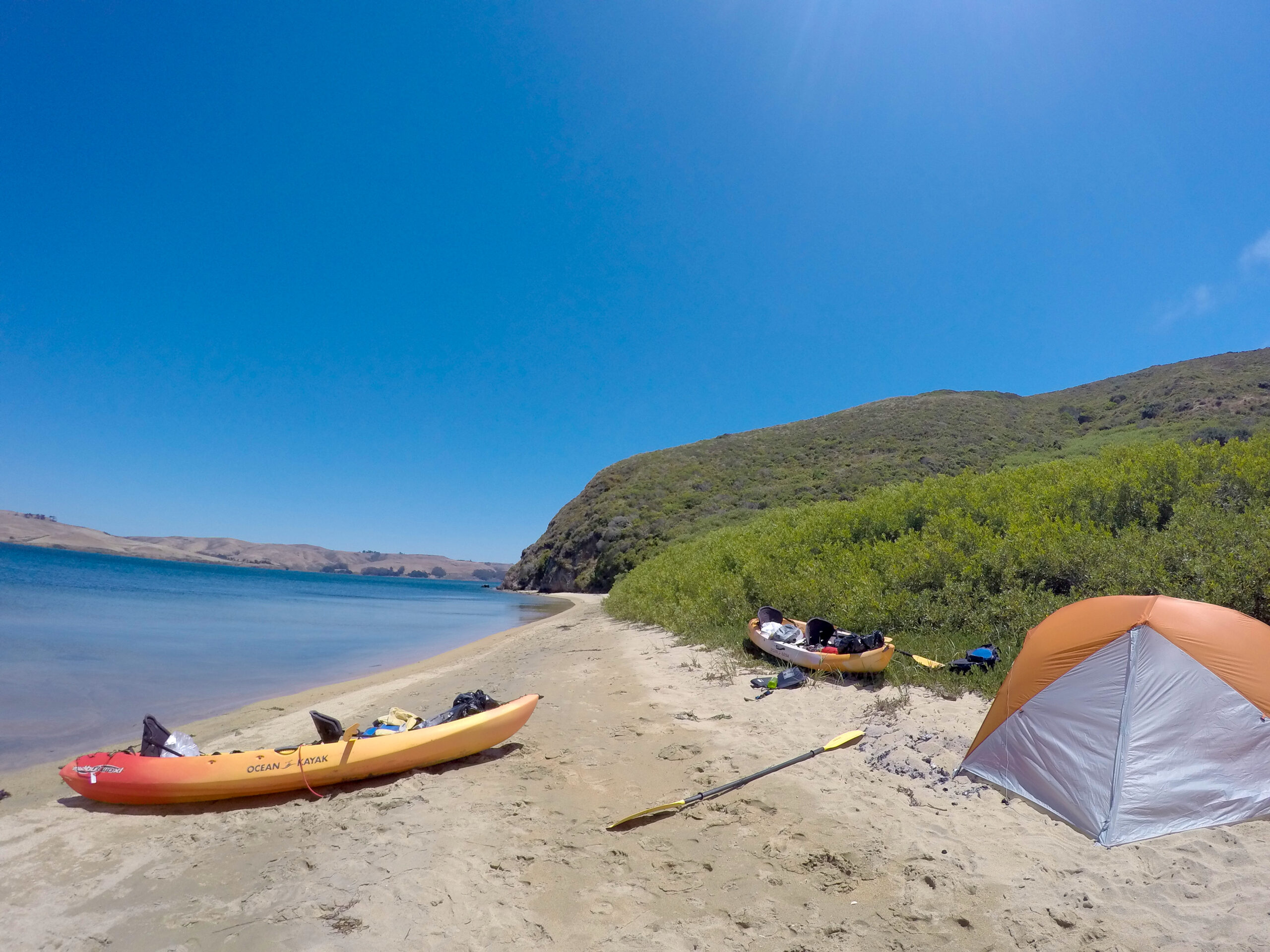 Kayaks and a tent sits sits on a beach in Tomales Bay, California.
I get some reprieve from my frustration when German couple Carsten and Lena, who I met while hiking the notorious Richmond Range, visit Christchurch to take me to dinner. I'm sad to hear that they've temporarily stopped walking the Te Araroa after a knee injury has prevented Carsten from hiking. A few days later, Charlotte, the French wilderness guide I met while hiking in Arthur's Pass National Park, surprises me by showing up in Christchurch. I've been dying to feast upon some good ramen since starting hiking in New Zealand, so, the two of us go out to dinner at a nearby Japanese joint called Samurai Bowl. Charlotte has never eaten ramen — apparently, ramen and chopsticks lessons aren't common in the French Alps — but, after some prodding, she immediately becomes a fan (of ramen, not chopsticks).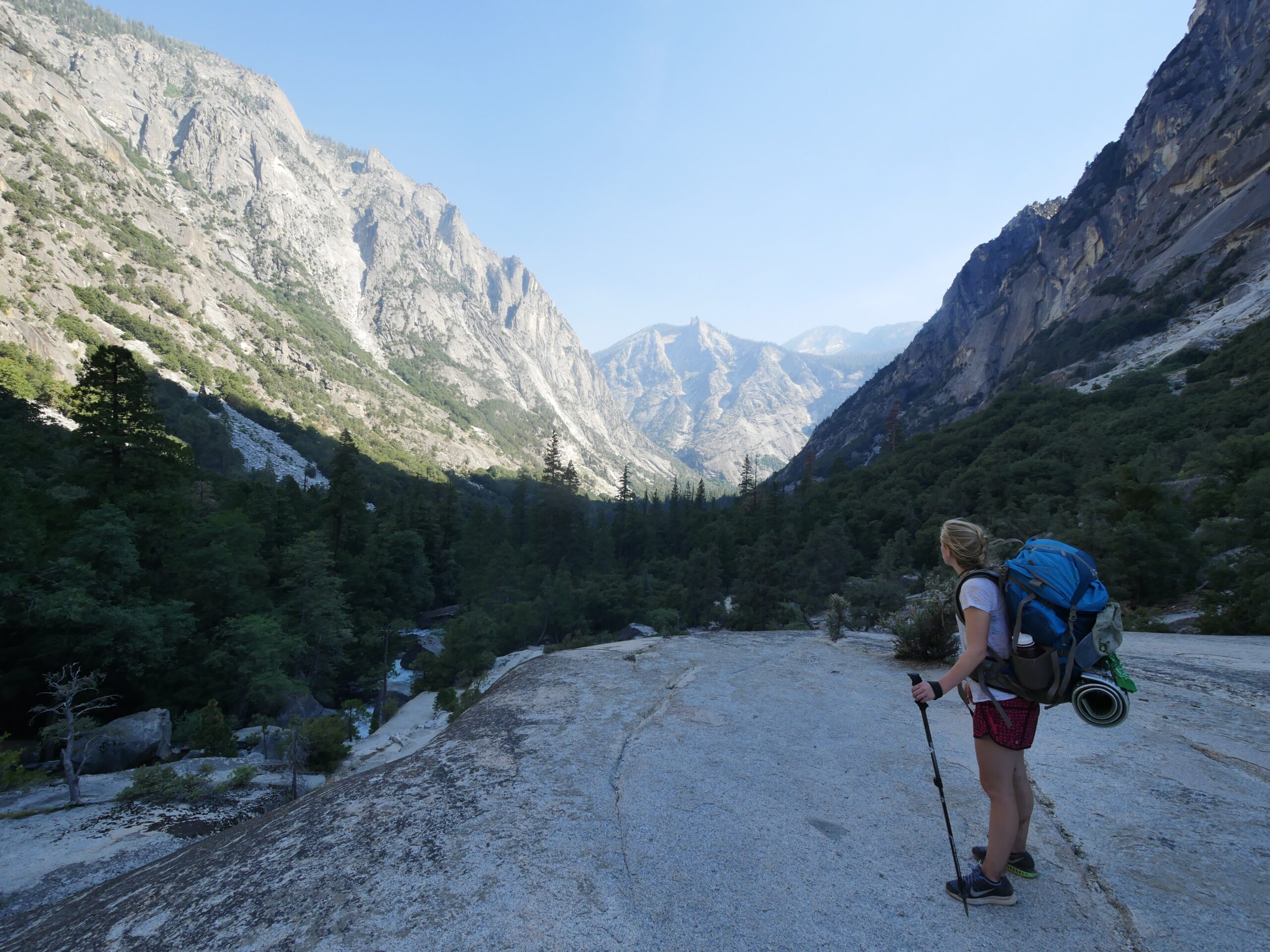 A hiker looks at a view of mountains in Paradise Valley, Kings Canyon National Park, California.
"What's going to happen to all of your food drops?" Charlotte asks, as we eat. Before starting my bid to traverse the South Island, I sent eight boxes, filled with food, to locations across the island to pick up along my route.
"They're all sitting in the middle of nowhere in the wilderness," I say. "I have no way of getting them now."
"I could probably find them," Charlotte says with a mischievous smile.
"I can give you the coordinates to them if you want," I say. "If you're able to get any of them, they're yours."
So, after Charlotte charitably pushes me in a wheelchair to New Brighton beach so I can get some fresh air and do some grocery shopping — grocery stores are surprisingly exhausting to navigate on crutches — Charlotte heads off across New Zealand on a grand scavenger hunt to find my remaining food drops.
When my doctor finally clears me to fly back to Los Angeles, I spend most of the next two months editing a documentary film in my apartment, immobile. My friends' foolish jealousy at me getting to work from home continues, while I slowly go crazy because I'm unable to do any hiking or even drive my (stick shift) car to my favorite cafes. Though I'm devastated that I'm sitting in my Los Angeles apartment instead of completing my route across New Zealand, Charlotte manages to warm my heart and keep my spirits high with messages from New Zealand. As the weeks go by, she continually sends me photo and video updates of her impressive New Zealand adventure to find (and eat) my obscurely-located food drops.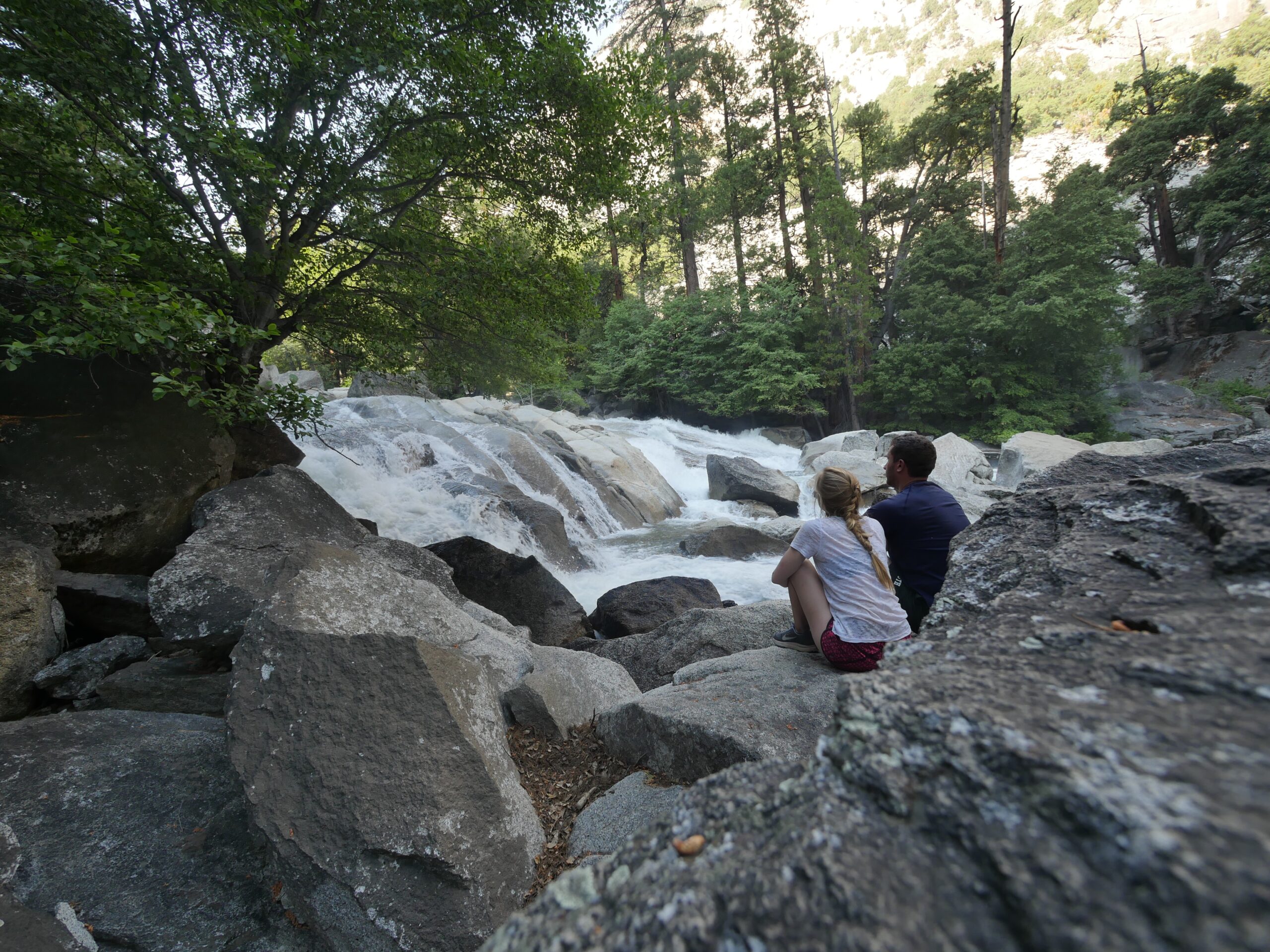 Hikers sit next to the Kings River in Kings Canyon National Park, California.
"I think this is the most incredible trip I have done in New Zealand," she tells me in a message one night after finding one of my food boxes in a remote location on the edge of a lake and then climbing to the top of a nearby mountain. "You should come back. Everybody misses you here. Even the trees, the possums, the sunbeams, and the flowers are whispering your name. And the ravines miss you a lot too." I know that she's right. I'll have to return.
After an additional surgery and nearly three months of recovery, my leg becomes strong enough to walk almost normally. When I go to film my college friend Susan's wedding in Seattle, I have enough stamina to kayak on Lake Union and bike for a few hours on Bainbridge Island with my friend Anna. I feel even more inspired when I receive word that Carsten and Lena managed to finish their 3,000-kilometer Te Araroa hike, after they gave Carsten's knee a couple weeks to rest. By the time July 4 weekend arrives, I'm feeling ambitious enough to head out on my yearly Independence Day kayak-camping trip. My friends — Parker, a youth pastor from Alabama; Samantha, an actress from Austin; and Whitney, an architectural engineer from Texas — and I drive to Tomales Bay in Northern California, where we strap our backpacking gear onto kayaks and paddle seven miles to a boat-in-only campsite on the Bay's western shore. In keeping with our yearly tradition, we spend the night eating pie and watching fireworks from the beach, with a toasty campfire and hot chocolate to keep us warm.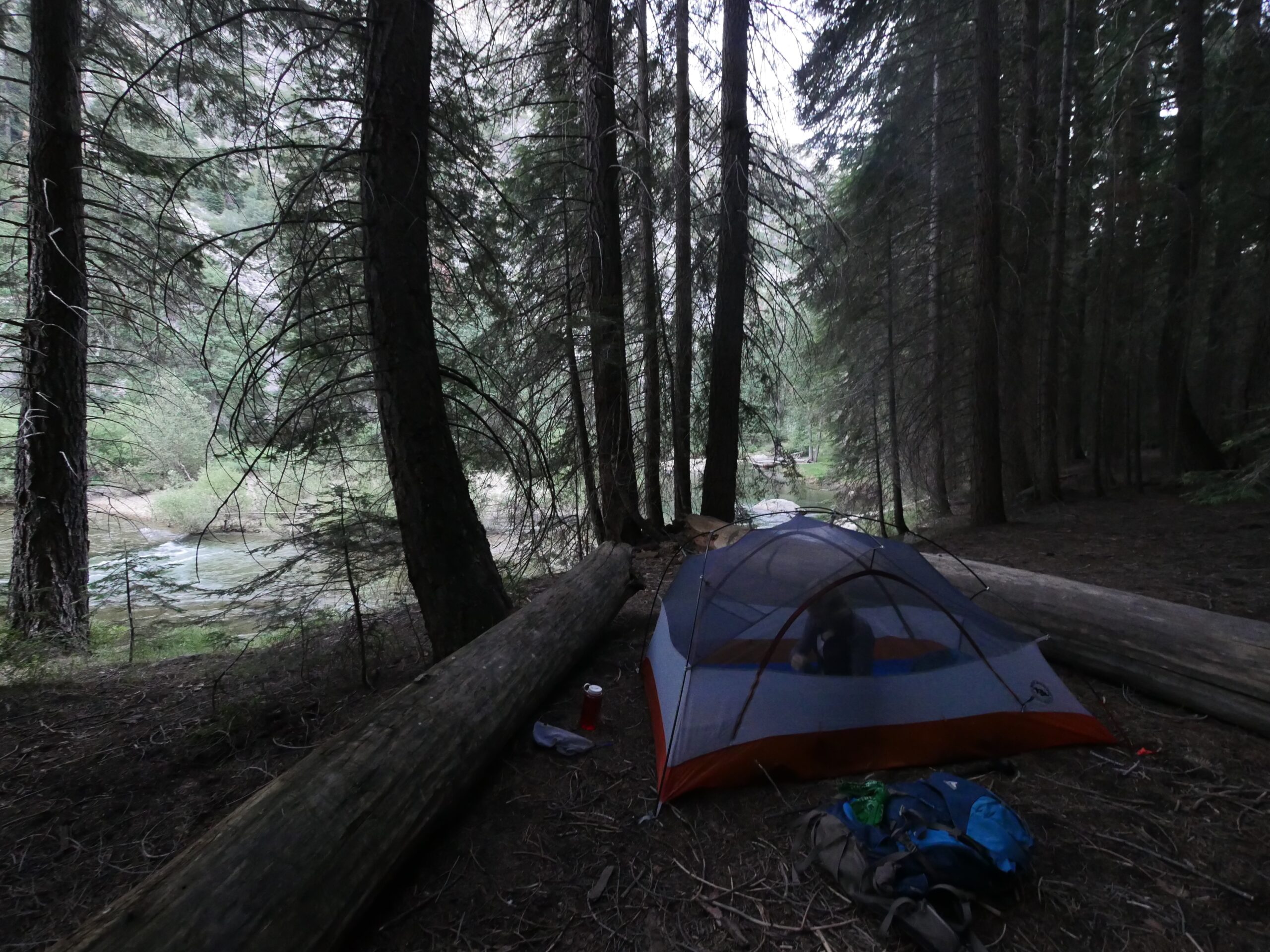 A tent sits near the Kings River in Kings Canyon National Park, California.
In the morning, after a lunch of raw oysters at the delicious and hip Hog Island Oyster Co., Samantha and Whitney head back to Los Angeles. Parker and I decide instead to take a quick tour of San Francisco before driving southeast across California to Kings Canyon National Park. I'm ready to put my newly-healed leg to a real test: a 14-mile backcountry backpacking trip to Paradise Valley.
At first, my leg, ankle, and knee feel very sore and slightly painful, but as I become accustomed to the hiking, the creaks and aches in my leg diminish. It's impossible to overstate the euphoria that comes with being able to tackle a strenuous hike after three months of immobility, and I realize that, not despite but because of my accident, I feel more passionate about big adventures than ever.
Parker and I climb 1,700 feet of elevation up the seemingly boundless valley, surrounded by massive granite slabs and towering sequoia trees. When we reach the sparkling Mist Falls, I'm feeling so strong that, when we set up my camera, I'm able to swoop Parker off the ground to pose for our photo.
My leg is officially unbroken. Soon, I'll be ready to start planning my return to New Zealand, to complete the second half of my 1,200-kilometer New Zealand South Island traverse.
How to Kayak-Camp Tomales Bay
Sea Kayak:
Tomales Bay,
Northern California
17.2 miles
1,233 ft gain — 808 ft loss
OVERVIEW: Tomales Bay is a long narrow inlet of the Pacific Ocean in Marin County, California, that forms the eastern boundary of Point Reyes National Seashore. It's about a 90-minute drive from San Francisco, and it's the largest unspoiled coastal embayment on the coast of California.
LOGISTICS: Blue Water Kayaks rents plastic, sit-on-top kayaks to paddlers without their own gear, and rentals include paddles, flotation jackets, and dry bags. The company's service is generally good, though I strongly recommend bringing your own kayaks if possible. As with most kayak rental companies, they don't rent proper sit-inside sea kayaks with a rudder, and the staff treats even experienced paddlers as though they know nothing, presumably because they're accustomed to dealing with inexperienced tourists. Blue Water's staff is also extremely overcautious about not permitting kayak rentals when wind is blowing over the Bay, so be sure get your kayaks in the morning, before noon. We lost a day of kayaking because Blue Water wouldn't let us paddle out in mild wind conditions, despite our paddling experience. Note that the company's sit-on-top kayaks do not have cargo space inside the kayaks, though there is ample space for backpacks on top of the kayaks even with two people.
CAMPSITES: There are about 18 beaches on the Bay's western edge that allow boat-in-only camping shown on the Tomales Bay State Park campsite map. However, all camping at these sites requires backcountry camping permits issued by Point Reyes National Seashore. See their backcountry camping page for more info. Note that Marshall Beach and Tomales Beach have access to a toilet, but all other beaches require campers to bring a portable toilet and pack out human waste. Be sure to look very carefully at the high tide lines on the beaches when you set up camp or you'll find yourself underwater in the middle of the night. Keep in mind that there are two high-tide times per day, and one high tide is likely higher than the other.
ROUTE: On our first day, we left Marshall at around 10 AM and kayaked seven miles to a boat-in-only campsite on the west side of the bay. In the afternoon, we paddled even farther north, a 3.5-mile round trip. On our second day, we kayaked seven miles back to Marshall. For most of the trip, conditions on the bay were calm, the current wasn't too strong, and we were able to kayak at about three milers per hour. View the route below or download the Without Baggage Tomales Bay Kayak GPS track in GPX or KML format.
Paradise Valley Hike Details
Backpack:
Kings Canyon National Park,
Northern California
12.7 miles
1,872 ft gain — 1,863 ft loss
5,094 ft min — 7,449 ft max