AUGUST 20, 2014 — "Doscientos dólares ($200)," a taxi driver outside my hotel in Santa Cruz, Bolivia tells me when I ask how much he'll charge to drive me and my friend Andrea to El Fuerte de Samaipata, a pre-Incan, Mojocoyas-period (AD 300) temple ruins site about three hours away. Andrea scoffs.
"We're going to do this Bolivian-style," she announces. With a mischievous look on her face, Andrea — who always seems to have boundless, chaotic energy — grabs my hand and starts dragging me away from the upscale hotel's valet area. Soon, we're walking through a rundown neighborhood southwest of Plaza 24 de Septiembre, Santa Cruz's gritty city center. Taxi drivers, in vehicles that look like they came directly from a junkyard, yell aggressively at us. Teen boys loitering in allies yell catcalls as Andrea and I walk by. This isn't the kind of neighborhood I would have chosen to explore myself, but Andrea knows the city (and Spanish) so much better than I, that, even though I have known her for only a few weeks, I have no choice but to trust her.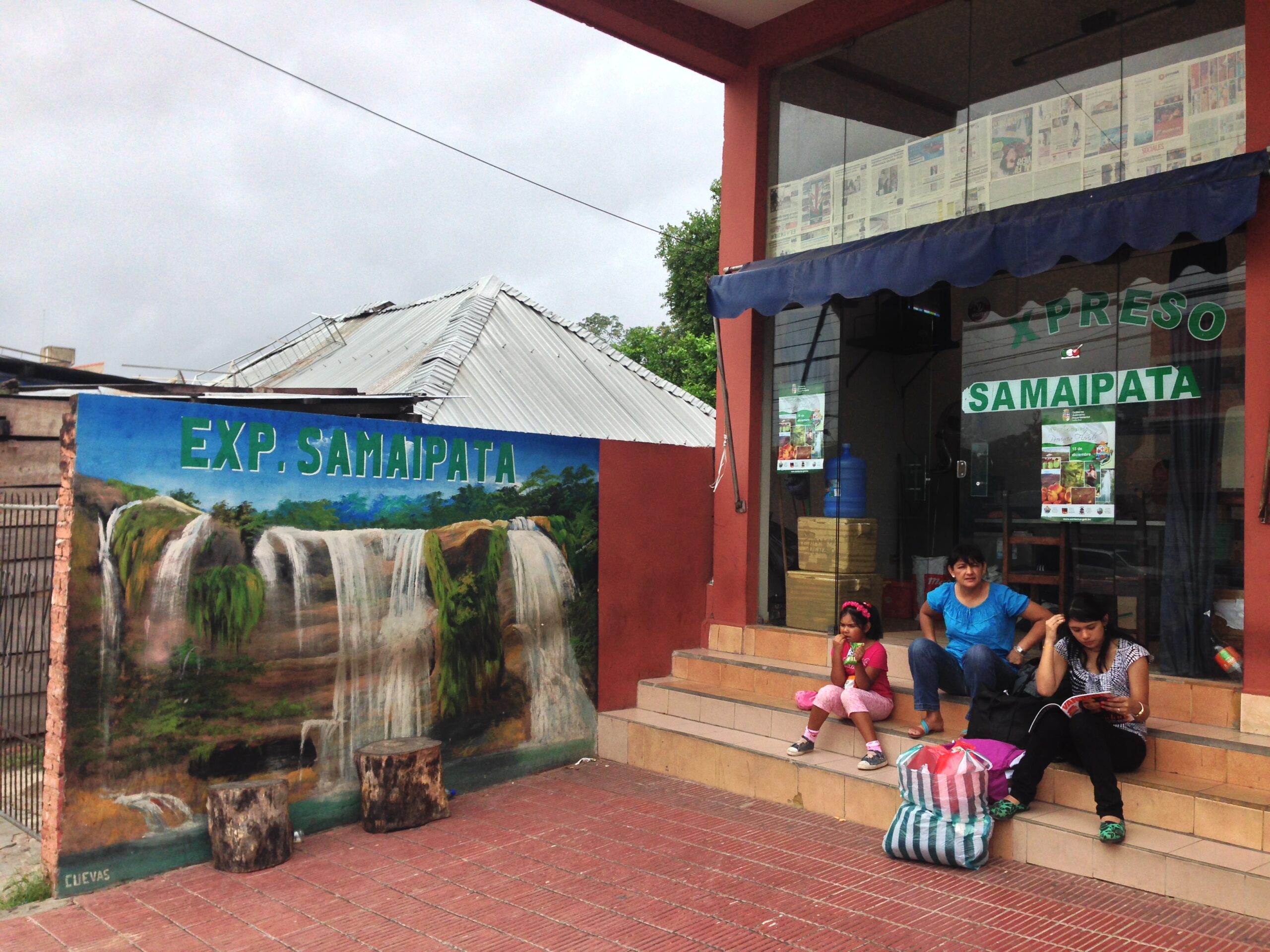 A Bolivian family sits outside an office that organizes carpools to El Fuerte de Samaipata in Santa Cruz, Bolivia.
"We're here," she announces, stopping in front of a Bolivian family — a mom and her two daughters — dawdling on steps in front of a dingy storefront. On an adjacent, crumbling brick wall, an artist has painted an attractive mural of the waterfalls at Samaipata, the town we're headed toward. Andrea and I buy two tickets from an old woman inside the shop.
"When does the bus leave?" I ask.
"When enough people show up," Andrea tells me with a wink. After about 20 minutes of waiting on the steps next to the Bolivian family, a young woman in a floral-print skirt with curly hair and a older man in a T-shirt with a khaki cap matching his khaki pants arrive to buy tickets. A gruff driver herds the seven of us (me, Andrea, the two tourists, and the Bolivian family) into a tiny minivan (called a micro), and we start rocketing up a winding mountain road toward Samaipata at a speed that either is illegal or should be. Along the way, our driver stops at a gas station, and I chuckle as he forcefully demands that all of the passengers get out of the van. In Bolivia, it's illegal for anyone to be in a car being refueled, presumably in case of an explosion. Hilariously, taxi drivers in Bolivia don't obey traffic laws or speed limits much, but they're all sticklers for this particular law, even though the passengers simply stand right next to the vehicle being filled with gasoline when they get out. Strangely, even the safety-obsessed United States hasn't implemented this quirky rule.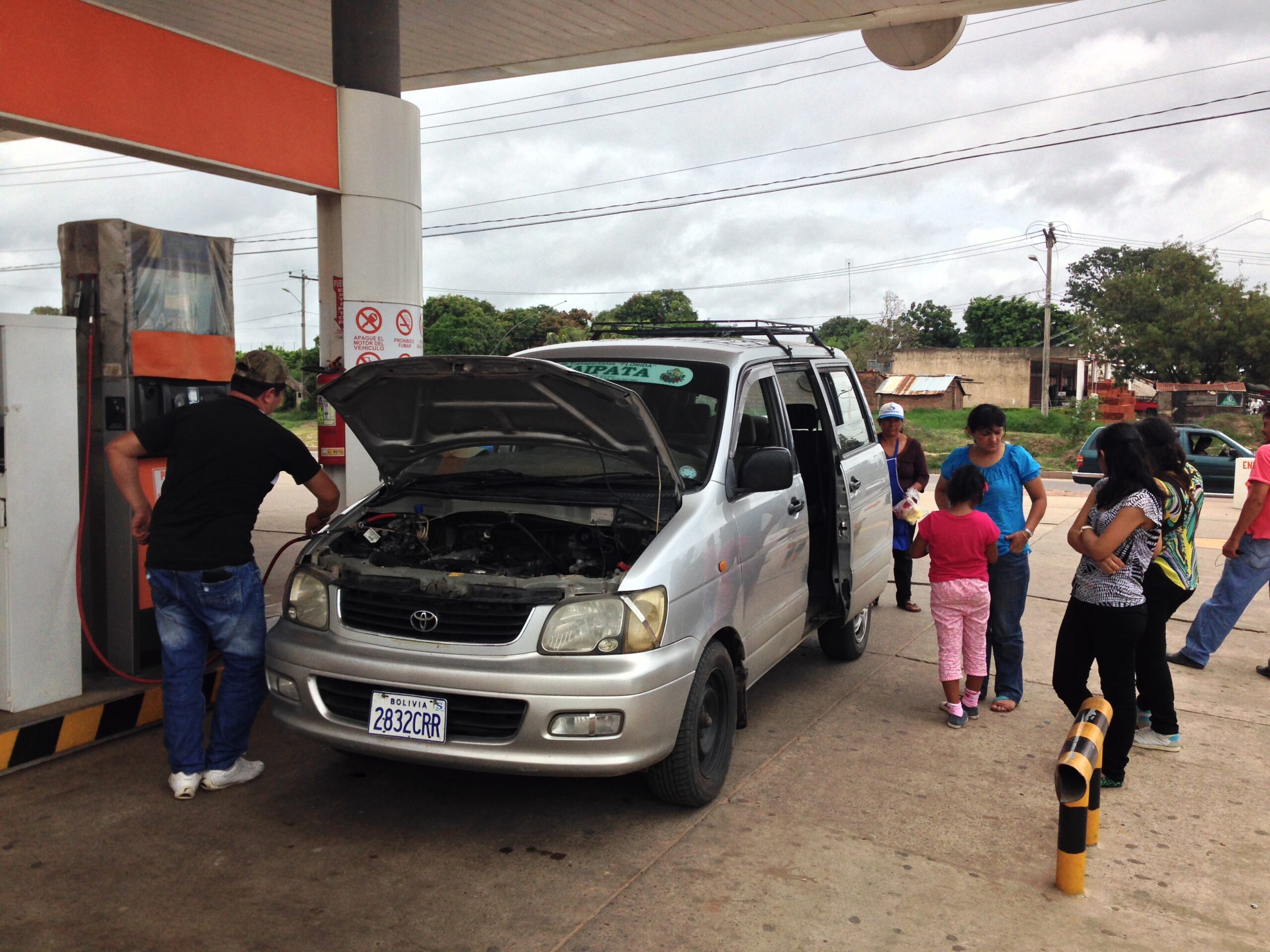 In Bolivia, all vehicle passengers are required to exit the car during refueling.
Soon enough, our driver squishes everyone into the van again, which seems to me to be half as small as when we first left on our trip. Andrea and I sit together on a tiny bench in the back as we continue at death-defying speeds on hairpin curves in the Andes Mountains.
"Some people say that Samaipata is being used by extraterrestrials to land their spaceship," Andrea offers. I look into her eyes, expecting them to reveal that she's joking. It doesn't look like she is.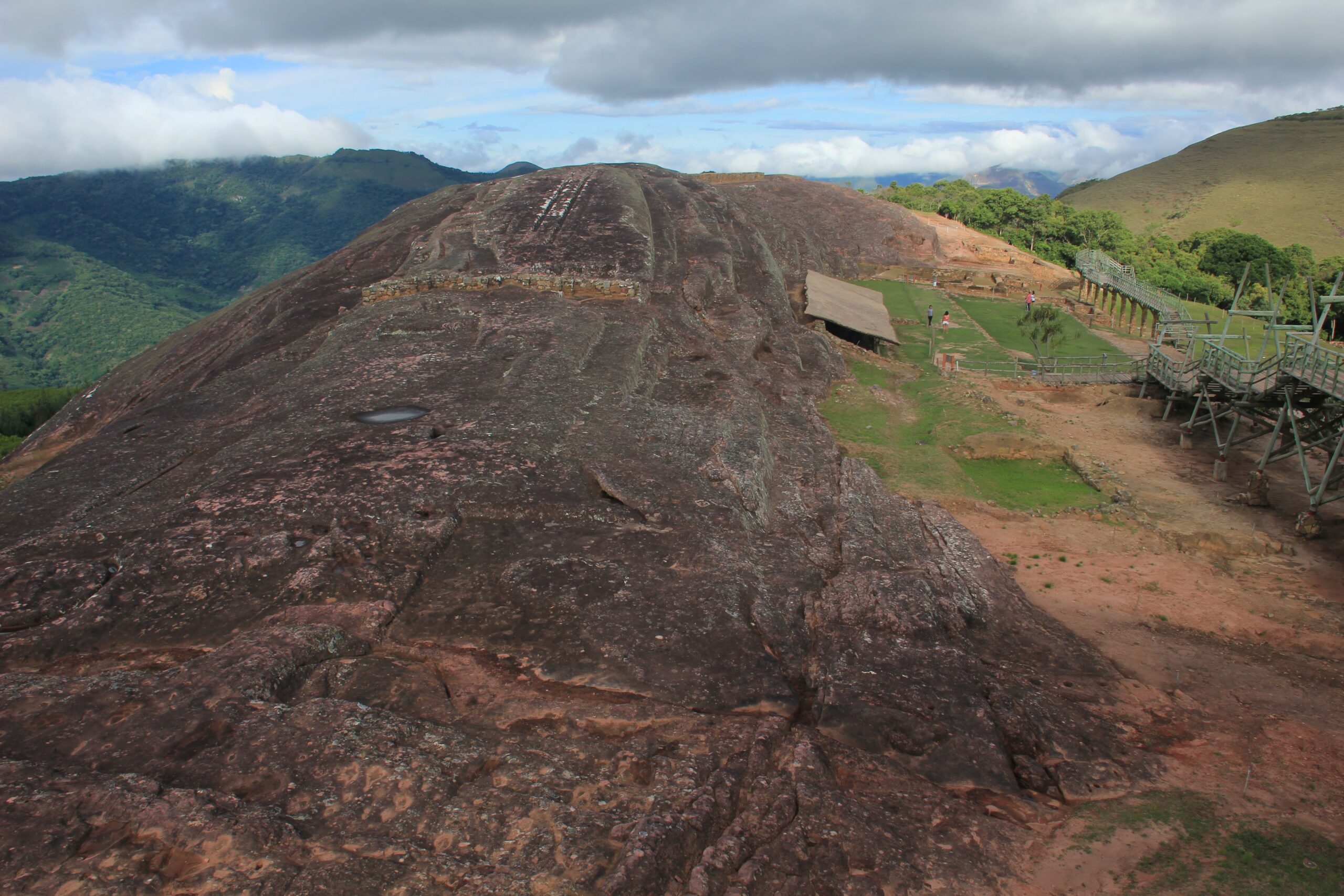 Visitors to El Fuerte de Samaipata in Bolivia are greeting by a massive rock monolith.
"Do you really think that's true?" I ask, skeptically.
"Well, there are many things that we don't know everything about," she responds. It's hard to argue with her on that point.
"I read a lot about metaphysics," Andrea tells me. "I've read that the energy at Samaipata is really strong and can potentiate your own energy even more." I'm a native English speaker, and even I've never heard the word potentiate, I think. I smile weakly, but I can see that Andrea can tell immediately from my eyes that I'm not a believer in auras or chakras. But, since Andrea and I like everything else about each other, I simply suggest that we judge for ourselves when we arrive and see how the place makes us feel.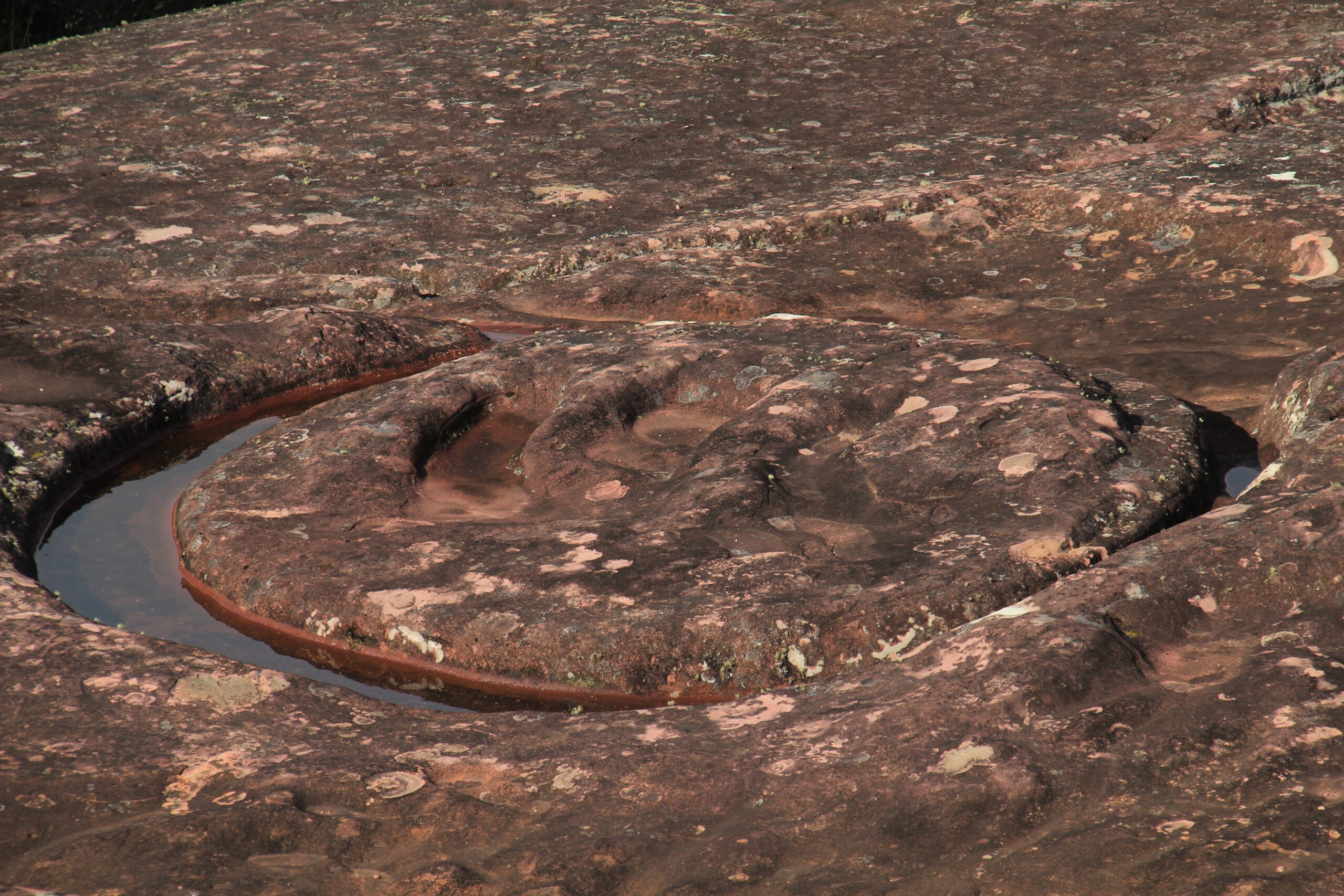 A large high-relief-carved jaguar can be seen in the ruins of El Fuerte de Samaipata in Bolivia.
When we get to the town of Samaipata, about 20 minutes from the ruins, I feel like I'm dying of thirst. We stop for a quick lunch (and huge bottles of water) at a local restaurant, and we invite the tourists from our van to join us. During lunch, we learn that the woman is a 28-year-old post-graduate-school backpacker from Netherlands, and the man is a 45-year-old electrical engineer on vacation from a small town in France. They tell us that they met each other only hours before they joined us in the van, and I marvel at how quickly people become friends in strange circumstances.
The four of us share a taxi to the ruins, where we hike up a stunning mountain trail, surrounded by views of vivid green mountains, clear blue skies, and vibrant cloud formations moving so quickly that they seem alive. We continue onto a mountain peak above a massive dark-granite rock with an enormous, high-relief-carved jaguar and puma on circular bases in the stone. At the top of the monolith, we see a huge, deeply-carved circle with rectangular and triangular niches, which an informational sign calls, "The Chorus of the Priests."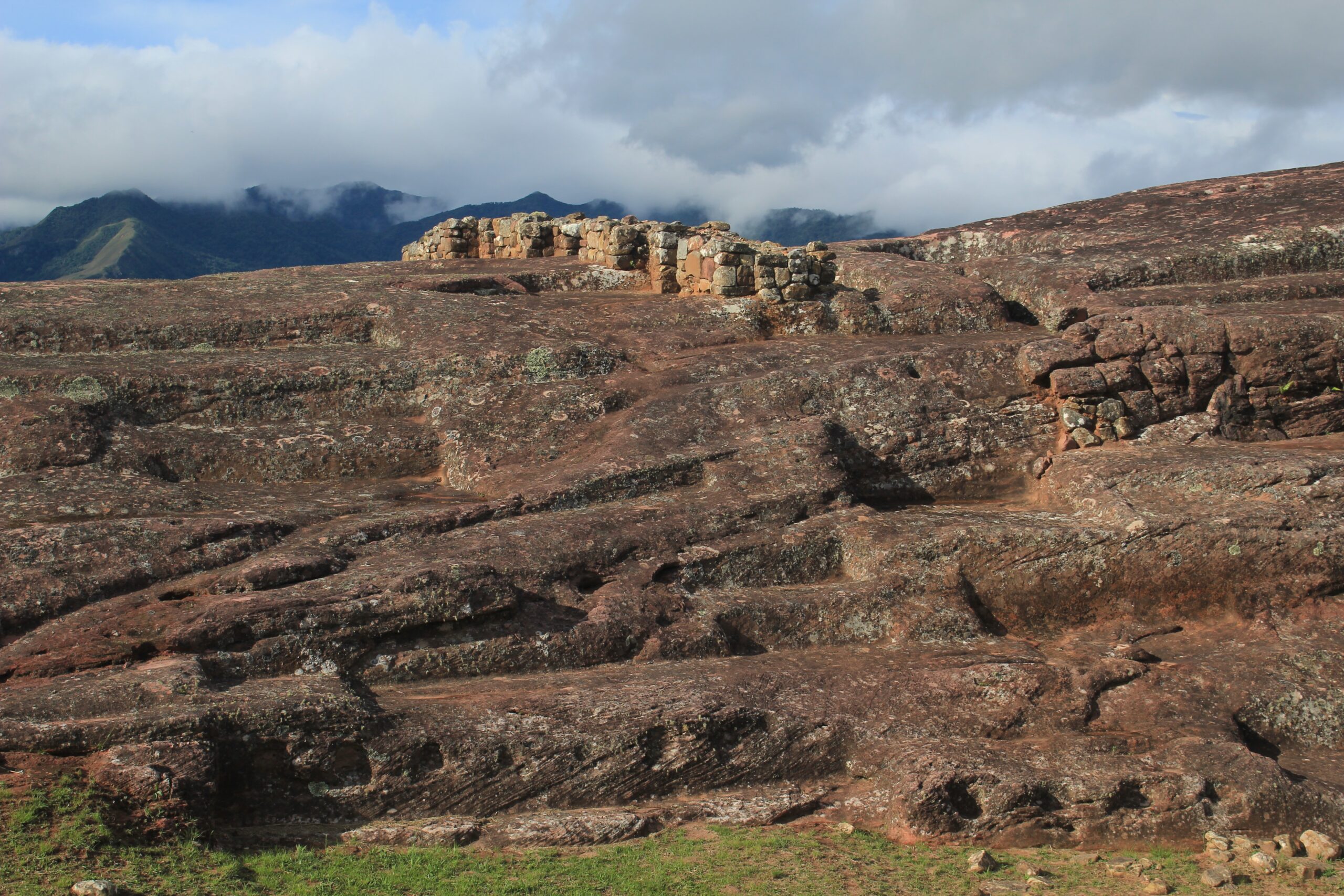 The Andes Mountains surround the El Fuerte de Samaipata ruins in Bolivia.
"They say that they performed human and animal sacrifices there," Andrea says ominously. We also see two parallel, double-zigzag-shaped channels carved in the wall, which the sign calls "The Snack Back" and says were also used for rituals, because they had the "appearance of a live snake while water [flowed] through them."
"Or blood," I mumble to myself.
As the four of us continue exploring, sometimes separately and sometimes together, the 45-year-old French backpacker and I start talking about the tradeoffs of being an engineer in France. "When there's work, I'm making money, but there's not always work," he explains. "So, I get to travel, but sometimes I don't know if choosing being an engineer was right."
Twenty minutes later, while Andrea and I walk together on a forest trail, she starts talking about the life and career choices she has had to make growing up in Bolivia. She tells me that her parents are very different from most Bolivian families in that they have allowed her and her sister a lot of personal freedom. "Many girls only leave the house to marry," she tells me. The things she's saying jibe with things other Bolivians friends have told me while I've been traveling in Bolivia; I remember when my friend Paola explained to me that her 27-year-old sister is still completely controlled by her parents. "My friends and me: we're aliens in this society, because we don't follow the rules," Paola, who runs her own business, told me.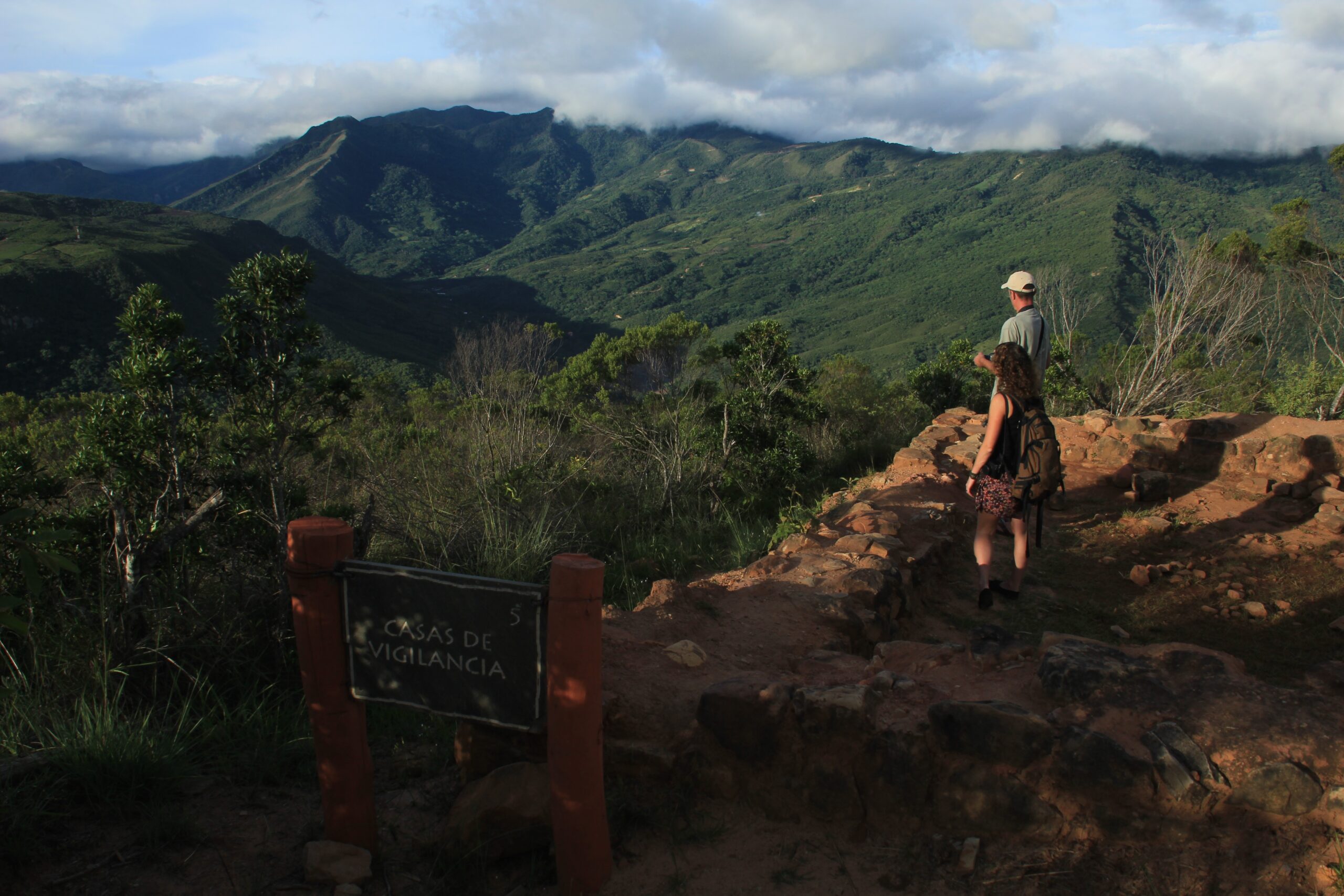 Tourists look at the Andes Mountains surrounding El Fuerte de Samaipata in Bolivia.
"In college, I majored in business, but I'm realizing that I'm not really interested in business," Andrea continues. "I think I'm more into photography." Suddenly, it occurs to me that I have a tendency to attract this kind of conversation, and I find myself wondering and worrying: do people want to talk to me because I seem like I have everything figured out — or because I seem totally lost? As with the French backpacker, I try to remind Andrea that very few people seem to have life totally figured out, and I tell her that no matter which path she takes, I expect it will end somewhere fantastic.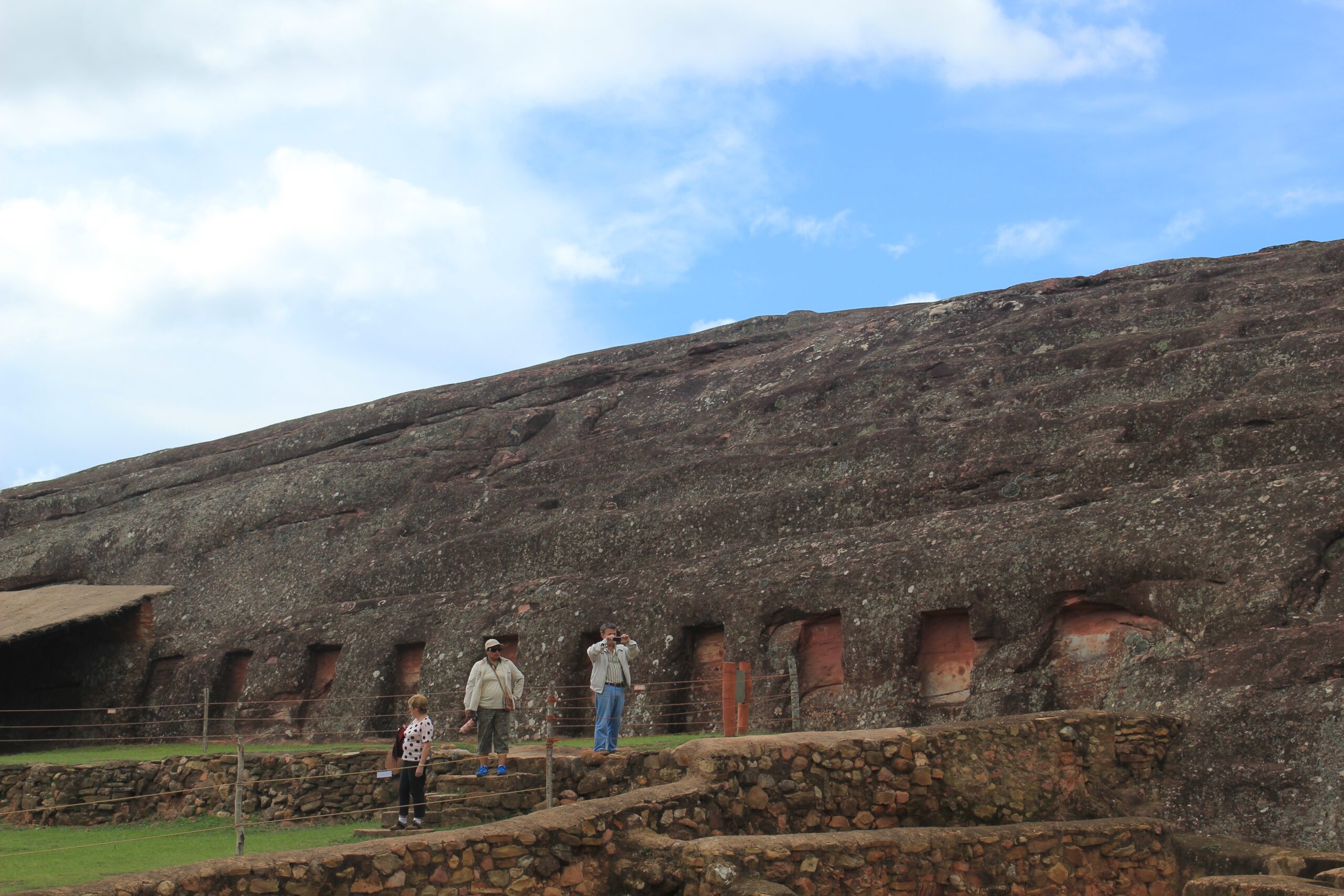 Tourists walk near the Templo de La Sacristia at the El Fuerte de Samaipata ruins in Bolivia.
Before we return to our taxi, the four of us stop at a viewpoint on a trail and look out at a serene view of the lush Andes Mountains. As she looks out at the mountain peaks, frenetic Andrea looks more relaxed than I've ever seen her.
When we return to Santa Cruz, Andrea proclaims that our next stop — after a quick snack of tasty empanadas in the town center — will be her best friend Carolina's birthday party. In an outdoor courtyard outside Carolina's house, Andrea and I sit with six other women and a few of their boyfriends at a long table. Though Pisco Sours are purportedly the official drink of South American cuisine, everyone is drinking Fernet, a pungent herbal liqueur that Andrea tells me is "disgusting and tastes like medicine." I don't totally disagree with her; when the girls pour some for me, it tastes like a strange, licorice-flavored Vicks VapoRub concoction. But, I don't hate it, and when Carolina's boyfriend pours me a glass of mint-flavored Fernet, I discover that I like it better.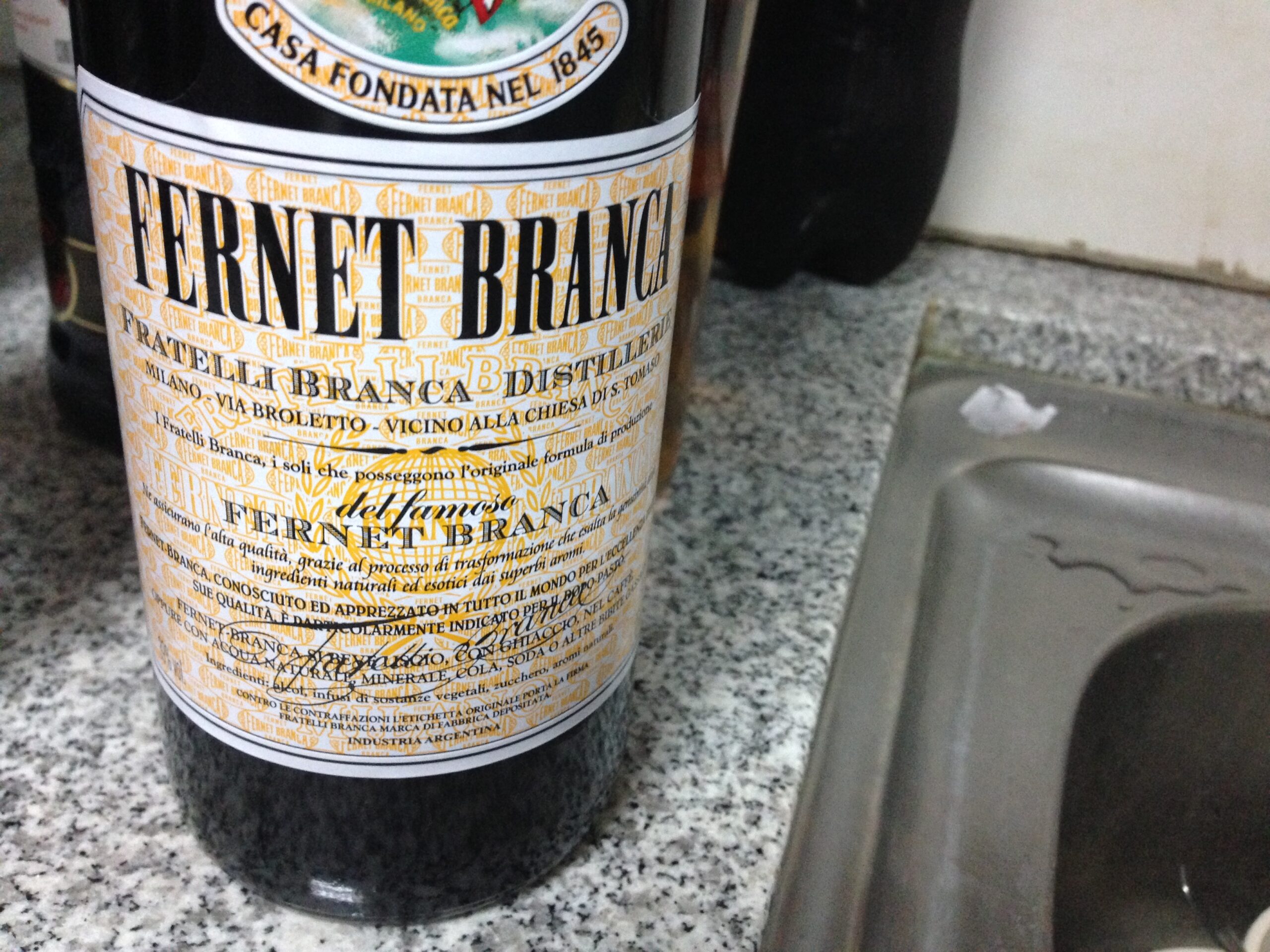 Fernet is an pungent herbal liqueur, popular in Bolivia.
Meanwhile, Carolina's dad grills churrasco — seemingly truckloads of steaks and sausages on a huge barbecue — but he can't seem to cook the food as fast as everyone is eating it. A week before, Andrea brought me to another party where a group of Bolivians and Chileans served me the most luscious, tender, and perfectly salty steak I had ever remembered eating in my life, and I was sure that I'd never experience meat so good again. But, Carolina's dad somehow nearly manages a repeat performance.
Though I am proficient with Spanish, the girls at the table speak so fast to each other that it's nearly impossible for me to keep up. I want to participate, but I'm terrified that under cute-girls-speaking-in-Spanish-at-a-Bolivian-birthday-party pressure, I'll end up saying something stupid. But, Carolina sees me left out. In slowed-down Spanish, she's nice enough to ask me where I'm from.
"Soy de Ohio in los Estados Unidos, pero vivo en Los Angeles ahorita (I'm from Ohio in the USA, but I live in Los Angeles now)," I tell her.
She starts talking faster and tells me, in Spanish, that she wants badly to visit Los Angeles some day because she's always been fascinated by the city.
"Bueno, si visitas Los Angeles, tienes un lugar para quedarse. Tengo un apartamento grande y puedes dormir en mi cama," I say. I see the birthday girl's face turn bright red, almost immediately, and Andrea looks at me in horror. I realize that, in a country of conservative, Roman Catholic culture, I've just mistakenly told Carolina that if she ever visits Los Angeles, she's welcome to sleep in my bed. Whoops.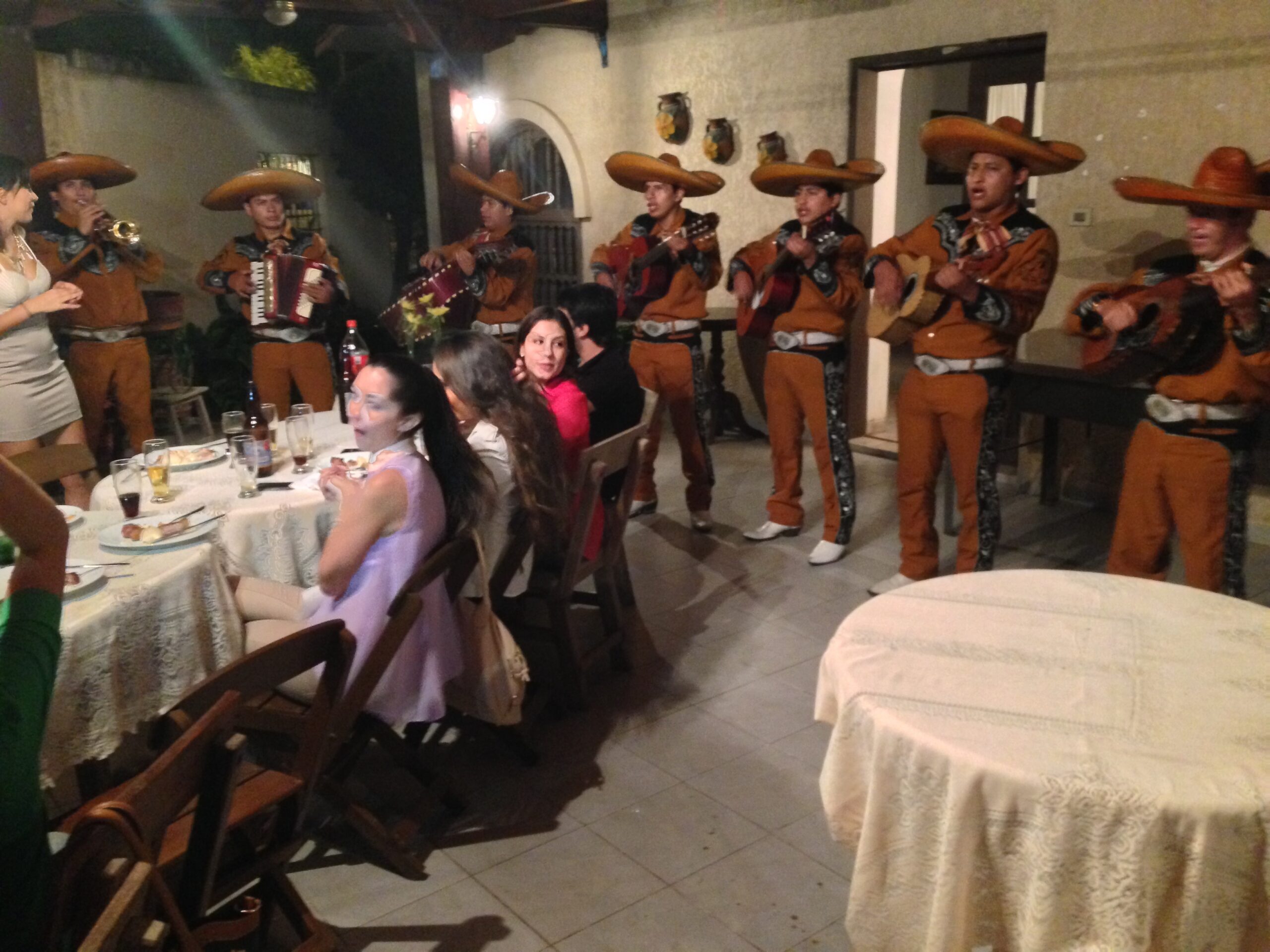 A mariachi band entertains at a Bolivian birthday party.
"Quiero decir 'en mi segundo cuarto'! (I meant, 'in my second bedroom'!)" I yell out quickly. But it's too late. The entire table of guests is laughing hysterically, and so am I. It's clear that my Spanish needs work, but no one seems to care. Everyone keeps laughing as an eight-person mariachi band wearing matching sombrero-topped outfits arrives and begins playing traditional Bolivian folk songs. Everyone sings along in such a lighthearted way so that I can barely remember a party so carefree in my entire time living in the United States.
Surrounded by laughing and singing Bolivians, perfectly grilled and seasoned steak, mint Fernet, and a mariachi band, I feel remarkably serene and happy, and Andrea looks that way too. I have no choice but to chalk it up to Bolivia's mystical energy.
How to Visit El Fuerte de Samaipata near Santa Cruz, Bolivia
OVERVIEW: El Fuerte de Samaipata is a pre-Incan, Mojocoyas-period (AD 300) temple ruins site in the Andes Mountains of Bolivia designated by UNESCO as a World Heritage Site. There is an entry fee of 50 Bs. (US $7) for foreign tourists.
LOGISTICS: Fly to Viru Viru International Airport in Santa Cruz de la Sierra, Bolivia. From there, taxis and buses can take you to downtown Santa Cruz. From downtown, passengers can take a shared, four-person taxi from Expreso Samipata for 25 Bs. (US $3.50) per person or a seven-person shared micro van for 15 Bs. (US $2) per person (call 333-5067 in Santa Cruz or visit Av. Omar Chávez Ortiz #1147, esquina Soliz de Holguín, zona estadium). Private taxis may be willing to take you to Samipata, but beware: taxi drivers at hotels may try to charge astronomical fees for the three-hour drive. A privately-hired, shared taxi to Samipata should cost less than 120 Bs. (US $20).