SEPTEMBER 29, 2014 — I'm staring at El Castillo, marveling at the large stone pyramid towering over the ruins of the ancient Mayan city of Chichen Itza, listening to the whistling sound of grasshoppers in the surrounding forest. My walk through the ruins feels like a trip back in time, as though I'm a turn-of-the-century archeologist — because I'm the only tourist here.
It wasn't like this when I first arrived. I found the Chichen Itza parking lot at 4 PM packed with tour buses, and I was disappointed, because I thought I had already applied my best strategies for avoiding other tourists. First, I decided to visit the Yucatán during the tourist low-season and during a time when the US government has issued stern travel warnings about Mexico, noting that 70 US citizens were kidnapped in Mexico in the first half of 2014 (though not in Chichen Itza's state, Yucatán). Second, I hoped that by arriving late in the day, the tour buses would have taken most tourists back to their hotels. But, my plan went awry when, after being at Chichen Itza for only 15 minutes, a guard told me to leave, explaining that the site would close 90 minutes early due to a lack of staff during the tourist low-season.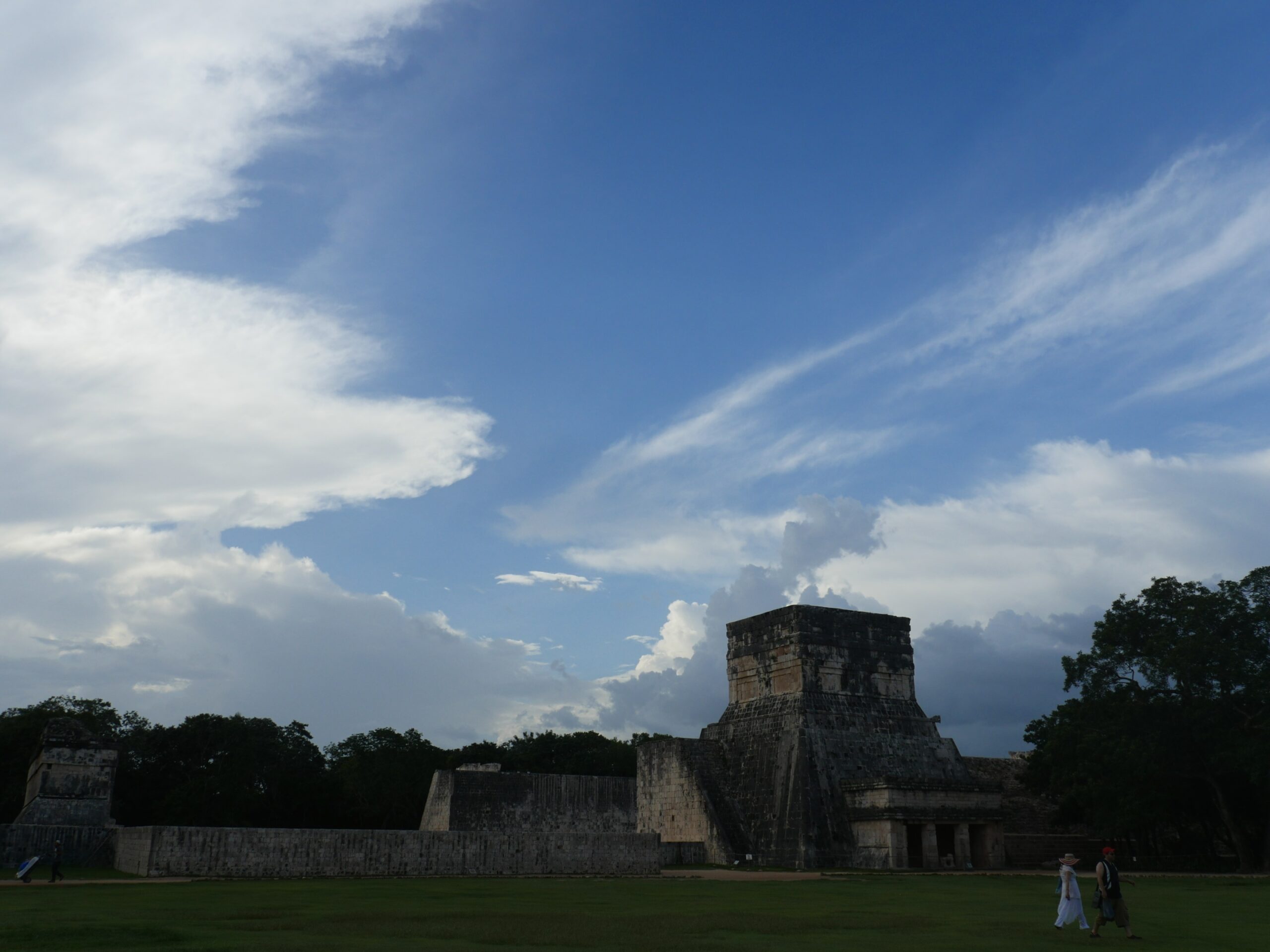 The overwhelming Great Ball Court in Chichen Itza, Mexico is the largest in Mesoamerica.
"But I've only been here for 15 minutes," I said, pleading with the guard in Spanish. "No one told me that you're closing so early today!"
"It's possible to get more time," the guard explained, in Spanish. "All tourists must leave, but we'll reopen in a half hour, and you can buy a ticket for the night if you're not with a tour bus." Suspicious that he might be trying to extort money from me, I went to the official ticket office, where a woman confirmed everything the guard told me. She sold me an authentic ticket for the (unpublicized) evening visit, and when I walked into the ruins site, it was with only a few other tourists who took some photos in front of the pyramid and left.
While I walk through the near-empty Mayan city, I think of some of my other trips to quintessential historical sites, and I realize that I have become an accidental pro at visiting the wonders of the world while avoiding crowds of tourists.
By traveling to Egypt only one month after former Egyptian president Hosni Mubarak stepped down due to the 2011 Egyptian Revolution, my friend Quinn and I found ourselves standing in front of Cairo's Egyptian pyramids by ourselves, because no other tourists were brave enough to make the trip. We toured a near-empty Egyptian Museum and stood in King Tut's tomb, in Luxor's Theban Necropolis, completely alone. In India, by arriving at the Taj Mahal before dawn, I was able to photograph the world's most beautiful symbol of eternal love at sunrise with a group of less than ten other photographers. In Nepal, when my brother and I arrived at Everest Base Camp after 10 days of hiking, we were the only ones there, because we completed the hike in December, outside of the standard hiking season.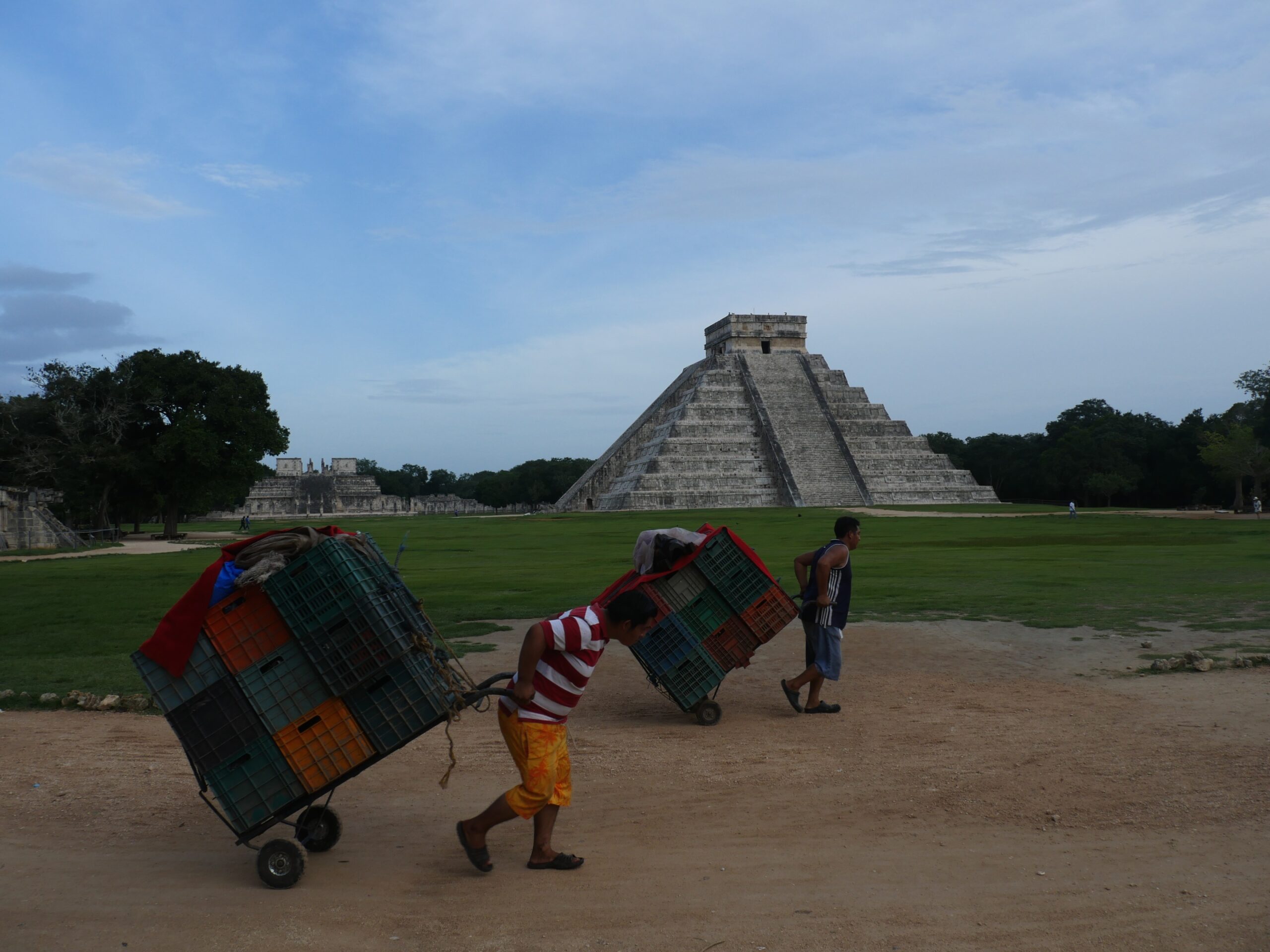 Souvenir vendors pack up their stalls at the end of the day in front of El Castillo in Chichen Itza, Mexico.
I keep reminiscing as I walk through Chichen Itza's Great Ball Court, a huge field used to play an ancient Mayan sport that required its players to keep a solid rubber ball in the air with only their hips, thighs, or upper arms and bouncing it off the court's side walls. The captain of the losing team — the one that lost the most points by letting the ball fall to the ground — was sacrificed. (Though some literature says that all of the losing team was sacrificed and some says that both team captains were killed.) Regardless, as I walk alone through the Ball Court (the largest in Mesoamerica), I'm struck by its size; it's obvious that the sport was central to Mayan life, religious and otherwise. Afterward, I take a 10-minute walk to a cenote, a natural limestone sinkhole mostly associated with the Yucatán Peninsula. This Sacred Cenote (also known as The Well of Sacrifices) at Chichen Itza was a place where Mayans were known to have sacrificed human beings to the rain god, Chac, as evidenced by the remains of men, women, and children found in the pit by archeologists. The silence surrounding me is a little bit magical — and a little bit eerie.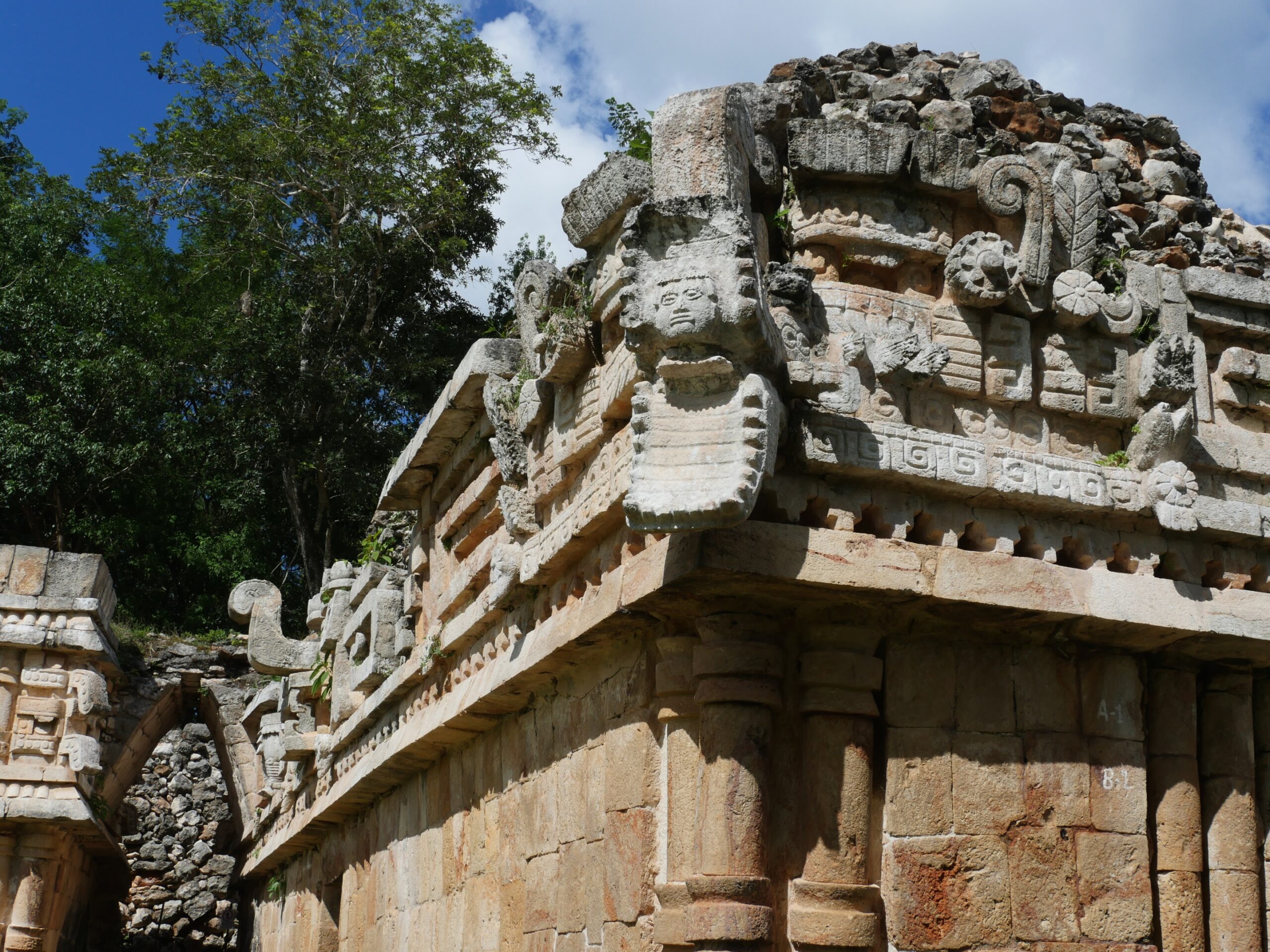 The face of the Mayan rain god Chac looks out from the Palace at Labná on the Ruta Puuc in Yucatán, Mexico.
By the time I decide to leave Chichen Itza, the hundreds of souvenir vendors have been gone for over an hour, except for one. He's sitting near the entrance quietly, with most of his trinkets packed up, looking out at the ruins. It's clear that he's not trying to sell anything — there are no tourists left — and it occurs to me that maybe, he, too, enjoys Chichen Itza most when all of the tourists have gone and the ancient Mayan city is poignantly silent.
A few days later, I head out on another see-the-world's-wonders-without-tourists expedition by driving toward Ruta Puuc, a road that leads to the infrequently visited Mayan ruins of Sayil, Xlapak, and Labná. On the way, I drive through multiple checkpoints guarded by Mexican Federal Police, which always make me nervous. But the Federales ignore me, presumably because they can't imagine someone trying to hide anything illegal in a rental car as ridiculously small as mine.
I decide to stop first at popular Uxmal, the impressive ruins of a Mayan city which include "The Magician's House," a restored, 127-foot oval structure with a large mask of rain god Chac over its entrance. I watch a scrubby-looking tourist couple dance and bow down in reverence in front of Chac, seemingly deriving some kind of spiritual energy from the structure and the mask. Knowing Chac's penchant for human sacrifice, his gaze makes me uncomfortable, and I wonder whether the dancing couple know what they could be getting themselves into with him. After seeing more carvings of Chac's face at the impressive House of the Turtles, I head to Uxmal's beautiful Governor's Palace. At the Palace, however, I'm disappointed to see tens of construction workers crawling over it like ants, working to "restore" the structure with modern concrete. I lament the inevitability of scaffolding, orange vests, concrete mixers, and, worst, gaggles of tourists that manage to ruin the magic of the world's most impressive historical sites.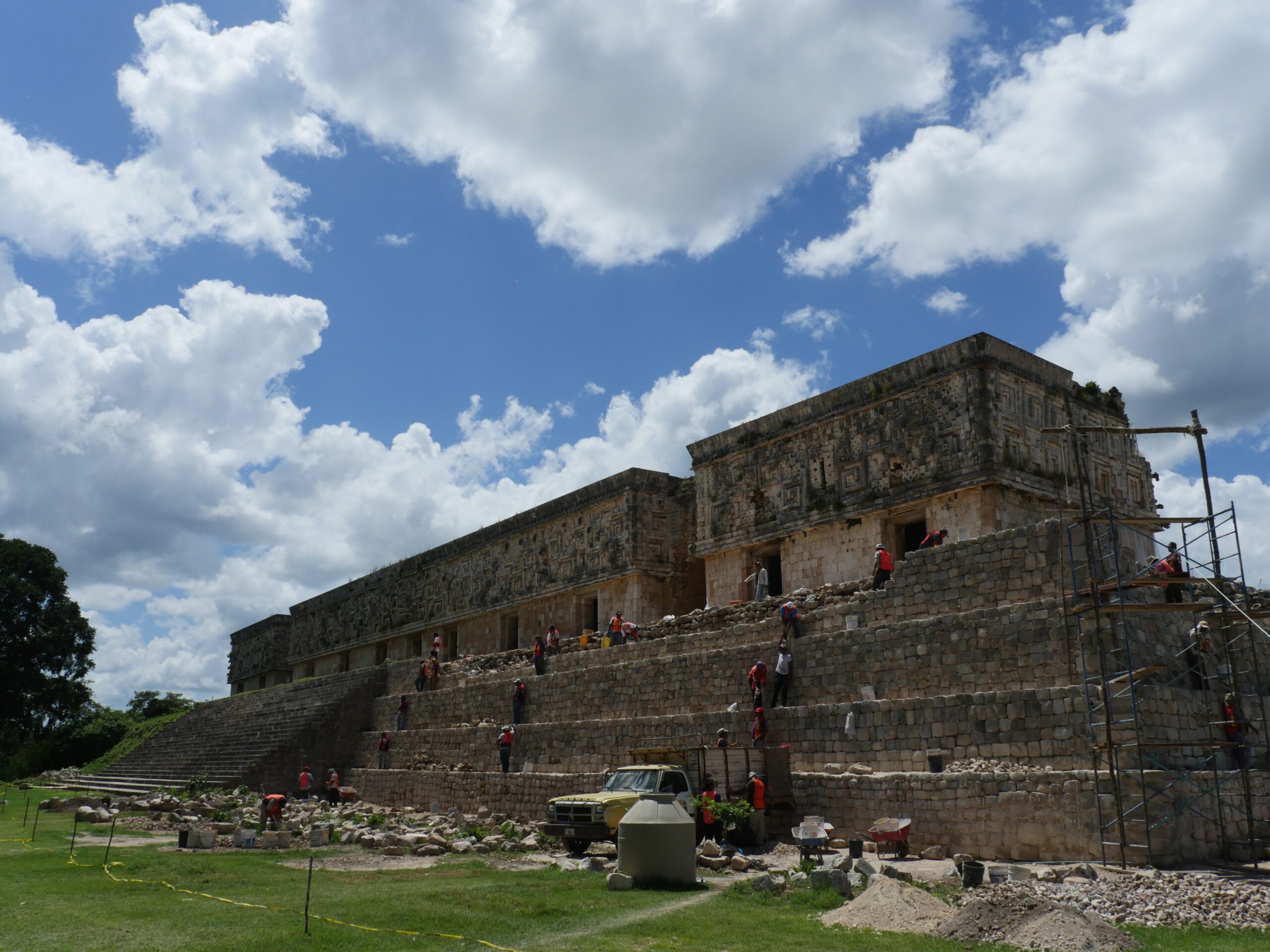 Construction workers work to restore the ruins of the Palace of the Governor in Uxmal, Mexico.
But, when I leave Uxmal and start driving down the Ruta Puuc, I'm relieved that I don't see any other cars. At Labná, I'm the only tourist visiting the intricate palace and the imposing arch at the end of the city's plaza. I'm the only person at Xlapak too, and when I arrive in the parking lot at Sayil, my car is alone. But, when I reach Sayil's entrance gate only 15 minutes before closing, the guard tells me that it's too late to visit the ruins. I chide myself for getting such a lazy start in the morning, thinking I should have learned my lesson when I got kicked out of Chichen Itza in the evening two nights ago. But, after begging the guard to let me have just a quick look around, he takes pity on me and relents.
Alone among the ruins, I head immediately to Sayil's Palace, a large, three-tiered structure with more carvings of Chac's face and distinctive columns. I'm exploring slowly, taking photos of the Palace's intricate designs, when I hear footsteps behind me. I turn around, half expecting an ancient Mayan ghost to be coming to sacrifice me and throw me into a sacred cenote to please the rain god. Instead, I see the guard who sympathetically let me into Sayil by myself. He's relaxed, gazing at the palace.
"It's nice, isn't it?" he says in Spanish. I smile, and he smiles back. "Without people, I mean," he adds. This guy seems to get it too.
Shimmering beams of sunlight shine through threatening, dark clouds gathering behind the elaborate palace in front of us. Lush green leaves on a nearby tree sway in the warm, tropical breeze. The eerie face of the rain god Chac stares at the two of us, seemingly ominously. Except for the soothing hum of insects from the jungle surrounding us, the ancient Mayan city is silent. The evening feels otherworldly.
"Yes," I say, as rain begins to fall. "It's perfect."
Dancing for Mexican Independence
A Mérida medical student guides me through Mexican Independence Day.
OCTOBER 5, 2014 — Walking out of my hotel in the sleepy Mexican town of Valladolid, I head directly to the zocalo (the town center). I've read that the town shuts down one of its streets every Sunday for dancing, and I'm hoping the promised dance party tonight will be even bigger and better than usual, because it's the night before the Mexican Independence Day celebration. When I walk by Mexican soldiers with automatic weapons standing in camouflaged tanks, I wonder for a moment about the Yucatán's security situation, until I realize that the soldiers and guns are simply a show of patriotism for Independence Day.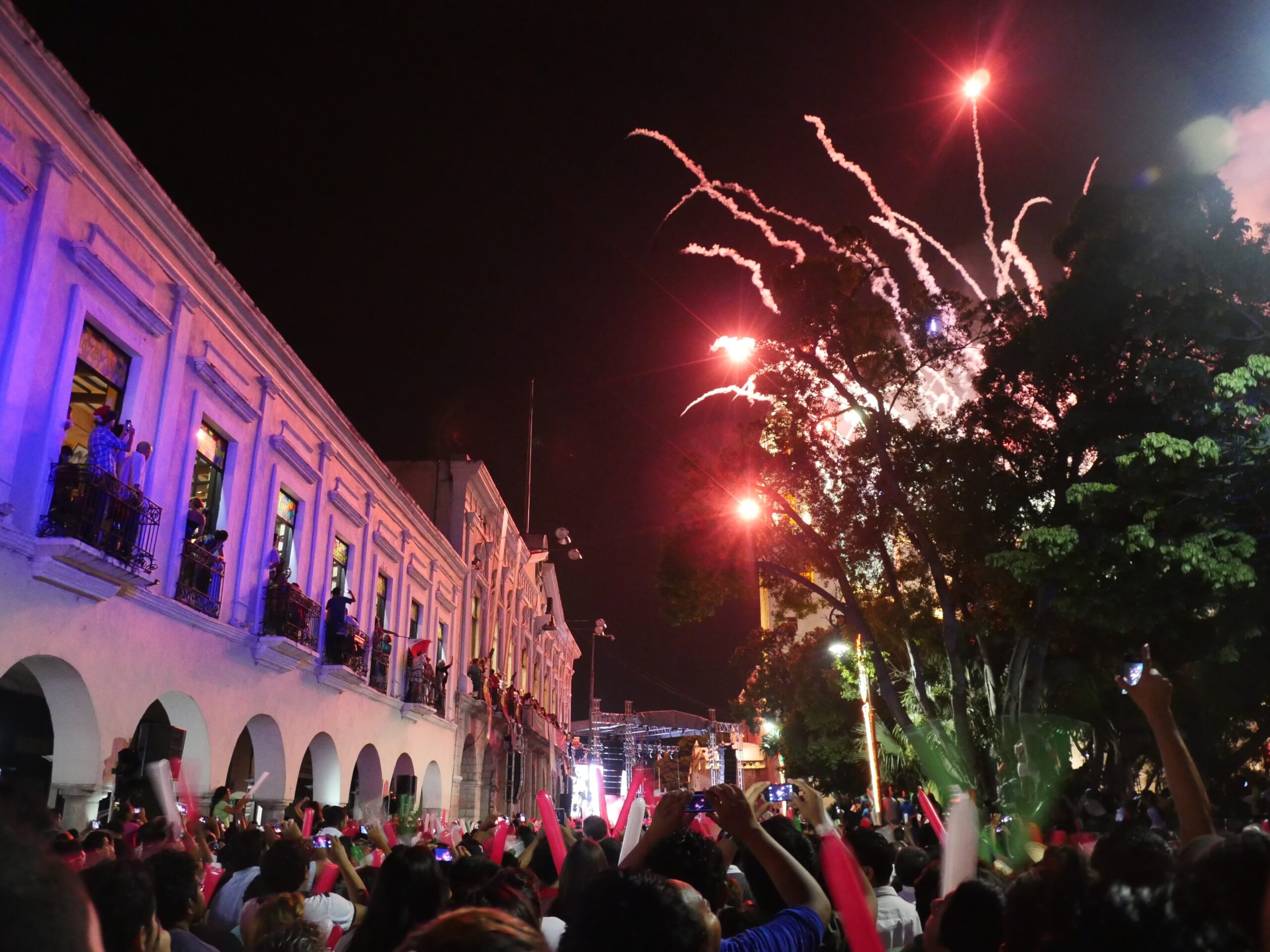 Mexicans watch fireworks explode in the sky above the Mérida Cathedral for Mexican Independence Day in Mérida, Mexico.
When I get to the closed-off street in the zocalo, it looks nothing like I'm expecting. Instead of a huge mass of 1,000 twenty-somethings, I see a smaller group of people of all ages, though many are older than 50. Instead of heart-pumping, electronic dance music, I hear a small brass band playing Latin jazz standards. And instead of people breaking, locking, and popping, everyone is dancing ballroom style.
I buy a cajeta-filled churro (I swear, I didn't intentionally ask for them, but the vendor gave me a bag of five), stand on the sidelines, and watch the dancers. I'm impressed by the variety of the couples: senior husbands and wives, young daughters and grandmothers, brothers and sisters, and teenagers have all coupled up and are dancing together. I'm also struck by how relaxed and unselfconscious the dancers appear; no one seems to care about whether their steps are up to par or whether their dance outfits are Instagram worthy. Thinking that I, too, should try to try to get past my anxiousness about my subpar dance moves, I scan the crowd for a woman my age. Unfortunately, I don't see a single Mexican woman without a boyfriend or husband, which doesn't surprise me, having observed, during the time I've spent in Mexico, the culture's noticeable preoccupation with boyfriends, girlfriends, and love in general. When the band starts playing "Bésame Mama," it occurs to me to ask one of the grandmothers sitting on the sidelines to teach me some dance steps, but I'm too afraid I'll end up in a fight of honor with a 70-year-old Mexican grandpa — and I certainly don't want any of the machine-gun-toting soldiers to get involved.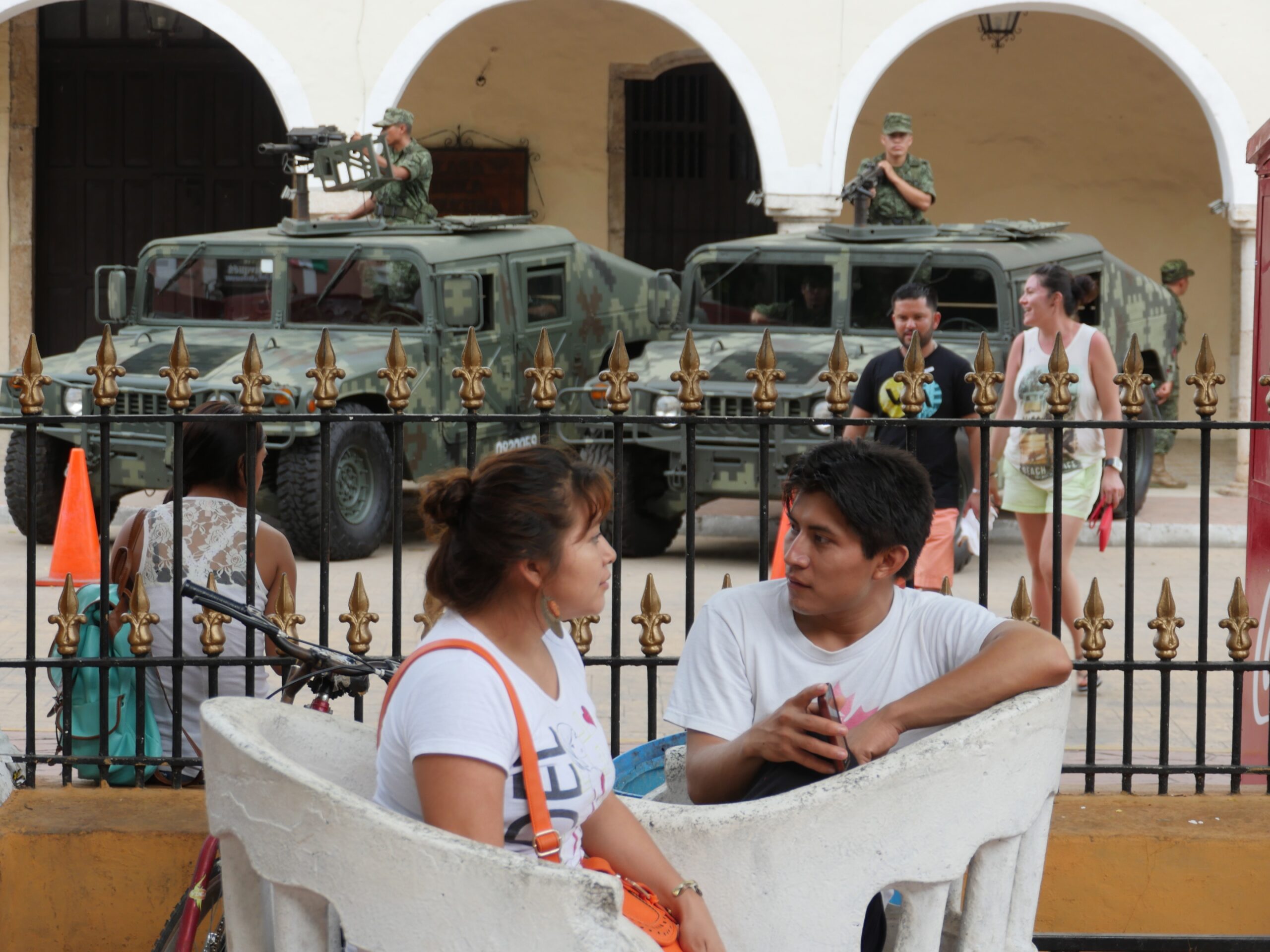 Mexican soldiers and tanks prepare for Mexican Independence Day festivities in the plaza in Valladolid, Mexico.
The following night, after a 100-mile drive to the west, I'm sitting in a bar and restaurant in the Yucatán's cultural capital, Mérida. It's the night before September 16 (Mexican Independence Day), which, I can tell by the streets and bars packed with people, is when Mexico's big Independence Day party happens. While enjoying a margarita and a burrito, I meet Ana, a Mexican woman who tells me that she is a medical student at Universidad Marista, just north of the city center. She points to a television overhead.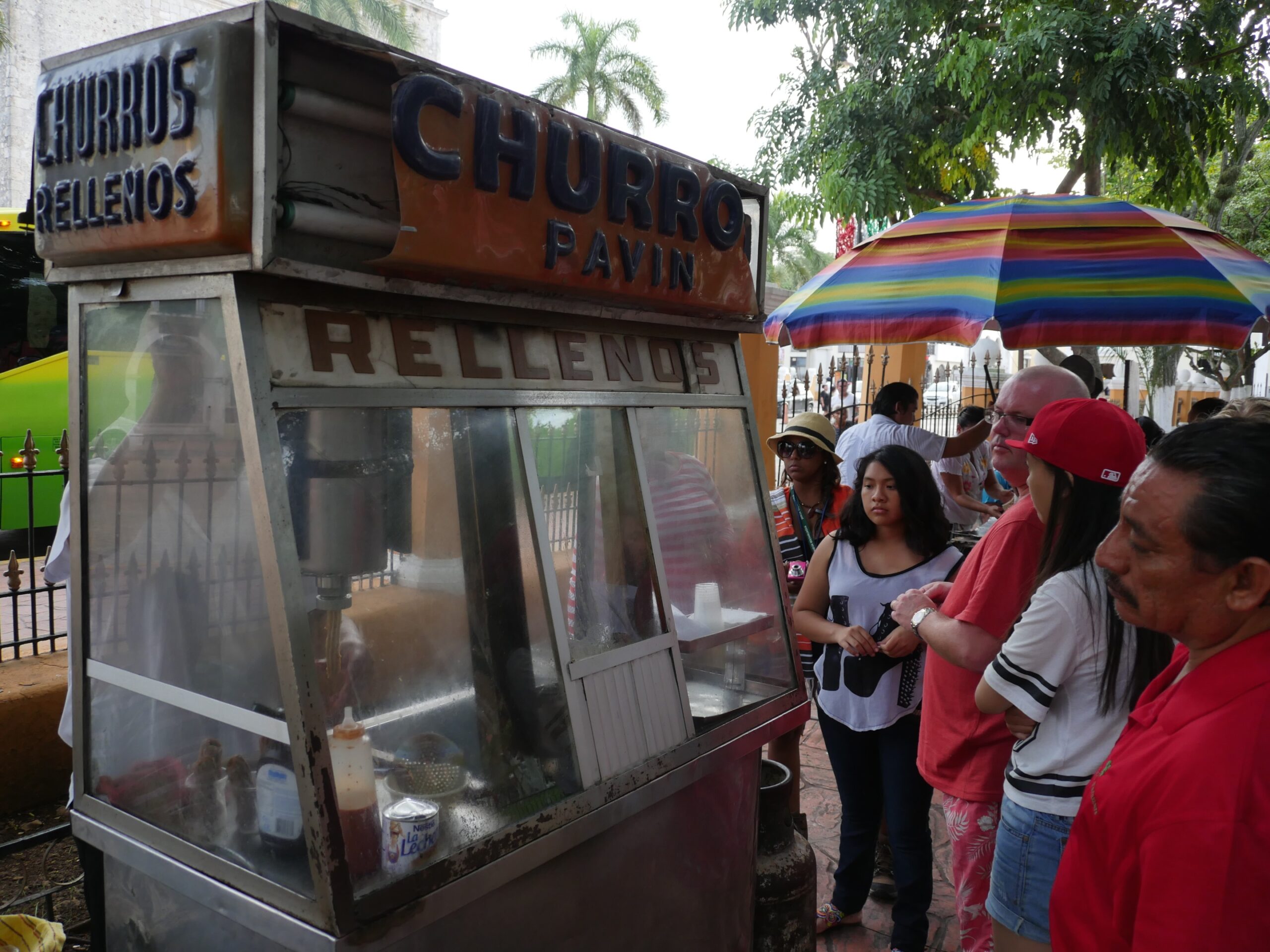 A vendor sells stuffed churros in Valladolid, Mexico.
"The president of Mexico will start the ceremony with a speech on television," she tells me in Spanish. "The Yucatán governor will also give a speech in el zocalo, here in Mérida. Then, la fiesta starts!" She tells me that the president will lead el grito, a traditional, massively synchronized call-and-response ceremony (which dates back to 1910). I ask Ana how much studying she has left before she becomes a doctor, and she tells me that she has completed three of the first seven years of study, at which point, she will need to study for four more years for a speciality. She says that is considering studying the specialty in the US.
"I am one of only six women, out of the 24 students in the program!" she notes, reminding me that the Mexican gender gap and cultural gender dynamics are still decades behind the US's.
"Well, at least that makes dating easier," I offer, but she has a discouraged look on her face.
"I don't have a boyfriend," she says. I'm surprised.
"Really? I thought nearly everyone in Mexico had a boyfriend or girlfriend!" I joke. I tell her that, during college, when I spent three months studying at a Mexican university, it seemed rare for any given Mexican student to be without a significant other. The Valentine's Day that I spent in Mexico made the US's version of the holiday look like a day of uncaring.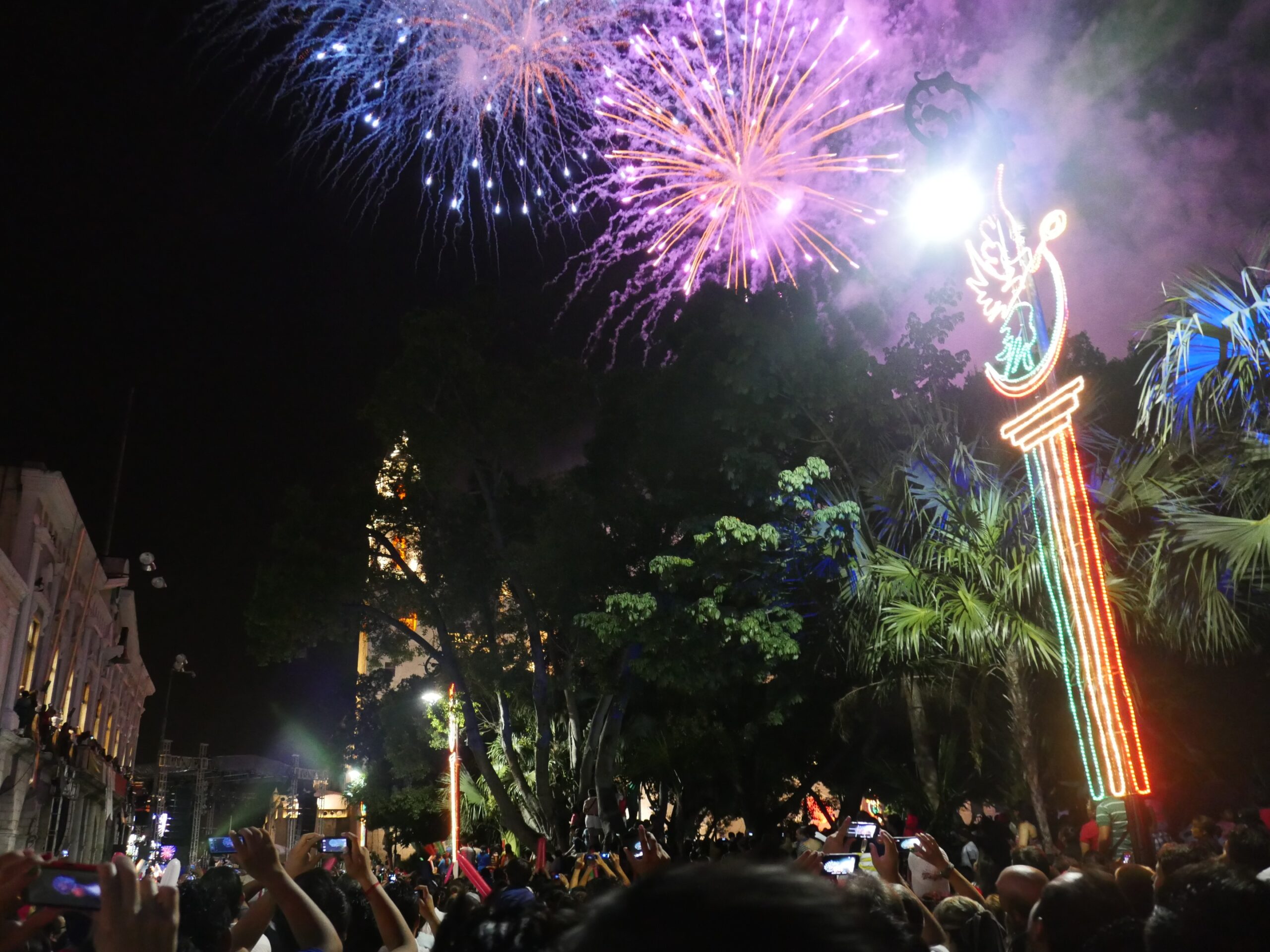 Fireworks explode above the cathedral in Mérida, Mexico.
Ana laughs a lot at that. "Yes, we're very passionate people," she says. "And, it's true, all of the other students have boyfriends and girlfriends. When I was 17, I had a boyfriend for 5 years, but we broke up. I didn't want to marry him. Now, I'm in love with someone at school."
"Why aren't you dating him?" I ask.
"He has a girlfriend," she says.
"Of course he does," I say, mostly — but not completely — joking. "It's Mexico."
We look up at the bar's television just in time to see Enrique Peña Nieto (Mexico's current president) start to call out the names of the leaders of the Mexican revolution. "Mexicanos! Vivan los héroes que nos dieron patria! Viva Hidalgo! Viva Morelos!" he calls. After each name, I hear the crowd in the bar and out on the street yell,"Viva!"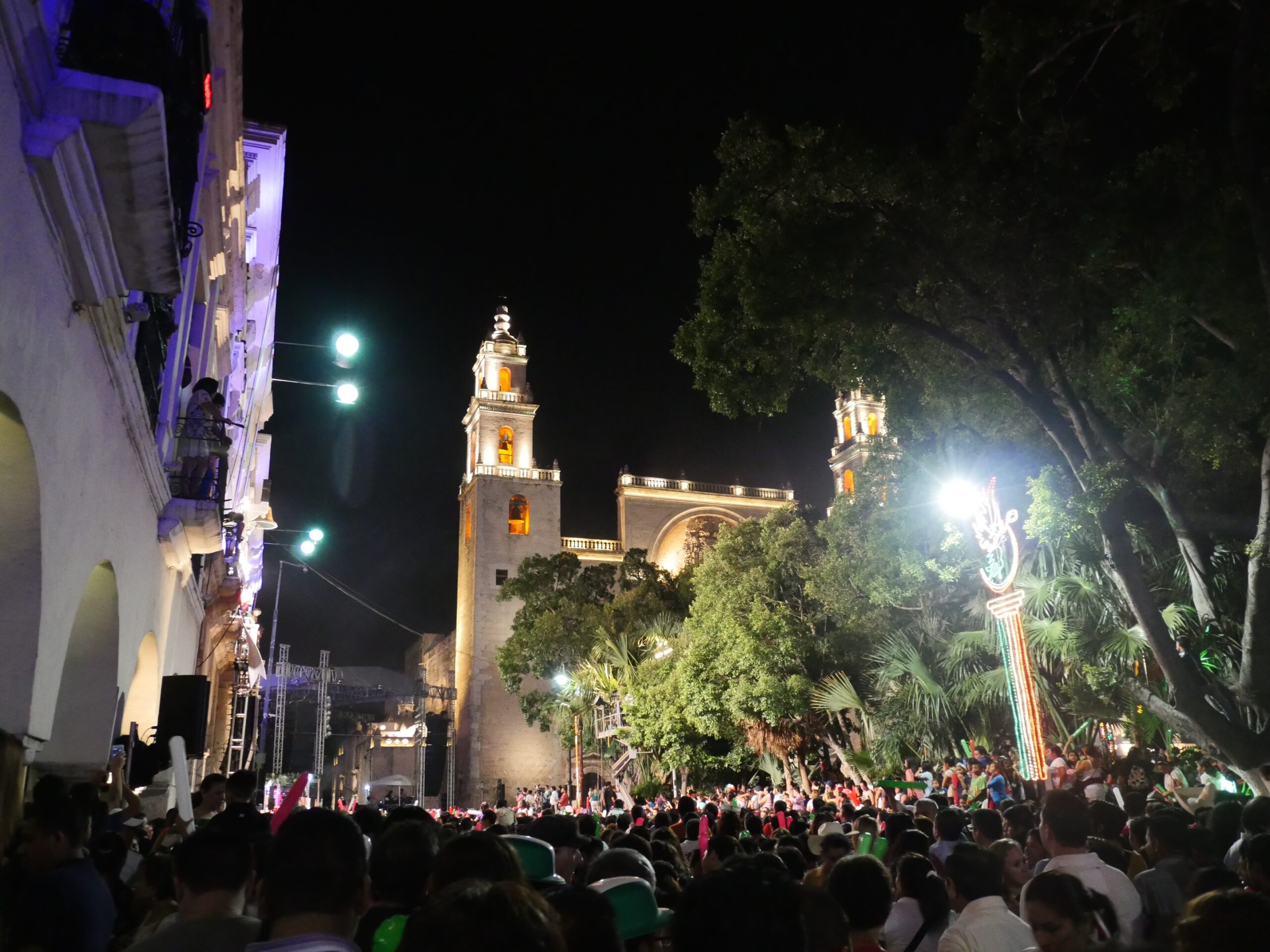 Crowds gather to watch Mexican band Intocable for Mexican Independence Day in Mérida, Mexico.
"We need to run to the zocalo to see the governor and fireworks!" Ana yells at me. I hurriedly pay the bill and we begin moving as fast as we can toward Mérida's Cathedral of Saint Ildefonso, the second oldest cathedral in the Americas. When we reach the zocalo, the streets are so packed (think Manhattan New Year's Eve) that we can't move, but our view is good. Thousands of people, holding long, red, white, and green balloons, shake them above their heads as bright, red explosions and white smoke trails fill the sky above the church. Ana gives me a red balloon to shake, and I immediately hit her on the head with it. (When you're holding a long balloon in a large crowd, it's really hard to resist hitting people on the head. Maybe that's just me.) Then, I remember why I've always felt like a giant when traveling in Mexico: my view of the festivities is practically perfect because I'm at least a half-foot taller than almost everyone in the crowd. The fireworks end with the crowd chanting "Viva Mexico," and, soon after, Intocable, a popular Mexican band, starts playing "Te Amo (Para Siempre)" ("I Will Love You Forever"). They continue with sappy song after sappy song, unabated: "Déjame Amarte" ("Let Me Love You") , "Que Fácil es Amarte" ("How Easy It Is to Love You"), and, of course, "Eres Mi Droga" ("You Are My Drug").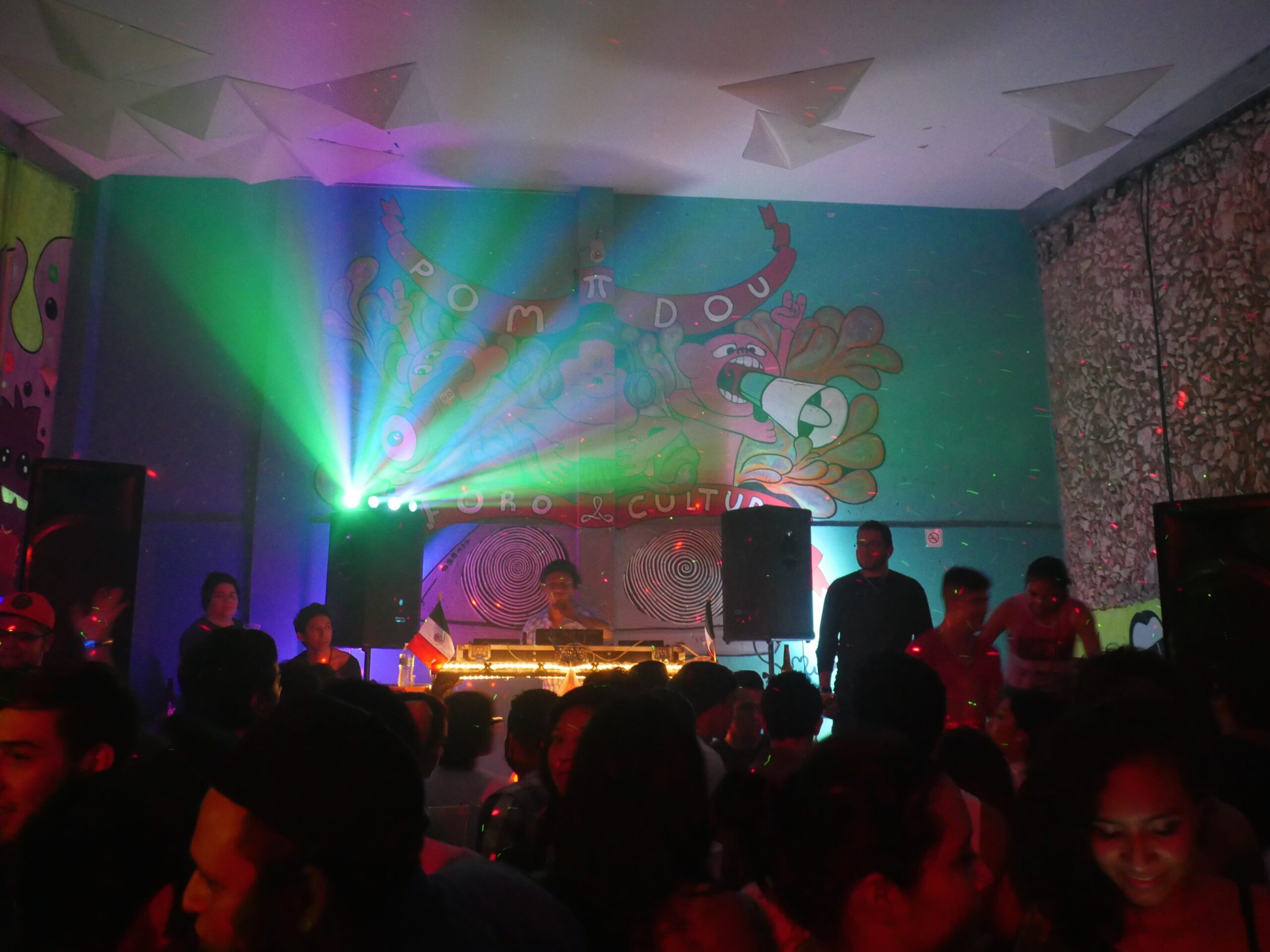 Dancers enjoy music at Casa Pompidou in Mérida, Mexico.
"See what I mean about love in Mexico?" I say to Ana. Around us, the dancing, throbbing crowd joins together, like a single, love-obsessed beating heart, singing "Para siempre, para siempre, te amo" ("Forever, I will love you"), in unison.
"Yes, we're so passionate!" she yells out. "Te amo," the crowd croons, seeming to agree with her. "Te amo para siempre."
The night after Independence Day, I have dinner with Cynthia — a 30-year-old Mexican friend who lives in Mérida and works as an executive assistant at a real estate firm. Afterward, the two of us decide to visit La Fundación Mezcalería, a bohemian dance bar near the city's center. The bar serves huge, brightly-colored, mason-jar cocktails made with mezcal, a Mexican alcohol made from the maguey (a kind of agave) plant. The bar's band changes most nights, playing electronic, rock, hip-hop, and more. After the bartender hands Cynthia and me our cocktails, I notice that tonight's band is playing salsa. Looking at the dance floor filled with experienced Latin dancers, I feel self-conscious and grab onto to my golden, tamarind-mezcal cocktail like it's a protective parent, as though holding onto it tightly enough will somehow save me from all social embarrassment.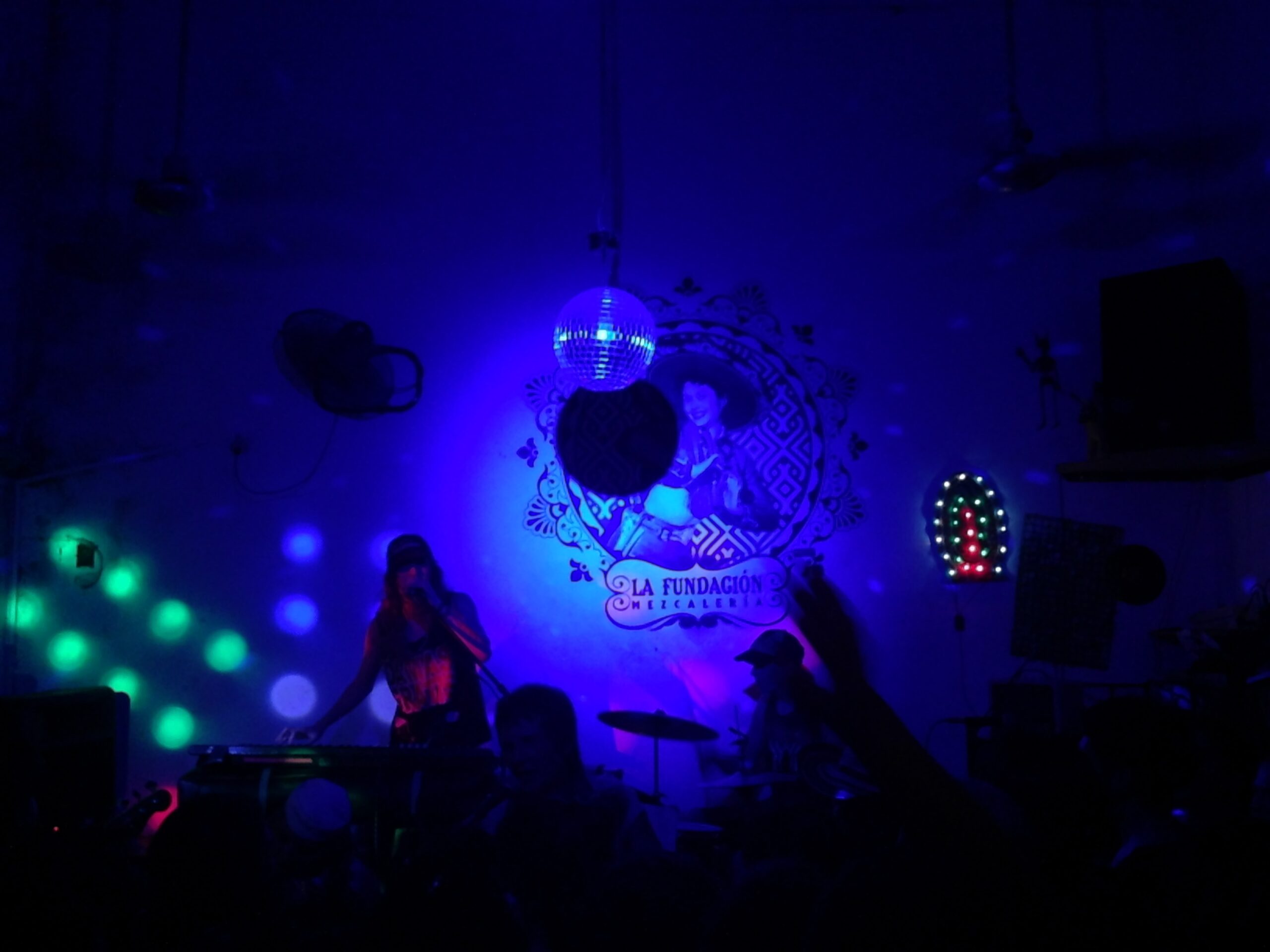 Dancers enjoy music at La Fundación Mezcalería bar in Mérida, Mexico.
"Oh no," Cynthia says in Spanish, as she grabs my hands and laughs. "You're going to learn salsa now, and I'm going to teach you." We start dancing together slowly, with me chanting, "Fast, fast, slow; fast, fast, slow," under my breath. Gradually, my feet seem to attach to the music's rhythm.
"Now, move your hips," she says. Feeling silly, I try to keep my hips as loose as I can.
"Now, stop looking at your feet," Cynthia says. "Look at my eyes instead." I look at her eyes, and, it's a miracle. We're dancing salsa in sync, almost (but, admittedly, not quite) effortlessly.
"Now, more passion," she says as she guides my arms to whirl her around.
I try. I really do. At least I'm not standing on the sidelines.
Dining and diving, deep in the Yucatán
The only thing better than cave diving in Mexico's Yucatán Peninsula is eating the mouth-watering cuisine.
OCTOBER 14, 2014 — "Buen provecho" says the waitress as she serves me a plate of what the menu describes as "traditional Yucatán whims," which include panuchos and salbutes — stuffed Mexican tortilla snacks native to Yucatán, Mexico. I'm sitting in my favorite restaurant in Mérida, Manjar Blanco, a hard-to-describe place that feels like a combination of a homey hole-in-the-wall serving your abuela's best traditional Mexican recipes shoved into a foodie art gallery with a clean design and black and white furniture. With my mouth watering, I take a bite of one of the panuchos, stuffed with refried beans and topped with pulled pork, avocado and pickled red onions. It's delicious. Then, I try a bite of a unique empanada filled with egg and chaya (Yucatán spinach) and covered in cheese.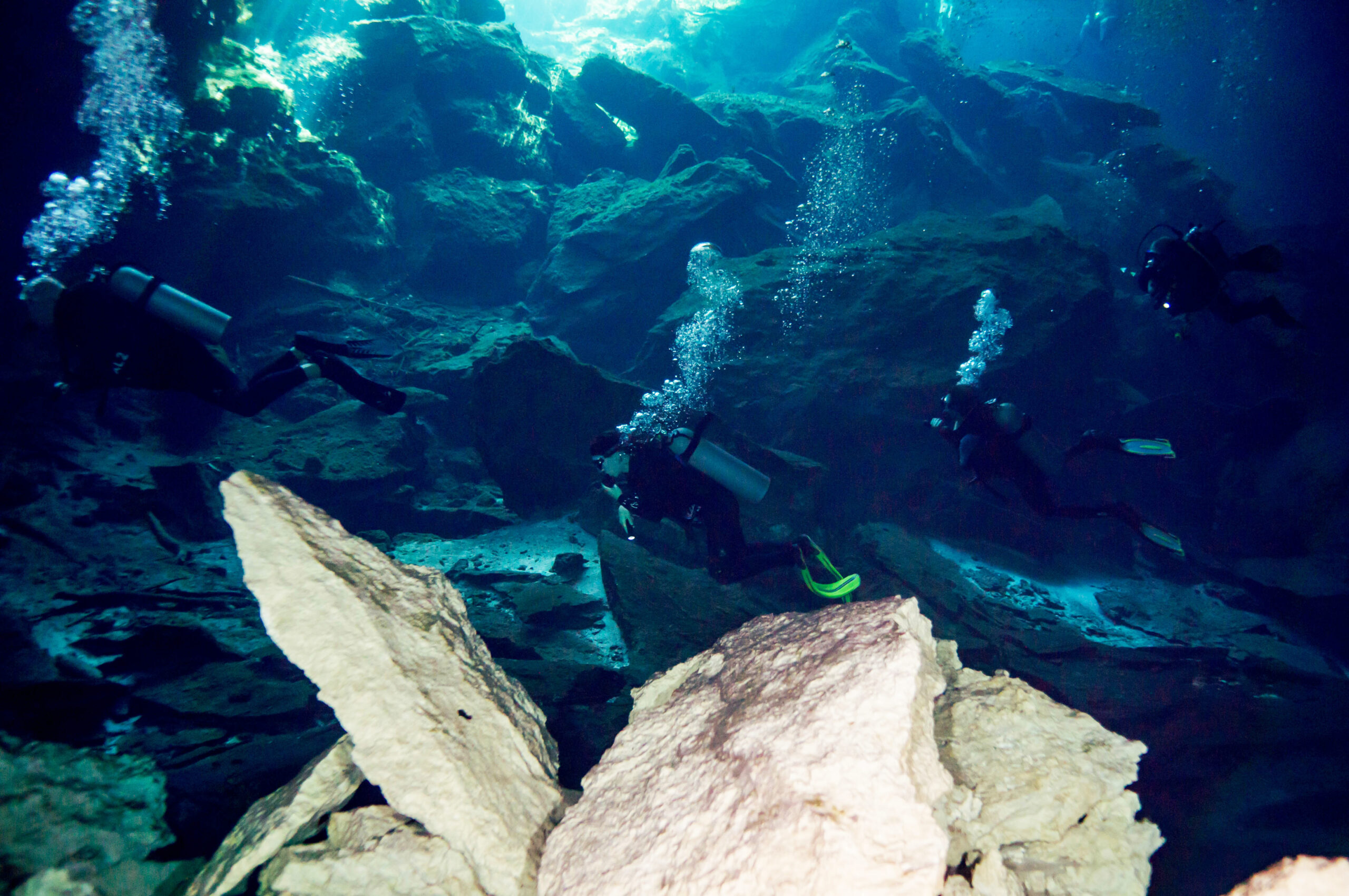 Divers swim in the Dos Ojos flooded cave system near Cancún, Mexico. (photo by Ratha Grimes)
"Oh!" I accidentally blurt out, realizing that this empanada is the best thing I've eaten in Mexico. This discovery is a surprise, even to me, because my road trip across the Yucatán has already been, at least, a fantastic culinary tour of the peninsula. I ate cream-filled, crunchy yet gooey churros from a zocalo vendor at a Sunday-night street dance party in Valladolid, a perfectly simple pulled-pork burrito at the lively Conato 1910 in Valladolid, a tender cut of halibut with a zesty mango salsa at the upscale Mérida restaurant Trotter's, luscious chicken enchiladas with green salsa for breakfast (!) at Mérida's Cafe Chocolate, a sesame-sauce covered traditional Yucatán chicken dish at Amaro in Mérida while listening to a trova (traditional Mexican guitar music) musician, homemade tortillas right out of the oven in Santa Elena near the Mayan ruins paradise of Ruta Puuc, and crushingly spicy tacos made by a dude at a service station on the side of Yucatán's major highway.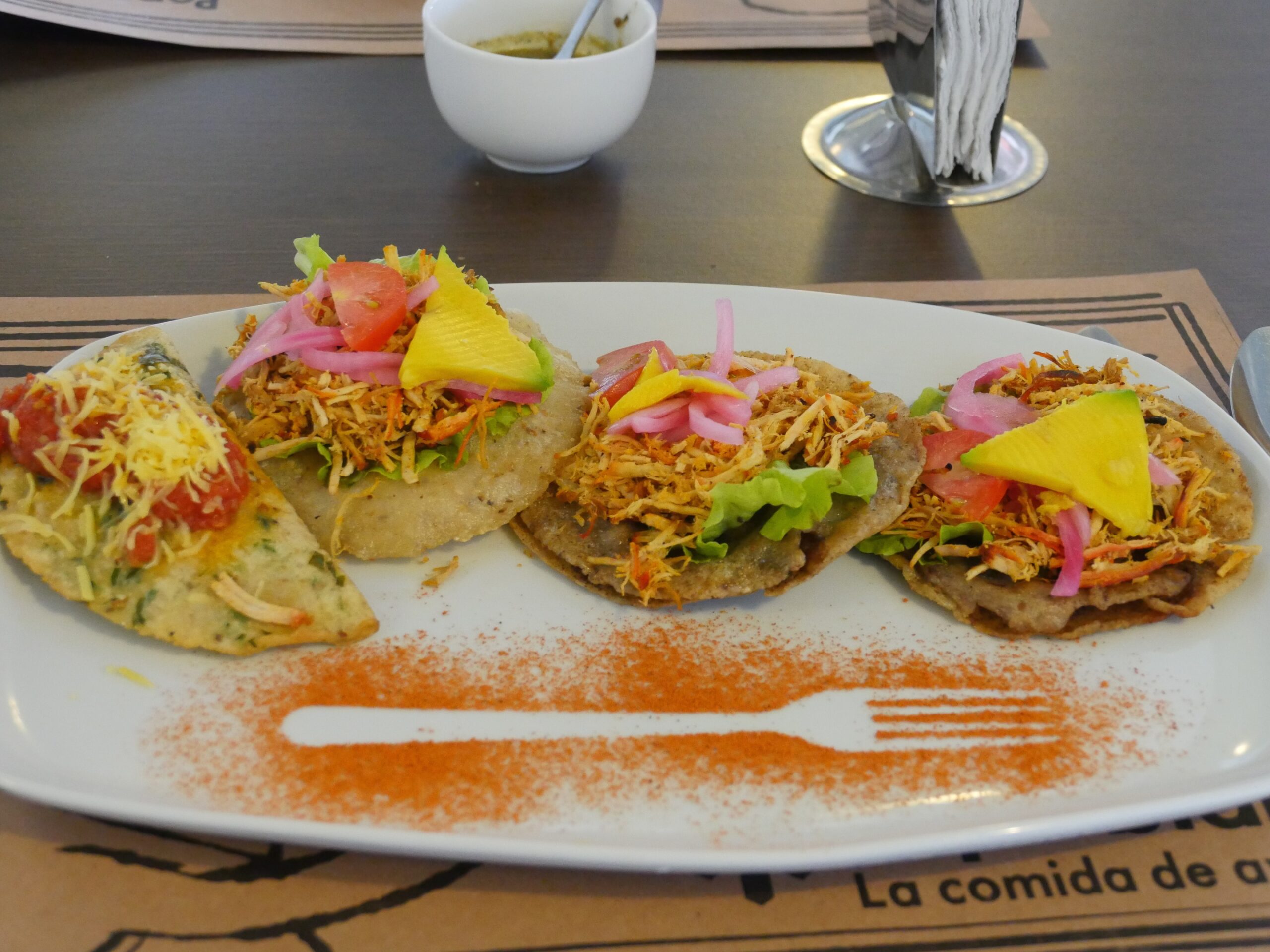 Mouth-watering empanadas, panuchos, and salbutes are served at restaurant Manjar Blanco in Mérida, Mexico.
My concerned waitress at Manjar Blanco rushes over to see why I've yelped. "It's just very, very good," I tell her.
"You should have dessert too, then," she says in Spanish. It's hard to say no at this restaurant, and after I finish the panuchos and salbutes and empanadas and the signature queso relleno entrée, I hear myself asking for the restaurant's namesake, manjar blanco (blancmange), a sweet, almond-flavored custard-like dessert. I'm eating so much mostly because I love this restaurant, but, also, I'm procrastinating. I've decided to leave Mérida today to visit cenotes — natural, underground sinkholes that provided one of the only sources of water to the Mayan inhabitants of the Yucatán — in nearby Cuzamá. I'm not that excited, though, because I haven't managed to convince anyone I've met here to go with me. I'm feeling a bit lonely about it. But, since I only have a few more days remaining in Mexico, it's time for me to see the caves.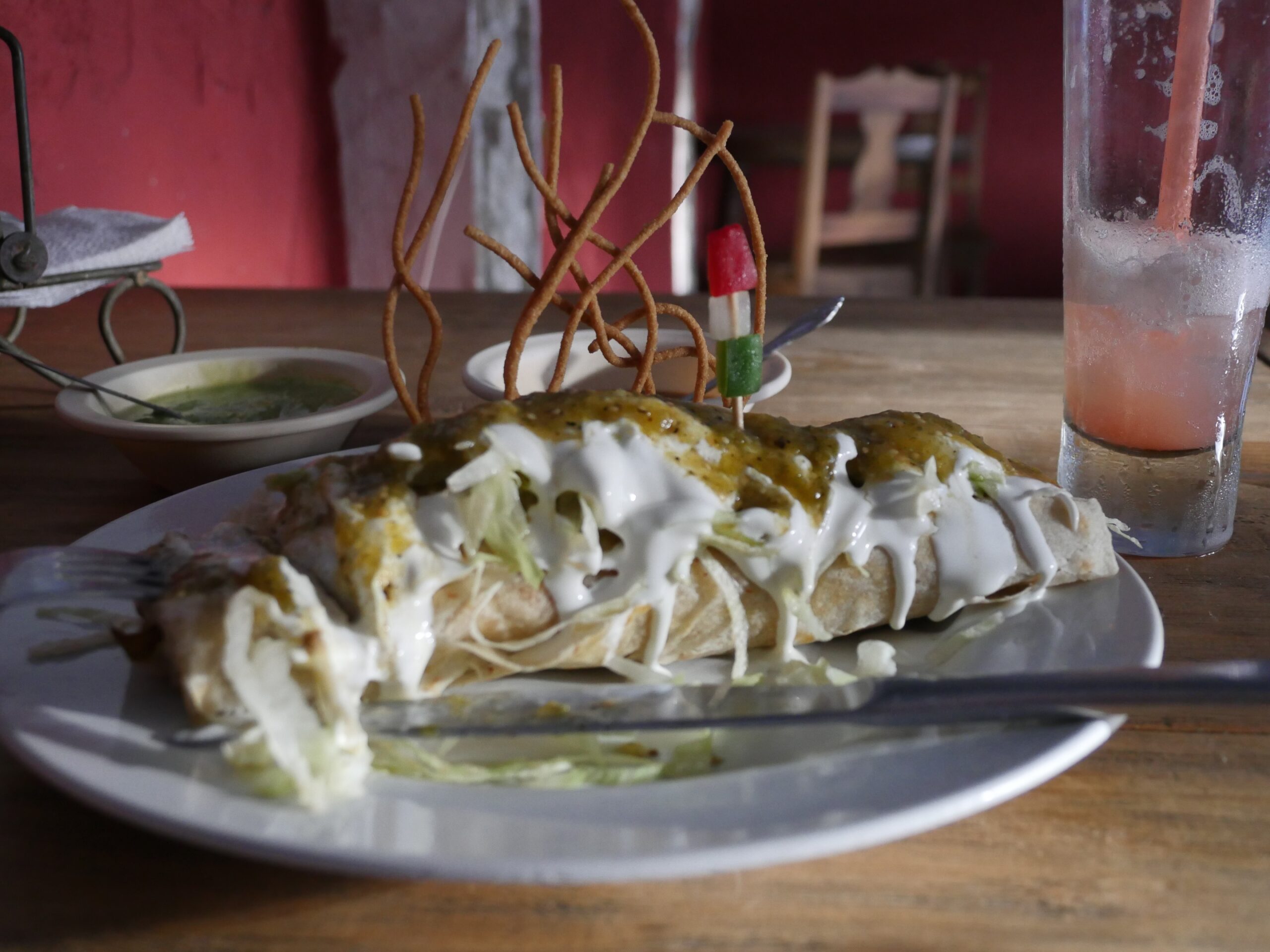 The Conato 1910 restaurant in Valladolid, Mexico serves excellent burritos.
After devouring my dessert, which is similar to rice pudding (one of my favorites) — I jump into my tiny rental car (it's about the size of a lawn mower) and drive to Cuzamá. Due to intense competition for tourists, seemingly every guy I pass on the side of the road near the town yells out, offering a guided tour. But, I hold out until I find what I've been told is the quirkiest way to go: at an abandoned hacienda, guys take tourists on a horse-drawn railcar — which I didn't even know was a thing — to the three of the area's best cenotes.
At the hacienda, a 50-year-old man named Roberto and a 10-year-old boy named Ernesto tell me to jump into the back of one of the carts, and its horse starts pulling us down rickety tracks toward the cenotes. When another cart approaches from the opposite direction, it occurs to me suddenly that there's only one set of tracks. I wonder what happens now, I think. Immediately, Ernesto tells me to get out of the heavy cart, which he and Roberto then lift and slide off the tracks to let the other cart pass. For me, this is the most exciting part of my day. After I climb down a rickety ladder into an ancient-feeling underground tunnel to the first cenote, I realize that my feelings at Manjar Blanco were right: when you go swimming in magical caves, you really just need a friend to go with you.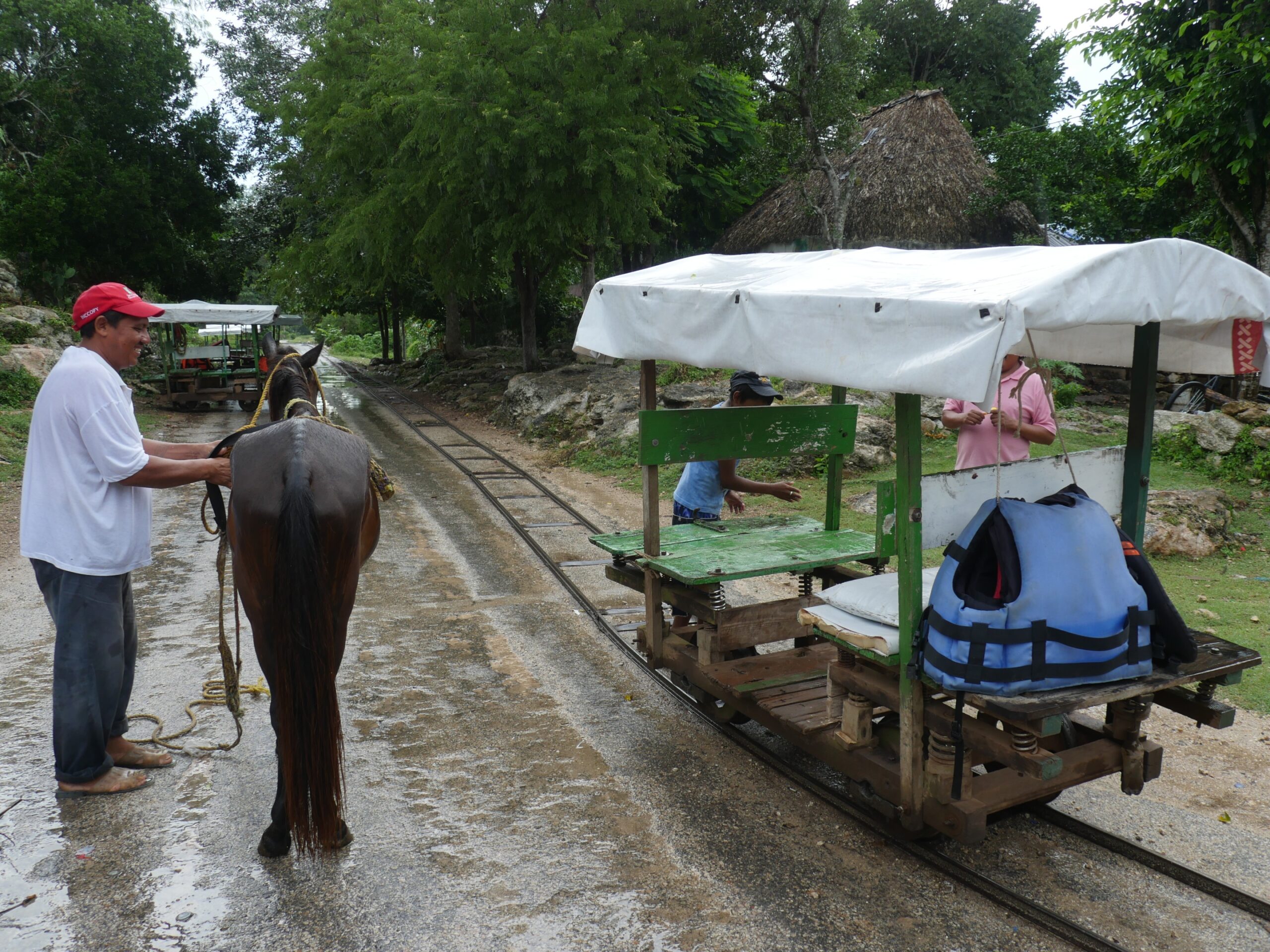 A guide readies his horse and railcart for a cenotes tour in Cuzamá, Mexico.
After the bumpy railcart ride back to my car, I discover a text message from my friend Chloe, a spunky, 25-year-old British radio producer who quit her job to travel through Latin America. I met her two weeks ago at a travel writers' conference, and she told me that the first month of her trip would be spent in Playa del Carmen. "Come to Playa!" she writes. "I will snorkel in the cenotes with you if we can make it work." I had never planned to visit Playa del Carmen on this trip — I knew I'd be annoyed by the rich tourists and chain stores and mediocre resorts — but, after a disappointing cenote adventure with only three days left in my trip, I decide it's worth braving the tourist masses to hang out with Chloe.
In the evening, I arrive at Chloe's hostel: Hostel 3B, a self-proclaimed "party hostel," advertising a party on its rooftop pool-bar every night. I'm too old for this, I think. But, the truth is, I realize, that even when I was 18 years old, I wasn't extroverted enough to get excited about staying at a "party hostel." I book one of the hostel's only private rooms.
But, when I walk up to the roof, the lights are off and there's no party at all. Apparently, Sundays are the partiers' day-off. I see four women, including Chloe, sitting on the deck alone in the dark, eating sushi out of plastic, convenience store bags. They're enjoying the meal on a makeshift bed that they've built from chaise lounge cushions. I join them, and Chloe introduces me to Annie and Ellie, two Australian sisters taking advantage of time off from college, and Katie, a backpacker from Colorado who is near the end of a long trip through Latin America.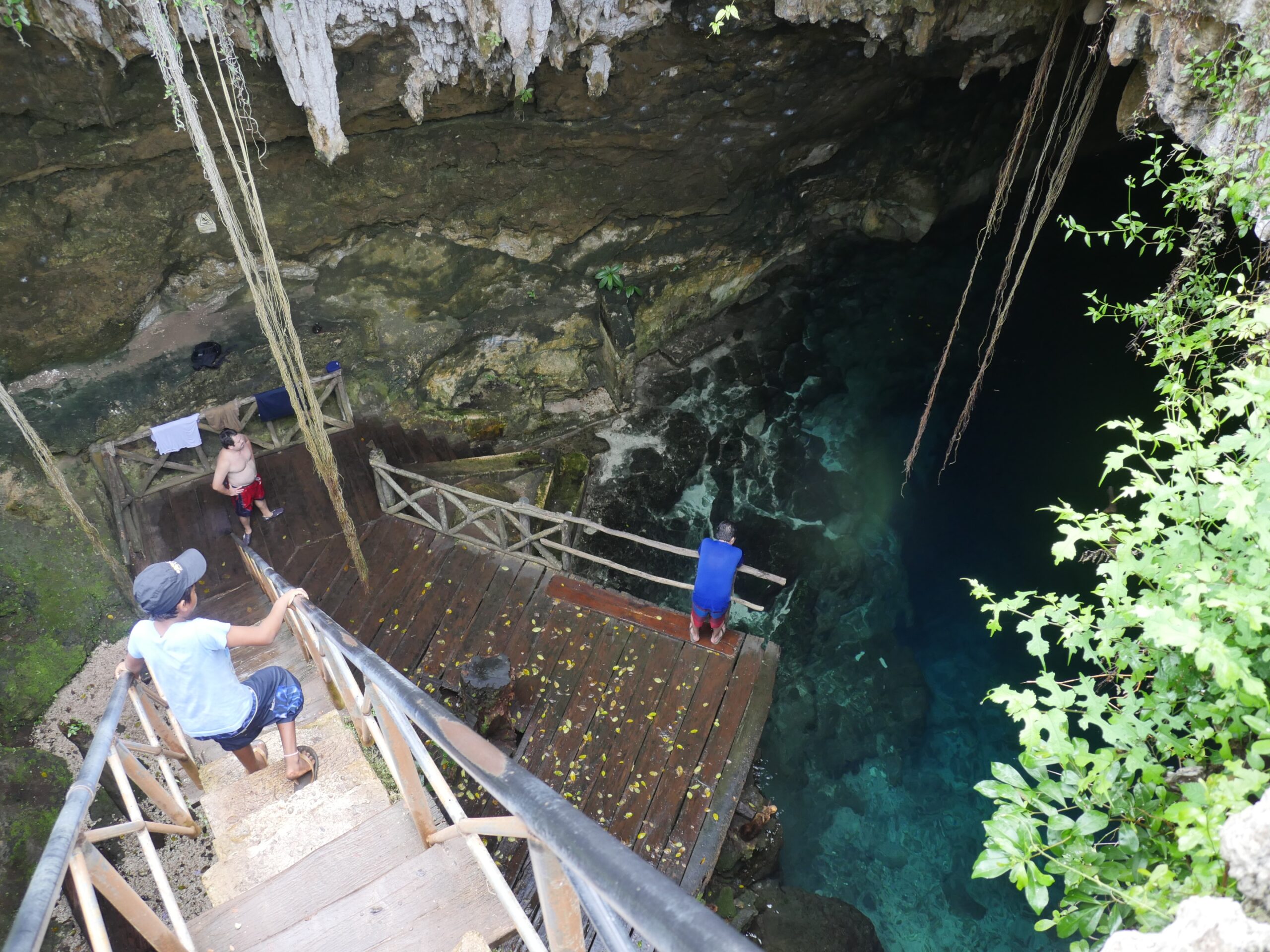 Tourists walk down into a cenote in Cuzamá, Mexico.
"Everyone wants to go with us to the cenotes tomorrow," Chloe tells me.
"Fine with me," I say. "But my car is tiny. Like really tiny."
"I get shotgun," nose-ringed Ellie yells out, marking herself immediately as the rowdiest of the group.
The next afternoon, the four girls and I pile into the world's tiniest car — with Ellie in the passenger's seat — and head toward Dos Ojos, a 51-mile, flooded, underground cave system. Because I watched a few dazzling videos of people scuba diving cenotes a few nights before, I have decided to scuba dive while the girls snorkel (none of them are scuba-certified). When we arrive, we have to split up to enjoy our respective activities, and I feel a little stupid that I'm swimming in the cenotes by myself, again, considering that the idea, this time, was to dive into cenotes with friends.
But, as soon as I'm underwater with an air tank strapped to my back, I'm thrilled. This is the first time I've been cave diving, which can be nerve-racking psychologically because there are places where it's impossible to escape to the surface, due to the cave's low ceiling. (Though the practical implications are not as comparatively grave as they seem; on some dives, shooting to the water's surface in an emergency can kill a diver anyway, due to decompression sickness.)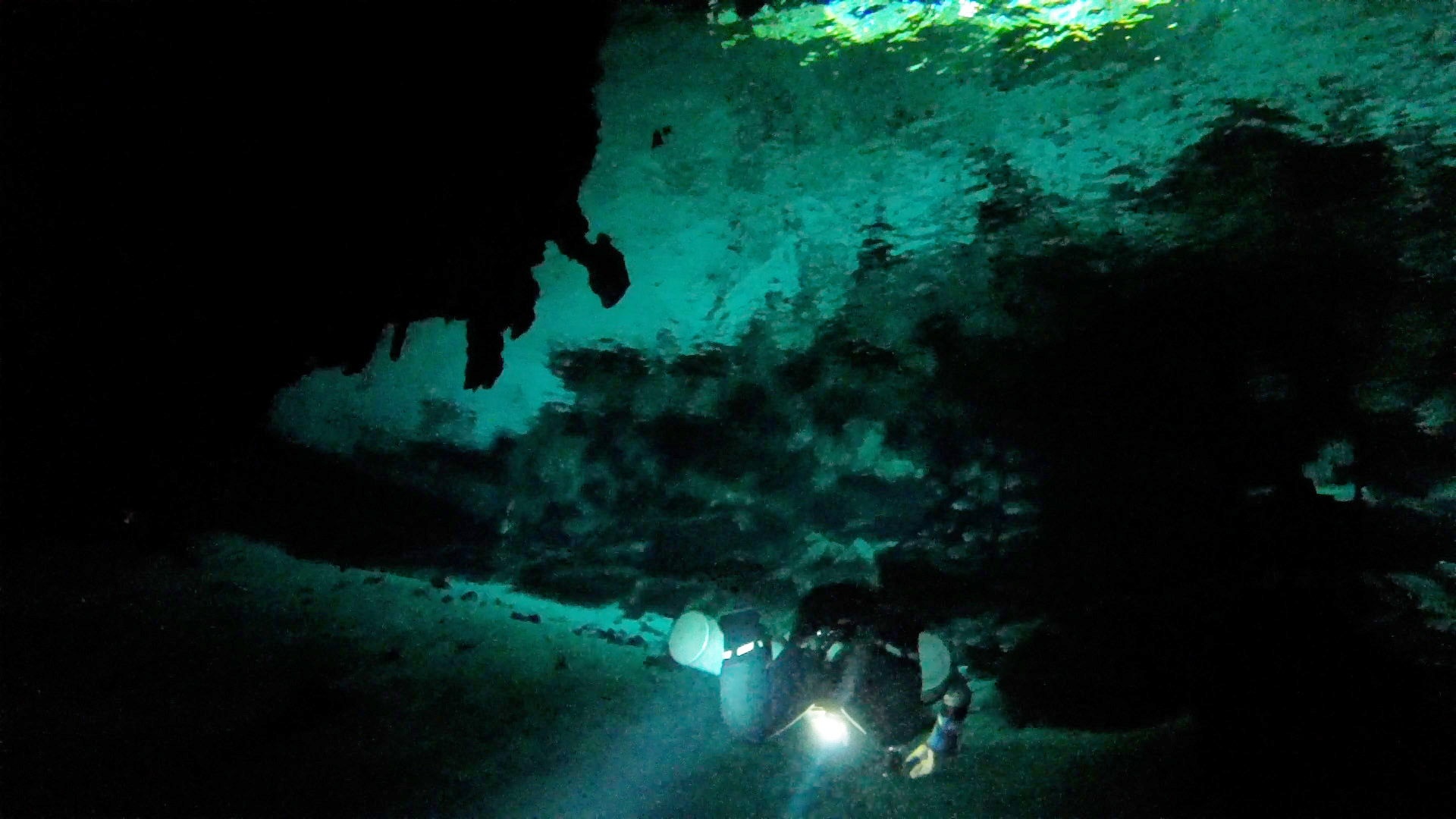 A diving guide dives in a cenote (limestone sinkhole) in the Dos Ojos cave system near Cancún, Mexico.
My diving guide and I spend 45 minutes swimming miles and miles through the huge cave system. Using a flashlight, I see jagged rock formations, with pointy stalagmites and stalactites surrounding us everywhere. Occasionally, a dark tunnel opens into a large cenote atrium with a shimmering, greenish-yellow water surface "ceiling" overhead and spiny cave walls enveloping us. It's one of the best dives I've ever done. When I reunite with Chloe, Ellie, Annie, and Katie to do some swimming, I no longer feel alone, and my love for cenotes has exploded.
In the evening, there's a big pool party at Hostel 3B (surprise!), and Ellie somehow convinces me to pair with her against Chloe and Annie in a game of beer pong. It's a long, contentious game, and, by the end, each team has only one cup remaining. "We're going to take you down," Ellie yells between gulps of beer. Finally, in a stunning display of skill (if I may say so), I fire the ball into Chloe and Annie's cup, clinching the win for Ellie and me. Ellie raises her arms, cheers in celebration, and high-fives me as we congratulate each other. Maybe you can never be too old for new friends, I think to myself, noticing that I'm kind-of enjoying our party hostel.
A cenote (limestone sinkhole) for swimming at the Dos Ojos cave system near Cancún, Mexico.
I'm so hungry after our big win that I try to convince Ellie to join me to search Playa del Carmen for food at 1 AM, but she says that she can't imagine eating — our small-margin beer pong win and the accompanying alcohol didn't do her stomach any favors, and she doesn't want to leave the party.
So, I head out by myself on my last food search in Mexico. Instead of venturing down La Quinta Avenida, Playa del Carmen's boring, upscale chain-store shopping and overpriced restaurant district, I walk behind the hostel, into a local, residential neighborhood with no Louis Vuitton or Hard Rock Cafe. I ask a Mexican woman minding a tiny bodega if she knows of a place where I can get food this late at night. She tells me that if I walk a few more blocks, I'll run into a taco stand that she likes. Sure enough, I discover a guy with a grill serving up a variety of meat tacos and order a few. He points me to a lone plastic chair on the sidewalk and delivers a plate of tacos to my lap. I take a bite of a pork taco.
"Oh!" I blurt out to no one. I realize that this taco, in the middle of the night on an obscure street in Playa del Carmen, may very well be the best tasting taco in all of Mexico. Chloe, Ellie, and Annie, back at the party hostel, don't know what they're missing.
How Independent Travelers Can Avoid Tourist Crowds
Visit tourist attractions in places that most tourists and organized tours avoid due to their logistical, security, and liability issues (while still taking real risks seriously, of course). Locals living in a country can often provide a more nuanced assessment of the places that are dangerous in a location, as compared to the (still useful) blanket warnings issued by the US State Department, so try to talk to people living in the destination before you go.

Travel to a destination outside of its normal tourist season. Often the reasons people travel to a destination during a given "season" aren't necessarily sensible. For example, people tend to travel places when the weather is hot, but traveling (and hiking) in cooler weather is often more pleasant. Out of season, prices are lower, attractions are less crowded, and locals are less annoyed with tourists.

Avoid visiting a tourist attraction just because it's a "name brand" attraction and focus instead on places just as good but not as well known. For example, Mexico's Mayan city of Ek' Balam is not as well known as Chichen Itza, but it's almost as good and has many fewer tourists.

Visit tourist attractions as soon as they open in the morning or late in the day just before closing; most bus tours bring tourists to sites in the middle of the day.

Grab an umbrella or rain coat and travel to popular sites on rainy or overcast days. Many people hate to leave their hotels in the rain.
How to Visit Yucatán's Best Ancient Mayan Cities
OVERVIEW: Chichen Itza, one of the New 7 Wonders of the World and an UNESCO World Heritage Site, is considered one of the greatest Mayan cities in the world and one of the most important examples of the Mayan-Toltec civilization in the Yucatán. The ruins of nearby Ek' Balam, is also an impressive Mayan ruins site worth visiting. (Though tourists are no longer permitted to climb to the top of the ruins at Chichen Itza, visitors may still climb to the top of the Acrópolis at Ek' Balam.) The Mayan cities of Uxmal, Kabah, Sayil, Xlapak, and Labná near Mérida are not as popular, which makes them even more worth visiting, especially beautiful Uxmal and Labná.
RENTING A CAR IN QUINTANA ROO OR YUCATÁN: The easiest and fastest way to visits these sites is to rent a car, and driving in Yucatán and Quintana Roo is surprisingly easy and safe. Nevertheless, as always, renting a car outside the US is a frustrating and slow process, so make sure you're knowledgeable about the insurance you need and the terms of your contract. My customer service representative at the Cancún Hertz became combative when I declined their expensive car insurance, took an hour to supply a car for me, and brusquely demanded that I pay an extra US $44 when I returned the car an hour late, a charge not agreed upon in my contract.
CHICHEN ITZA AND EK' BALAM: On the 180D toll highway, it's an easy drive to Ek' Balam and Chichen Itza from either Cancún (2 hours) or Mérida (1.5 hours). Oriente buses will also take travelers to Pisté (the town near Chichen Itza) from Mérida (M$120, 1 3/4 hours) or Cancún ($M202, 3 hours).
UXMAL, KABAH, AND THE RUTA PUUC: From Mérida by car, follow 261 south toward Muna to Uxmal (1 1/4 hours) and Kabah (20 more minutes). From Kabah, it's a 5-minute drive south to the left turn onto the signed Ruta Puuc, which leads to Sayil, Xlapak, and Labná. ATS also offers a bus tour to these sites on Sunday from the Mérida 2nd class bus station.
Where to Go Dancing in Mérida, Mexico
OVERVIEW: Mérida is the self-proclaimed cultural capital of Mexico's Yucatán and has a colonial downtown, good museums, 16 universities, and a vibrant nightlife.
LA FUNDACIÓN MEZCALERÍA: This bohemian dance bar sits at the corner of Calle 56 and 53 in the center of Mérida and serves up large, stiff mezcal drinks, live bands, and a friendly atmosphere. There's a M$50 cover charge on the weekends but they allow reentry if you want to bar crawl, and the crowd here loves to dance.
CASA POMPIDOU: This mostly-outdoor electronic dance house and art gallery at the corner of Calle 53 and 58 in the center of Mérida fills to the brim with dancers on weekend nights (M$50 cover charge on weekends). The music is good, the crowd is laid back, and the micheladas flow. There's also a small patio with tables to grab food for starving dancers.
RO BY CIELO: One of the most popular new dance clubs in Mérida, this trendy club sits above a "warm up bar" at Paseo de Montejo and Calle 17, just outside the old city center. It's trendy and the crowd has money (M$100 cover charge) and dresses up, but they all love to dance.
How to Swim, Snorkel, and Scuba Dive in Cenotes in Mexico
OVERVIEW: Cenotes are natural, underground sinkholes that provided one of the only sources of water to the Mayan inhabitants of the Yucatán Peninsula. You can swim, snorkel, and in some cases, scuba dive in the cenote cave systems.
LOGISTICS: Fly into Mérida, Mexico (closer to the Cuzamá cenotes) or Cancún, Mexico (closer to the Dos Ojos cave system) and rent a car. It's also possible to take a local bus from Cancún to Dos Ojos or arrange transportation with the Dos Ojos diving outfit.
CUZAMÁ CENOTES: While there are many cenotes throughout the Yucatán, the Cuzamá cenotes, which are a 1-hour drive on 18 from Mérida or a 3-hour drive on 180D from Cancún are especially fun because tourists can take a horse-drawn railcart tour to visit them (M$250 per person). The trick to finding the railcart tour is to drive to the church in the center of Cuzamá, then head south (if you arrive in Cuzamá from Mérida from the east, take a right at the church). Then, follow the road, past the conspicuous parking lot offering Cuzamá tours, to the abandoned hacienda at a big bend in the road. You'll see train tracks and a railcar across from a small parking area if you watch closely. Take a friend — you'll have more fun.
DOS OJOS CENOTES: The Dos Ojos cave system (a 90-minute drive south on 307 from Cancún, Mexico) is a 51-mile, flooded, underground cave system open 8 AM to 5 PM every day (M$100 admission). You can swim in the cenotes on your own, or you can choose to have a guide take you on a guided snorkeling (M$300) or scuba diving tour. You must be certified to dive, and an advanced certification is preferred because of the unique attributes of cave diving. The dive shop offers one dive for US $90, two dives (with a 60-minute interval) for $130, or three dives (one at Gran Cenote and two at Dos Ojos) for US $250, including all equipment. They also offer a variety of multi-day dive packages and week-long Spanish lessons combined with diving packages. During tourist season, organized dives usually leave early in the morning, so call the night before you want to dive to make reservations (+52 984-807-9110).