AUGUST 8, 2013 — "I can see you," says the text on my phone from my friend Connie. "Come up the escalators." As Connie directs me via text toward her in the middle of London's Aldgate Tube station, I feel like I have a creepy stalker watching me. I'm a little nervous, because I met Connie and her friend Silvina only once, in Fiji four months ago, when I intercepted them during their five-month-long trip around the world. On a dock overlooking the South Pacific, the three of us spent nights together playing cards, but I'm wondering whether meeting in "real life" away from a backpackers paradise will feel awkward, like running into a high school teacher outside of school.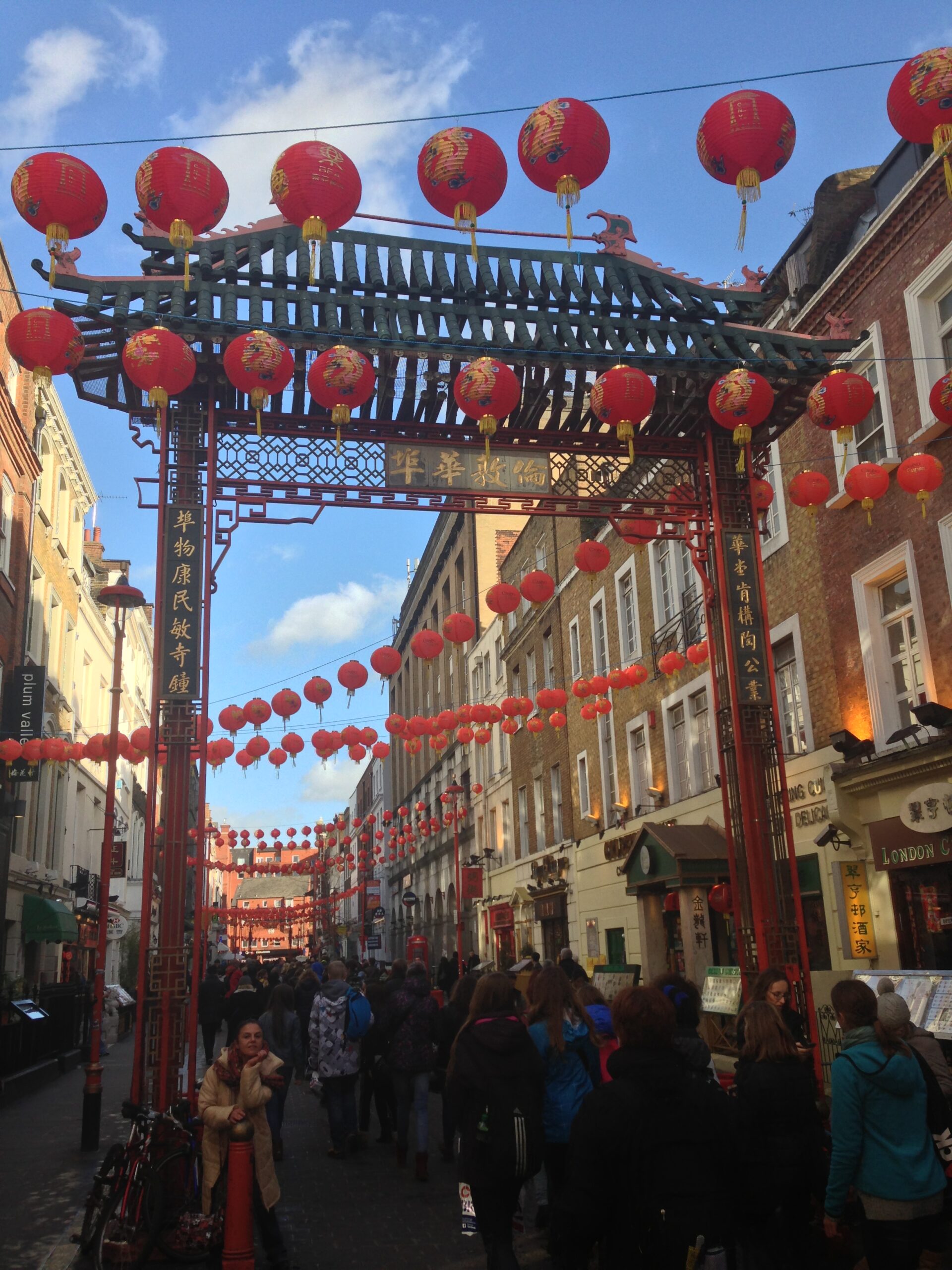 Chinese lanterns hang over Gerrard Street in London.
"Well, I'm glad that's sorted," Connie says with her strong British accent when we find each other. I chuckle.
"I love how the accent and Britishisms here makes people seem they're starring in an adorable romantic comedy," I say. After hugging awkwardly (is there any other way?), we start walking together toward Aladin Brick Lane, one of London's best Indian restaurants, to meet Silvina.
"What do you guys think about kayaking in the Thames tomorrow?" I ask during the meal. It's January, and both Connie and Silvina look at me like I've just suggested that the three of us simultaneously commit suicide by jumping from London's famous Tower Bridge.
"Are you mental?!" Connie asks. "Do you have any idea how cold the Thames is?"
"You guys are wimps," I say. "But, fine, then what are we going to do tomorrow?"
"Relax," Connie says. "We won't get bored."
The next morning, while Connie interviews for a new job, Silvina and I meet at the Breakfast Club, a yummy London restaurant serving enormous American-style breakfasts with pancakes, bacon, eggs, potatoes, and, of course, real maple syrup. (This, by the way, is the exact meal that I crave when I am jetlagged.)
"Gross," Silvina says as we eat. "It's so weird that Americans fancy eating sweet and savory foods at the same time."
"Maple syrup and bacon are two of the greatest foods ever invented," I say. "You'd have to be crazy not to fancy them."
"Wait, what is maple syrup? Is it the same as golden syrup?" Silvina asks.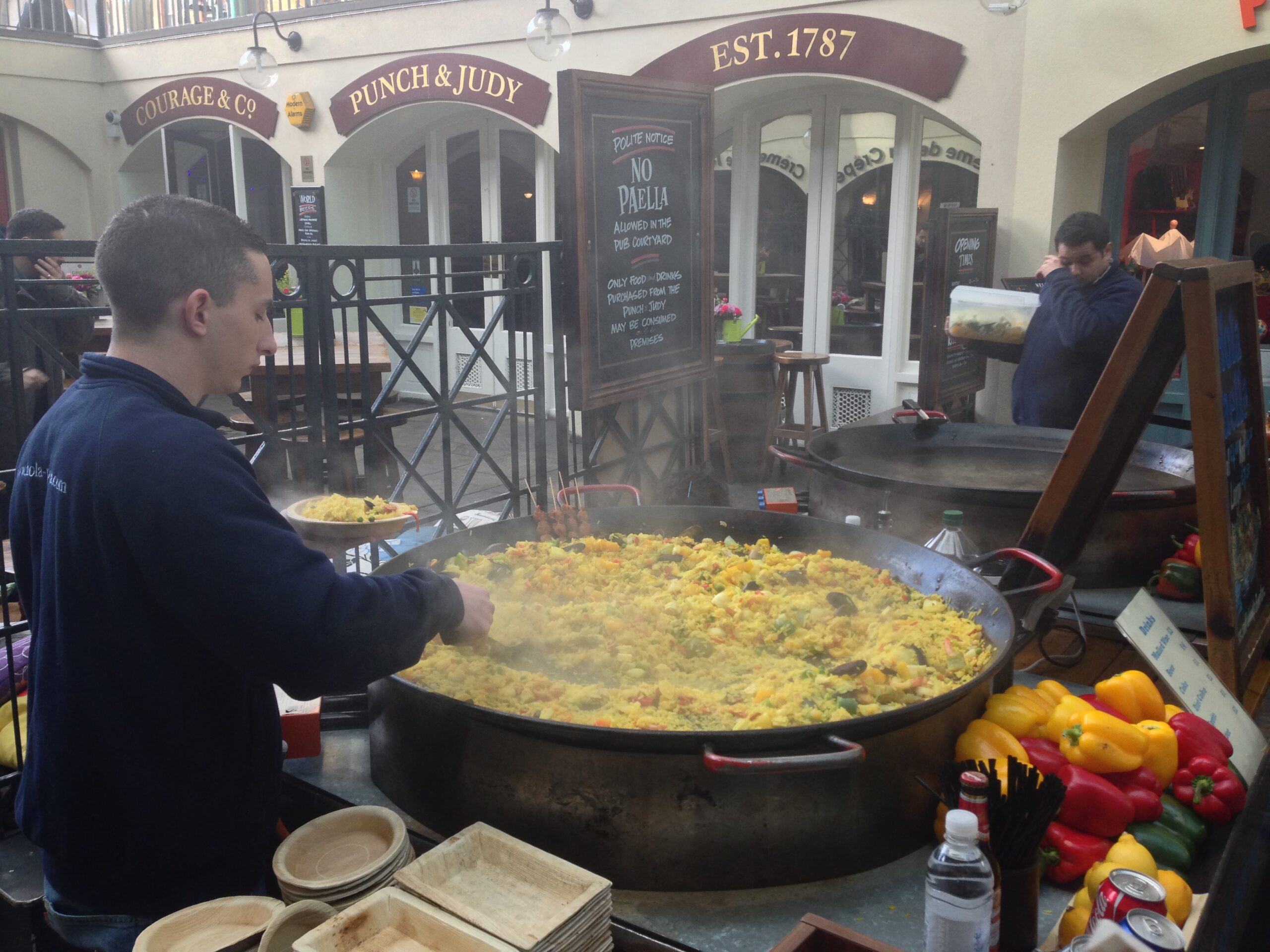 A man makes paella at Covent Garden Marker in London.
"Golden syrup?! Is that even a thing?" I ask.
"I don't know; doesn't maple syrup only come from Canada?" she asks. I get the feeling that a second Revolutionary War is on the verge of breaking out between us.
"What?! No, maple syrup can from any maple tree," I argue. After some Googling, we discover that golden syrup is a syrup, especially popular in Britain, made only from sugar. Maple syrup, of course, is made (at least partly) from maple tree sap. Thanks to Wikipedia, we manage to avoid the Revolutionary Syrup War.
On the way to handicrafts market Covent Garden, I spot a shop selling bubble tea, one of my favorite sugary beverages.
"I've never tried it before," Silvina says. I stare at her in disbelief for a moment before I force her inside and order a honeydew tea with tapioca boba, my favorite, for her to try.
"What's honeydew?" Silvina asks.
"Are. You. Serious. Right. Now?!" I ask. But, I see that she's not kidding. "It's a green melon! Is this a Britain-doesn't-have-honeydew thing or a Silvina-is-weird thing?"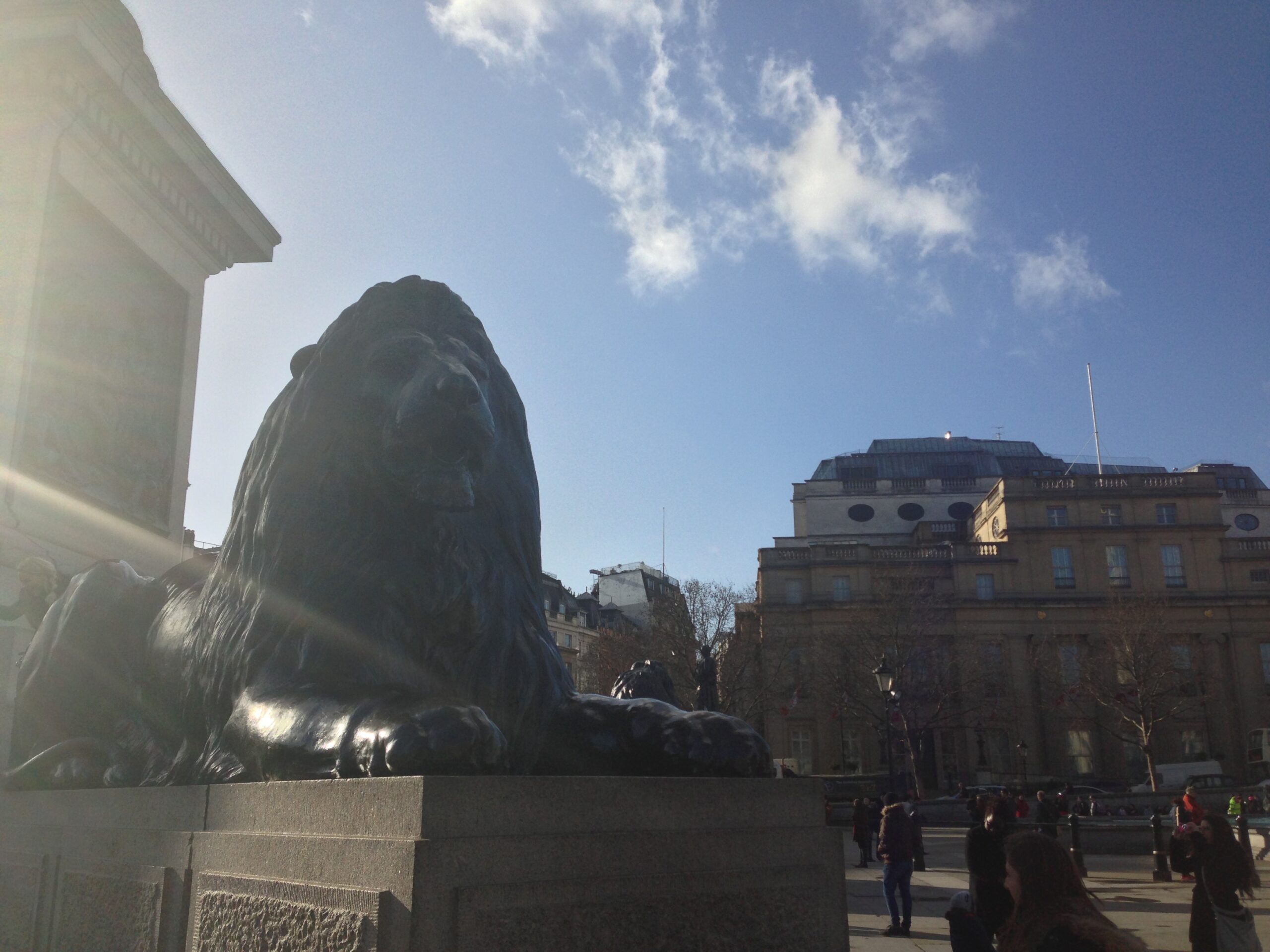 A lion statue guards war monument Nelson's Column in London's Trafalgar Square.
"I don't think we have it," she says. I'm skeptical.
After leaving the shop, we take a whirlwind walking tour of London: we see a paella vendor serving bright yellow paella from a three-foot pot at Covent Garden Market, a man on stilts entertaining a crowd in front of St. Paul's Church, a string of red Chinese lanterns above Gerrard Street in Chinatown, four bronze guard lions in Trafalgar Square, Big Ben towering over us, and the regalness of the Palace of Westminster and Westminster Abbey. We can barely catch our breath when, near Westminster, Connie pops out of a Tube train to meet us.
"Connie, seriously, tell the truth: do you know what honeydew is?" I ask as we board a train toward Greenwich.
"Yeah, it's a yellow melon," she says.
"No, it's green!" I say. She looks at me, confused. "Oh God, we have to find a melon expert. Wait, are there melon experts? Are there people who get PhDs in melons?"
"You're a nutter," Silvina says. On the train to the Royal Observatory in Greenwich, we're laughing so much about melon PhDs and the difference between maple and golden syrup that we find ourselves lost.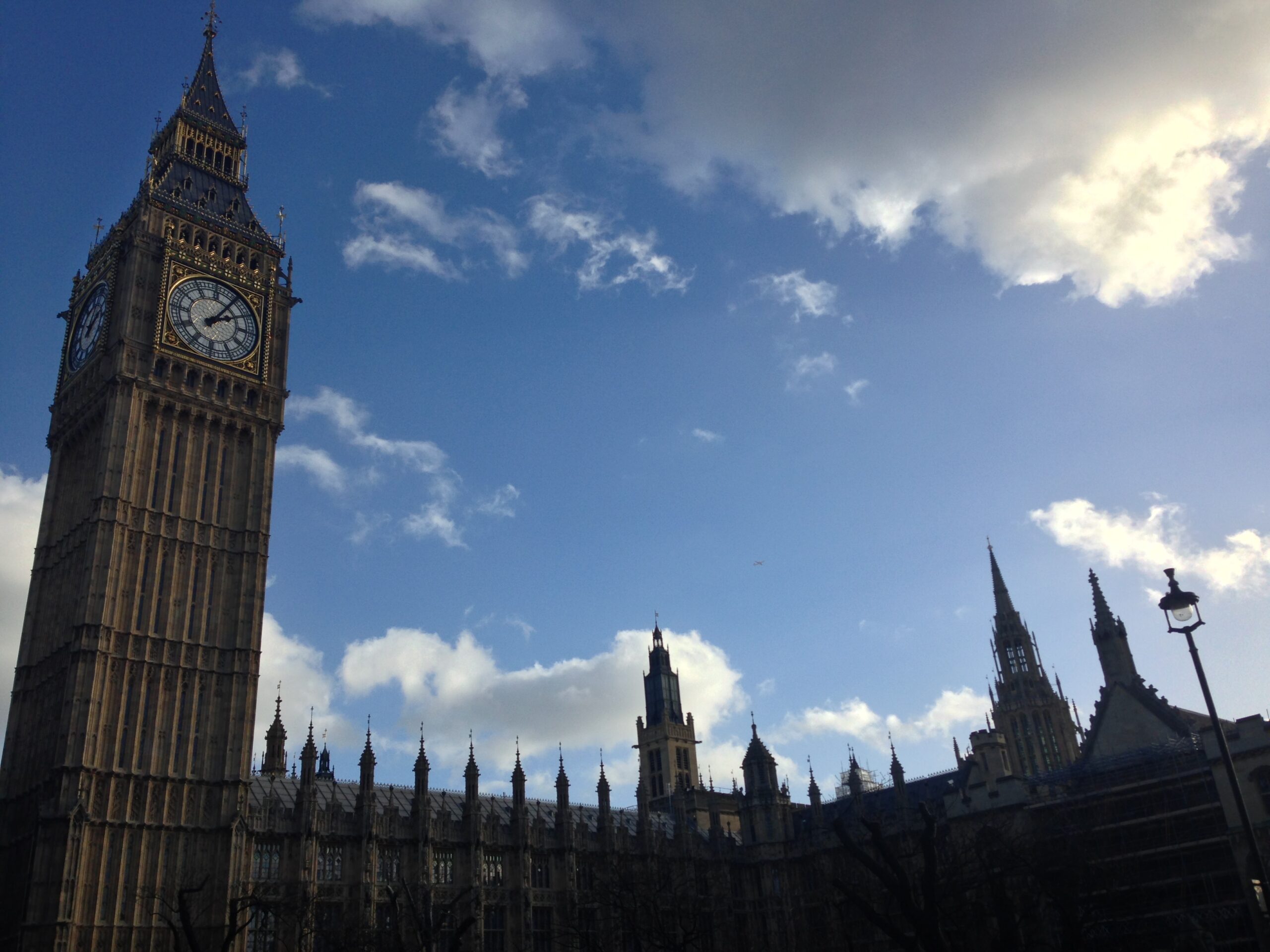 Big Ben at the Palace of Westminster is London's most iconic landmark.
"Quick, are there any melon experts on this train?!" I yell. As we laugh while trying to decipher the Tube map together, it becomes clear how we became fast friends in Fiji. After a couple transfers, we finally end up at the Royal Observatory, where we play an educational video game that requires us to cooperate to send a space probe to Venus. We fail miserably and end up rocketing our probe directly into a comet. Afterward, we decide that we want take photos of together on the engraved longitude line designating the Prime Meridian. Doing so requires us to walk through a strange, cumbersome access-control gate to get there.
"They must be worried about a dangerous time-lovers stampede," Connie says, exasperated.
In the evening, we go to the 99 Club, a comedy club in Leicester Square. There, we see quirky, genius British comedian James Acaster, whose complex bits about Frère Jacques being the worst song ever written and using Twister as a flirting tool are some of the best standup comedy I've ever seen. When well-known British comedian Russell Howard makes a surprise appearance afterward, the girls squeal with glee. (I, the American, have never heard of him.) After the show, we stumble out into the street just as a car drives by and almost hits us.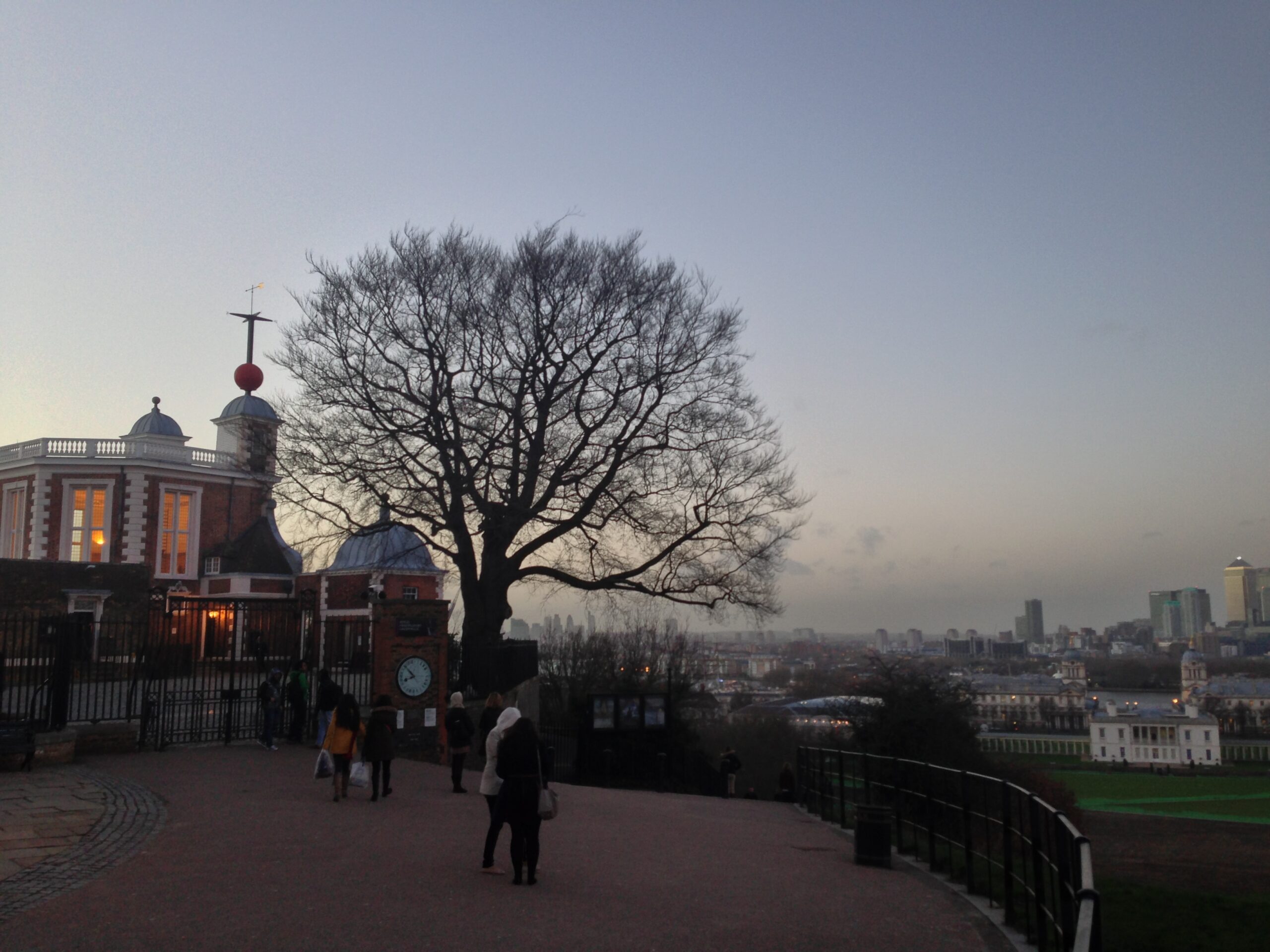 London's Royal Observatory at sunset
"We need a lollipop woman!" Connie says. I can't help but burst out laughing, because the girls' parade of charming Britishisms seems to me to have reached a plateau of intentional ridiculousness. "It's a crossing guard," Connie explains.
"Let's meet again at the Commonwealth Games," Silvina suggests.
"The what?" I start to wonder Silvina and Connie are even speaking English. As they explain that the Games are a sort-of Olympics for the members of the British Commonwealth, which includes sports historically popular in the British Empire like "rugby sevens" and "netball," I suspect that they're making it all up. But, they convince me that they're not.
Right before leaving to return to my hotel, the three of us make a pact to meet again at the 2014 Commonwealth Games in Glasgow, Scotland. I head down into the Tube.
"Mind the gap!" says the London Underground announcer. It's the last Britishism of the trip, but I know that I'll get to eat lots of flapjacks with golden syrup and watch cricket at the Commonwealth Games with Connie and Silvina soon enough.
How to See London in Only One Day
OVERVIEW: Because London's is a very walkable city with excellent transportation, it's a perfect city for a whirlwind, one-day tour on a layover or via Chunnel train trip from Paris.
LOGISTICS: Fly into London Heathrow airport and take the Heathrow Express (15 minutes) to connect to the London Underground at Paddington Station. From there, it's easy to ride the Tube to anywhere in the city.
ITINERARY: London sights that we visited in a single day:
Aladin Brick Lane: An excellent London Indian restaurant.

Breakfast Club: An American-style breakfast buffer with maple syrup and pancakes.

Covent Garden Market: A handicrafts market with crafts, antiques, and food.

Trafalgar Square: Anchored by war monument Nelson's Column, guarded by four lion statues at its base.

Big Ben: A clock tower on the north end of the Palace of Westminster and London's most iconic landmark.

Westminster Abbey: A Gothic church steeped in 1,000 years of British history.

Cutty Sark: A British clipper trip built in 1869 for shipping tea.

Greenwich Market: A market with arts and crafts, gifts, antiques, and collectibles.

Royal Observatory: The home of Greenwich Mean Time and the Prime Merdian Line.

99 Club: A top-notch stand-up comedy club in Leicester Square.