AUGUST 10, 2015 — My Dutch friend Renske and I are sitting in a kayak, paddling as hard as we can, against a strong current around a rocky outcrop of Santa Cruz Island in the Channel Islands off the coast of California. If it weren't for the white noise of the relentless wind, we'd be able to hear the barking of the California sea lions that we see nearby and the call of falcons flying overhead. Suddenly, a strong gust smashes an aggressive wave over our boat, soaking us both completely. The nightmare that I've been worrying about for days is materializing before my eyes.
I invited my friends on this three-day, 24-mile, July 4 kayak-camping trip six months in advance, knowing that it would be easier to get campsites and people to commit well before the trip. But, when nine friends — married, Texan, long-time friends Rich and Wendy; less experienced, married paddlers Sam and Whitney; eternally cheerful, San Francisco-based couple Natalie and Norberto; Minnesotan Lisa whom I've hiked with before, long-time college friend Suzanne, and Dutch Renske — took me up on the offer (with four flying in from out of town), I immediately felt a big responsibility to ensure that our trip wasn't a disaster. I took extra care to make sure the adventure's logistics were carefully planned and our itinerary allowed the four less experienced kayakers to shirk some paddling miles and still complete the trip. My plan outlined three days of kayaking around Santa Cruz Island: the first day, an 8-mile loop from Scorpion Anchorage beach; the second day, a one-way, 9-mile coastal paddle from Scorpion Anchorage to Prisoner's Harbor ending with a July 4, Rich-planned mystery dinner; and the third day, a 6-mile loop from Prisoner's Harbor. But, when I called the Channel Islands Kayak Center three days before our departure to reconfirm the kayak rental reservation I had made months before, an employee blindsided me by telling me (for the first time) that the company discourages renters from taking kayaks more than a half-mile away from Scorpion Anchorage and that their kayaks don't have hull storage space for camping gear.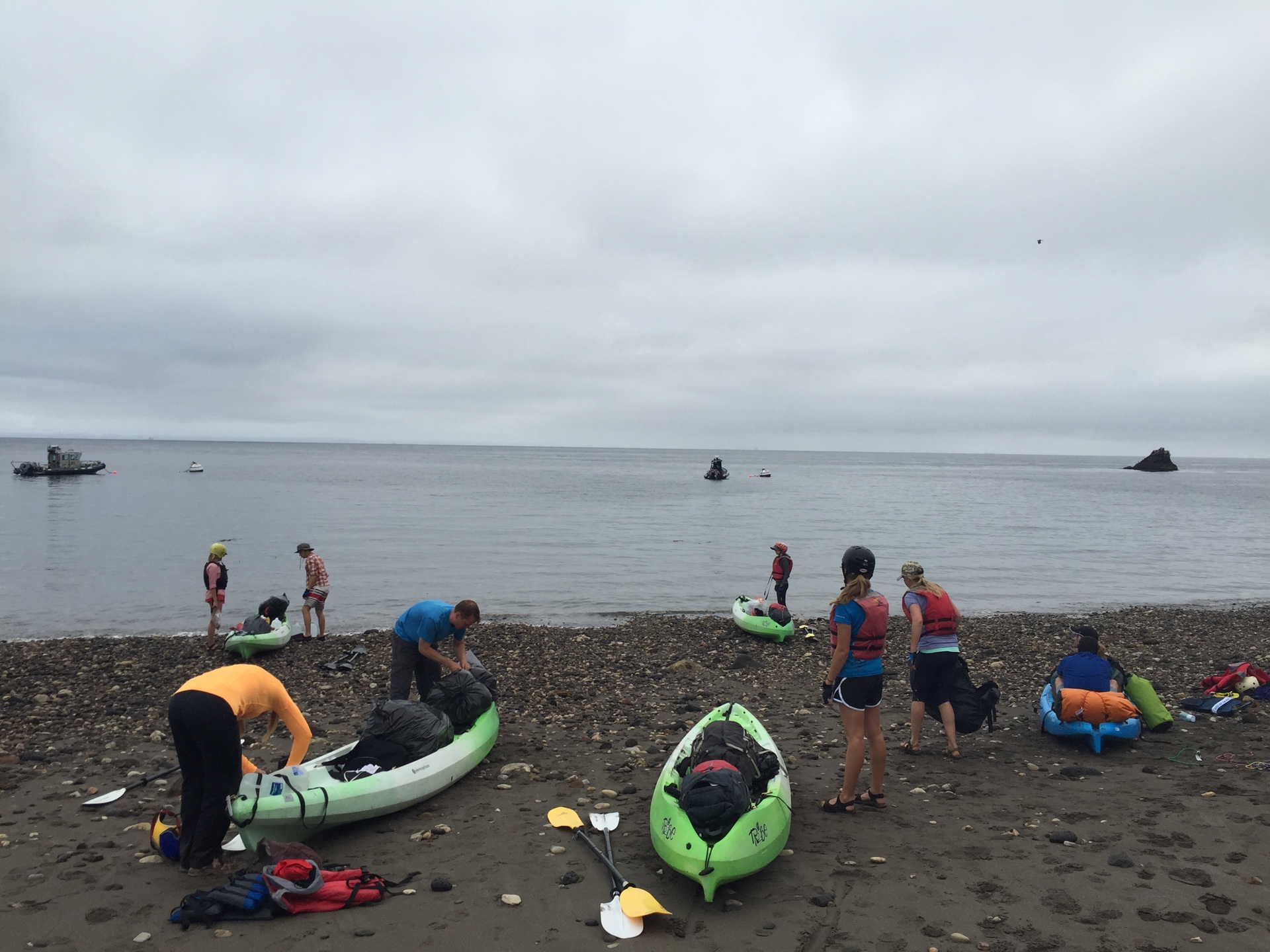 Kayakers ready their boats at Scorpion Anchorage on Santa Cruz Island, California.
"Lots of people have needed to be rescued trying to kayak from Scorpion to Prisoner's because the wind's against you," the employee said. "It's just too hard of a paddle." Oh my God, our entire trip is already doomed, I thought. I realized that it might be possible that the trip report that I used to help plan this trip was written by a paddler much more experienced than us, one who had his own kayak. Then, when I called five different kayak-rental outfits in Southern California to find different kayaks with hull storage space, none had enough on hand. I started imagining elaborate suicide strategies to avoid having to tell nine of my friends that our six-months-in-the-making July 4th plans were now destroyed — and I decided that somehow drowning myself in a kayak would be the most poetic way to go. But before going ahead with my plan of self-destruction, I decided to get Wendy's opinion.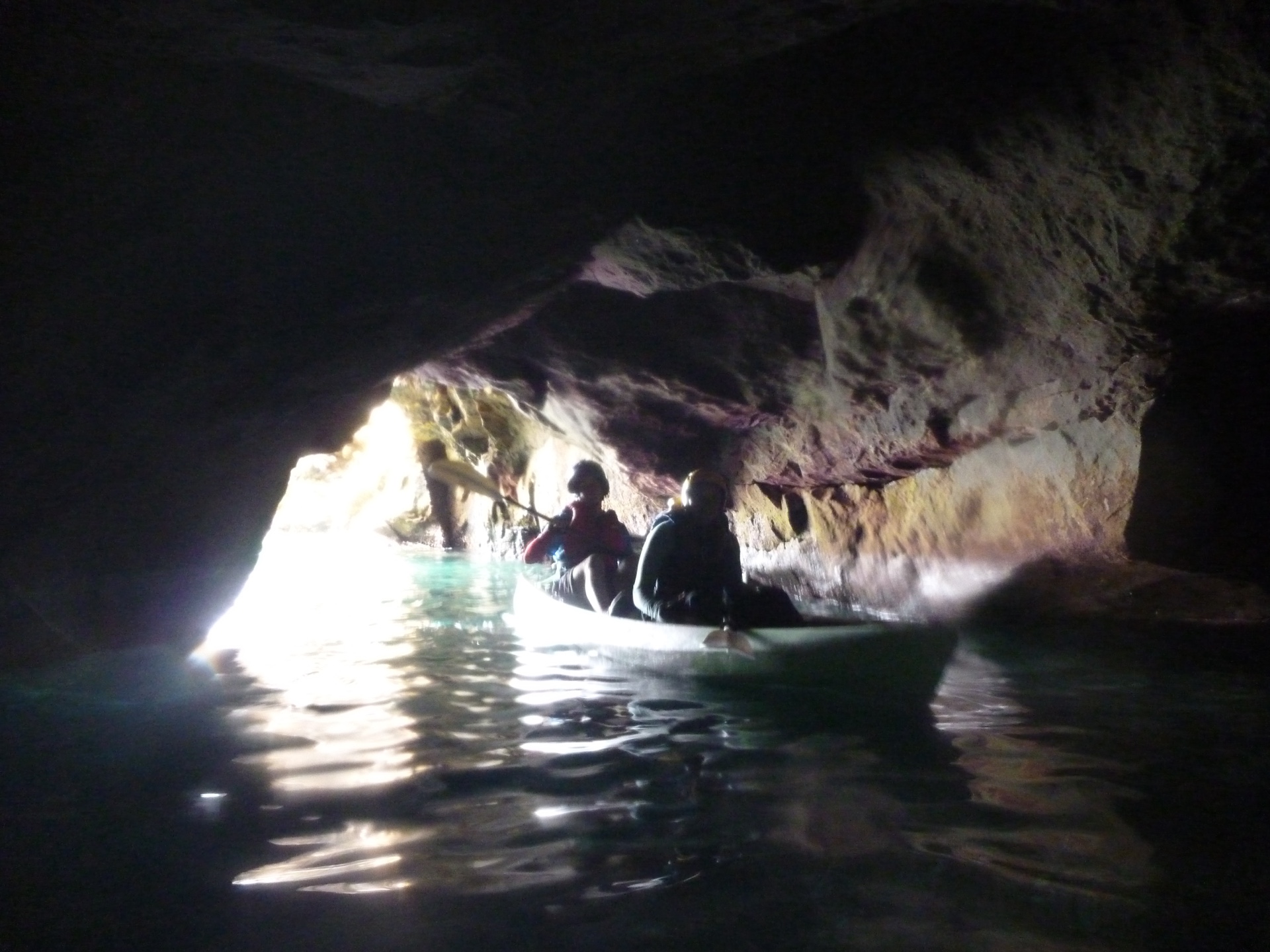 Kayakers paddle into a sea cave near Pelican Bay on Santa Cruz Island, California.
"Look, there is nothing tragic happening here as far as I can tell," Wendy texted me. "Let's just do it." She wrote that she thought we should just ignore the warnings and hypothetical cargo-space problem and just continue with my original plan. I also explained the risks on the phone to Renske, who didn't seem perturbed either.
"I'm sure you're making a bigger deal of it than it is," she said. "Everything will be fine."
So, instead of paddling out from Malibu's Point Dume into the ocean in the middle of the night with weights tied to my legs and jumping in, I sent an email, in the least alarming tone I could muster, that everyone needed to pack as little as possible due to the lack of kayak storage space. Then, unable to remain totally calm, I sent another, more dramatic e-mail: "Please remember that this will be an adventure, and things may not go exactly as planned, but at least we have each other."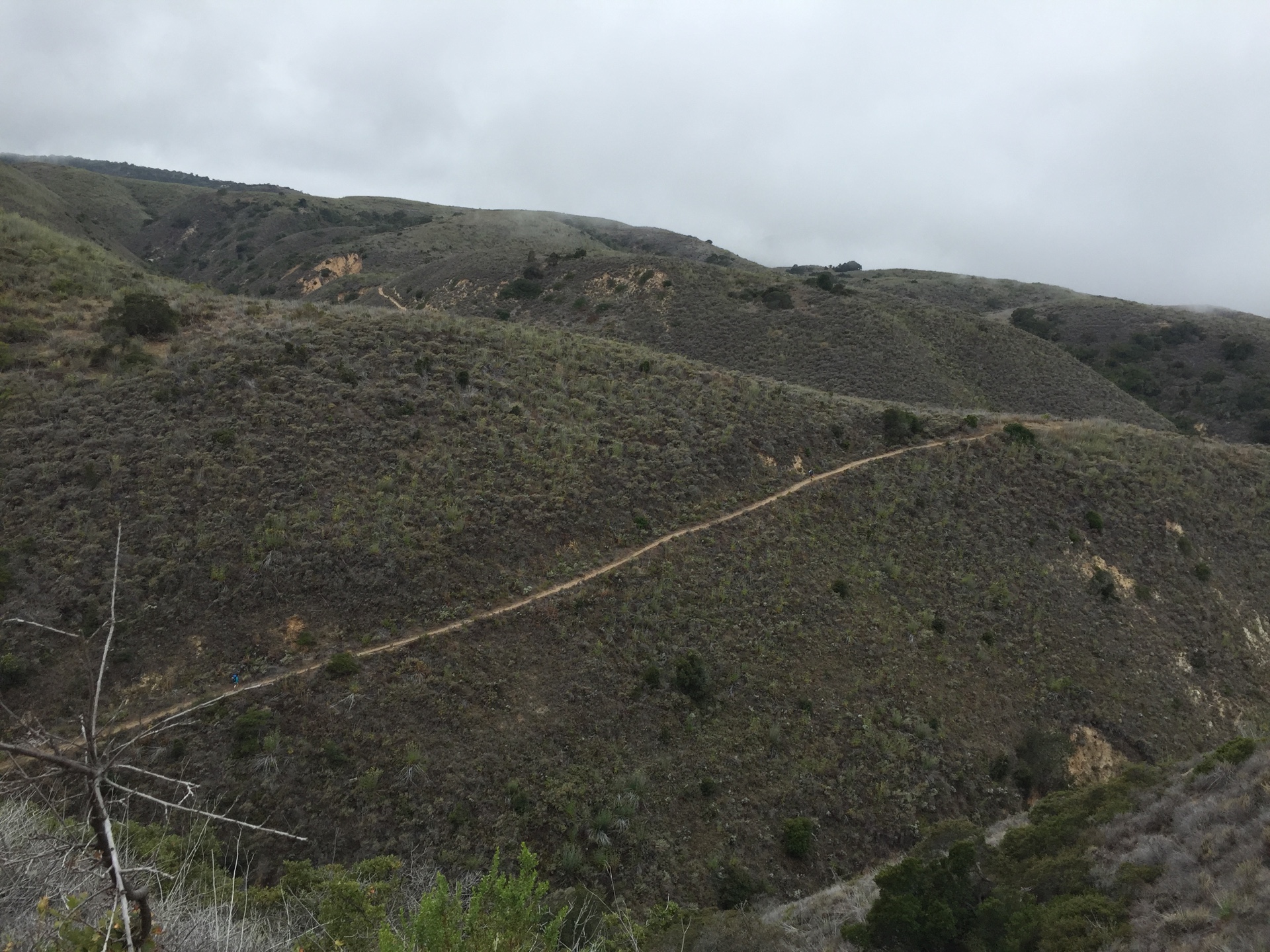 Hikers walk the trail to Del Norte Campground on Santa Cruz Island, California.
On the boat to Santa Cruz Island, the nine of us discussed our past outdoors trips, and Lisa reminisced about the Mount Whitney summit trip she completed with me, Rich, and Wendy. "It was the best hike I've ever done," she said. "And the hardest thing I've ever done in my life." She sounded emotionally scarred.
"The Catalina kayaking trip I did with Hank a few years ago was also the hardest thing I've done in my life," Natalie added, also sounding like it took her years of therapy to move past the incident. Hearing this, less experienced kayakers Sam and Whitney seemed like they were ready to, literally, jump ship. "Are we going to die?" Sam asked. "I don't think we can do this!"
"Don't worry — you can definitely do it. I planned this trip to be much easier than either of those," I said, trying to keep everyone relaxed. "And, look, Lisa and Natalie seem to have recovered enough that they wanted more." Privately, though, I wondered whether I'm only capable of planning outdoor adventure trips that scar people for life.
But, now, sitting with Renske in the ocean on our first kayaking day, surrounded by strong winds and whitecaps, it's not even clear that "at least we have each other." Though newly-Crossfit-trained Rich and Wendy are battling the waves furiously nearby, the rest of the group has already turned back to the beach.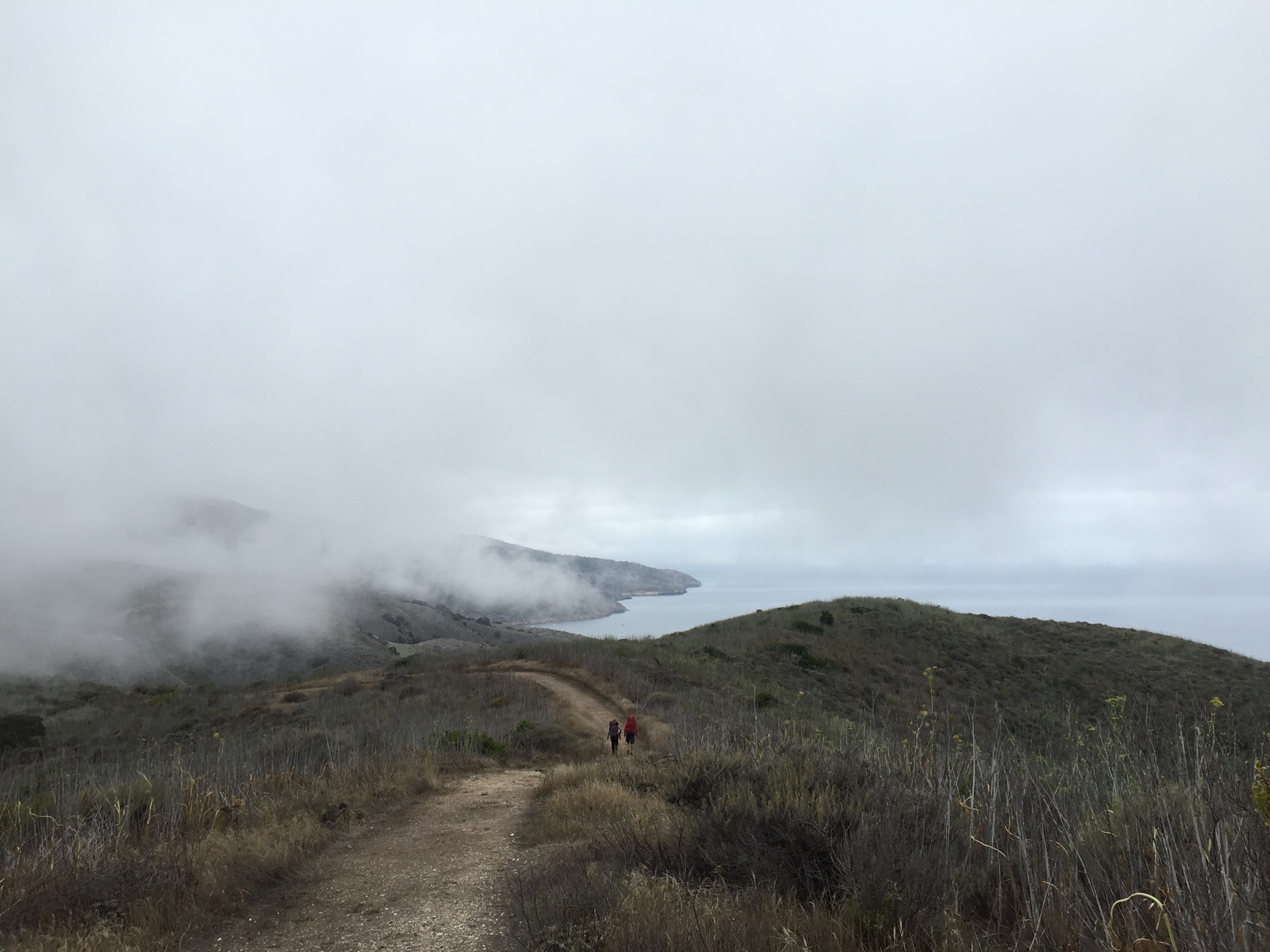 In fog, hikers walk on the trail to Del Norte Campground on Santa Cruz Island, California.
"If the current is this bad tomorrow," I yell to Renske. "There's no way we're all going to make it to Prisoner's Harbor."
"Relax," Renske yells as I get hit in the face with another wave. "Everything's going to work out." I'm not sure if she's saying this because she believes it or because I specifically told her before leaving for the trip that I would need ongoing emotional support to avoid intentionally drowning myself at sea over my self-hate about planning a kayaking trip that would leave its participants emotionally damaged. I suspect it's the former. We decide to turn back early, making today's 8-mile paddle a 3-mile one.
We return to the campground to find the less-experienced paddlers, Suzanne, Lisa, Sam, and Whitney, already there. They explain that the wind forced them to turn back after only a half-mile. Everyone looks defeated and nervous, and Sam has a look on her face like she thought she was standing in line for a whale-watching tour on a cruise ship only to discover that she was actually in a line to be drafted to the Olympic rowing team.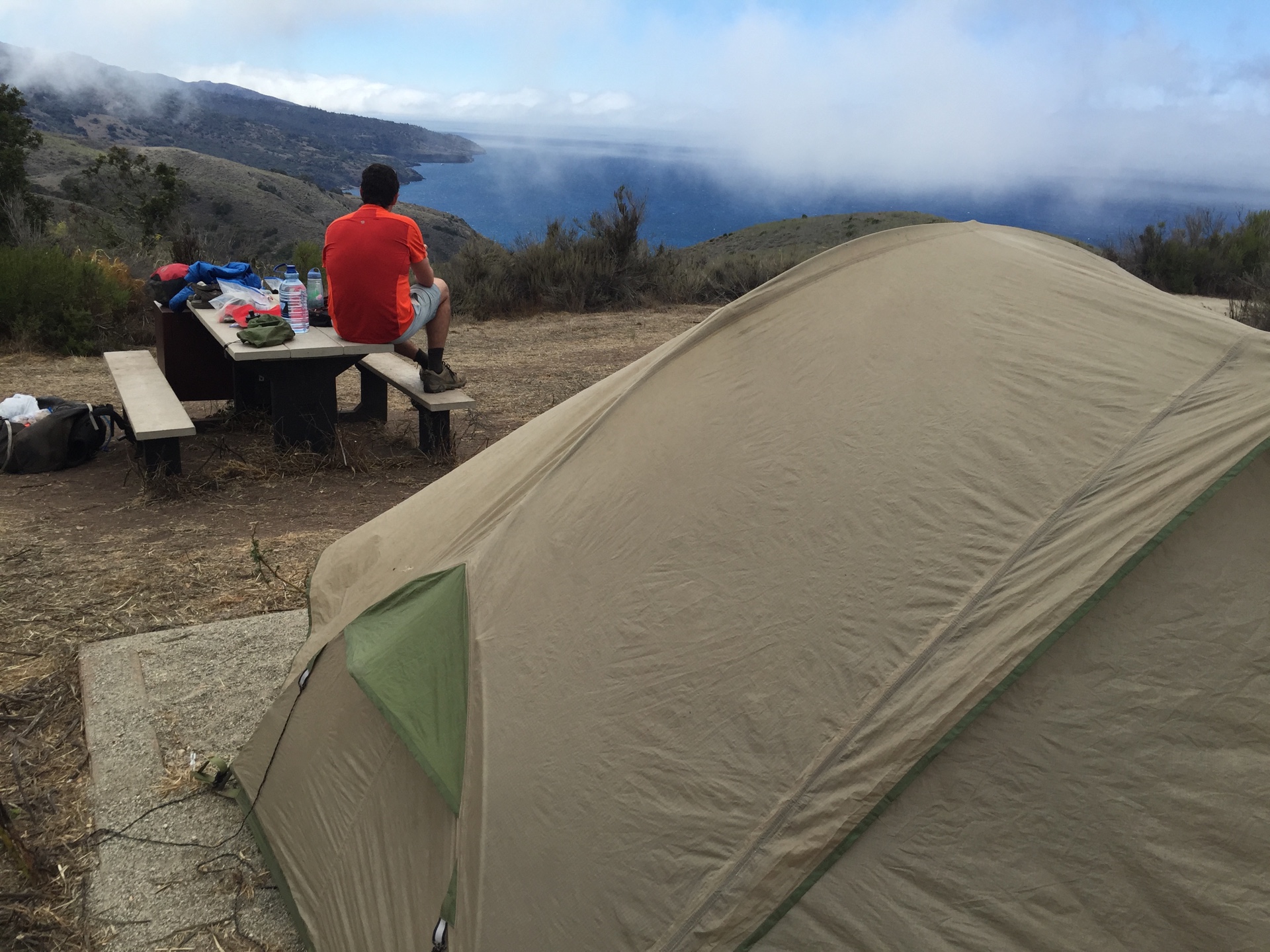 A camper enjoys the view from Del Norte Campground above Prisoner's Harbor on Santa Cruz Island, California.
"You can guys can do it," I say. "Tomorrow we'll be easier." I suggest that we play a game before dinner, and Sam suggests that we play the celebrity-guessing game Time's Up. Anything to help us forget tomorrow's inevitable middle-of-the-ocean-emergency-rescue, I think. During the game, I do my best impression of Dumbo; Sam does her best impression of eating lemons because, well, Meadowlark Lemon; and Rich does his best impression of Jack Woltz discovering a severed horse's head in his bed, which, unexpectedly, seems to help everyone relax a bit. But, after a lasagna dinner, I announce that we should aim to be on the water in the morning by 6 AM. "It's our best chance to get to Prisoner's Harbor," I say, hoping to avoid the afternoon ocean swells that ruined today's kayak. No one seems hopeful.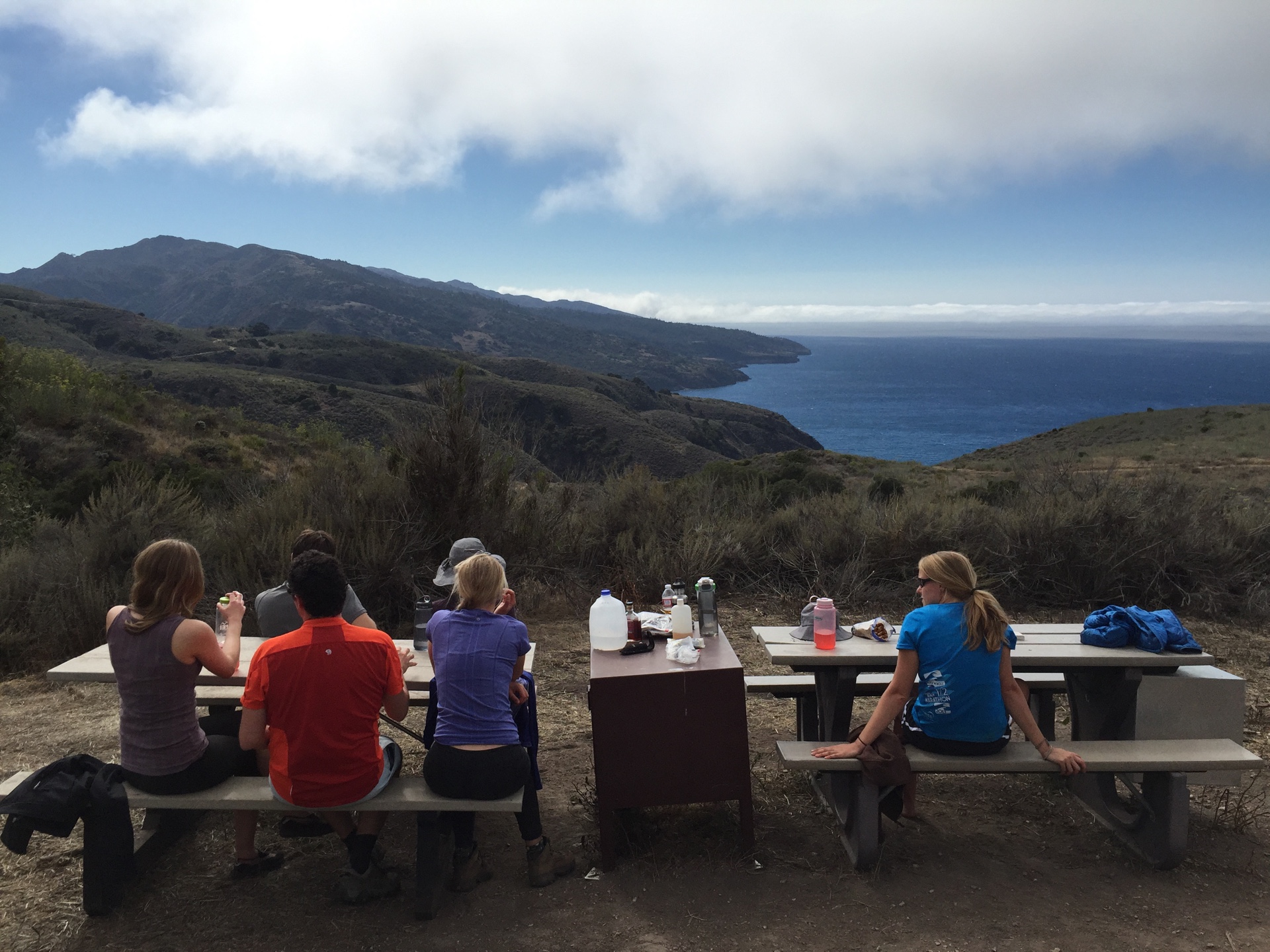 Campers enjoy the view from Del Norte Campground above Prisoner's Harbor on Santa Cruz Island, California.
"It's going to work out great," Renske reminds me, while we're lying in our tent before falling asleep. "I'm sure you're right," I say. But, I'm lying. I'm worried about the wind.
In the morning, we're furiously loading our kayaks on the beach at around 7 AM (only an hour late!). We've strapped so much trash-bag protected stuff to the top of the boats that Rich and Wendy's kayak looks like a makeshift garbage barge, and Natalie and Norberto's kayak looks like it's been loaded up with every belonging they've owned since childhood. It looks like it's about an inch away from completely sinking. Hurrying, most of us push off from the beach and paddle almost a mile out before Natalie and Norberto, who were lagging behind, manage to catch up.
"Sorry! The National Park ranger tried to stop us when she saw our kayak loaded with all of our camping gear," Natalie says, "She told us that we can't camp on any other beaches! I didn't know what to say, so I just told her that we decided to take all of our gear with us for a day trip because foxes and people were stealing it."
"Foxes and people?! She believed that?" I laugh. "It must not have even occurred to her that we we're kayaking the full nine miles to the other legal campground."
With the wind and water totally calm, the ten of us paddle along the serene, rocky, golden coast. We kayak through a towering rock archway and into dark sea caves stretching into the island. We stop to watch a large group of sea lions playing in the water, one of whom comes a couple feet from our boat to investigate. We get accustomed to an effective paddling rhythm, our kayaks moving surprisingly quickly across the surface of the water. When we stop for a snack break after two hours of paddling, Renske and I are smiling and laughing, and I realize that we're actually having fun.
Lemons sit at Del Norte Campground on Santa Cruz Island to be used for July 4 craft cocktails.
"There's only about three miles left," I tell the group. "We can do it! Just follow the coast until you hit that dock on the other side of the bay. I think that's Prisoner's Harbor." Within an hour, Rich, Wendy, Renske, and I complete the last three miles of the nine-mile paddle.
"We're already here?" Renske asks. "I have at least another hour in me!" After about 30 minutes, the rest of the group joins us on the beach.
"Is this it?!" Whitney yells excitedly as he and Sam paddle into shore. "If this isn't it, I'm going to kill myself!"
"This is it! I told you that you could do it!" I yell. Whitney has a smile on his face and though Sam, Lisa and Suzanne look very relieved they're done, they don't seem permanently scarred.
After a quick lunch, we head out on a surprisingly strenuous up-and-down trail (carrying our water supply) toward the Del Norte Campground, which lies at the top of one of the island's peaks. The hike is especially difficult for Natalie and Norberto, who seem to have unloaded enough supplies from their kayak to live on the island without support for a year. Meanwhile, my backpack — which Renske packed in the morning — feels like it's filled with bowling balls, so I decide to open it to make sure she didn't play a bad joke on me. Inside, I find two huge bags of lemons.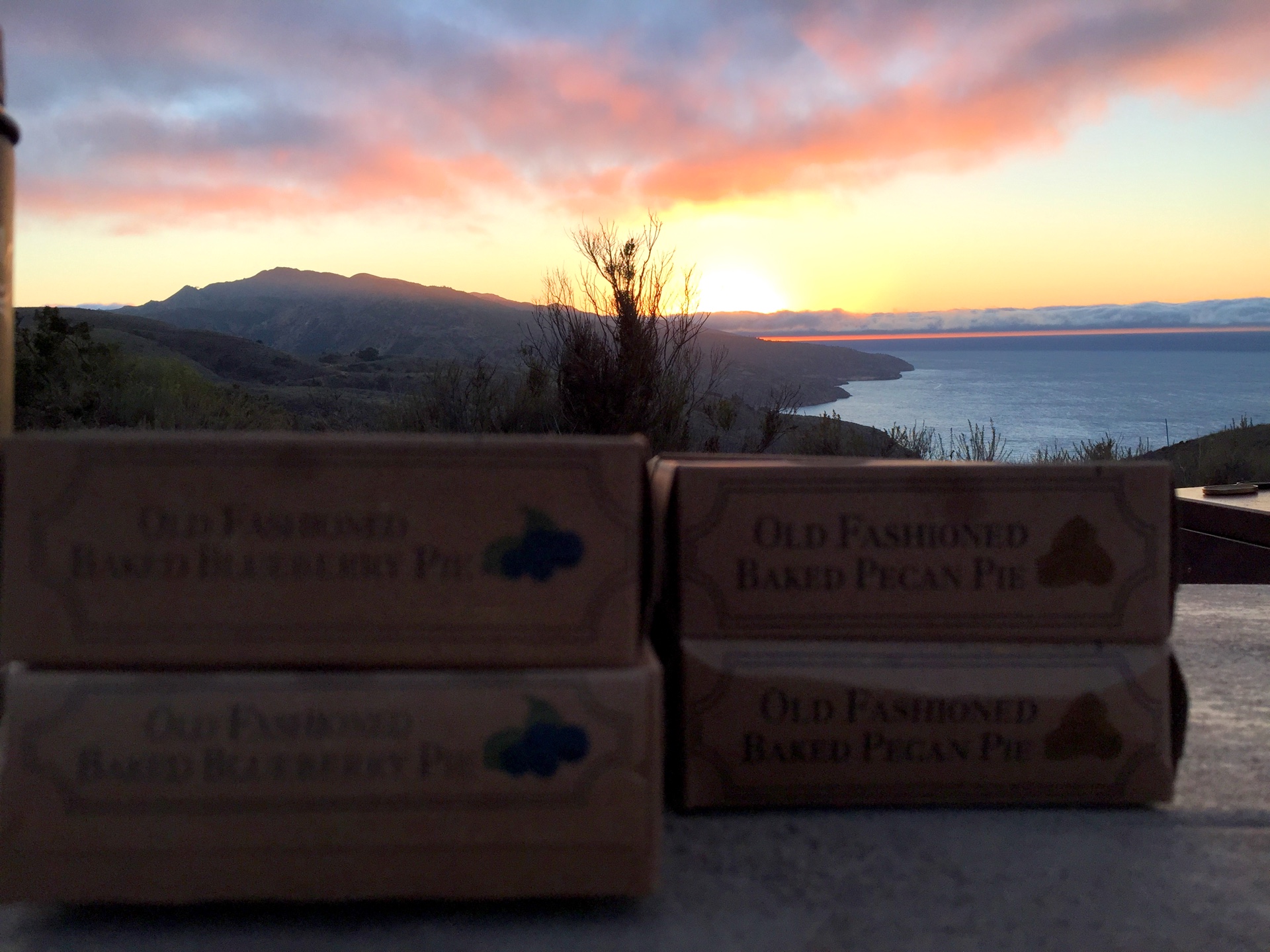 Miniature pies sit at the Del Norte Campground at sunset on Santa Cruz Island, California.
"Can someone tell me why the hell I'm carrying ten pounds of lemons in here?" I yell to anyone who will listen.
"Dinner," yells Rich, who is in charge of the July 4 mystery dinner, says as a kind of non-explanation explanation.
By the time we reach the campground on a plateau, Sam looks like she's ready to vomit, and Natalie and Norberto look wiped.
"But it's our fault for bringing so much stuff," eternally-upbeat Natalie says with a smile.
After setting up our tents and playing a surprisingly vicious game of Cancellation Hearts, the group congregates at a couple picnic tables overlooking the ocean. Rich sets up a makeshift cocktail bar on top of a Fox Box — the metal safes used on Santa Cruz to keep foxes from stealing camp food — pulls out a metal citrus squeezer, and begins filling a bottle with fresh lemon juice. Soon, we're all drinking fantastic lemon craft cocktails and eating bacon-topped pasta primavera as a deep red-orange sunset dazzles us on the horizon. As the sky transitions from yellow to purple to navy, we can just barely make out the July 4 fireworks on the mainland. We watch the tiny shows, eating miniature blueberry, cherry, and pecan pies, in honor of the holiday.
"See, it all turned out okay," Renske whispers in my ear. She's right, of course, and I realize her oft-repeated confidence in my trip planning was never just platitudinous — she genuinely believed it. I should have believed her; but, so often, it's impossible to adopt the faith that others have in us for ourselves.
How to Kayak-Camp Santa Cruz Island
Sea Kayak:
Santa Cruz Island,
Southern California
3 days
15.8 miles
596 ft gain — 438 ft loss
OVERVIEW: Santa Cruz Island is part of Channel Islands National Park, a group of five islands sitting in the Pacific Ocean off the coast of California. The Channel Islands are home to over 2,000 plant and animal species, of which 145 are found nowhere else in the world. Only 24 percent of Santa Cruz Island is owned by the National Park Service (the rest is owned by The Nature Conservancy), so most of the island is inaccessible to campers except for the northeastern end's two campgrounds: Scorpion Anchorage and Del Norte (above Prisoner's Harbor).
LOGISTICS: Boats run by Island Packers leave from Ventura daily to Scorpion Anchorage and daily except Wednesdays to Prisoner's Harbor. Round trip tickets cost an obscene $79 (plus $28 per kayak transported), proving that a world with boat transportation monopolies is a bad world indeed. The company's service is generally good, though plan for the fact that the crew asks all passengers to help unload the boat's cargo hold upon docking, which can take 30 minutes.
KAYAK RENTAL: The Channel Islands Kayak Center in Ventura sits next to Island Packers, and they rents kayaks for $35/day for single kayaks and $55/day for double kayaks. Rentals include paddles, flotation jackets, and helmets, but don't expect the equipment to be well-organized when arriving on Santa Cruz, because no representatives from the rental company work on the boat or the island. Note that the Center's kayaks do not have cargo space inside the kayaks (though there is ample space for backpacks on top of the kayaks even with two people), and they prefer that people don't leave Scorpion Anchorage with their kayaks.
CAMPSITES: The National Park on Santa Cruz Island has two campgrounds: Scorpion Anchorage and Del Norte. Filtered water is available at Scorpion Anchorage, but no water is available at Prisoner's Harbor or Del Norte, so be sure to bring your own.
ROUTE: Strong winds start blowing southeast at around 11 AM on the north side of the island, so leave for any long kayaking trip early in the morning. On our first day, we kayaked only 3 miles west along the coast from Scorpion Anchorage due to strong winds, but an 8-mile day trip to Smuggler's Cove might be nice with less wind. On our second day, we kayaked 9 miles from Scorpion Anchorage to Prisoner's Harbor and then hiked the three (strenuous) miles to the Del Norte Campground on a mountaintop. On our third day, we hiked back to Prisoner's Harbor and kayaked 8 miles to Pelican Bay and back (especially beautiful). We're beginning sea kayakers who are reasonably fit, and we kayaked at about 3 miles per hour against current. View the route below or download the Without Baggage Catalina Island Kayak GPS track in GPX or KML format.