JULY 24, 2012 — "It's just like The Wizard of Oz!" Lisa exclaims, as the four of us hike through a curious, otherworldly field of snow towers toward the summit of Mount Whitney, the highest mountain in the contiguous US.
Really, it's nothing like Wizard of Oz, I think. It's a field of poppies, not snow towers, that impedes Dorothy's progress toward the Emerald City.
We're all a little irritable and exhausted. After all, it's a 22-mile, 6,875-foot vertical climb to the top, and we're a pretty sorry excuse for a hiking group.
Wendy's right knee has a sprained ACL and torn meniscus, for which she'll be scheduling reparative surgery in a couple days. Rich's feet are covered in blisters, as a result of a training hike in ill-fitting hiking boots. Lisa, who has only been on one overnight backpacking trip before, has already confessed to being particularly sensitive to altitude sickness. I, because of work obligations, have spent the last two months sitting in offices and planes instead of hiking up mountains. Due the state of our group, it seems unlikely that we'll make it to the summit, especially considering that only 50 percent of hikers who attempt Whitney reach the top. But, the overnight Whitney Zone permits, which we won three months before in a lottery, are hard to come by. No one wanted to pass up the opportunity.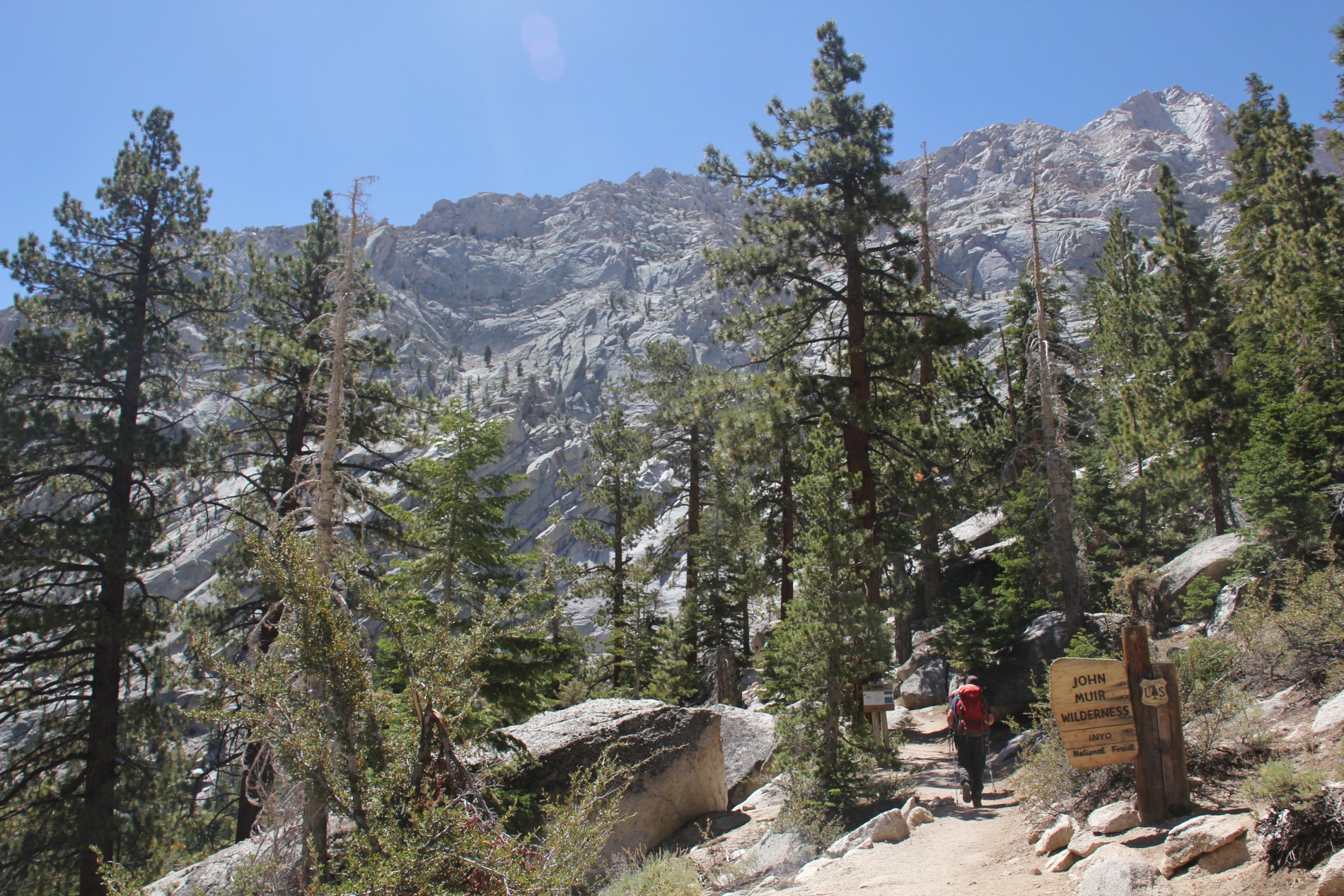 A hiker enters the John Muir Wilderness.
The four of us arrived together at the Lone Pine Campground last night, barely ready to start hiking in the morning — I needed more conditioning, Lisa needed more backpacking experience, Wendy needed a new knee, and Rich needed shoes that would bring him home without blisters. Before setting off on the trail, we ate foot-wide, two-inch-thick pancakes — the largest that I have ever seen — at the Whitney Portal Store, hoping that they would provide us enough energy to overcome our deficiencies.
But, after the first two miles of grueling switchbacks up the mountain, Lisa complained of serve nausea. We had reached a height of only 9,500 feet, but it was clear that her Diamox, an altitude-sickness-prevention drug, wasn't helping. Nevertheless, after a long rest in the shade of lush pine trees on the sandy, white shores of brilliant Lone Pine Lake, she seemed recovered and filled with oxygen. Soon enough, the four of us returned to the trail, pushing past the green expanse of the meadows near Outpost Camp and then slowly climbing to 10,600 feet. After a difficult uphill climb, we arrived at a meadow surrounding Lone Pine Creek, which we mistook, at first, for our camping destination. Very disappointed, Wendy dubbed it The Meadow of False Hope.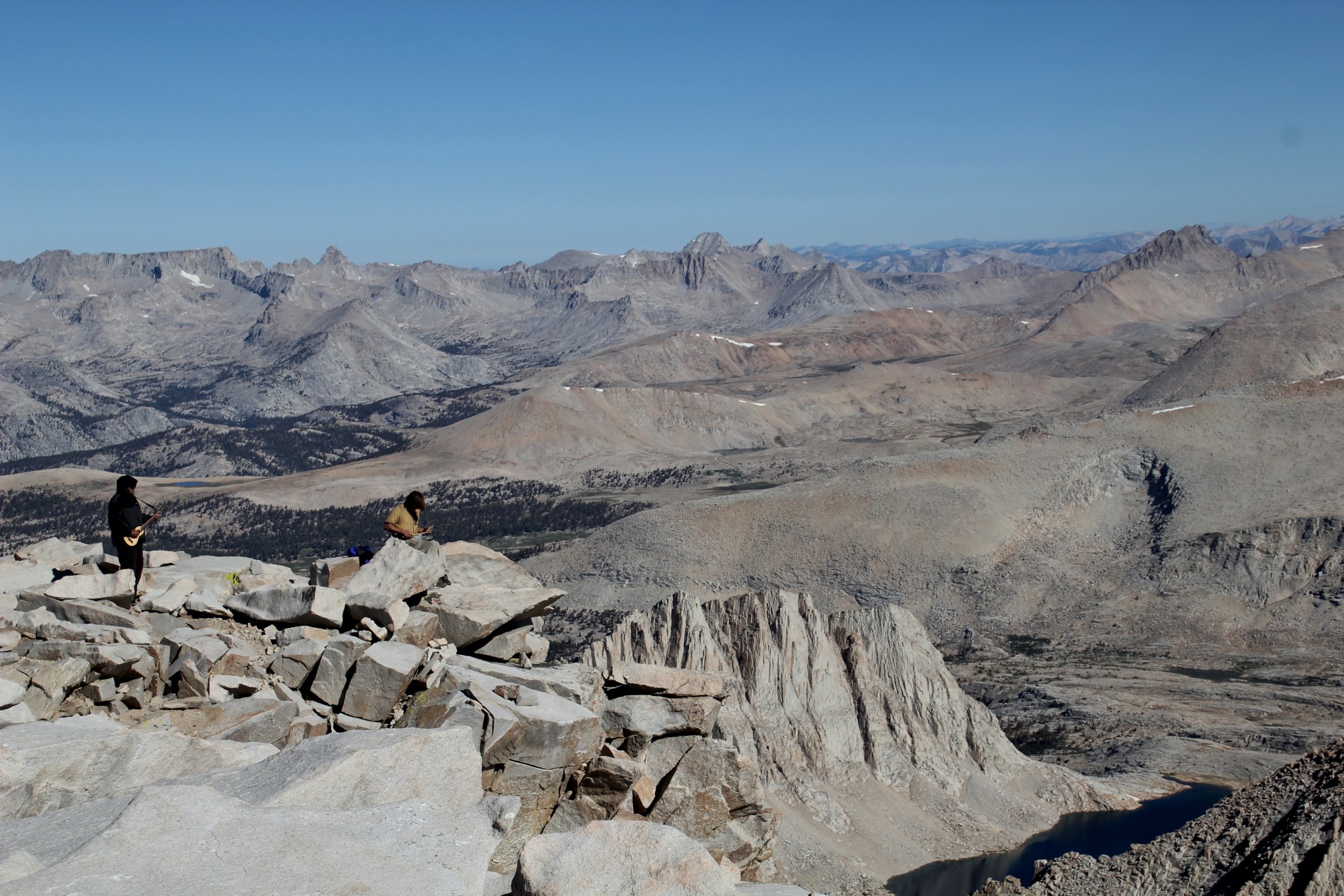 Men play a drum pad and a ukelele on the Mount Whitney summit.
Wanting to leave False Hope behind, we slowly climbed an additional 2,000 feet to Trail Camp, our actual camp site. Lisa and I, 30 minutes behind Wendy and Rich, wheezed and coughed our way through the last mile, drained by the high altitude. But Wendy's knee held up, and Rich's new trailrunners — which he wore instead of his bad boots and looked nothing like ruby slippers– didn't cause any new blisters.
During dinner, we were almost overcome, not by flying monkeys, but by an army of Trail Camp ferrets, desperate to get at our food. We scared them off with a few harmless rocks thrown as warning shots. After camping overnight, we woke at 4:00 AM and proceeded up 99 long switchbacks and an additional 1,600 feet to Trail Crest, which treated us to an expansive view of both Inyo National Forest and Sequoia National Park.
A mile and over 1,500 vertical feet later, we're navigating through the field of snow towers. Having nothing to do with the Wicked Witch's influence, we're so exhausted that we rest in the field for almost an hour, not realizing that we're less than 10 minutes from reaching the Emerald City. While we rest, it occurs to me, that, with a little imagination, the field does look a bit like the Wicked Witch's Deadly Poppy Fields, covered in snow. And, in the movie, it's a snowfall from Glinda the Good Witch that helps Dorothy and her friends continue on.
So, we start hiking again, and, quickly, the Whitney summit's emergency hut rises into our view. I clap. When we finally reach the summit, we're greeted by an expansive vista and a hippy playing a ukulele. He doesn't look anything like a wizard.
Still, as we look out across the John Muir Wilderness, I realize that I regained hiking strength, Lisa got backpacking experience, Wendy overcame her bad knee, and Rich found new shoes to bring him home — just like, well, not really at all like, but, still, maybe a little like The Wizard of Oz.
How to Hike Mount Whitney in California
Backpack:
John Muir Wilderness,
Northern California
22.0 miles
6,875 ft gain — 6,813 ft loss
8,363 ft min — 14,513 ft max
OVERVIEW: The hike up Mount Whitney via the Mount Whitney Trail is a 22-mile (round trip), non-technical hike, usually done as a two-day backpacking trip. Slower hikers may find that taking three days is less grueling. If you're masochistic, it's also possible to do the hike in a single day. Regardless, a Whitney Zone permit is required, which can be obtained by entering the permit lottery between February 1 and March 15 every year. Climbers or hikers experienced with boulder scrambling may consider the shorter (16-mile round trip) but significantly more difficult Mountaineer's Route.
DIRECTIONS: From Los Angeles, take I-5 North to CA-14 North to US-395 North. When you reach the town of Lone Pine, turn left onto Whitney Portal Road. There are two campgrounds on this road: Lone Pine Campground (30 minutes from the trailhead) and Whitney Portal Campground. Both of these campgrounds require reservations to be made through reserveamerica.com far in advance, though a small number of sites are saved for walk-ins.
LOGISTICS: For overnight trips, most hikers leave from Whitney Portal at around 9 AM, hike the 7 miles to Trail Camp, and set up camp. Then, at 3 AM, they wake up, leave most of their gear at Trail Camp, and hike 8.7 miles to the summit and back to Trail Camp. Finally, they pack their gear and hike the 7 miles back to Whitney Portal. Hikers who do the hike with a day pack in a single day take at least 12 hours (often more) and start hiking at 4 AM. In either case, hiking with a full moon is recommended. Water sources are available frequently along the route up until and including Trail Camp, but bring a water filter. All food and scented items must be stored in bear-proof containers. Human waste must be packed out in pack-out kits, which are provided with the wilderness permits.
ROUTE: The Mount Whitney Trail, which leaders hikers up a long set of switchbacks, past Lone Pine Lake, Outpost Camp, Mirror Lake, Trail Camp, the 99 Switchbacks, Trail Crest (a saddle with a vista in all directions), and a final slog to the summit, is well-marked and easy to follow. It starts next to the Whitney Portal Store at Whitney Portal. View the route below or download the Without Baggage Mount Whitney Trail GPS track in GPX or KML format.