APRIL 16, 2012 — "I have some bad news," I yell below me to Wendy, who looks utterly drained as she trudges slowly to the top of the jagged ridge that I'm standing on. "We still have 1,500 vertical feet to go." We've already hiked up a total elevation gain of 2,600 feet today, and Wendy looks like I've just hit her in the head with a baseball bat. Rich appears on top of the ridge.
"What? What?!" he groans.
"But… I… we're almost out of water," Wendy moans. "And the sun is setting." She's right. My friends Rich and Wendy and I started our 32-mile, four-day, Death Valley backpacking trip by carrying only a two-day supply of water, expecting to find Cottonwood Springs, a reliable water source, by the end of our second day. But, after winding between the towering stone narrows of Marble Canyon, we noticed a four-mile side trip on our topo map, following a portion of Marble Canyon to the west. We decided to investigate. To our surprise, the extra four miles not only required us to climb over 1,600 feet up a steep scree slope but also provoked us to drink most of our remaining water supply. Now, it's the end of our second day, and our side trip hasn't brought us much closer to the water at Cottonwood Springs.
When we start hiking again after catching our breath, we're relieved that the hike mercifully drops us 300 feet before the next ascent, and it's in this valley where we decide to spend the night.
"I think we should eat tomorrow's cold lunch for dinner tonight," I suggest.
"I was thinking the same thing," Rich says reluctantly, knowing that we would have to use some of our precious remaining water to cook a real dinner. We eat our lunch-dinner quietly, with everyone in mild-panic mode. We're all mulling over the fact that, tomorrow morning, we'll have to (according to our guidebook) hike the alleged "crux" — a steep climb over a mountain pass — with almost no water remaining. When we finish eating, we retreat from the cold desert night into our sleeping bags, exhausted and irrationally thirsty. I feel like I've never been this thirsty in my life, though I suspect that I'm feeling a strange psychological reaction to our lack of water. I feel annoyed at my dumb brain, which seems to think that the best reaction to almost running out of water is to get extra thirsty. We all lie in our sleeping bags, silent, staring at the ceilings of our tents.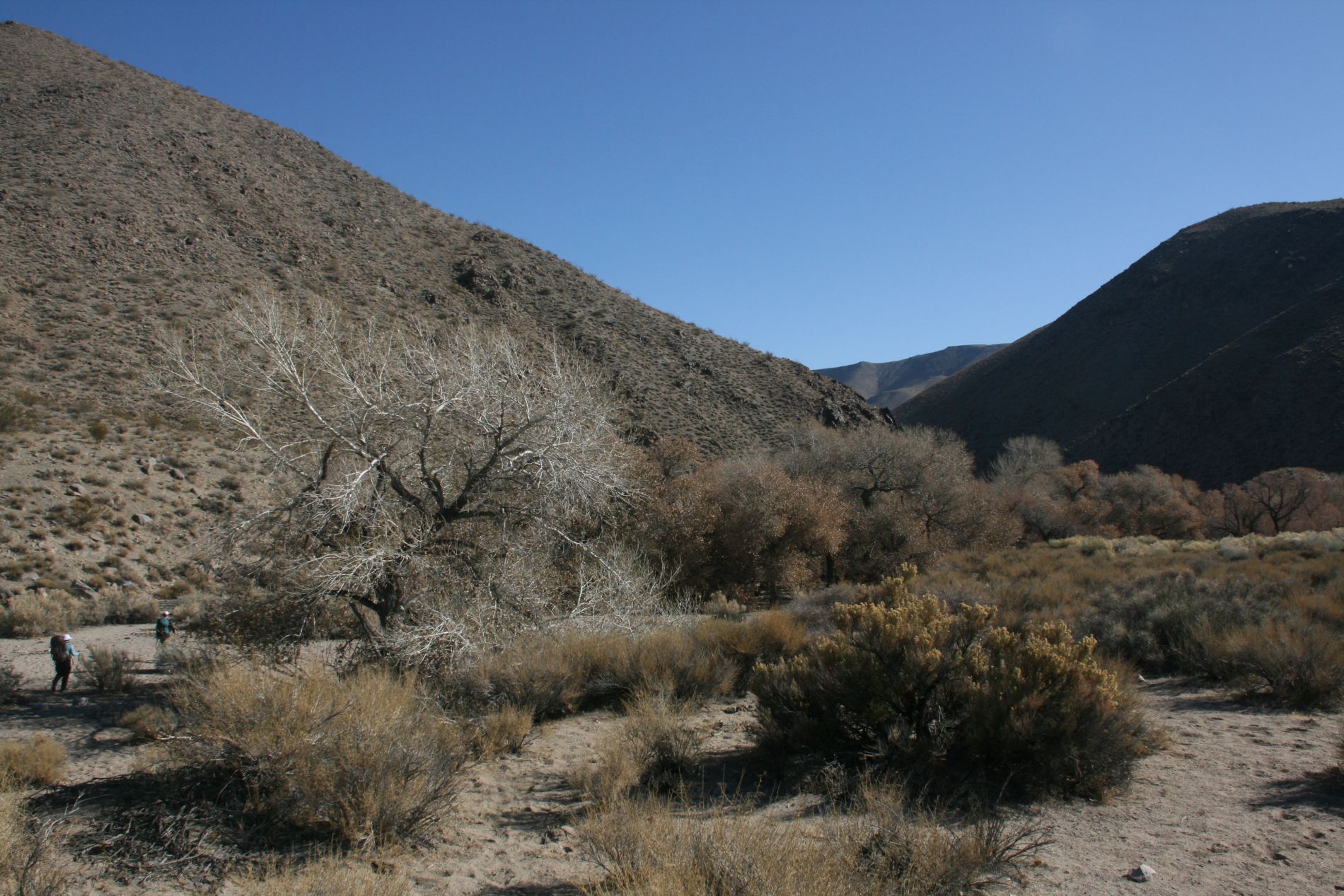 Hikers approach Cottonwood Springs in Death Valley.
In the morning of our third day, we eat Clif Bars for breakfast (which don't require water) and begin our climb, up a narrow ravine, toward the top of a high ridge. To our relief, the gradual ascent is much easier than the steep ravines that we tackled on our side trip during the previous day. When we reach the top of the saddle, we're looking out over a sprawling, golden valley, flanked by rugged mountains. It feels like we're about to jump on horses and start roping cattle. We don't, but it's an easy, downhill hike, across the expanse, to Cottonwood Springs, where the Park Ranger told us that we'd find water.
The calming walk, through an obstacle course of desert blackbrush and flanking ridges funneling us toward the first spring, helps us relax. We've been hiking for almost three hours when we reach Cottonwood Springs, where we're astonished to find what looks almost like a deciduous forest relocated from the eastern US, plopped in the middle of Death Valley. We're feeling relieved, but we still don't see an obvious source of water. We begin infiltrating the Spring's dense vegetation, stomping through sticky mud and algae-filled puddles, searching urgently for Cottonwood Creek. It takes us almost a half hour to move a quarter-mile into the spring through the thick foliage. Just as a cloud of discouragement begins to smother us, I hear a sound.
"Do you hear that?!" I yell back to Wendy and Rich behind me. "I'm pretty sure I hear running water!" But, when I stop moving for a moment, I'm unsure of whether I'm hearing the sound of water or just wind blowing through the trees' leaves. I try to take a drink from my Camelbak, but the reservoir is completely empty.
Frustrated, I push through another perimeter of trees, and I find myself standing in a clearing. Suddenly, the sparkle of the sun reflecting off a vibrant creek less than 20 feet away catches my eye. It's such a strange thing to see in the middle of a desert that I suspect, for a moment, that I'm seeing a mirage.
But, when Wendy and Rich join me, and we approach the water, it's obvious that it's real. We cheer. Wendy and I immediately begin filtering the water into our Camelbaks while Rich starts cooking the dinner that we wished we had eaten the night before.
We're proud of ourselves. We've found water in the middle of a desert.
How to Hike Marble and Cottonwood Canyon in Death Valley, California
Backpack:
Death Valley National Park,
Southern California
4 days
31.6 miles
5,278 ft gain — 5,261 ft loss
1,119 ft min — 4,813 ft max
OVERVIEW: The backpacking trip through Marble and Cottonwood Canyon in Death Valley is a 31.6-mile, four-day hike. It's also possible to skip a difficult four-mile side-trip section, which follows additional Marble Canyon narrows leading west, and easily fit this hike into three days.
DIRECTIONS: From Los Angeles, take I-5 North to CA-14 North to US-395 North. In Olancha, turn right onto CA-190 East and follow it to Stovepipe Wells in the middle of Death Valley. Just west of the Stovepipe Wells General Store is the turnoff (leading north) to Cottonwood Canyon Road toward the Stovepipe Wells Airport. Follow this road, for about 10.8 miles, past the Airport (stay to the right and do not turn left toward the planes/landing strip). After about 5.5 miles, the road will turn sharply to the right. At about 8.6 miles, the road continues 2.2 miles west, up a wash, to the confluence of Marble and Cottonwood Canyon (marked as waypoint "1. Park Car" in the northeastern part of the GPS track's loop). These final two miles require a vehicle with high clearance (though four-wheel drive isn't necessary). If your car can't make it, though, don't worry: just get as close to the confluence as you can, park, and start hiking from there.
LOGISTICS: Because this is a loop hike, only one car is necessary. Cottonwood Springs provides water reliably year-around, but confirm availability with the Park Ranger. We saw other possible springs during our four-mile side trip into Marble Canyon (see GPS waypoint: "4. Possible Spring") and another at the beginning of the pass leading through Dead Horse Canyon, but neither seemed to have accessible water. Thus, hikers should carry at least two days of water from the trailhead, or almost three days of water if the four-mile Marble Canyon side trip is on your itinerary. Talking to a Park Ranger about available other water sources may help reduce this amount.
ROUTE: For most of the hike, the route through the Canyons is easy to follow. About halfway through the first day, in Marble Canyon, an enormous boulder blocks the canyon narrows, but there is an easy path around it (see GPS waypoint: "2. Path Around Boulder"). If you take the four mile side trip (the second half of GPS track: "Day 2"), be prepared for some climbing up a steep scree slope to the left of the main canyon, up a pass and over a ridge, starting at GPS waypoint: "5. Pass/Ravine Out." Keep close watch for this as it's not the obvious Canyon path. After this difficult climb and subsequent drop, you'll take a sharp right turn to the southwest, at a spring (though we didn't see water) with thick underbrush, to begin your hike through Dead Horse Canyon. The ravine climbs steeply southwest, drops to the valley floor, then begins climbing again at waypoint: "8. Start of Pass." Follow this ravine south-southwest until you reach the top of the ridge, looking out across the expanse of a beautiful valley. From there, the path to the first oasis of Cottonwood Springs is obvious. When you get there, if you listen closely, you can follow the sound of water to the Cottonwood Creek's water (GPS waypoint: "9. Cottonwood Springs Water Access"). While the route through the three separate springs comprising Cottonwood Springs can be difficult (the dense vegetation is sometimes impenetrable), watch for pink ribbons tied trees by the National Park to help guide you. (Or, try following our GPS track, which only rarely veers into impassable forest.) After that, it's a very easy downhill, flat hike back to the car. View the route below or download the Without Baggage Marble and Cottonwood Canyon GPS track in GPX or KML format.