DECEMBER 22, 2010 — While most tourists end up in Agra, India on a mission to see the Taj Mahal, the city's other historically important sights would make it an essential visit even if the Taj were to disappear. (File under "Genius Suggestions for David Copperfield.") So, with an image of the world's most famous symbol of eternal love (and the image of a beautiful, blond French girl) burned into my mind, I spend the rest of my time in Agra sightseeing with two other backpackers, Canadian Mark and Israeli Nicole, visiting Agra Fort (one of the best-preserved red-sandstone Mughal forts in India), Akbar's Mausoleum (a marble tomb commemorating one of the greatest Mughal emperors), and the Itimad-Ud-Daulah (another marble tomb, known as the exquisite "Baby Taj," with delicately carved marble lattice screens rivaling some of the Taj's artistry). I learn a lot about the history of the Mughal Empire, but the most useful thing I learn is that I have been paying too much for taxis: Mark and Nicole's tight travel budget dictate that they bargain with drivers more vigilantly than I ever knew possible. Though each taxi trip with the two always requires 25 minutes of negotiation time before setting off, I credit them with my never having to pay more than 60 Rs (US $1.30) for a taxi in Agra.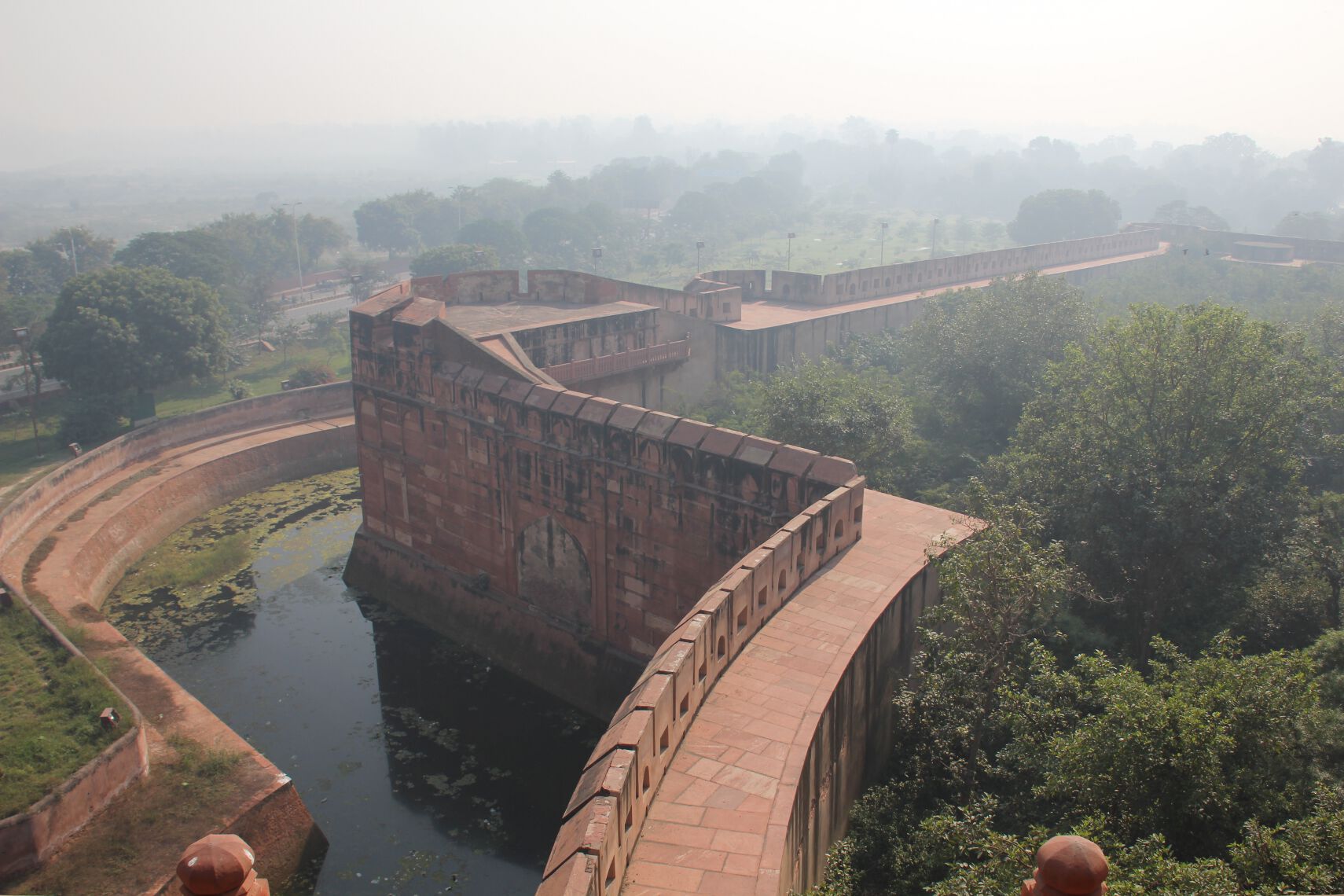 Agra Fort is one of the best-preserved red-sandstone Mughal forts in India.
Using my amazing newfound haggling skills, I make a deal the next morning with a taxi driver to take me to Fatehpur Sikri (50 minutes from Agra) — an ancient city which served as the capital of the Mughal Empire during Akbar's reign — and then on to a train station in nearby Bharatpur (30 minutes farther). I agree to pay 900 Rs (US $20) for the entire trip, but as soon as I get into the car, the driver demands that I pay the entire amount upfront because his borrowed car's gas tank is empty. Reluctant to pay an Indian taxi driver anything upfront (doing so would take away any incentive for him to do anything right), I offer instead to start by paying him 300 Rs, but then, in exchange for doing the unheard favor of giving him cash upfront, pay him only 700 Rs total for the trip. To my surprise, he agrees immediately, and I feel pleased with my tough bargaining skills.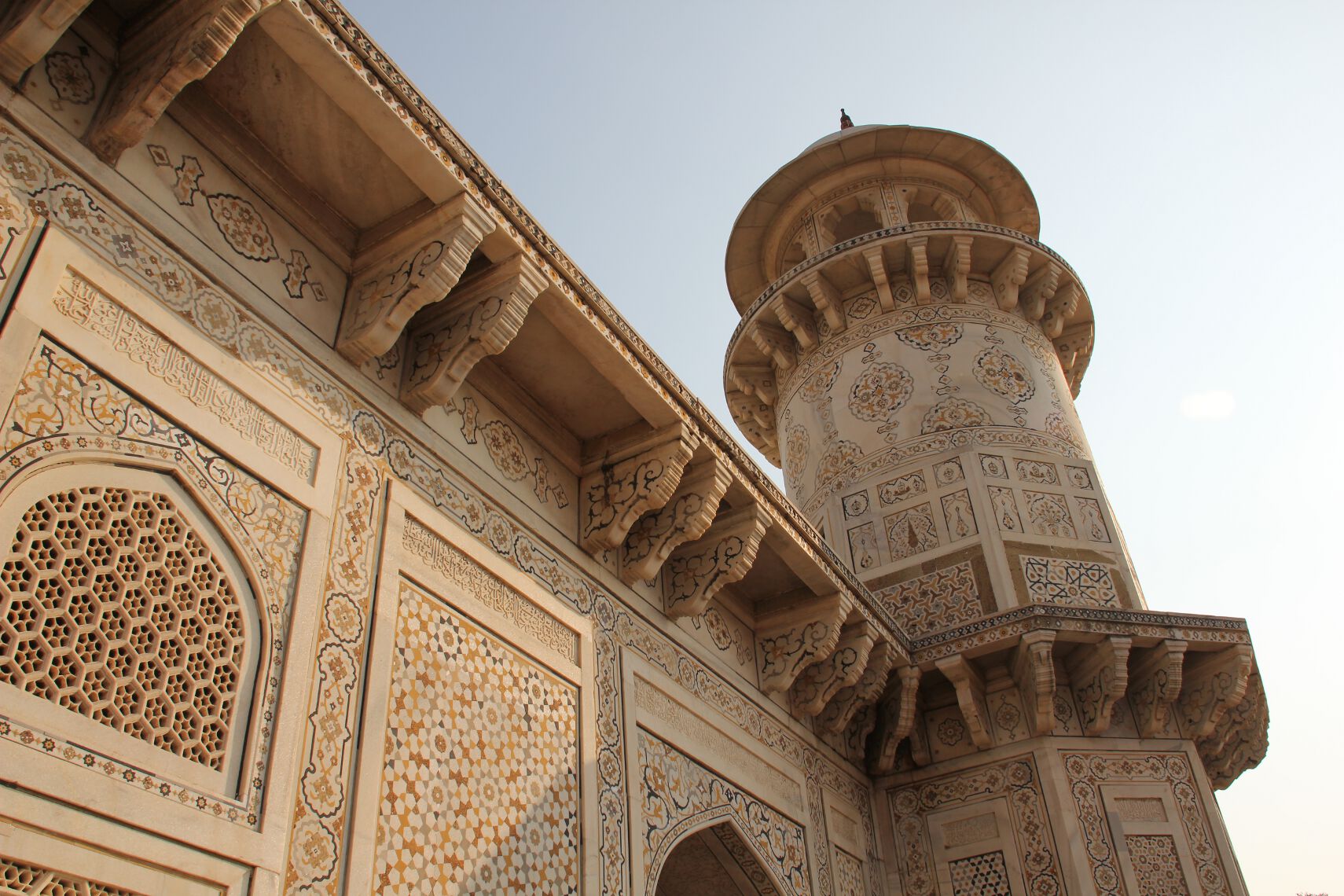 The Itimad-Ud-Daulah, known as the exquisite "Baby Taj," has delicately carved marble lattice screens rivaling some of the Taj's artistry.
He begins driving me to the fort, and, per usual, I refuse his offer to take me for lunch to his "friend's restaurant" (a sneaky way Indian drivers try to collect commission). But when we're close to Fatehpur Sikri's entrance, he drives me to an obviously-fake "Tourist Information" office offering expensive, unofficial tours of the complex. Not fooled, I demand immediately that he bring me to the real entrance to the ancient city, and after a lot of arguing about whether we're already there (I insist that we're not), he drives me to the real entrance. He still manages to extort an extra, 90 Rs from me during the trip for previously not-agreed-upon (but legitimate) tolls and parking fees, but I calm myself by imagining that the driver will be reincarnated as a Western tourist trapped eternally in the nightmarish Delhi train station in his next life.
When I finally manage to enter Fatehpur Sikri, it's while carrying my very heavy backpack, because I'm afraid I can't trust my driver to wait with it, and with an unofficial, unwanted tour guide affixed to my side. Despite my protests, the unofficial guide takes me on a tour of the Jama Masjid, a beautiful mosque, and Saint Shaikh Salim Chishti's white marble tomb, outside of the palace buildings. In the tomb, I join a large group of Indians making offerings of prayers, fabric, and flowers. Worshippers believe that those who offer prayers and tie thread to the lattice of the tomb's marble windows have their wishes fulfilled. I figure it's worth a shot, so I leave some fabric and flowers and tie three pieces of thread to the lattice, one for each of my wishes. My guide told me that revealing my wishes will cause them not to come true, so I can't share them here. (Though, since my guide wasn't an official tour guide, I don't know if this wishing rule is official, but it's best not to test these things.)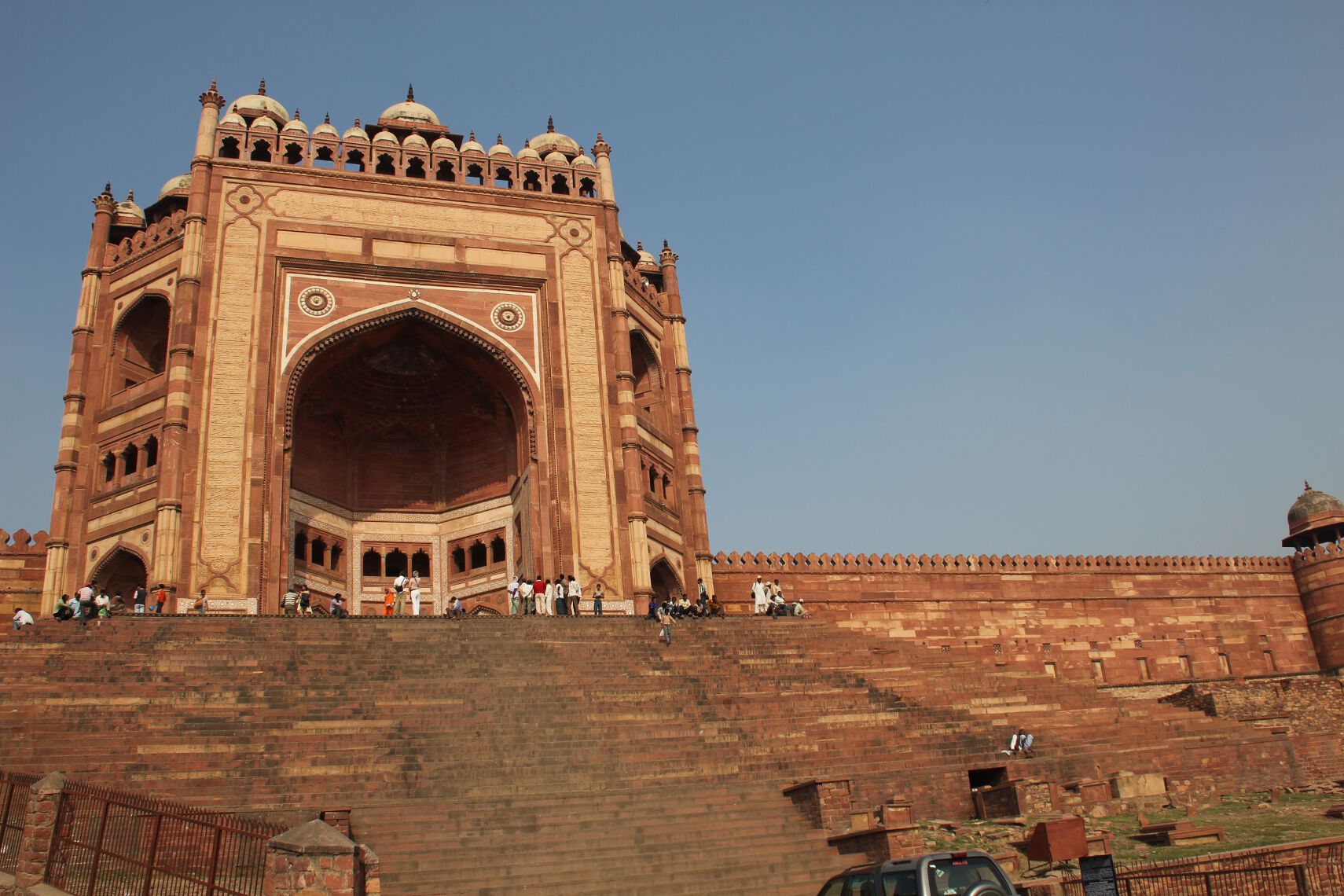 The entrance gate to Fatehpur Sikri, an ancient city that once served as the Mughal Empire's capital.
My guide concludes our Jama Masjid tour with a hard sales pitch for his "friend's" carved marble elephants and an admission that unofficial guides don't have permission to enter the actual palace complex. I don't pay him much for his unofficial half-tour. An official tour guide, who scolds me for gallivanting with a scandalous, unofficial guide, then leads me into the palace complex to see the three palaces Akbar built for each of his favorite wives: one a Hindu, one a Muslim, and one a Christian. That must have made the holiday season with the in-laws really complicated, I think.
When I return to my taxi, my driver drives for about 50 feet before announcing that he's only going to bring me as far as a bus stop for a bus that will take me to the Bharatpur train station. Compared to many people, I am exceptionally even-keeled, but with this violation of our agreement, I find that my Indian-taxi-driver-patience well is empty. I tell him sternly that if he doesn't take me to the train station, I'll get out of the taxi and won't pay him any more money for the trip. This is a considerable threat, because he used almost all of the money I paid him upfront to fill his borrowed taxi with gas. Initially, he backs off and tells me that he'll drive me to the train station, but seconds later, he begins decelerating. He tells me that there's something wrong with the car, and there's no way we'll be able to make it all the way to the station.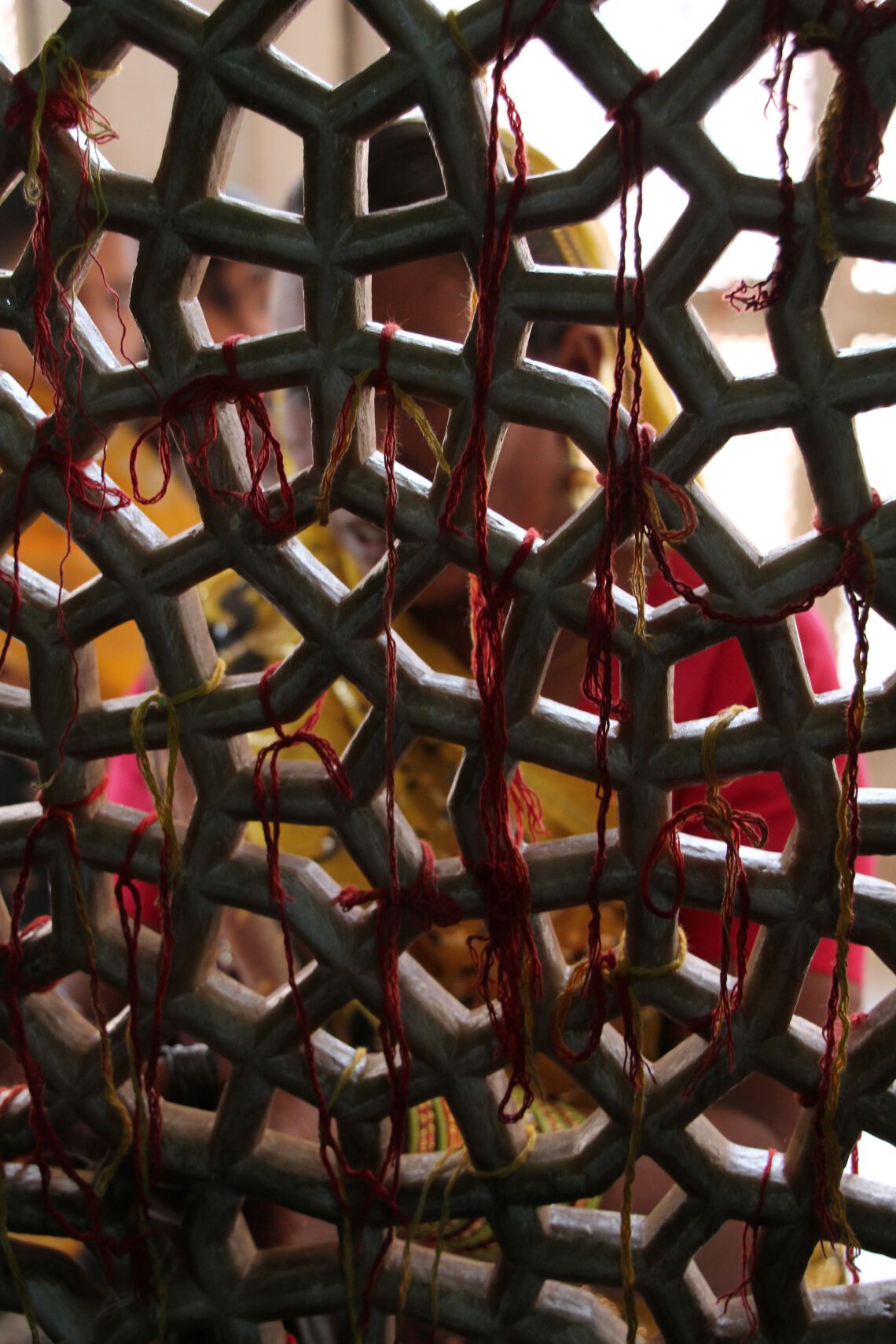 A woman makes a wish and ties thread to lattice in Saint Shaikh Salim Chishti's white marble tomb.
"I guess we'll need a tow truck!" I say sarcastically, as I pretend to call AAA on my cell phone. The taxi driver looks at me, and though his English is limited, he senses that he's tried to cheat me one too many times. Very angry, I again threaten to get out of the car and pay him nothing more. This time, though, he continues arguing. I'm furious. I jump out of the taxi, yell an obscenity at him, and begin walking toward, well, I have no idea where.
I'm living a scene from a sitcom as he drives alongside me, at a speed of two miles per hour, while I walk in a direction where I hope I'll find a bus to Bharatpur or maybe another taxi. All the while, the driver is yelling at me to get back into the vehicle. He even recruits some other taxi drivers along the way who speak better English to negotiate with me on his behalf. This goes on for about two kilometers (a little over a mile) until he realizes that he's made me so angry that I'd sooner crawl to Bharatpur than get back into his taxi. Finally, he drives off, and I find myself on a dirt road in the middle of nowhere, surrounded by Indians who can't direct me to the bus to Bharatpur because I can't speak Hindi and they can't speak English. I am angry at the taxi driver, partly because he left me here, but mostly because he's managed to make me hate India.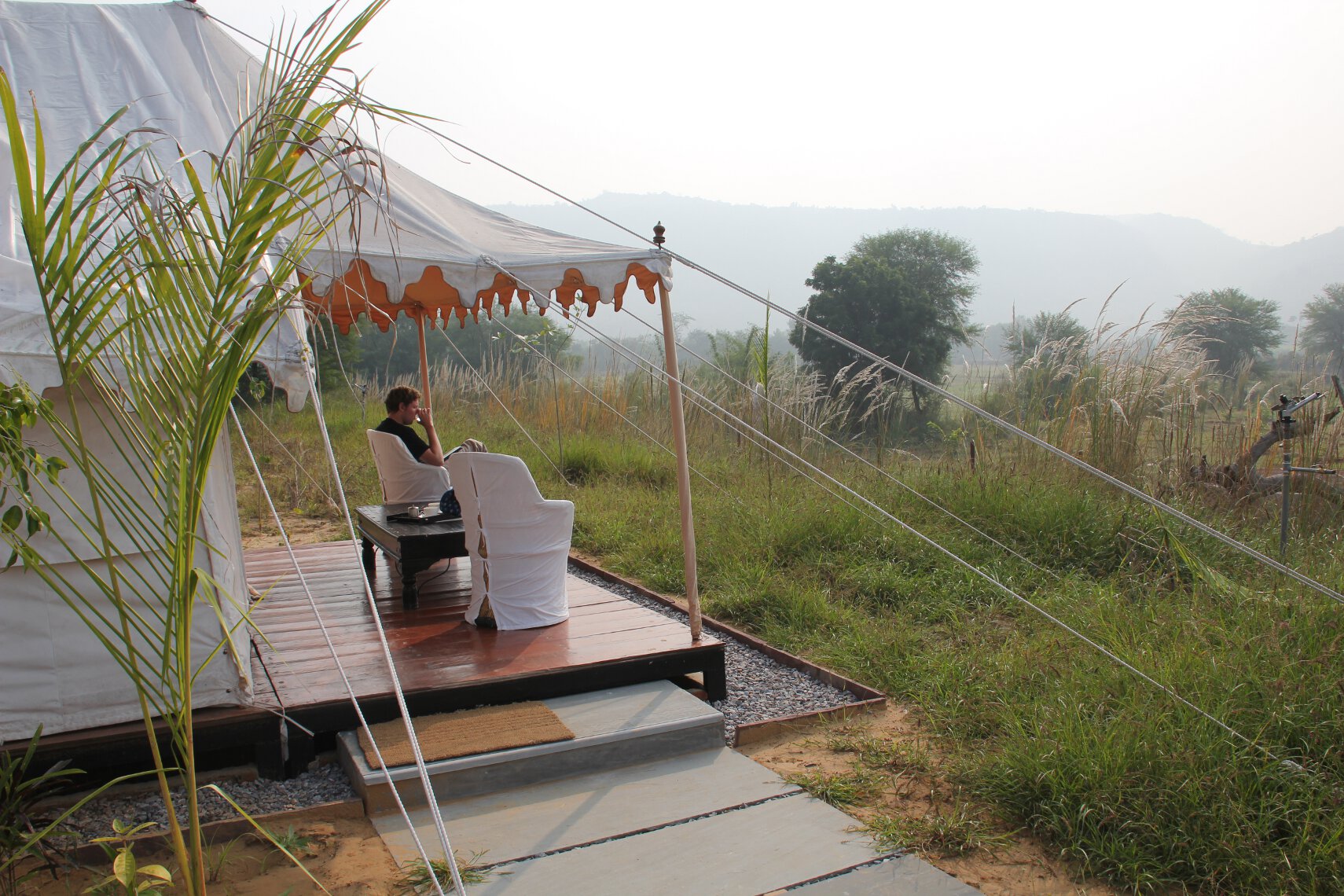 A tourist sits outside his luxury tent at Khem Villas near Ranthambore National Park, India.
I spot a guy with a big Jeep packed with ten people, and I beg him to make room for me and take me to Bharatpur train station. We can't really understand each other, but eventually we come to some sort of agreement that ends up costing me 200 Rs and I hope will end with me in Bharatpur. When we arrive the train station, I feel vindicated: total, I've paid 200 Rs less than if the taxi driver had simply honored our agreement, and I suspect that he won't even have enough gas to get back to Agra.
Exhausted from my massive taxi driver fight, I buy a couple fried rotis to eat and realize that in two hours, I'm going to have to deal with yet another Indian taxi driver when I arrive at Rathambore National Park, one of the best places to see wild tigers in India. I decide that I've reached my Indian taxi driver limit, and it's splurge time. (I usually stay in budget accommodations six days per week and then, on the seventh night, if I've saved enough money, stay in a luxury hotel as a treat). On the train platform, I e-mail Khem Villas, a ten-acre, self-proclaimed "luxury jungle camp" adjacent to Ranthambore, and ask them to arrange a tiger safari for me and pick me up at the train station when I arrive. A few hours later, after an excellent vegetarian dinner, I'm lying in a fantastic luxury tent in the most comfortable bed I've encountered in India, surrounded by tiger-filled wilderness.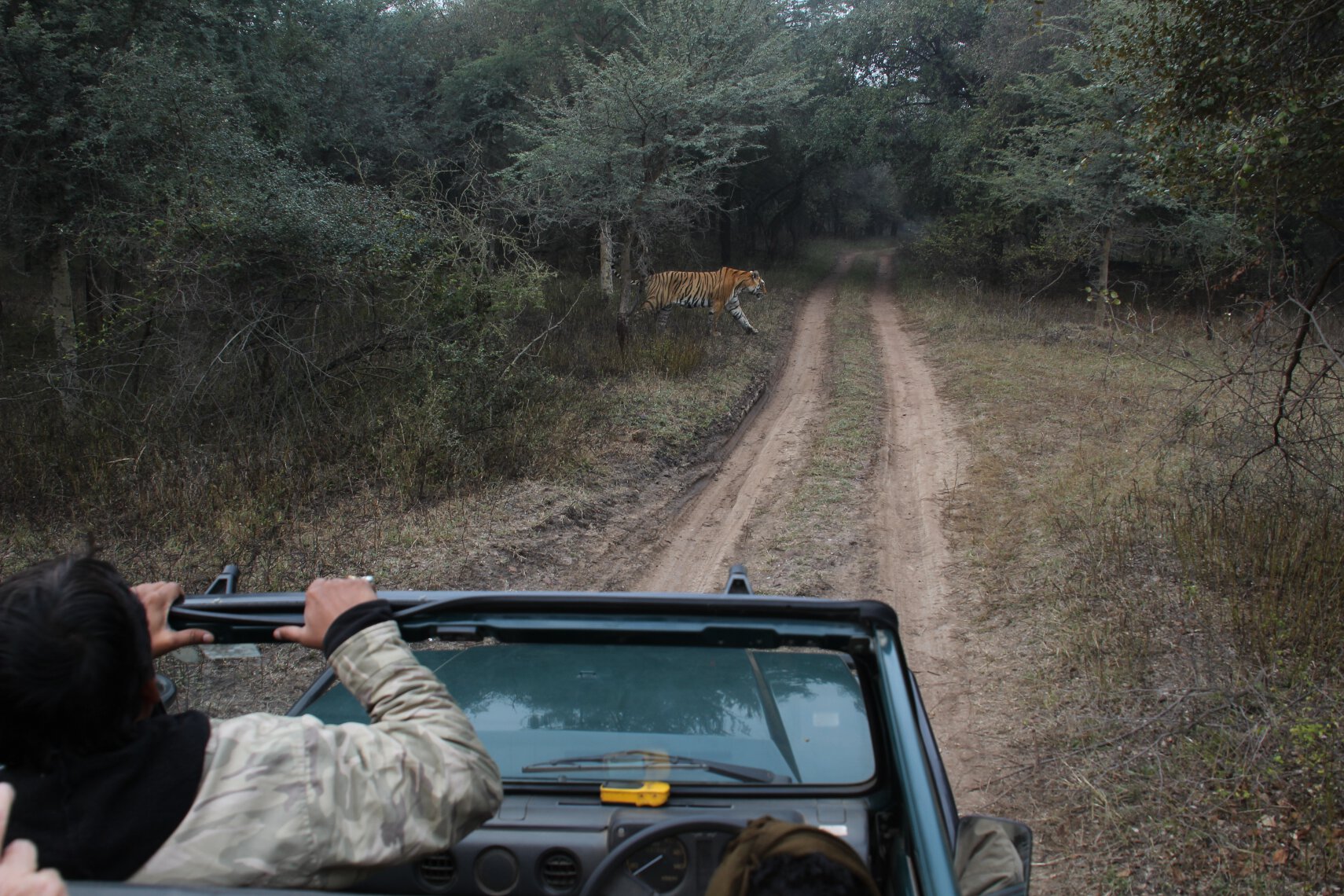 Tiger T17 crosses a road in front of a Gypsy in Ranthambore, India.
At sunrise the next morning, I jump into a Gypsy (a four-wheel-drive Jeep used for safaris) with four other safari-goers and a guide named Mukesh. The Ranthambore Holy Grail, of course, is seeing a tiger in the wild, but I'm not expecting much. I've heard that some of the guests at my hotel have been in the Park for four days and haven't seen anything more than a Sambar deer. (No offense to Sambar deer, which are actually pretty cool.) But, while we're stopped on one of the Park's dirt roads, Mukesh spots some moving underbrush and a flash of orange about 100 feet from the Gypsy.
Then, to all of the passengers' amazement, an enormous female tiger known locally as T17 saunters out from the bush, toward us. She looks around curiously, wanders across the road about 25 feet in front of our Jeep, and strolls back into the jungle. We're awestruck.
India, I'm so confused. I still hate you. But, I'm also sure that I love you.
Either way, those taxi drivers have got to go.
How to See Wild Tigers in India's Ranthambore National Park
Tourism:
Ranthambore National Park,
India
OVERVIEW: Ranthambore National Park is one of the best places to see wild tigers in India. The Park is a four hour train ride from Delhi on the Ag Kranti Rajasthan (an express train) but a five hour ride on most other trains from Delhi. The Park is also a five hour train ride from Agra, and buses are available from Jaipur and Kota. Finally, if you're already at Fatehpur Sikri, you can easily catch a two-hour train from nearby Bharatpur.
LOGISTICS: Fly to Delhi and ask a taxi driver to take you to the Hazrat Nizamuddin train station to take a train to Sawai Madhopur, the town adjacent to the Park. (Or, take a train from Agra or Bharatpur). When you arrive at the station in Sawai Madhopur, a taxi or rickshaw driver will take you to any of the many nearby hotels. Or, if you're in the mood to be pampered, the Khem Villas, one of Ranthambore's most luxurious resorts, will pick you up from the train station if you arrange a room in advance.
SAFARIS: Tiger safaris can be booked online at the official National Park website at rajasthanwildlife.in at least one day prior. If no seats are available, you can stand in line at the National Park starting at 5 AM on the day you want to go out on safari to try to nab an extra seat. (Your hotel may also be willing to hire an agent to do so for you; ask for more details). Gypsies (Jeeps) are more intimate and nimble (530 Rs), but canters (large, open-topped trucks seating twenty people) are more social and slightly less expensive (475 Rs).