DECEMBER 29, 2010 — When I wake up in the morning after my tiger sighting, I feel nauseated and weak. I curse myself for eating Indian food from buckets on the train, but I don't have much time because I only have one day remaining before I need to catch a flight to Southern India. I drag myself out of bed, navigate my way through the typical chaos of the Sawai Madhopur train station, and jump onto a train to Jaipur. India doesn't slow down even when I'm sick, I whine to myself. Every time the train jolts, I feel like I'm going to throw up.
When I arrive at my guesthouse in Jaipur, the manager doesn't have my room ready, so I decide to take a nap on the hotel's library's couch, hoping that the rest will help my stomach. In the library, though, I start chatting with two 23-year-old British girls named Gwen and Kate, who have been traveling around the world for almost a year. Kate tells me that the two have sometimes stopped to take odd jobs to finance their trip, and Gwen reveals that she once worked on an Australian chicken farm, hunting kangaroos to stop them from poaching chickens. I'm mesmerized. The two are just about to take a taxi driver-guided tour of Jaipur, and they ask me to join them. My stomach feels uneasy, mostly at the thought of dealing with yet another dishonest Indian taxi driver and also partly because I'm still sick, but I'm reluctant to turn down an invitation to see the city with a British kangaroo hunter.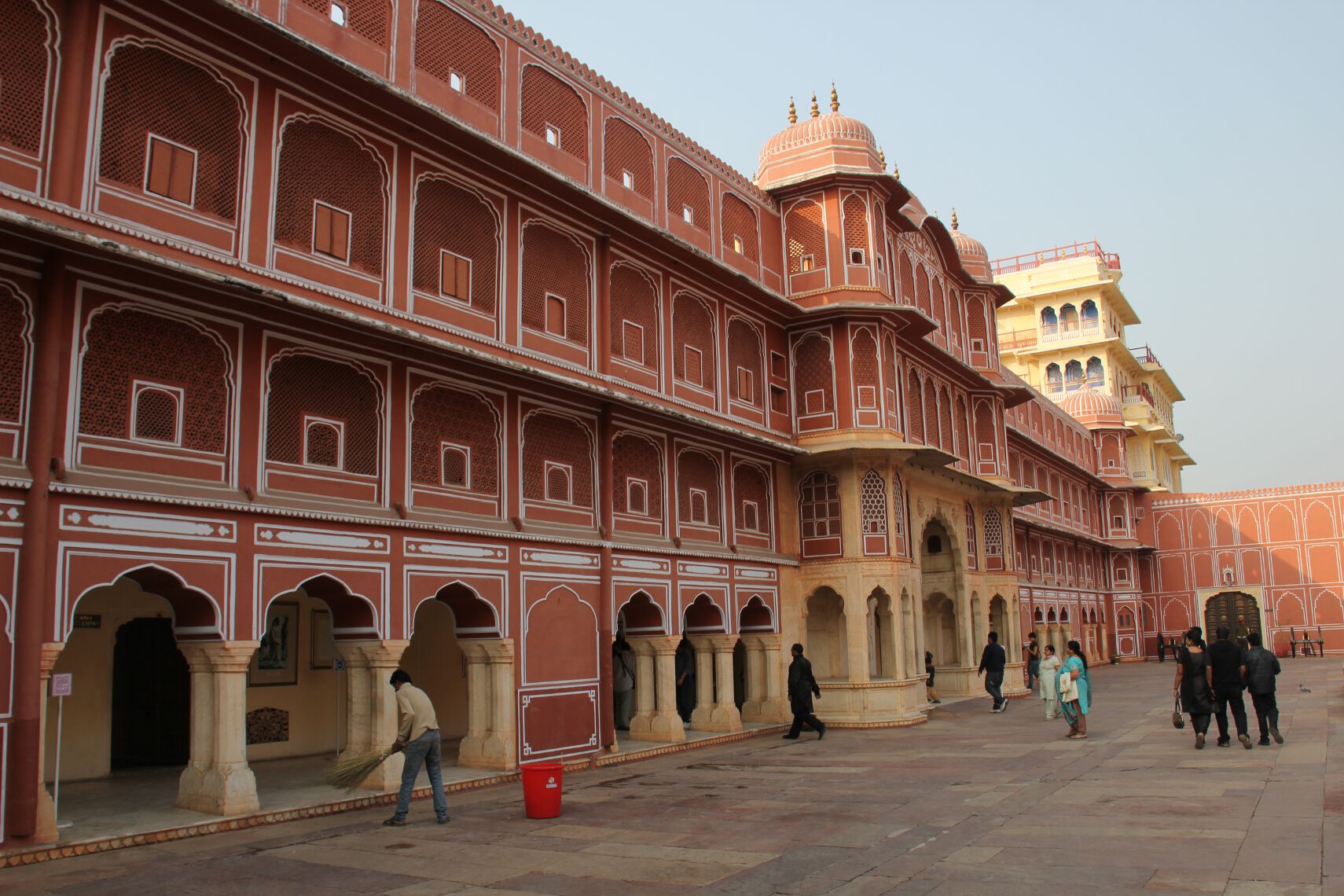 A view of the City Palace's Chandra Mahal — the royal residence — in Jaipur, India
The taxi driver takes us first to Jaipur's City Palace — a remarkable complex built by Maharaja Sawai Jai Singh, ruler of the kingdom of Amber (which later became Jaipur) — and the Jantar Mantar — a unique observatory-park filled with ancient astronomical instruments. I'm staggering along so slowly that I apologize to Gwen and Kate and explain that I'm not feeling well, but I'm still afraid that they may be regretting having brought me along. After our City Palace tour (which includes a fascinating exhibition of hundreds of ancient knives and other weapons) and a photo-op with a real snake charmer, our taxi driver/tour guide tells us that he's going to take us on a textiles factory tour. Immediately, my Indian taxi driver bullshit detector goes off, and I realize that we're going to be taken on a shopping tour designed by the driver to collect store kickbacks and commissions. I'm about to put a quick stop to the trip when Gwen and Kate tell me that they, too, know what's about to happen but they want to go ahead with it anyway.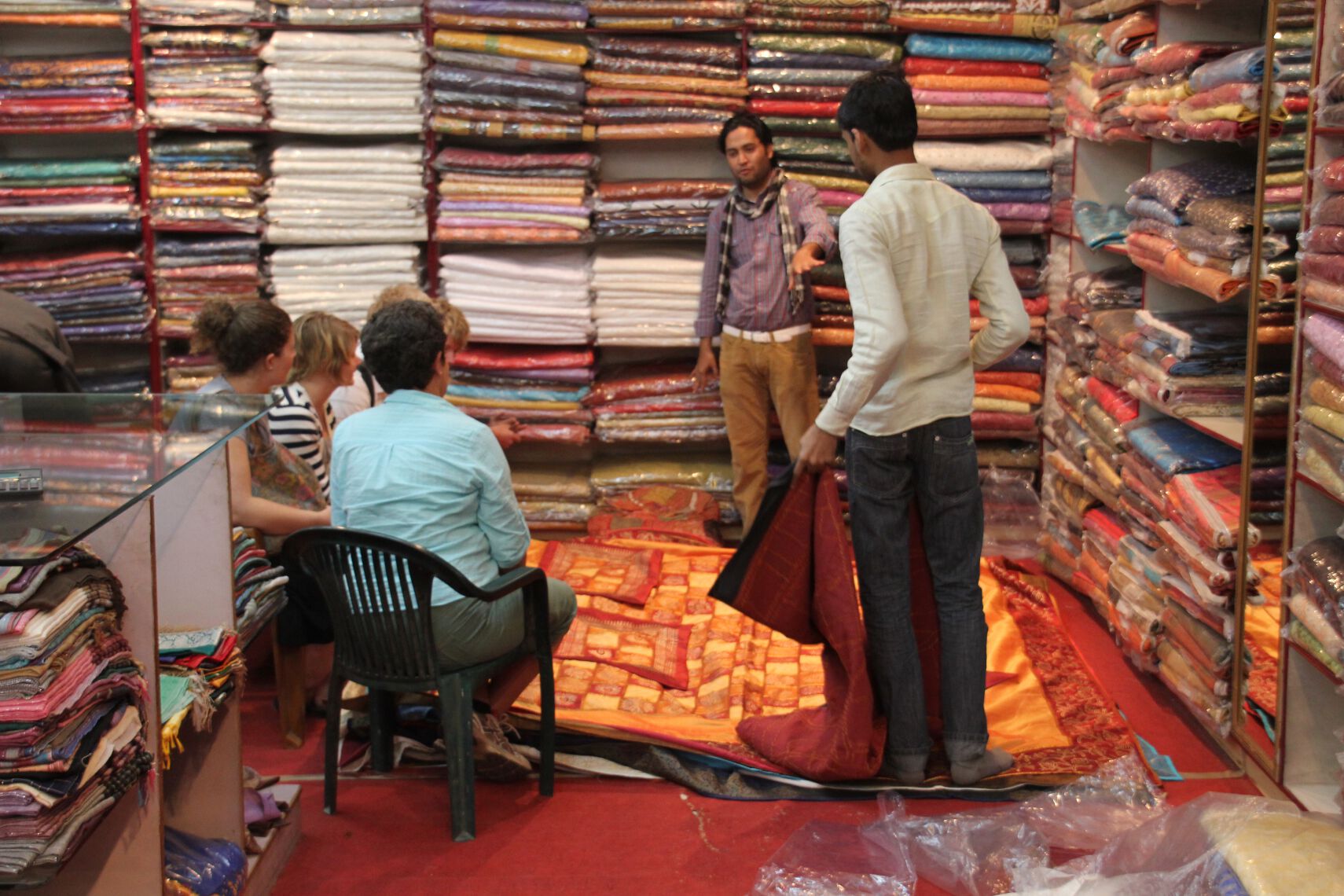 Tourists look at bed covers in a textiles shop in Jaipur, India.
"It'll be fun," Kate says. "We don't have to buy anything."
The next thing I know, the three of us are sitting on a large sofa being served unlimited, free chai in a huge showroom stacked to the ceiling with bed and pillow covers. Salesmen parade tens of duvet covers in front of us while we discuss the merits of each.
"I feel like a Mughal emperor picking out his linens," I joke. When one of us shakes our head, a salesman whisks the offending duvet cover away and replaces it with a new, usually more expensive one. I realize that the feeling of total control that I feel from the shopping is the opposite of my normal, everyday India feeling. The process is surprisingly therapeutic and relaxing.
Suddenly, a salesman shows us a black duvet cover adorned with attractive golden elephants. I realize that, surprisingly, my stomach illness has completely disappeared. I feel great.
"I want that one!" I exclaim, pointing at the golden elephant design. Though I almost never buy anything while I'm traveling because I hate carrying things (have you seen the title of my travelogue?), I decide that this bed cover, which seems magically to have cured my stomach infection, would be a perfect souvenir from India.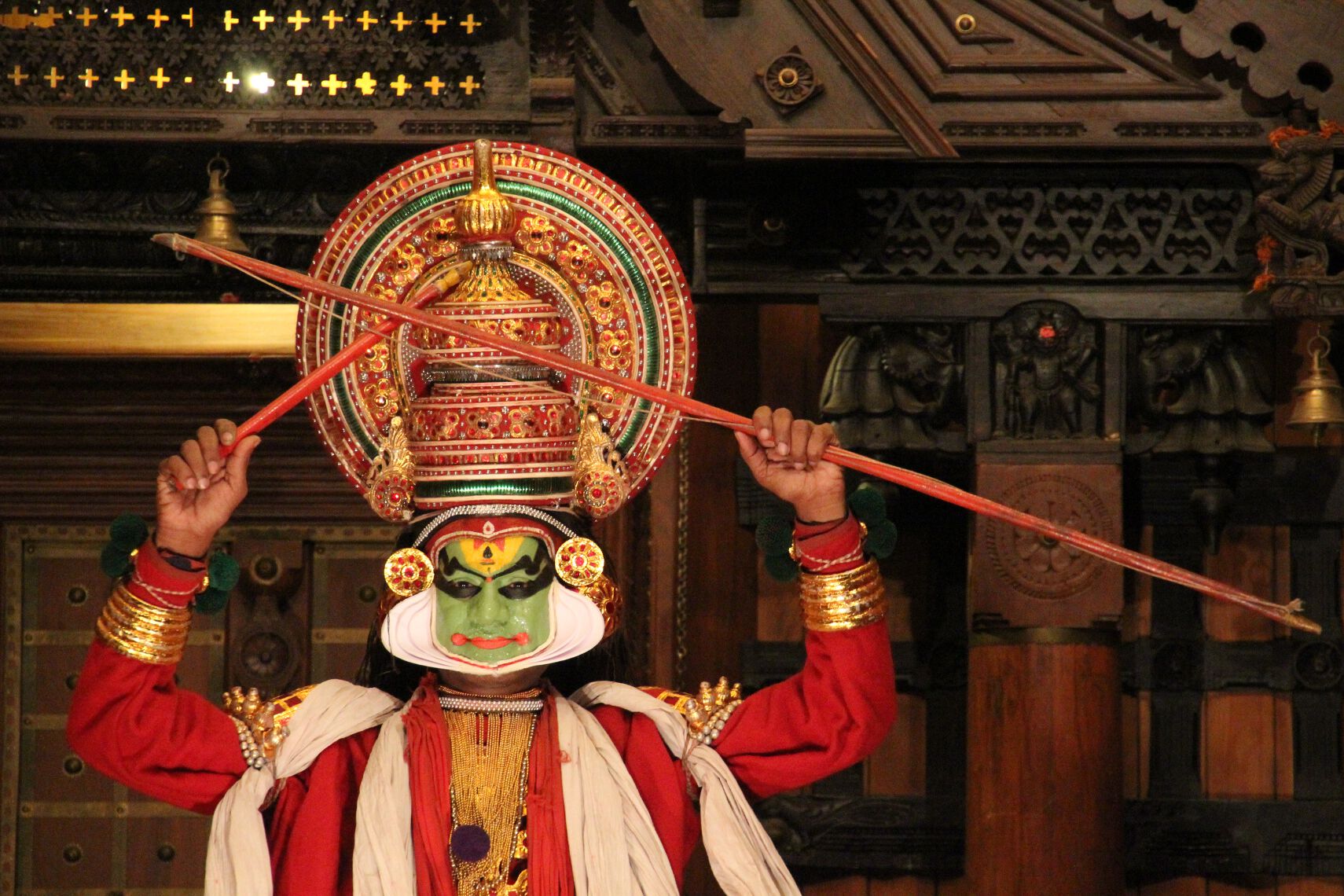 An actor wearing elaborate makeup performs Kathakali in Fort Cochin, India.
I leave the store with a lighter wallet, but I realize that sometimes, the best way to deal with India is to sit back, relax, and let two British girls and an Indian taxi driver take you for a ride. At the very least, it seems to help cure nausea.
When I wake up the next morning, I feel groggy and confused. I look at my watch, which reads: "7:10 AM." My flight from Jaipur to Kochi in the Southern Indian state of Kerala departs at 8:10 AM, and the taxi ride to the airport takes 30 minutes. By the time I've finished frantically packing my backpack and checking out of my hotel, it's 7:20 AM. The last thing I have time to do is argue with a taxi driver right now, I think.
"My flight leaves at 8:10," I tell a rickshaw driver waiting in front of the hotel. "Can we make it?"
"In India, anything is possible," he says, winking at me. I roll my eyes. But, to my surprise, he offers me a fair price upfront, and I jump in the rickshaw. When we arrive, at 7:50 AM with 20 minutes to spare before my flight's departure, the airport is so disorganized that no one seems to notice that I've arrived late, and I'm quickly ushered onto the plane. Apparently there are certain advantages to systemic chaos. I realize that, once again, an Indian taxi driver has managed to save my day.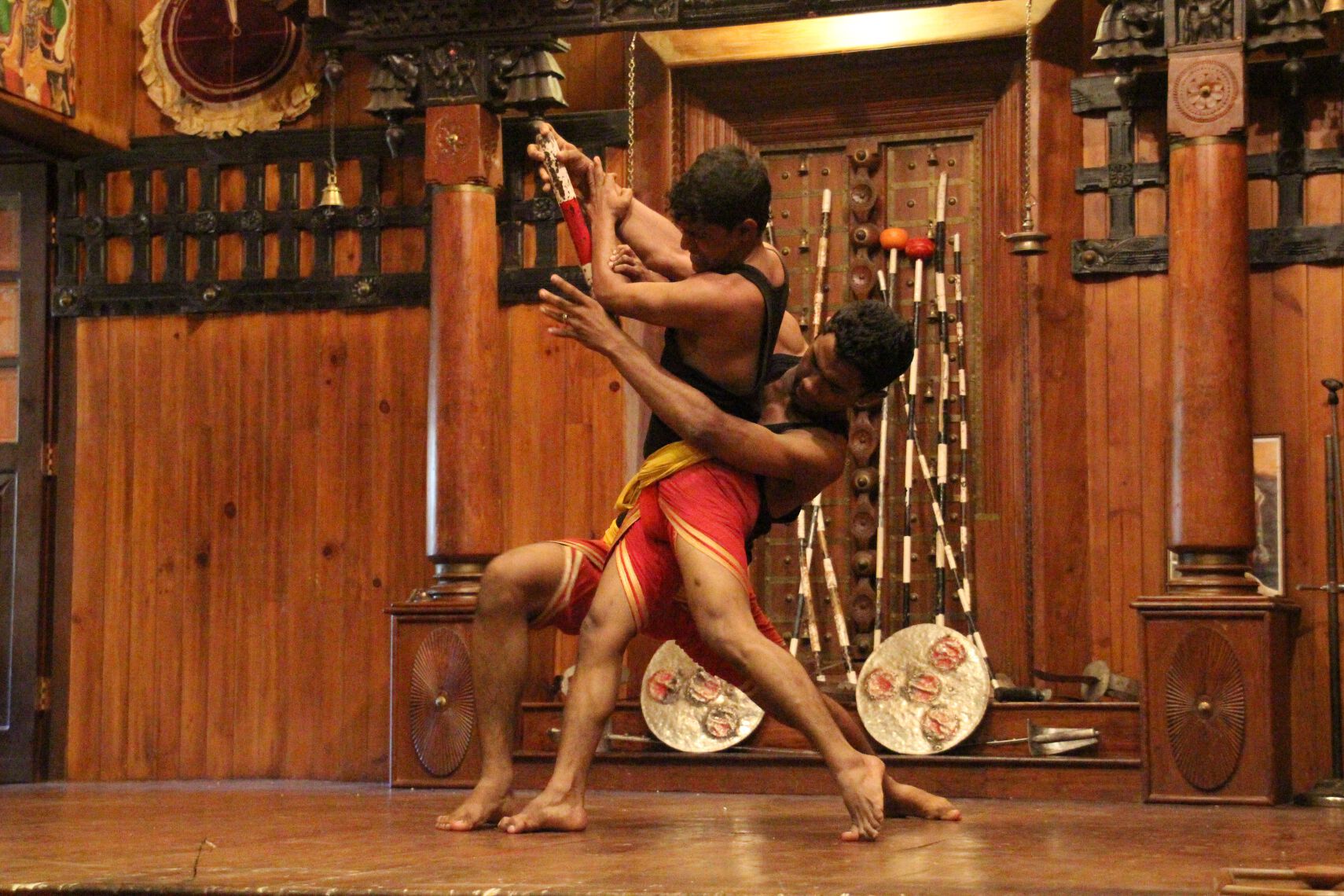 Martial arts experts demonstrate the ancient Keralan art of Kalarippayt in Fort Cochin, India.
When I reach the quaint fishing village of Fort Cochin, I feel like I've arrived in an alternate-universe India, where life moves more slowly, streets aren't congested, and taxi drivers are strangely helpful. I decide to spend a few days there, taking some time to unwind while enjoying the town's excellent restaurants.
One day, after walking through a Bollywood film shoot on the street, I meet a Dutch girl named Fleur while drinking a banana milkshake in a teahouse. She tells me that she has spent the last month volunteering at an orphanage for disabled children in eastern India, and now, she's waiting for her mom to meet her for Christmas in Southern India. The two of us decide to see a performance of Kathakali, a traditional Keralan dramatic performance in which actors tell stories through dance. Traditionally, Kathakali performances last all night, but our condensed 90-minute performance is long enough for me: I'm totally bewildered by the story, half because Kathakali dance moves are inscrutable to Westerners and half because the explanatory brochure that the playhouse gave me and Fleur is written in Dutch. Still, I enjoy the distinctive performance, which Fleur later explains to me was a farce about a fight between the Hindu God Shiva and an imposter. Later, I also take some time to see a demonstration of Kalarippayt, the traditional Keralan martial art. I'm fascinated as the performers demonstrate unique hand-to-hand combat, knife fighting, and the use of an Urumi, a sharp, flexible sword that allows victims to take on five attackers at once.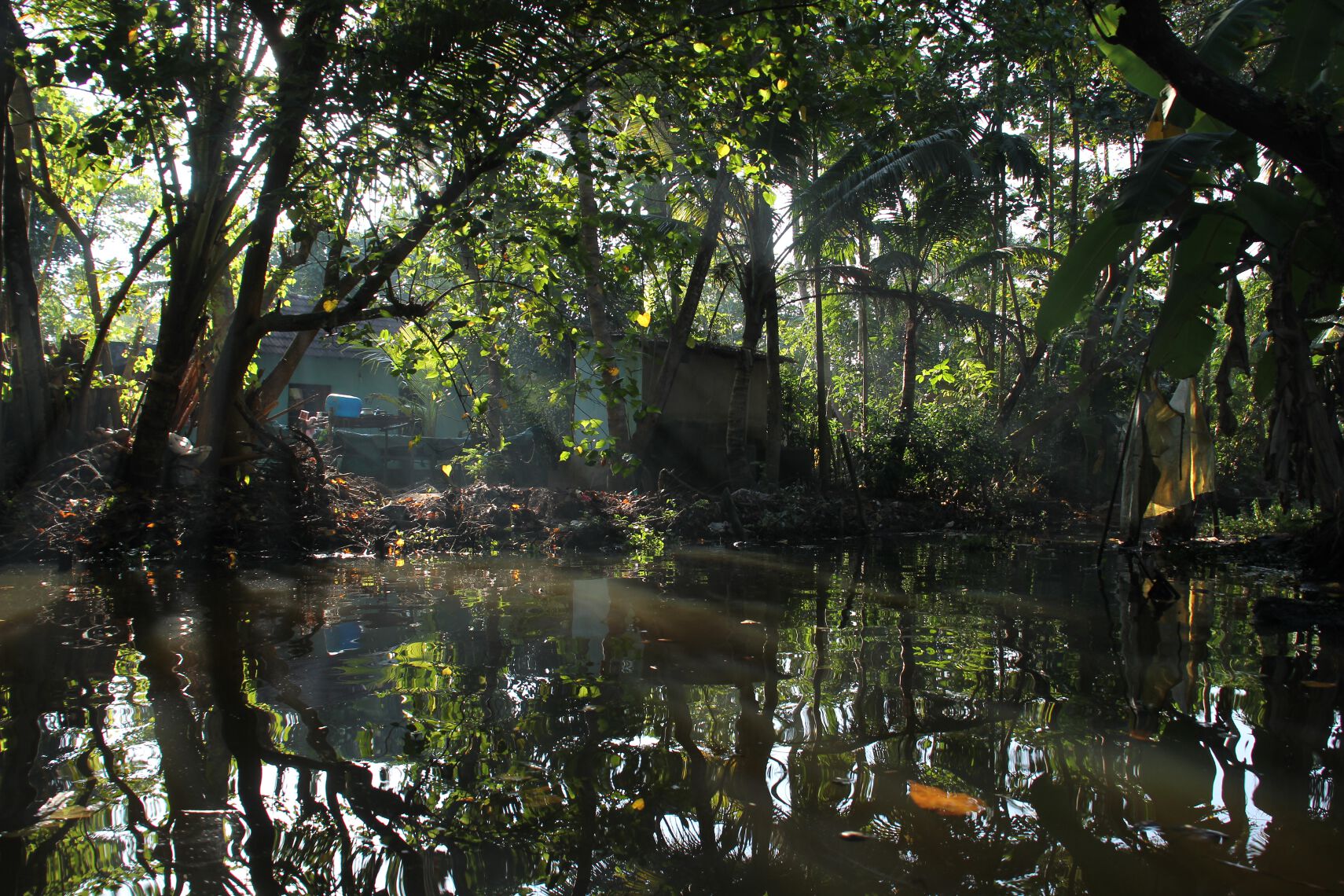 Few avoid being charmed by the Backwaters of Kerala, India.
But, I flew to Kerala mostly to see the famed Keralan Backwaters, a series of connected rivers, lakes, and canals, whose shores are inhabited by thousands of native Keralans. So, though I find it difficult to tear myself away from Fort Cochin, I eventually catch a bus to Alleppey, a town sometimes called the Venice of the East.
When I arrive there, I hire two local kids to take me on a tour of the Backwaters in a canoe. Though I'll avoid describing the Backwaters as "enchanting" in fear of repeating the description used by every other travel writer and backpacker in Kerala, the experience is one-of-a-kind. My guides paddle me past beautiful, lavish houseboats, which many visitors to Alleppey hire for a couple days to experience the canals and enjoy traditional Keralan food cooked by a professional chef. My boat captains even take me to visit their homes sitting on the edge of a hidden canal. As we paddle under palm canopies, past Keralan families making dinner and doing laundry, I realize that for the first time in India, I feel completely relaxed. And, even more strangely, two taxi drivers helped make it happen.
Maybe it's true. In India, anything is possible.
How to Visit the Kerala Backwaters
OVERVIEW: The Kerala Backwaters are a series of connected rivers, lakes, and canals adjacent to the Arabian Sea in the state of Kerala in Southern India. Many travelers consider the Backwaters one of India's most beautiful destinations. Incidentally, the people of Kerala elected a communist-led government in 1957, which today is still one of the few democratically-elected communist governments in the world.
LOGISTICS: Fly to Kerala's Cochin International Airport (or, you can take a 22-hour train ride from Mumbai). Then, from the Eranakulam Junction train station, you can take a train (61 Rs/US $1.35) to Alleppey, the jumping-off point to the Backwaters. Or, you can follow my itinerary by taking a taxi from the airport to Fort Cochin (700 Rs/US $15) and then ask a taxi driver to take you to the bus stop for the bus to Alleppey (20 Rs).
CANOE TRIPS: Do yourself a favor and hire some local paddlers to take you on a half-day (400 Rs/US $9) or full-day canoe trip through the Backwaters. Canoes can take travelers to places most other boats can't go, and you'll get the most intimate tour of the Backwaters. Tourists who take canoe tours are often invited to excellent meals in the houses of their canoe captains and shown how local handicrafts are made. Homestays and hotels can help arrange these trips, but you'll also be offered trips by almost every local you meet in Kerala when you walk down the street.
HOUSEBOATS: Many visitors to Alleppey hire a houseboat to experience the canals and enjoy traditional Keralan food cooked by a professional chef. Most backpackers I talked to recommended these expensive (usually starting at about 6,000 Rs/US $130) overnight trips wholeheartedly, especially the food, but keep in mind that the houseboats are too large to take people into the most charming canal networks.