MARCH 29, 2013 — In September of last year, I found myself stranded on a nearly deserted island off the coast of Fiji in the South Pacific Ocean. I write "stranded," because work forced me to be there for five weeks, and I write "nearly deserted" because, though I was joined by over 50 coworkers, the island itself was nearly completely swathed in wild pineapple plants and lemon trees, lacking in civilization. Despite being surrounded by 50 people, with my friends and family over 5,000 miles away, I sometimes felt lonelier than if I were actually alone.
Though I was in one of the Earth's most remote places, every so often, a rickety, wooden longboat with a barely-functioning outboard motor would brave the dense, jagged coral reef surrounding our jungle-covered paradise and drop off a couple backpackers weighed down by filthy, overfilled bags and covered in coconut sunscreen. Lena — a 26-year-old German with wild brown hair who had spent the last year working as a school teacher in New Zealand after graduating from college in Würzburg, Germany — was the first backpacker to emerge from the desolate ocean.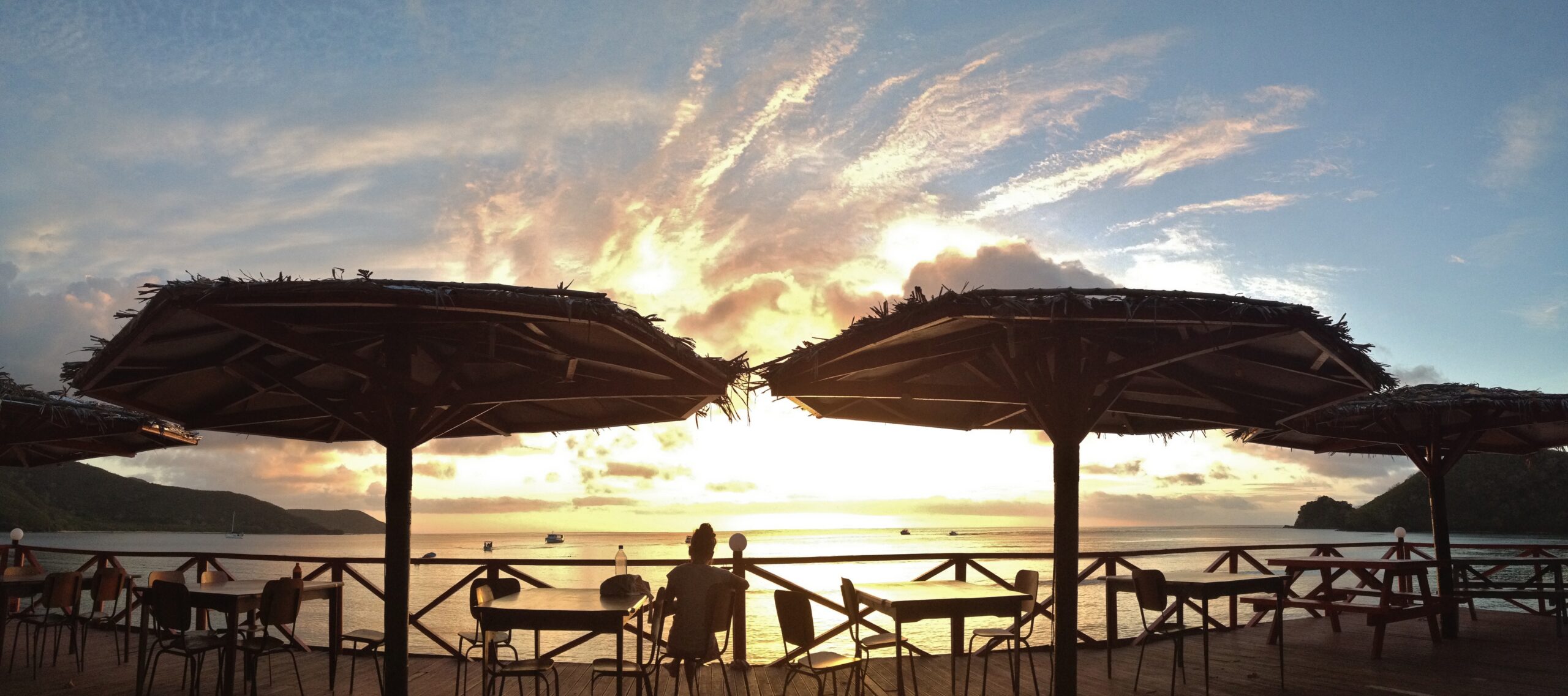 A backpacker looks out at the ocean on an island in the South Pacific.
"Thank God you're here," I said, hijacking her diary-writing session one night. "I haven't seen anyone but coworkers for weeks." Fortunately, she didn't seem (too) put off by my desperation; every afternoon afterward, during a break from my job, we'd swim together, as far out as felt safe, into the turquoise and aqua-striped waters of the South Pacific. The daily reprieve from the strange loneliness of being surrounded by coworkers helped keep me sane.
So, two months later, when my friend Rich loses his patience after he, his wife Wendy, and I become imprisoned in a mob of tourists at overcrowded Prague Castle on New Year's Day, I know exactly who to call.
"I'm already tired of big cities," says Rich. "I don't want to go to any more!"
"But I want to see lots and lots of castles," Wendy says.
"Well, my friend Lena lives in Würzburg, Germany," I say. "If, instead of going east to Budapest, we go west to Germany and drive along the Romantic Road, we'll get to see small medieval towns, lots of castles, and Lena." Before the trip, we discussed the Romantic Road, a 350-kilometer German highway route, first popular with American soldiers in post-war Germany, that links 27 medieval towns, beautiful countryside, and fairytale castles. But, during our marathon European road trip planning session, Rich never admitted to wanting to see only small towns, Wendy never demanded a trip full of castles, and I never insisted on visiting Lena. I marvel at how frustrating situations can force people to reveal their true desires.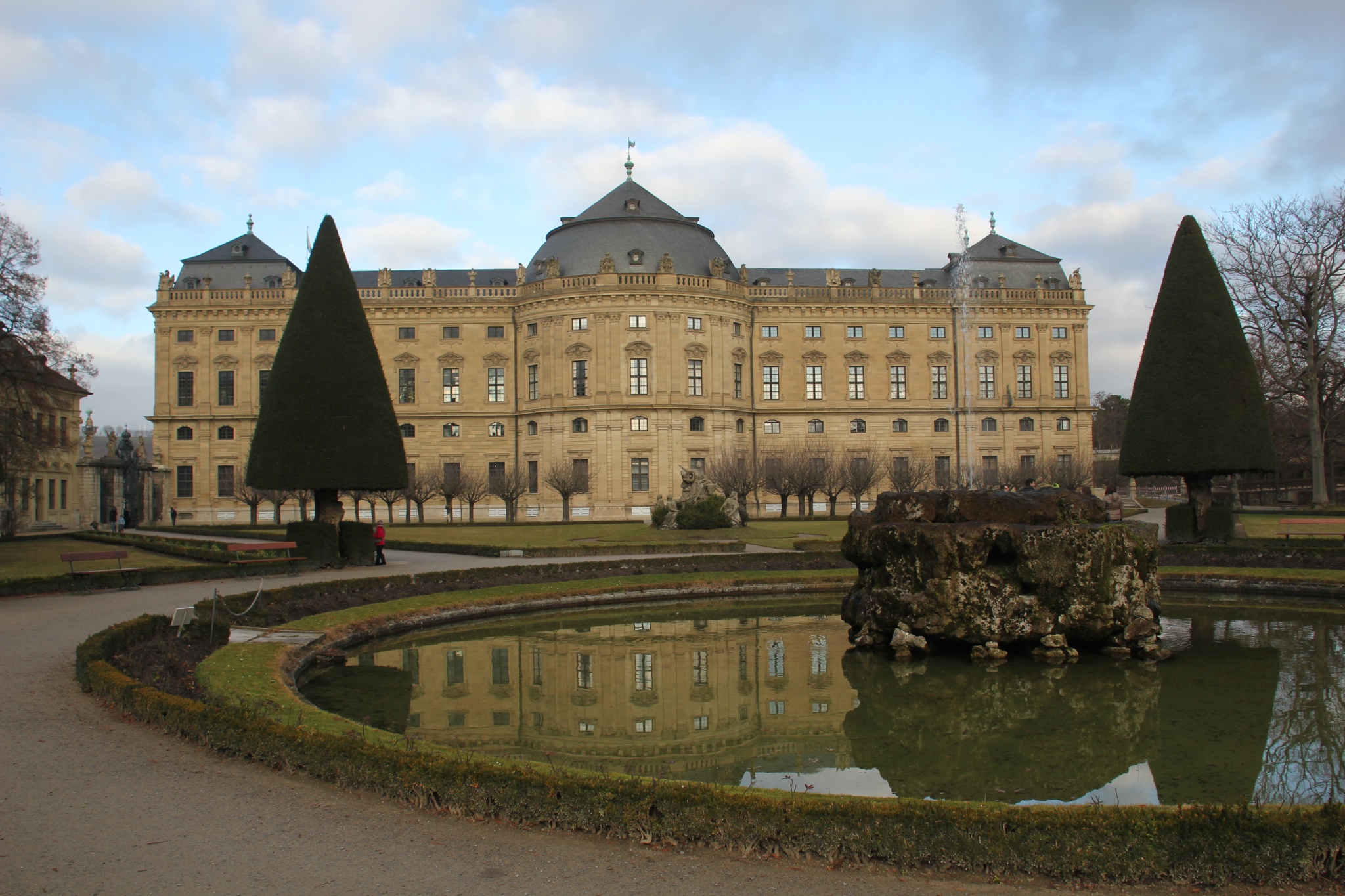 The Würzburg Residence in Würzburg, Germany is a UNESCO World Heritage Site.
"Lena! Remember me?! My friends and I are on our way to Würzburg tomorrow morning," I say on a Skype call with Lena at our Prague hotel. "Do you have time to join us on a road trip?"
"I don't live in Würzburg anymore," Lena says. "I'm near Frankfurt."
"Okay, but if you get on a train, can you meet us at the Würzburg train station at noon tomorrow?" I ask.
"Sure!" she says without hesitation. I'm a little surprised that she's willing to drop everything and take a train across Germany to join our road trip with no advance notice, but she tells me that she's procrastinating her search for a new apartment near a new, yet-to-start teaching job.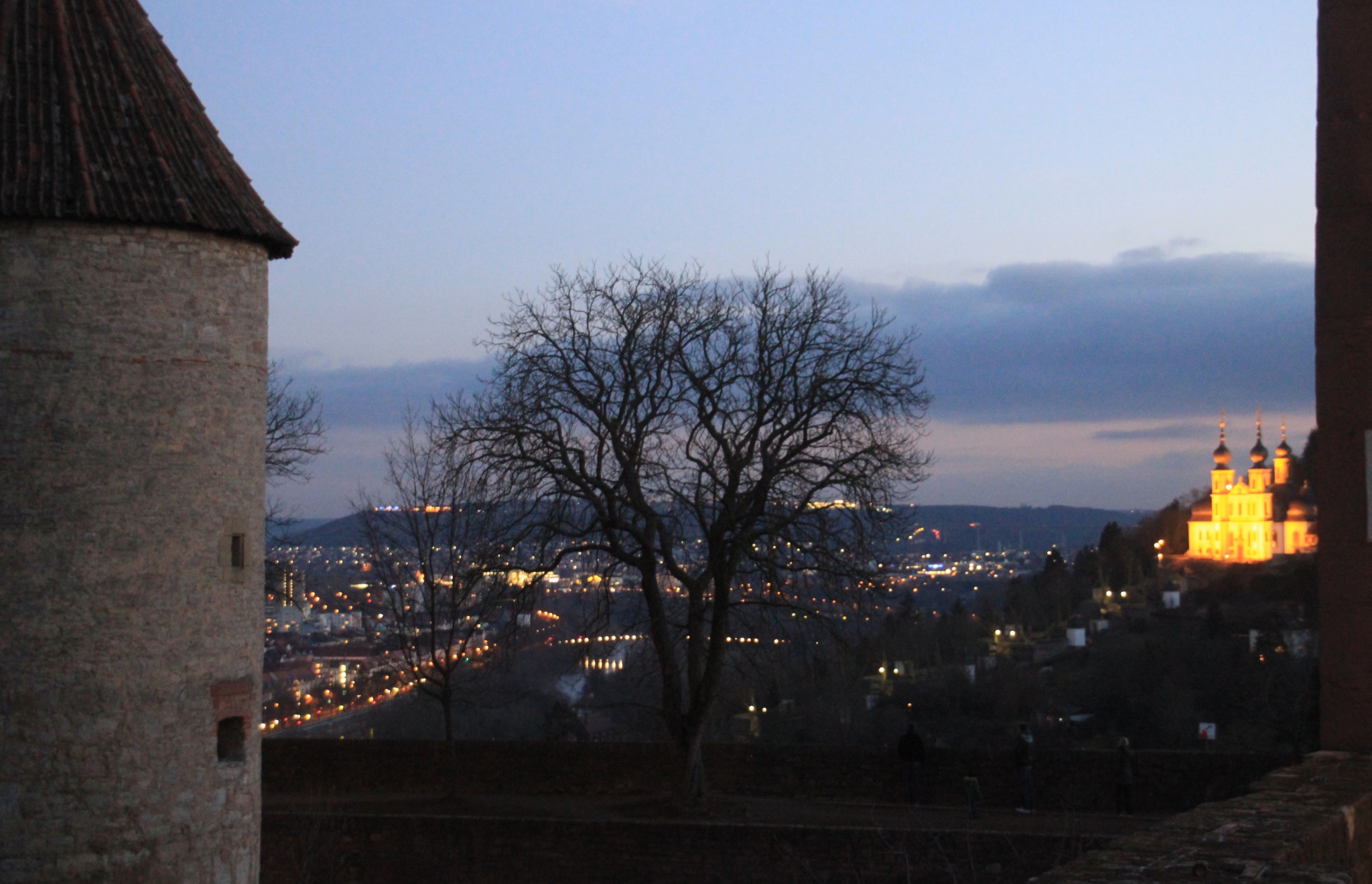 Würzburg, seen here from the Marienberg Fortress overlooking the city, was destroyed in a 1945 British air raid but has since been rebuilt.
"Are you trying to delay becoming an adult?" I ask.
"Maybe," she admits.
"We leave for Würzburg at 9 AM tomorrow!" I announce to Rich and Wendy. "Small towns! Castles! A German girl!" They're easily convinced.
Though it's strange to see Lena wearing a winter coat in a German train station instead of a bikini in Fiji, it's clear that she's a perfect addition to our road trip group when the first thing she asks us is, "Are you guys hungry for German casseroles?" I know that I've been a little bit of a third-wheel on this trip up until now, but Rich and Wendy are good friends of mine; so, I'm surprised by how much I suddenly feel less lonely when Lena jumps into the backseat with me. After bowls of cheesy pasta at Restaurant Auflauf, we take a tour of the Würzburg Residence, a beautiful palace with an ornate main staircase and a fresco-covered dome.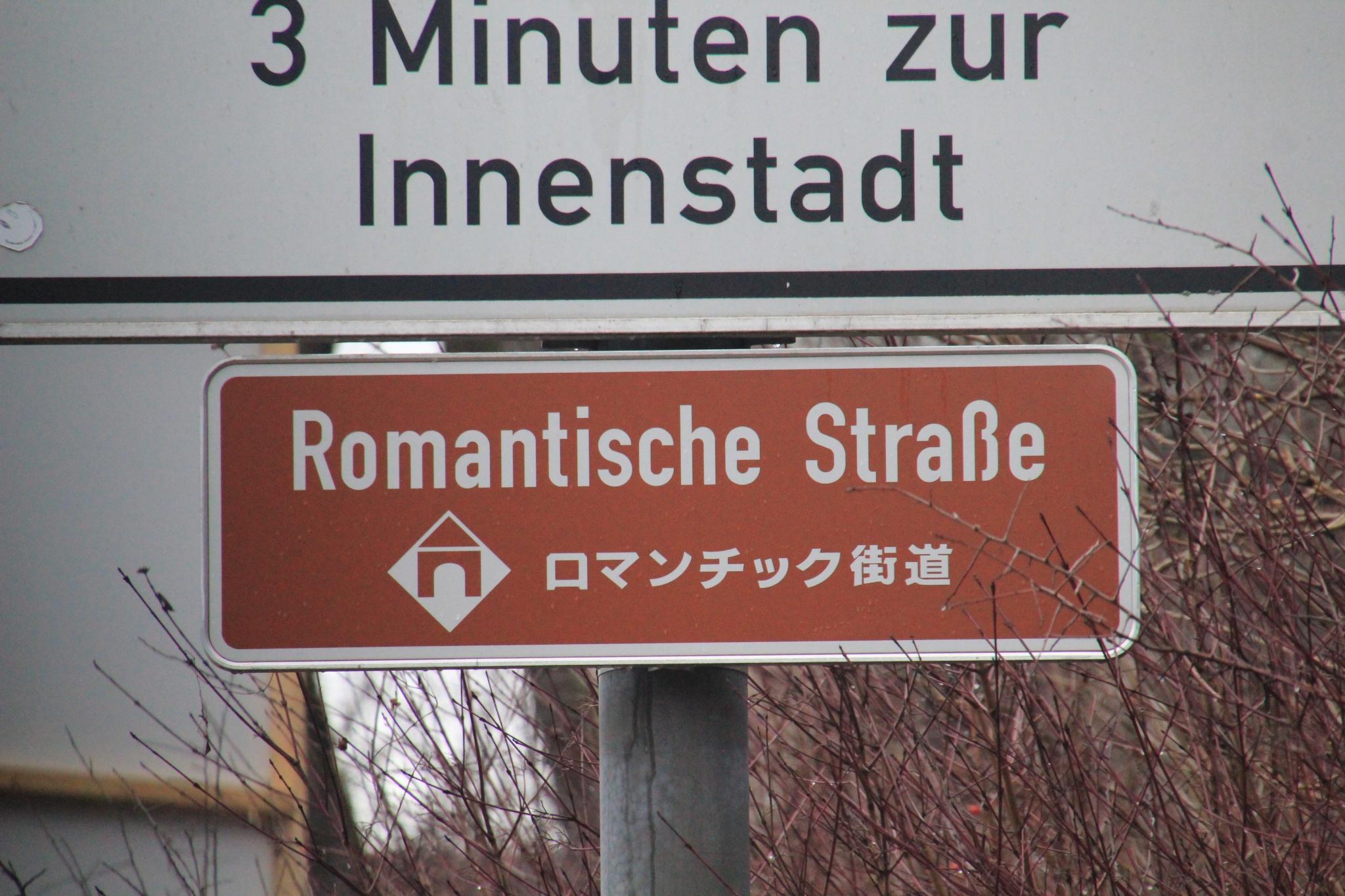 The Romantic Road is a 350-kilometer highway route in Germany between Würzburg and Füssen that links 27 medieval towns.
"If you have ears, you must follow me!" exclaims our odd, middle-aged tour guide, who is a cartoon caricature of how an American might imagine a German tour guide. "It iz cold in zis room because of ze marble! If you are out of time, you must exit through that door!" Lena giggles. Apparently, peculiar, middle-aged German men are as strange to her as they are to us. My favorite Residence room is the White Hall, a sumptuous ballroom with walls covered in ornate white stucco designs and a mural of a dog that watches me no matter where I walk.
At sunset, the four of us begin walking up a hill toward Marienberg Fortress, a Baroque-style, red-roofed castle which sits high above Würzburg's wine vineyards. Lena and I walk together through the lush vineyards, with Rich and Wendy walking a quarter-mile behind. Lena tells me how much she's dreading having to find a new apartment to live in by herself. "I don't know what it will be like to live alone," she says. "It's a really stressful time, and I'm not sure I'm ready for it. But, I guess I have to be." I sigh.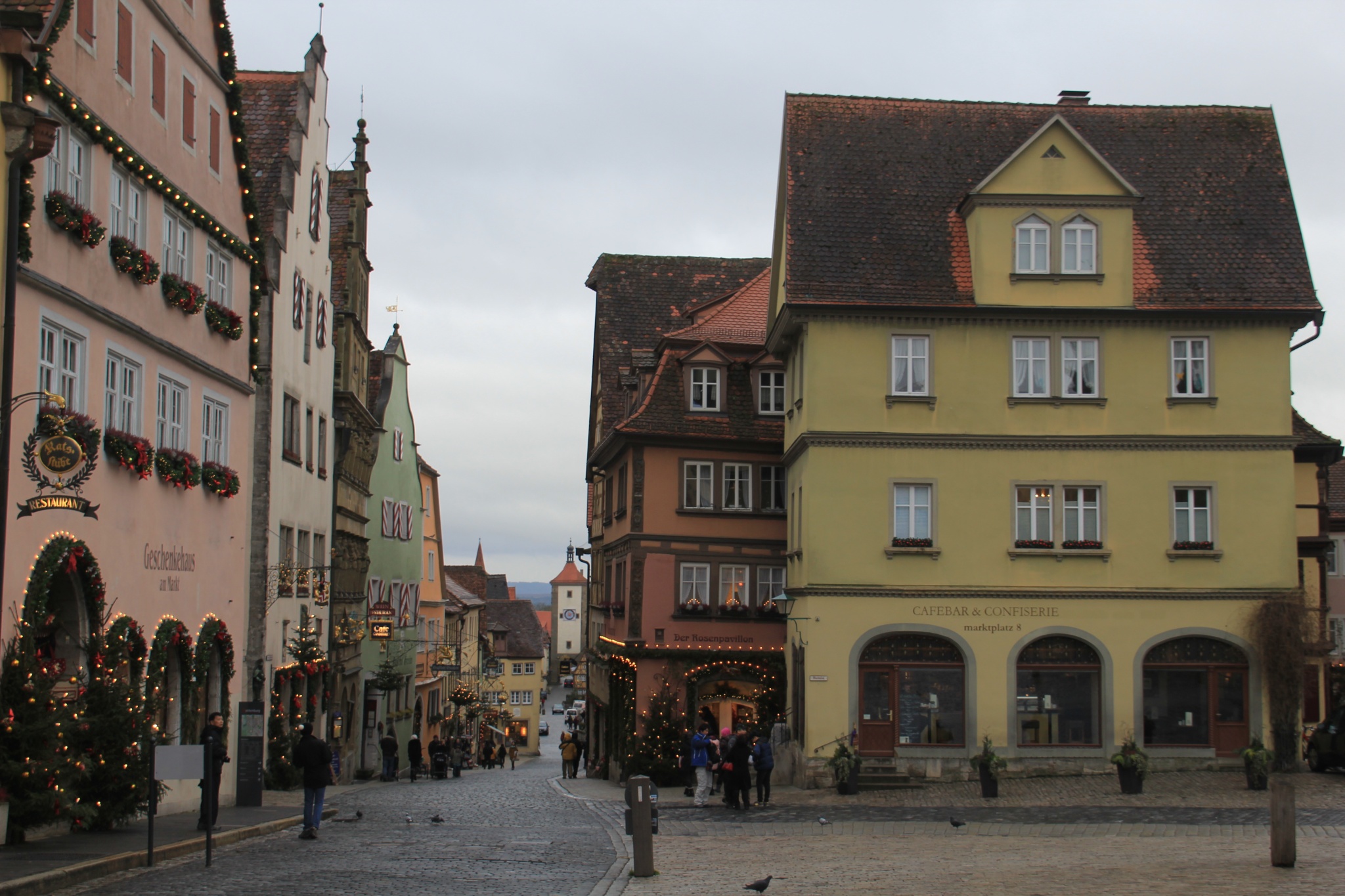 Rothenburg ob der Tauber is a well-preserved medieval town on Germany's Romantic Road.
"I guess we keep getting older whether we like it or not," I say. "It's annoying."
When we reach the fortress, we walk through the stone entrance, below its prison tower, and out to the surrounding protective wall. In 1945, British bombers destroyed almost the entire city, but many of the historically important buildings were painstakingly rebuilt by the city's unenlisted women. Of course, none of this is obvious now, as we look out at the night view of Würzburg's dazzling lights illuminating the Main River. "See that hill over there with the phone tower?" Lena asks me mischievously as she points to a hill with the Würzburg Cathedral awash in golden light. "There's a flying fox in a playground on it, and in university, we used to sneak up there at night to ride it." Nearby, Rich and Wendy kiss.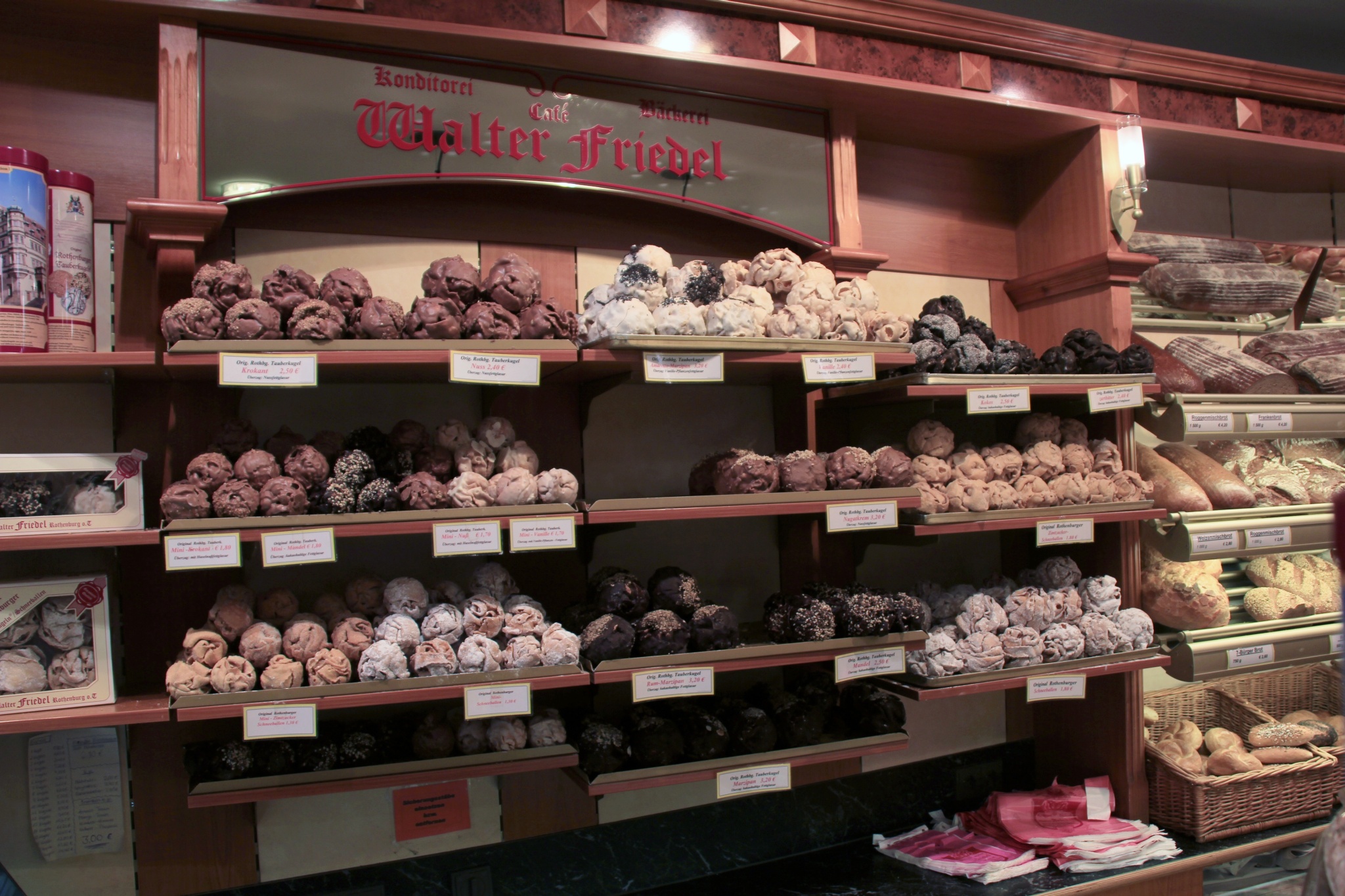 Schneeballen are a traditional pastry sold in Rothenburg ob der Tauber, Germany.
After the sun disappears under the horizon, we jump on the autobahn toward Rothenburg ob der Tauber, one of Germany's most well-preserved medieval towns. On the way, Lena giggles in the car as she makes a reservation for us by phone at Hotel Raidel, a guesthouse owned by an eccentric man named Norry. "The owner is an old guy who sounds very cute and very weird," she explains. When Norry greets us with a ridiculously large, handlebar mustache, it's clear that she's right: he looks like he's a character from a German surrealist comic book.
The four of us head out for dinner and wine to Norry's recommended restaurant, Mario's Altfränkische Weinstube, where another strange, middle-aged German man joins us at our table without warning in the middle of our meal.
"I'm Herman the German! Welcome to the English Conversation Club, which I host at this restaurant every Wednesday!" he says. He tells us that American soldiers taught him English during World War II in return for introducing them to his sister. "My wife is from Wisconsin. Once, I starred with one of my cows in a movie filmed here in Rothenburg." Lena starts giggling again, endlessly entertained by the screwball characters we seem to attract. After our long day and a bottle of wine, it's almost impossible for any of us to keep our eyes open, but this doesn't seem to faze Herman the German, who wants to know every detail of our lives. Finally, I carefully tell Herman that we're exhausted. On our way out, he hands me a tiny business card that reads, "If I had some of your business, I could afford a bigger card."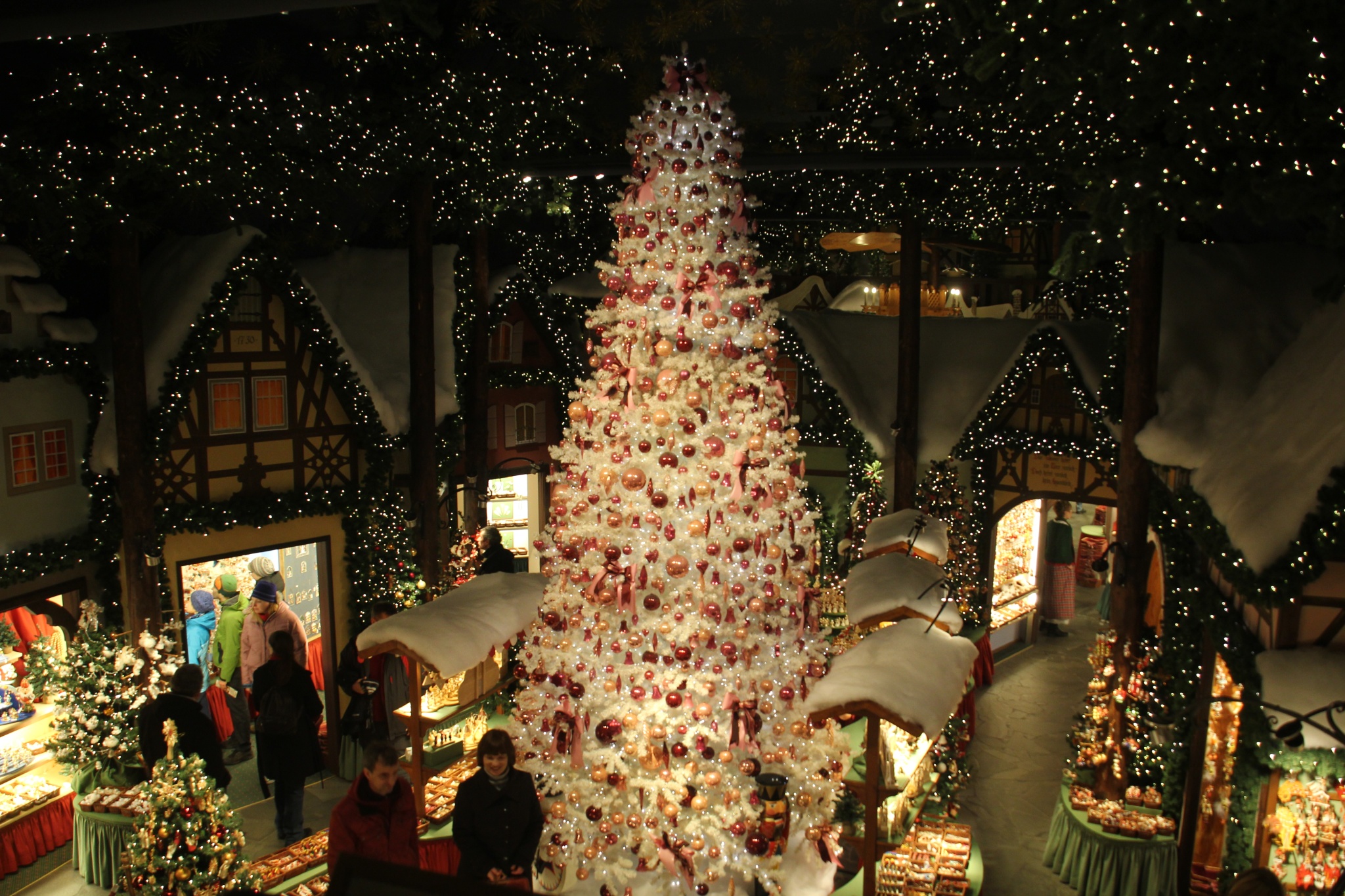 Christmas stores abound in Rothenburg ob der Tauber, Germany.
Back in our hotel room, just after I've turned off the lights, Lena asks me, "Do you ever get lonely from traveling so much?"
"Not really," I hear myself say. "Sometimes I'm traveling with friends, and when I'm not, I'm always meeting interesting new people. I think it's often more lonely at home, where every day is the same and I'm not meeting new people frequently." But, I think of a night seven months before in an empty, rural cottage in the France's Loire Valley, and the New Year's Eve just two nights before spent chasing the Czech White Jacket Girls, and I'm not sure I've totally convinced myself.
"It sounds like you might be trying to delay becoming an adult," she says.
"Or redefine it," I say.
The next morning, Rich, Wendy, Lena, and I walk much of the circumference of Rothenburg atop its well-preserved, surrounding, medieval stone wall. Afterward, we visit the town's famous, kitschy Christmas stores and sample the town's signature pastry: schneeballen. Lena and I laugh when powdered sugar covers our faces as we try the pastry, but that's the only enjoyable part: the schneeball tastes like a cardboard box. Rich, a food connoisseur, is equally unimpressed.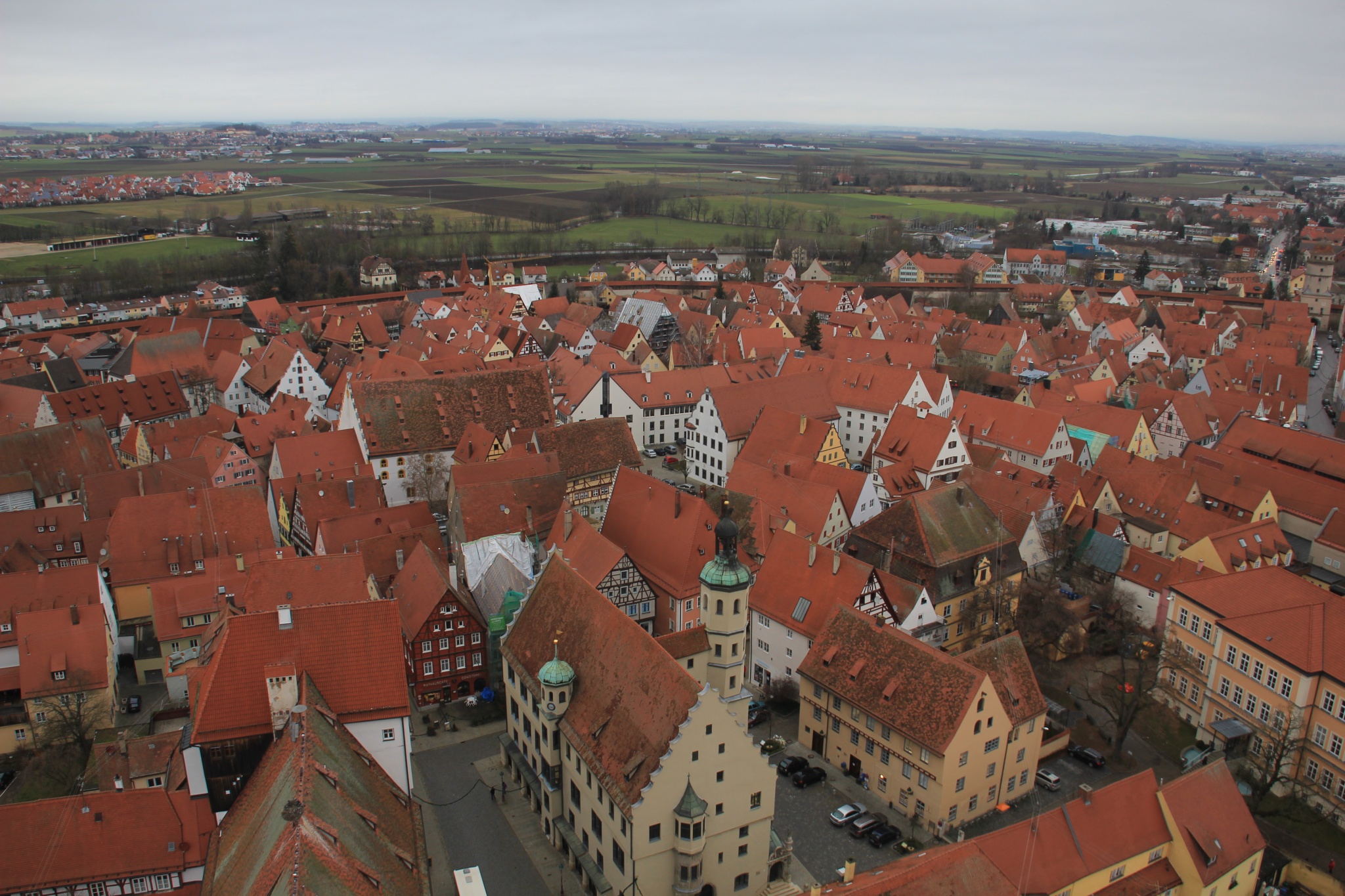 The view from the belltower of Saint George's Church in Nördlingen, Germany is the same one seen at the end of the 1971 movie musical, Willy Wonka and the Chocolate Factory.
After a quick stop in cute Dinkelsbühl to see gothic St. George's Minster and the colorful gable houses in the town center, we continue on to the quirky, medieval town of Nördlingen.
"Nördlingen is the home of Willy Wonka's chocolate factory in the 1971 movie," I say, reading from my guidebook as we walk on the town's cobblestone.
"Look! Guerrilla knitting!" Lena exclaims as she points at a tree covered in yarn. "I've heard of this!" The three of us look at her skeptically, but as we continue walking, we find tens of trees covered in beautiful, flamboyant yarn designs. "When I get my new apartment and am living by myself, I'm going to learn to knit," Lena says.
At Saint George's Church, we climb to the top of the bell tower, where we see a rich view of the medieval town — blanketed by bright white buildings with grids of small, dark windows and vivid, pointy red roofs — the same one seen below Willy Wonka's glass elevator at the film's end.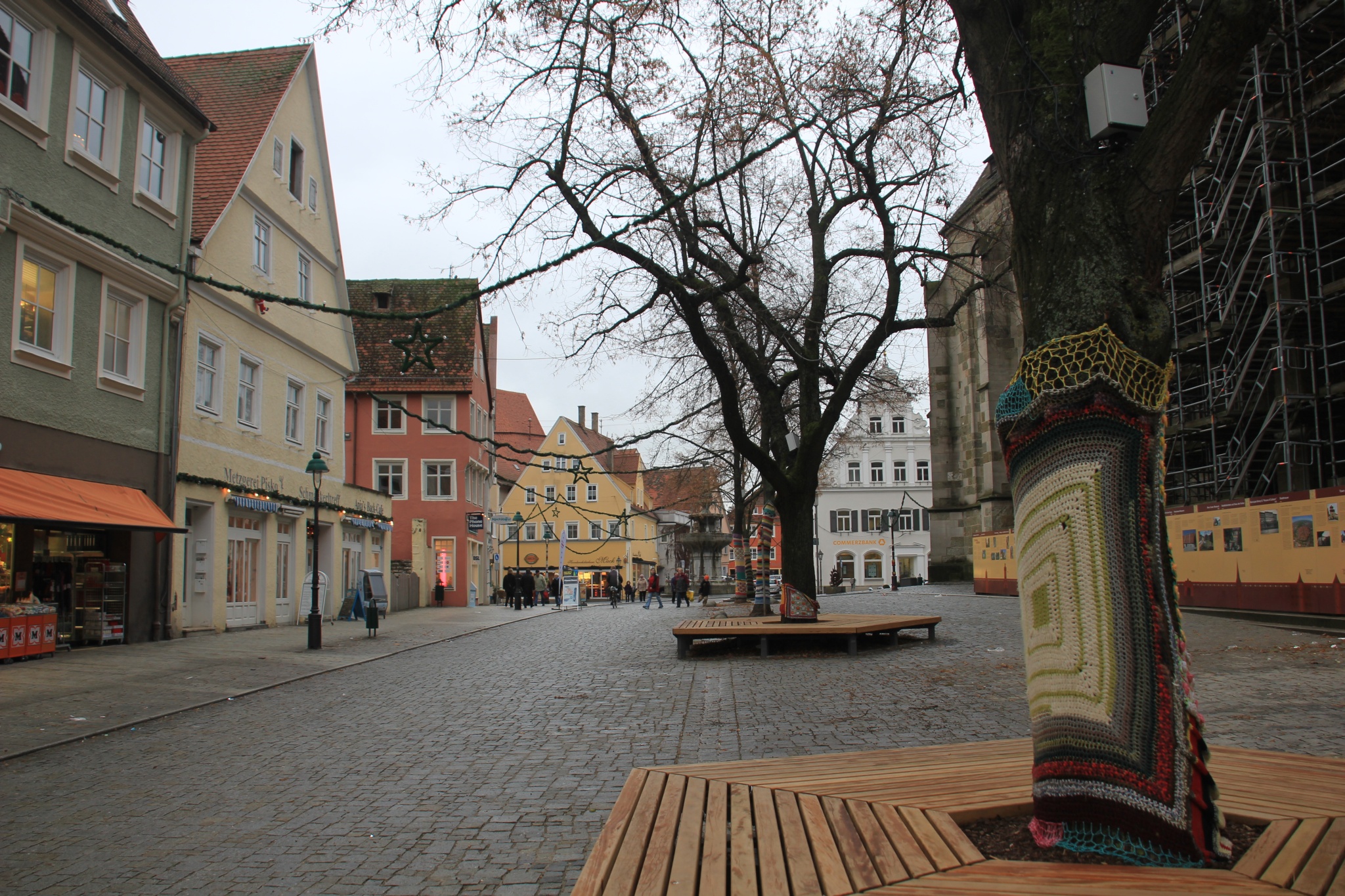 Guerilla knitting can be seen on the trees of Nördlingen, Germany.
"Legend has it that in 1440, a pig saved the town of Nördlingen from being attacked by Count Hans of Oettingen," Wendy says, reading a tourist brochure.
"The US sent astronauts here in 1970 for their Apollo mission because of the nearby, moonlike Ries Crater," Rich says, reading a wall plaque.
After meeting the bell tower caretaker's cat upon his insistence (the caretaker's), Lena giggles while calling another weird German man to make a reservation for us at a hotel in Füssen, home of two of the world's most famous castles: Hohenschwangau and Neuschwanstein. In our Füssen hotel suite, we set out a picnic of German bread, cheese, and Erdnussflips, a savory German snack that tastes like a peanut-flavored Cheeto. Rich and I pour raspberry jam into a hotel soap dish, and we discover that jam-dipped Erdnussflips taste just like American peanut butter and jelly sandwiches. Lena seems unimpressed.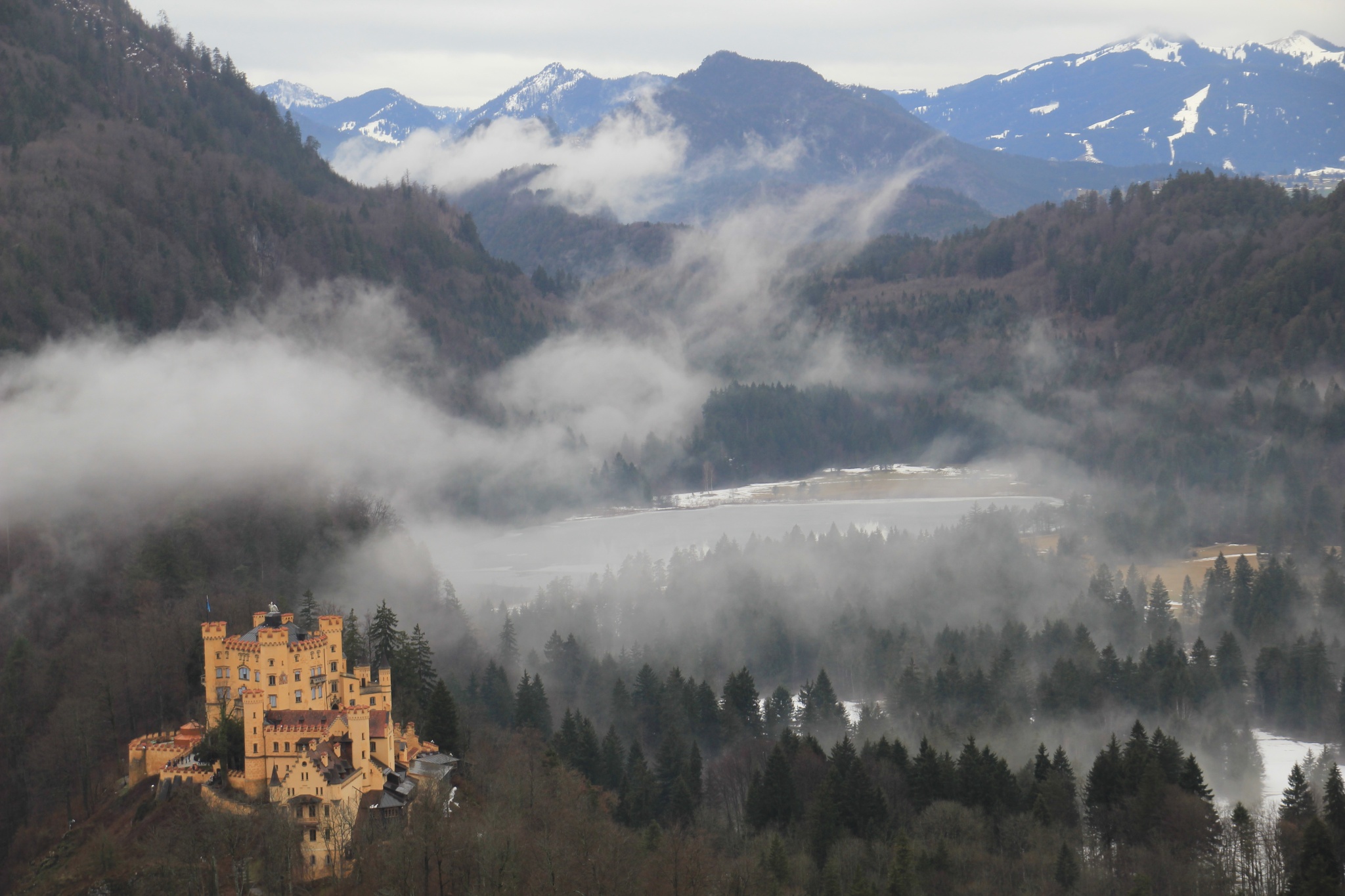 Ludwig II lived in Hohenschwangau Castle before eventually moving to fairtytale Neuschwanstein.
During our picnic, I demand that we watch The Sound of Music in preparation for our upcoming stop in Salzburg, the setting and filming location of the famous American movie musical. I'm shocked to discover that none of my road trip companions have seen it.
"Dating a Nazi is the worst," I joke, after Rolfe literally blows the whistle on the hiding Von Trapp Family near the end of the movie. For a moment, it occurs to me that watching an American-made Nazi musical with German Lena is somehow inappropriate, but she seems unperturbed.
"I can see why kids like it," she says after the movie, back in our dark hotel room.
"Well, I'm glad that you've finally seen it," I say while staring at the ceiling. "Watching it reminds me of being a kid. I used to watch it at least once a week."
"I can't go all the way to Salzburg," Lena confesses. "I have to catch a train in Munich. I have to be responsible and find an apartment."
"I assumed that you would eventually," I say, trying not to seem too disappointed.
The next morning, our tour guide at Hohenschwangau Castle tells us that Ludwig II, King of Bavaria from 1864 until shortly before his death in 1886, was a zealous benefactor of famous German opera composer Richard Wagner. The two had a very special friendship, and at the very least, Ludwig was romantically infatuated with Wagner: "You are the star that shines upon my life, and the sight of you ever wonderfully strengthens me," he wrote in one letter. "Ardently I long for you, O my president Saint, to whom I pray! … My enthusiasm and love for you are boundless. Once more I swear you faith till death!" The lavish plans that Ludwig drew up in 1868 for his fairytale Neuschwanstein Castle even included an enormous theater, designed specifically for the production of Wagner's operas. When we walk into Hohenschwangau's Music Room, we see the telescope that Ludwig, a notorious hermit, used to watch the builders' progress on the adjacent, extravagant palace.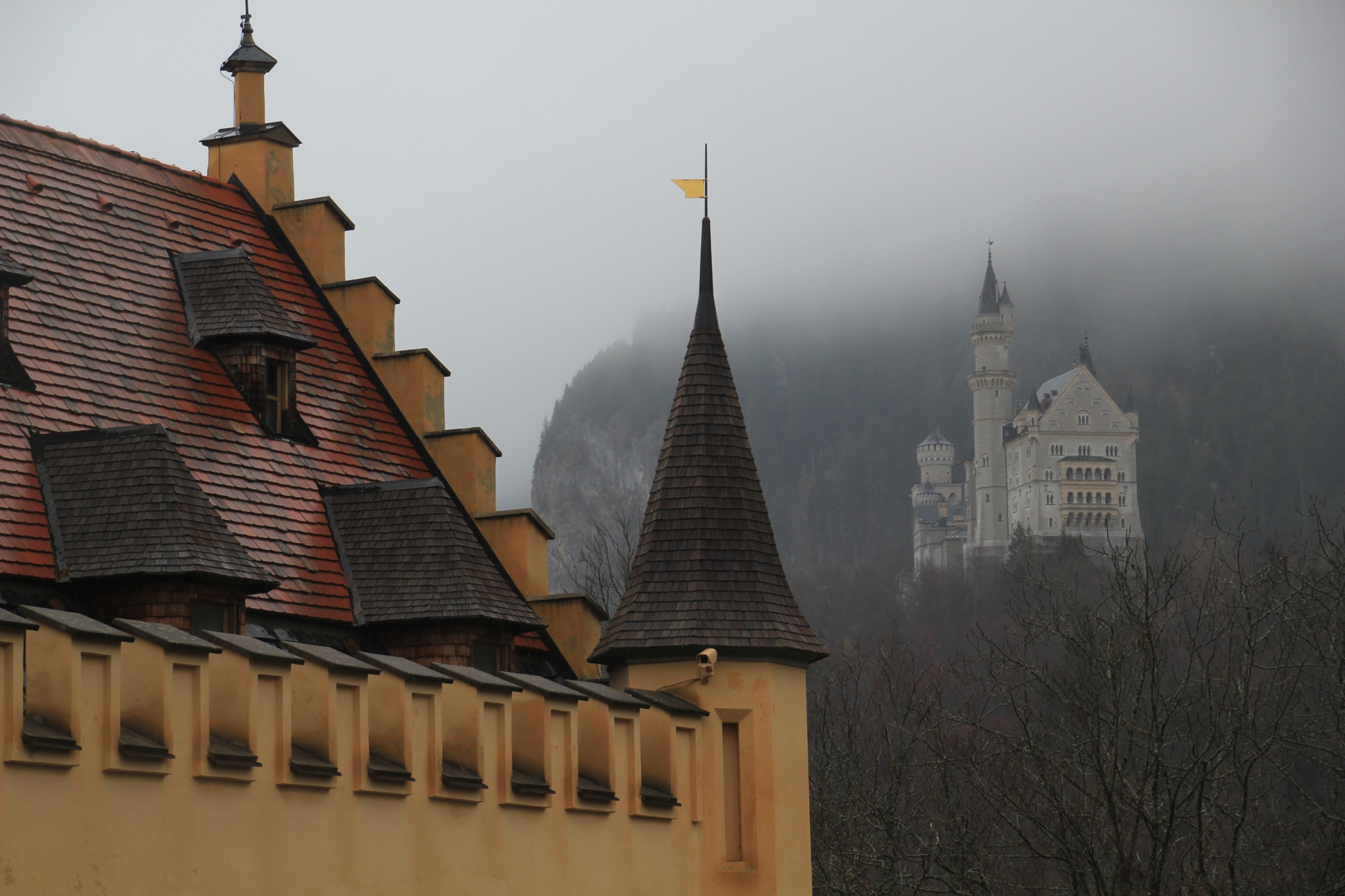 Ludwig II watched the builders' progress on Neuschwanstein with a telescope in the Music Room of Hohenschwangau.
But, we learn from our following tour in Neuschwanstein Castle that Ludwig and Wagner had an irreparable falling out when Wagner was publicly accused of cheating on his wife with another woman. Evidently, Ludwig was not impressed by Wagner's philandering (with women). And, so, having lost his best friend in the world, Ludwig found himself alone when he finally moved into Neuschwanstein after 18 years of construction.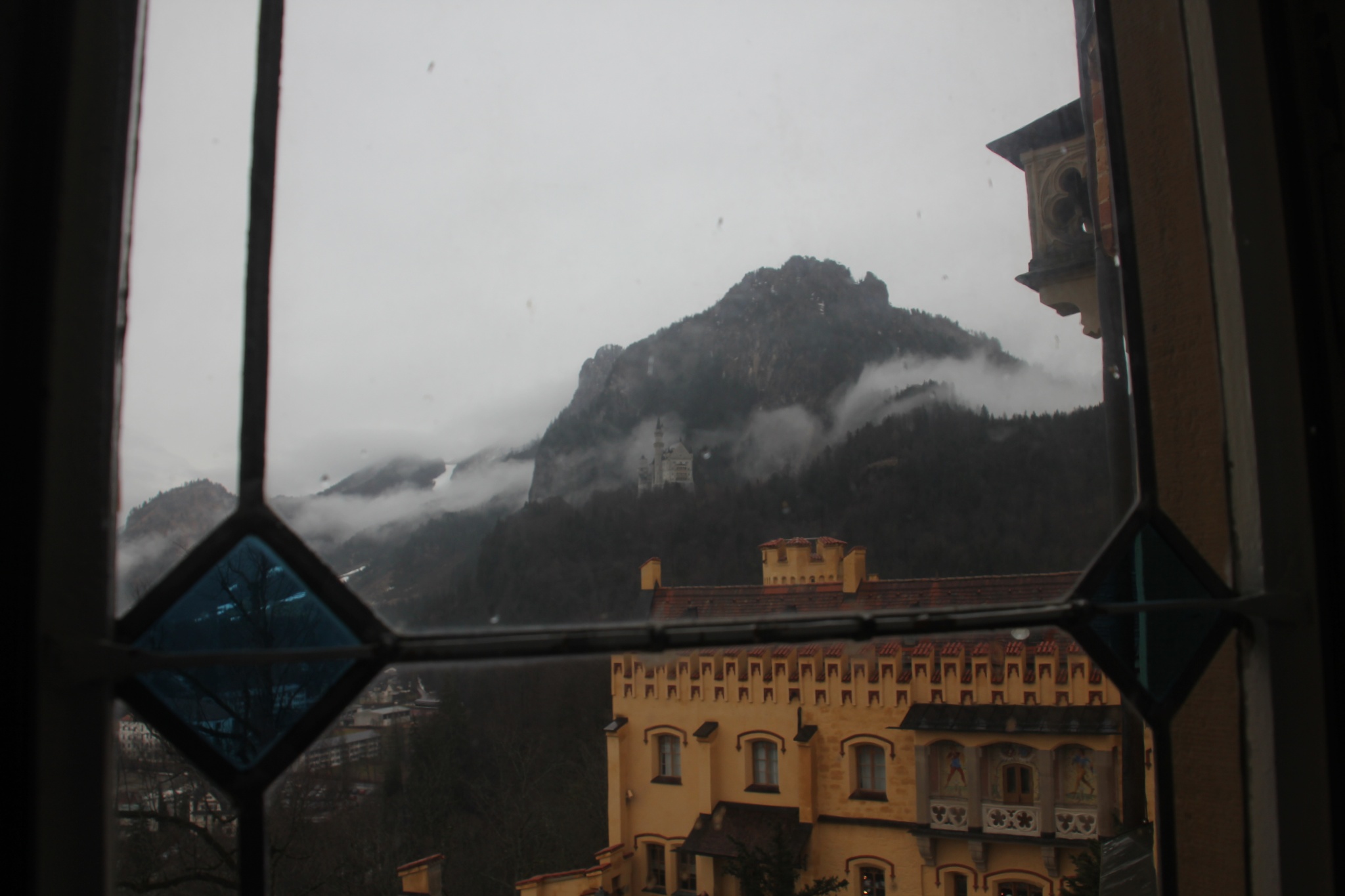 Neuschwanstein Castle can be seen through a window in Hohenschwangau Castle.
When Rich, Wendy, Lena, and I walk under enormous chandeliers into the castle's beautiful theater, impressed by a large mural of sparkling mountain waterfalls, we learn that Ludwig lived in seclusion, sleeping during the day and touring the countryside at night. Under the evening sky, Ludwig liked to traverse the mountaintop to Marienbrücke, a nearby bridge that he had constructed, which spanned a high point of the Pöllat River gorge.
There on the bridge, completely alone, he spent hours, gazing at his dream castle.
After leaving the castle, Rich, Wendy, Lena and I decide to walk along the mountain peak to Marienbrücke. With the extravagant palace in the background, the four of us take a photo together on the bridge, before heading back toward our car. The last person to leave, I look out at the serene vista of the fairytale castle, backed by the aqua Schwansee and Alpsee Lakes, and remember that this is Lena's last day on our road trip before she heads off to become an adult.
Alone on the bridge, I feel a little like Ludwig.
How to Take a Road Trip on Germany's Romantic Road
Road Trip:
3 days
350.0 km
OVERVIEW: The Romantic Road is a 350-kilometer highway route in Germany between Würzburg and Füssen that links 27 medieval towns, beautiful countryside, and fairytale castles.
LOGISTICS: Würzburg is a one-hour drive from Frankfurt, and Füssen is a two-hour drive from Munich. The easiest way to see the Romantic Road is to fly into one of these two cities and rent a car, though it's also possible to take a train or bus between Würzburg and Füssen.
ITINERARY: While it's possible (and fastest) to drive the A7 autobahn for the entire length of the trip from Würzburg to Füssen, you'll miss all of the charm of the Romantic Road by doing so. Instead, follow the "Romantische Straße" signs on the country roads between Bavaria's small towns. You may also want to purchase a Romantic Road map, which can be found in any town along the route at tourist attractions, gift shops, and gas stations. We had only three days to visit five towns (Würzburg, Rothenburg ob der Tauber, Dinkelsbühl, Nördlingen, and Füssen), three castles, and two churches on the Romantic Road, but there are 27 towns and tens of attractions along the route that could easily fill a week-long road trip, depending on pace.
DAY 1: Würzburg, a beautiful college town, was destroyed by the British in a 1945 air raid, but, today, is one of the most pleasant cities in Germany. The lovely Würzburg Residence is a UNESCO World Heritage Site, and a sunset walk through the vineyards to Marienberg Fortress shouldn't be missed. Be sure to get some German bread at one of the bakeries in the town center.
DAY 2: Rothenburg ob der Tauber is a well-preserved medieval town that will remind any American of Disneyland. Some consider it to be a tourist trap, but the town has a lot of genuine charm: especially if you visit Herman the German on Wednesday nights at Mario's Altfränkische Weinstube, where the traditional German food is also excellent. If you have the time and energy, walk the entire circumference of the old protective wall to see the entire town. In Rothenburg, we stayed at the reasonably-priced Hotel Raidel, run by the eccentric Norry, who will tell you about his self-invented Norryphone musical instrument if you ask. Dinkelsbühl is worth walking around if only to see its colorful buildings and quaint cafes. The quick climb to the top of the bell tower of Saint George's Church in Nördlingen is worth it to see the view from Willy Wonka's glass elevator. The nearby Ries Crater Museum also teaches visitors about the unique geological history of the area.
DAY 3: Füssen is the jumping off point for Hohenschwangau and Neuschwanstein, two of the most famous castles in the world. Walt Disney used Neuschwanstein as the inspiration for Disneyland's Sleeping Beauty Castle. These castles are extremely popular with tourists (even in the winter), so prepare yourself for huge crowds. Buy a single ticket at the ticketing office for a tour of both castles. In Füssen, we stayed in an apartment attached to the Hotel Sonne, which was a bargain for four people, though you can choose to stay closer to the castles in the town of Hohenschwangau if you're willing to pay inflated prices.