MARCH 21, 2008 — When I was ten years old, I discovered that every student in my fourth grade class was going to Disney World for spring break, except for me. Horrified (though in retrospect it probably wasn't even true), I quickly informed my parents of their unforgivable neglectful, and soon enough, they were (presumably reluctantly) dragging me and my brother onto a flight to Orlando. According to the Disney web site, our trip took us to "a place where storybook fantasy comes to life" full of "magical memories," but sadly, I barely remember the trip.
I vaguely remember me and my brother wearing ridiculous Donald Duck caps and an older kid trying to steal quarters from me at an arcade until my mom intervened, but I don't remember the hotel at which we stayed, the rides we rode, or which Disney characters we met at our Character Breakfast. Yet cementing at a young age my tremendous love for breakfast food, the magical Mickey Mouse-shaped waffles proved to be my most vivid memory of Disney World. I still restlessly wish for their appearance every time I have brunch in my adult life. I am consistently disappointed.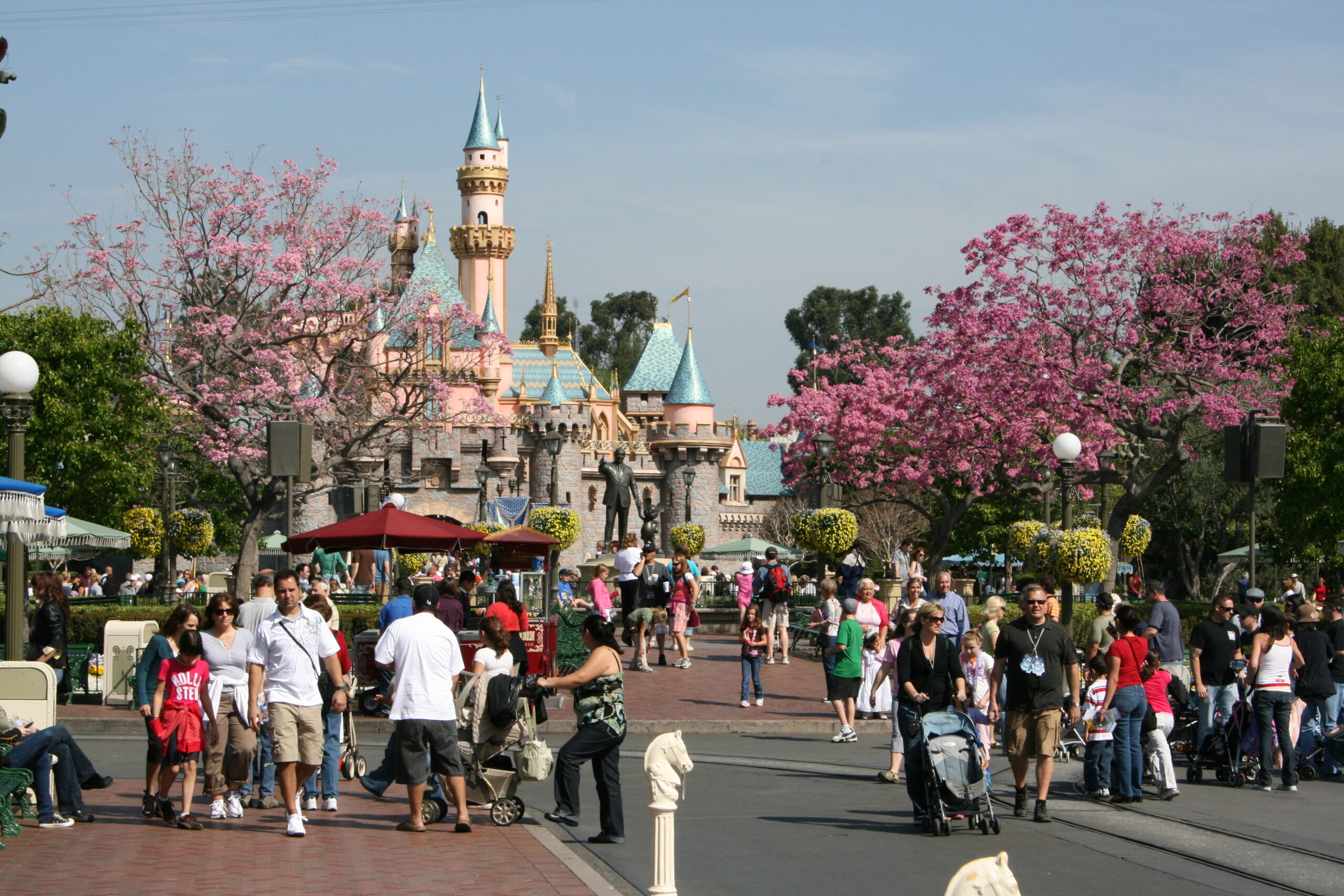 Disneyland's Sleeping Beauty Castle is based on Germany's Neuschwanstein Castle, built by King Ludwig II.
Many years later, I was dating a girl during college who had grown up in Southern California, and she desperately wanted to bring me to Disneyland when I visited Los Angeles. As an adult, I wasn't sure I was excited — in the abstract, Disneyland sounded like the kind of place I would normally hate. After all, the park at first glance appears to be an overcrowded asphalt jungle filled with screaming children, heart-clogging fast food, and multi-hour lines. Nevertheless, I agreed, and we had a spectacular time.
Most amusement parks seem to have one major goal — to use roller coasters to shake and propel guests as violently and quickly as possible. Disneyland is different. Instead of all that shaking and propelling, Disneyland focuses on story, mood, and overall experience. The park uses mostly dark rides — indoor rides that use gorgeous art and stunning lighting to replace the thrills of a typical amusement park ride.
"Peter Pan's Flight" doesn't move more than two miles per hour, but the feeling of sailing over moonlit London and flying through the starry night sky has been burned in my mind since the first time I rode it. The highest flume drop in "Pirates of the Caribbean" isn't more than fifteen feet, but the experience of riding through a Louisiana plantation bayou party with quiet banjo strumming is thrilling enough. I'll never forget the first time my "Indiana Jones Adventure" jungle transport Jeep (incidentally, the best-designed ride vehicles ever!) arrived above the flames in the Cavern of the Bubbling Death and escaped the ride's terrifying crushing boulder. Even the line for the "Indiana Jones Adventure," feels like a ride itself as it snakes through eerie caves with spiky ceilings that fall on unsuspecting guests. (To make this happen, make sure to push on the bamboo pole labeled, "Do not touch this pole," and make sure there are small children around so you can scare the bejesus out of them. While you're at it, pull on the water well's rope multiple times later in the line.)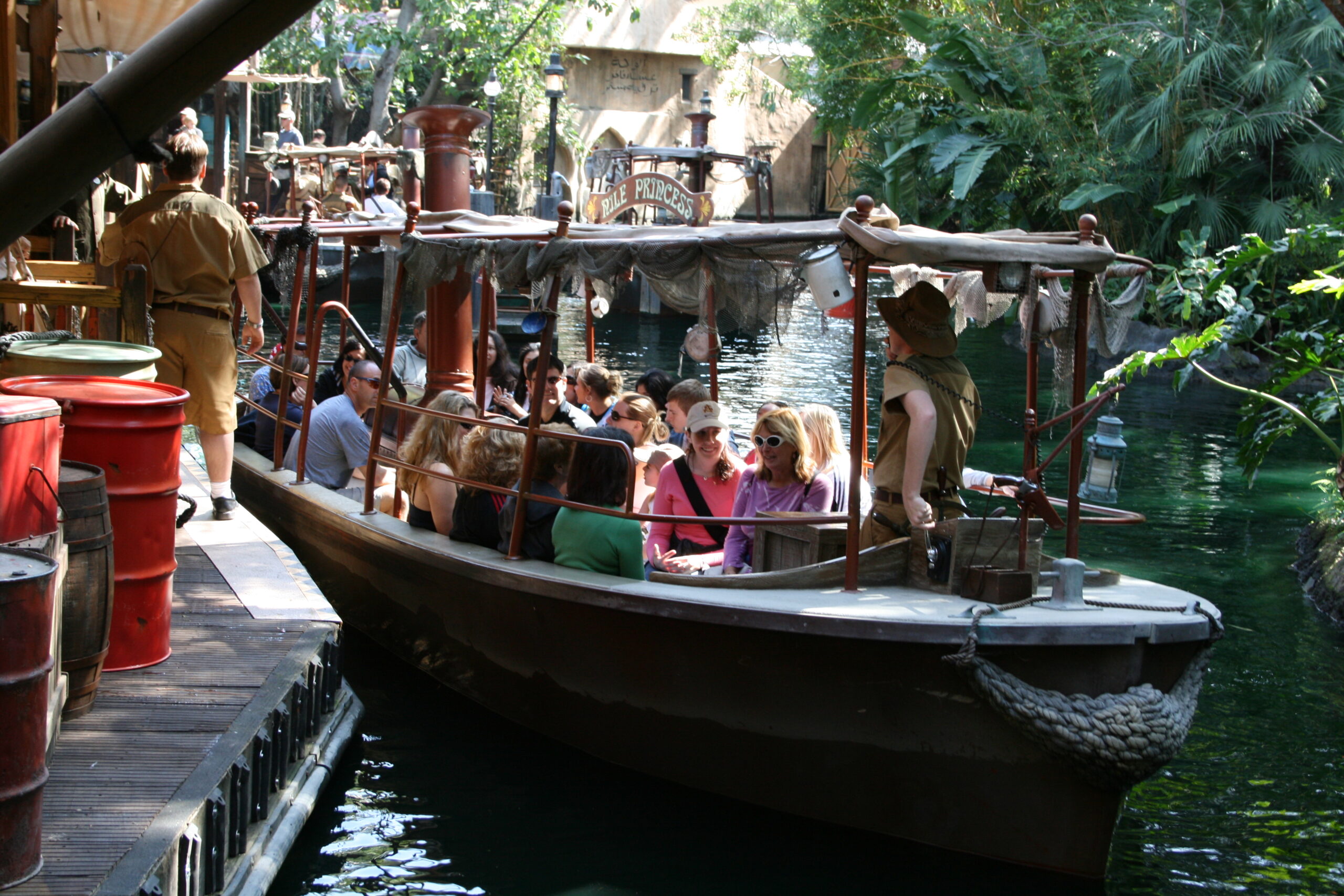 Jungle Cruise travelers return to the dock.
Rides aside, performers introduce guests to movie characters they've never seen in person and provide spontaneous entertainment throughout the park. Watching Alice and the Mad Hatter play games of musical chairs with children on Main Street is delightful enough to fill an afternoon. Even walking through the elaborately decorated areas of the park that act as set pieces (Frontierland, Adventureland, Tomorrowland, etc.) is a rich experience. It's the park's exquisite attention to detail that makes it work so well.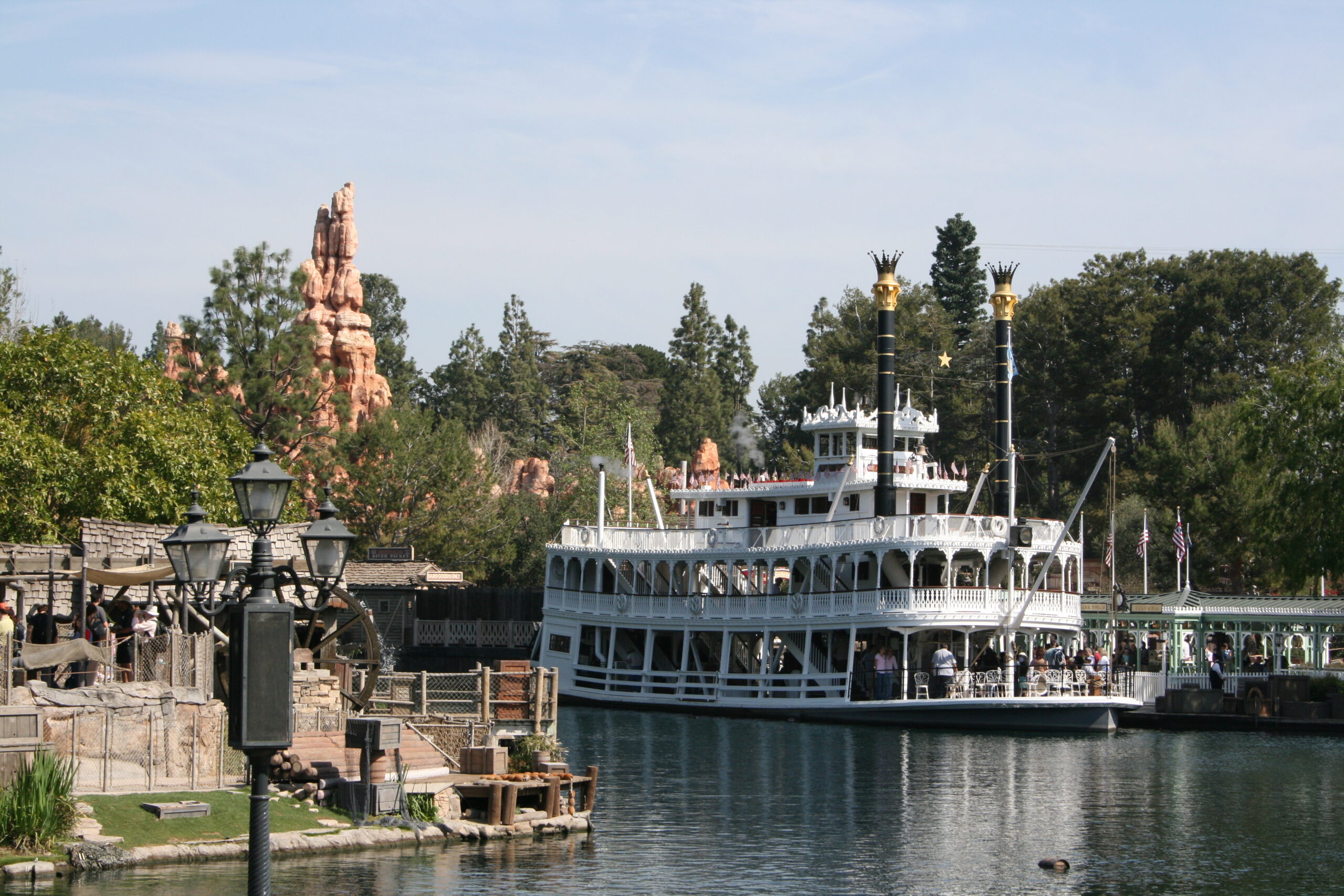 Disneyland's Mark Twain Riverboat is built at a 5/8 scale.
Of course, I can't give all of the credit to Disney Imagineers — my then-girlfriend's bubbling enthusiasm made me fall not only in love with her, but with Disneyland as well. She's the one who taught me to push on the bamboo pole in the Indy line, perform ridiculous poses for the "Splash Mountain" camera, and always make "It's a Small World" my last ride before leaving the park. It's important to go to Disneyland with someone who can appreciate the experience — someone who can act like a kid even as an adult.
Years later, I took another girlfriend to Disneyland and had the wonderful experience in reverse. With great enthusiasm, I showed her all the things I loved to do in park: see magic tricks at the Main Street magic shop, drink mint juleps in New Orleans Square, take photos with Mickey at Mickey Mouse's House in Toontown, play mental word games while waiting in line, and watch people as they take photos in front of Sleeping Beauty's Castle. I'm sure there were a few moments when she thought me completely ridiculous (I love pushing all those crazy buttons on the buildings in Toontown). But when we finally left the park, exhausted, we were more in love with each other — and Disneyland — than ever.
Last week, I visited Disneyland with an old co-worker, who brought his girlfriend and a date for me along. I worried that I'd be disappointed being at Disneyland without the girl I had taught to play word games and drink mint juleps. I was, a little.
I had to spend time teaching word games to my date, and there wasn't a Mickey Mouse waffle in sight. But, when we both jumped into one seat on the "Matterhorn" and hugged each other tight during the ride, it was clear — there's something magical about Disneyland.
An honorary citizen of Disneyland
How to visit Disneyland alone.
MAY 2, 2008 — I've written in Without Baggage a few times about the advantages of traveling alone — you always have the freedom to do whatever you want and you're forced to meet people you would never otherwise meet. But recently, after an enchanting trip to Disneyland, I wondered — is Disneyland as magical of a place when visiting alone? Recently, I drove to the park to find out.
As my first order of business, I wanted to buy a Deluxe Annual Passport to the park (lesser Passports have many blackout dates) in honor of my rediscovering the magic of Disneyland days earlier. Outside the park gates, a friendly cashier (known in Disneyland parlance as a Cast Member) let me use the cost of my five-day old entrance ticket toward the pass's cost. After he swiped my credit card, he cheerfully informed me that I could retrieve my newly-minted Passport at the Disneyland Bank of Main Street. The Disneyland Bank of Main Street?! Thrilled to be introduced to a new-to-me Disneyland building, I bounded toward the park gates even before he had time to yell, "Have a magical day!"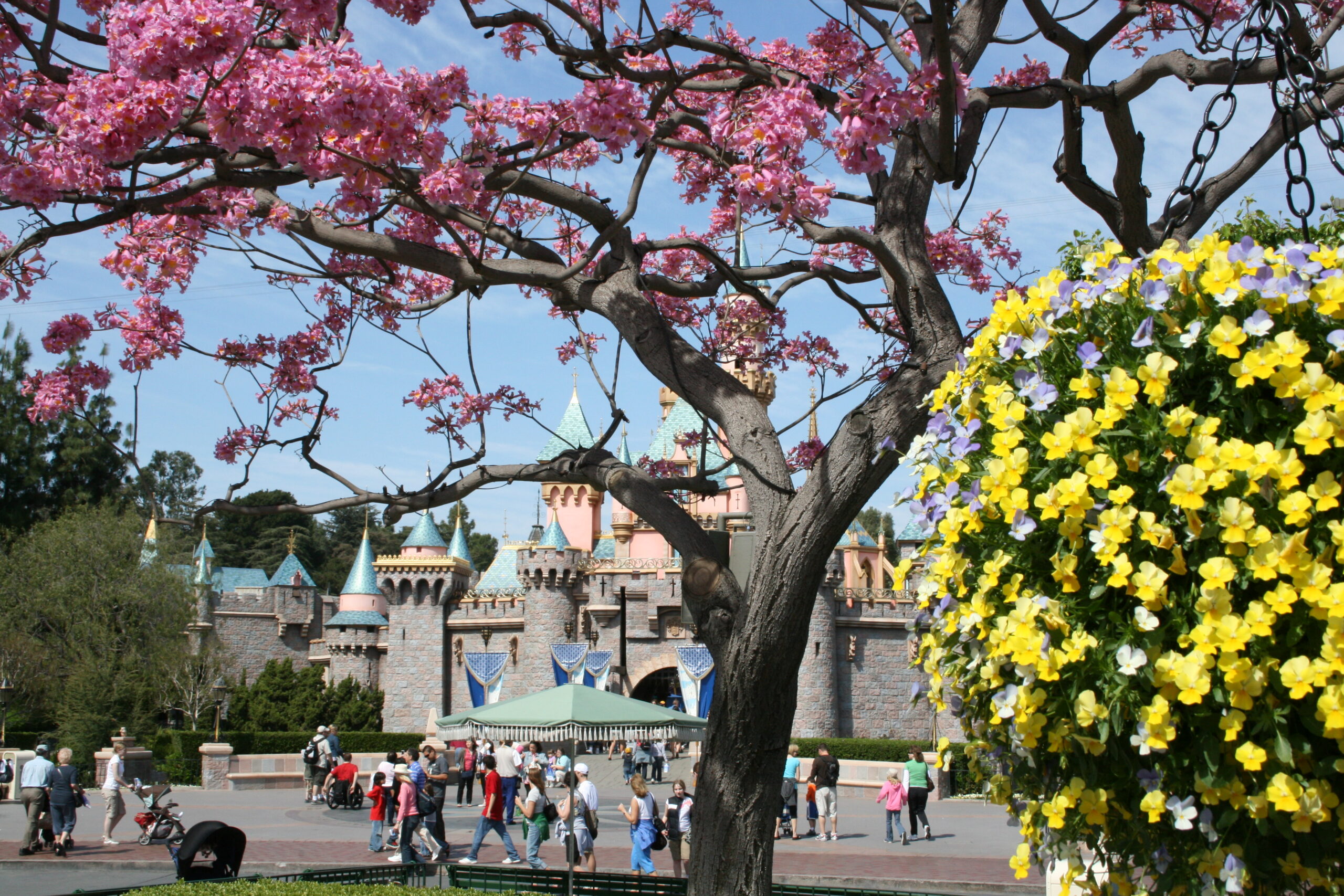 Disneyland's Sleeping Beauty Castle
At the Bank (even it has a "Wait Time: 10 Minutes from Here," sign), the "teller" took my picture and within seconds she handed me an unimpressive cheap plastic card with my face printed on it in black and white. Nevertheless, I was as excited as if Walt Disney himself had handed me a ticket on a space shuttle to Mars — they had chosen to accept me into their elite Annual Passport holders club!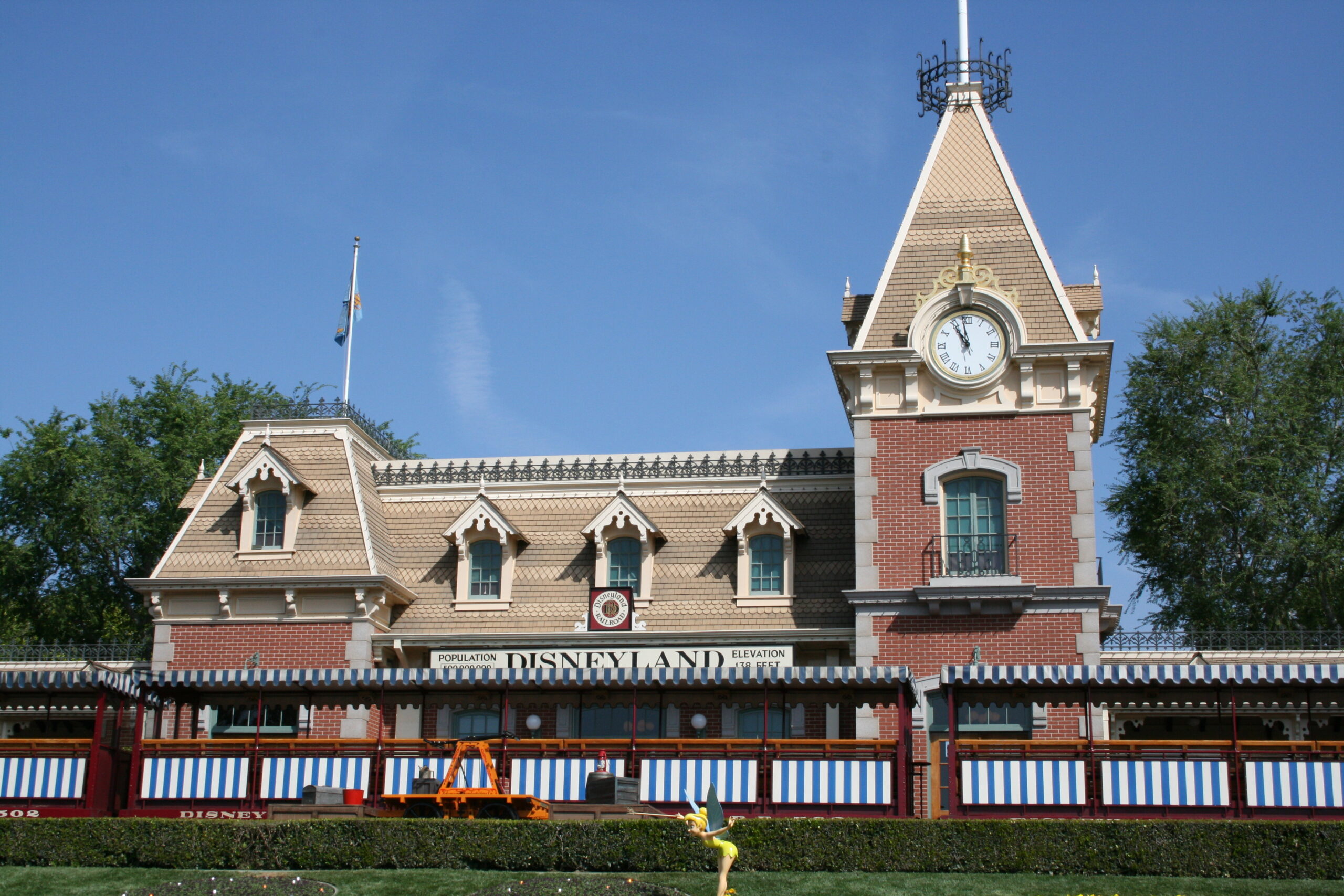 The Disneyland Railroad circumnavigates the entire Park.
Beaming from the excitement of receiving my shiny new membership card, I vaulted toward Disneyland City Hall and chuckled at the "Lost parents, inquire here for children" sign. At City Hall, if you ask nicely, you can get one of six pins to wear during your day in the park: "Happy Birthday," "Just Married," "My First Visit," "Family Reunion," "Happy Anniversary," and "Honorary Citizen of Disneyland." Wearing a pin is fun when you're at the park alone because you get special attention from Cast Members and other visitors.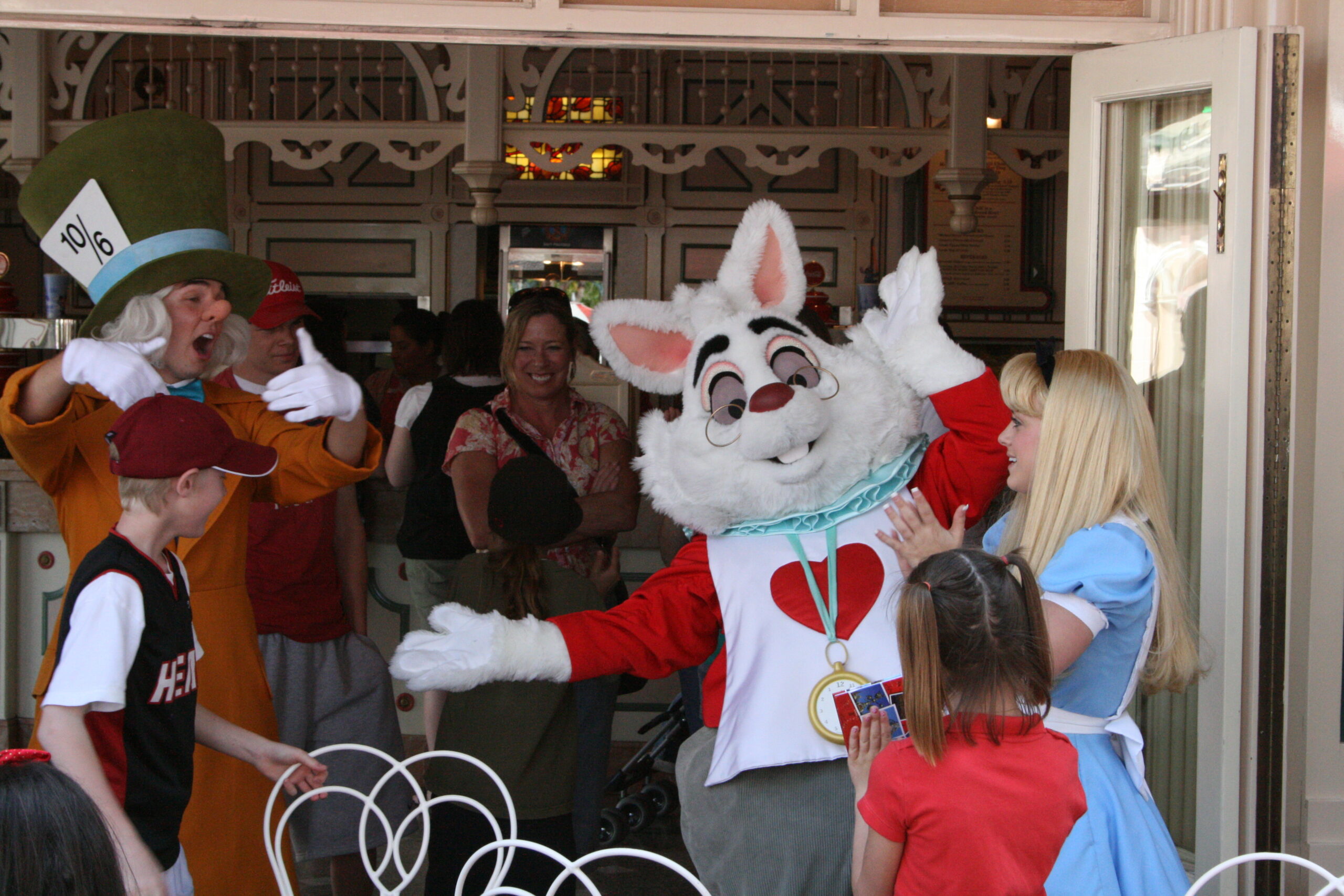 The Mad Hatter, White Rabbit, and Alice play Musical Chairs with children at Disneyland.
After getting the "Honorary Citizen" pin (none of the others applied to me), I walked down Main Street USA, the park's reproduction of a turn-of-the-century American town. At Disneyland alone, I was eager to move at leisurely pace and take advantage of the opportunity to experience the park in a way I never could with friends. I brought my camera, and spent a long time taking photos. I popped in and out of shops, paying attention to Disneyland's exceptional attention to detail. I photographed the quaint "Refreshments Corner" shop signs with their classic red and white light bulbs. I watched a tourist have his fortune told by the vintage Esmeralda machine. I saw the Main Street Cinema, which shows perpetually Steamboat Willie — the first Mickey Mouse cartoon with sound. In the candy shop, I bought a Mickey Mouse-shaped Rice Krispie Treat. It wasn't quite as exciting as a Mickey Mouse waffle, but it was the next best thing.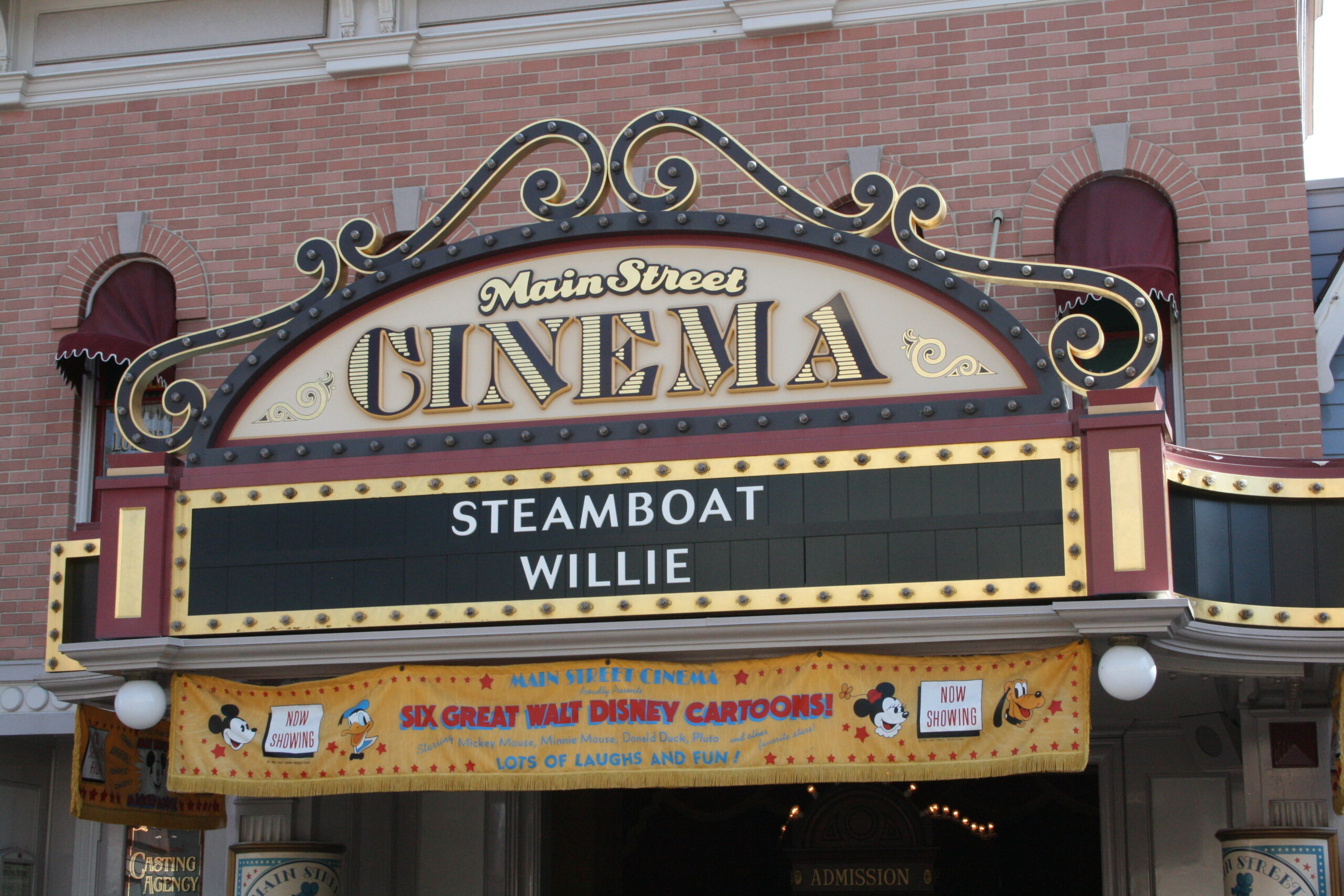 Steamboat Willie, the first Mickey Mouse cartoon with sound, can be seen at the Main Street Cinema in Disneyland.
Next, I picked up a Fastpass for "Indiana Jones Adventure" then hopped on to the "Jungle Cruise." Fastpass is a relatively-new system that allows any park visitor to reserve a place in line for one ride while they ride on another. The system is simple to use, and if you know how the system works, it can make visiting many park attractions ("Autopia," "Big Thunder Mountain Railroad," "Indiana Jones Adventure," "Haunted Mansion Holiday," "Roger Rabbit's Car Toon Spin," "Space Mountain," "Splash Mountain," and "Star Tours") much easier. Printed on each Fastpass is an hour-long window during which you can jump to the front of the line of the ride for which you have the Fastpass. Since you are allowed to get a new Fastpass every two hours or as soon as the start time for your previous Fastpass lapses (whichever comes first), you can always get a new Fastpass immediately before using your previous one, making it possible to hold a Fastpass for every major attraction you decide ride.* Maybe I'm easy to entertain, but I found a quirky delight in running between Fastpass machines in an attempt to optimize my day.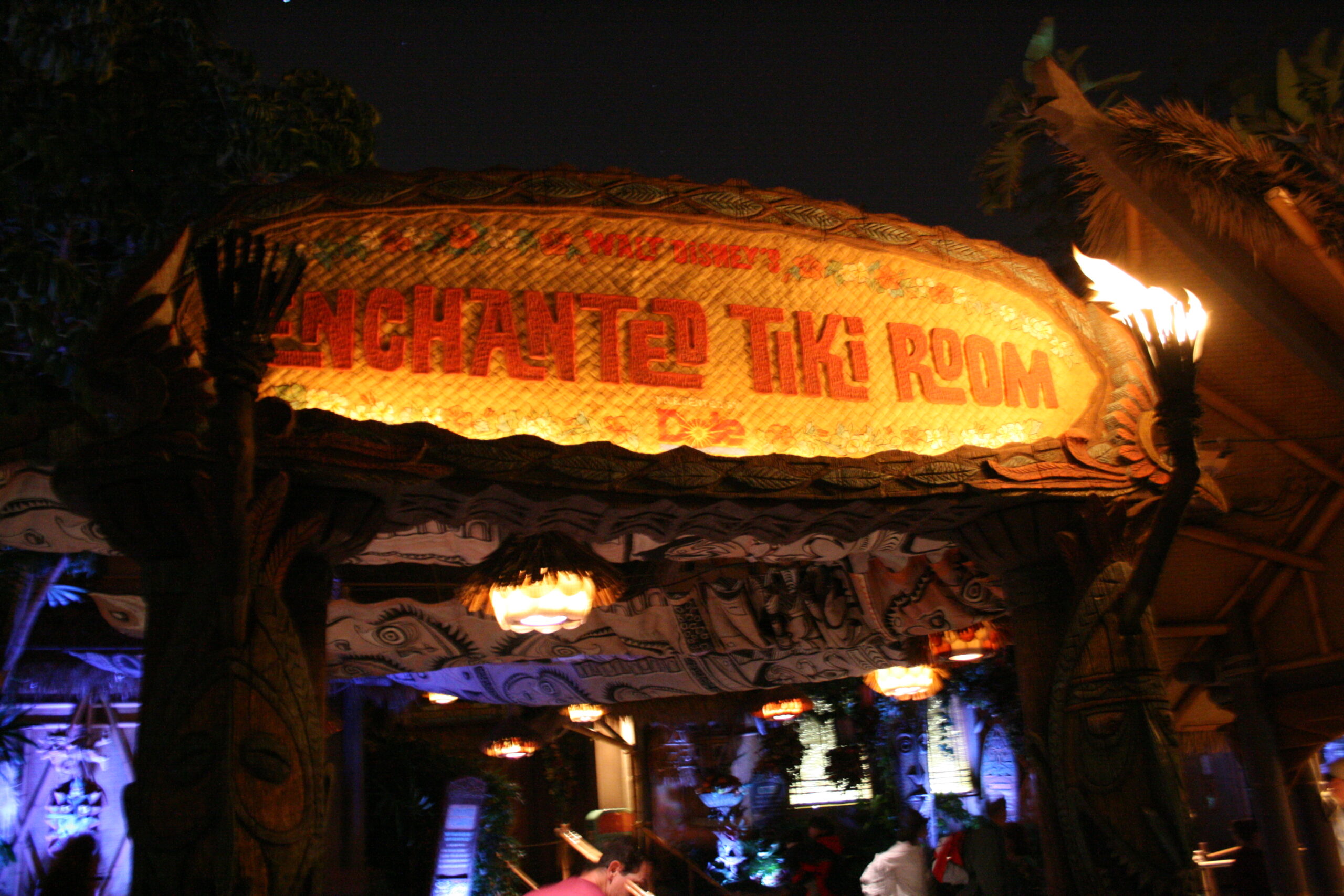 The Enchanted Tiki Room is one of Disneyland's strangest attractions.
But especially when you're alone, avoiding lines is not always desired. In the line for "Indiana Jones Adventure," I met a mother with her sister and daughter from Canada. They were excited for their first time on the ride, and they invited me to go with them since I was alone (and the daughter seemed especially terrified even though she was 25 years old by my estimation). To pass the time in line, I showed them the ceiling-dropping bamboo pole and explained the intricacies of Fastpass, and by the time we were ready to ride, we were all friends.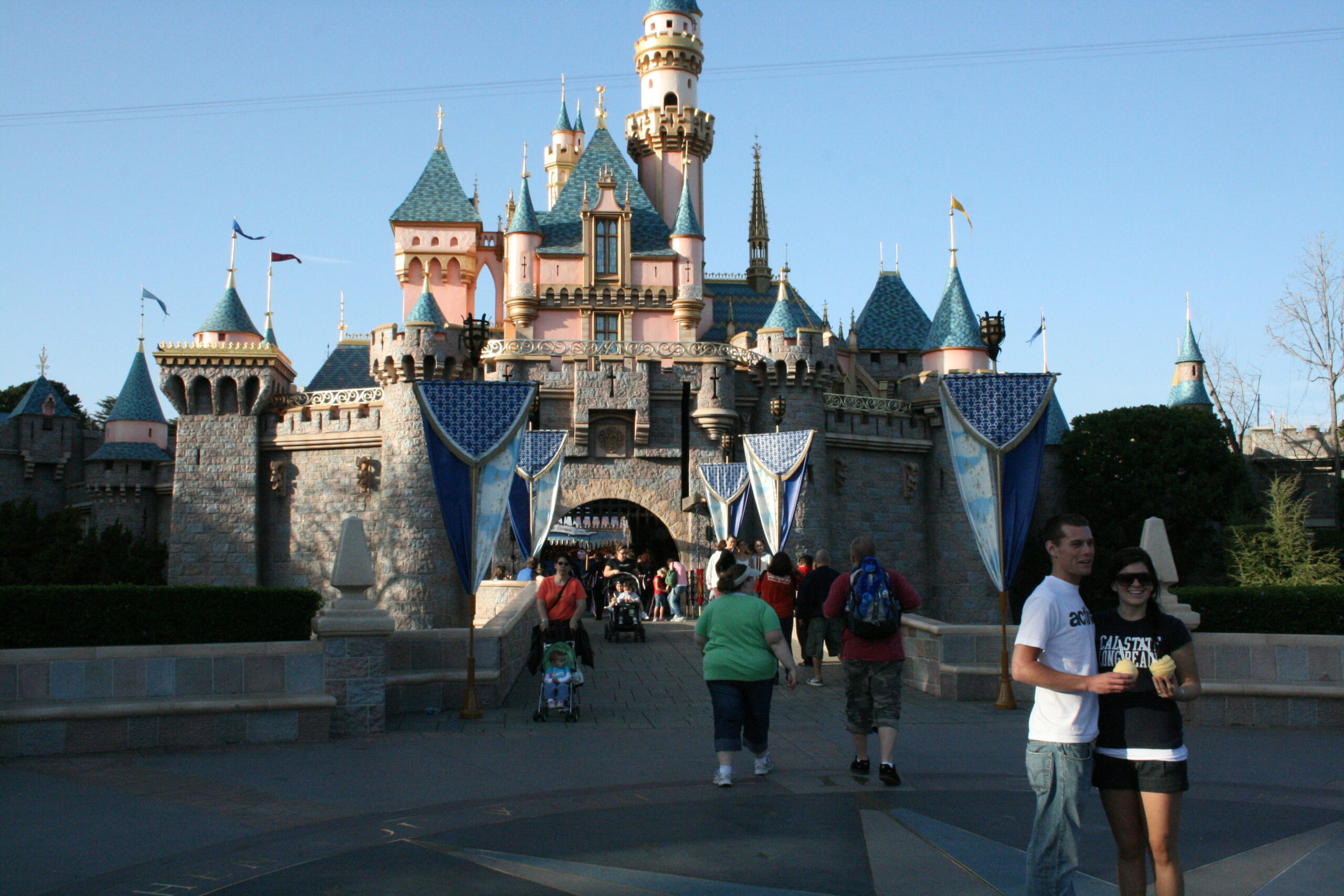 Couples enjoy posing for photos in front of Sleeping Beauty Castle in Disneyland.
I spent most of the rest of the day grabbing Fastpasses for one ride while riding another and trying to get on every ride. I checked out the "Tiki Room," a singing-animatronic bird performance that is by far the most bizarre attraction at Disneyland, while I waited for my "Space Mountain" window. Since "Splash Mountain" has a special line for people riding alone (enter through the exit), I rode it while waiting for "Buzz Lightyear." Between rides, I leisurely walked around the park and people-watched. I saw Alice, the Mad Hatter, and the White Rabbit, playing musical chairs outside the ice cream parlor, and while I ate lunch by myself, some girls in a foreign exchange program asked to take their picture with me. Maybe it was my blue eyes.
At dusk, I sat in front of Sleeping Beauty Castle and watched families taking photographs of themselves in front of Sleeping Beauty's lavish estate and children making wishes at Snow White's wishing well. As night fell and the castle dramatically lit up, I watched a young couple kiss in front of the drawbridge, and I made a decision. Disneyland is fun alone, but it's most magical when you're sharing the fun.
Romantic Things to Do on a Disneyland Date
Tourism:
Anaheim,
Southern California
Eat Mickey Mouse Waffles for breakfast at Carnation Café under the candy cane-striped umbrellas on Main Street, or eat Mickey Mouse Pancakes at the River Belle Terrace while watching the Mark Twain Riverboat paddle by on the Rivers of America.
Ask a caricature artist to draw a picture of you together in New Orleans Square.
Share a Dole Whip from outside the "Enchanted Tiki Room."
Cuddle in the dark while riding a private, ghost-filled Doom Buggy in the "Haunted Mansion."
Kiss while flying above the city of London on "Peter Pan's Flight."
Make a wish at Snow White's Wishing Well (just to the right of Sleeping Beauty Castle).
Find out your future as predicted by Esmeralda, the coin-operated fortune teller in the Penny Arcade on Main Street.
Take a night sail on the Sailing Ship Columbia or the Mark Twain Riverboat.
Eat dinner at the Blue Bayou restaurant in the "Pirates of the Caribbean" ride. Reservations can be made by calling (714) 781-3463
Watch the fireworks show from Main Street, looking toward Sleeping Beauty Castle.
Watch Fantasmic, Disneyland's laser light and water show, from the shore of the Rivers of America. For an extra charge ($59 per person), you can reserve riverside seats and enjoy a catered dessert box while watching the show by calling (714) 781-4400.
Ride the Disneyland Railroad around the entire park, right before the park's closing. You may end up with your own car.
Wear Mickey Mouse ears.
Things to Do at Disneyland Alone
Get an "Honorary Citizen of Disneyland" pin from City Hall.
Spend time taking hundreds of photos of anything and everything in the Park with a high quality digital camera.
See Steamboat Willie, the first Mickey Mouse cartoon with sound, at the Main Street Cinema.
Watch the Billy Hill and the Hillbillies banjo show at the Golden Horseshoe in Frontierland.
Bypass the long lines for "Indiana Jones Adventure," "Splash Mountain," and the "Matterhorn" by using the Single Rider Line, a special line for those riding alone. At California Adventure, "California Screamin'," "Goofy's Sky School," "Grizzly River Run," "Radiator Springs Racers," and "Soarin' Over California" also have Single Rider Lines.
See if you can visit and ride every Park attraction in a single day.
Be social and meet new friends visiting from all over the world while waiting in line. See how many different countries you can meet people from. Ask each person to teach you how to say "Hello" and "Goodbye" in their native language.
Ride the Disneyland Railroad around the entire park.
Do some people watching in front of Sleeping Beauty Castle.