SHÄ'NZHÈN, Guăngdōng, China — I'm incredulous that my cell phone reads 7:45 AM and I'm still in my Hong Kong hostel in Causeway Bay. HOW IS THAT POSSIBLE!? I wonder. Okay, if I leave now, I can still make it to my flight, I tell myself. But I'm in total denial. Boarding my 9:55 AM flight to Guìlín at the nearby ShÄ"nzhèn airport is a preposterous fantasy, because the bus trip from Hong Kong requires a stop at both Hong Kong's and mainland-China's immigration checkpoints (under the same roof), a trip which, at a minimum, takes 90 minutes.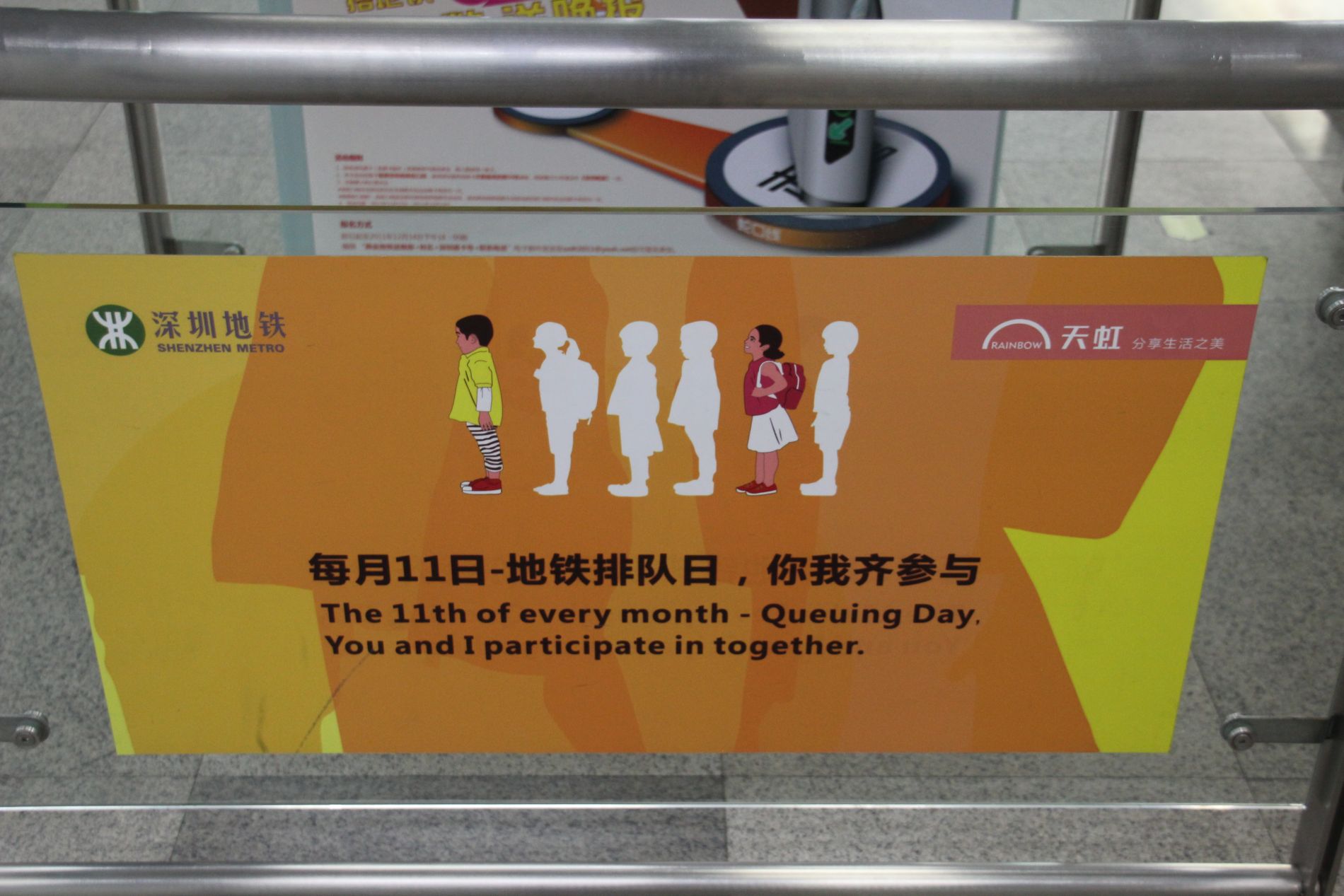 A sign in the Shenzhen Metro encourages Chinese citizens to try queuing.
Nevertheless, the obvious obstacles don't faze me. I WILL MAKE IT, DEFINITELY! I tell myself. I'm a religious airport optimist, believing that I can make it to any flight departure on time, if I just have enough faith. I pack up as fast as I can, almost murder the hostel owner for taking ten minutes to find my deposit money, sprint to the Hong Kong subway, and slide into the bus station just in time for the 8:15 AM bus to the airport. Maybe the immigration officers are running efficiently today, I think, continuing my insane optimism.
Amazingly, they barely look at my passport — apparently, there's no one on Earth trying to sneak illegally from Hong Kong (considered the world's freest economy) into mainland China — and I speed through both immigration checkpoints in about ten minutes. Still, I don't arrive at the airport check-in desk for Air China until 10:10 AM. Even now, I continue my delusion, sure that the woman at the desk will tell me that the flight has been delayed. Instead, she tells me matter-of-factly, without any sense of apology, that the flight departed 15 minutes before my arrival. She tells me that the next flight isn't for another 12 hours.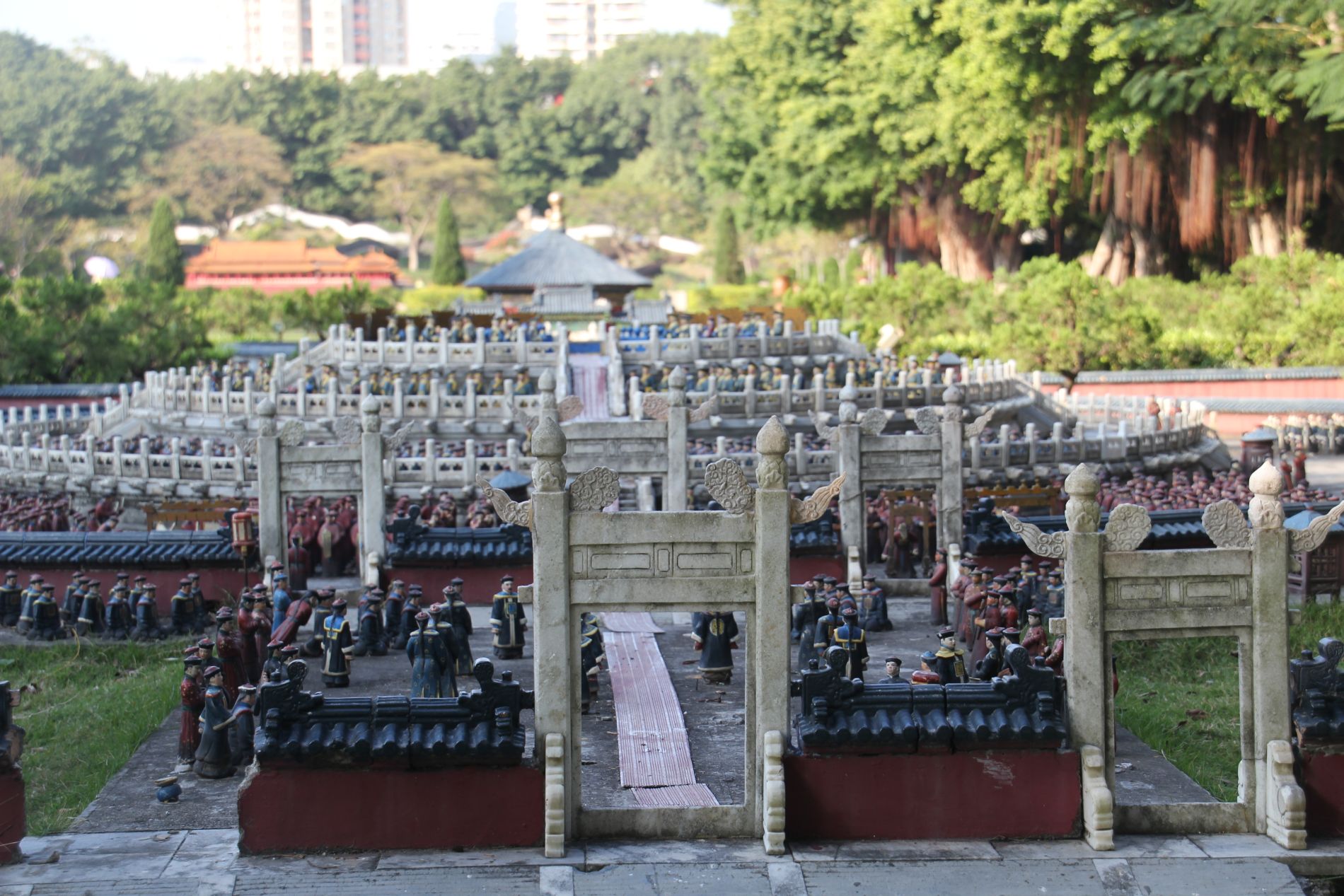 A miniature, hand-crafted Temple of Heaven is on display in Splendid China, Shenzhen.
In my American way, every possible flight and airport permutation runs through my head, and I ask her to search for flights from all airports within a four-hour bus ride to all airports within four hours of Guìlín. The fear of the inevitable destruction of my eternal airport optimism combined with the prospect of being trapped for the day in ShÄ"nzhèn — one of China's Special Economic Zones (SEZ), in which the free market reigns, but the beautiful outdoors does not — is making me ill.
In her Chinese way, she pushes a few keys on her keyboard and reports back: "It impossible." She smiles. I frown.
I AM GOING TO VOMIT ON THIS CHINESE FAMILY, I think as I take a bite of a cheeseburger in the ShÄ"nzhèn airport's McDonald's (apparently, Communism is dead in the SEZs). I realize that my rule about never eating non-native food in foreign countries exists for a reason; I don't know what I've put in my mouth, but it shares no DNA with American fast food (which, admittedly, is bad to begin with). The families in the McDonald's look at me like I'm crazy when I spit out my bite of "hamburger" and discard my entire inedible sandwich and inedible French fries. They should just be happy that they're not covered in vomit, I think.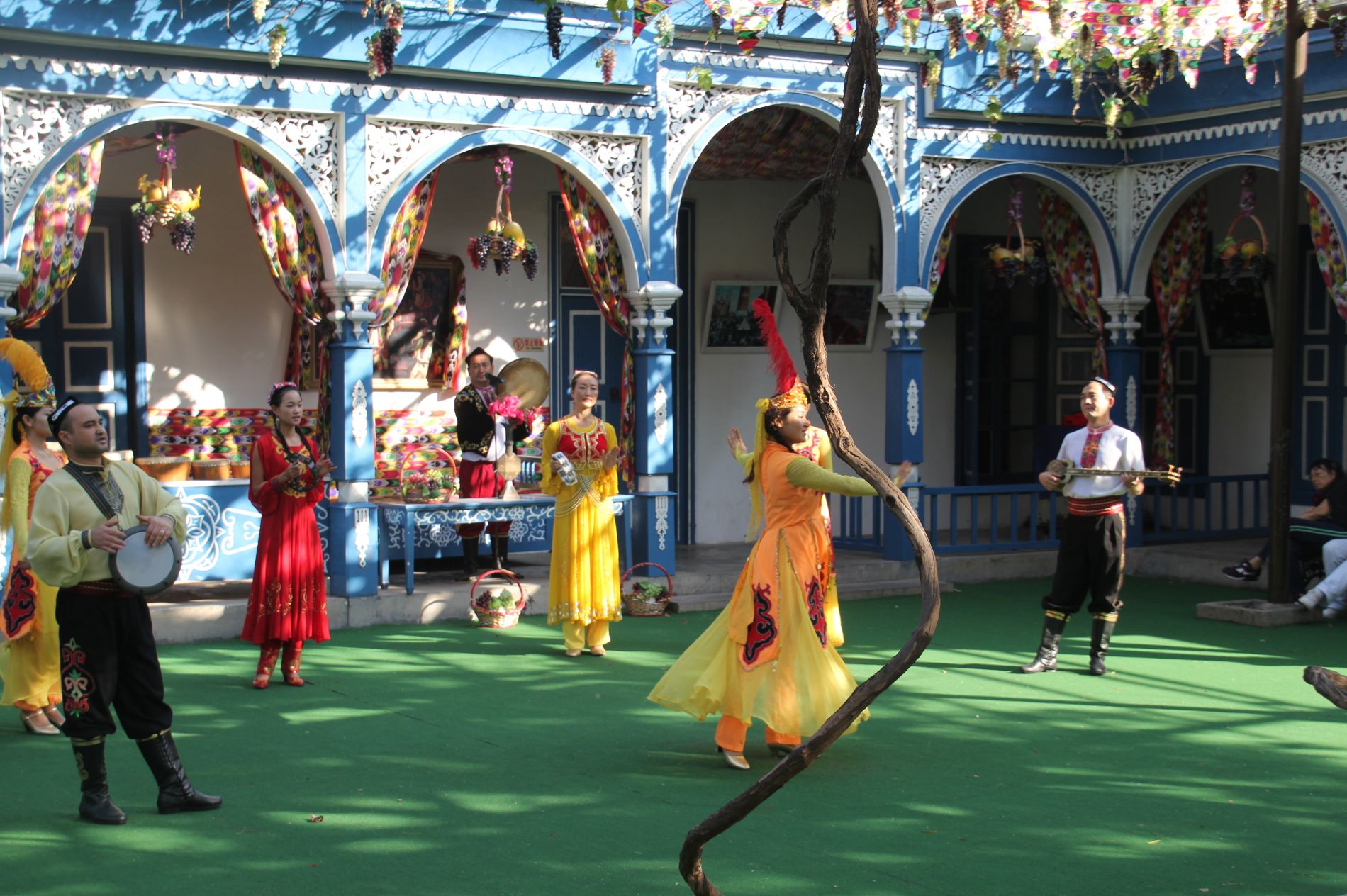 Actors perform in Splendid China, Shenzhen.
I spend a couple hours moping. I wish that a band of Chinese con artists would appear and try to scam me out of $10,000, because anything would be more fun than sulking in this airport, I think. The word "anything" arrives in my brain as a realization. I check my backpack at a luggage storage desk and jump aimlessly onto the ShÄ"nzhèn subway. (Though the US has a woefully inadequate, crumbling transportation infrastructure, China has 16 major cities with mass transit rail systems and 16 more cities' subways scheduled to be completed in the next three years.)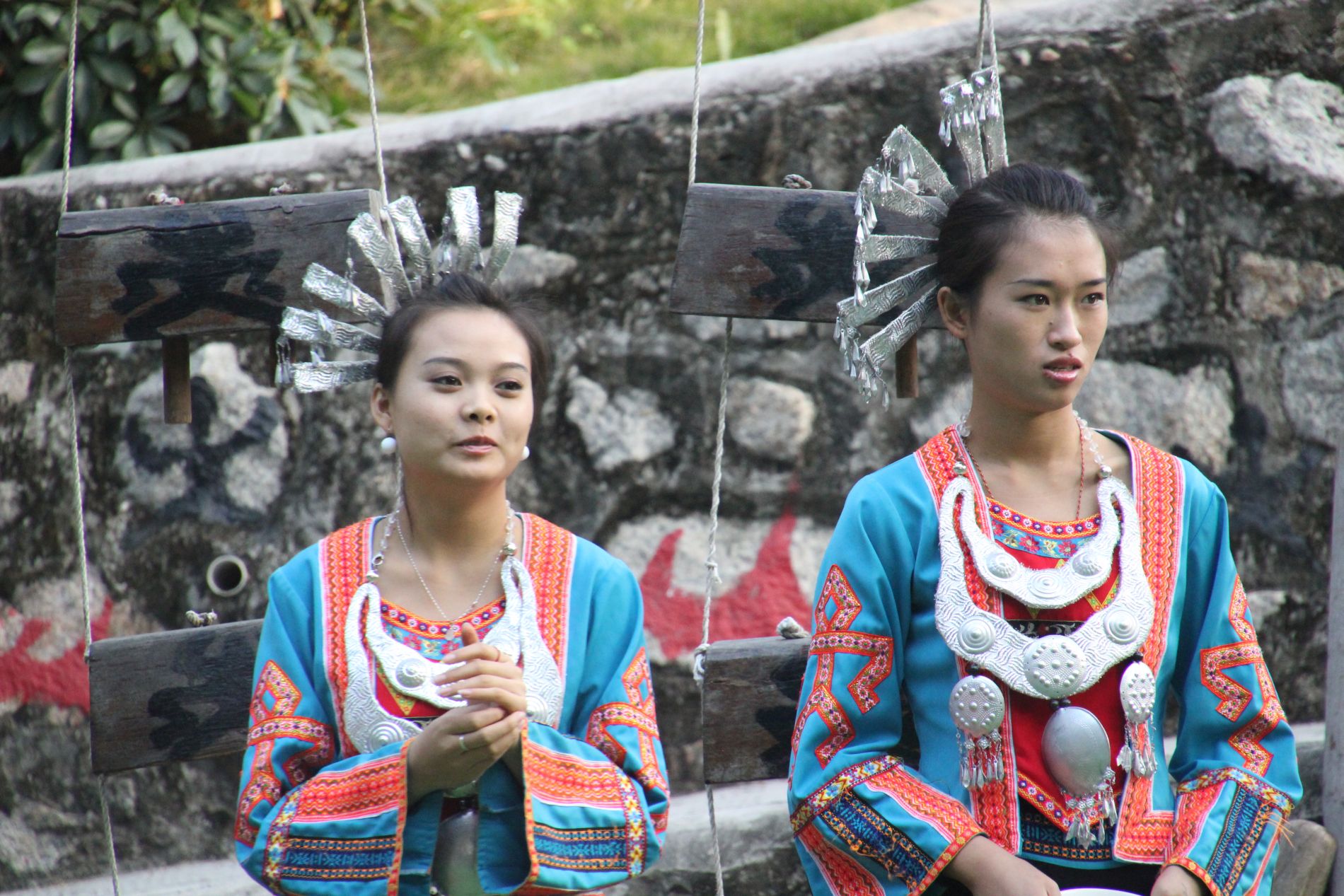 Actors perform in Splendid China's Yao Minority Village.
As I analyze the subway map, two stops catch my eye, mostly because their names are abnormally written in English: "Window of the World" and "Overseas China Town." Using my phone, I learn that Window of the World is a Chinese theme park boasting 130 miniature reproductions of the world's most famous tourist attractions. I'm intrigued, but, then, I read about another theme park called Splendid China Folk Village (at "Overseas China Town") which has miniaturizations of China's important historical sites and faux villages featuring clothing, architecture, and the daily life of China's 56 ethnic minorities. Though I'm a little worried about what will happen to my ego when surrounded by miniatures — already, my six-foot tall height makes me huge in China — I've been interested in learning more about China's minorities since I set foot in the mainland. I'm also excited to see The Great Wall (even in miniature), because it's not on my itinerary for this southern-China-only trip.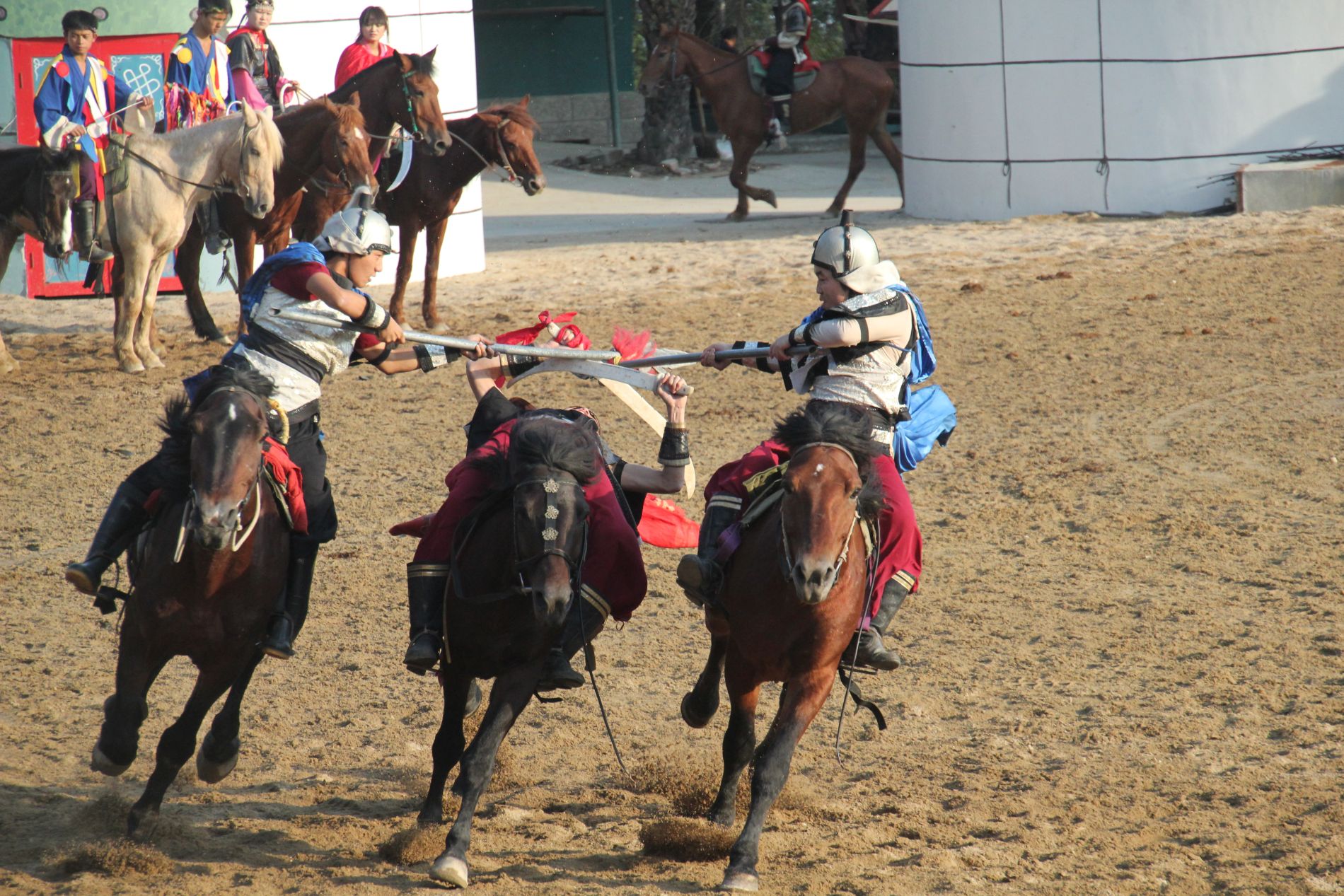 Actors perform a reenactment of a Genghis Khan horseback battle at Splendid China in Shenzhen.
In the park, overwhelmed by its size, I try to consult a posted "Total Navigational Chart" — seriously, it's like all Chinese translators are trained at Getting Your Point Across in the Wackiest Way Possible University — but the Chinese characters on the map seem to negate my inherent map-reading ability. So, I wander around, without direction, past a traditional dance show and toward a street of food vendors, where I buy and eat a sweet, unidentified Chinese pastry. Soon, I start feeling like Alice in Wonderland, towering over both the miniature historical sights and the park's Chinese tourists. BEWARE OF ME: I'M A TERRIFYING, ENORMOUS GIANT FROM CALIFORNIA! I want to yell.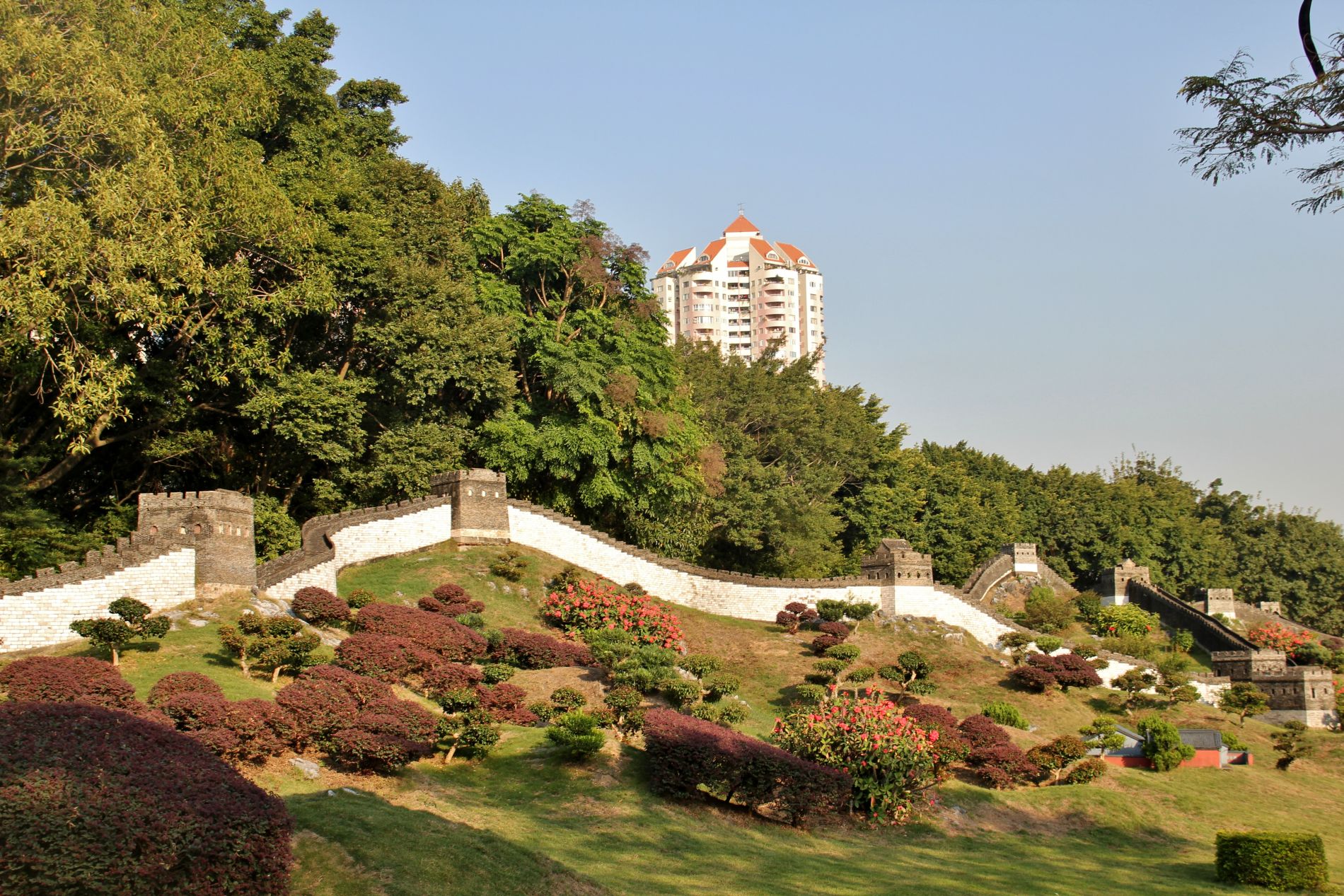 Shenzhen apartment buildings tower over a miniature reproduction of the Great Wall of China at Splendid China in Shenzhen.
Yet, stomping around as some kind of off-kilter, Western ogre, seeing all of China's important historical landmarks as miniatures, in a single hour, feels hollow. It's sad to see the Leshan "Grand" Buddha Statue — the 233-foot-tall original is the tallest pre-modern statue in the world — at a height of only 40 feet, despite the park's nonsensical boasting of the reproduction's "excellent facilities like awful posture, bold lines, concordant proportion, serene expression, graceful bearing." Beijing's Forbidden City looks more like more like a Playmobil toy than something awe inspiring. But, I do get my only chance to see the Great Wall of China — in miniature, made with six million hand-laid bricks, with ShÄ"nzhèn apartment buildings towering behind it.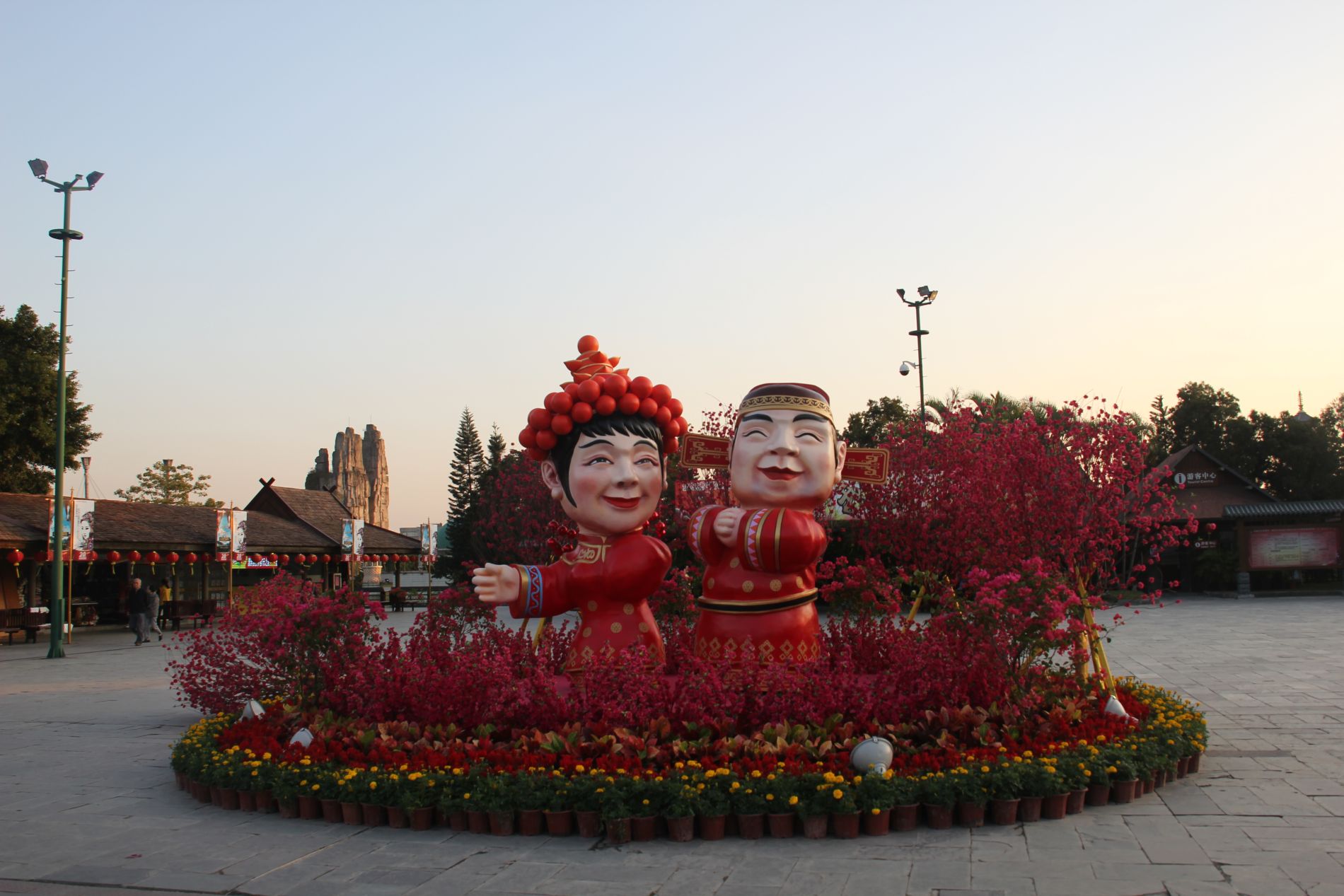 Statues stand in front of Splendid China, Shenzhen.
I hope this guy knows that I know that this isn't the real Great Wall, I think, when I ask a miniature tourist to take a photo of me in front of it.
Next, I galumph through the park's "folk villages," which, to my Western eye, seem a lot like Chinese government propaganda exploiting the country's ethnic minorities. The People's Republic of China takes great pains to appear magnanimous toward its minorities, but international watchdogs frequently criticize the government for human rights violations and its brutal treatment of its Tibetan and Uyghur minorities (not unlike the US's historical treatment of Native Americans). Incidentally, a Splendid China theme park operated in Orlando, Florida between 1993 and 2003 frequently attracted protesters claiming that the Chinese-government-owned park was just a huge piece of Communist propaganda. I try to think of an equally-dubious, analogous U.S. propaganda piece — like a Native American theme park with a miniature village for each tribe — but only Epcot's (very different) World Showcase comes to mind. But, since I seem to be the only person in the park worried about the park's affected tone, I sit back and enjoy the shows. I watch members of China's Yao minority compete in a top spinning competition, the Miao minority harvest coconuts, and the Bai minority perform a folk dance in traditional costumes. I don't learn much, because, as usual, I can't understand anything that anyone is saying. If only it were possible to learn Mandarin in three weeks, I wish.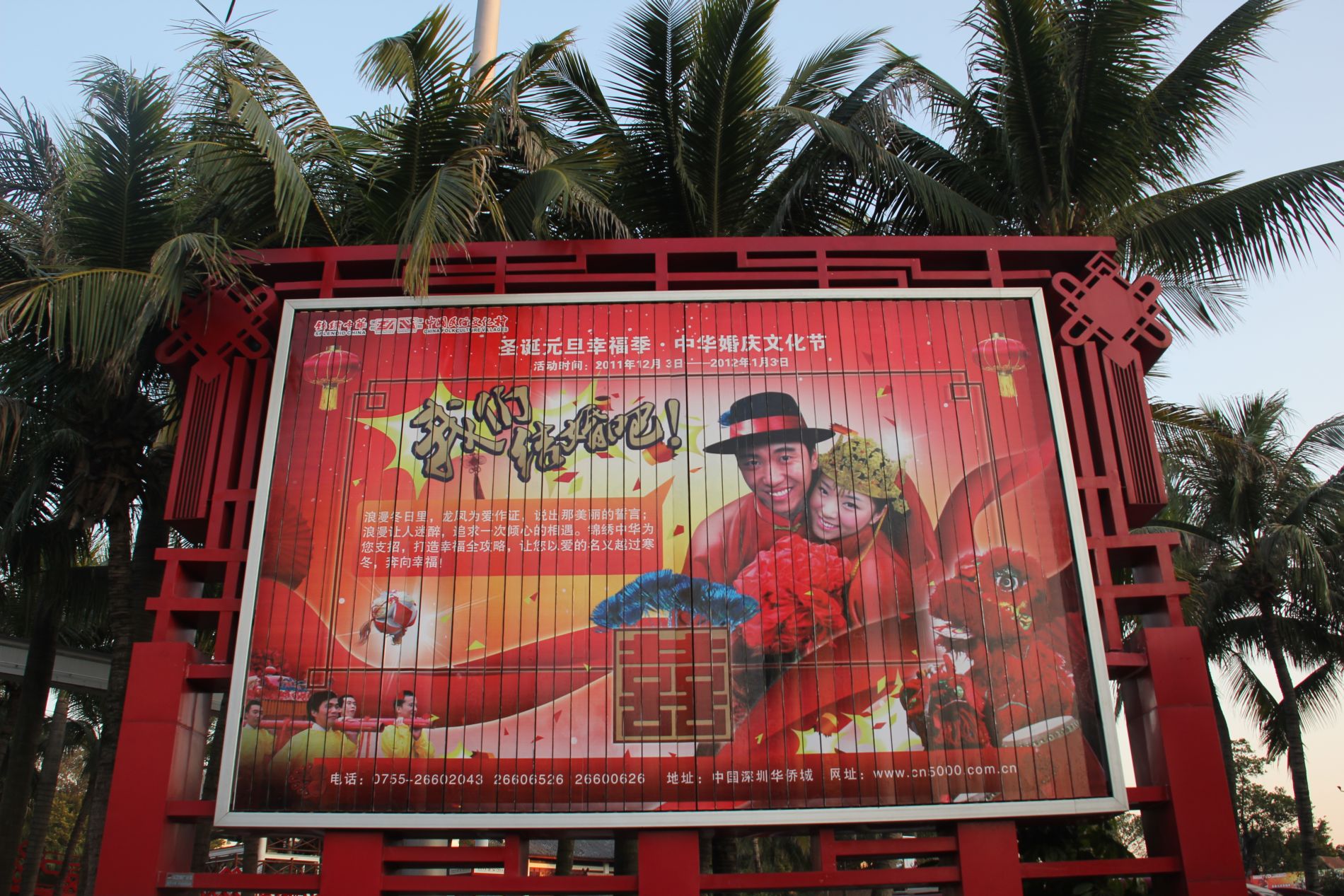 A billboard in Shenzhen advertises Splendid China.
After the folk dance, I notice that everyone in the park seems to be heading in one direction, so, I follow them into a stadium in the center of the park. Everyone in the stands seems intensely excited. Soon enough, I'm watching a gleeful horse battle reenactment titled "Unparalleled Hero," in which Mongol-leader Genghis Khan "complete[s] the great undertaking to unite all tribes and establish Great Mongolia Empire via years' hard warfare based on his firm will and outstanding military talent." In short, it seems, the show is about Genghis Khan forcing the region's ethnic minorities to succumb to his military might.
I have no idea how to reconcile the assimilation theme of the horse battle show (a sort-of gloating reenactment of Custer's Last Stand) with the minority village shows I've just seen.
After the show ends, as I tramp out of the park — looming over the miniature Great Wall of China one last time — nonsensical Chinese propaganda messages tumble through my head. I make a mental note to delve more into China's relationship with its ethnic minorities, once I've shrunken back to my normal size.
How to Visit Splendid China Folk Village in ShÄ"nzhèn, Guăngdōng, China
OVERVIEW: Splendid China Folk Village Theme Park boasts 82 miniature reproductions of China's most well-known tourist attractions as well as 21 fake villages designed to educate visitors about China's 56 ethnic minorities.
LOGISTICS: After arriving in ShÄ"nzhèn, take the Metro's Green Line to the OCT (Overseas China Town) stop. No, I have no idea what this station name means, but it's a tourist resort neighborhood — comprising parks Splendid China Folk Village, Window of the World, and Happy Valley — akin to Anaheim, California and Orlando, Florida. From there, it's a 2-minute walk to the Splendid China Folk Village entrance. Admission is Y120/US $20. Luggage can be checked at the entrance if necessary.