FEBRUARY 14, 2012 — "Sean advertises on his web site that he was the first person in the Gorge to marry a beautiful foreign woman," Maren tells me while we're standing under a red People's Republic of China flag, looking out from a viewpoint above the lush expanse of China's rugged Tiger Leaping Gorge in Yúnnán Province. "He also says that he was the first to do business with foreigners and is the only person to speak out about protecting the wilderness area of the Gorge." I chuckle, but I realize that, after three weeks of backpacking through China, I'm starting to take the country's eccentricities for granted.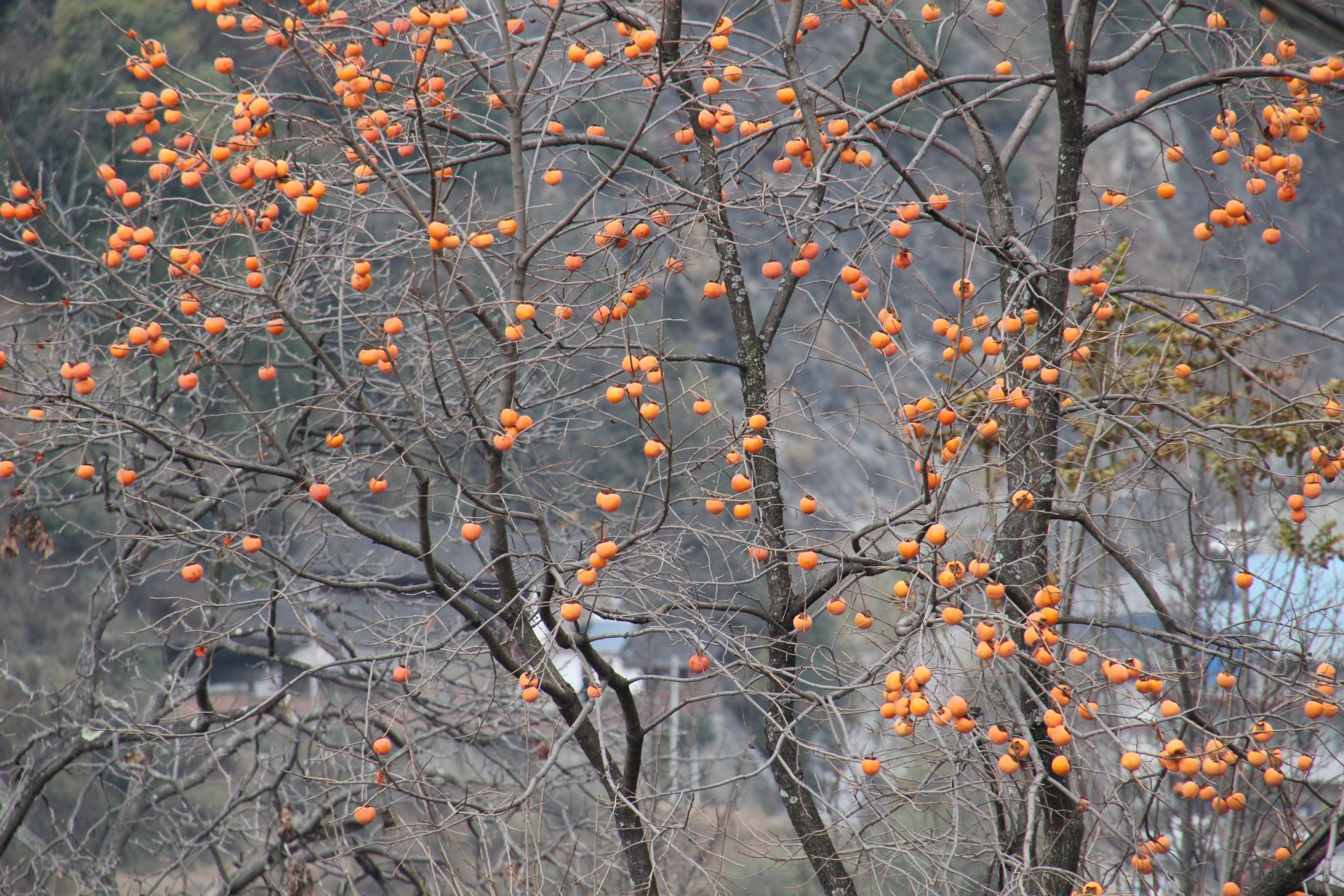 A kumquat tree in China's Tiger Leaping Gorge
"Well, he sounds like an interesting guy," I say as we continue hiking. "Let's agree that we won't leave the Gorge without seeing an actual leaping tiger and meeting Sean and his drop-dead-gorgeous, Swedish wife." After some further iPhone research (Chinese 3G networks, which seem to penetrate every obscure corner of China, further prove American suspicions that US cell phone networks are managed by idiots), I discover writer Scott Carrier's "Greatest Fishing Story Ever Told," a 2001 Esquire essay partly about visiting Sean in the Gorge. I realize that we're on a quest to meet a Chinese celebrity.
I met Maren and her husband Joseph during breakfast in a small guest house (Jane's) earlier in the morning before starting our hike, and I'm relieved to have run into them. They're the first native English speakers who I've encountered since beginning my China backpacking trip three weeks ago, and it's a pleasant change to have some friends during the two-day, 22-mile hike through Tiger Leaping Gorge. The Gorge, one of the deepest canyons in the world, measures 12,795 feet from the waters of China's Jinsha River to the snow-capped mountaintops of Hābā XÇ"eshān and Yùlóng XuÄ›shān.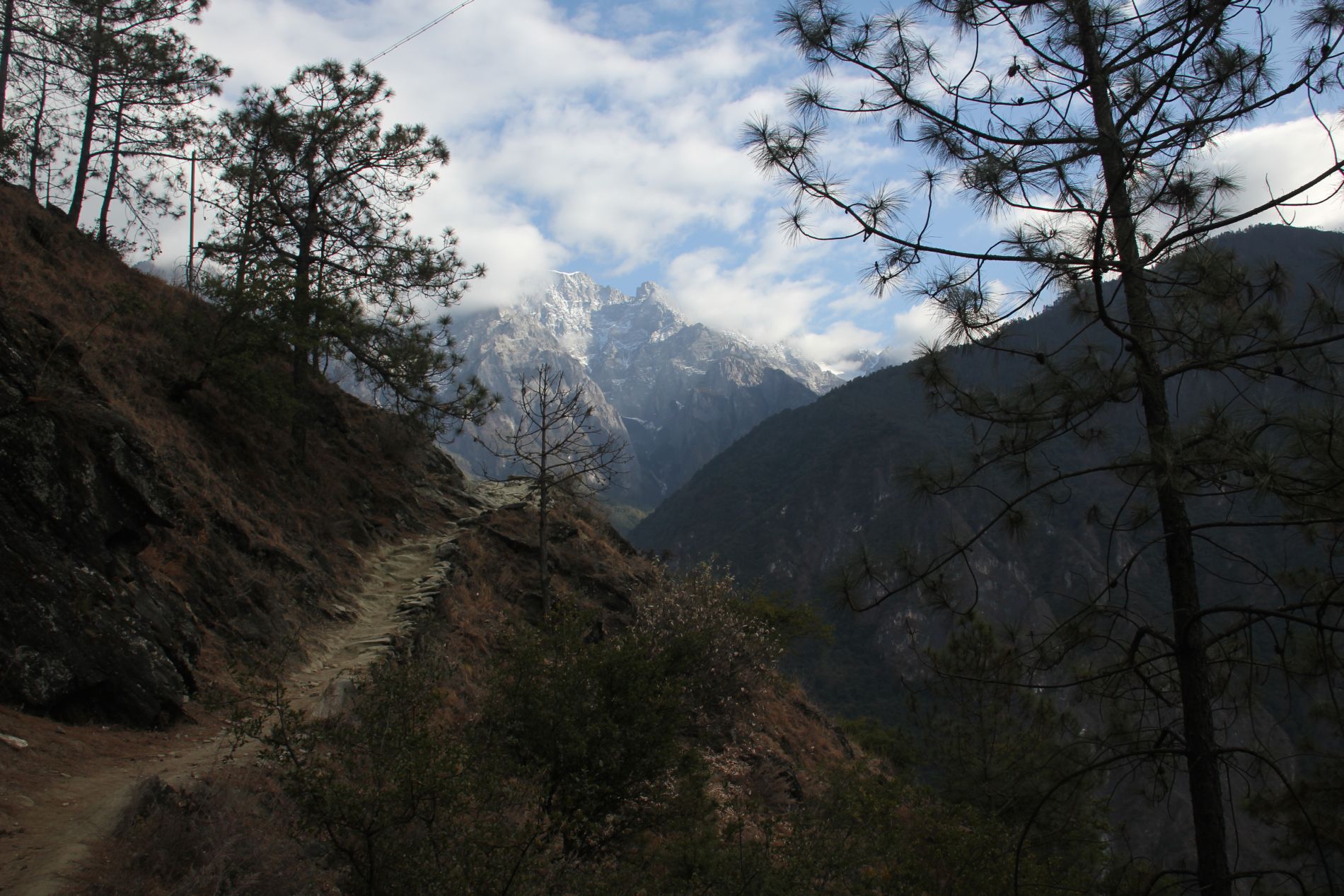 China's Tiger Leaping Gorge is one of the most beautiful wilderness areas in China.
As we hike past a small, green bamboo forest with high mountain peaks towering overhead, Maren tells me that she and Joseph live in Washington DC; she's a teacher and he's a labor economist for the DC Metro. The two are celebrating the birth of their first child, Adelaide. Imagining a city halfway around the world with English-speaking bus drivers, American school teachers, and a White House seems strangely alien, and I realize that I've been enveloped in Chinese culture, without any English-speaking companions, for a long time now. The 50-year-old Chinese man passing us on our narrow dirt trail carrying 75 pounds of hay to feed his cattle somehow feels more culturally relevant to me than Capitol Hill does right now.
Maren and Joseph seem to feel the same way; the three of us spend our time hiking trading stories about Chinese culture and travel, neither to prove our backpacking mettle nor position ourselves as sophisticated outside observers, but instead as an attempt to interpret and understand what we've seen during our time in the country. I tell them how devastated I was that, when I arrived in nearby Lijiang, the temperature was 35°F instead of the 75°F that the government-provided weather forecast had predicted. I had spent three hopeful weeks looking forward to a balmy escape from the chilly weather I endured in Huángshān and Yángshuò. To my surprise, Maren and Joseph lament that they also spent their trip fantasizing about the warm weather, only to have been duped by the same false forecast. I tell them that I learned in a book that, as recently as 1999, the Chinese government reported fake (more pleasant) weather forecasts to the Chinese people, partly to avoid giving workers days off due to blistering desert temperatures. (Supposedly, they have stopped now.)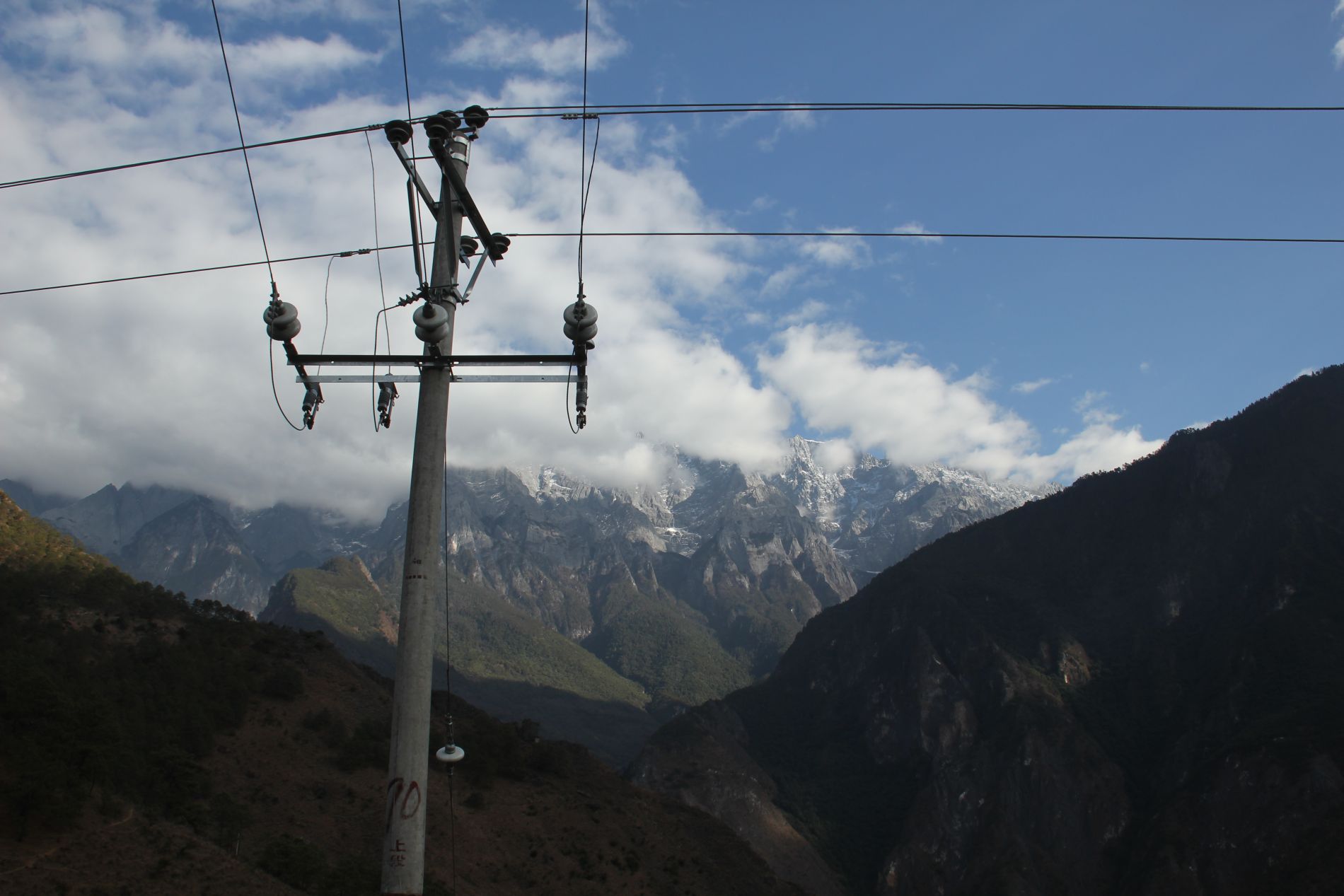 Signs of development are starting to creep into China's Tiger Leaping Gorge.
As we walk past a green and brown maze of rice terraces and an ugly tangle of electrical lines covering the side of the Gorge, Maren and Joseph tell me about their visit to the Splendid China theme park and report that they (like me) found their experience unnerving.
"It was a little weird, right?" Maren said. "I can't tell whether the Chinese minority performers were just being used as blatant government propaganda or whether there's an authentic feeling of goodwill between the Han Chinese and the rest of the country's inhabitants." I'm embarrassed when it occurs to me how little I know about this topic; I haven't managed to have any lengthy chats with a single Chinese ethnic minority during my trip in China.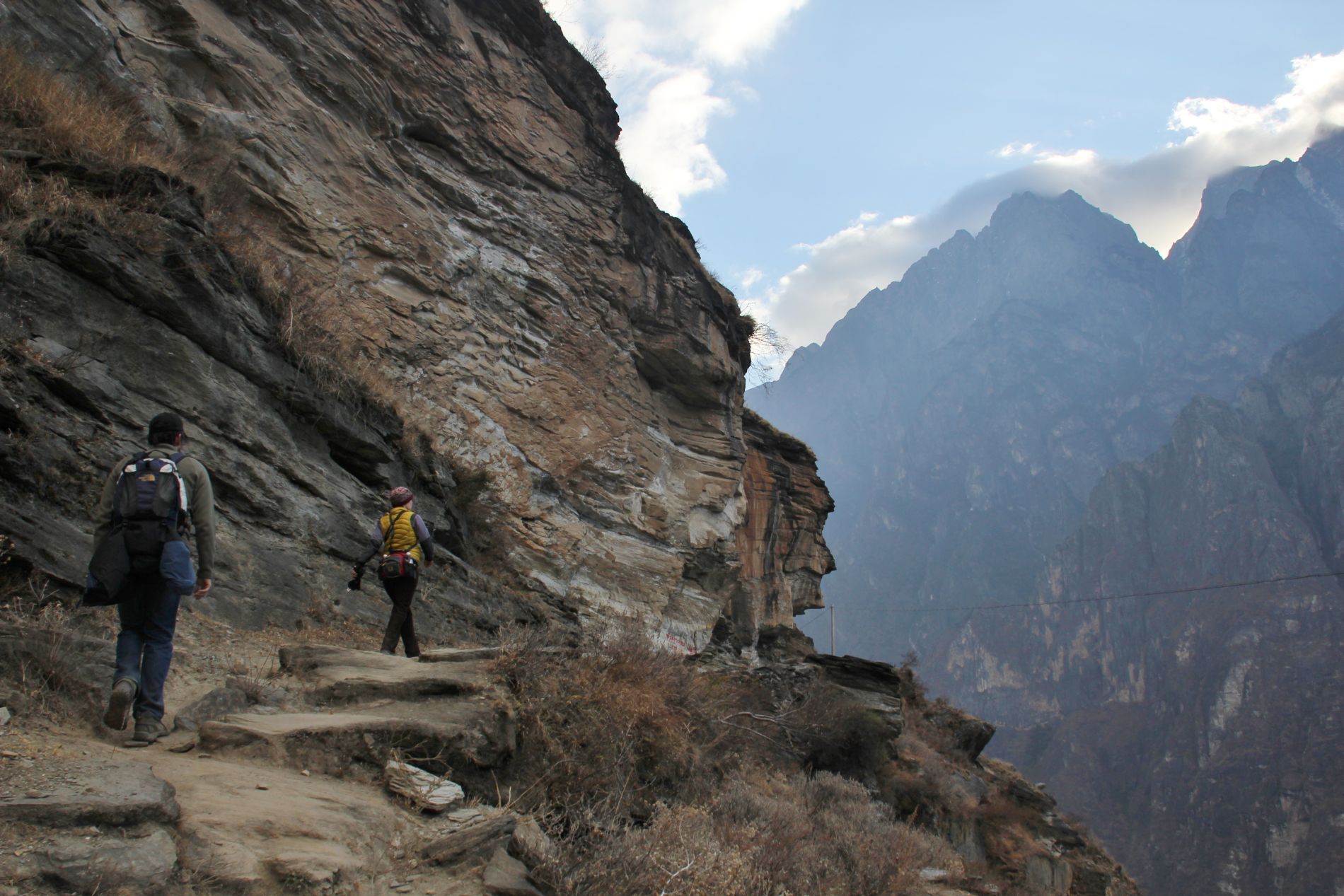 Hikers trek through China's Tiger Leaping Gorge.
We walk past a canopy of trees sprinkled with orange kumquats, trying to hash out the answers to many other Chinese cultural mysteries: Is there really no privately-owned land? Is it possible to start a capitalist enterprise outside of Special Economic Zones Shenzhen and Guangdong? Why does the Chinese government block access to Facebook and Twitter but allow access to China-based copycats Renren and Weibo? I'm relieved that we're able to hammer out partial answers to our questions based on what we've learned during our time in China, but I'm also embarrassed that we don't have any great answers. It occurs to me that our discussion would make for a particularly hilarious issue of Modern Jackass: Chinese Culture Edition, the imaginary magazine that publishes expert analysis by non-experts. Surprisingly, it's taken two Americans to remind me yet again that it's essential that I break through the Mandarin language barrier before leaving China.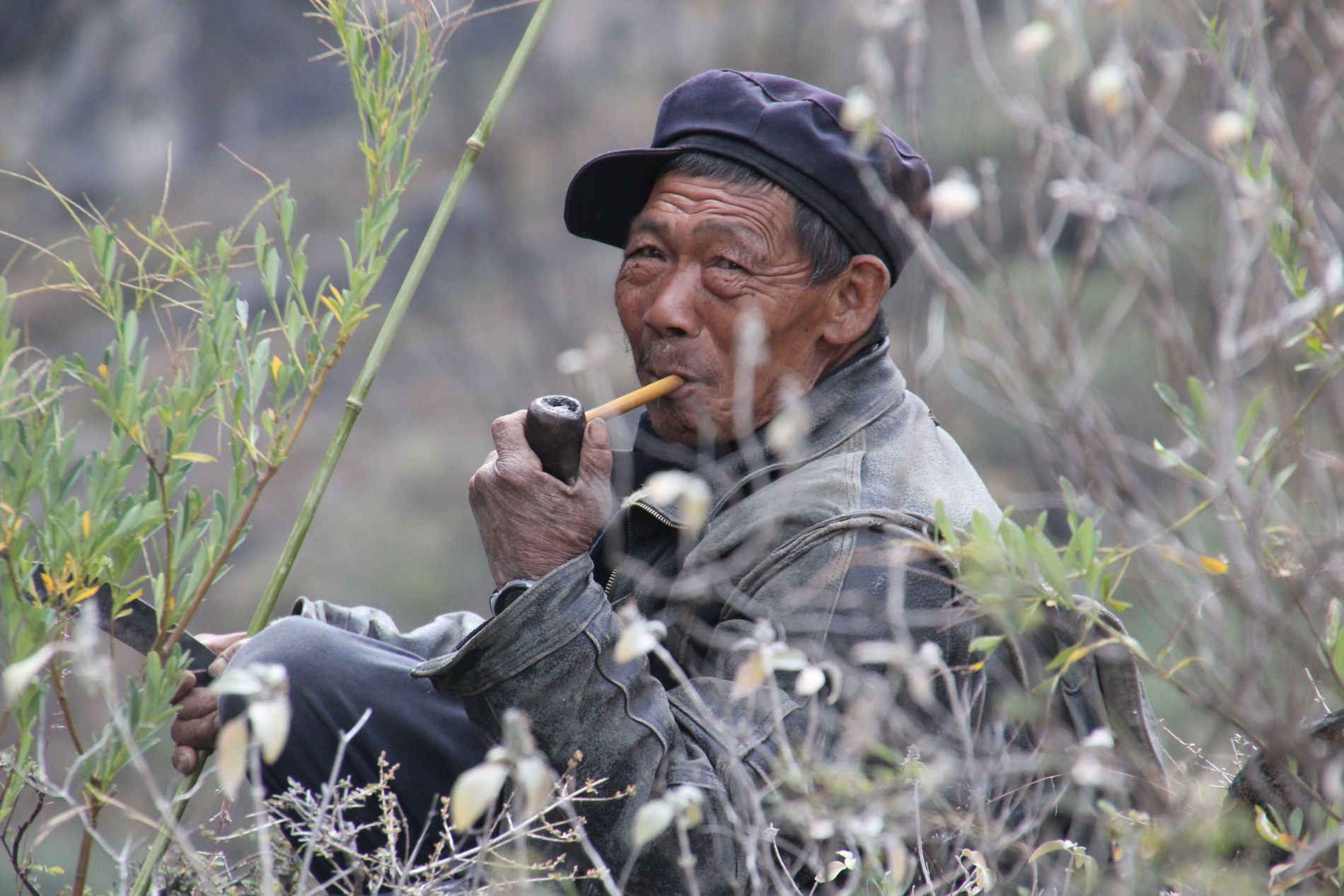 A Chinese farmer takes a break, smoking a pipe in China's Tiger Leaping Gorge.
When the sun sets, we decide to stop at the Tea Horse, a small guest house sitting below massive, jagged mountain peaks, to find dinner and a place to sleep. We're drawn in by a sign advertising a masseuse, but, inside, the innkeeper tells us that the masseuse left many months ago and never returned. We don't bother trying to ask why she's still displaying the ad. Joseph, Maren, and I spend the night around a fire pit, chatting with a friendly Korean family, an eccentric farmer's son from rural Ireland, and a madly-in-love couple from France. While sipping Tsingtao Beer, Maren, Joseph, the French couple, and I make a pact to spend the next year learning Mandarin and then return to China together, better suited to work out China's cultural mysteries.
On the second day of our hike, we wander down a steep side trail from Tina's Guest House high in the Gorge toward a place on our map labeled Middle Tiger Leaping Rock, a granite outcrop in the water at the Gorge's bottom.
"Finally, we're going to get to see some tigers leap across the Gorge!" I joke. Joseph looks skeptical.
More than a few times, local Chinese farmers occasionally block our path along the way and (illegally) demand, using signs in badly translated English, that we pay a small fee to use the trail, insisting that they maintain it. It's a common annoyance in China's badly-regulated wilderness areas, but we comply with their meager demands just to keep the peace. After paying yet another Y20/US $3 to stand on Middle Tiger Leaping Rock in the middle of the Jinsha River — where we see not one leaping tiger — we continue walking toward Walnut Garden, hoping to find Chinese-celebrity Sean. We know we're nearing his village, because we see crude advertisements for guesthouses spray-painted on boulders bordering the trail. China may know how to build amazing cell phone networks, but effective wilderness protections and the cultural shifts that come along with them are still decades away.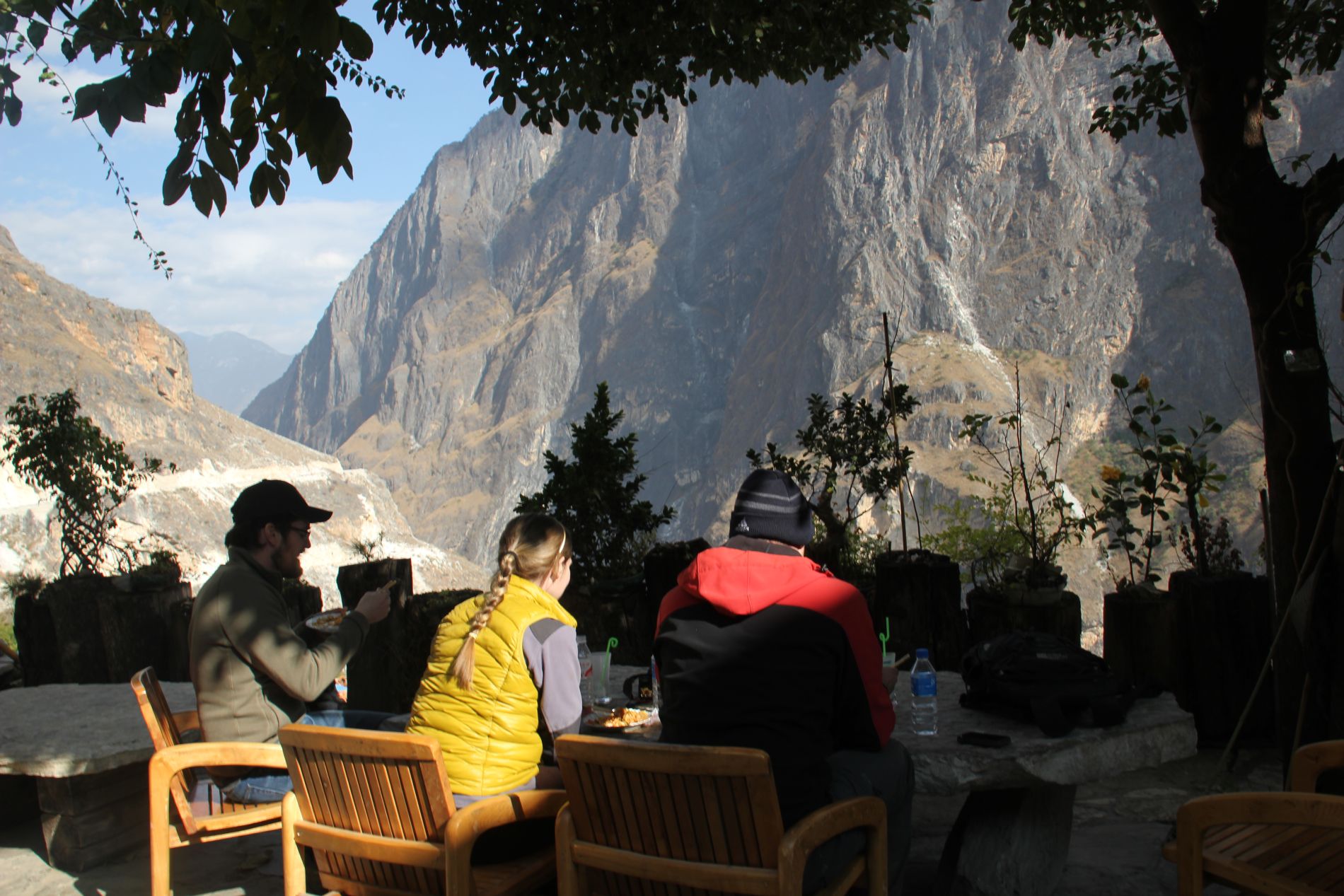 Hikers admire the view from the outdoor restaurant at Sean's Guest House in Walnut Garden, China.
On the final stretch of the trail leading toward Walnut Garden, a small, 40-year-old Chinese woman stands in our way and demands that we each pay an additional Y20/US $3 to continue. By now, we've each paid about Y60/US $10 to these extortionists, in addition to a legitimate Y50/US $8 entrance fee at the wilderness area's entrance. I'm fed up, and I refuse to pay the woman, since she's trying to collect fees illegally. Nevertheless, she continues to block the trail. I raise my voice and begin yelling at her in English to move aside, but it doesn't seem to help, so I forcefully push past her. To my surprise, as I move by, she grabs me and then latches her entire body onto my backpack with both arms, like a boa constrictor trying to suffocate its prey. As I make my way up the trail, I look back and see that I'm dragging a screaming, 100-pound Chinese woman behind me. She won't let go.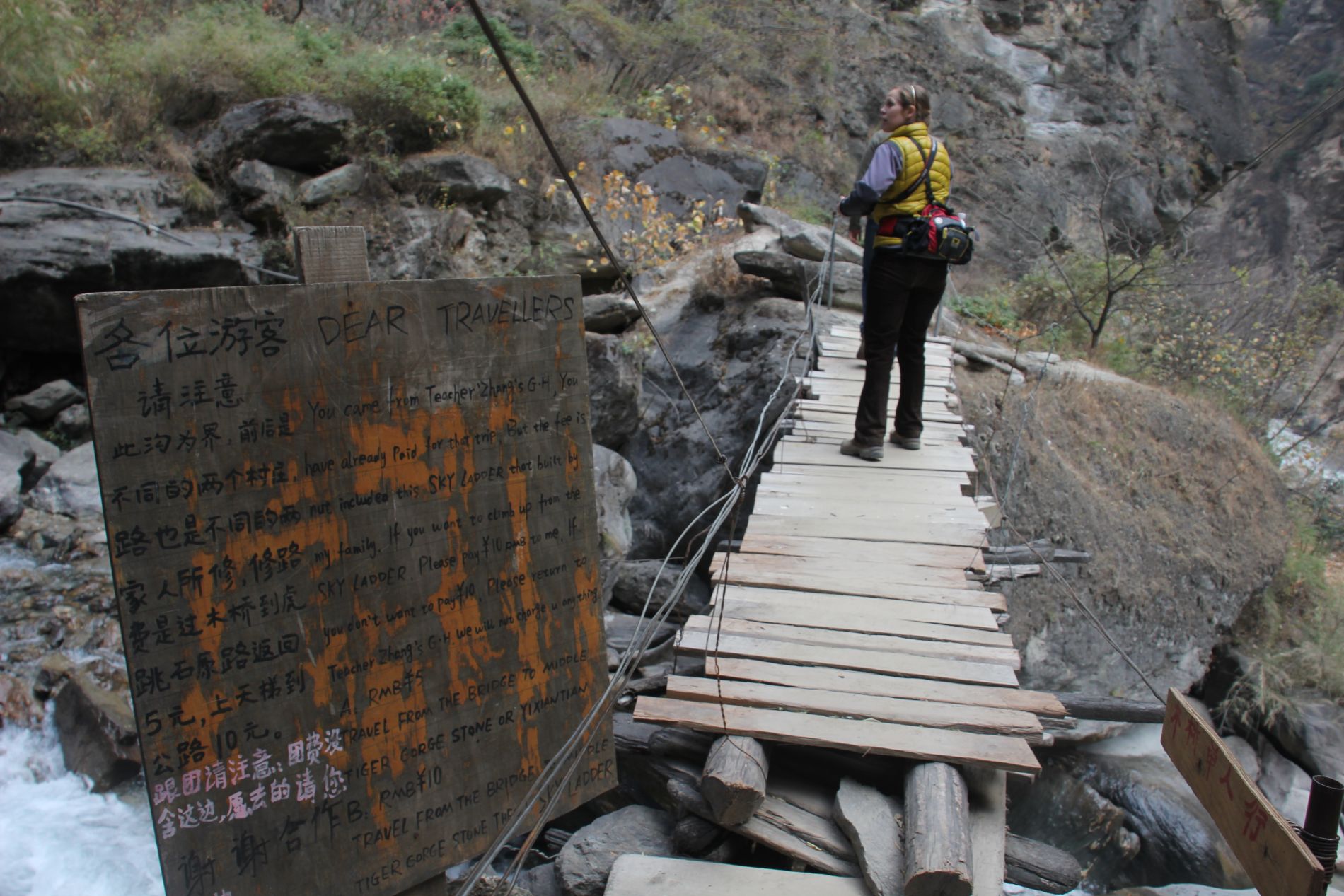 Illegal signs used to extort money from tourists dot the trail in China's Tiger Leaping Gorge.
Maren and Joseph look at me baffled and helpless, as though this is the first time they've ever seen a battle of wills between a six-foot-tall American man and a five-foot-tall Chinese farming woman. As I continue dragging her up the side of the Gorge, I decide that, despite the possible effectiveness of the strategy, I'd never forgive myself if I punched her in the face over $3. (Still, I'm annoyed that she's depending on my civility to extort money.) I consider phoning the Chinese police, but I can't imagine that the inevitable ensuing hassle (in Mandarin) would be worth my time. So, reluctantly, each of us pay her Y20/US $3. I feel frustrated that we have been defeated so soundly by a tiny Chinese woman.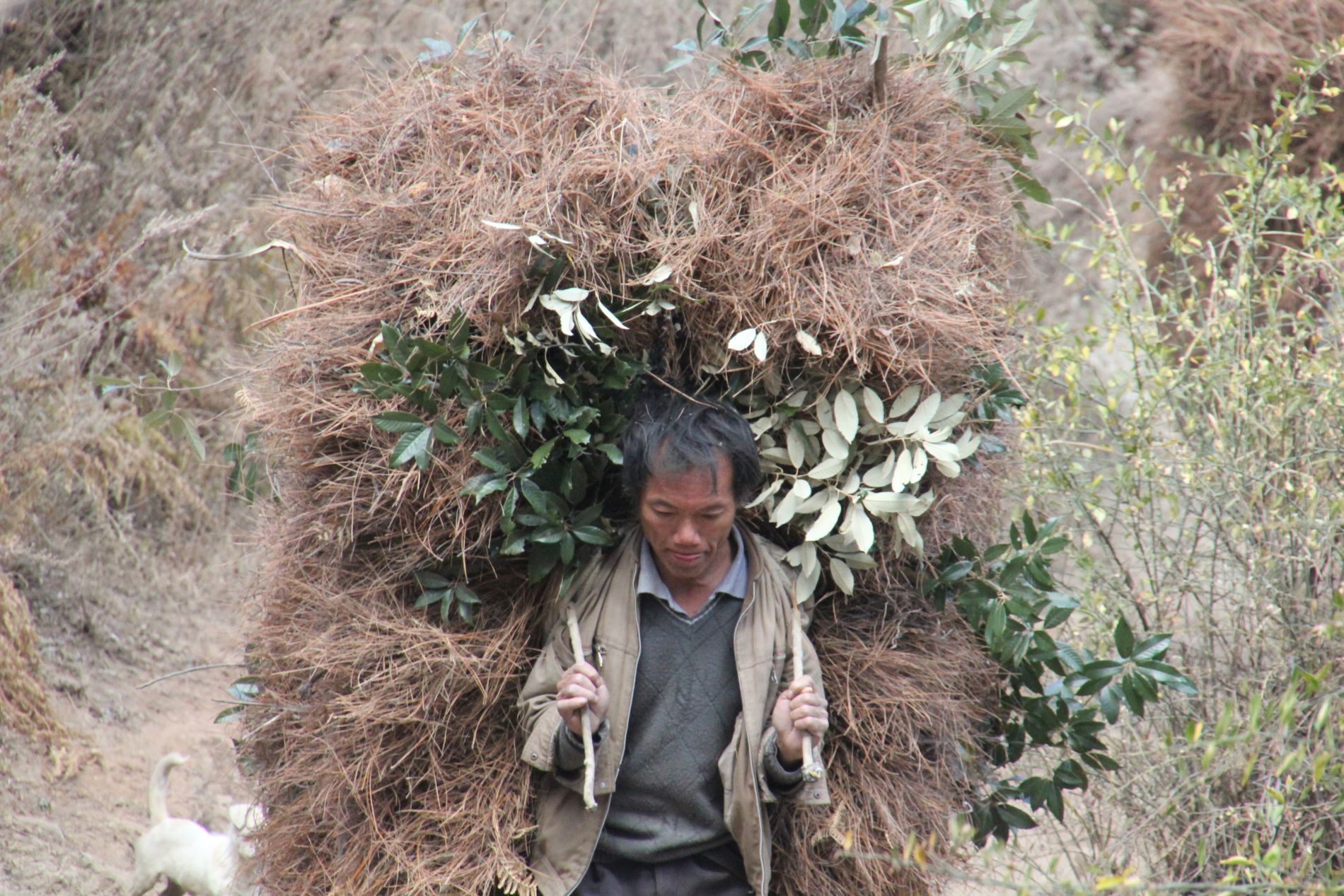 A man carries hay in in China's Tiger Leaping Gorge.
Nevertheless, when the three of us arrive at Sean's Guest House ten minutes later, we're thrilled at the prospect of finally meeting Sean, partly because we've endured unrealized promises of leaping tigers, propagandist weather reports, and desperate Chinese farmers to get here. The three of us sit at a table in the guest house's outdoor restaurant, looking out at the severe, dark rock slabs of awe-inspiring Tiger Leaping Gorge. I look down at my menu, which reads unintelligibly:
"If you Are our Friend, you can have OR get Real Good Stuff for smoke or eat in our place, But if you have to pay it!! If you don't or with out ask, we do not Give You, so you don't have to worry If you don't Like it!!!"
I turn around, expecting to see Sean demanding a large fee for a plate of pot brownies. Instead, a very attractive, 30-year-old Chinese woman asks us in weak English if we'd like to order food. My brain starts churning, trying to find inoffensive ways to ask her if she knows that she is being advertised on the Internet as Sean's beautiful, foreign-born wife.
"Is Sean here?" I ask. "We're dying to meet him. You know he's like a celebrity, right?" She looks a little confused.
"No, Sean in town getting supplies," she says, apologetically. "But, I help you with anything." Trying to proceed cautiously, I ask her if she is his wife.
"Yes, we married!" she responds.
"And how long have you lived in Walnut Garden?" I ask.
"I was born here and have lived here all my life," she answers. For us, this information puts into doubt everything Sean has claimed on his web site. Maren, Joseph, and I glance at each other, looking like six year olds who have just been told that Santa Claus doesn't exist.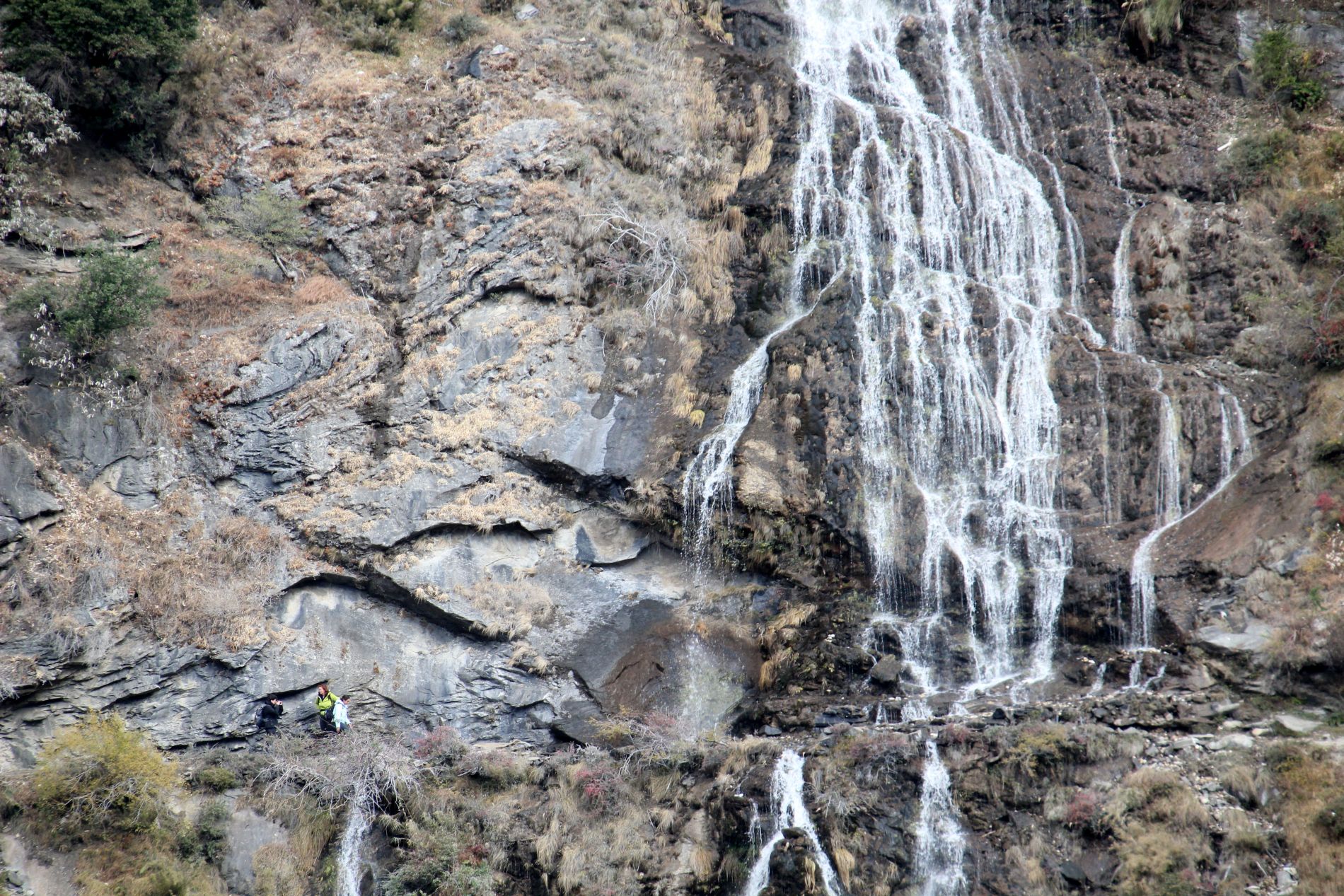 Hikers walk near a waterfall in in China's Tiger Leaping Gorge.
While we sit, I find Scott Carrier's Esquire essay on the Internet and begin reading it aloud. We learn that the Chinese Red Army killed Sean's sister and threw Sean into a fire during the Cultural Revolution, burning his body and maiming his arm and hand. Nevertheless, he educated himself (handicapped kids were not permitted in Communist schools) and figured out how to make a living for himself helping tourists in Tiger Leaping Gorge.
Then, sadly, I find a blog post describing the death of Margo Carter, an Australian woman who — to my surprise — purportedly was married to Sean until her death during a trek in the Gorge in 2010.
In my head, Sean's web site changes from a wacky curiosity to a romantic memorial. As we eat our food, I mull over the tragedies of China's Cultural Revolution and the difficulties of surviving poverty in modern, rural China. I sit in disbelief that I fought with a Chinese farmer over three dollars. I feel relieved that I lost.
How to Hike China's Tiger Leaping Gorge
Backpack:
36.2 km
1,876 m gain — 1,876 m loss
1,651 m min — 2,649 m max
OVERVIEW: If there's one place in China that should compel you to put on hiking boots and trek, it's China's scenic Tiger Leaping Gorge. One of the deepest gorges in the world, the Gorge is not as pristine as a US National Park, but its snow-covered peaks and sparkling river water have not been destroyed (yet) by development and tourism. The hike on the High Trail from Jane's Guest House in Qiáotóu to Tina's Guest House above Middle Tiger Leaping Rock is a (very easy) 15.4 miles. The additional side trip from Tina's to Middle Tiger Leaping Rock, Sean's Guest House, and back to Tina's to take a bus back to Qiáotóu is an additional 6.4 miles and is a bit more strenuous due to the steep trail to the bottom of the Gorge and back.
LOGISTICS: The fastest way to get to Qiáotóu is to take a flight to Lìjiāng from any major Chinese city, and then take one of the frequent two-hour-long buses from the Lìjiāng long-distance bus station to Qiáotóu (Y20/US $3). At the end of your hike, Tina's Guest House can arrange for a bus ride back to Lìjiāng. Beyond Tina's, ask any guest house for help with your route and getting back to Lìjiāng.
ROUTE: On your first day, try hiking from Jane's Guest House in Qiáotóu to the Half Way Guesthouse (about 10 miles). On the second day, it's another 10 miles from Half Way to Tina's, Middle Tiger Leaping Rock, Walnut Garden, and back to Tina's for the bus back to Qiáotóu. Resilient and adventurous trekkers can continue to the ferry pier in Daju and then on for at least two more days to Hābā and BáishuÄ­tái. The trail for this extended hike isn't as obvious; Sean's Guest House or Woody's Guest House in Walnut Garden can help you with a route or arrange a guide. View the route below or download the Without Baggage Tiger Leaping Gorge GPS track in GPX or KML format.