MAY 13, 2015 — I'm crammed into a tiny seat on a train, speeding across the French countryside, wondering why the French are so concerned with making perfect bread (those baguettes! those pastries!) but so unconcerned about leg room. I'm heading to Saint-Jean-Pied-de-Port, a tiny town in the foothills of the Pyrénées mountains and the most common starting point for the Camino de Santiago, a 870-kilometer (540-mile) hike and historical religious pilgrimage across Spain, walked by people from all over the world. I've just recently left Hudson, Ohio, my hometown, after my high school asked me to speak to current students about my experiences as a television producer and traveling around the world.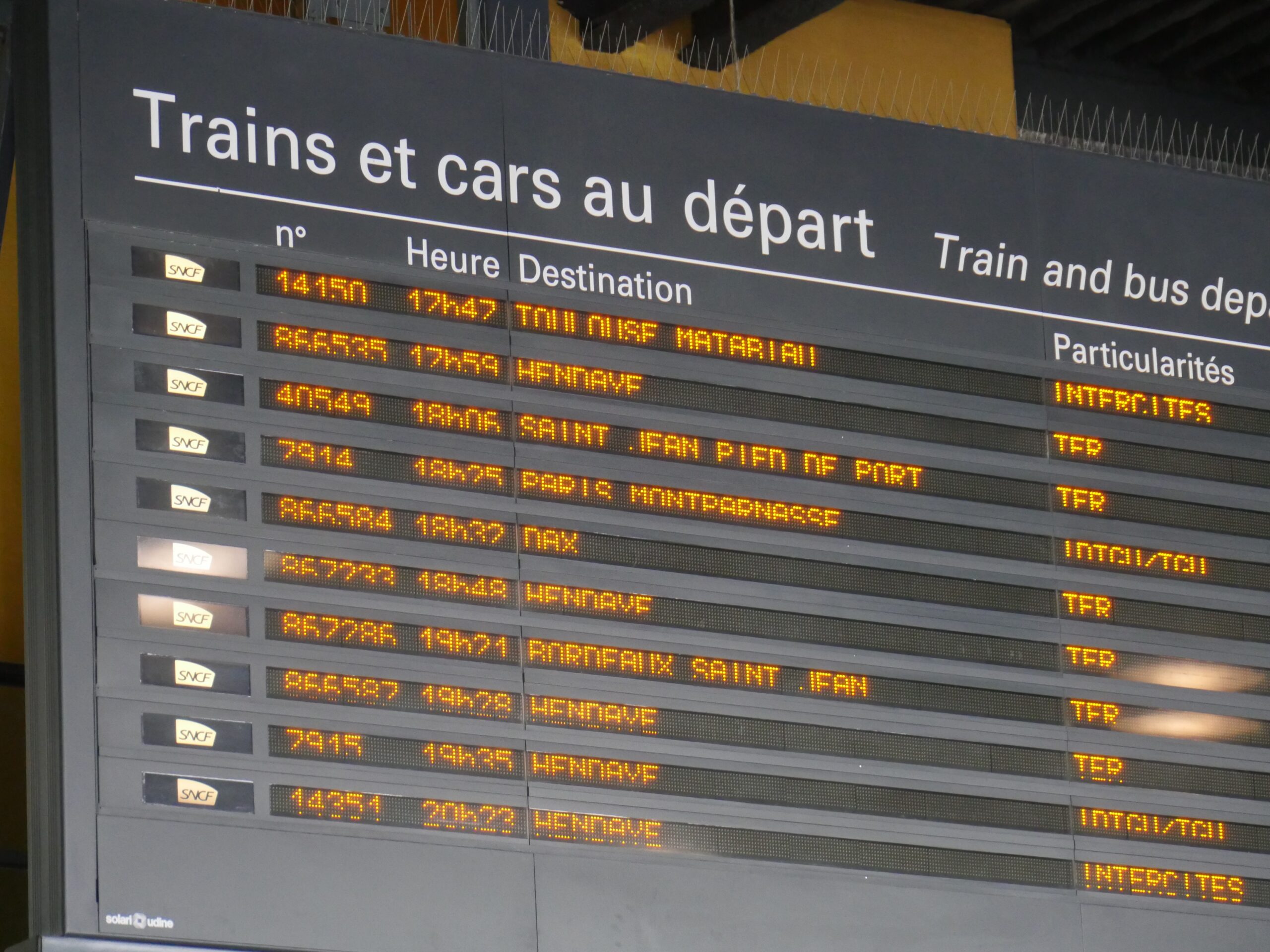 A departure board in the train station in Bayonne, France shows a departure to Saint-Jean-Pied-de-Port, where most people begin the Camino de Santiago.
As my train rushes me toward the start of my pilgrimage — I chose to fly into Paris and transfer to a train in the spirit of Before Sunrise, one of the most romantic travel movies of all time — I find myself pondering what I said to the students. For the speech, I decided to attempt to answer one of the questions that I get asked most often: can travel change you? I told the students that I strongly believe that travel experiences can change people, or at least teach people a lot about the world — but only if those travel experience are authentic. But, what is authentic travel? And, even more fundamentally, what is authentic?
Existentialist philosophers like Martin Heidegger and Jean-Paul Sartre argued that authenticity is the degree to which someone is true to his or her personality, spirit, and character, despite external pressures. They believed that when someone accesses the "true self," they're led toward a deeper engagement with the social world. In addition, modern philosopher Charles Taylor argued further that opting for self-fulfillment, without regard to the demands of our ties with others, is self-defeating and destroys the necessary conditions for realizing authenticity. In other words, a single-minded obsession with one's own desires in itself is not enough, because we can't ignore our responsibility to other people.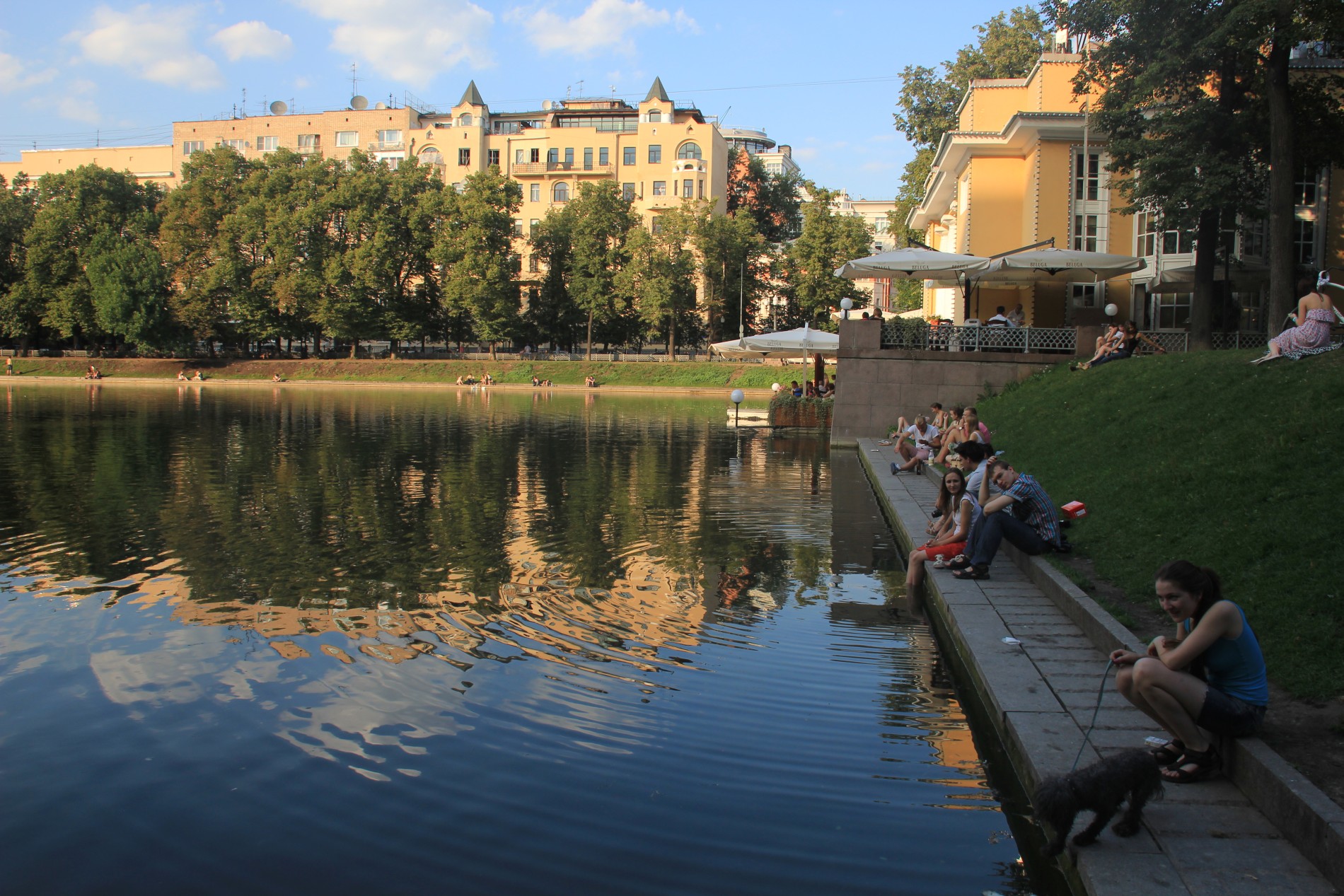 Russians relax on the shore of Moscow's famous Patriarshiye Pond.
Nevertheless, many people living in the developed world (especially Americans) choose leisure travel to resorts and with tours, because they are addicted to comfort and luxury. For example, a tourist might decide to stay with friends at insular, all-exclusive resorts in Cancún, Mexico to escape the reality of their life at home and the reality of the place they've traveled to. Others might sign-up for guide-led bus tours of Cairo, Egypt where they're limited to interactions with other middle-class Americans and a paid guide. Unfortunately, the external pressure to consume luxurious products and stay comfortable stands in the way of finding an authentic travel experience.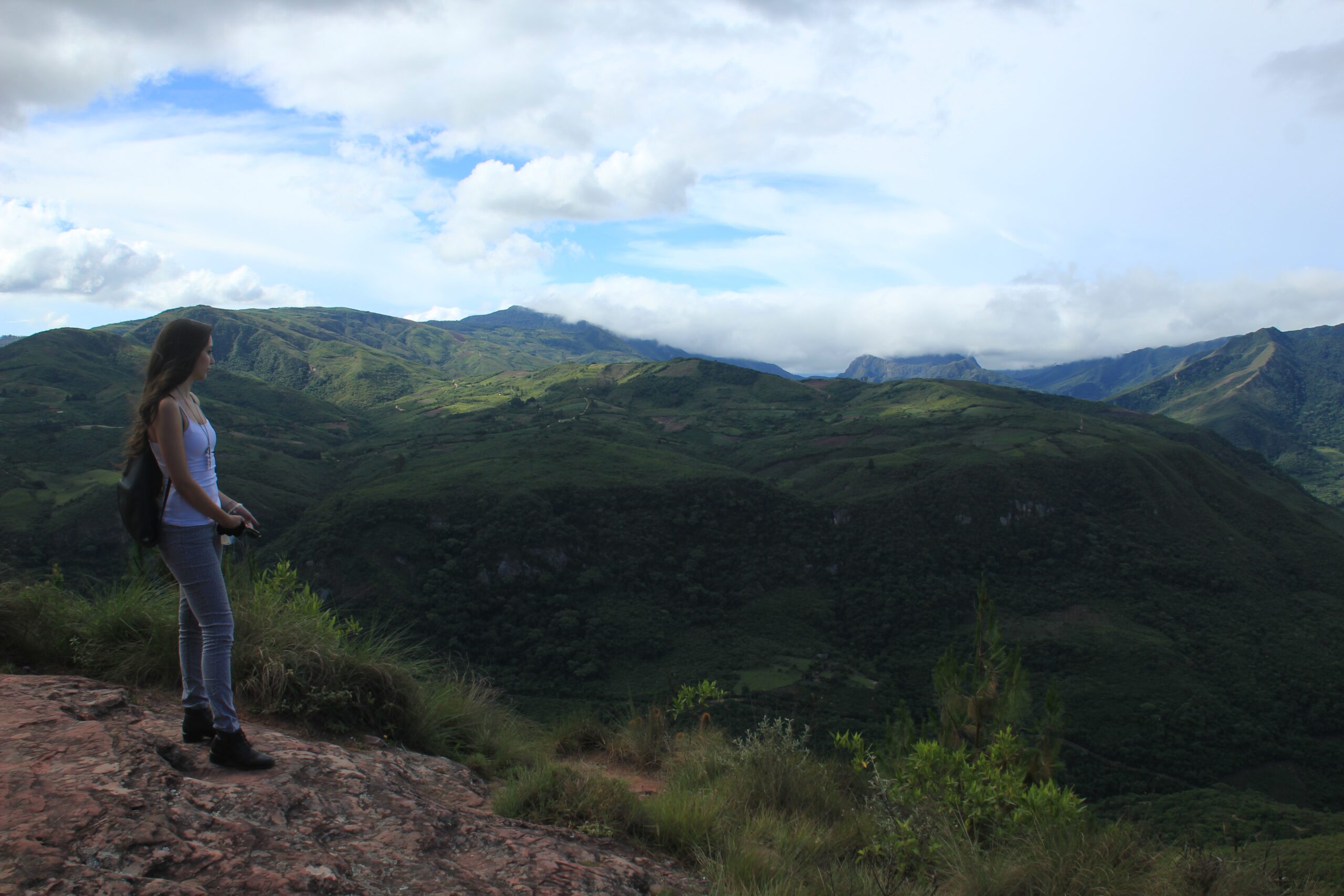 A Bolivian woman looks out at the Andes Mountains surrounding the El Fuerte de Samaipata pre-Incan ruins in Bolivia.
By its nature, sitting locked in an expensive Mexican resort on a trip with friends cultivates a false sense of independence. It doesn't take a person outside of his or her comfort zone, and it nearly destroys any chance of meeting anyone new. On a Cairo bus tour led by a guide, it's nearly impossible to build a meaningful relationship with the paid person dragging you around the city, because money corrupts the purity of the relationship, removing a sense of gratitude. To have an authentic travel experience, it's essential to move outside of your comfort zone, interact with new people, and avoid having money be at the center of social interactions.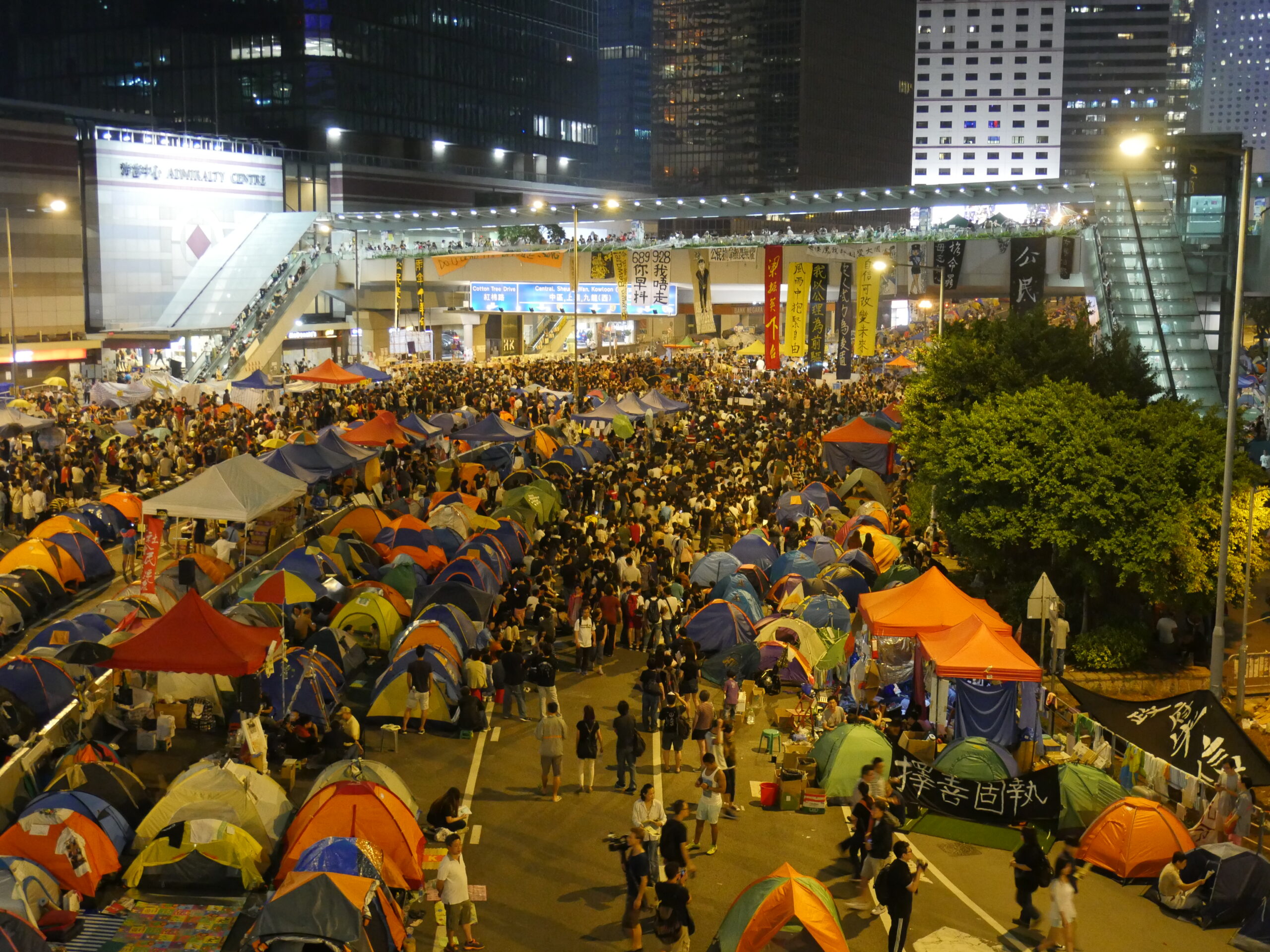 Thousands of protestors gather near the government offices complex in Hong Kong.
That's why I think independent and slow travel is so important. When I put a bag on my back and head out without much of a plan or help, it can be scary, but that's how I know that I'm heading toward an authentic experience. Wandering around the world without a logistical or social safety net pushes me outside my comfort zone. I'm forced to break though the fear barrier, seeking out activities I've never tried and forming rewarding relationships with new people, because I don't have a structured tour or old friends with me to use as crutches. When I seek out travel experiences and new relationships in this organic way, I enjoy them more fully, because I'm choosing them for myself only, as opposed to being swayed by what friends, family, or society expects or "supposes" I should do. In turn, I find that the way that I behave during these experiences is more authentic, because I've come upon them naturally. From my experience, I believe that being fearless is the key to enjoying life and being true to yourself.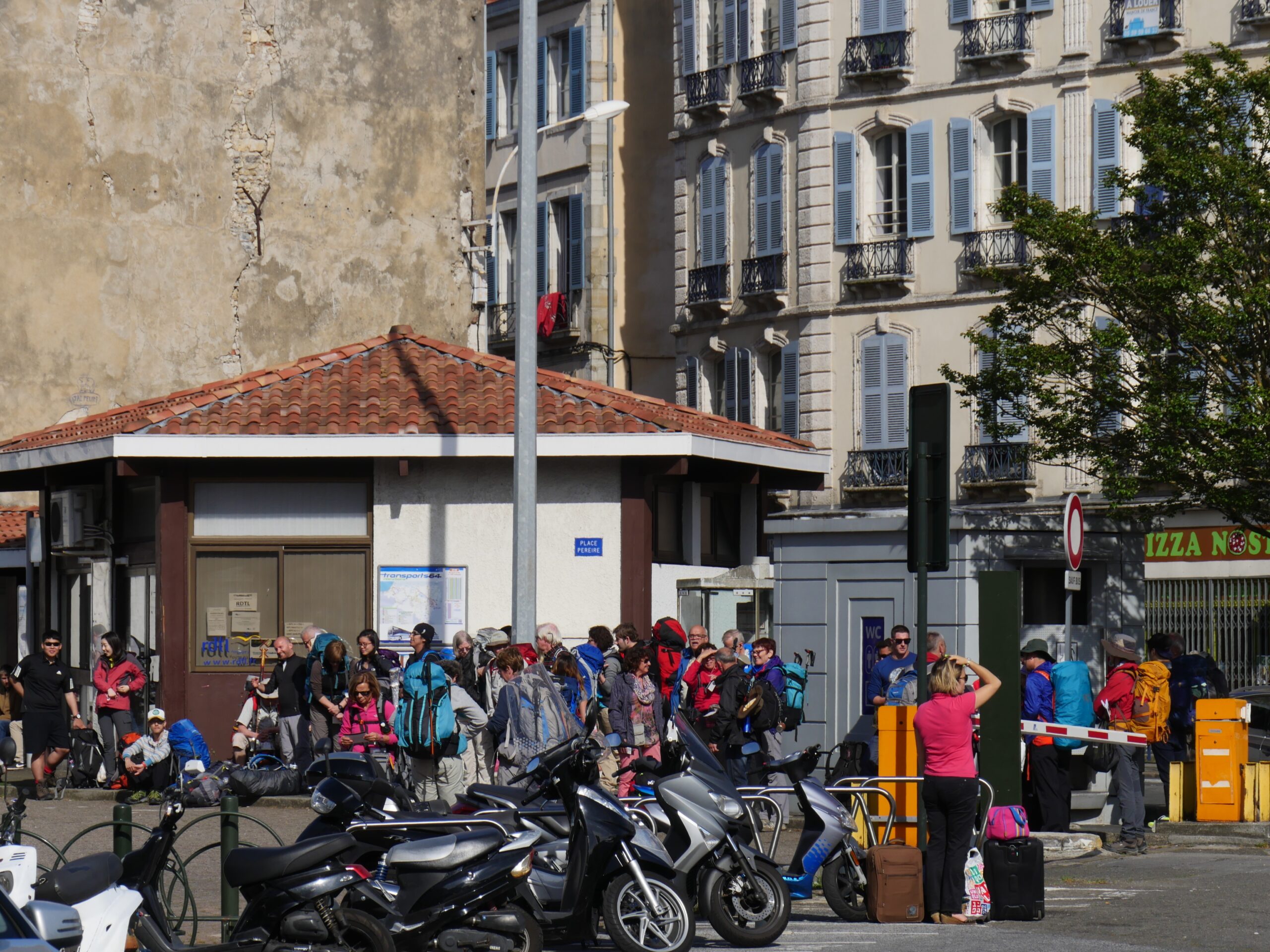 Pilgrims gather for a bus departure to Saint-Jean-Pied-de-Port, France to begin hiking the famous Camino de Santiago.
So, authentic travel experiences can change you by helping you become more true to yourself. But a question remains: what can you learn from these experiences? For my speech, I told the students three stories about travel experiences that changed the way that I think about the world.
First, when I decided to throw a party while visiting Moscow even though some of my Russian friends only spoke Russian, we decided to play charades, and I discovered that it's surprisingly easy to connect with people despite language and cultural barriers. Though cultures vary vastly (more so than Americans usually like to admit), people around the world are mostly the same and usually have good intentions.
Second, when possibly the most beautiful girl in all of Bolivia took me on a whirlwind tour of the pre-Incan ruins of Samaipata and told me that she believed that the pre-Incan ruins contained a powerful energy because they were built by aliens, I was hesitant. But, I spent the whole day with her, and when she taught me to salsa dance and took me as a date to her friend's birthday party, I found that, when someone's mindset is considerably different from my own, it's surprisingly enriching to spend time with them.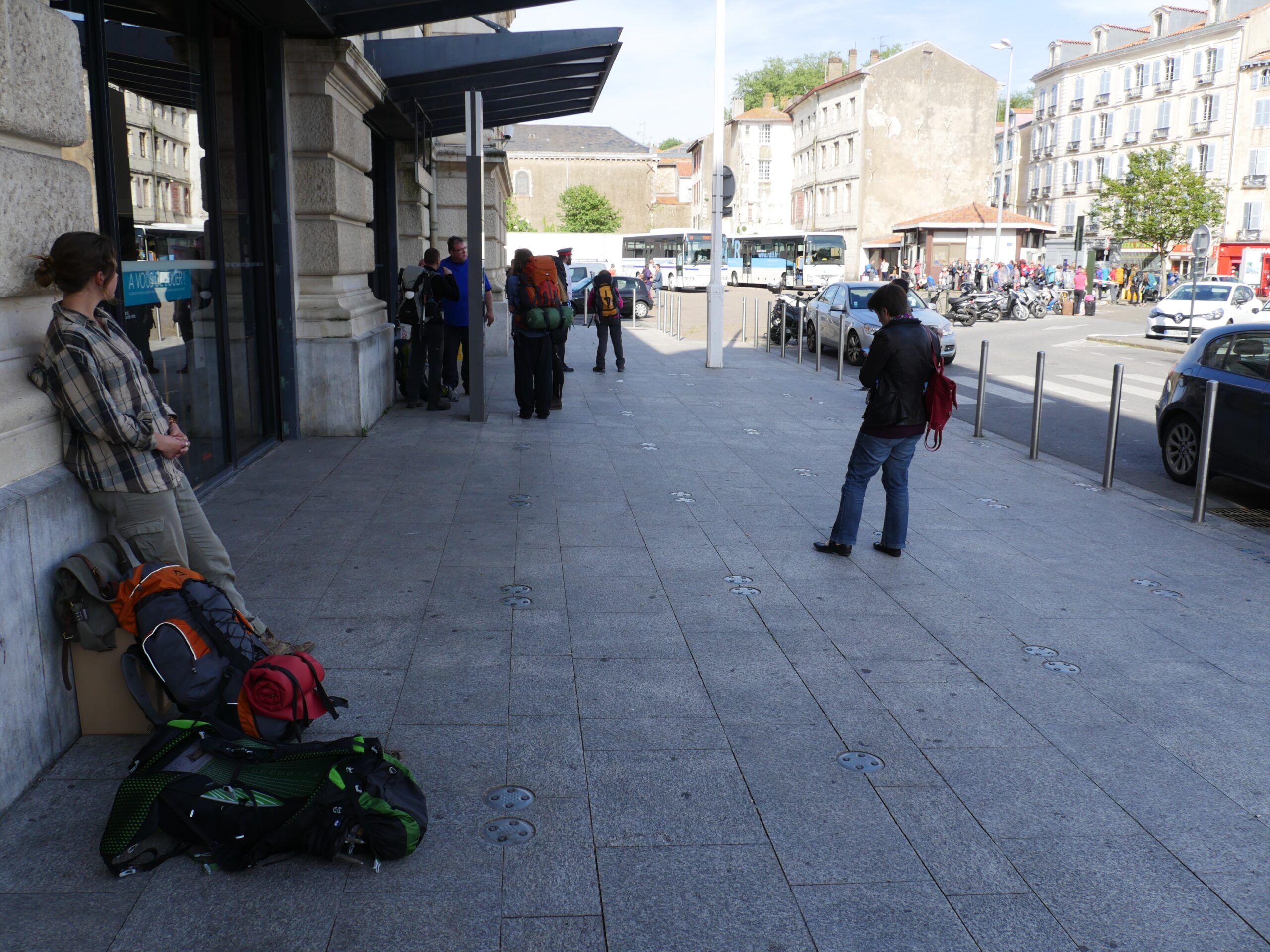 A young woman at the train station in Bayonne, France prepares to hike the Camino de Santiago while waiting for a bus to Saint-Jean-Pied-de-Port.
Third, when I spent four full days and nights with the democracy protesters on the streets of Hong Kong and filmed a short documentary about the experience, I was surprised by how deeply it's possible to understand the hopes and desires of people anywhere in only a few short days. In Hong Kong, I realized the importance of being able to empathize with other people in a real and profound way.
Now, with my train pulling into the train station in Bayonne, France, I begin to mentally prepare myself to hike the Camino de Santiago. Many believe that the Camino is the pinnacle of life-changing travel experiences, and most expect not only that they'll walk a physical path, but also that they'll be personally transformed and inspired. Without much of a plan, I hoist my backpack onto my back, step fearlessly down onto the platform, and walk out of the train station. I sit down to eat a snack on the sidewalk next to a young woman with a conspicuously large backpack, and I find myself wondering not whether the Camino will change me, but how.
"I can't believe how many people are here to hike the Camino," the girl says to me. "I'm Caroline, by the way."
"Nice to meet you. I'm Hank," I say. "Yeah, I guess a lot of people want to find their true selves."