MAY 12, 2009 — Seven years ago, in 2002, my then-girlfriend and I decided it was time for us to live together in my Seattle apartment, and we took a Pacific Coast Highway road trip to move her lipstick red Saab from San Diego to Seattle.
Four years later, in 2006, I decided to leave my career in Seattle, and I asked my brother Brian, his girlfriend Beatrice, and my best friend Brad to join me on a road trip in my silver BMW to Los Angeles on Pacific Coast Highway.
Three years later, in 2009 (last week), my friend Erin decided to leave her job in Seattle, and I agreed to help her drive her purple Toyota on PCH to her new life in Southern California.
Pacific Coast Highway — actually a combination of US Route 101, California's Highway 1, and Mexico Route 1 — takes travelers on a dramatic journey from the top of Washington's Olympic Peninsula to the southern tip of Mexico's Baja California, traveling through diverse terrain, from temperate rain forest to arid desert.
But PCH is unique not because it simply facilitates North American latitudinal travel — lots of speedy highways through boring countryside make that possible. PCH is special because the people driving it aren't there just to change locations; the road is too slow for that. PCH is the kind of highway people take when they need an unhurried transition to a new life.
In 2002, even as my girlfriend and I insisted that we were completely ready to leave San Diego, her always concerned parents insisted upon loading our car with additional healthy snacks and guidebooks. We humored them by excitedly chomping on carrot sticks as we prepared for a separation both symbolic and literal. After some emotional goodbyes, we set out toward the motion sickness-inducing stretch of PCH through Big Sur, California's most beautiful section of coastline. Slowly but surely, we navigated the twists and turns of our first long road trip together, stopping at viewpoints to flirt while overlooking the ocean.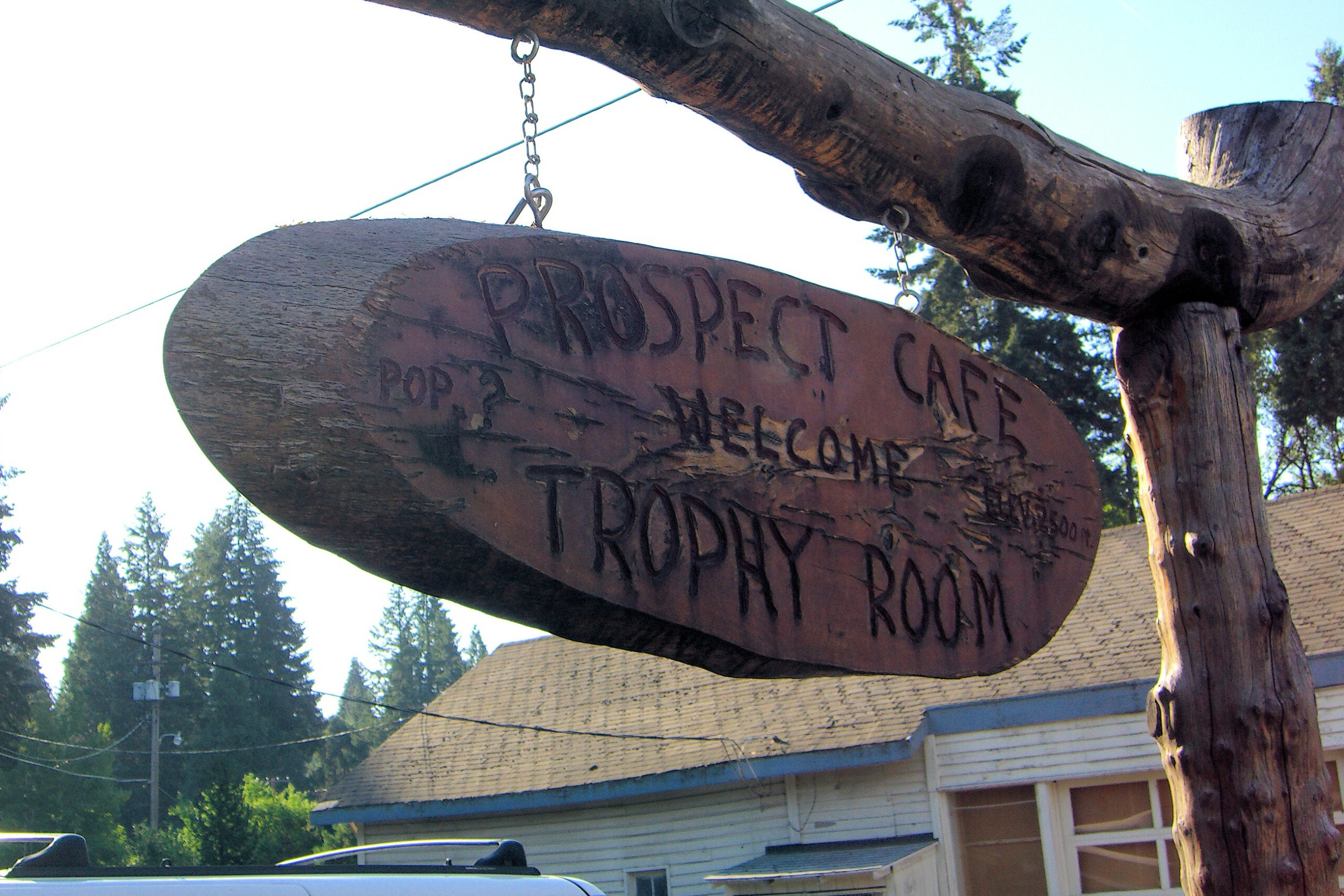 The Prospect Cafe and Trophy Room
Meanwhile, in 2006, Brian, Brad, Beatrice, and I gathered on my Seattle condo's deck for one last look at the Space Needle and a quick breakfast of chai and blueberry coffee cake. Terrified to leave an almost-perfect life that I loved just to try something new, I was thankful that my friends were there to take the trip with me. When I walked out of my home and locked the door behind me for the last time, I had an urge to simply make a quick run to the grocery store and then return home. Fortunately, my friends ushered me into the car, and with the strong feeling of having left something important behind, I drove with them out of the city.
After a quick stop at famous Powell's Books in Portland, the four of us took a detour inland away from PCH to visit Crater Lake, Oregon, one of the purest and bluest mountain lakes in the world. We hiked on a ridge high above the crater, and though Beatrice repeatedly insisted she had seen bluer lakes in South America, Brian, Brad and I were floored by the overwhelming azure hue of the US's deepest lake. Too high above the water to throw buzz-killing Beatrice into the crater, we stared into the sapphire abyss, hypnotized. Though the soothing vista helped calm anxieties about my future, I couldn't help but think of the collapsed Mount Mazama volcano that lay just beneath the blue water, still sporadically discharging molten lava.
Eventually, we hiked back down, and after staying overnight at a tiny motel in Prospect, Oregon, we ate blueberry pancakes under stuffed bears and deer nailed to the walls of the rustic Prospect Cafe and Trophy Room (imagine the synergy!). We inspected the Oregon Keno game cards on our table, and we weren't sure if our inability to understand them was due to our being too stupid or too smart. Seattle already felt far away.
Meanwhile, in 2009, I flew from my home in Los Angeles to Seattle to meet Erin and begin our road trip. After a bittersweet visit with my old friends and coworkers, I watched Erin say teary goodbyes to her best Seattle friends, as I had done with my friends only three years before.
When she finished, I wanted to take a look at the condo I still owned that I had left so reluctantly in 2006. I felt strangely surprised when my key unlocked the front door, and inside, I found everything eerily unchanged since the day I left. My photography lined the walls, my furniture filled the apartment, and the condo's view of the city was as impressive as it was the day my friends and I had our final, lingering breakfast on the deck. The condo let me time travel to my old life. When Erin and I finally walked back out and I locked the front door, I again felt reluctant to leave. I half-hoped we were only taking a quick trip to the grocery store.
This time, though, I had to play the role of the encouraging friend designated to keep the trip on track. As we drove south toward Los Angeles, Erin looked back and said goodbye to her life in Seattle. Then, I too said goodbye, for the second time.
Buggying and boogying to a new life
Traveling over sand dunes and on a remote logging road on Pacific Coast Highway.
MAY 14, 2009 — After Erin and I left Seattle for our Pacific Coast Highway road trip last week, we sped quickly to the Oregon coast, enjoying ocean views and the enormous 500-foot sand dunes that make up the largest expanse of coastal sand dunes in North America. For some reason, road trips always inspire me to crave tasty pie, so we stopped for tart blueberry-rhubarb pie and ice cream at The Historic Wells Creek Inn in Scottsburg. For lunch, we learned the importance of eating Hawaiian BBQ only in its native land after a taste of the almost inedible food at Springfield's Kona Café Hawaiiian BBQ. After filling our stomachs, we drove on to Spinreel, a dune buggy rental company that we had seen advertised at the Oregon Dunes National Recreation Area Information Center. After an excruciatingly long safety video and orientation briefing — reminding us (wink, wink) never to exceed 15 miles per hour and (wink, wink) never to drive on narrow forest trails or wet sand — we put on our helmets and found ourselves piloting a Yamaha Rhino 700 up and down a network of towering dunes.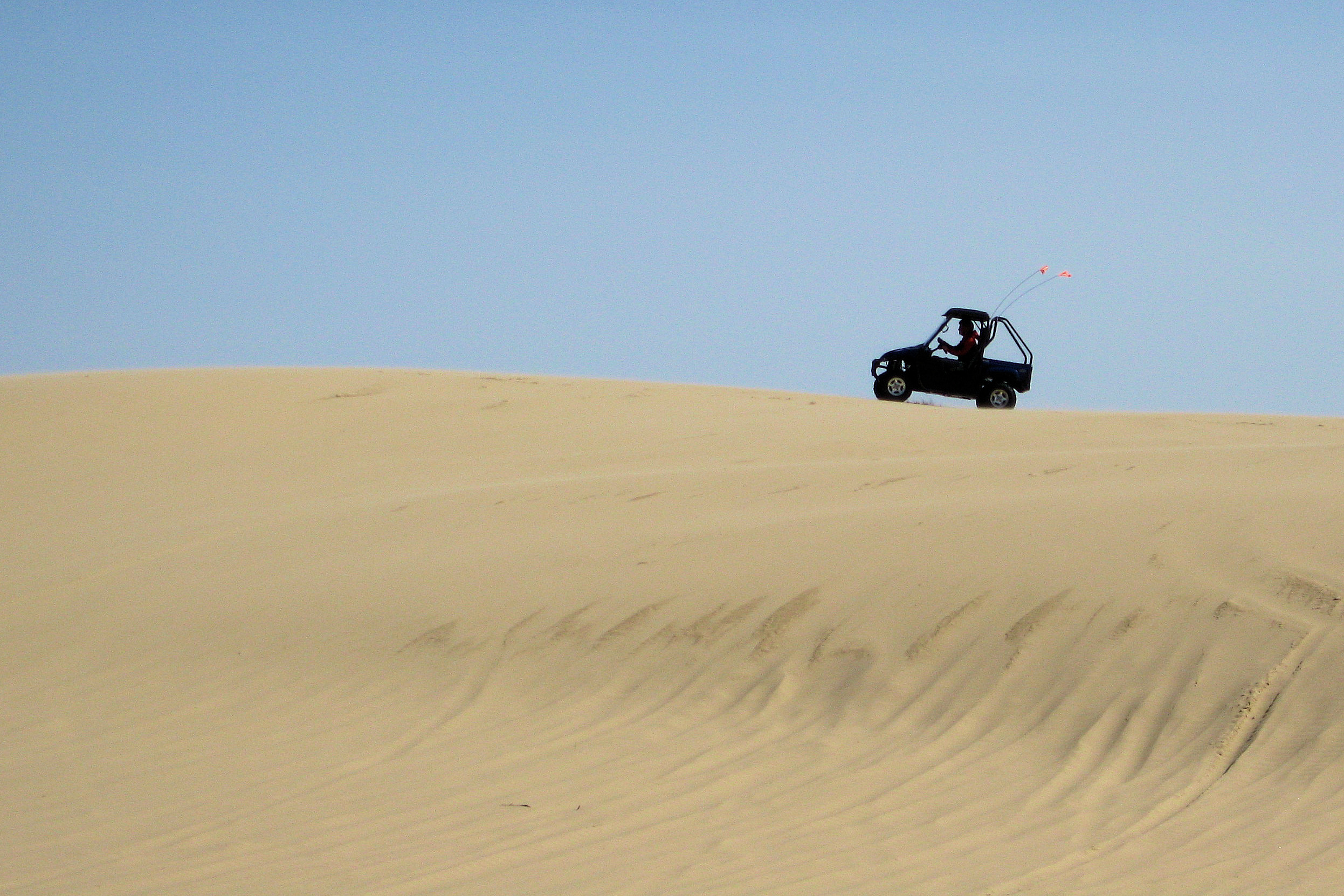 A traveler pilots a Yamaha Rhino across a sand dune in southern Oregon.
At first, our safety briefing seemed totally superfluous as our own survival instincts kept us driving slowly on mostly level sand. The tiny vehicle felt like it might tip over at any moment on steep dunes or tight curves. But we quickly learned to push the vehicle's limits and found ourselves driving 40 miles per hour on the beach down the Oregon coastline and powering our way up dunes with 80-degree slopes. We felt pretty adventurous until we saw some rugged guys in a dune buggy gang — they may have time traveled to 2009 from a 1950s beach flick using my magical Seattle condo — popping wheelies as they whizzed by us in a cloud of sand. We half-expected them to challenge us to a dance-off or a surfing competition with Beach Boys songs blaring from their radios, but they left us far behind.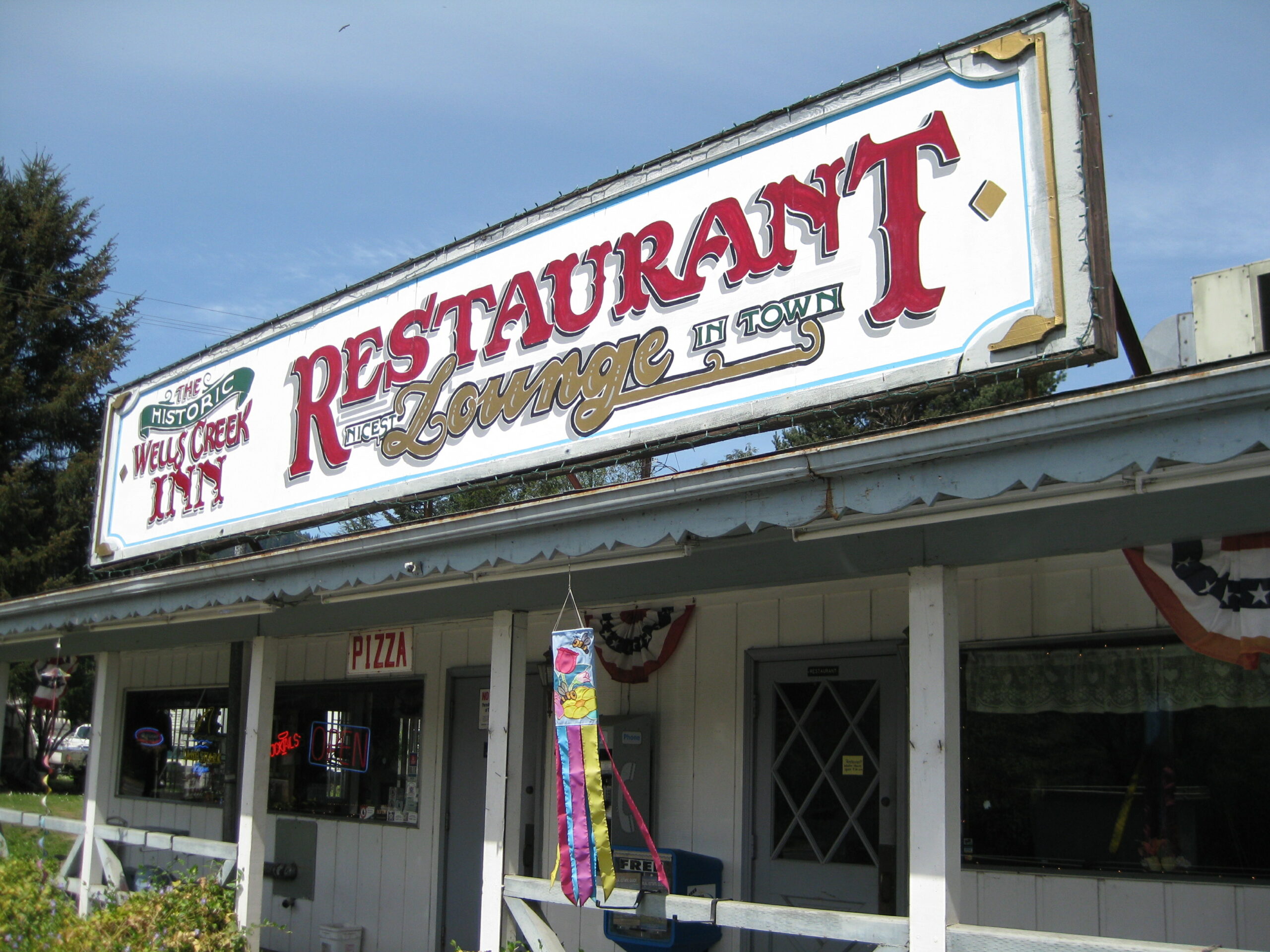 The Historic Wells Creek Inn in Scottsburg, Oregon
After driving off the sand dunes without popping a single wheelie, Erin and I arrived in Gold Beach, Oregon, covered in sand and dirt. Lured by the promise of a room for two and "ocean spas" for only $48 per night at the Gold Beach Inn, we checked in and splashed into their outdoor hot tubs, with an intoxicating, salty ocean breeze blowing through our hair.
In 2006, Brian, Brad, Beatrice, and I wanted to return to the coast quickly after our visit to Crater Lake. After breakfast we decided to take a "shortcut" on an obscure logging road called Bear Camp Road through the Klamath Mountains on the way to Gold Beach. The one-lane road, made up of extreme switchbacks through the mountain range, turned out to be quite an adventure. Enormous logging trucks and trailers with boats and rafts barreled by us as we navigated our way toward the Pacific Ocean. Unbeknownst to us, about two months after our trip, technology journalist James Kim and his family would become stranded in their station wagon after snowstorms rendered Bear Camp Road impassible. Though rescuers would eventually save Kim's family, Kim himself would die tragically of hypothermia while hiking over 16 miles in the snow trying to find help.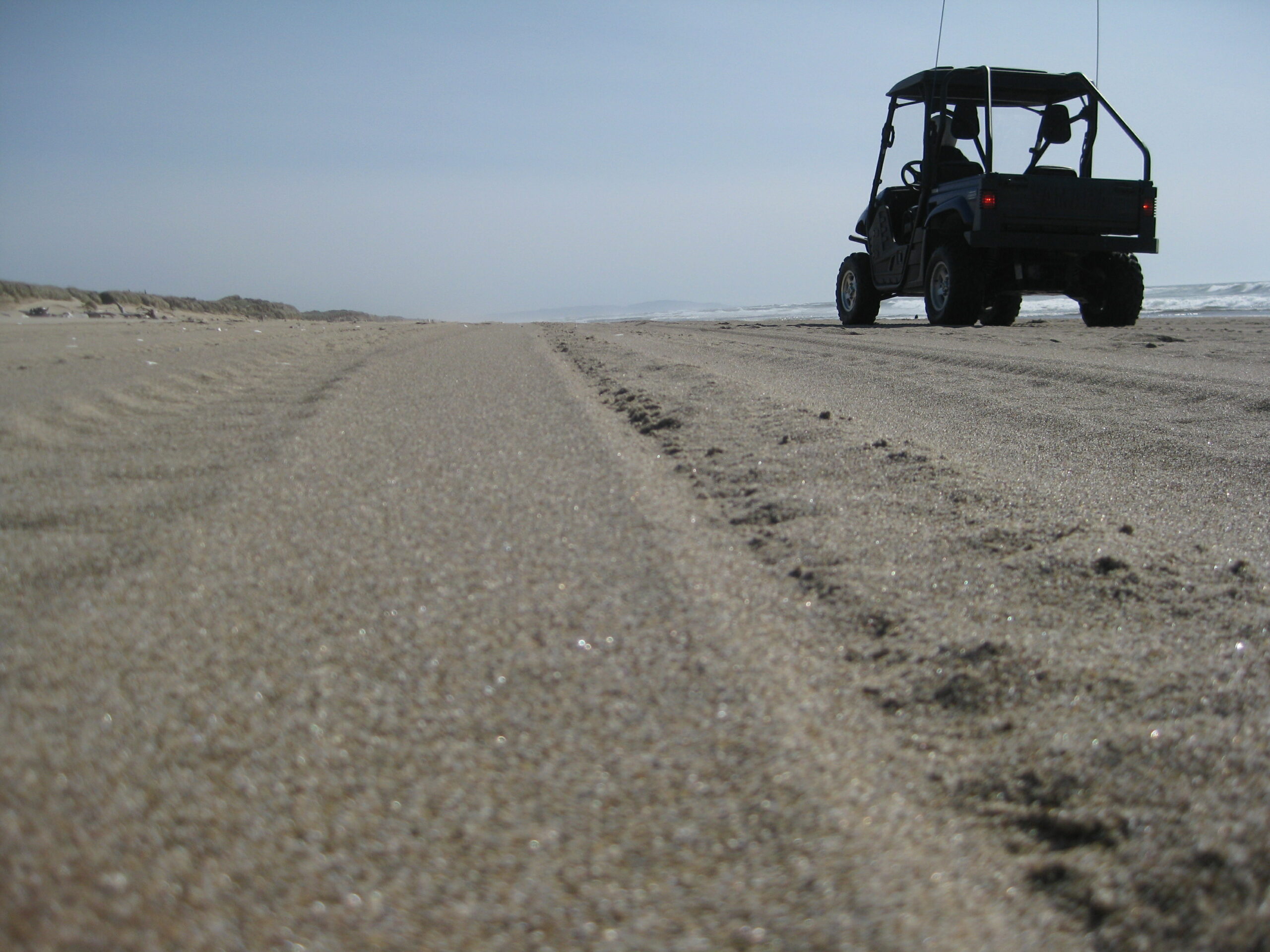 A Yamaha Rhino sits on a beach in southern Oregon.
Fortunately for us, the sunny summer day made snow nonexistent as we drove through the mountains. About halfway to the coast, feeling restless after having been in the car for so many hours and nauseated due to the road's tight curves and elevation changes, we took a break from driving at the top of a steep hill. The four of us jumped out of the car and inhaled the strong pine scent of the Rogue River-Sikiyou National Forest.
Happy to be outside our vehicular bubbles, we turned up the car's stereo. Enveloped by old-growth Oregon wilderness, we wiggled our butts and showed off our hot moves to each other, dancing the Running Man, the Macarena, and the Moon Walk in a unique, four-person, backwoods dance party.
After our disco ball stopped turning and our bartenders announced last call, we jumped back into the car, and after almost four hours on the treacherous road, we made it back to PCH and the beautiful overcast skies of Gold Beach.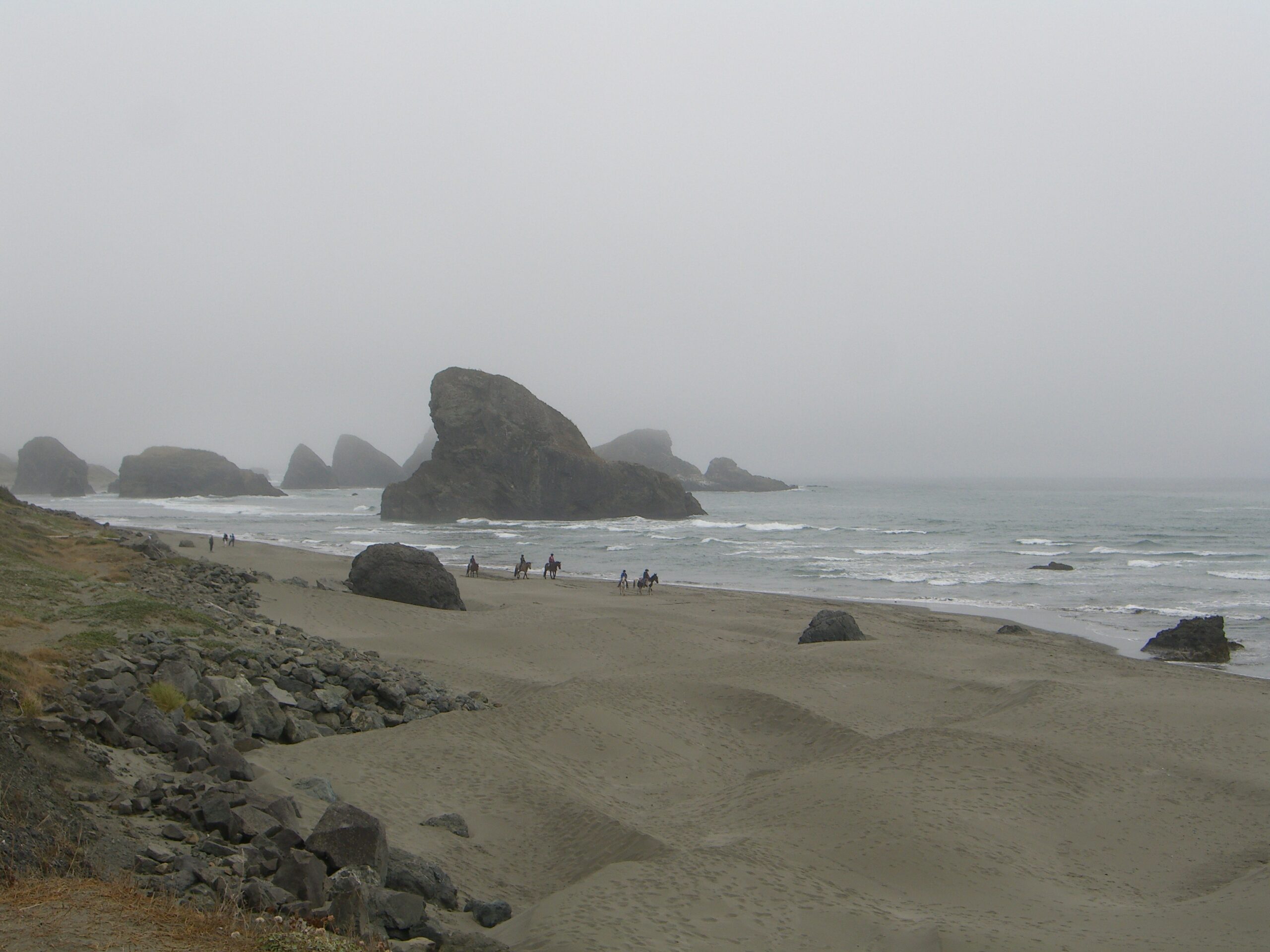 Horseback riders near Gold Beach, Oregon
In 2002, on a mostly undeveloped section of Oregon coastline, the orange almost-out-of-gas light illuminated on the car's dashboard as my girlfriend and I drove from Brookings to Gold Beach. We had spent the day driving through Northern California, after spending the night in the beautiful Presidio park in San Francisco and taking endearing self-portraits together with a Golden Gate Bridge backdrop. I informed her of our impending doom by lack of gasoline, but we both assumed we would find a gas station imminently. Ten miles later, we still hadn't seen a gas station, and the gas gauge's needle pointed below "E." Dusk fell as we drove another 15 miles on the lonely coastline without seeing signs of civilization. We began imagining a long hike in the dark, searching for a gas can. As tensions rose, my girlfriend wondered aloud why I couldn't manage to keep my eye on the gauge.
But just as we were sure the car didn't have enough gas to move another inch, we rolled into a Gold Beach gas station. After filling the car, we walked together down a misty beach with golden streaks of the setting sun illuminating the cloudy horizon.
Despite steep sand dunes, remote logging roads, and gasolineless coastline, we were halfway to our new lives.
4,200 miles on Pacific Coast Highway
Three PCH road trips lead to Redwoods, San Francisco, Hearst Castle, and new lives.
MAY 21, 2009 — On a rainy day in 2002, my then-girlfriend and I left Gold Beach and continued our Pacific Coast Highway road trip by driving up the Oregon coast slowly, stopping to enjoy the ocean views and experience local flavor in each tiny coastal town. When we drove through Oregon's long stretch of sand dunes, we stopped to photograph ourselves in front of the dunes. From dark Pacific Northwest clouds, rain poured down, soaking our hair, but it only invigorated us as we moved closer to Seattle, excited to live together for the first time.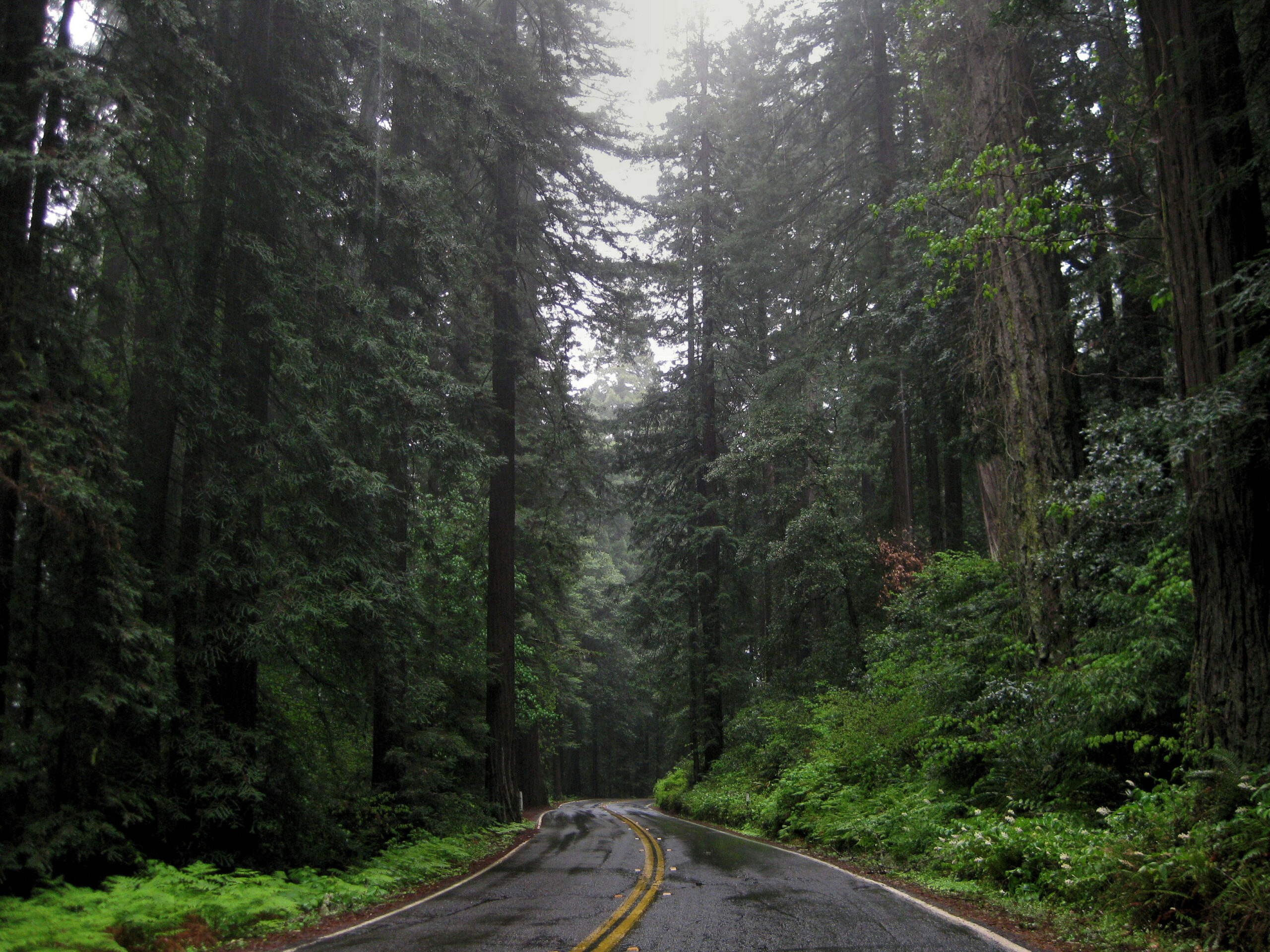 Pacific Coast Highway snakes through a Redwood forest in northern California.
Meanwhile, on an equally gray morning in 2006, after having sped through Redwood National Park at dusk the evening before, my brother Brian, his girlfriend Beatrice, my friend Brad, and I continued toward my new life in Los Angeles. Under a gloomy sky, we drove over a Golden Gate Bridge enveloped in mist and took obligatory portraits in front of the art deco masterpiece. Aiming to complete a whirlwind one-day tour of San Francisco, we played the part of frenzied tourists well. We navigated our car down Lombard Street (the most crooked street in the world), we ate crab at famous Castangola's (one of the oldest restaurants on Fisherman's Wharf), we took a trolley ride through the city, we ate delicious Dim Sum at Cold Mountain in Chinatown, and we strolled through Union Square.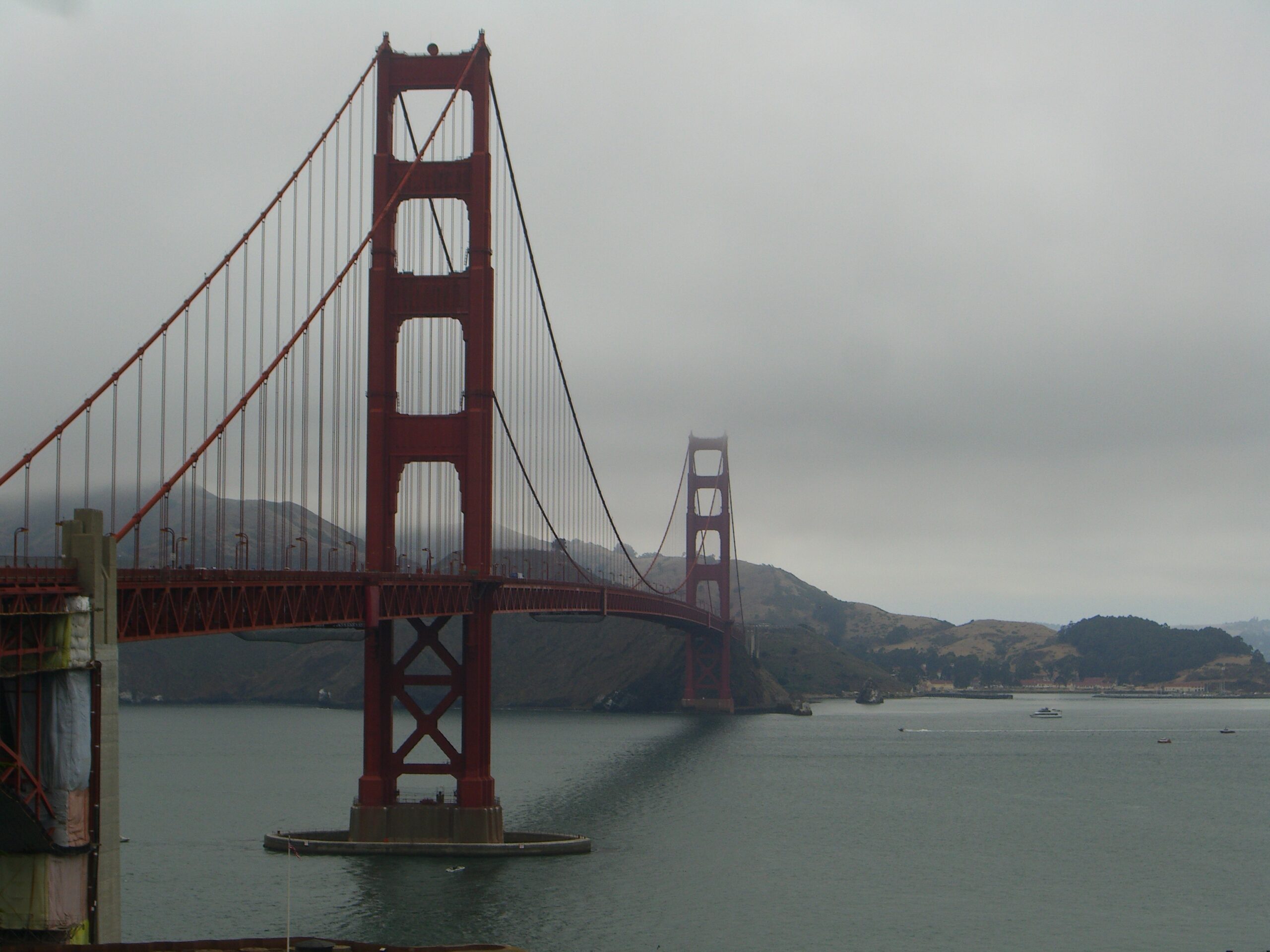 San Francisco's art deco Golden Gate Bridge appears through fog under overcast skies in 2006.
Frazzled from the big-city pace, we took a relaxed detour through the dramatic 17 Mile Drive at Pebble Beach. We watched sea lions, gazed at Cypress trees, and marveled at the peculiar description on an informational sign of rugged Joe Point, a rock formation off the coast: "Joe was a Chinese man who lived alone in a driftwood home near this point in the early 1900s… No one knows for sure if the Point was named after Joe or if he was named after the Point."
Mulling over Joe's mystery, we continued on to the winding highway through desolate Big Sur, the same stretch of road that started the journey to Seattle with my girlfriend four years before, this time at night, under a full moon. I couldn't help but think of the optimism my girlfriend and I had shared as the four of us drove in the opposite direction. On the tops of Big Sur mountain crags, we stopped frequently to stare into the dark, watery void below us, with only a stripe of reflected moonlight visible in the Pacific Ocean.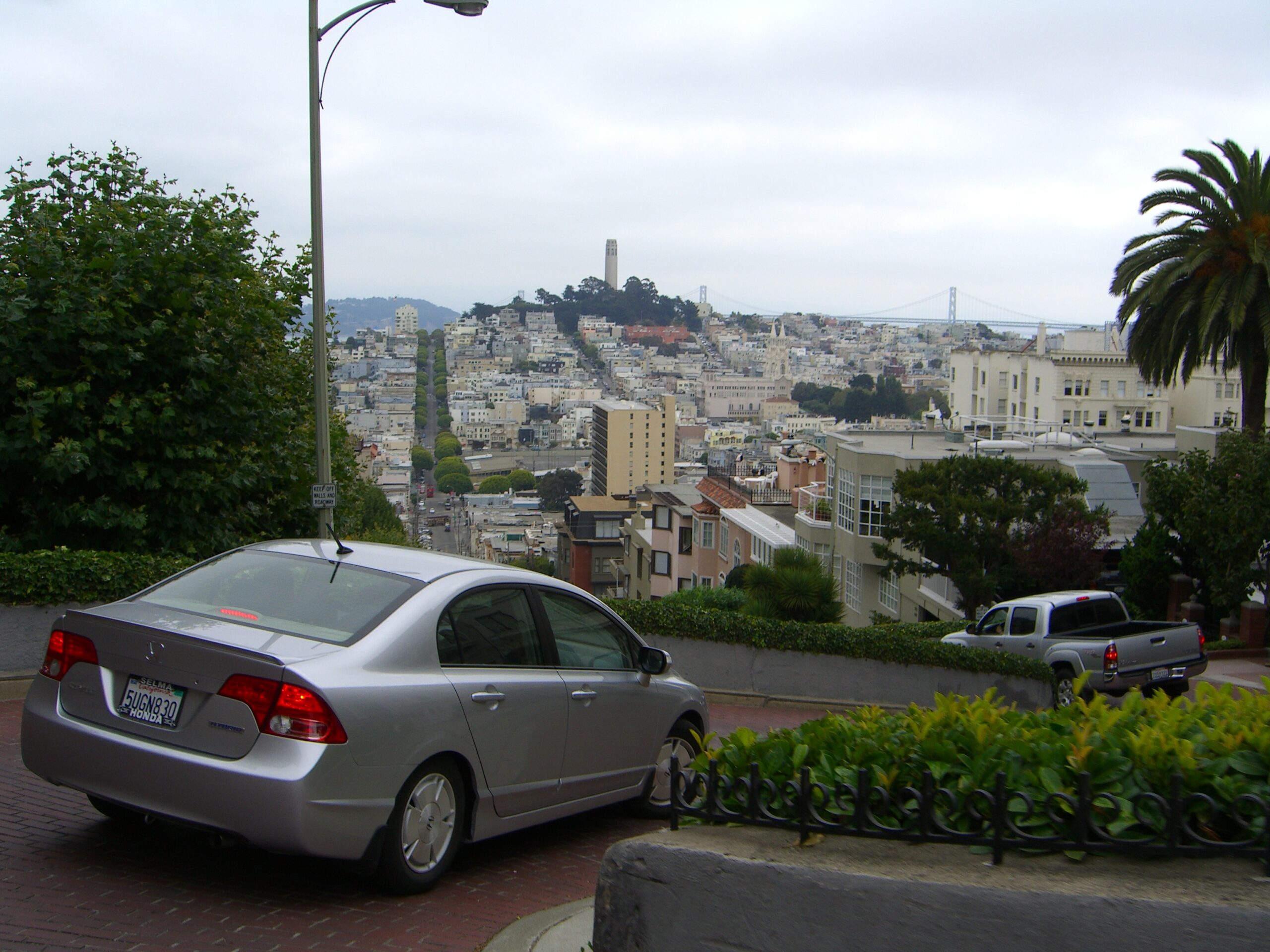 San Francisco's Lombard Street is the most crooked in the world.
Meanwhile, on my recent 2009 PCH road trip to help my friend Erin move her life to Los Angeles, she and I enjoyed a surprisingly first-rate breakfast of blueberry pancakes and an omelet at patriotic Mattie's Pancake House in Brookings, Oregon. We then proceeded leisurely to the Avenue of the Giants, a 31-mile scenic road through Humboldt Redwoods State Park, which brings cars within inches of enormous Redwood trees along the highway. When my brother, friends, and I drove near here in 2006, we arrived at the Redwoods too late at night to experience the wacky tradition of driving a car through a hollowed-out tree. This time, however, Erin and I were right on schedule, albeit in the pouring rain. Excitedly, we paid a four dollar fee and inched our car forward, penetrating the narrow opening at the tree's base. Heavy rain soaked us while we took photos of our dubious accomplishment, and we quickly pulled our car out of the hole. Admittedly, it was a mildly sexual experience — but probably not worth four dollars.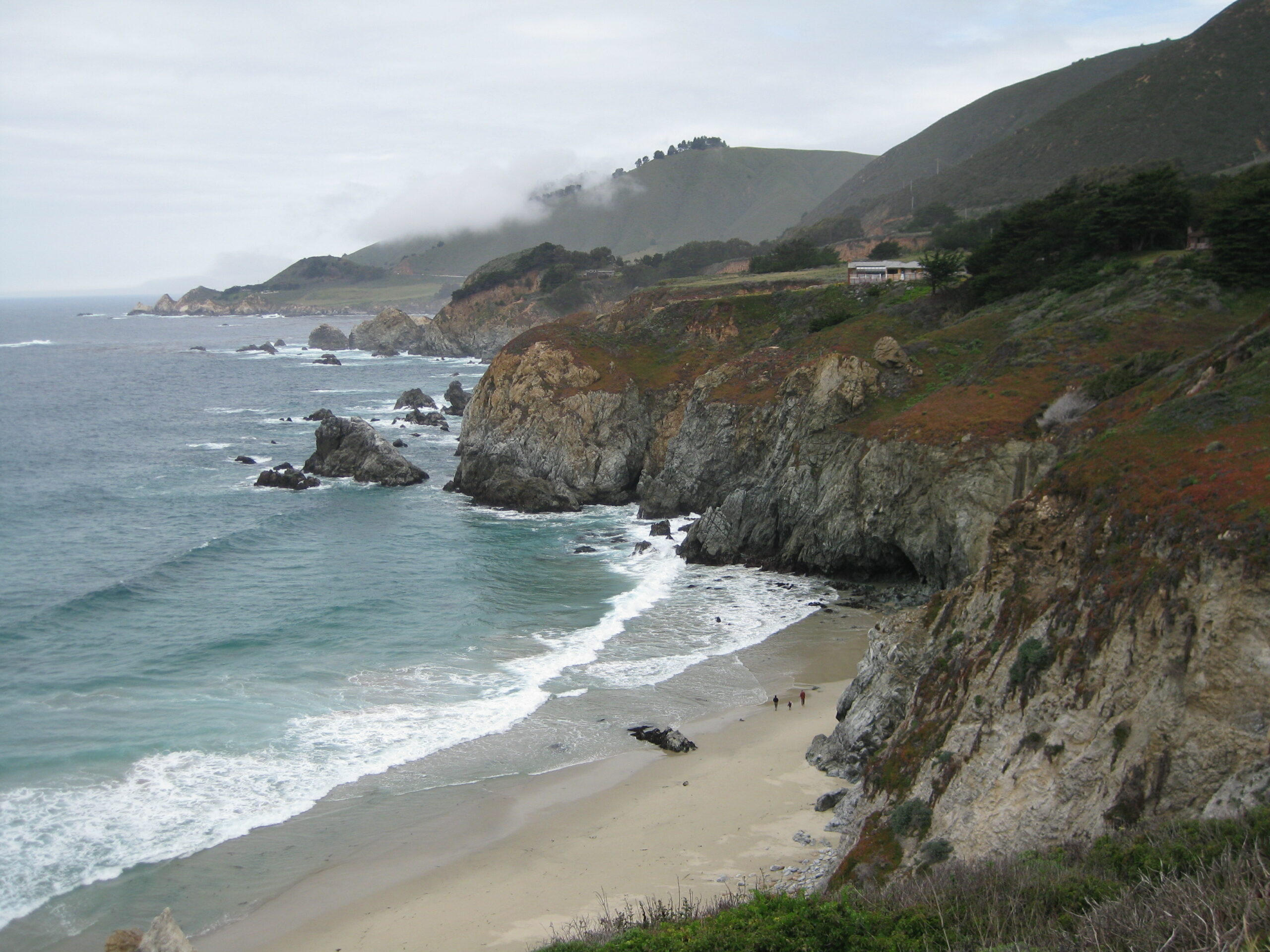 Big Sur is home to California's most beautiful coastline.
We spent the night in Palo Alto, where the Palo Alto Creamery served us the best blueberry pie of our trip, and we continued our California culinary tour the next morning with fried artichokes at the World Famous Giant Artichoke Family Restaurant in Castroville, California. Filled with artichokes, we began navigating the hairpin curves of Big Sur yet again, this time in the daylight. At viewpoints, I pretended to push Erin over the edge of the perilous cliffs one time more than she thought funny, but the embarrassing secret photos she took of me peeing off a steep cliff into the ocean made up for my antics. After a short hike to the Pfeiffer Falls waterfall just off the highway, we navigated the car over the ragged cliffs and followed the snaking road toward San Simeon.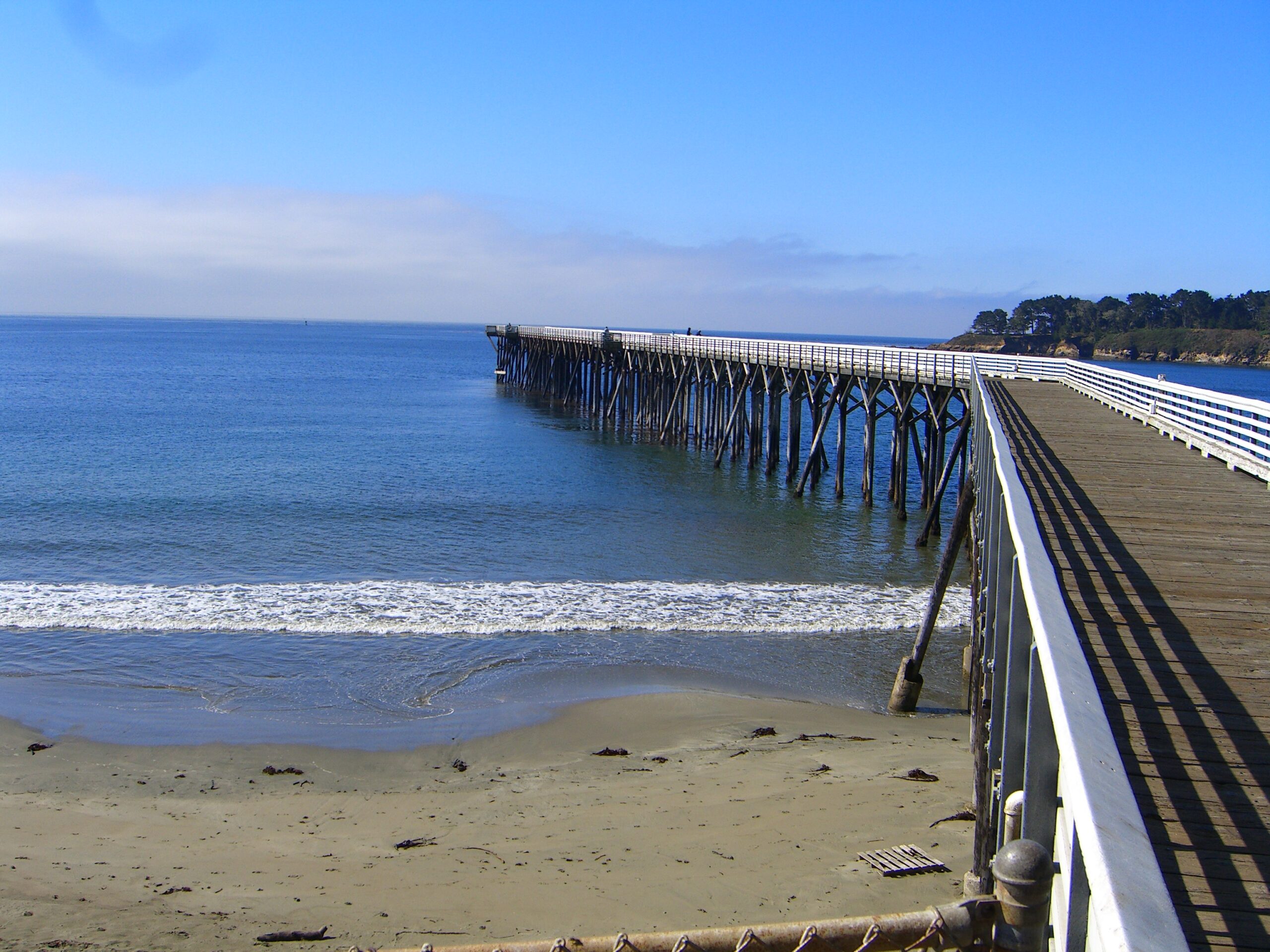 San Simeon Pier reaches into the Pacific Ocean from William R. Hearst Memorial State Beach in California.
Erin and I bought tickets for the Hearst Castle Experience Tour (recommended for first time visitors) in San Simeon, and we took a bus to the top of a mountain above William Randolph Hearst's ranch, upon which his mansion sits. Our incompetent tour guide was a woman remarkably adept at sharing with us, in an unidentified (fake?) accent, only the most tedious possible anecdotes about the estate's history. As she slipped in and out of her baffling character, it became clear to us that she couldn't decide whether we were imaginary guests visiting Hearst during his era or simply tourists in 2009 hoping for insipid factoids. But even she couldn't ruin the lush views of San Simeon, the spectacular swimming pools, and the remarkable lavish Castle architecture. Some well-timed iPhone Wikipedia research allowed us to give ourselves a tour within our tour. Our tour was more fascinating, consistent in tone, and lacking a Welsh-Bombay-French Canadian accent.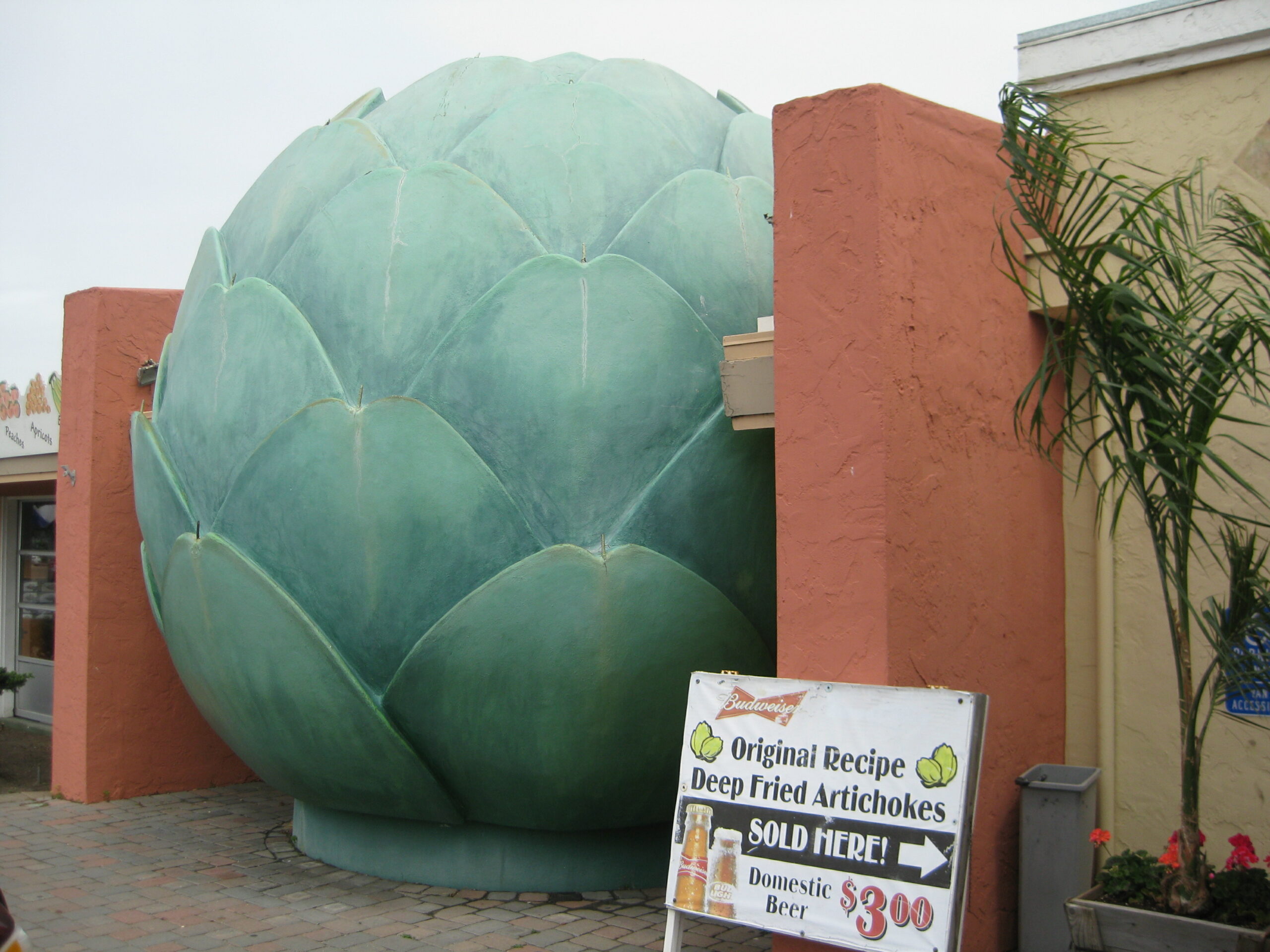 A sculpture of an artichoke sits outside the World Famous Giant Artichoke Family Restaurant in Castroville, California.
When Erin and I left Hearst Castle, we left PCH and drove on the 101 into Hollywood. As we passed through Hollywood tourist-ground zero in her purple Toyota — the intersection at Hollywood Blvd. and Highland Ave. — the reality of Erin's move from Seattle began to feel real. She felt nervous about switching careers, especially in a challenging economy, but she pushed forward anyway. Having accomplished the same thing just three years earlier with my 2006 PCH trip, I wanted to reassure her, but I knew the challenges that awaited her well, and I too felt uneasy.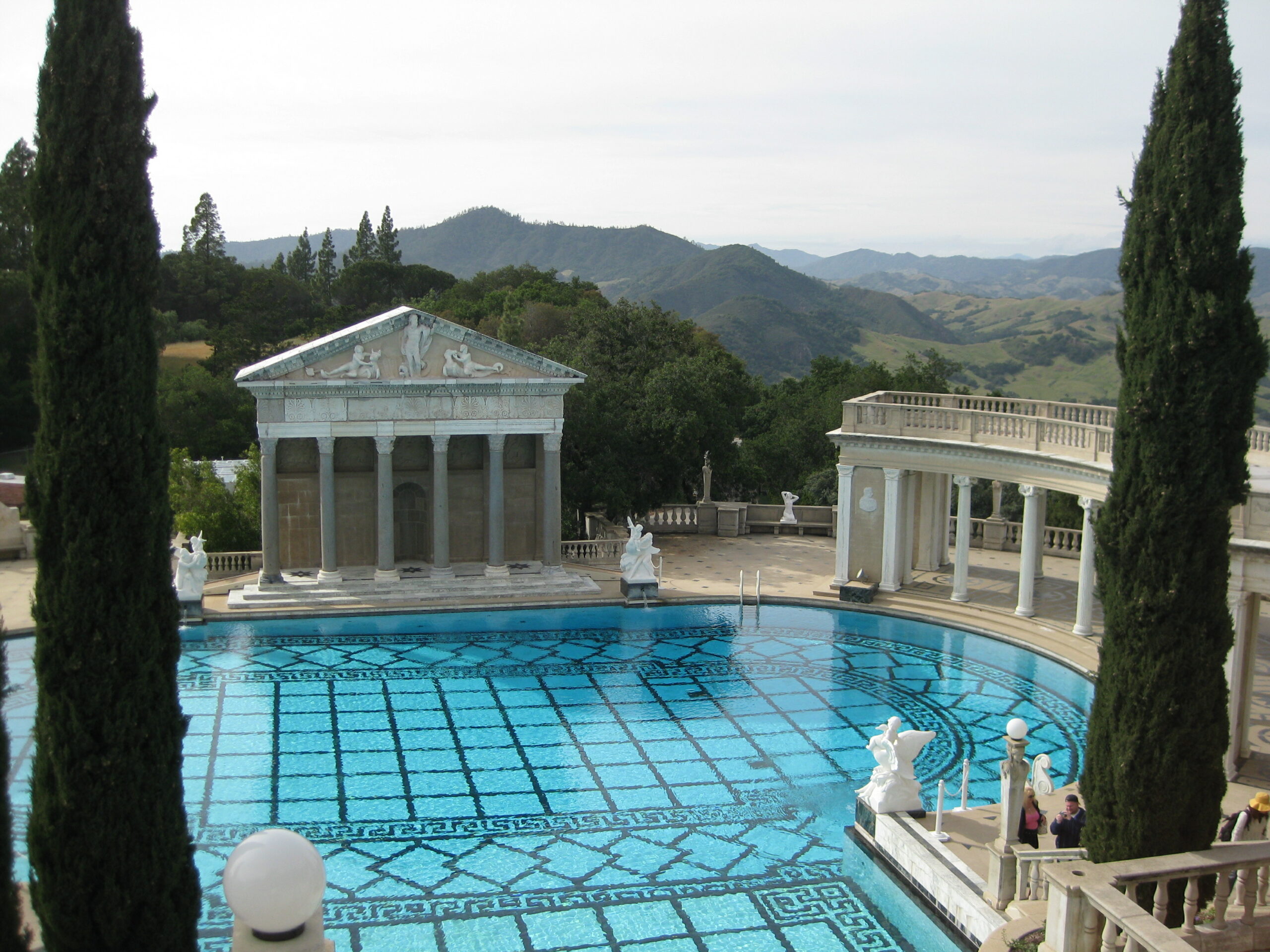 Hearst Castle's famous swimming pools enhance the opulent estate.
Meanwhile, Brian, Beatrice, Brad and I were nearing the end of our 2006 trip as we zipped from Big Sur to San Simeon to San Luis Obispo to see Bubble Gum Alley — it's an alley with thousands of pieces of bubble gum covering the walls. After the thrill of so much chewed gum, we took a leisurely drive down the Malibu coast in our silver BMW and finally reached Venice Beach.
A circle of quirky Venice locals played bongo drums and performed rhythmic dances as the sun set over the Pacific Ocean, smearing the sky with smoggy reds and oranges. My brother Brian and I stood together on the beach, wading in the ocean surf, gazing down the coast at the Santa Monica Ferris wheel and swanky seaside hotels. My old life in Seattle was 1,400 miles away. It would be three years before I visited the Pacific Northwest and my friends there again.
In 2002, my girlfriend and I continued driving north in her red Saab, until at last, Seattle's Space Needle appeared on the horizon. Exhausted, we pulled into the garage of the apartment that now belonged to both of us, and as we began moving her luggage inside, our life transition via Pacific Coast Highway felt complete.
Unbeknownst to us, a Pacific Coast Highway trip that would take me away from my life in Seattle was just four years away.
How to Take a Pacific Coast Highway Road Trip
One of the most picturesque cities in the United States, Seattle is best seen from a kayak on Lake Union or Lake Washington and from the top of the Space Needle. Nearby Mount Rainier National Park offers beautiful hiking below the massive peak of Rainier.
Washington's Olympic Peninsula and Olympic National Park have stunning beach hiking, temperate rain forests, and glacier-capped mountains. If you have time, do the three-day backpacking trip from Ozette to Rialto Beach.
While passing through Portland, Oregon, visit famous Powell's Books, the largest independent bookstore in the world. You can also visit the beautiful and fragrant Portland Rose Garden and the Pittock Mansion, situated 1,000 feet above the city's skyline.
Crater Lake, though not on Pacific Coast Highway, is the deepest lake in the US and one of the bluest lakes in the world. Stay overnight in Prospect, Oregon and grab breakfast at the Prospect Cafe and Trophy Room.
In the Oregon Dunes National Recreation Area in southern Oregon, you can stop and gaze at the dunes, go hiking, or even rent a dune buggy from Spinreel.
Quaint beach towns Reedsport, Coos Bay, Bandon, Gold Beach, and Brookings dot the southern Oregon coast. Be sure to stop in a couple to enjoy beaches and local cuisine, such as the excellent seafood at Wild Rose Bistro in Bandon and the tasty pancakes at Mattie's Pancake House in Brookings.
In northern California, Redwood National Park and Humboldt Redwoods State Park provide lots of opportunity for hiking trips and seeing gorgeous, old-growth Redwood trees. If you only plan on driving through, it's worth a detour on the remarkable Avenue of the Giants to see the trees from the comfort of your car. It's here that you can drive through the base of a Redwood tree.
Between these two parks in California's Humboldt Country sits charming Eureka, a city that played a role in the California Gold Rush and lumber industry. It's worth a stop at Carson Mansion in Eureka, a quintessential example of Queen Anne Style Architecture.
San Francisco is a city too large to appreciate during a short road trip, but if you have some time, go see the Golden Gate Bridge, Lombard Street, Fisherman's Wharf, Chinatown, and Union Square. The Dim Sum at Cold Mountain in Chinatown is notably authentic and tasty. Charming Palo Alto, home of Stanford, is also a fun stop. If you visit, don't miss the pie at the Palo Alto Creamery.
Visit the Santa Cruz Beach Boardwalk to check out the oldest seaside amusement park on the West Coast and tons of hippie college students. There's always a long line at Tacos Moreno, but the tacos are tasty and bona fide Mexican.
See classic costal scenery with cypress trees in Monterey and on the 17 Mile Drive through Pebble Peach.
Big Sur is home to California's most beautiful coastline. If you can handle the hairpin turns, the drive on Highway 1 through this area is a must. There is ample opportunity for excellent beach and forest hiking in Andrew Molera State Park and Pfeiffer Big Sur State Park. Take a three-hour tour of the Point Sur Light Station for the engrossing view. If you want to stay overnight, the Big Sur Lodge has reasonably priced, isolated rooms with hiking, whale watching, and bird watching opportunities.
San Simeon marks the south end of Big Sur, and it has plenty of viewpoints worth checking out. The San Simeon Pier on William R. Hearst Memorial State Beach is worth a photo. The Experience Tour at Hearst Castle will let you see the beautiful estate, though some tour guides are better than others.
Take the beautiful drive on PCH through Malibu, and visit a beach there, such as Zuma Beach near Pepperdine University, which is a great place to sit and read or take a swim. The tuna melt at The Beachcomber on Malibu Pier is one of the best in Los Angeles and the restaurant is romantic to boot.