GRAND CANYON NATIONAL PARK, NORTH RIM, Arizona and WAWONA, YOSEMITE NATIONAL PARK, California — Remember when men dressed in button-down linen shirts with cotton ties and women wore classic white overcoats, just to go camping? Neither do I. But there's a 1929 photo, which I love, of the lodge on the Grand Canyon's North Rim, in which you can see Park employees — men in ties, women in white uniforms — singing farewell songs to guests sitting in classic Ford Model Ts, readying to leave the Park. There's another great one taken in Yosemite in 1932 — with a guy wearing a formal shirt and tie and a woman wearing a long white dress — playing golf on the course adjacent to the Wawona Hotel, with its classic veranda filled with guests drinking cocktails in rocking chairs. What's great about these photos — aside from the fact that they make all of us modern-folk look like slobs, dressed in tattered jeans and T-shirts — is that, clothing aside, everything else in these photos looks exactly the same as it does today. Obviously, the natural features of the Grand Canyon and Yosemite Valley haven't changed much in the last 100 years, but neither has the North Rim Lodge or the Wawona Hotel. It's like the National Park Service decided to have these places cryogenically frozen in 1920.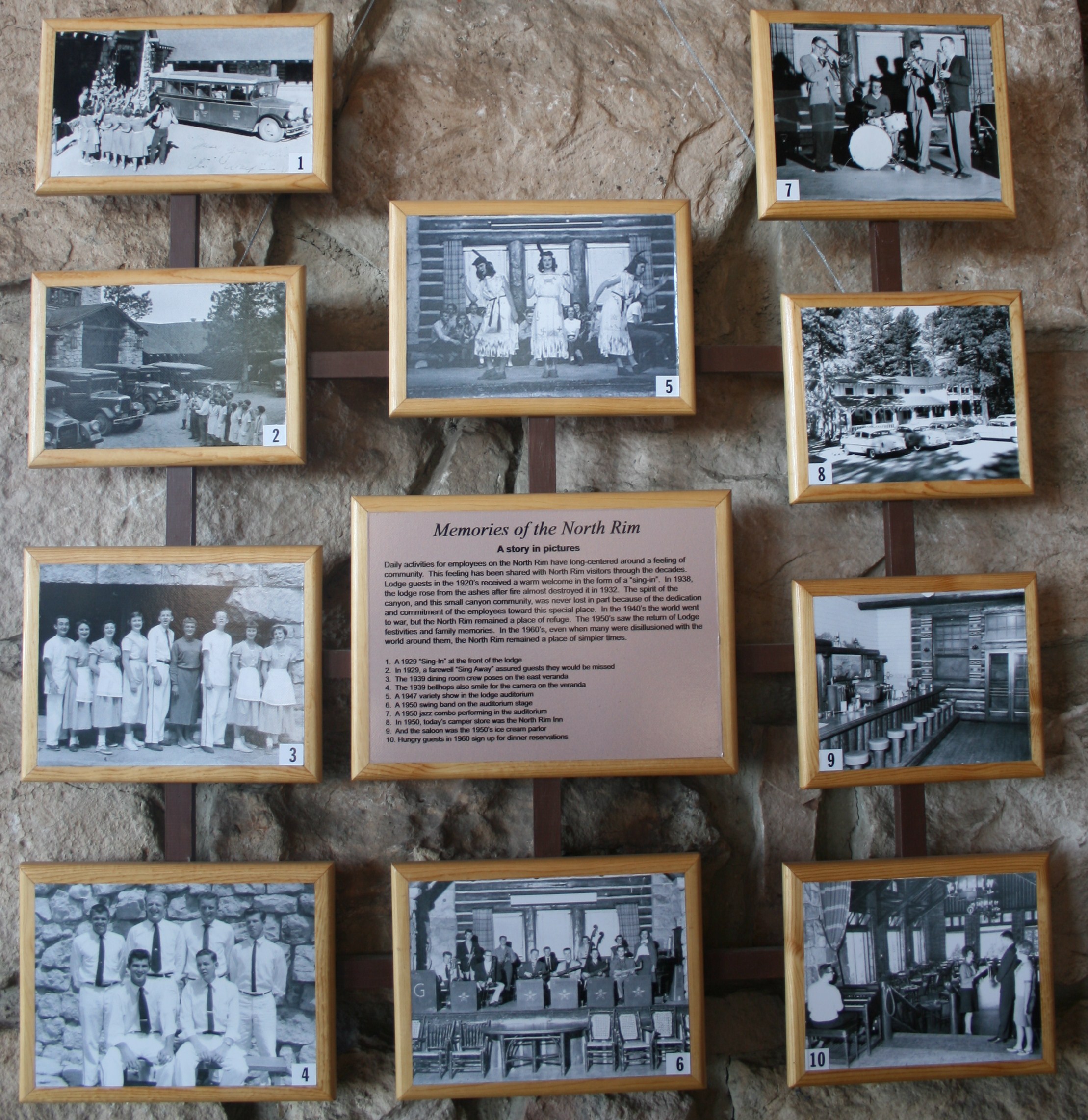 Vintage photos of earlier years at the Grand Canyon appear in the North Rim lodge.
I'm sitting outside the Grand Canyon's North Rim Lodge, relaxing in a wooden rocking chair on the stone patio, overlooking the Canyon at sunset. A waiter dressed in white swings by to offer me a cocktail, and behind me, a Park Ranger — wearing an outfit quite similar to the one he'd be wearing if it were 1929, with the same eternally-hip, wide-brimmed hat — stands giving a presumably eighty-year-old talk about the geology of the Grand Canyon. I work on a writing project on my laptop while staring out at one of the world's most impressive landscapes. I feel a bit heretical, considering that it feels like a scene from 1920 and I'm the only one using a laptop, or even working, for that matter. But famous conservationist writers — including John Muir and Edward Abbey — spent years writing in the National Parks, so I feel somehow that these writing giants validate my existence, even considering my use of modern technology.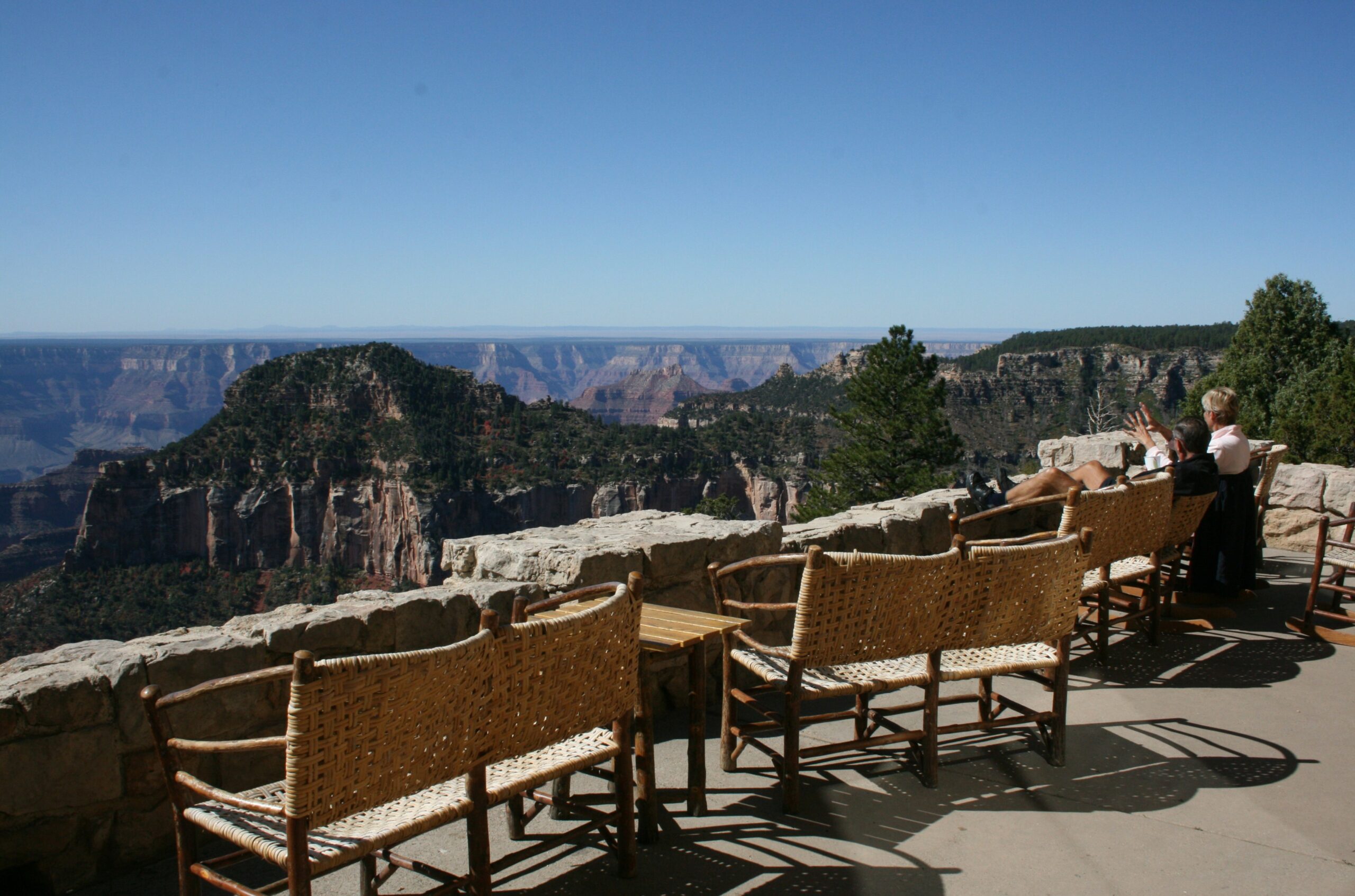 Tourists enjoy the view of the Grand Canyon on the patio at the North Rim Lodge.
I'm chatting with an athletic family — a 12-year-old boy, a 19-year-old girl, and their parents — who have just completed half of the famously strenuous Grand Canyon rim-to-rim-to-rim hike (from the South to the North Rim and back again). They have done the hike as a tradition for many years running, and though most people do this hike over five days, they manage it in three (from rim to rim in a single day with a day break in the middle before returning). I'm as amazed by their stamina as I am charmed by their family bonding ritual. I'm starting to think I want them to adopt me for next year's outing when my Swiss friend Wini interrupts to ask how my work is coming.
"Ready to go to the Cookout, yet?" I ask her, playfully. For the entire day, I've been trying to convince her to join me at the Grand Canyon Cookout Experience, an evening barbecue I've seen advertised, which promises to have a cheesy dinner theater show featuring country songs about the Grand Canyon's history. My favorite part is that the Park promises to chauffer us there in style — in a train led by a 1920s steam locomotive — an experience that I expect will be, in all honesty, the high point of my 2009.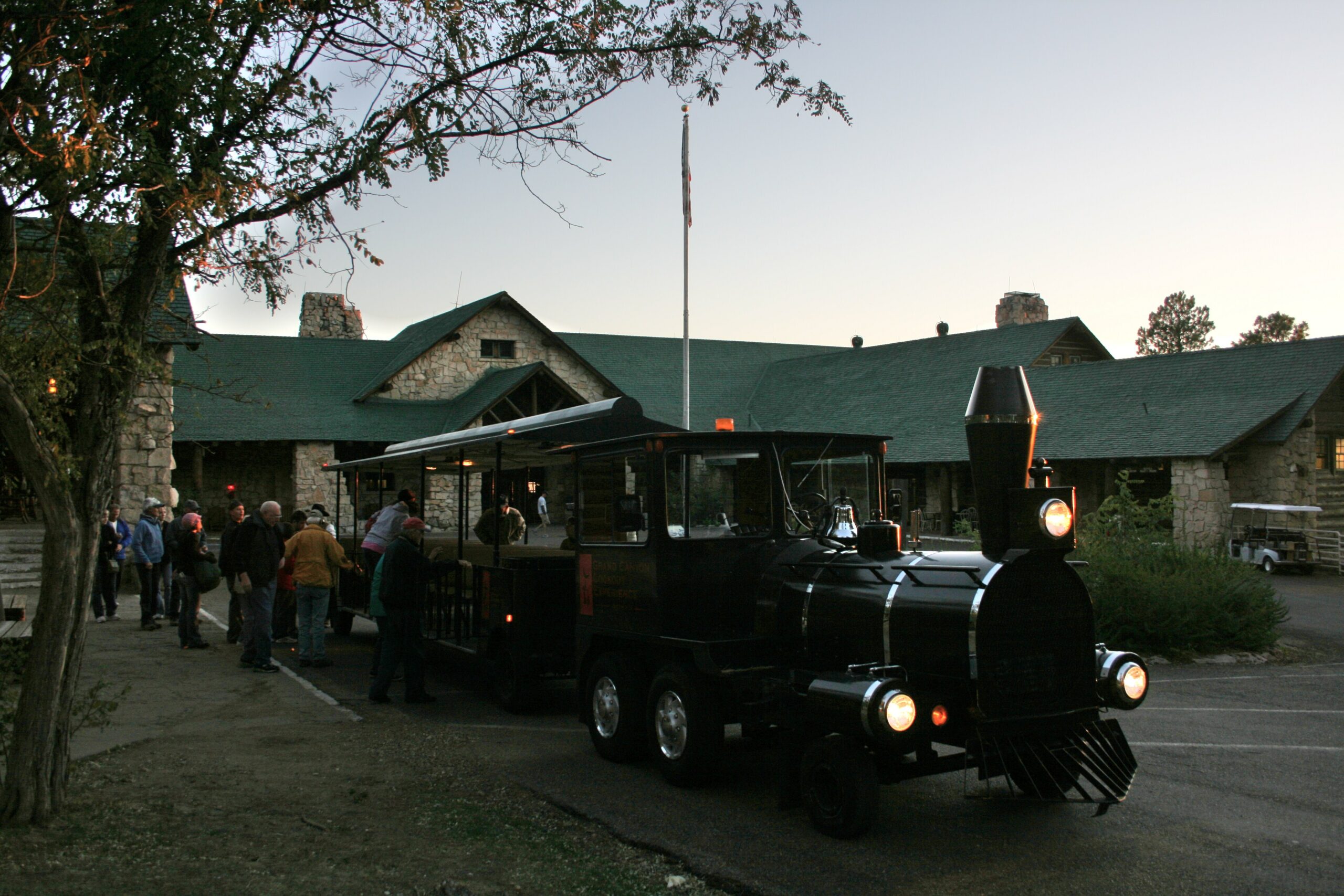 A truck-tram made to look like a 1920s train brings guests to the Grand Canyon Cookout Experience.
"No, I've told you! I'm not going," she says. "It's too expensive!" She has a point — after all, we've been camping together in my tiny two-person backpacker's tent in an effort to save money.
But then I mischievously pull out two ten-dollars-off coupons that I've discovered at the Gift Shop. "Do these change your mind?" I ask, as though I'm trying to bribe her with a $100 bill. I know from my experience during this day that she can easily resist $34 barbecued chicken with mac and cheese, but I suspect that she'll never be able to resist $24 barbecued chicken with mac and cheese.
"Fine," she concedes.
The next thing I know, we're riding in a bizarre Disneyland-style truck-tram, remodeled so that it looks as much like a 1920s passenger train as a truck can, with fifty other people who are all at least thirty years older than us. Finally, we're living my Grand Canyon dream.
When we arrive at the "Cookout" (which is inside a tent with propane heaters), we grab our barbecued chicken with mac and cheese, as well as some cornbread, biscuits, watermelon, and cookies. Wini (again, from Switzerland) seems a little confused by the traditional American food when she asks me what cole slaw is and then gives me her biscuit after taking one bite, saying, "Do you want my… whatever this is?"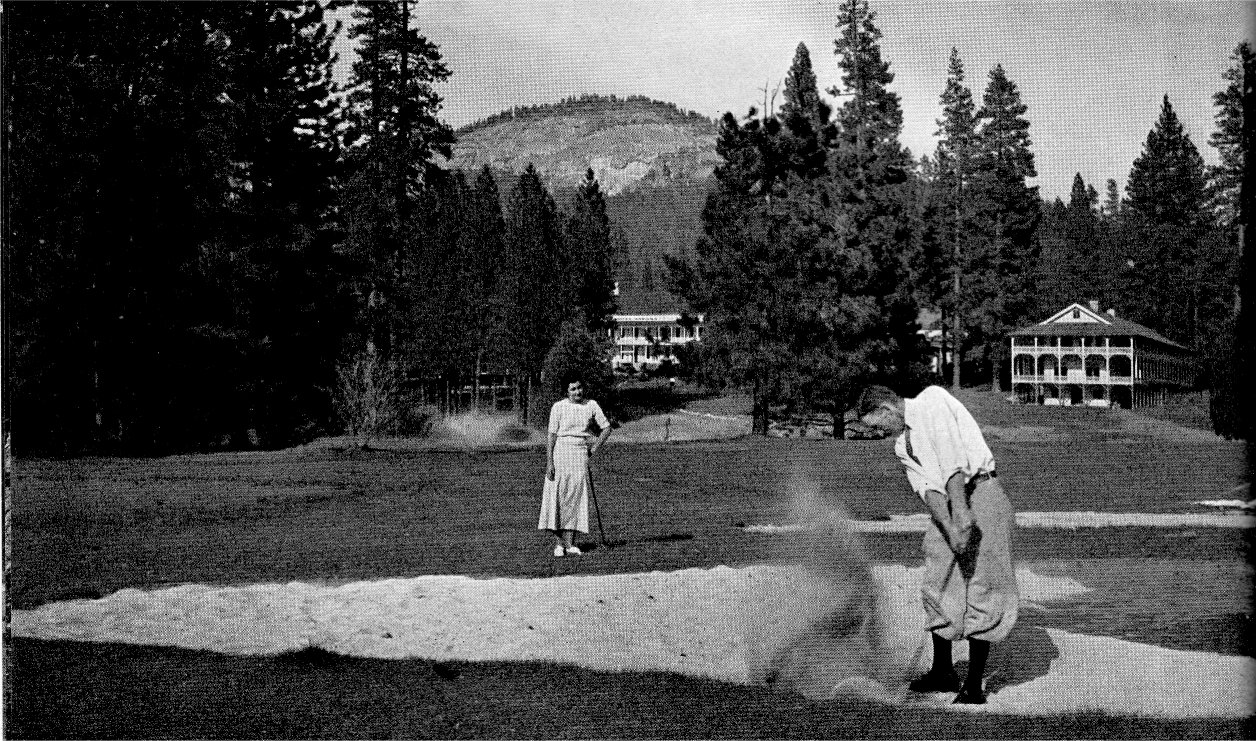 A 1932 Ansel Adams photo shows golfers in front of the Wawona Hotel in Yosemite National Park.
We take our seats in front of a dinner theater stage which has been decorated to look like the Grand Canyon — if the Grand Canyon were small enough to fit inside a nylon wedding tent. While we eat, Joe and Meryl, a retired couple from Ohio probably forty years older than me and Wini, introduce themselves to us. Meryl tells me about a charming mule ride into the Canyon that she and her husband took during the afternoon, rides which the Park has been running since the 1920s. Cryogenically frozen in time, I think.
Meanwhile, we're treated to the comedic and vocal skills of Woodie and Cleta-Jane Cochran, a husband and wife team who themselves seem imported from 1880 and are as talented at comedy as they are at country-song duets (which is to say, not overwhelmingly talented). I admit to Wini that, even with the unlimited lemonade refills, the average food isn't really worth the $24. But, as the night goes on, the Cochrans and the Cookout Experience begin to win me over. Woodie tells a pretty funny joke about a goat running into a well, which I start passing off as my own joke weeks after the Cookout (ask me sometime), and Cleta-Jane reveals that she can actually carry a tune quite well. But, truthfully, it's not really the food and entertainment by itself that wins me over, it's the spirit of the thing. There's something about listening to cheesy country songs about the Grand Canyon's history while eating barbecue chicken next to Joe and Meryl from Ohio that makes the Cookout Experience worthy of its self-assigned "Experience" moniker.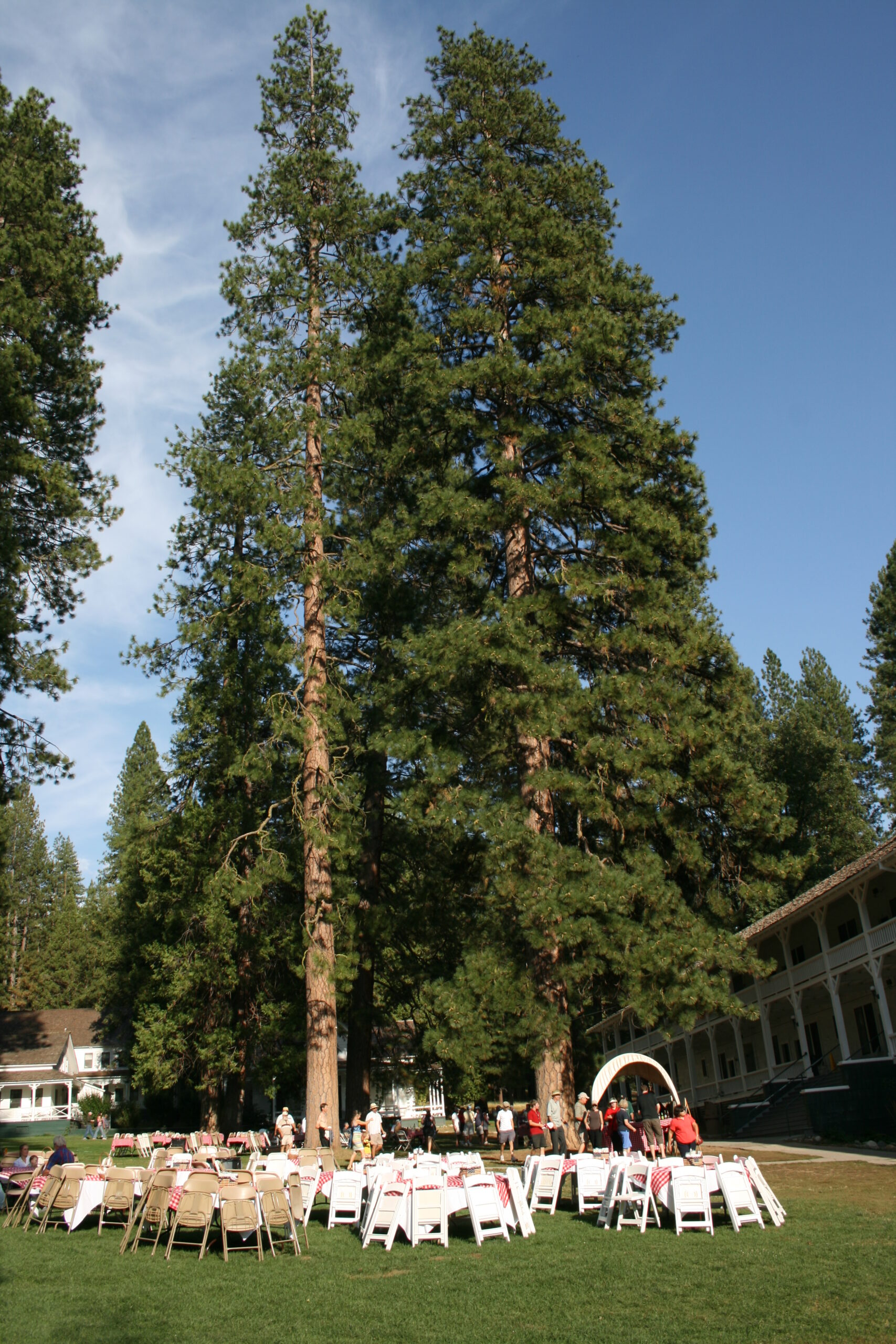 Chairs and tables sit below Sequoia trees for the Wawona Hotel Lawn Barbecue in Yosemite National Park.
Another week, I'm sitting on the veranda of the Wawona hotel in Yosemite National Park, in an Adirondack rocking chair. As I sit, I realize that the National Parks have convinced me that there would be more peace in the world if all chairs were rocking chairs.
If there were ever a place in the world that feels like I ended up there with Bill & Ted in a phone booth (on an Excellent Adventure), it's the town of Wawona, with its wooden covered bridge, horse-drawn stage carriage rides, Saturday night barn dances, and "Wells Fargo & Co Express" office built out of logs. I stare out at the hotel lawn, peppered with big Sequoia trees and chimpunks, and listen to Tom Bopp — the town's unofficial historian and the hotel's official pianist for over 25 years — play piano.
The Wawona Hotel
Suddenly, I notice hotel guests rushing out onto the lawn like there's about to be a Sequoia oversized pinecone raffle. (Everyone wants one of these pinecones, but it is illegal to remove them from the National Park.) But then I realize the event is something even better: the Wawona Lawn Barbecue — an old-fashioned, red-checkered table-cloth, white wooden folding chair, American-flag filled, barbecue, complete with lemonade, cole slaw, barbecued chicken and steak, cornbread, Jell-O, and apple pie. Not only that, but today's event also actually includes a raffle, though none of the prizes are pinecones. Tom Bopp, though he is a good piano player, is no match for such a barbecue, and I leave him behind to get in line at the covered wagon (seriously) to get food.
At this barbecue, there's no dinner theater, but its food one-ups the Grand Canyon's Cookout Experience's food — it tastes like the homemade goodies you should find at a traditional American barbecue instead of like mass-produced food from Forever Resorts, the company that runs the Grand Canyon North Rim's concessions.
I sit by myself, below enormous Sequoia trees, surrounded by happy Park visitors, scarfing down mac and cheese and apple pie. As I listen to the excitement of the raffle, running in the background, I feel like I'm missing something. Certainly, I miss Wini and her ongoing criticisms of American food, and the barbecue doesn't feel quite the same without her.
But then I realize that there's something else I'm missing. Even though I'm camping, I feel underdressed. I wish I were dressed dapperly in a white dress shirt with a black cotton tie. After all, I'm in 1920.
How to Take a Nostalgia-Filled Trip to the Grand Canyon North Rim or Yosemite's Wawona
Day Hike:
Grand Canyon National Park,
Arizona
5.4 miles
2,116 ft gain — 2,124 ft loss
6,053 ft min — 8,179 ft max
GRAND CANYON NORTH RIM: The Grand Canyon North Rim Park entrance, which is only open from mid-May to mid-October, is located in northern Arizona, a one hour drive south from US-89, on AZ-67. It's a five-and-a-half-hour drive from Las Vegas, a seven-and-half-hour drive from Phoenix, or an eight-hour drive from Salt Lake City. (The South Rim, which is open all year, is closer to Phoenix and Flagstaff, but it has no Cookout Experience and its hoards of tourists make it feel less old fashioned and intimate than the North Rim feels.)
Rooms at the North Rim Lodge start at $112 per night, though the Lodge is usually totally booked, so if you want to stay there, make reservations far in advance.
Even if you don't stay at the Lodge, you can enjoy meals in their beautiful dining room overlooking the Grand Canyon. If the dining room is full, you can sit outside on the patio and the staff will happily bring you cocktails and food from the dining room menu, packed in picnic boxes. In fact, if you're visiting with a date, this is may be the most romantic way to enjoy a lodge meal, because you'll have the best view of the Canyon from fun rocking chairs.
The Grand Canyon Cookout Experience begins at 6:30 P.M. nightly and costs $35, though $10 discount coupons may be available at the Gift Shop, adjacent to the Lodge. Meet the wacky train-tram at the bench outside the Gift Shop.
Mules (including the famous Brighty) have carried Grand Canyon visitors into the Canyon since the 1920s, and they're still available for hire today. North Rim half-day trips cost $75 per person, and full-day trips cost $165 per person. You can make reservations at the desk in the Lodge's lobby.
Park Rangers often give talks about Canyon geology and wildlife outside on the Lodge's patio. Ask the Visitor Center for a schedule.
YOSEMITE'S WAWONA: The town of Wawona and the Wawona Hotel are located near the South Entrance of Yosemite National Park. It's a four-hour drive from San Francisco, a five-hour drive from Los Angeles, or an eight-hour drive from Las Vegas.
You don't need to stay at the Wawona Hotel to enjoy the Wawona Lawn Barbecue, though the charming, vintage lodging is definitely worth a stay, starting at $82 per night. The Barbecue happens on Saturday evenings during the summer and costs $35.
If you need a little romance in your life, the Wawona Hotel's kitchen will happily pack in a picnic basket their "Romantic Picnic Package," which includes two gourmet sandwiches with brie, chocolate truffles, and sparkling cider for an intimate hike in the Mariposa Sequioa Grove (which you shouldn't miss).
While you're there, make sure to visit the old-fashioned town to get the full Wawona experience. Free blacksmith demonstrations occur from Wednesday to Sunday during the summer. Horse-drawn stage carriage rides are usually available every summer day and tickets can be purchased at the Pioneer Yosemite History Center. Visit the Center to confirm the daily schedule.
Be sure to visit the Wawona Hotel's pianist Tom Bopp. He usually plays for four hours in the hotel lobby starting at 5:30 P.M. If you ask him, Tom will also do a musical show detailing the history of Wawona starting at 8:30 P.M.
The famous Ahwahnee Hotel in Yosemite Valley also hosts a traditional barbecue if you prefer to stay in the Valley.