WENATCHEE NATIONAL FOREST and LAKE CHELAN NATIONAL RECREATION AREA, Washington — "No one says anything about the original Lady of the Lake," I say to my friend Kristi as we get ready to disembark from the Lady of the Lake II, an 100-foot vessel that ferries tourists from the town of Chelan to a tiny village called Stehekin on the northern end of Washington's 55-mile-long Lake Chelan. The boat is the only way of getting to the Lake's northern end since no roads lead there, though Kristi and I have asked the boat captain to drop us off halfway to Stehekin at an unscheduled stop on a remote beach. "I wonder what sinister mystery surrounds the original Lady?"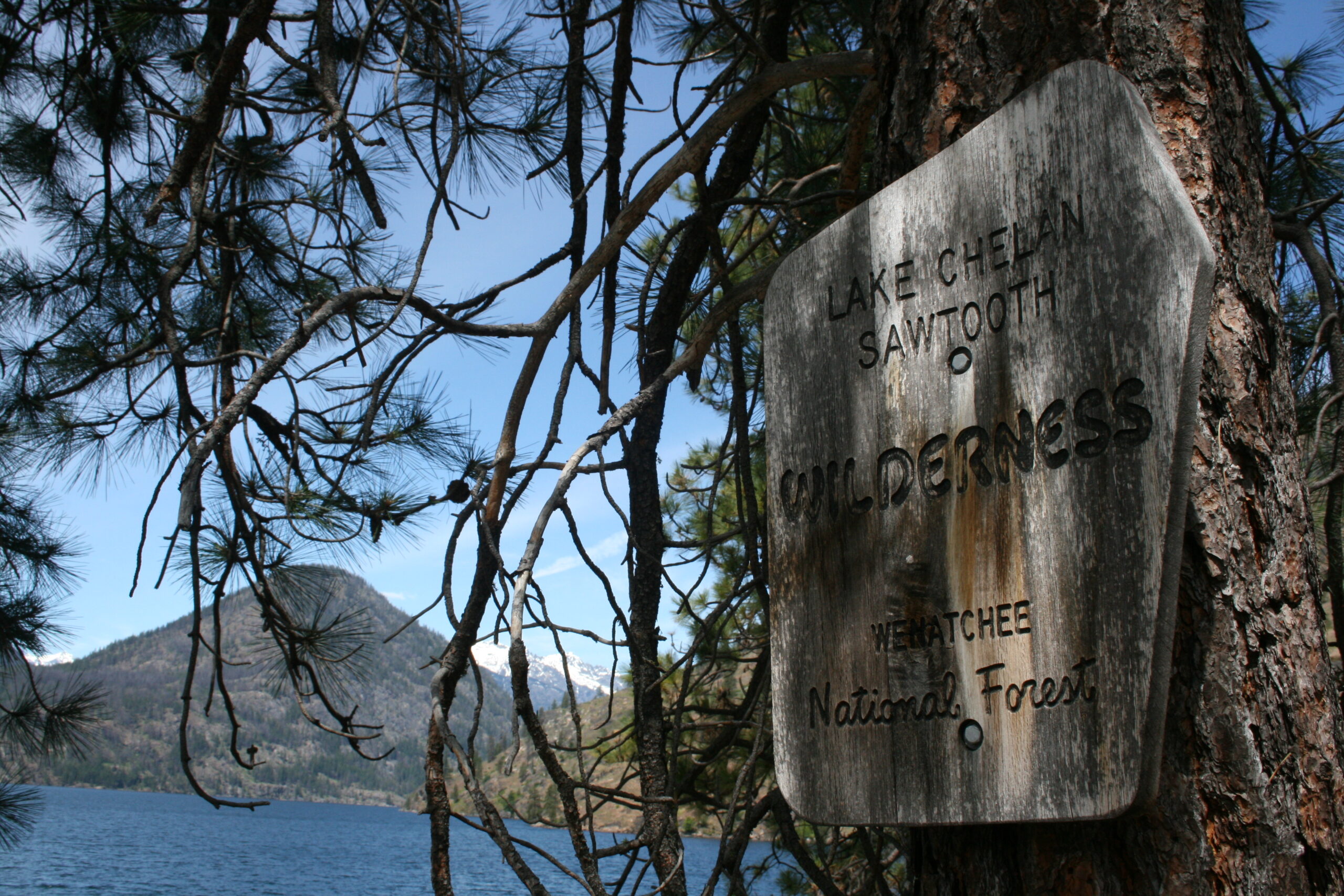 A sign in the Lake Chelan Sawtooth Wilderness
"It probably sunk in shallow water trying to drop backpackers off on a random beach," Kristi says.
"This looks like the middle of nowhere," I say to the Lady II's deckhand as we grab our backpacks.
"That's because it is the middle of nowhere," he retorts. Other boat passengers raise their eyebrows as they watch us walk down the gangway and step onto the isolated, rocky terrain. They're eyeing us partly because we're running headlong toward the bear-filled Wenatchee National Forest with only backpacks and partly because Kristi's too-small backpack has an 18-ounce bag of pretzels and bags of gummy bears strapped to the top. The previous day, Kristi discovered that, though I had packed six meals for our two-day hike, including breakfast burritos, tuna sandwiches, and turkey tetrazzini, I had failed to pack her favorite essentials: Trader Joe's Honey Whole Wheat Pretzel Sticks and gummy bears. So, at the last minute, she demanded a shopping trip, which ended with her jerry-rigging with bungee cords a pretzels-and-gummy-bears holder on her pack.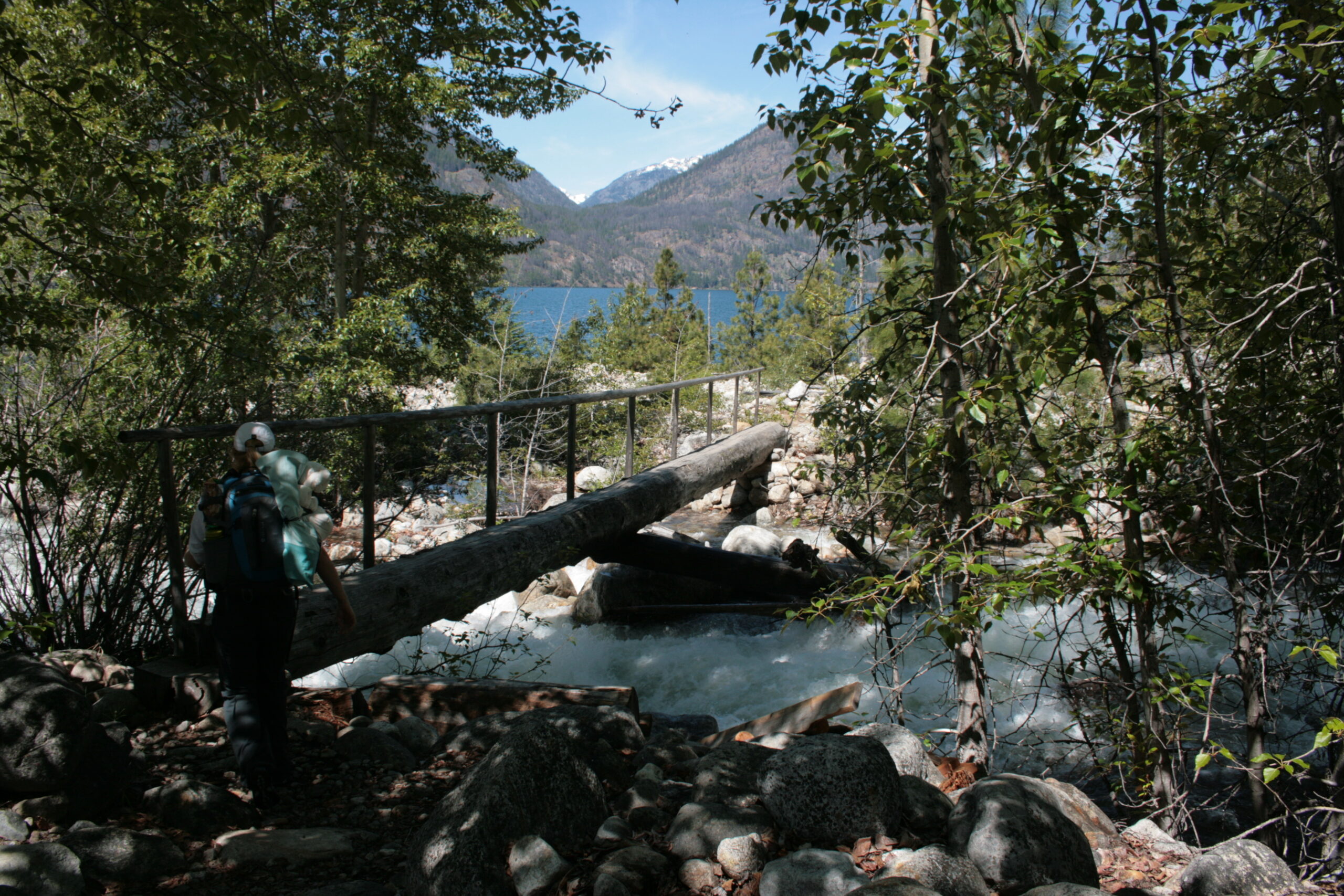 A hiker readies to cross Prince Creek near Lake Chelan.
As the deckhand folds up the gangway on the Lady of the Lake II, we watch the boat and its bewildered passengers disappear into the distance below towering snowcapped mountains, and we take our first steps onto the solitary 17.5-mile Chelan Lakeshore Trail. We see no one else, and I find the utter silence soothing. We've ended up in the wilderness of the Wenatchee National Forest because my friend Kevin, one of the friendliest and funniest guys I know, will be getting married in nearby Seattle in two days. So, I convinced Kristi to accompany me to the wedding and join me for a pre-wedding backpacking adventure. Ideally, backpackers hike for four days and 35 miles on the Trail, hiking from Prince Creek to Stehekin and back, but we don't have the luxury of time. Fortunately, we'll be able to hike to Stehekin, then hop on the Lady of the Lake II to return to our car.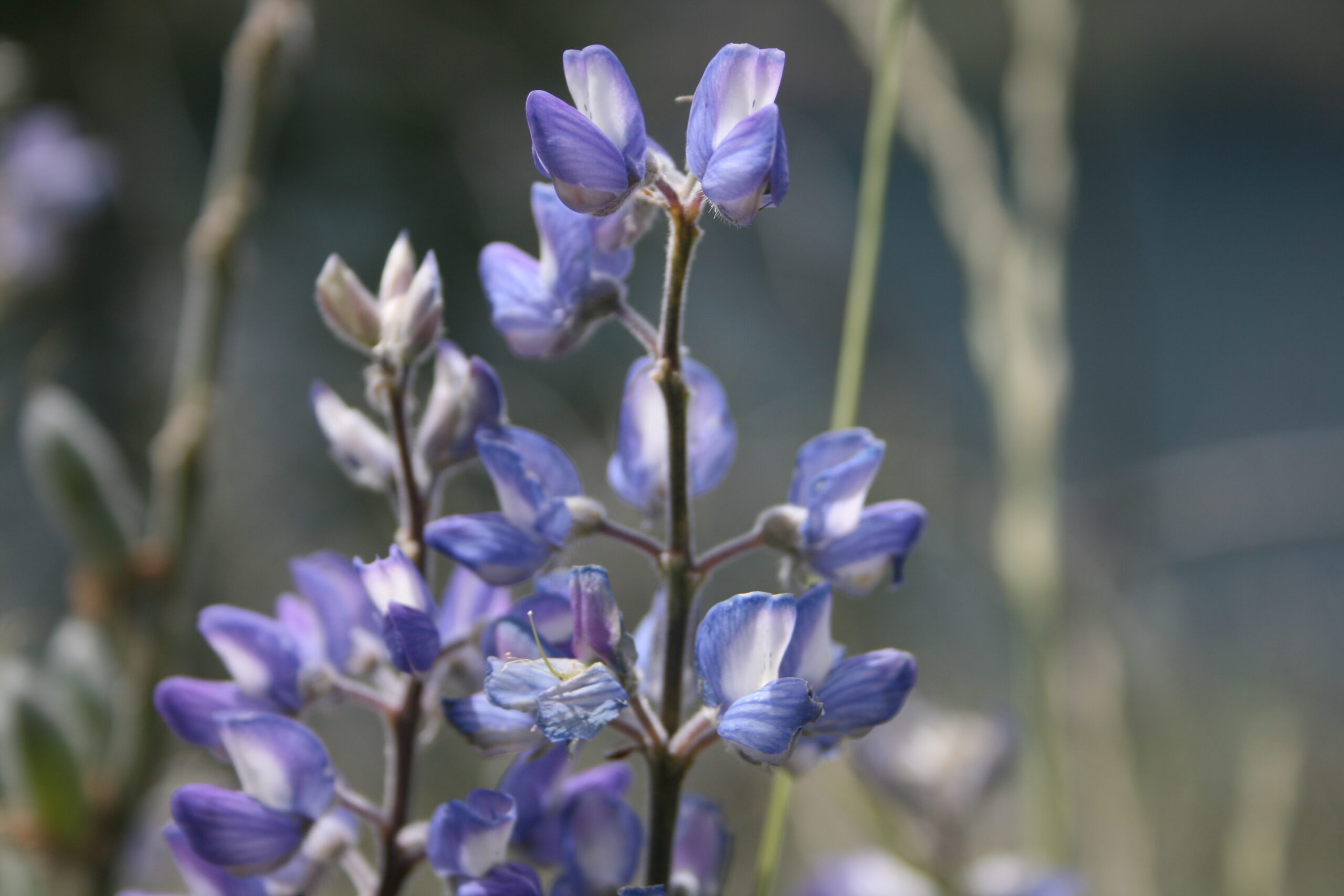 Violet broadleaf lupine plants pepper the landscape around Lake Chelan.
I've known my friend Kevin for almost ten years, and during the time we spent together, we good-naturedly lampooned everything we encountered in the world and tried mostly unsuccessfully to flirt with cute girls. (We also saw avant-garde metal guitarist Buckethead at a stop on the Guns N' Roses Chinese Democracy Tour.) But with Kevin's wedding impending, I suddenly feel like he and I are only pretending to be adults. The days of lampooning and flirting and Buckethead seem so recent, and it's almost impossible for me to believe that we have grown up so much that he's ready for marriage and both of us call ourselves grownups.
As Kristi bounds down the trail, I follow behind her, watching her blond ponytail and her pretzels bag bounce up and down with each step. She's wearing pearl earrings, which seem incongruously adult, paired with her young, sporty look. Under a surprisingly clear and blue sky, we walk past tall, olive-colored bull pine trees, furry-looking amber larch trees, violet broadleaf lupine plants, and golden sagebrush. For a while, we're hiking adjacent to the lakeshore, but soon, we're climbing, following a ridge leading into a dense forest of cedar and pine trees. I spot a bright yellow and orange Western Tanager bird sitting on a tree stump and a charcoal-colored Kingbird flying overhead. I've fallen farther behind Kristi when, as I come around a bend, she darts toward me suddenly and hides behind me.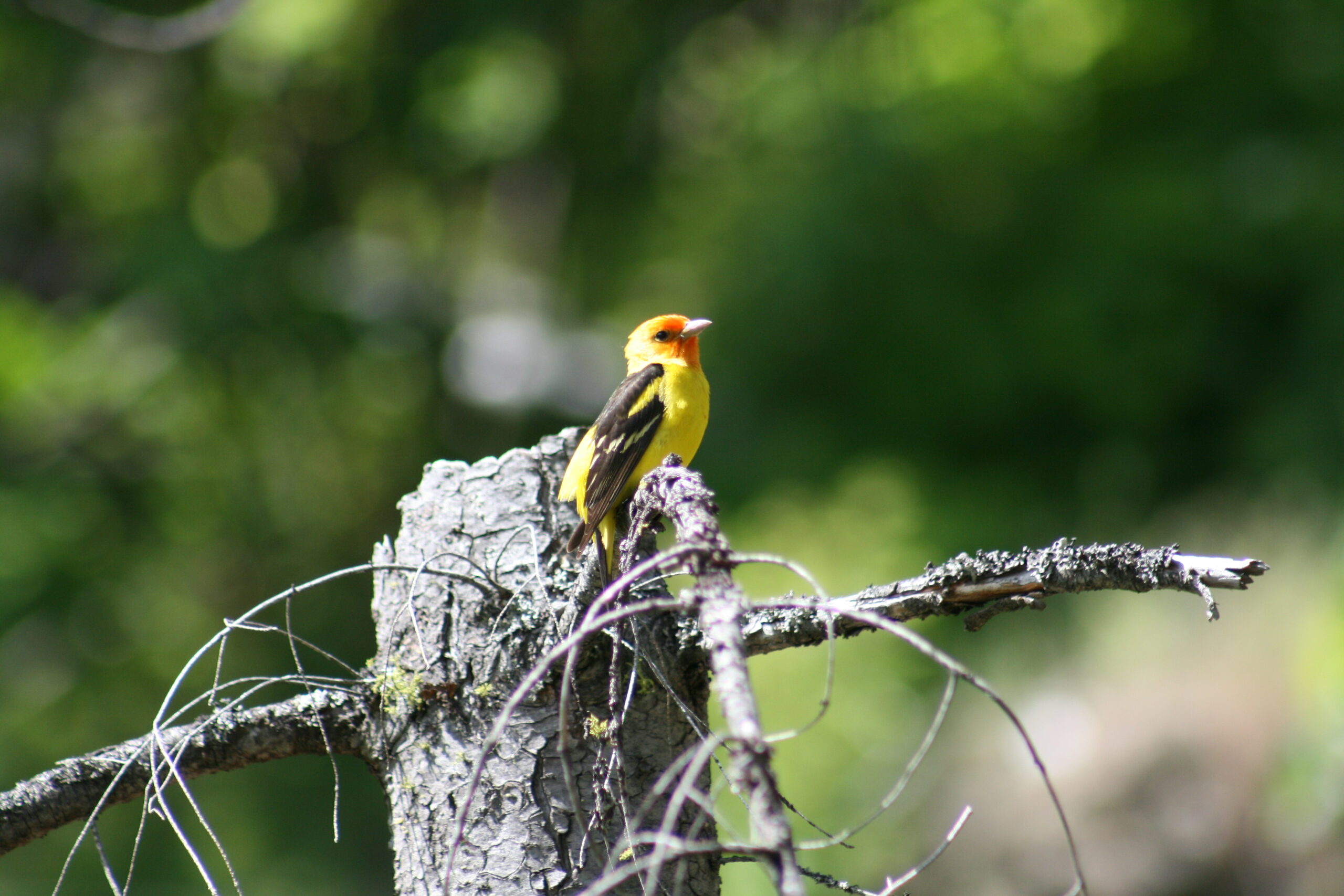 A bright yellow and orange Western Tanager sits on a tree stump.
"What is it?" I ask, but then I've already seen him; a lively black bear is climbing on a pine tree only 25 feet from us.
"Don't you know that the number one rule is never run from a bear?!" I playfully remind Kristi.
"I didn't run!" she insists. I look at the bags on her back and suspect that she was more concerned about her snacks and candy than herself. I begin to switch lenses on my camera to try to take pictures of the bear, but after one nervous glance at me, he scurries off into the forest.
We continue on, admiring sweeping views of the valley, and after we've hiked about eight miles, we erect our tent on a ridge overlooking Lake Chelan. With Washington's long summer days, we still have plenty of hours before sunset. Kristi kicks off her shoes, lets her hair down, and dives into her pretzels and peanut butter. She looks happy, nibbling on pretzels, sitting on a rock, gazing at the cottony peaks of the North Cascades and the steely blue of Lake Chelan. Soon, I join her. I start gobbling a bag of gummy bears and convince her to play a board game.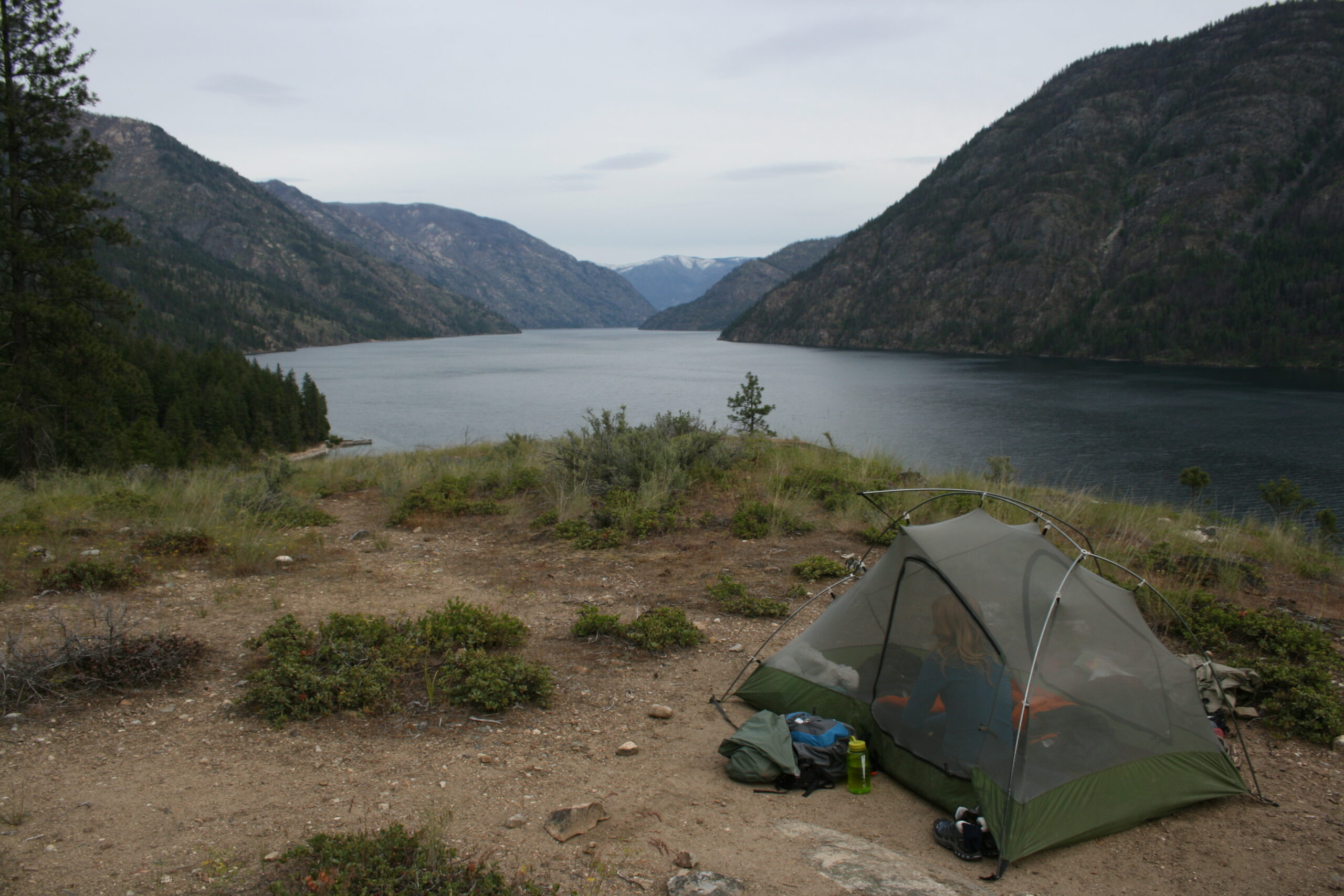 A tent sits on a ridge above Lake Chelan.
I take a photo of us with my digital camera. I'm surprised to see two barely recognizable adults in it. It doesn't match how I feel, sitting on the edge of a lake, eating pretzels and gummy bears, playing board games on a summer's night in June.
The next day, after 10 more miles of hiking and a second bear sighting, we make it to Stehekin in time to take the Lady of the Lake II back to our car. On the way back, Kristi discovers a sign on the boat detailing the maritime history of the Lake, and she tells me that the original Lady of the Lake was simply replaced by the bigger Lady of the Lake II due to passenger demand. I find myself disappointed that the explanation isn't more enigmatic.
"At least, that's what they want us to believe," I say.
After a quick stop in faux-Bavarian Leavenworth to eat tasty bratwurst on the outdoor deck at Gustav's Restaurant and decidedly disgusting microwaved apple strudel at Cafe Mozart (seriously, don't even take one bite), Kristi and I drive back to Seattle to check in at the Westin. An architecture buff, Kristi yelps in delight when she sees that the hotel is a round tower with pie piece-shaped rooms. I smile at her, happy that she, too, delights in quirky details.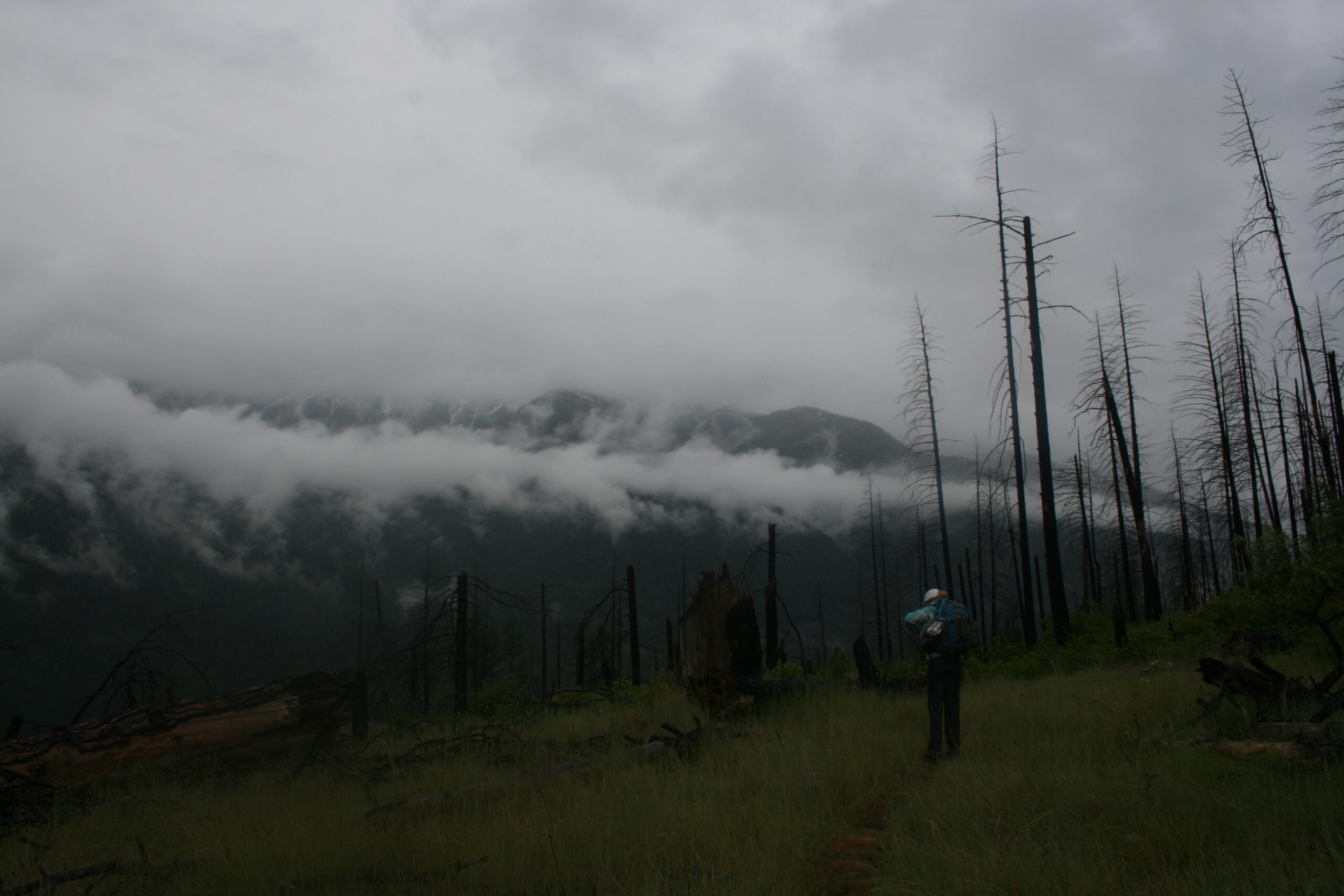 A hiker walks below clouds near Lake Chelan.
While Kristi and I ready for bed in our pie piece, she again munches on pretzels and peanut butter and I chew on gummy bears. I see our room's ice bucket, sitting on a desk with two highball classes in front of the window with a view of downtown Seattle. Hotel ice buckets seem antiquated and grownup to me somehow; they conjure an image of my parents sipping scotch on the rocks in a 1950s luxury hotel room. (Though I have no idea where this image came from and doubt it ever actually happened.) I look at the ice bucket. I look at Kristi.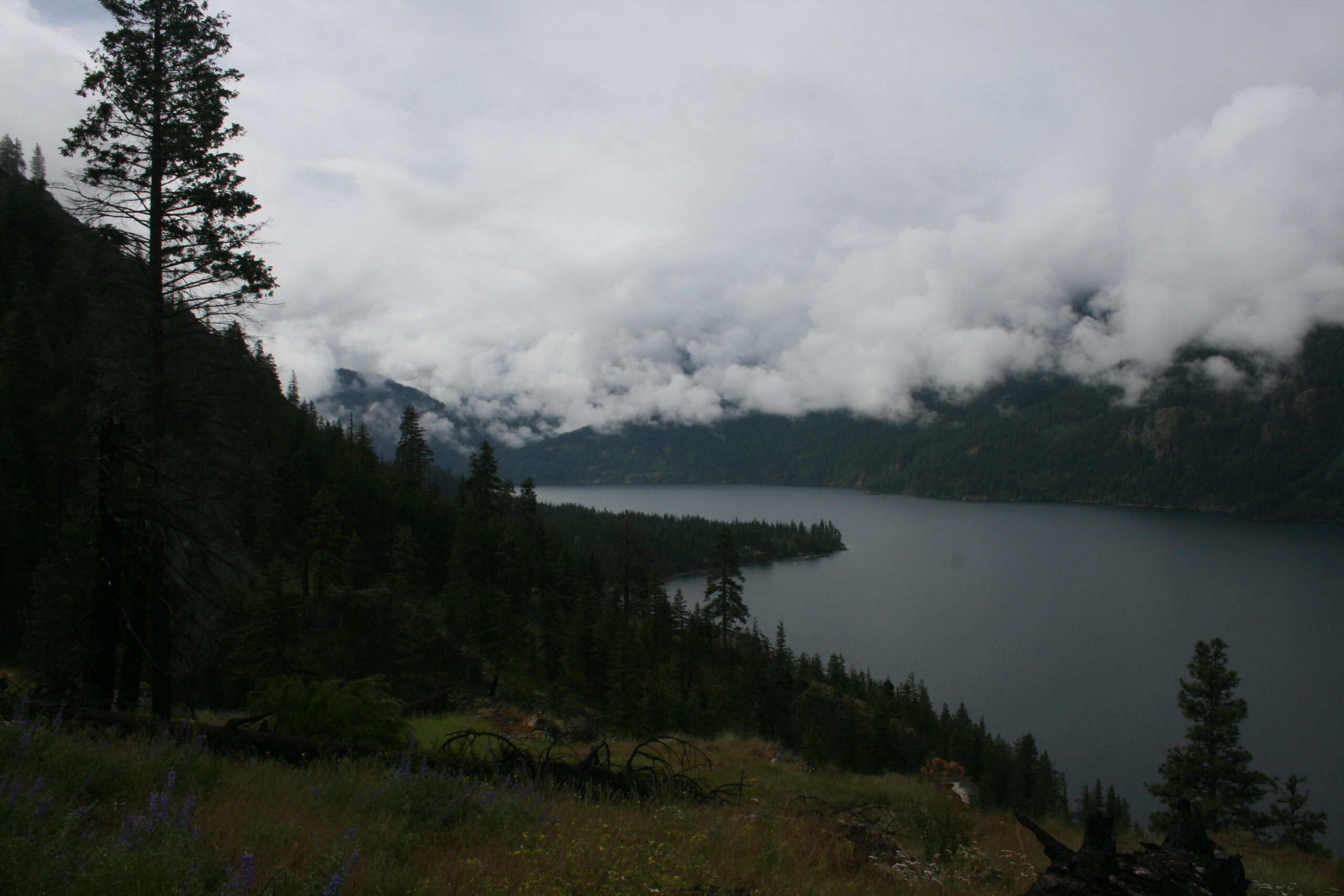 An overcast sky covers Lake Chelan.
"It feels like we're pretending, doesn't it?" she asks, reading my mind. It always does, I think to myself.
The next day, before we leave for the wedding, I find myself looking up names of old-fashioned cocktails on the Internet so that I'll seem like an adult when I get to the wedding's bar.
We somehow manage to arrive at Kevin's wedding at the ceremony's exact starting moment, and all of the wedding guests glance at us. Grownups should arrive at weddings early, I note mentally for future reference. Adjacent to a small pond surrounded by the same beautiful pine and larch trees we saw at Lake Chelan, the ceremony is old-fashioned and romantic and moving and short, like all of the best weddings. Kevin looks very happy, which makes me happy.
Sitting at our assigned table at the reception, I feel uncomfortable at first, drinking a Tom Collins, knowing that acting like an adult and mingling with people at a reception isn't one of my talents. Kristi, looking beautiful in a flowery blue dress, whispers to me. "Everyone at our table is so nice," she says, surprised. I look around and realize that we're outside of Los Angeles, surrounded by a group of people both unpretentious and genuine. Kevin's friends are just like Kevin, I think. Soon, dinner is served and our conversation flows effortlessly. I almost feel like a genuine adult. Almost.
How to Hike the Chelan Lakeshore Trail
Backpack:
Wenatchee National Forest, Chelan,
Washington
16.5 miles
3,799 ft gain — 3,717 ft loss
1,079 ft min — 1,689 ft max
OVERVIEW: The Chelan Lakeshore Trail is a 17.5-mile trip one way and can be hiked starting in late March through the summer. Backpackers should allocate two days for a one way trip (the Lady of the Lake II will sail you back to the beginning), four days for a round trip hike starting at Prince Creek, or four days for a 31.5-mile one way trip that adds the Fish Creek/Summit/Purple Creek loop.
DIRECTIONS: The town of Chelan is about a three-hour drive east of Seattle. Take WA-520 East to I-405 North, then take US-2 East through Stevens Pass and Leavenworth. When you hit Sunnyslope, take US-97 North to Chelan.
LOGISTICS: After arriving in Chelan, drive north to Fields Point on US-97 and catch the Lady of the Lake II at 9:45 AM. When you buy your $34.50 roundtrip ticket, be sure to explain that you want to disembark at Prince Creek. The boat will leave you at Prince Creek at 11:00 AM.
SUPPLIES: Though you won't always have access to the Lake's water, you'll pass at least nine creeks and a few intermittent streams on the Lakeshore Trail. Carrying just two liters of water is fine as long as you have a way to treat or filter the creek water.
TWO DAY, ONE WAY ITINERARY: Hike seven miles to the camp near the Meadow Creek Shelter, after crossing Rattlesnake, Rex, Pioneer, and Cascade Creeks. After camping, you can hike the remaining 10.5 miles to Stehekin the next day, crossing Fish, Hunts, Flick, Fourmile, and Hazzard Creeks, to catch the boat back to Prince Creek by 2:00 PM. View the route below or download the Without Baggage Chelan Lakeshore Trail GPS track in GPX or KML format.
FOUR DAY, ROUND TRIP ITINERARY: You can turn this into a four-day, 35-mile trip by simply backtracking to your starting point after reaching Stehekin and camping at the Purple Point Campground on your second night.
FOUR DAY, ONE WAY ITINERARY: If you're feeling a bit more adventurous, you can instead add two extra days of hiking on the way to Stehekin by turning onto the Fish Creek Trail (7 miles) when you reach Moore Point. Follow it to the Summit Trail (6 miles) and then to the Purple Creek Trail at War Creek Pass (8 miles), which finally leads to Stehekin. Note that this diversion is 14 miles longer than the standard Lakeshore Trail one-way trip, for a total of about 31.5 miles.
TOURISM: Stehekin has a Visitor Center, a small restaurant and inn, a craft shop, and a bike rental business, but it's a very small town. Don't expect to want to live there or even stay longer than a couple hours.