AUGUST 1, 2016 — Joshua Tree National Park is deceptive. The Park's sparse vegetation, expansive desert flats, and manageable mountain ranges invite what looks to be easy backcountry hiking. Believe me, I know: in 2007, I got lost with my friends searching for Aqua Peak in the Coxcomb Mountains, and, in 2010, the sun set while my friends and I were climbing up a rocky canyon still searching for the last of eight Park oases.
So, when my brother came to visit me in Los Angeles In October 2015, we decided to try to change my Joshua Tree legacy by taking a weekend hike through the Wonderland of Rocks, a 12-square-mile maze of massive, granite rock formations in northern Joshua Tree. Because there are no trails through the Wonderland — with the notable exception of a short trail to Willow Hole from the Park road — I plotted a backcountry hike, using topo maps, that would take us past Willow Hole, up to the top of Queen Mountain from the north, and then down the mountain's west side, looping back to the trailhead.
Even with our extensive backcountry experience, the short, two-day backpack was a surprising challenge. I planned for us to make it at least to the top of Queen Mountain on our first day, but route-finding after Willow Hole quickly became difficult, requiring us to walk over and around miles of enormous granite monoliths. After eight tiring miles, we decided to call it quits for the day. In the morning, the hike up the mountain was so challenging that it took us over four hours to complete the four-mile, 1,800-foot vertical ascent to the peak — but we made it. But, as we began descending the mountain, we quickly realized that the most challenging section of our trip was yet to come. We climbed down via a particularly (and unnecessarily difficult) route, and the difficult boulder scramble slowed us to a speed of nearly a half-mile per hour. For awhile, we were trapped between two high ridges, unable to find our way off the slope until we found a viable route. It took took us over three hours to descend the first two miles and 1,150 vertical feet. Once we reached flat ground, we powered through the remaining seven miles back to the car in two hours, arriving only one hour after sunset. It was a grueling 21-mile adventure, but I was thrilled that we had managed a successful Joshua Tree adventure.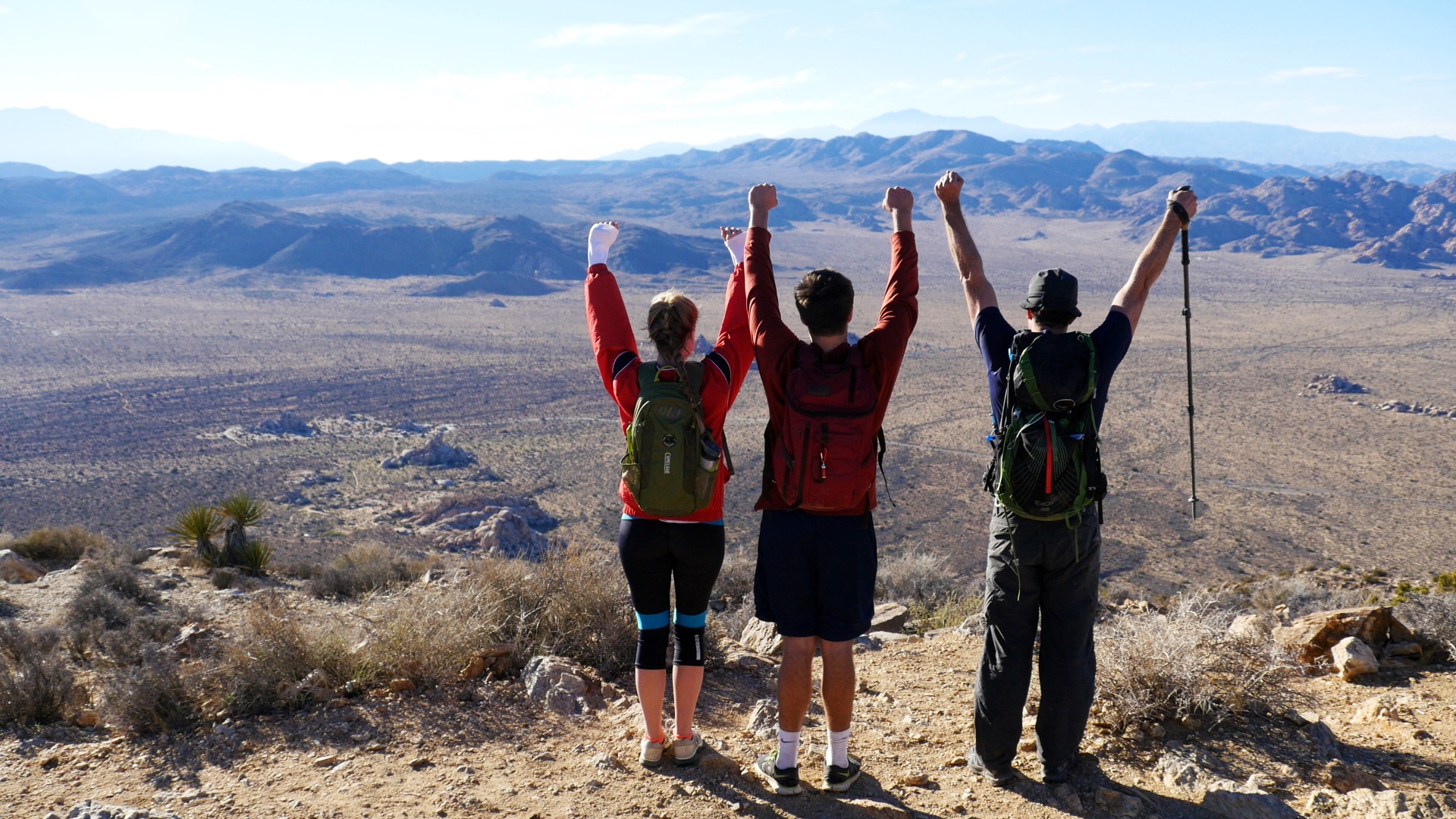 Hikers celebrate atop Ryan Mountain in Joshua Tree National Park.
Emboldened by the trip with my brother, five weeks later, I gather four of my friends — Whitney, an architectural engineer from a small town in Texas; Samantha, an actress from Austin; Rachel, a television-industry assistant from Kansas; and Jack, an American Red Cross volunteer from Massachusetts — and bring them to the entrance of Rattlesnake Canyon, at the edge of the Wonderland of Rocks. This time, I have planned a new, two-day, 18-mile, one-way route across Joshua Tree, following Rattlesnake Canyon to Willow Hole (a route called the "Wonderland Connection"), and then continuing on across the Park toward Ryan Mountain and Juniper Flats. But, the group seems nervous.
"How do you avoid being bitten by a rattlesnake?" Jack asks. "Do you hear the rattle? Is that all you do?"
"Don't put your hand in crevices," Whitney guesses.
"Aw, that's my favorite thing to do when I'm hiking," Jack says.
The first hour in Rattlesnake Canyon isn't difficult, but as we move deeper into the Wonderland, route-finding through the maze of massive boulders quickly becomes nearly impossible. We're traveling even slower than was with my brother. Since, this time, we're not carrying tents or sleeping bags, I'm worried that we're not going to make it out of the Wonderland to Willow Hole — where an easy trail leads to our campsite — by night. We delay our lunch, hoping to give us a bit of extra time before sunset. Adding an extra challenge, Samantha has the shortest legs of the group, and she has trouble doing some of the climbs and jumps required to navigate past some of the biggest rocks. In a particularly nerve-wracking moment, on the way to the top of a ridge with a 40-foot drop below, she balances across a loose log, and then shimmies up between two boulders with Whitney's help, managing to defeat one of the most difficult boulder problems of the trip.
Despite our difficulties, with only 20 minutes before sunset, we arrive, starving, at Willow Hole, where we have a jubilant lunch celebration. While walking in the dark on the way to our campsite, we spot a a bright, spherical, white light streaked with a bright, blue line in the black sky above the desert.
"I have no idea what to explain that with," says Whitney, staring at the light.
"Yeah, what IS that!?" asks Rachel.
"It's our galactic overlords, and they're coming back," Jack explains.
But, when we wake up in the morning, none of us have been abducted by aliens. The five of us pack up our gear and we head toward the summit of Ryan Mountain, traversing the nine remaining miles of easy walking through alien Joshua tree forests. When we reach the top of Ryan Mountain, I'm feel happy and relaxed. It feels like Joshua Tree and I are no longer mortal enemies and can co-exist peacefully, waiting together for the return of our galactic overlords.
How to Hike Joshua Tree's Wonderland of Rocks
Backpack:
Joshua Tree National Park,
Southern California
20.9 miles
2,983 ft gain — 3,027 ft loss
3,896 ft min — 5,712 ft max
OVERVIEW: The Wonderland of Rocks is a 12-square-mile maze of massive, granite rock formations in northern Joshua Tree National Park. Most of the Wonderland is trail-less backcountry, and even the few trails (the Willow Hole Trail and the Wonderland Wash Trail) are mostly unmarked marked and can be hard to follow.
DIRECTIONS: Joshua Tree National Park is a 2.5-hour drive from Los Angeles. From Los Angeles, take I-10 East to CA-62 North (Twentynine Palms Highway). To get to the Willow Hole/west end of Boy Scout Trail, turn right on Park Boulevard/Quail Springs Road (the first park entrance); the backcountry board/parking lot is on the left side after about 10.5 miles. To start at Rattlesnake Canyon for the Wonderland Connection hike, located near the eastern end of the Boy Scout Trail) turn right onto Indian Cove Road from CA-62; the backcountry board/parking for the trailhead is on right left side after 1.5 miles.
DANGERS: Without excellent outdoor navigation skills and a GPS device, it is very easy to get lost in the Wonderland. In addition, most of the off-trail hiking in this area is rugged, requiring hours of climbing over and around truck-sized boulders and route-finding between towering granite ridges. Only experienced hikers should attempt navigating off-trail here. Do not hike in this area without a map and compass and/or GPS device. Remember, no water is available in Joshua Tree. Hikers must carry all of the water they'll need for the entire trip or they must cache water in advance.
LOGISTICS: Cars can be parked at the Park's designated backcountry boards, and cars can be cached at backcountry boards at at the end of hikes if you're planning a one-way traverse (like Rattlesnake Canyon to Ryan Mountain to Juniper Flats).
TWO-DAY WONDERLAND OF ROCKS AND QUEEN MOUNTAIN LOOP ROUTE: My brother and I completed a two-day, 21-mile, looped backpacking trip through the Wonderland of Rocks by starting at the Willow Hole Trailhead (the west end of Boy Scout Trail) and proceeding to Willow Hole, the top of the Queen Mountain, down to Queen Valley Road, and back to the trailhead. View the route below or download the Without Baggage Joshua Tree's Rattlesnake to Ryan Mountain GPS track in GPX or KML format. Note: We descended Queen Mountain via an unnecessarily long and difficult route. While we succeeded, the route is quite difficult and we don't recommend it. Instead, try the mapped separate descent track that heads due south from the peak.
TWO-DAY RATTLESNAKE CANYON AND RYAN MOUNTAIN ONE-WAY ROUTE: A few weeks later, my friends and I completed a two-day, 18-mile, one-way backpacking trip through the Wonderland of Rocks by starting at Rattlesnake Canyon, hiking to Willow Hole, and then proceeding across the flats to the top of Ryan Mountain. View the route below or download the Without Baggage Joshua Tree's Rattlesnake to Ryan Mountain GPS track in GPX or KML format.
Rattlesnake Canyon to Ryan Mountain Hike Details
Backpack:
Joshua Tree National Park,
Southern California
18.4 miles
3,205 ft gain — 1,767 ft loss
2,888 ft min — 5,458 ft max