FEBRUARY 2, 2014 — "It's really for adventure people. It's freedom. It's wildness. It's freedom. You are alone with yourself, with the mountains, with the weather, with horses, or whatever. It's freedom. You can go everywhere." -Marta, an Icelandic horse wrangler
Because my brother and I live so far apart (he's in New York; I'm in Los Angeles), we have agreed to reunite once every year, somewhere in the wilderness. We've been to Alaska's Denali, Chilean Patagonia, and even Everest Base Camp, but, for our most recent trip, we set our sights on a hard-to-reach lake in the Icelandic wilderness called Eilísvötn, which, in Icelandic, means "Lake of Eternal Life." The Lake's name caught our imagination, and we knew that hiking to the Lake's remote location would give us lots of time to catch up. (If you haven't seen our 15-minute short film about our trip, you might want to watch it first.)
Of course, the backstory of our search for the Lake of Eternal Life is complicated, which is always the case for any adventure worth doing. While researching backpacking trips on the Internet one day, I came across a German website, written by a guy named Dieter Graser. This amazing guy has not only hiked seemingly every square inch of Iceland, but, also, he has mapped and described it in detail for any German speaker (or Google Translate user). Based on Dieter's meticulous documentation, I pieced together a backpacking plan for Brian and me: a coast-to-coast, 200-mile, 14-day traverse from Skógar on Iceland's southern coast to Akureyri on the northern coast. Even though the plan was the shortest possible way to hike across Iceland, I knew that trying to complete it in 14 days was aggressive. However, job constraints made it impossible for my brother and me to take additional time off, even though we knew that if we ran into any delays at all, we'd never make it across the country.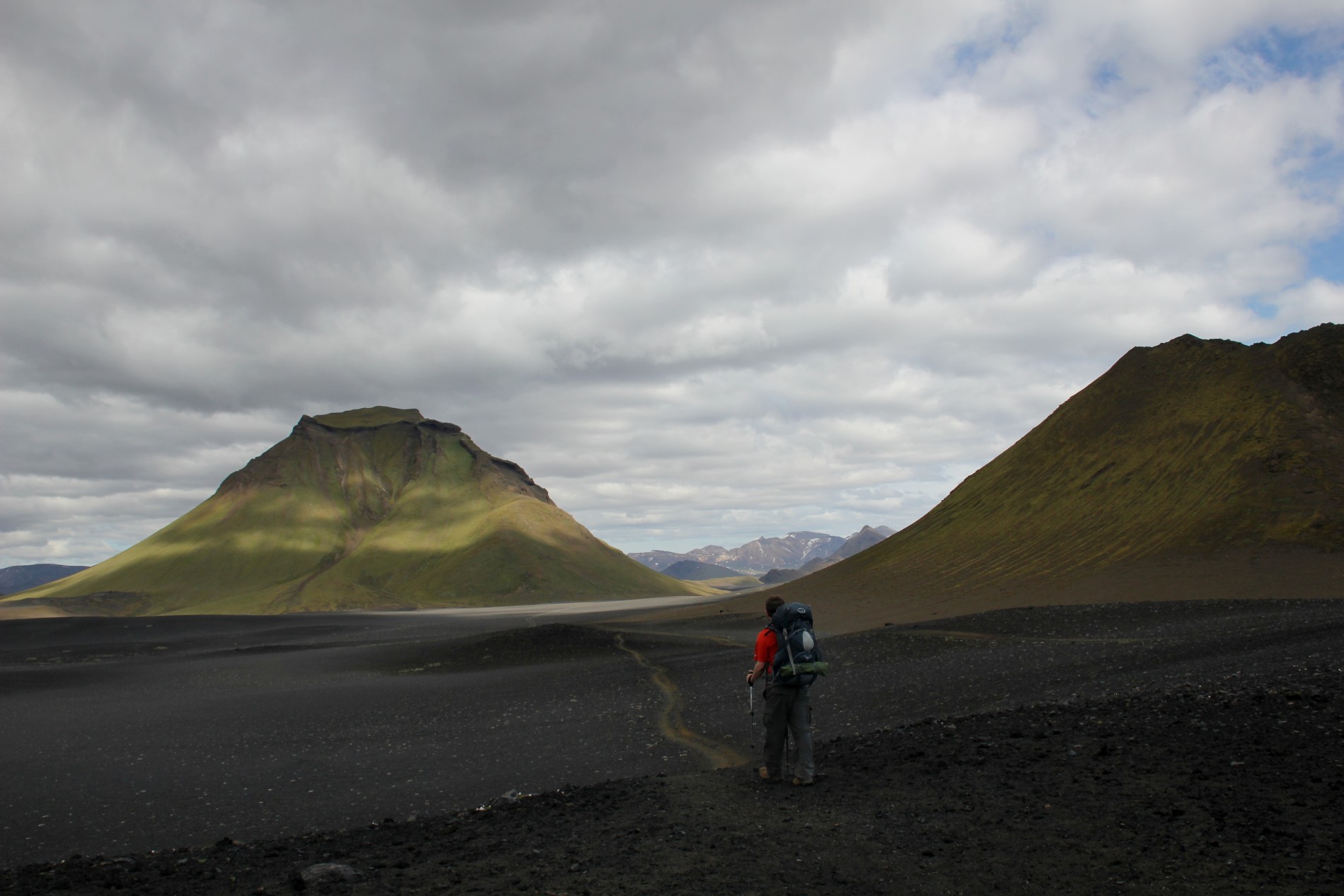 Brian hikes toward Ã??lftavatn.
So, when one of us (I won't say who, but it's not me) forgets his passport on the way to the airport for our flight to Iceland, delaying our departure by a day, we both know already that it's unlikely we'll make it to Iceland's northern coast on time. At first, the development seems like a setback, but soon, our delayed schedule feels like a relief. We quickly realize that we don't have to complete a certain number of miles and bring ourselves to exhaustion every day, because taking a contingency route is inevitable.
Brian and I start by trekking two classic, connected Iceland treks: the Fimmvörðuháls and Laugavegur Trails, the first of which begins at a huge waterfall called Skógafoss on the southern coast. We feel almost disappointed to be enveloped by the sublime, rolling, green hills and plethora of waterfalls, because it feels like we're in the most beautiful place in Iceland already — we're getting a fantastic payoff way too early in our trip. Soon enough, though, as we continue through the snow and glaciers near Fimmvörðuháls Hut, it becomes obvious that there's no chance Iceland will ever disappoint us no matter where we go.
Álftavatn Lake reflects the surrounding mountains.
When we pass Eyjafjallajökull (the famous volcano that erupted in 2010, grounding cross-Atlantic flights and tongue-tying news reporters everywhere), we're amazed to discover that the volcano is still surrounded by cooling, still-steaming lava, which we have never seen anywhere else in the world. Because Iceland sits on top of two tectonic plates, it's one of the few places on Earth where new crust is created above sea level.
As we move past Eyjafjallajökull and into Thórsmörk's lush, green valleys, we discover that, even late at night, the Icelandic sky never goes dark in July. Trying to film ourselves on a backpacking trip reduces the speed at which we can hike significantly, because every tripod-mounted long shot showing the two of us walking together in front of a fantastic vista takes at least 20 minutes to film. It requires setting up the shot on a tripod, walking very far away — and then running back to retrieve the camera (which can be up to a half mile away). But, the unlimited daylight makes us feel like we're never in a hurry. Some days, we sleep in until noon, knowing we'll be able to see Iceland's dazzling scenery even as we keep hiking well past midnight.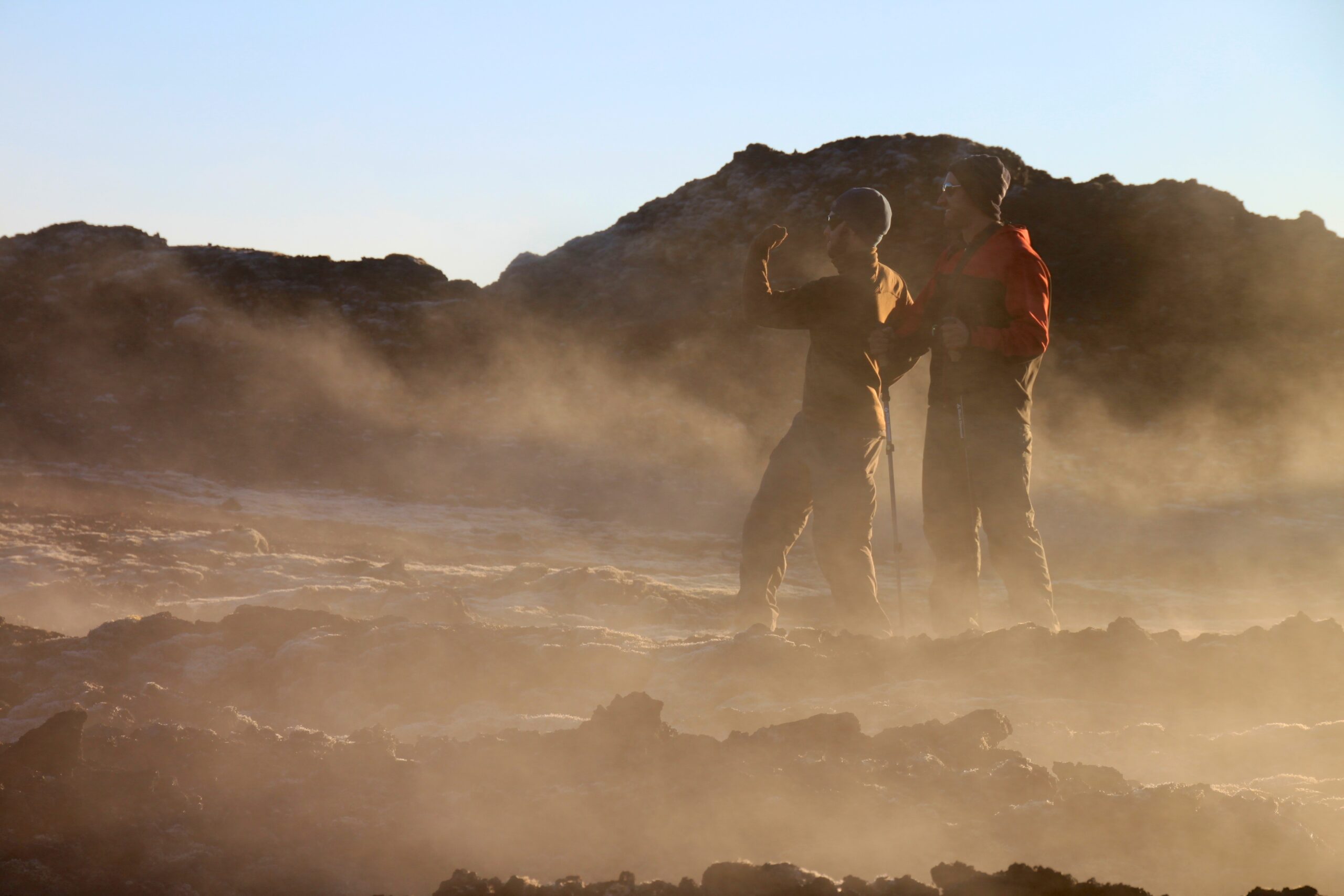 Brian and Hank explore Iceland's Leirhnjúkur lava fields.
It's in fairy tale-like Thórsmörk that the freedom and beauty of Iceland really starts to take hold of us. The emerald mountains towering over us in every single photo look like an artist's rendition of a fantastic, imagined paradise.
"It feels big," Brian says as we sit on a precipice, looking into a seemingly infinite, iridescent valley.
"It feels like it goes on forever," I say, gazing out into paradise.
As we look toward the horizon, I realize that I'm a making a wish. I never want the trail end, and I never want to return to a place with darkness.
Of course, we can't stay in Thorsmork forever — for one thing, we don't have an unlimited food supply — so we continue on into the heavenly landscape, over a suspension bridge crossing a raging river at Emstrua and on to Álftavatn. In the evening in our tent on the lakeshore, Brian and I discuss our trip schedule, and we both reluctantly agree, that, with our time constraints, there's no way we'll finish the remaining 160 miles to Akeuyuri in just nine days. We decide that when we finish the Laugavegur trek, we'll have to take a bus to skip Iceland's central Highlands. We're a bit short with each other, and we feel frustrated.
But, after I fall asleep, in the bright light of the Iceland summer's 3 AM, Brian walks out of the tent to discover the Álftavatn lake in a state of utter flawlessness, a piece of perfectly flat glass reflecting the surrounding snow-capped mountain range. In the morning, he's invigorated by his night discovery, and our frustration falls away quickly as we hike up a mountain toward Hraftinnusker, a camping area covered in shimmering igneous rocks. By the time we reach Landmannalaugar and relax in the campsite's hot spring, we barely remember that we're missing our chance to hike across the Highlands. Instead, we're thrilled to have time to summit Blahnukur Mountain, go horseback riding, and play Time's Up!/Celebrity with some Dutch backpackers before jumping on the bus to Mývatn. So often, when traveling, even when things go wrong, they go right.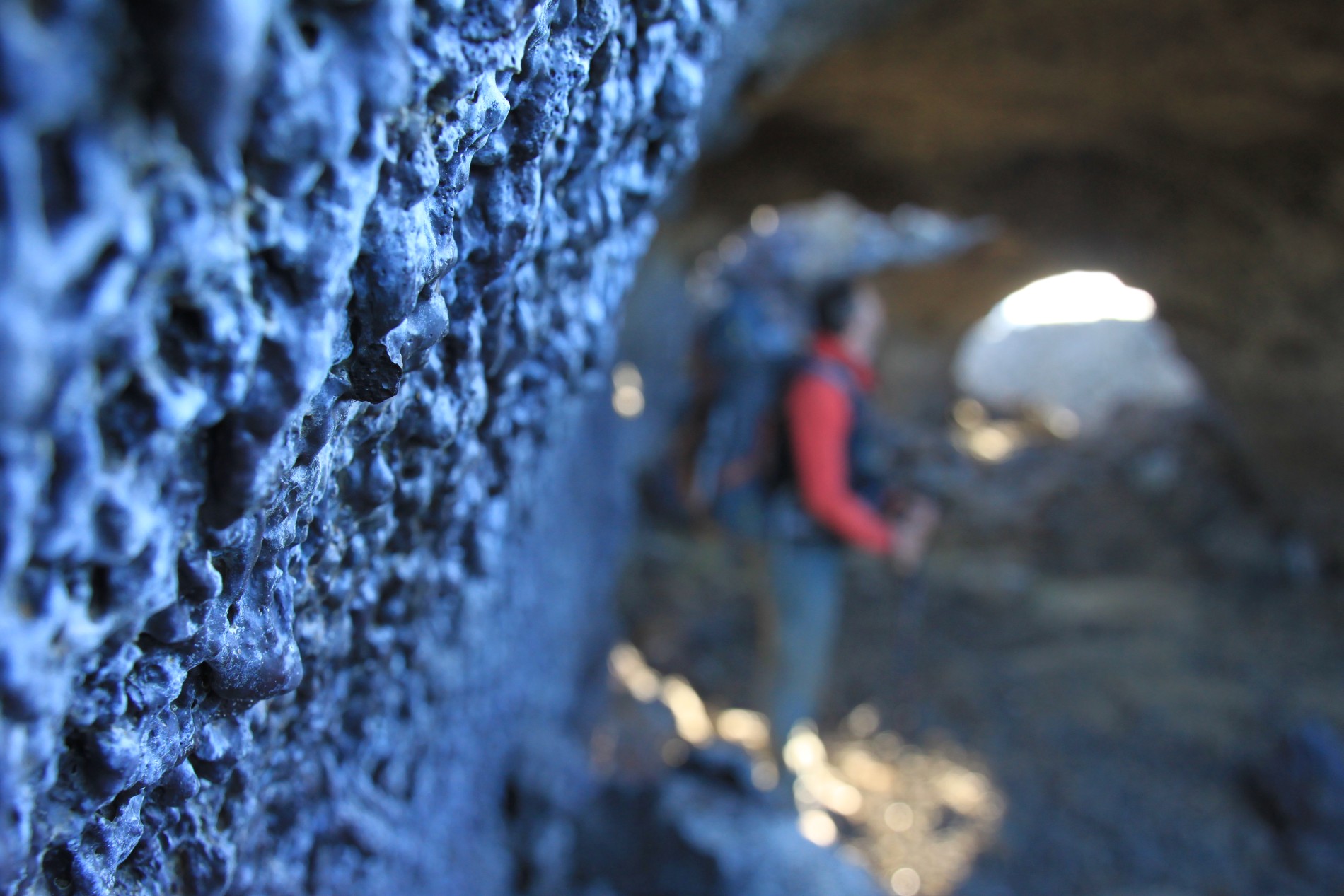 Hank investigates a lava tube near Krafla.
Our arrival in Mývatn, otherwise known as Mosquito Lake, marks our first contact with civilization in a week, so we immediately head to a local pub, Gamlibaerinn, to inhale some heavenly cheeseburgers. We also get a chance to try a classic Icelandic dish: pungent, smoked fish on a piece of rye bread. We both agree that it must be an acquired taste.
In the morning, driven by the burgers and weird fish, we leave the bug-infested shores of Mývatn and start heading in the direction of our most anticipated destination: Eilífsvötn, the Lake of Eternal Life. Any lingering worry about being disappointed by northern Iceland's scenery as compared the Laugavegur's vanishes quickly as we set out toward Krafla across a mind-boggling expanse of jagged lava fields. Walking through huge tubes of cooled lava makes us feel like we're on another planet, and the ominous, steaming, boot-melting lava maze at Leirhnjúkur, a crater which had fissure eruptions in 1975 and 1984, is especially alien. (Neil Armstrong and Buzz Aldrin trained here before their 1969 moon landing.)
After joining a gaggle of tourists (this area is car-accessible) at the iridescent, Víti Crater, we head into trail-less backcountry, across a long stretch of hummocks, toward the Lake of Eternal Life. By far, it's the hardest part of our hiking trip, but it's also the most invigorating. There's no one around for miles, there are no markers to help us with navigation, and rain starts bearing down on us. But, we're also reminded that we have the most fun when we're in true backcountry, where we can only rely on ourselves to find a way out.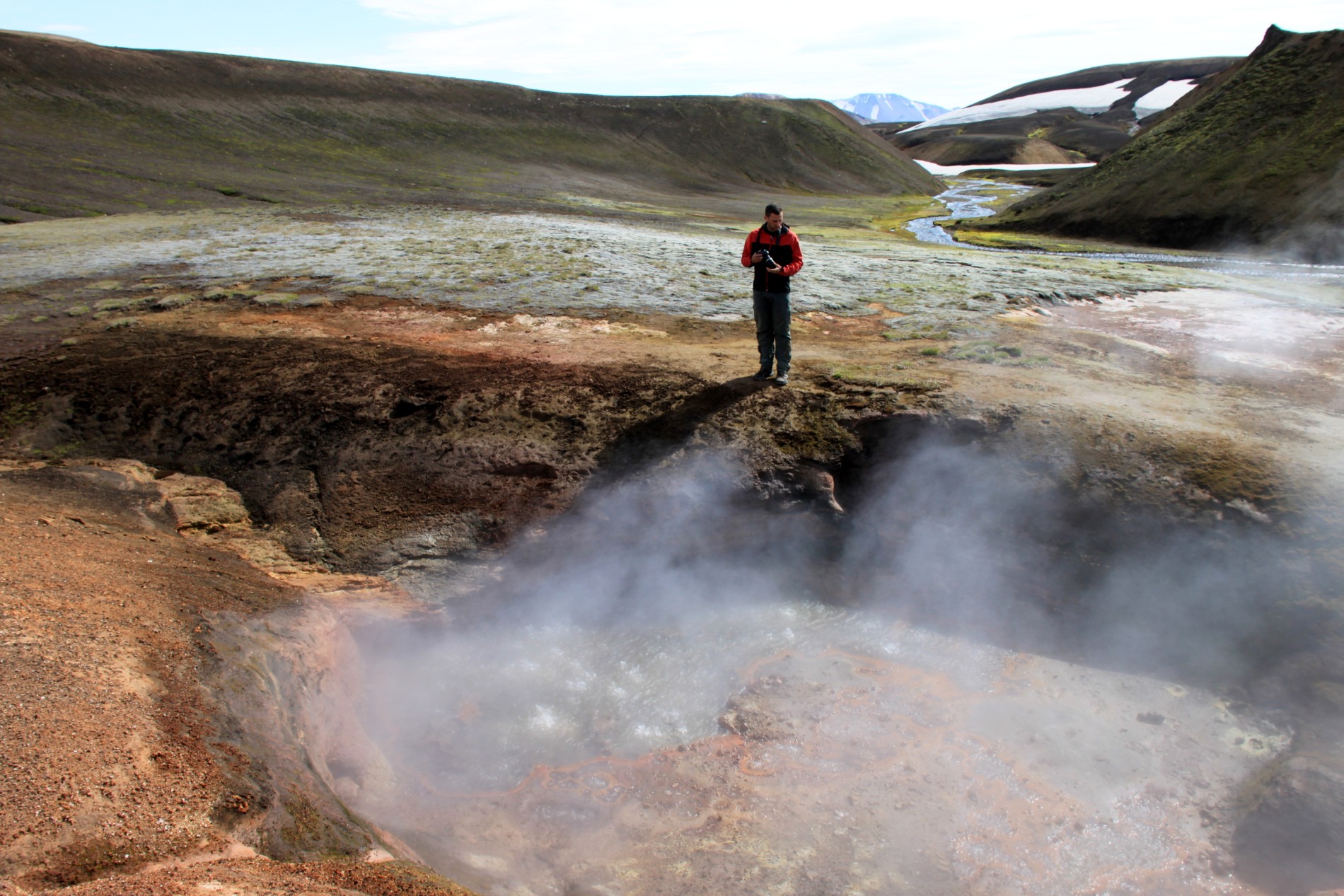 Hank photographs hot fumaroles near Landmannalaugar.
"It's never fun to hike in the rain, but there is something about it that makes it feel real. You, the wilderness, the elements… It's not fun to be wet, but it does feel like you're really doing the real thing," Brian says.
Eventually, we reach a series of looming ridges made of loose volcanic rock, and it's clear from our GPS device that we're very near Eilífsvötn. We hike to the top of ridge after ridge, repeatedly expecting to see the Lake. Every time, however, we're greeted only by the sight of yet another ridge.
"Where is this stupid lake?!" Brian wonders at the top of ridge number four.
And then, just when we think it's unlikely we'll ever see the lake, we catch a glimpse of glistening blue water on the top of ridge number five.
"Wow, it is really big! It's very large and beautiful, and wow, we're here! We're done," I yell. Ecstatic, we hike as fast as we can to the lake and set up our tent on the shore.
After our night here at the Lake, we'll decide to hike an additional 37 miles through Iceland because we're having so much. We'll visit tourist-infested Dettifoss in Vatnajökulsþjóðgarður (Vatnajökull National Park), the largest waterfall in Europe by volume. An Icelandic man in a huge truck — it seems like everyone in Iceland has a car for crossing rivers — will try to teach us how to pronounce Vatnajökulsþjóðgarður. We'll marvel at tens of small waterfalls along the fantastic Hafragilsundirlendi Trail. We'll see a man-and-woman rock formation called Karl og Kerling — though, at first, we'll think that the "Karl og Kerling" sign is simply pointing us toward an Icelandic man named Karl. Near the end, we'll stop at immense lava caves that double as huge echo chambers and yell into them at the top of our lungs. In total, we'll have hiked 115 miles across Iceland.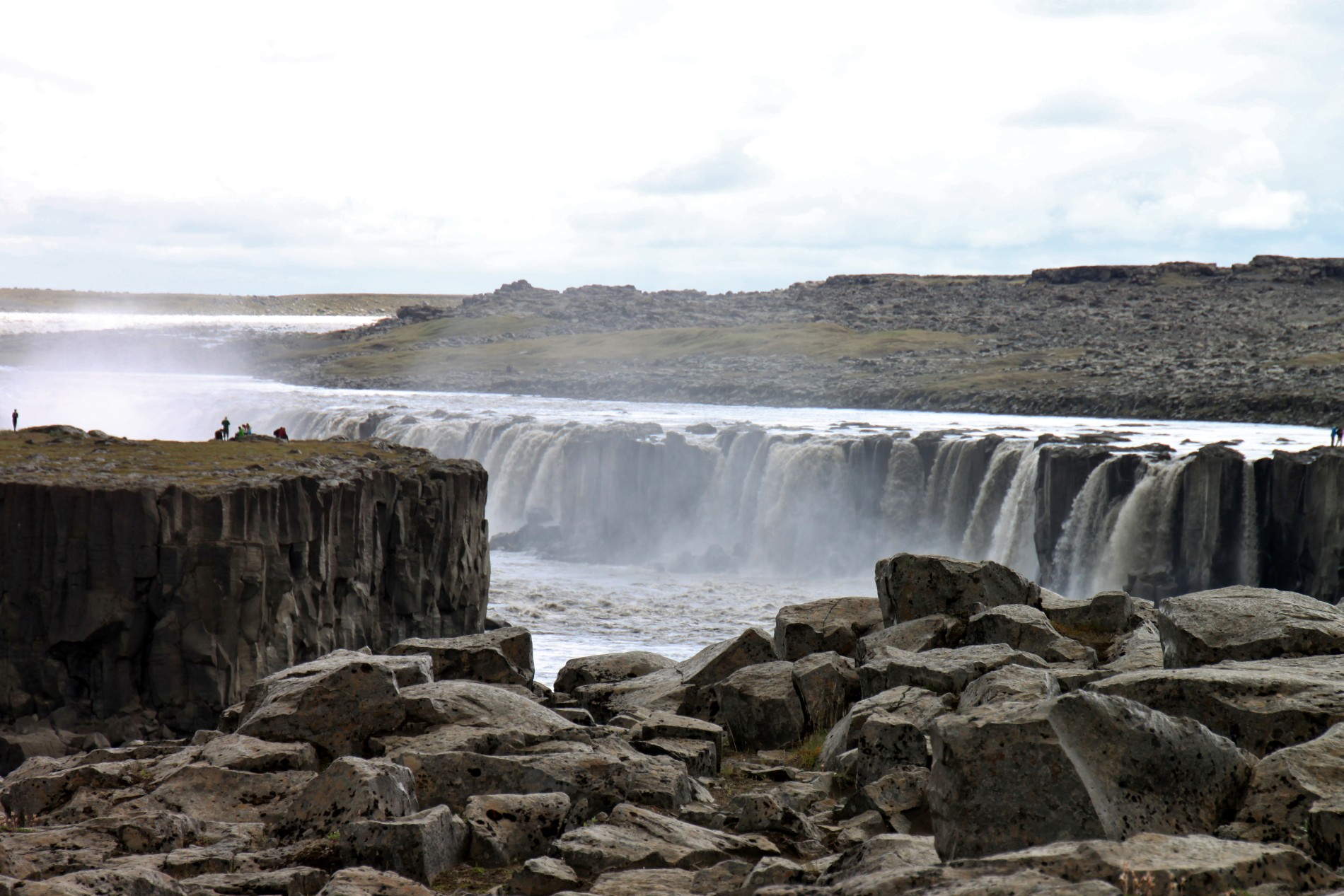 Tourists admire Selfoss Waterfall in Northern Iceland.
But, it's at the Lake of Eternal Life that we feel most content. As the sun lowers in the sky, we quietly make dinner, listening to the soothing sound of the Lake's waves stroking the shore and watching sheep frolic in the surrounding meadow. Darkness never comes, but everything is silent. With no one around for miles, our sense of connectedness to the Earth and feeling of total self-reliance is profound. I feel privileged to be able to share all of it with my brother.
Sadly, in January 2014, the Icelandic government announced plans to revoke 30-year-old environmental protections, putting many of the places we visited during our trip — Mývatn Lake, the Þjórsá River, and the Highlands — in danger of destruction so that new hydropower plants can be built. Three waterfalls on the Þjórsá River — Kjálkaversfoss, Dynkur, and Gljúfurleitarfoss — could be ruined. Now may be the last time in history that hikers can see all of Iceland's natural, untouched beauty. Read more at Worldwatch Institute Europe, Saving Iceland, the Reykjavík Grapevine (Iceland's coolest English-language newspaper), and the New York Times.
Watch Mission Iceland: A Tale of Two Brothers, our 17-minute film about the trip. Then, check out our 4-minute outtakes reel, in which we interview people on the streets of Reykjavik and prove that it is impossible to pronounce Vatnajökulsþjóðgarður.
How to Hike Iceland's Fimmvörðuháls and Laugavegur Treks
Backpack:
Thorsmork and Landmannalaugar,
Iceland
6 days
90.1 km
3,060 m gain — 3,060 m loss
30 m min — 1,068 m max
OVERVIEW: The most commonly hiked trek in Iceland is the stunning Laugavegur, but anyone who does the Laugavegur should also add the beautiful Fimmvörðuháls trail. Both hikes together take four to six days and are about 87 kilometers (54 miles) with 3,576 meters (11,732 feet) of elevation gain. (Starting in Landmannalaugar is slightly easier because there's about 500 fewer meters of elevation gain in that direction).
GEAR: We carried our own tent, sleeping bags, and food for our entire trip because it allowed us freedom to delve into the backcountry and sleep wherever we wanted. However, it's possible for hikers to avoid carrying a tent by staying in hut bunks along the route (though you'll need sleeping bags). Huts are available in Landmannalaugar, Hrafntinnusker, Álftavatn, Hvanngil, Emstrur/Botnar and Langidalur in Þórsmörk, but reservations should be made in advance with the Icelandic Touring Association/Ferðafélag Íslands to ensure available space. Note that some campsites require hikers to pay a camping fee (which allows use of the toilets and showers), so be sure to bring plenty of Icelandic króna (cash) with you.
LOGISTICS: Our flight arrived in Reykjavík early in the morning, and we immediately took a bus to a hotel and left our luggage. After buying maps and additional food supplies in the city, we jumped on a Reykjavík Excursions bus at the BSÍ bus station in Reykjavík to Skógar. Reykjavík Excursions provides buses all over the country and also helped us arrange for an additional box of food to be sent to us by bus at one of our pitstops so we didn't have to carry 14 days of food from the beginning.
ROUTE: Here is the hiking schedule that we followed:
DAY 1: Skógar to Fimmvörðuháls to Þórsmörk (25 km)
DAY 2: Þórsmörk to Emstrua (18 km)
DAY 3: Emstrua to Álftavatn (20 km)
DAY 4: Álftavatn to Hraftinnusker (13 km)
DAY 5: Hraftinnusker to Landmannalaugar (11 km)
View the route below or download the
Without Baggage
Fimmvörðuháls and Laugavegur Trek GPS track in
GPX
or
KML
format.
How to Hike from Mývatn to Eilífsvötn (the Lake of Eternal Life), Dettifoss, and Ásbyrgi
Backpack:
Vatnajökull National Park,
Iceland
5 days
96.2 km
2,346 m gain — 2,346 m loss
31 m min — 689 m max
OVERVIEW: This less-commonly-hiked but beautiful trip starts in Mývatn and takes hikers across a fantastic swath of lava fields, into the backcountry to Eilífsötn (the Lake of Eternal Life), to Dettifoss (the largest waterfall in Europe by volume) and then to the Ásbyrgi National Park entrance. This 5-day hike hike is 96 kilometers (60 miles) with 2,067 meters (6,811 feet) of elevation gain.
GEAR: We carried our own tent, sleeping bags, and food for our entire trip. This hike doesn't have huts, so you'll be camping outside every night. Some campsites require hikers to pay a camping fee (which allows use of the toilets and showers), so be sure to bring plenty of Icelandic króna (cash) with you.
LOGISTICS: After finishing the Laugavegur hike in Landmannalaugar, we originally planned to hike across the highlands to Mývatn. However, due to time constraints, we decided to take a Reykjavík Excursions bus from Landmannalaugar to Mývatn. Note: these buses do not leave every day — make sure to check their schedule before embarking. Then, we stayed over night at the Mývatn campsite and started hiking the next morning. Note that Krafla, Dettifoss, and Vesturdalur are all also accessible by car. When we arrived on foot in Ásbyrgi, we caught another Reykjavík Excursions bus at the gas station near the park entrance to Akureyri and then took a plane back to Reykjavík.
ROUTE: Here is the hiking schedule that we followed:
DAY 1: Mývatn to Krafla (21 km)
DAY 2: Krafla to Eilífsvötn (15 km)
DAY 3: Eilífsvötn to Dettifoss (19 km)
DAY 4: Dettifoss to Vesturdalur (24 km)
DAY 5: Vesturdalur to Ásbyrgi (17 km)
View the route below or download the
Without Baggage
Mývatn to Ásbyrgi GPS track in
GPX
or
KML
format.