MARCH 5, 2011 — "Maybe we should try to film a little movie of us while we're hiking," I suggest to my brother, Brian, while we're trapped in an aluminum tube hurdling through the air during a 26-hour trip from New York to Kathmandu, Nepal.
"Sure," Brian replies. "That sounds like fun."
We're both too tired to understand what we're getting ourselves into. But, I suppose that's how all impossible projects start. Watch our film, right now, to see how Mission Everest: A Tale of Two Brothers ended up. (If you don't have much time, try watching the two-minute trailer for a taste.)
It's not as though we had never done anything like the Everest Base Camp trek before. After all, Brian and I have tackled a bunch of marathon adventures: including hiking to Alaska's McGonagall Pass and Muldrow Glacier, trekking Chilean Patagonia's Torres del Paine Circuit, and snowshoeing the Grand Canyon, rim to rim to rim. So, when our father passed away earlier in the year, we decided that we wanted to spend some extra time together and tackle our longest trek ever. But, a few days before our departure, as we look over our 17-day hiking schedule for our hike to the base of Mount Everest, I seem to forget how difficult trekking can be.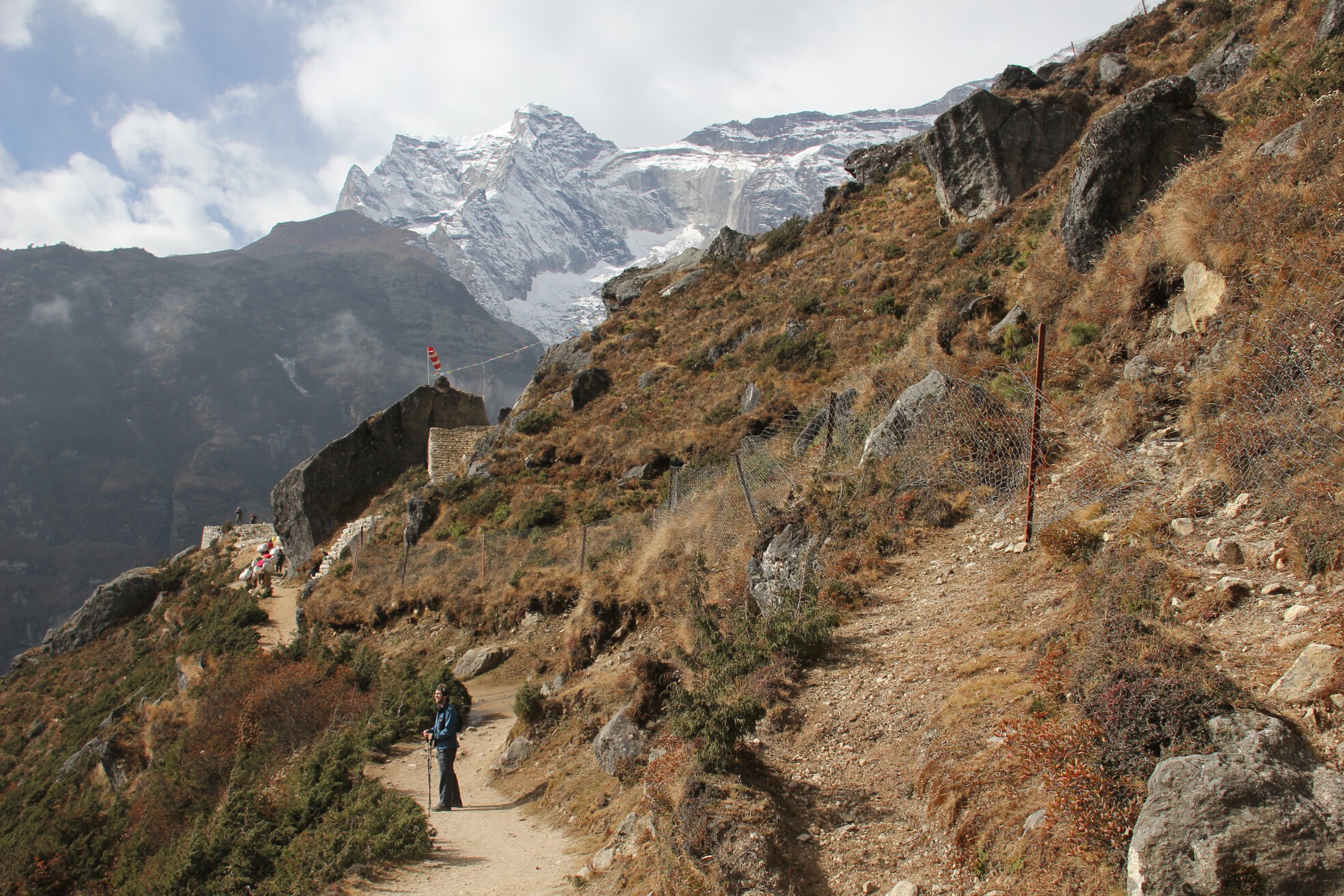 Brian looks out at the view above Namche Bazaar, Nepal.
"This hike looks like it will be the easiest yet!" I say, flexing my machismo. "There are too many acclimatization and buffer days. Should we try to add a long side trip on the way back? At the very least, let's make sure to bring books and board games for the down time."
"I promise you that the altitude will make it much, much harder than it looks," Brian assures me. I don't believe him, and I insist that we alter the standard return route from Base Camp by traversing a difficult mountain pass called Cho La. During our flight, I scramble to alter and compress our hiking schedule, making time to visit Cho La and summit mountain Gokyo Ri.
"This schedule should work as long as nothing goes wrong," I tell Brian.
After landing late at night in Kathmandu, we take a taxi to a guesthouse in the backpacker neighborhood of Thamel, where we quickly find ourselves in a fight with a staff member trying to overcharge us. We wander around Kathmandu in the dark until we find another guesthouse, where we sleep for three hours before rushing back to the airport for our early morning flight to Lukla, the traditional starting point for treks in Nepal's Khumbu (Everest) region. Since we've traveled to Nepal at the end of the trekking season, we're surprised to find the airport packed with backpackers, like Styrofoam peanuts stuffed into a tiny box. At the customer service desk for Yeti Airlines, I ask to speak to Puru, a man with whom I've e-mailed previously to make our flight "reservations," which required no deposit and could be changed at any time. (Sometimes, the chaos of developing countries works to customers' advantage.) I'm disappointed when a woman tells me that Puru is unavailable, because Puru is an airline employee who began our e-mail exchange with, "Namaste!" and ended it with, "I will keep your reservation safe. Have a good day and a safe flight too 🙂" The pleasure of dealing with him made the experience of dealing with airlines in the U.S., by comparison, seem like sticking my hand in a blender. But, perversely, my interactions with Puru seemed so human that a part of me suspects that, like yetis themselves, Puru doesn't actually exist.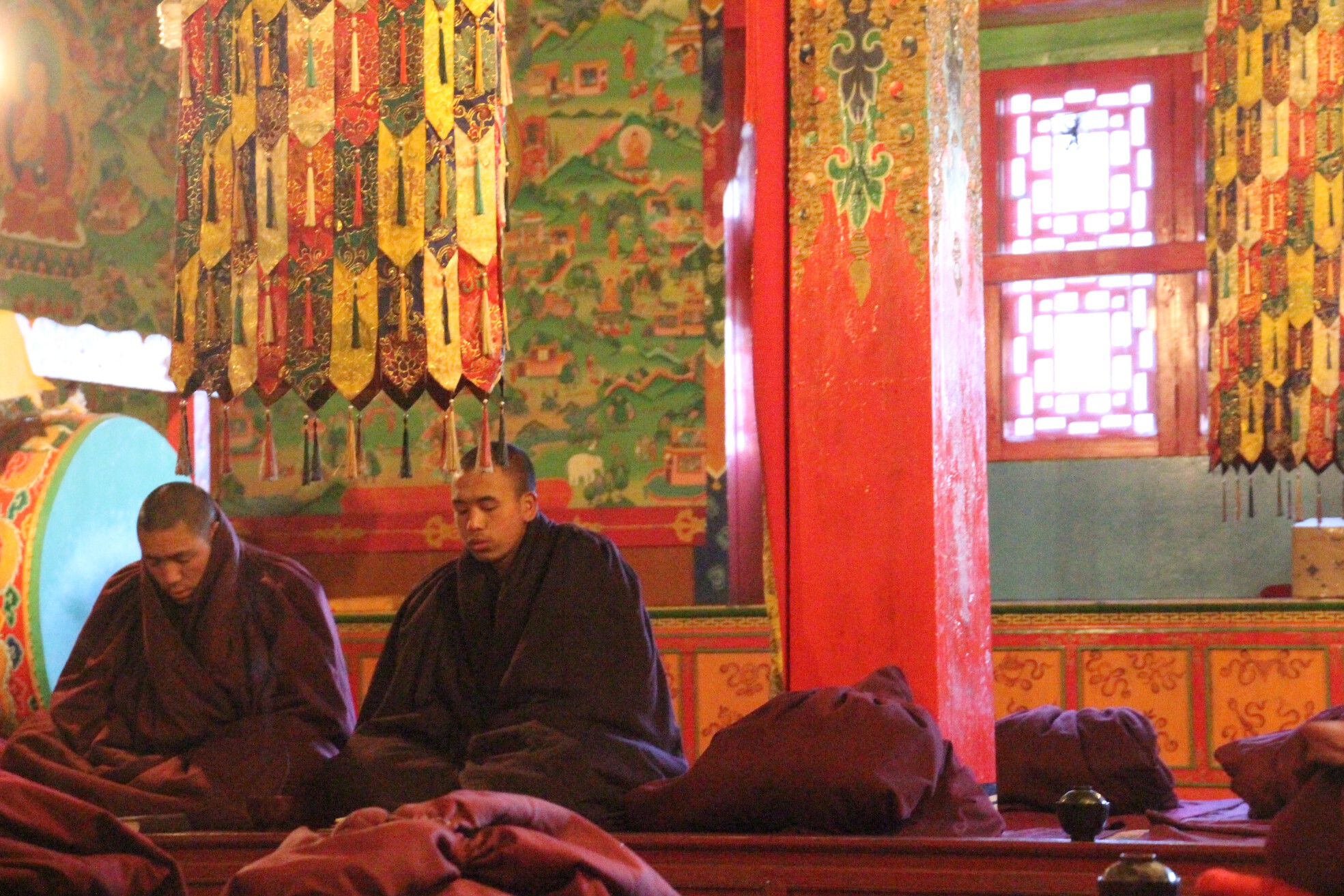 Monks meditate in the monastery in Tengboche, Nepal.
The Woman Who Isn't Puru tells me that flights haven't left for Lukla for four days due to an unending fog hanging over the lower Himalaya, which explains why all of the hundreds of backpackers look like they've been living in the Kathmandu airport and are ready to stick their hands into blenders. She tells us that it's likely our flight will be canceled, and when that happens, we'll be at the back of a four-day line to get to Lukla. Brian and I look at each other. Without saying anything, we both know that though our trip hasn't even started, and it's already a disaster.
But, just then, Brian and I are transported into a spy novel by John le Carré. Or, at least, it seems like that's what has happened, when a suspicious man with a cheap suit and shifting eyes approaches us.
"Need a helicopter ride to Lukla?" he whispers, in perfect English. "For $250, I'll take you right now."
Brian and I are apprehensive. We consult Lonely Planet's Trekking in the Nepal Himalaya, which tells us: "Be aware of the poor safety record of helicopter travel in Nepal — Everest Base Camp is strewn with the wreckage of lost aircraft." But, then, we also discover a long sidebar in the same book detailing the numerous crashes of Twin Otter airplane trips to Lukla, a flight for which we already have tickets. While we're trying to decide what to do, we meet another waiting trekker, who also happens to be a helicopter pilot.
"Well, the helicopter is probably just as safe as the plane you're planning to take — which is, to say, not very safe," he tells us. "But I'd probably do it if I had the money."
Brian and I look around at the sea of desperate faces in the airport. There's only two things that we're sure of: we don't have enough buffer time built into our hiking schedule to sit in the Kathmandu airport for four days, and neither of us wants to stick our hand in a blender.
We negotiate with Mysterious Helicopter Spy to get the price down to $200 per person, and we pay him in cash. Soon, he's rushing us out onto the tarmac to catch the helicopter. Meanwhile, Brian and I are trying to make our "little movie," but we're not really sure exactly what we should be filming. We're constantly interviewing each other on camera about flight logistics ("Okay! What just happened?!"), and other backpackers keep glancing at us either like we've lost or minds or like there's a possibility that, if they think hard enough, they may remember that we're famous Discovery Channel hosts.
After waiting on the tarmac for three hours, our helicopter still hasn't arrived. Every time I ask Mysterious Helicopter Spy when our helicopter will arrive, he talks to someone in Nepalese on his cell phone and tells us, "Soon. They can only fly when there is a break in the fog." Slowly, I'm becoming convinced that we've paid $400 for the privilege of being the targets of an elaborate Nepalese con.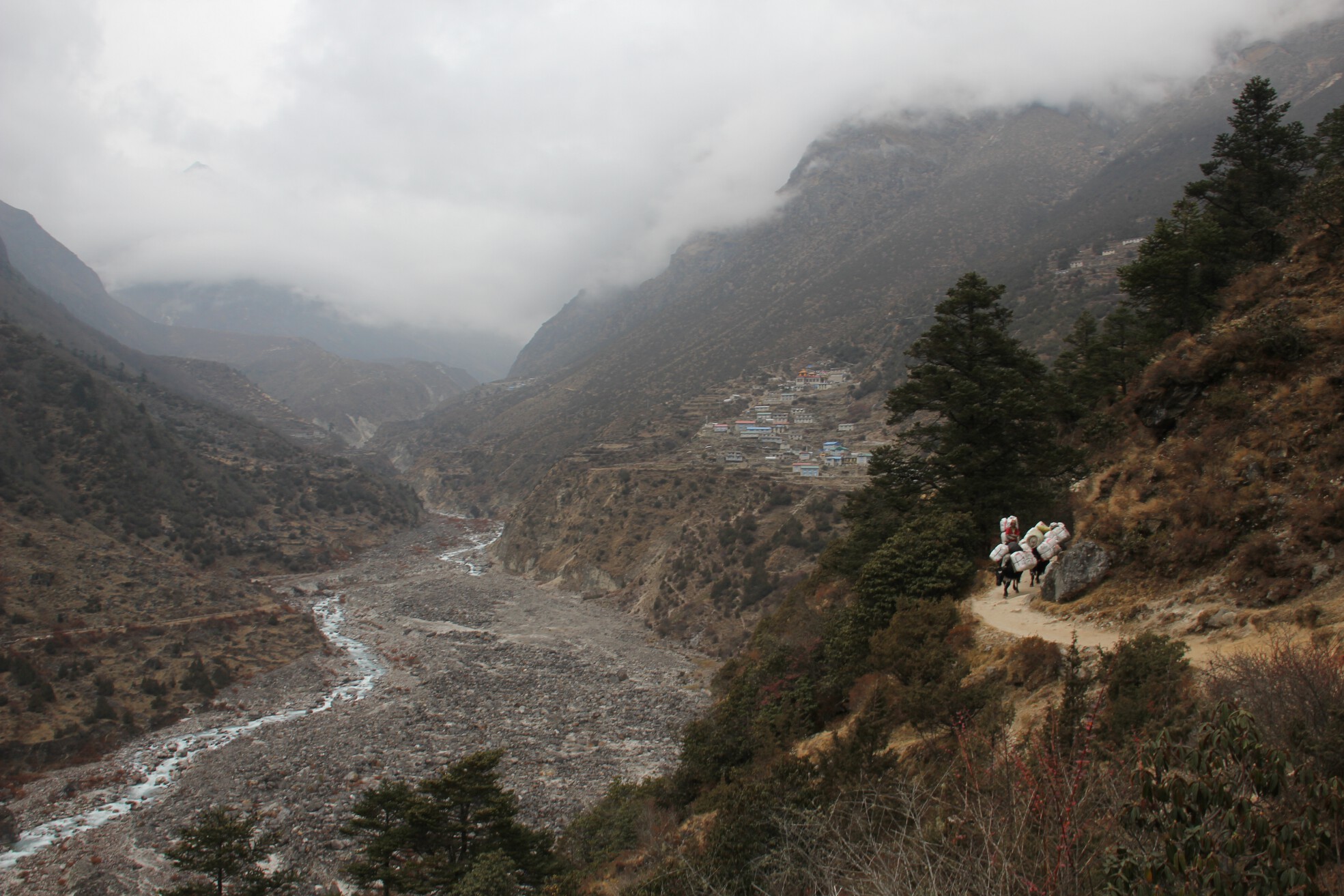 Yaks walk on the trail to Thame, Nepal.
We continue to wait with two Mormon missionaries, Mike and Emily, who are sharing the cost of the flight with us and don't seem to mind that we keep asking them questions, with a camera pointed at them, about their backpacking inexperience.
"It's for a serious documentary film we're preparing for international release," Brian and I tell them, joking.
When our helicopter finally appears, Mysterious Helicopter Spy ushers us into it with extreme urgency.
"Hurry! The fog is coming!" he yells. "The pilot may not be able to get you to Lukla! Goodbye!"
"Wait, where are we going if we're not going to Lukla?!" I ask Brian. He doesn't know. No one knows. As the helicopter starts to hover off the ground — a sensation I find completely foreign compared to the feeling of an airplane takeoff — we realize that, for the first helicopter flight of our lives, we have no idea where we're going, and our pilot doesn't speak English.
Half an hour later, the pilot lands our helicopter in a rice paddy about three miles south of Lukla. One of the two backpacks I'm carrying is filled with heavy supplies for a subsequent trip to India, including a laptop, snack food, and guidebooks. I had never expected to hike with it, because I planned to leave it at a teahouse upon arriving in Lukla. So, it takes us over three hours to trudge the three miles and 2,000 feet of uphill elevation to Lukla with a double-weight load. When we finally arrive, in the rain and darkness, we find over 2,000 backpackers trapped in the town, unable to return to Kathmandu due to the weather. A passing backpacker tells us that all of the teahouses are full and that there is a food shortage due to the number of people stuck, but we eventually find a room at a place called Tara Lodge.
In the lodge's common room, Brian and I sip lemon tea from a pot big enough for six people (the cryptic Nepalese teahouse menu didn't explain sufficiently the meaning of a "B Pot"), as a television shows the IMAX film Everest, detailing the 1996 climbing disaster in which climbing guides Rob Hall and Scott Fischer died on the mountain. A room full of trekkers bundled up in puffy North Face jackets watches, enraptured. It feels like we've been inducted into a strange outdoors-nut cult. We've landed, by helicopter, in adventure-traveler heaven.
Never stop hiking. Never stop filming.
How two brothers managed logistics while filming themselves hiking in Nepal for 17 days straight.
MARCH 8, 2011 — Anyone who has worked on a film or a TV show will tell you that most of the film shot doesn't end up in the final product. Especially for documentaries, it is difficult to guess which real-life events during production will be relevant to the project's final storyline, so producers usually try to capture everything to make sure that no possible plot points get left behind. In short, during most documentary film productions, no one has any idea what they're doing.
Brian and I find that we too have this problem. As we trek, we film interviews with each other on seemingly every possible topic no matter how mundane, from the subtleties of altitude sickness symptoms to the ingredients necessary to create a rehydration drink. But, we also have a problem that most documentary makers don't: we're filming ourselves. Consequently, though interviewing each other is easy, it's almost impossible for us to film scenes that include both of us simultaneously or capture unanticipated events.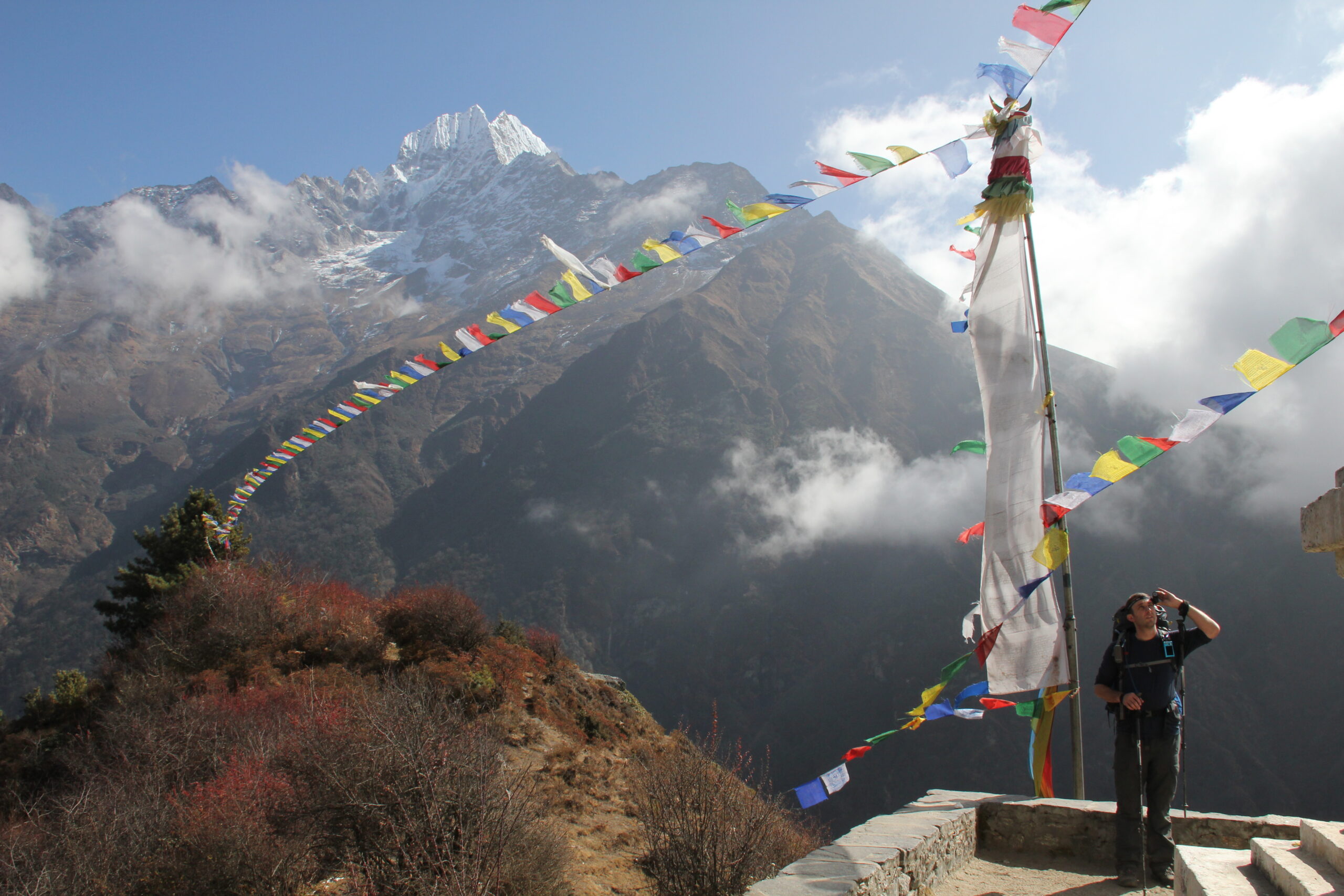 Hank adjusts a ContourHD head-mounted camera above Namche Bazaar, Nepal.
Since our production's budget is $0, Brian and I use comparatively affordable cameras which we already own for filming as we hike. We use three cameras, which often can be seen attached to our chests or heads in the film: the Canon T2i, a midrange, prosumer SLR which shoots stills and HD video, fitted with a Tamron super-zoom lens; the ContourHD, a head-mountable HD video camera; and the Lumix DSC-TS2, an amateur snapshot camera which shoots HD video and also happens to be waterproof and shockproof.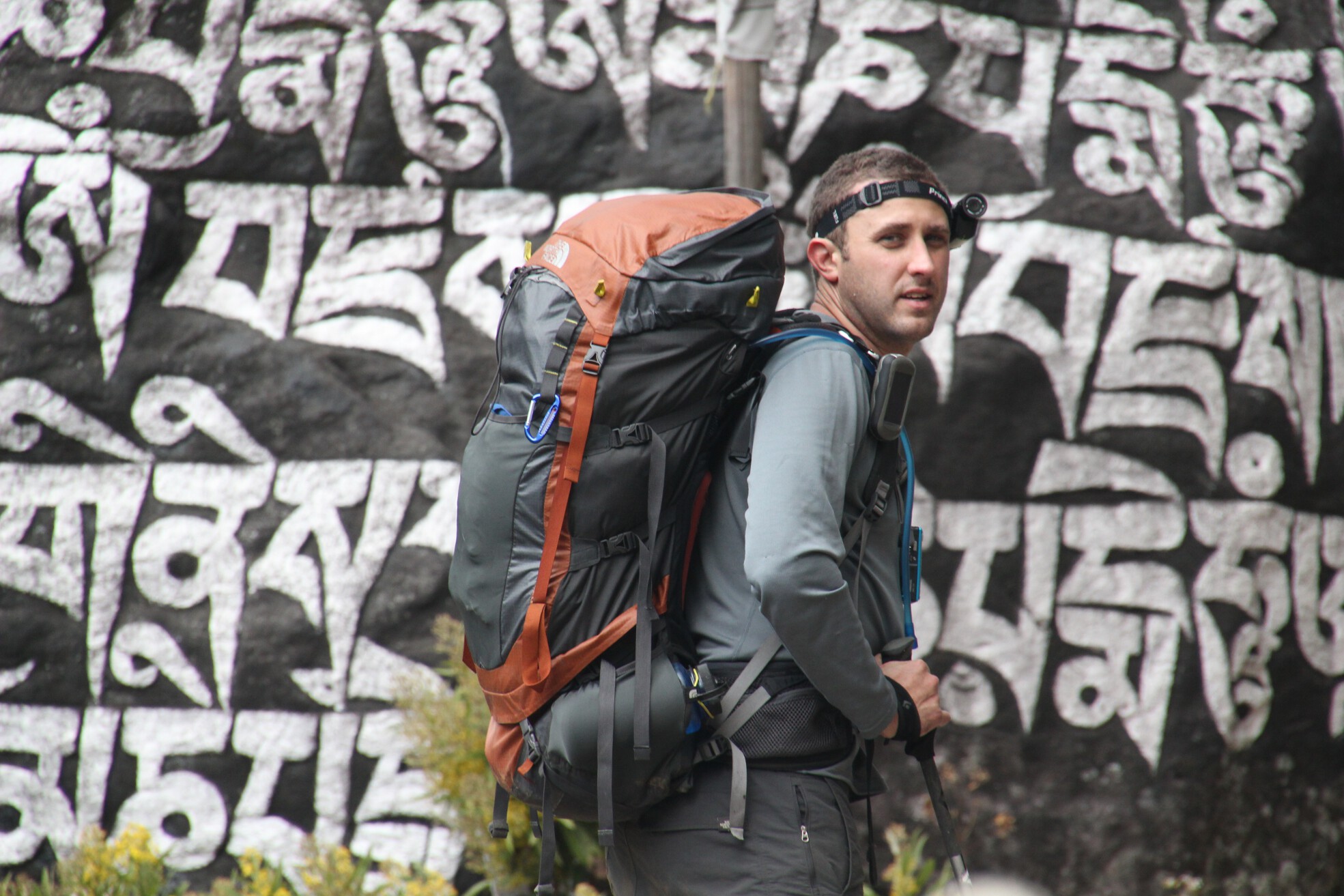 Hank stops in front of a mani stone while wearing a Contour HD head-mounted camera.
But, even with three cameras, we still find capturing important events to be difficult. We don't have the batteries, memory card space, or boundless energy required to keep cameras running every second of the trip. Early in the hike, Brian sprains his ankle while walking on a long suspension bridge, which casts some doubt on whether we'll be able to make it to Base Camp. But, even though I'm wearing the ContourHD on my head and filming at the time, he's walking behind me, so I miss the crucial moment and only manage to capture the immediate aftermath of the sprain after he yells out. During the morning that we're departing Lukla, Brian realizes that he's accidentally left his hiking poles near our teahouse, so I wait for him near the end of town while he rushes back to retrieve them. While no one is around to film him, a group of yaks charge him, and he's almost impaled. In the movie, Brian talks about this incident, but it's unfortunately never seen. After this, we realize that we need to stay together as much as possible with our cameras ready, and, well, we need to be very careful around yaks.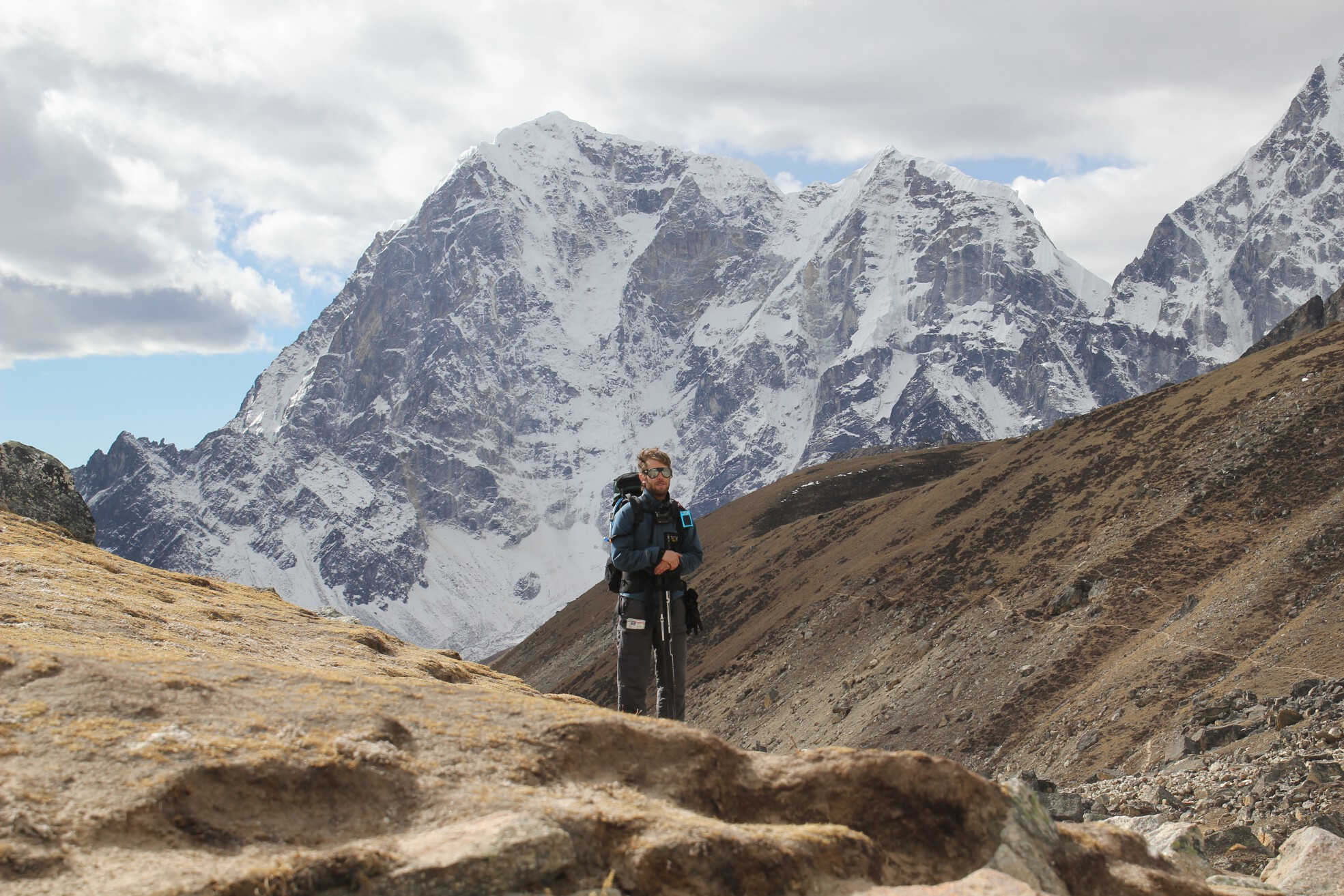 Brian hikes with a Lumix DSC-T2 attached to his chest near Everest Base Camp, Nepal.
By the time we arrive in Namche Bazaar, a village that used to be an essential trading post due to its location near a mountain pass leading to Tibet, we've learned how to be more vigilant about getting things on camera. As often as possible, when we find ourselves in front of a beautiful vista, we set up the Canon on a small tripod (we love the Joby Gorillapod, though ours broke during our trip because we didn't have a model designed for our heavy zoom lens) and film ourselves hiking past the camera. Every time we do this, it takes 20 to 30 minutes depending on how far we hike (because we need to retrace our steps), but getting beautiful shots of us hiking in the film seems worth it. While on some days it takes us nearly twice as long as expected to hike to our destination because of filming stops, our unspoken mantra soon becomes: "Never stop hiking. Never stop filming."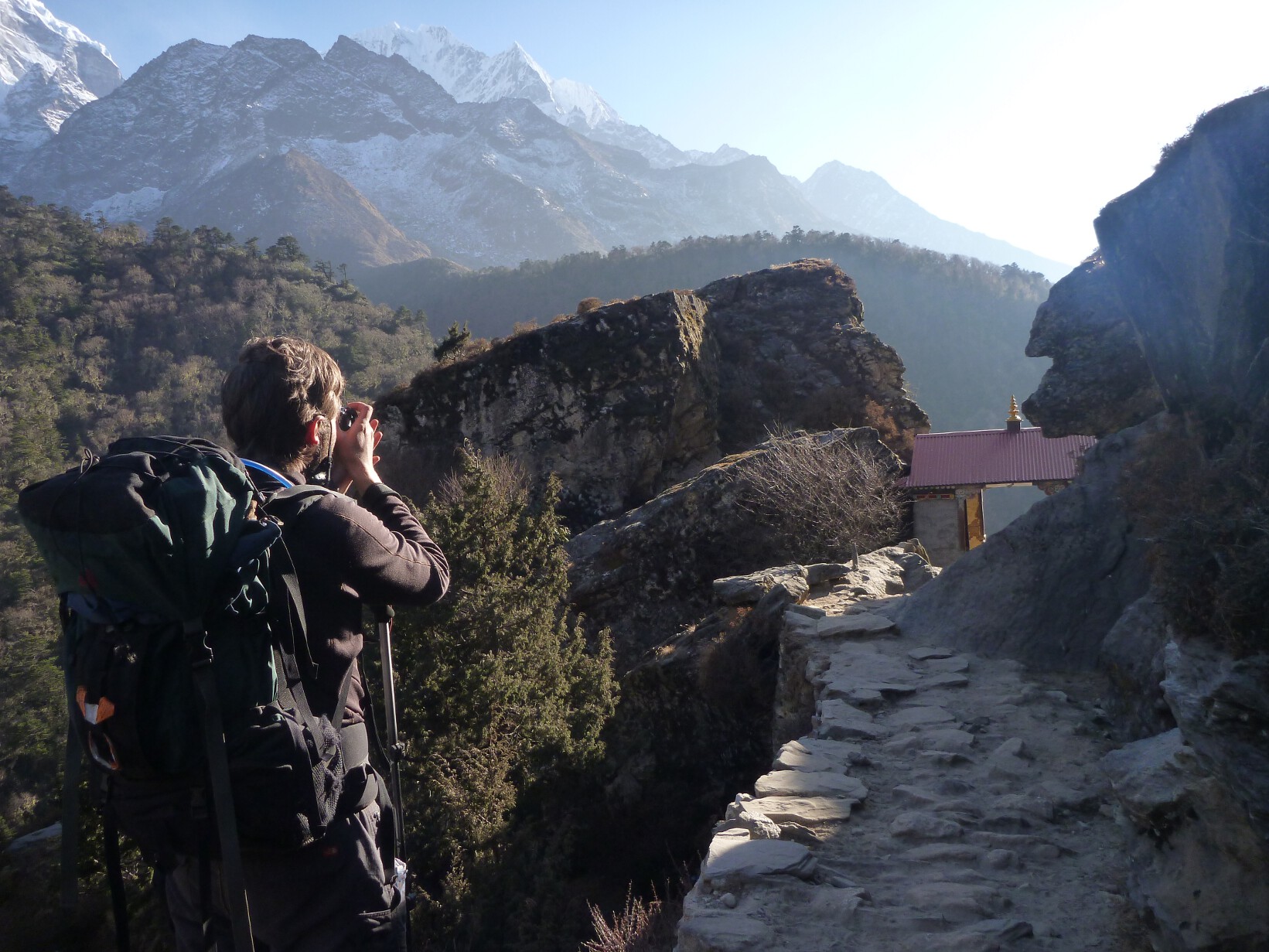 Brian photgraphs scenery near Namche Bazaar, Nepal.
We also become more vigilant about possible story points. Near the end of our hike to Thame — the birthplace of Tenzing Norgay, the first Sherpa to summit Everest — on our acclimatization day in Namche Bazaar, we realize that we've lost the trail. Immediately, we spring into action and make sure to film everything: interviews with each other and scenes of us hiking with our head-mounted camera. We're proud of how this vignette turned out, because it's an example of us managing to capture the drama of a real incident as it unfolds even though we're greatly limited by being able to film only each other.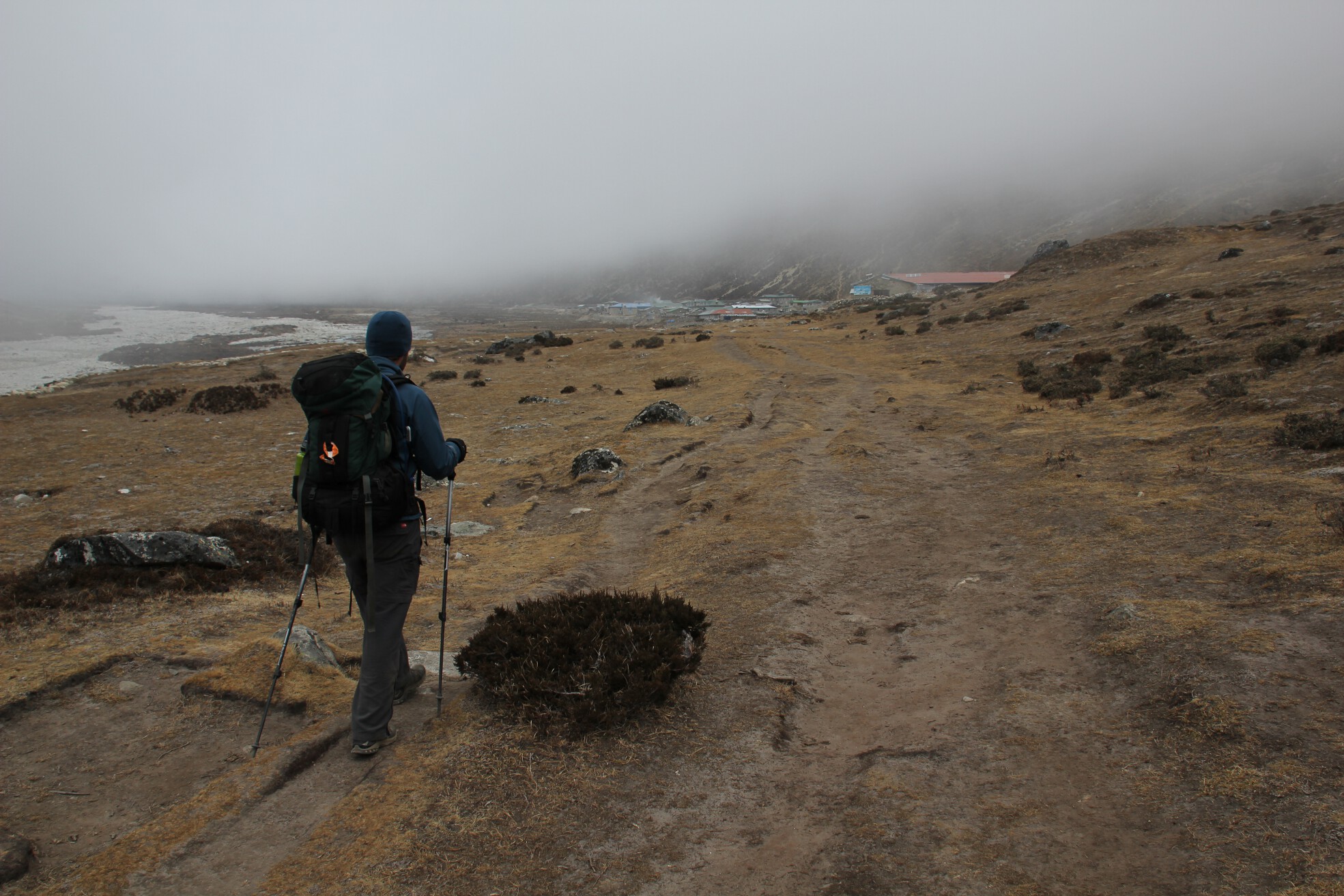 Brian becomes enveloped in fog as he walks toward Pheriche, Nepal.
During our trek (and after), we constantly struggle to find the right balance between educational segments ("How is the Everest Base Camp trek unique?") and real-life dramatic segments ("We're lost!"). Most films and TV shows rightly focus solely on story-based drama, but Brian and I are limited by logistical constraints: we simply can't keep cameras trained on ourselves at all times. Furthermore, Brian and I decide that it's important to give our hypothetical audience (which we expect will include one person: our mom) a window into what hiking in Nepal's Khumbu region is really like, which leads to segments about bridges, yaks, teahouses, and religion. Still, we work hard to add personal touches even to these segments: we film an interview about Brian's almost-impalement for the yak segment, we decide to incorporate Brian's ankle sprain into the bridges segment, and Brian discusses his feelings on Buddhism for the religion segment. We're sure Mom will love it.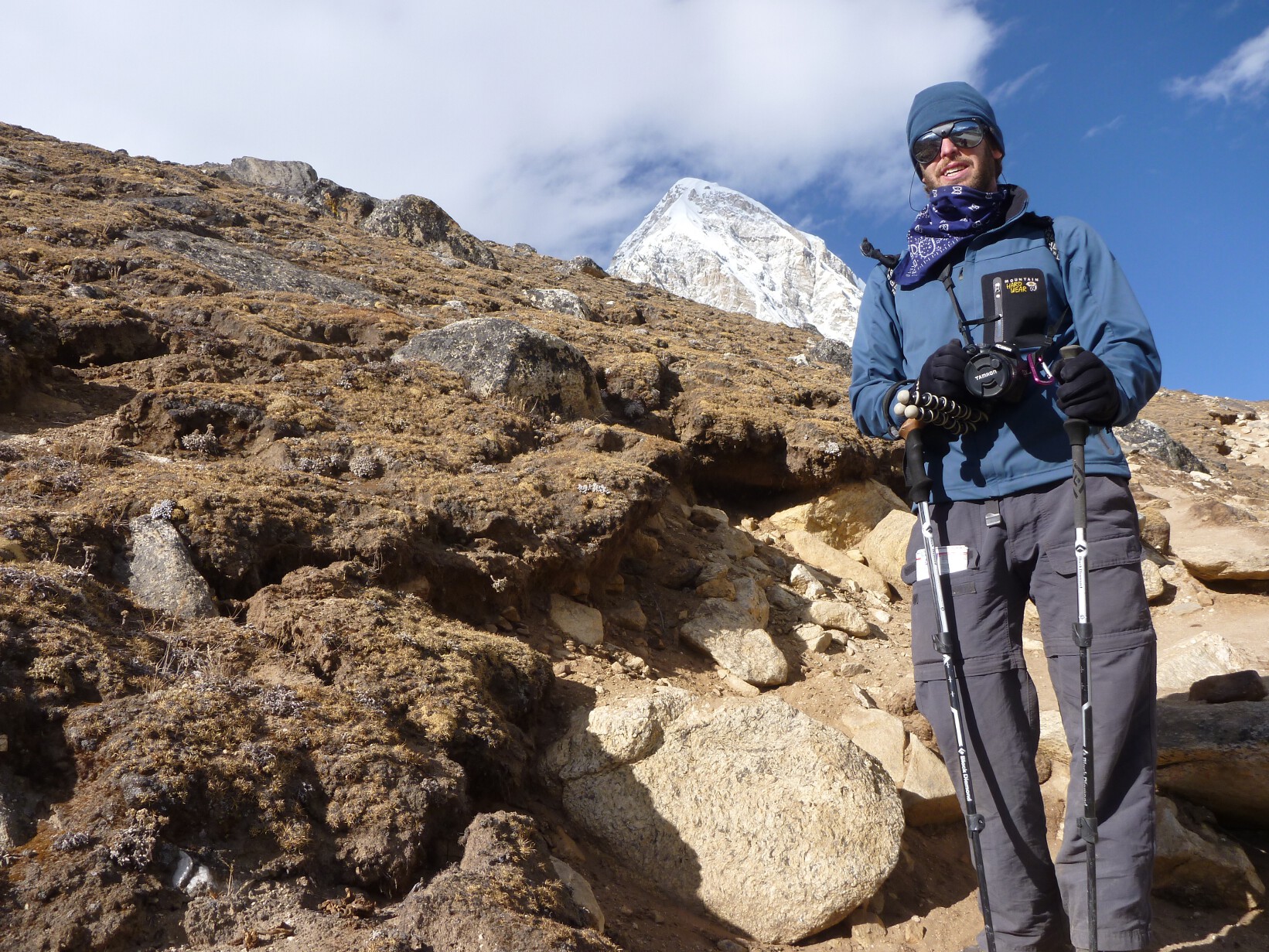 Brian hikes with a Canon SLR and Joby tripod near Everest Base Camp, Nepal.
In Tengboche, we start to feel like we're getting into the amateur-film-production groove. We realize that we should be interviewing people on camera, newscaster style, and I have a great time talking to adorable Australian hiker Janelle this way (though we realize that using the built-in camera microphones for audio is woefully inadequate in noisy environments). We start doing a better job thinking in terms of how segments in the final product will fit together, and we film two self-encapsulated sequences: one about geocaching, in which we discover a hidden treasure in a forest high above Tengboche, and another about board games, in which Brian reveals my incompetence at a game we've christened "Space Opera." (Neither segment was exciting enough to make it into the final film, but the ideas were sound.)
By the time we make it to Lobuche, we're starting to fancy ourselves famous film directors. We're interviewing more people; we're shooting scenes that we know will tie into previously shot scenes and provide a story arc; and we're being more intentional about what we say on camera. (Yet, despite our newfound proficiency, I'll always regret that we didn't have time to interview a couple of married blueberry farmers from Estonia whom we met in Pheriche.)
But, it's always when you feel most confident that things go wrong. When I wake up in the morning after arriving in Lobuche, I feel so sick that I'm desperate to throw out our mantra. We need to stop hiking. We need to stop filming.
Like hiking through molasses with a meat grinder in your stomach
Two brothers fight food poisoning while filming their trek to Nepal's Everest Base Camp.
MARCH 13, 2011 — When we arrive in Lobuche, only 1,149 feet below Everest Base Camp, I eat a plate of spaghetti and sausage for dinner. It doesn't taste good, but, by now, the importance of taste has become second to stuffing as many calories into ourselves as feasible, because we find it nearly impossible to replenish the at least 6,000 calories we're burning each day while hiking. Brian orders dal bhat, a Nepalese rice-potatoes-curry dish that is one of the tastiest meals available in the Khumbu. Unfortunately, even dal bhat starts tasting bland after you've eaten it ten times in two weeks.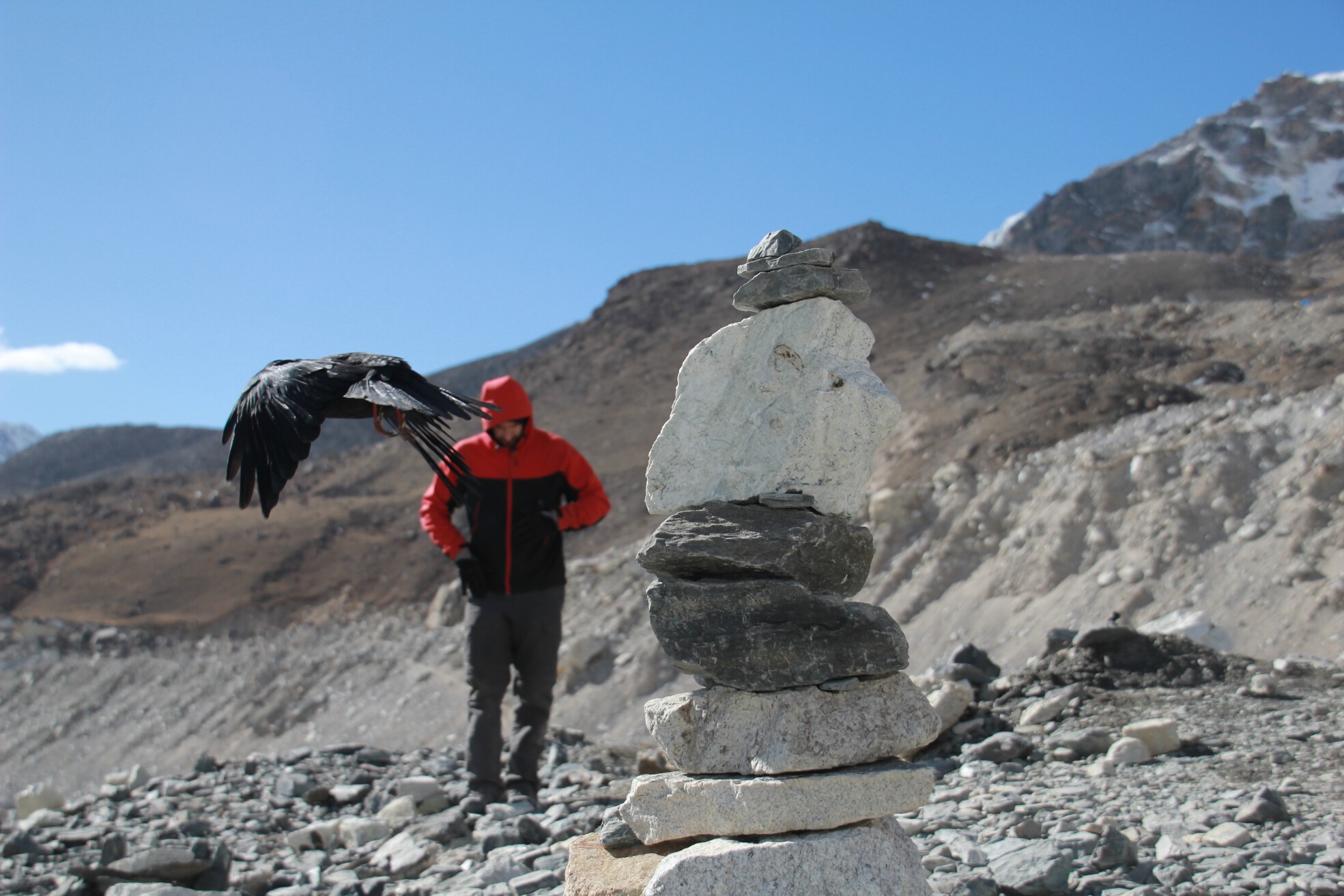 Hank, feeling ill, walks toward Everest Base Camp behind a flying bird.
During dinner, Brian and I talk to Harry Potter — or, at least, that's what we call him, because he's British and looks and sounds exactly like Daniel Radcliffe. He tells us that he's looking for someone to join him in traversing Cho La Pass, an alternate return route from Everest Base Camp. This is the return route for which I've been lobbying from the beginning. Harry Potter tells us that a local guide urged him not to try Cho La alone because of a recent snowfall that has made it difficult to avoid tumbling down the mountain while following the high trail. Since we've done a good job adhering to our aggressive schedule, Brian and I decide that we have time for Cho La, and we promise Harry that we'll join him when we return from Base Camp. Before bed, a boisterous group of Italian hikers, seeing us filming with our cameras, eagerly tells us that they're carrying a blowup doll, and they plan to take scandalous photos with it at Base Camp. They beg us to film them with the doll when we get there. We're not terribly impressed with their wit.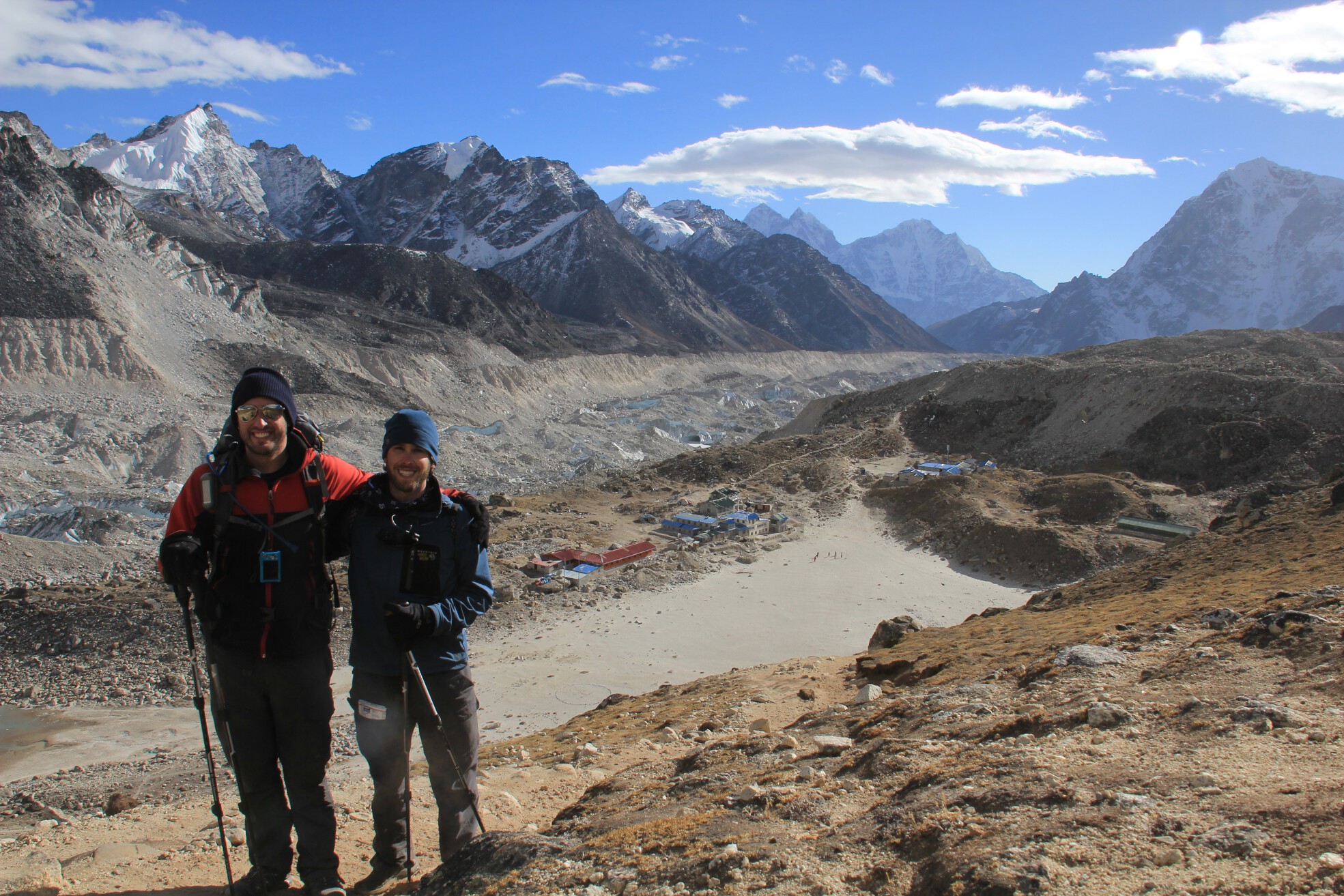 Hank and Brian pause for filming and a photo on the way up Kala Patthar.
Four hours later, in the middle of the night, I find myself needing to visit our teahouse's filthy squat toilet every 20 minutes. I'm regretting eating the spaghetti and sausage. Each time I wake, the sound of trekkers' constant coughing from their rooms due to the lack of oxygen makes me feel like I'm in a hospital's Critical Care unit. For the rest of the night, I feel like my internal organs are rearranging themselves constantly, and I feel anemic. In the morning, I still feel very sick, but we decide that it's essential to stay on schedule so that we can join Harry Potter over Cho La Pass. Fortunately, I've come prepared: I'm carrying exactly what my travel doctor ordered: Ciprofloxacin for Nepal and Azithromycin for my subsequent trip to India, both broad-spectrum antibiotics appropriate for killing the nasty stomach bacteria that usually cause travellers' diarrhea. While I'm lying in bed, Brian pulls out a camera and makes me talk about how I'm feeling. I'm miserable and reluctant, but we're used to a dynamic in which one of us tries to keep everything going when the other lacks motivation. Brian insists that we keep filming, no matter how bad we feel. After I skip breakfast, Brian brews an improvised rehydration beverage for me. Then, Brian does a quick interview on camera, and we start hiking slowly up the trail toward Gorak Shep, the jumping-off point for Everest Base Camp and nearby mountain Kala Patthar.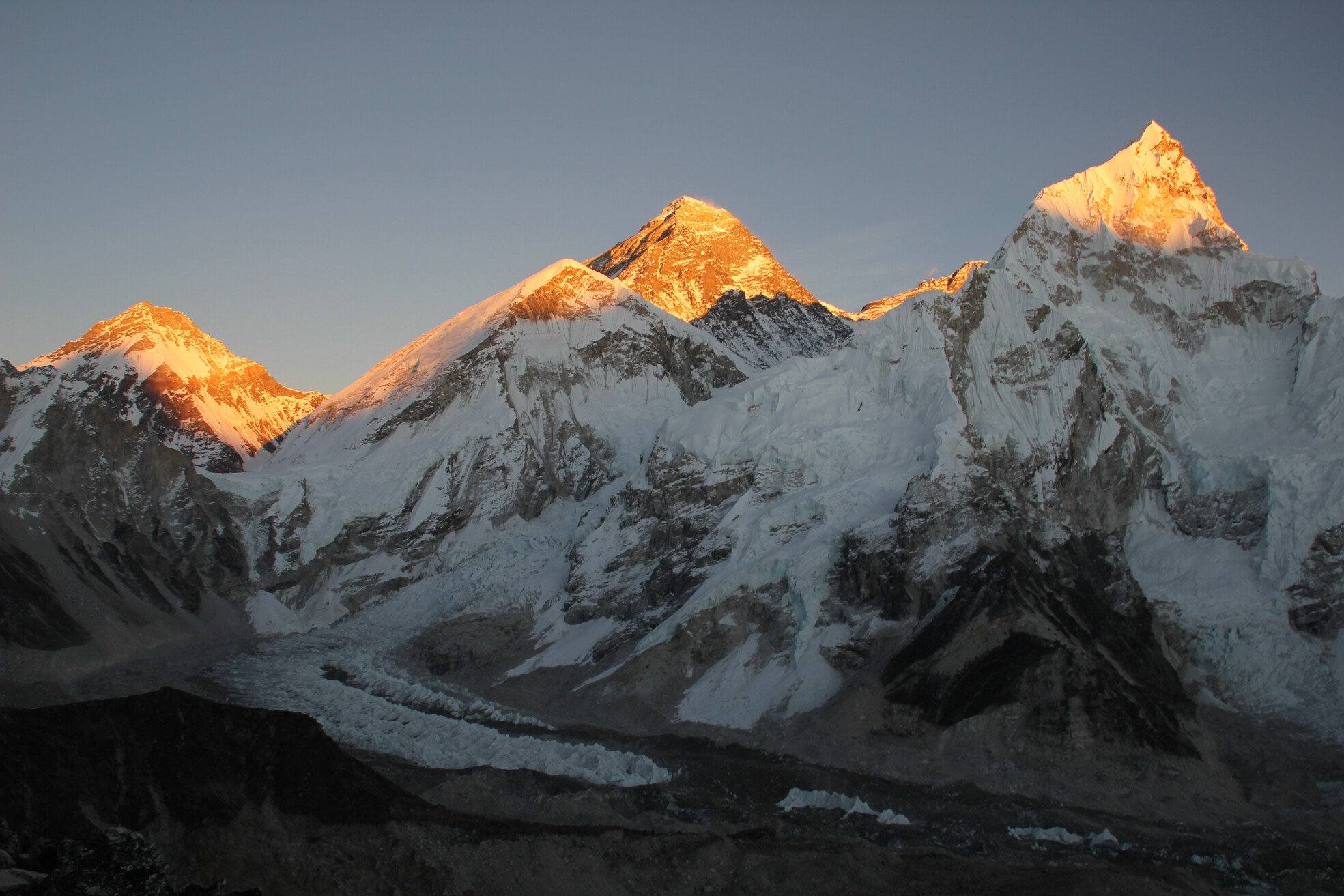 Sunlight illuminates Mount Everest during a sunset seen from Kala Patthar, Nepal.
150 feet of elevation above Lobuche, Brian and I stop to take a break. My body feels so weak that I'm sure I'm going to collapse at any moment. I tell Brian that I don't think I can make it to Gorak Shep. After a long deliberation, which we film by putting the camera on our tripod below us and sitting on some rocks next to a glacial moraine, we return to Lobuche. I crawl back into bed.
While Brian reads Peter Matthiessen's The Snow Leopard — a classic about Matthiessen's epic trek to Crystal Mountain in Nepal's Dolpo region — I stay in bed for 24 hours, waking frequently to visit the toilet. During these sleep interruptions, Brian updates me on Matthiessen's ruminations on his own overwhelming struggles during his difficult trek. We begin to feel an affinity with him. When I wake the next morning, I'm feeling slightly improved, but Brian then divulges that he spent part of the night vomiting. For breakfast, we order pancakes and Sprite, trying to get at least a small amount of benign food in our stomachs. But, after we force down about half of our pancakes — which taste more like glue patties than like sweet cake — our dreams of crossing Cho La Pass with Harry Potter are shattered by glue- and Sprite-flavored vomit. We decide unhappily to spend another day recovering in Lobuche, knowing that doing so means we've wasted two full hiking days, and we'll only have time to return from Base Camp via our approach route. We're dejected.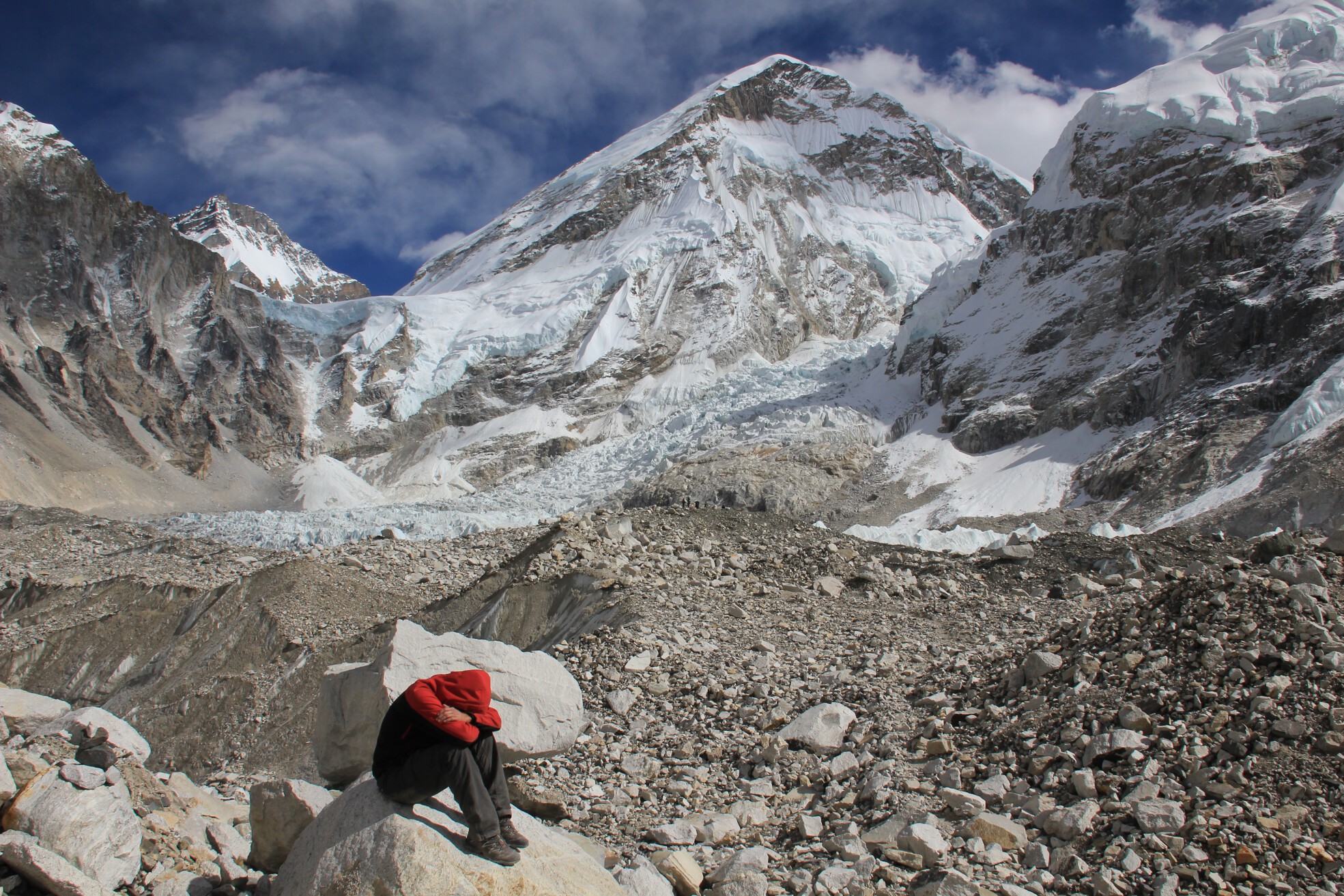 Hank stops to rest while feeling ill on the way to Everest Base Camp.
The next morning, we still barely feel well enough to move. But, we know that our late father would have disapproved greatly of our giving up. Even on vacations, he liked to pack our days full, making sure that the family saw everything there was to see. Brian and I are cut from the same cloth: we don't want to risk missing our chance to visit Everest Base Camp and maybe even more importantly, Kala Patthar. Visiting the summit of Kala Patthar is considered the highlight of the Everest Base Camp trek, because, from the top, hikers can see views of three of the twenty highest mountains in the world: Everest (29,029 feet), Lohtse (27,940 feet), and Nuptse (25,801 feet). (Incidentally, this is especially important because the peak of Mount Everest is not visible from Everest Base Camp.)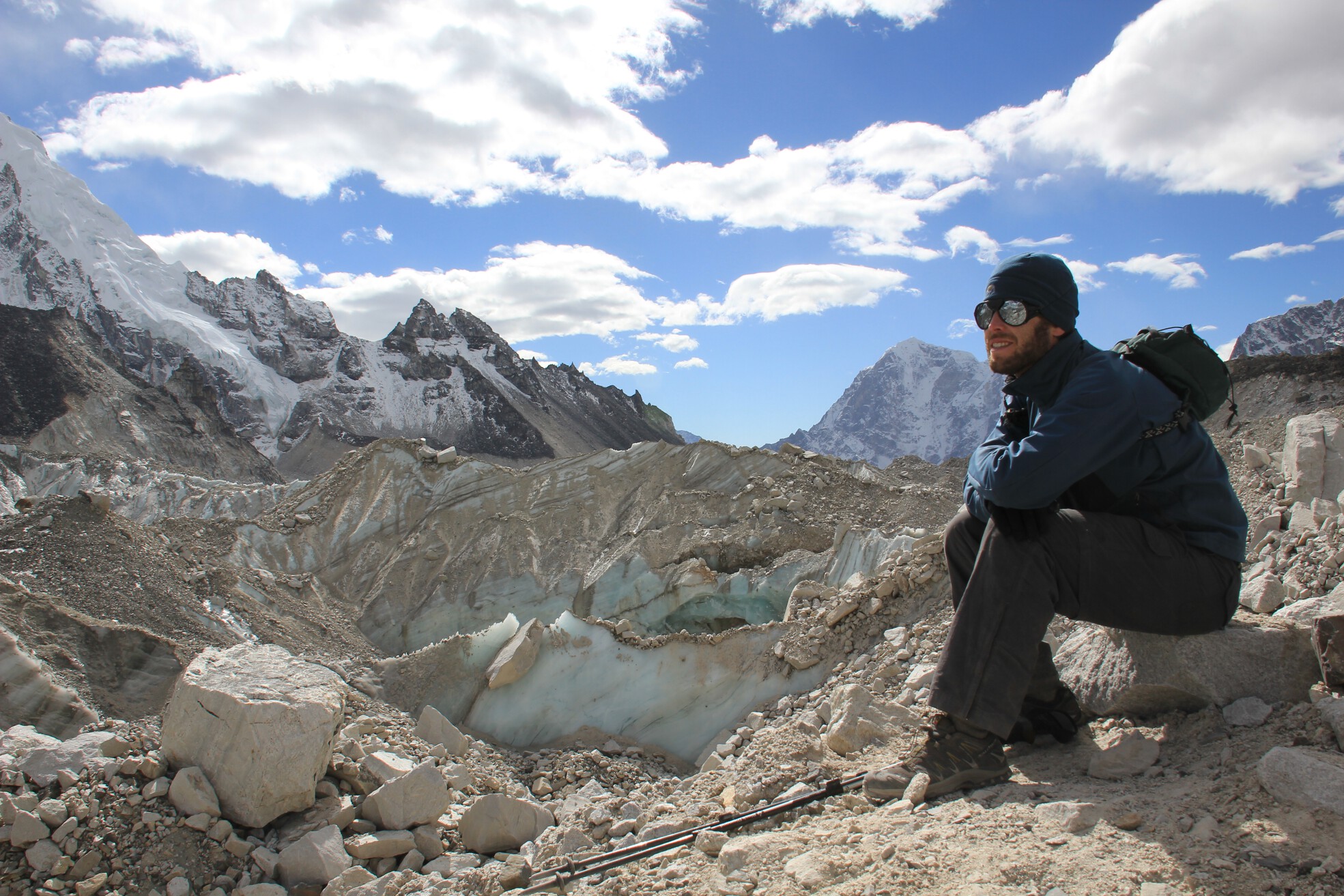 Brian takes a break near Everest Base Camp, Nepal.
Finally, we leave Lobuche and drag ourselves to Gorak Shep. It only takes us a couple hours, and when we arrive at our teahouse, we meet a British couple who tells us that we still have enough time to do the "easy climb" to the top of Kala Patthar to see the sunset. We're convinced, but, as Brian and I start up the mountain, we feel like we're going to collapse. We feel extraordinarily weak, the trail is steep, and there's only half as much oxygen in the air as there is at sea level. We're both annoyed with the extra work and the delay required when we agree to set up the camera on a tripod to film ourselves hiking up the mountain, but we want to make sure this special moment is captured, if for no other reason than to prove to ourselves that we conquered Kala Patthar despite the odds. When we finally reach the summit, we're delirious and rambling because of extreme fatigue and lack of oxygen. When Brian directs the camera toward me, my interview is sprawling and emotional. I start crying, which is not typical for me. When I interview Brian, I can barely hold the camera, and the frame is strangely askew and shows other hikers milling about. During his interview, he too becomes teary.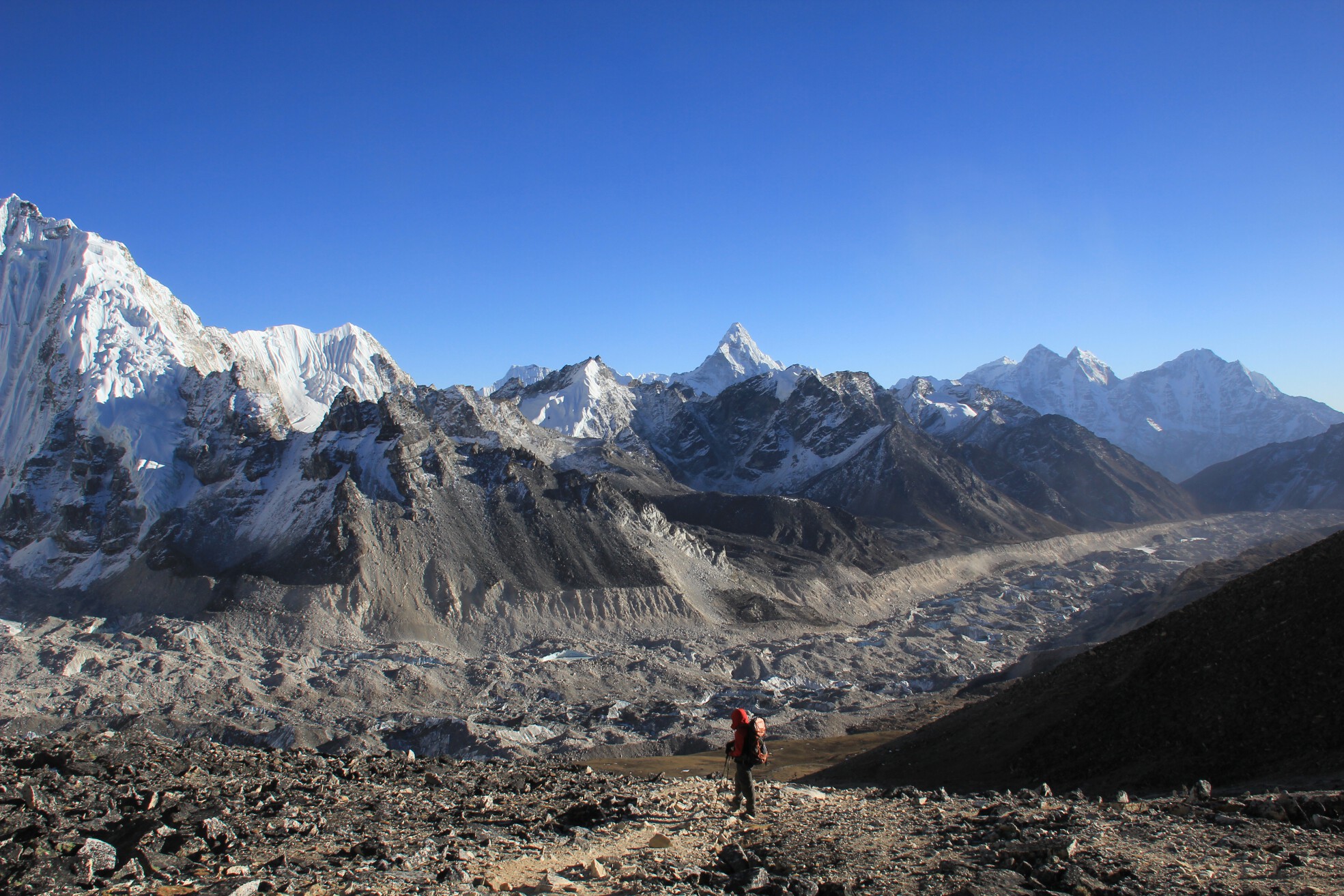 Hank hikes toward the summit of Kala Patthar near Gorak Shep, Nepal.
That night, we prearrange two of our cameras on a windowsill next to our beds. In the morning, as soon as we awake, we turn the cameras on to capture the last morning of our life before being transformed into people who have visited Everest Base Camp. We still feel very ill, and we don't feel like getting out of bed. But we think of our Dad, not to mention our imminent flight back to Kathmandu, and we force ourselves up. Slowly, we trudge toward Base Camp, and I feel like I'm hiking through molasses with a meat grinder in my stomach. Since the hike takes three hours in each direction, we have plenty of time to film each other walking across the astounding vistas of glacial moraines with peaks towering over us.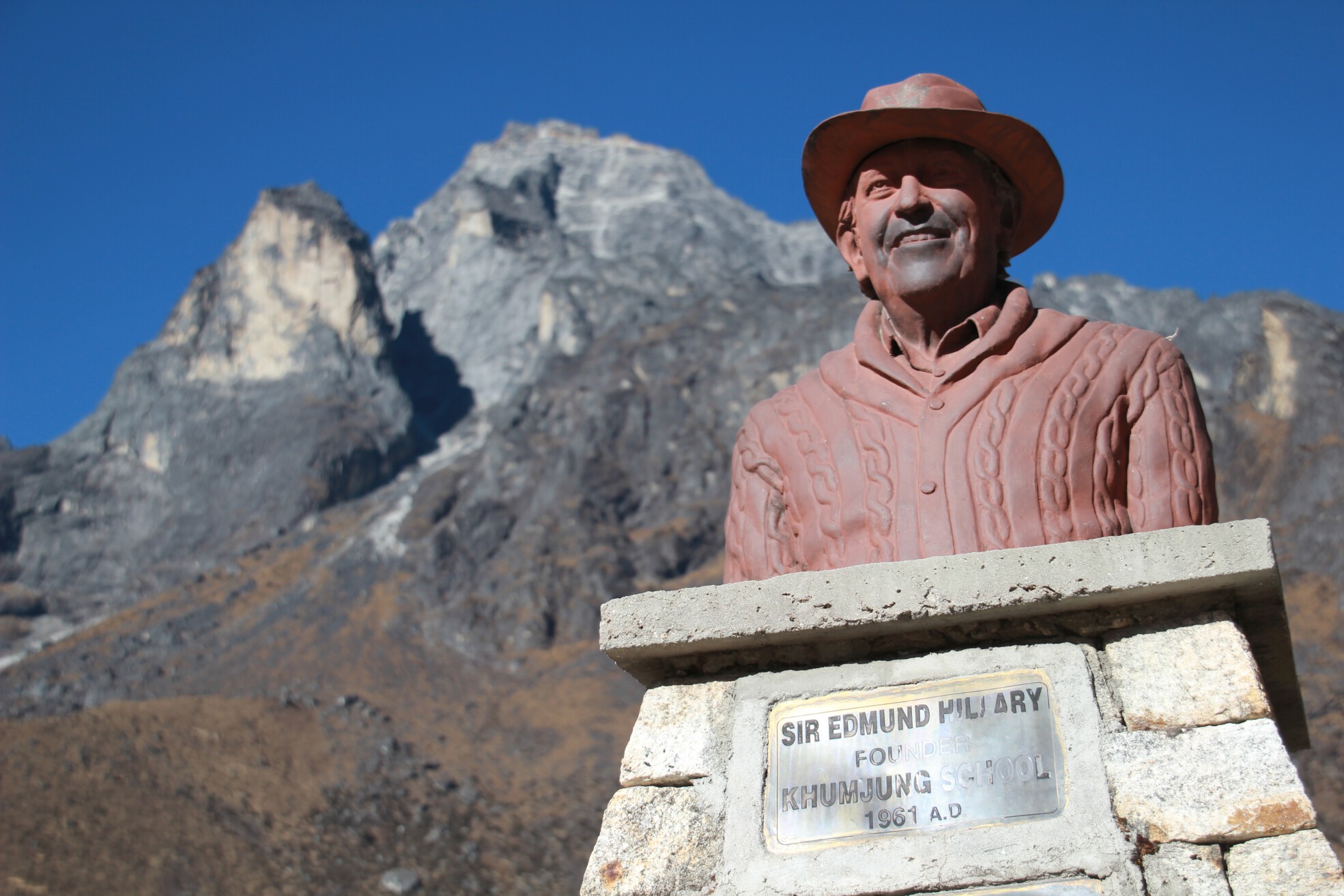 A statue of Sir Edmund Hillary stands in Khumjung, Nepal.
When we finally arrive, it's another emotional moment. I find myself speaking of our late father on camera, which is not something either of us expected to do. Our father never would have joined us on our trek to Everest Base Camp at his age — especially considering that there's not a golf course to be found anywhere in the Khumbu — but he would have been enthusiastic about our trip, reading the details of the route on the Internet to our Mom and tracking our progress from home.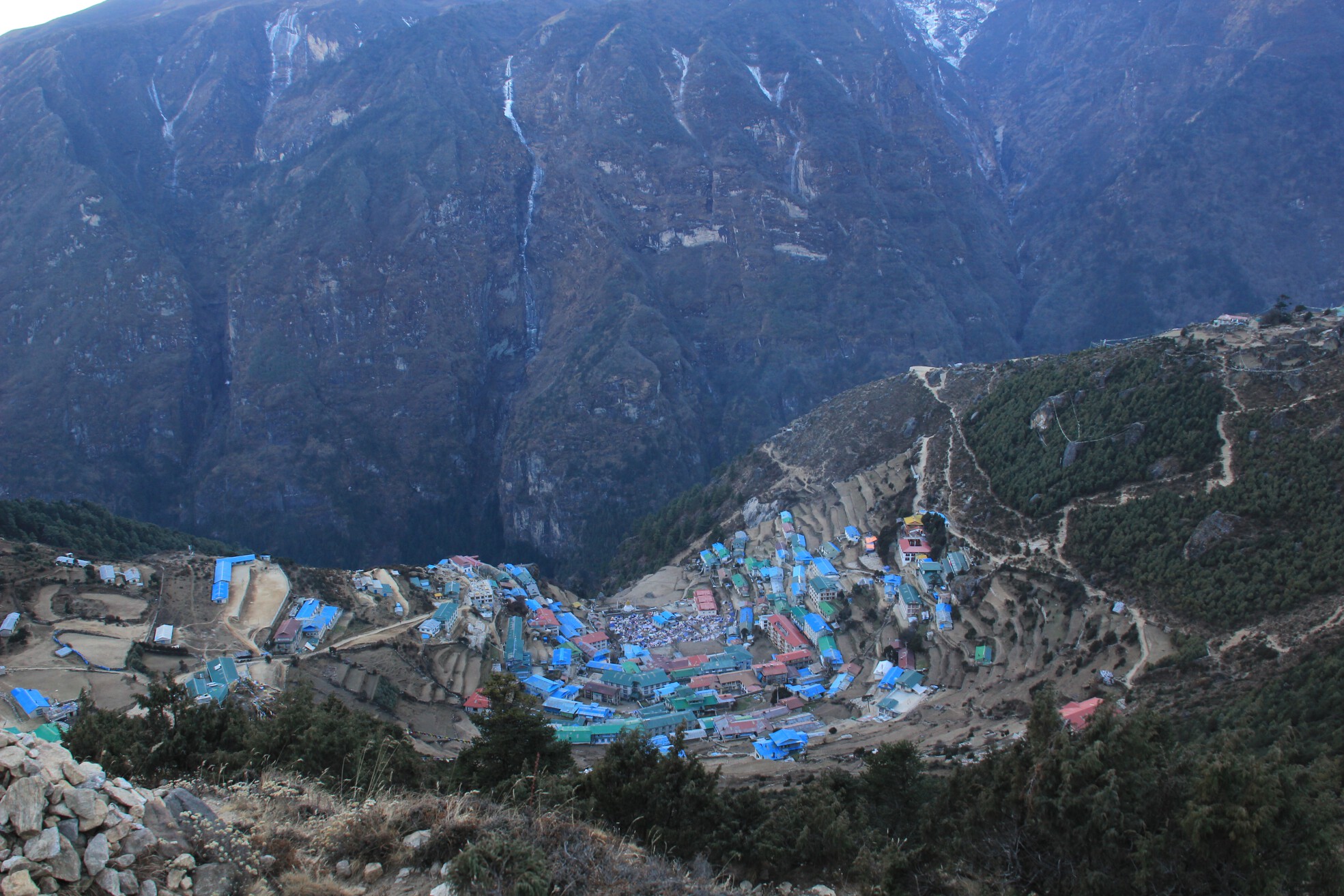 Dusk falls over Namche Bazaar, Nepal.
Ironically, on our way down from Base Camp, Brian and I have some of the most fun we've had during the entire trek, as we continue to film ourselves. We've both recovered from our stomach illness, and there's comparatively so much oxygen in the air that we feel like we could hike for weeks without stopping to rest or eat. We visit Pheriche's hiker clinic, where we learn that Cipro is mostly useless on the Everest Base Camp trek due to bacterial resistance. (If only I had started by taking my Azithromycin!) We visit Khumjung, where we eat the Everest Bakery's famous apple pie (delicious!), see an alleged yeti skull in the Khumjung Gomba, and visit the Edmund Hilary School, funded by Edmund Hilary, the first climber ever to summit Everest (guided by Sherpa Tenzing Norgay). Above Khumjung, we have a quick lunch at the famous Hotel Everest View, a comparatively luxurious, Japanese-built hotel which, bizarrely, has pressured rooms with piped oxygen originally built to allow wealthy tourists to take a helicopter directly to the Hotel without acclimatizing. Some of these scenes will fit into our movie, and some of them won't. But, we're having so much fun hiking and filming them that it doesn't matter to us much.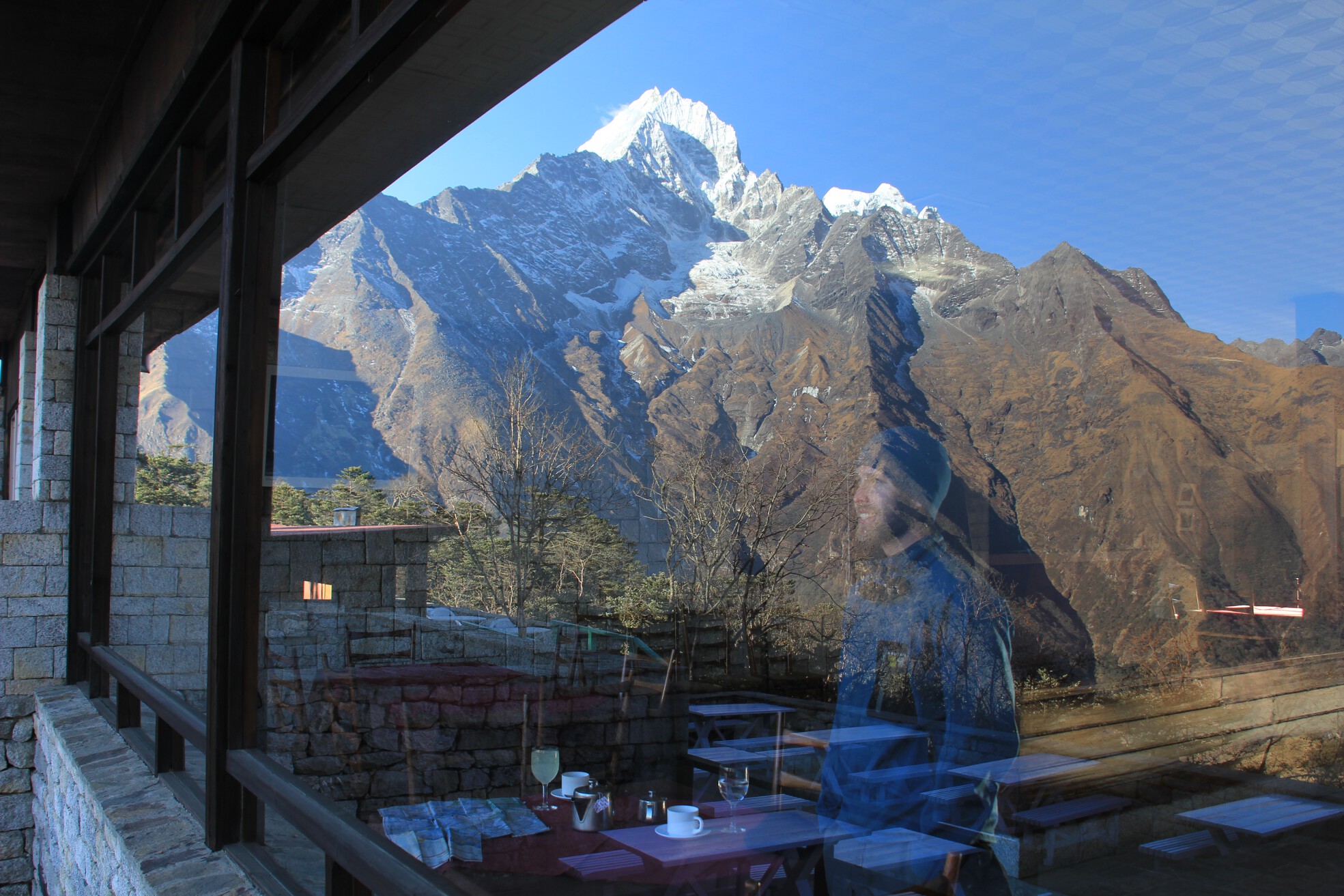 Brian gazes at Mount Everest through the window of the Hotel Everest View above Namche Bazaar, Nepal.
When we finally return to Lukla, Brian and I decide to treat ourselves for the first time in almost three weeks. We spend the last night of our trek at Lukla's excellent luxury Everest Summit Lodge, where we're served a full four-course meal. The place is quirky — they ask us to wear plastic sandals and scarves around which make us look like patients in a mental asylum, and our room is still unheated (though we're given electric blankets and our own hot shower). In the morning, we eat dinner next to a British family who seems ripped directly from an E.M. Forster novel ("Shall we vacation in Blackpool this year, my good fellows?"). Afterward, we wait for our flight in sandals and scarves, drinking tea in the lodge's courtyard, playing a board game and enjoying views of the Himalaya.
It's the kind of silly yet satisfying experience that Dad would have loved.
How to Trek to Everest Base Camp
Backpack:
15 days
140.9 km
8,098 m gain — 8,098 m loss
2,218 m min — 5,630 m max
OVERVIEW: The most commonly hiked route to Nepal's Everest Base Camp starts in the small mountain village of Lukla and ends in Gorak Shep, a remote outpost which serves as a jumping off point for hikers visiting Base Camp and Kala Patthar's fantastic summit. The trek's length is about 87 miles, but it's the elevation gain from 9,394 feet in Lukla to 17,334 feet at Everest Base Camp and 18,471 feet on Kala Patthar's summit that make this trek a challenge.
GEAR: The tea houses along the trail to Everest Base Camp make the trek unique, because the services they provide make it possible for trekkers to bring significantly less gear than they might otherwise on a trip of this length. We completed the trek without carrying a tent, sleeping bags or sleeping pads, and we carried only a minimal amount of snack food. Trekkers can eat all of their meals at tea houses (though the food is rarely great) and rely on tea houses to supply blankets. It's worth it for lighter backpacks.
LOGISTICS: Set at least three weeks aside for the the flights in and out of Nepal, a couple buffer days on either end of the trek in case of bad flying weather, and the trek itself. Book a normal commercial flight to Kathmandu, Nepal, then book the terrifying flight to the small mountain village of Lukla on a local Nepalese carrier. We booked ours through Yeti Airlines.
ROUTE: Here is the hiking and acclimatization schedule that we followed (excluding sick days):
DAY 1: Lukla to Phakding
DAY 2: Phakding to Namche Bazaar
DAY 3: Acclimatization day (suggested side trip to Thame)
DAY 4: Namche Bazaar to Tengboche
DAY 5: Acclimatization day (suggested side trip to Tengboche geocache)
DAY 6: Tengboche to Pheriche
DAY 7: Acclimatization day (suggested one-way side trip: Dingboche)
DAY 8: Dingboche to Lobuche
DAY 9: Lobuche to Gorak Shep to the Kala Patthar summit
DAY 10: Gorak Shep to Everest Base Camp and back
DAY 11: Gorak Shep to Pheriche
DAY 12: Pheriche to Tengboche
DAY 13: Tengboche to Namche Bazaar
DAY 14: Namche Bazaar to Lukla
View the route below or download the
Without Baggage
Everest Base Camp Trek GPS track in
GPX
or
KML
format.