JANUARY 12, 2011 — When a taxi drops me at a helipad marking the start of the strip of palm-thatched bungalows and small hotels with green-tiled roofs perched on the rust red cliffs above the Arabian Sea, I'm wearing North Face convertible pants, a long-sleeved, polypropylene shirt, and hiking boots. As I peruse the shops filled with jewelry and beachwear lining the crags above the sand, weaving through attractive European tourists wearing bikinis, sandals, and tank tops, I feel out of place. They look like they've spent the last three weeks drinking banana lassis and taking ocean-side yoga classes, while I've spent the last three weeks trekking to Everest Base Camp and backpacking through India.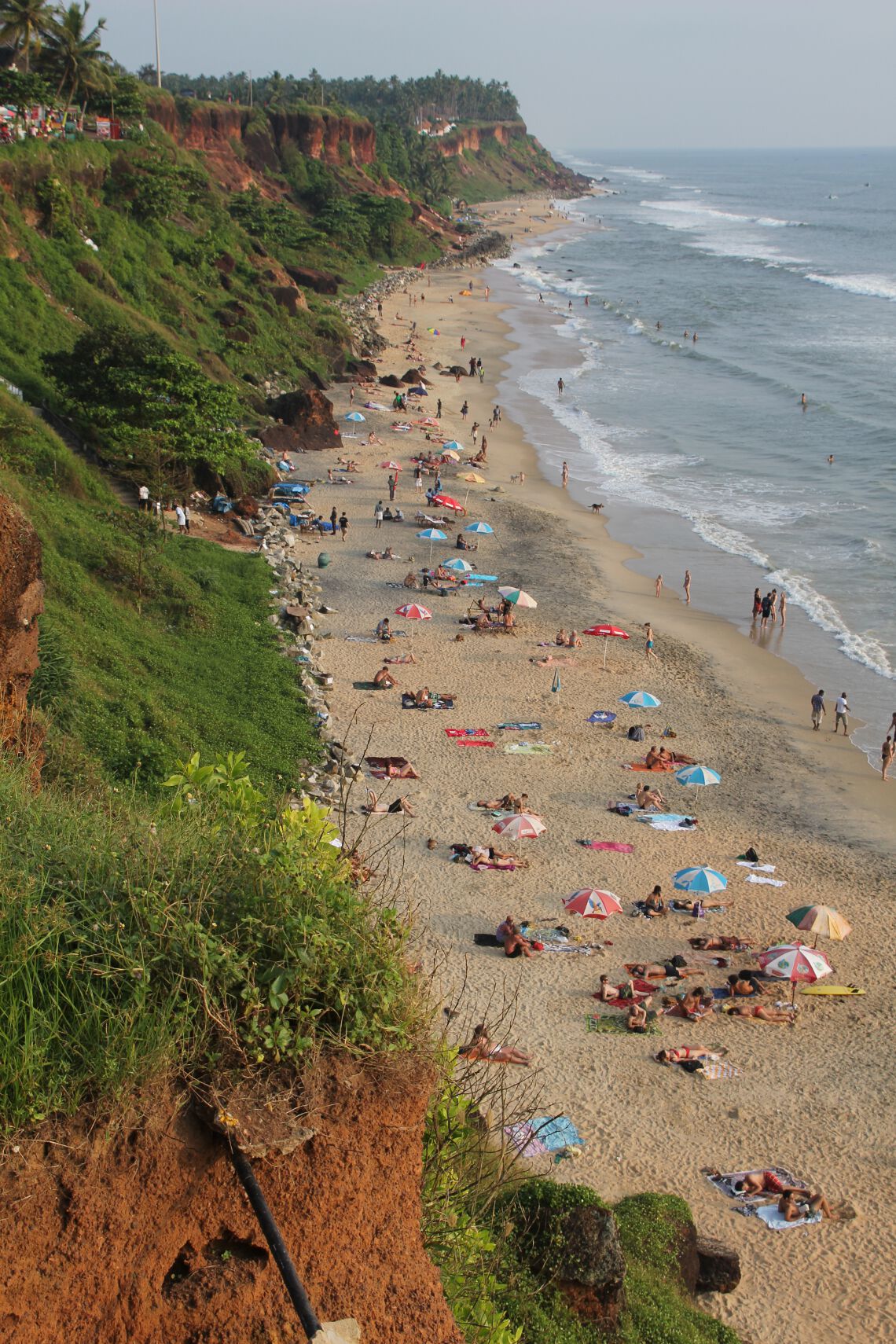 Tourists relax on the beach below cliffs in Varkala, India.
I'm walking by the open-air Kerala Coffee House when a brown-haired girl eating cheesecake and smoking a cigarette catches my eye. "Devorah!" I yell. She's a tourist from Tel Aviv, Israel, whom I know from my boat ride through the Kerala Backwaters to the ashram of Amma, India's hugging guru.
"What are you doing here?" I ask her, sitting down and ordering a banana lassi. I feel more relaxed already.
"Recovering," she says. I see that she, too, is wearing a tank top and sandals.
"From what?" I ask. She immediately launches into a heartbreaking story about an Indian guy with whom she fell in love while traveling who disappeared mysteriously two days ago. He ditched her without saying a word. I see tears in her eyes. I'm usually a sucker for unrequited-love stories, but, as I listen, I'm distracted by a man attached to a huge parachute who flies above our heads, over the cliffs and ocean.
"Did you see that?!" I exclaim, bewildered. "We have to do that!" She looks at me disappointed, as though she's just decided that I'm yet another guy who won't really listen to her and is about to disappear mysteriously.
"Look, that guy was a jerk," I say, assuring her that, indeed, I was listening. "But this will cheer you up." I ask our waiter, and he tells me that the paraglider is a Czech who has made Varkala his paragliding home. He tells me that, for US $20, the Czech will take any tourist waiting at the helipad on a tandem ride above the cliffs. Before she knows what's happening, I'm dragging Devorah toward the helipad.
We arrive just in time to see a small Asian woman, strapped to a tall Czech man, both attached to a bus-sized orange and purple parachute, land on the pavement. As the Asian woman detaches from the Czech guy, she yells to me in broken English, "It great; you must!"
"There's no way I'm paying 20 dollars to be strapped to that guy," Devorah says to me.
"I'll go first," I tell her. "But you're next."
"I'm Milos. You go? Twenty dollars," the Czech guy says. I start asking him questions about safety and steering and experience, but he looks at me, bewildered. "I don't really speak English," he says.
Indian men ogle Western women on a beach in Varkala, India.
What the hell, I think. I pull sandals out of my backpack and replace my hiking boots. I hand him a twenty-dollar bill, and Milos straps me to his chest.
"Run," he says. "Run!" Before I know exactly what's happening, we're running together toward the edge of a cliff that drops 200 feet below us to the beach. I'm pretty sure that we're both about to die, when, miraculously, we're flying above the ocean. He steers us along the rocky cliffs, sailing us over Indian men ogling European women on the beach below us and past cafes filled with people drinking lassis and eating South Indian curries.
When, after about 20 minutes of flying, Milos and I land breathlessly on the helipad, I blurt out to Devorah, "It great; you must!" She laughs. All the stress of dealing with Indian taxi drivers has melted away.
"There's no way I'm letting you strap me to that guy," she whispers. But, before she knows what's happening, I shove 20 dollars into Milos's hand and the two are running toward the edge of the cliffs.
I watch Devorah and Milos fly into the air, propelled by a strong wind above the cliffs. I watch them soar over the Arabian Sea, back and forth, letting the wind determine their course. When, finally, the two start flying back toward the helipad, I can see Devorah's wide eyes above me. She's not crying anymore.
How to Go Paragliding in Varkala, India
OVERVIEW: Varkala is a laid-back beach town in Southern India that, despite the creeping hotel industry, still feels somewhat underdeveloped and uncrowded. Stopping in Varkala makes for a mellow end to an India vacation, especially because practically every business above the beach offers cooking classes, yoga classes, and Ayurvedic massage.
LOGISTICS: Fly to Kerala's Cochin International Airport. Then, take a bus or taxi to the Eranakulam Junction train station. From there, it's a three-hour train ride to Varkala. You can also take a 30-hour train ride from Mumbai to Varkala. Upon arriving in Varkala, you'll need to take a rickshaw or taxi to the helipad which marks the start of the cliffs above the beach (40 Rs/US $1). There are plenty of bungalows and hotels atop the cliffs spanning most price ranges.
PARAGLIDING: Although no established, brick-and-mortar businesses in Varkala offer formal paragliding lessons, local paragliders often position themselves on the Varkala helipad on windy days and take tourists on tandem rides for US $20. The paragliders are always looking for ways to finance their flying addiction, so convincing one to give you paragliding lessons for a fee shouldn't be difficult.