JULY 26, 2011 — An enchanted, bluish-purple glow emanates from behind Angkor Wat, the largest temple in the world's largest religious complex, as my mom and I stand gazing toward it during the Cambodian dawn. It's 5:30 AM on New Year's Eve, and we're waiting with 300 other tourists and photographers, excitedly anticipating the moment when the sun becomes visible behind the temple's lotus-bud shaped towers and light floods over the ancient Khmer Empire.
Watching the sunrise at Angkor Wat has become a tourism cliche astonishingly quickly since 1996, when brutal dictator Pol Pot's Khmer Rouge regime, orchestrators of the Cambodian genocide between 1976 and 1978, finally lost power. The rapid construction of an international airport, modern roads, and luxury hotels in nearby Siam Riep has turned what used to be a far-flung and often dangerous adventure destination only twenty years ago into a line item on almost every tourist's (two million people in 2009) bucket list.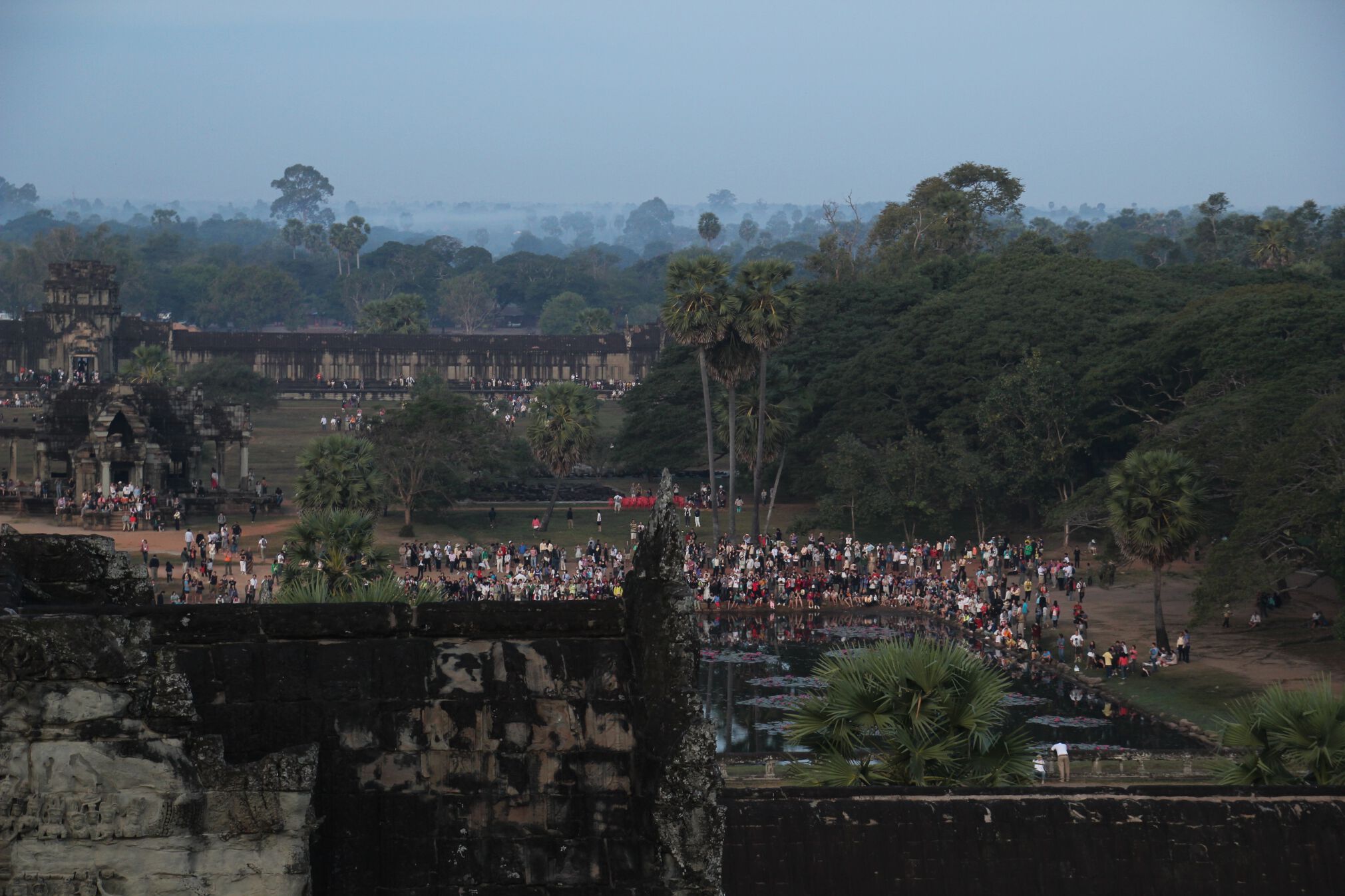 Tourists, as seen from the top of Angkor Wat, gather around the temple's reflection pool.
Unfortunately, 6,000 visitors per day, an army of luxury hotel brands, and swarms of Cambodian children hawking souvenirs can lessen the magic even of a destination as exceptional and remote as Angkor. My mom and I are still vying for a good spot to stand among hundreds of other tourists in front of a reflection pool when the sun finally starts to become visible behind the temple. The emerging sun reveals that parts of the ancient temple have been covered with scaffolding by archeologists working tirelessly on restoration projects to remove jungle overgrowth and rebuild destroyed parts of the temple. Some of these restoration projects are controversial, because it's difficult for archeologists to strike the right balance between restoring Angkor to its former glory while honoring the history and mystique of an ancient city reclaimed by the Cambodian jungle.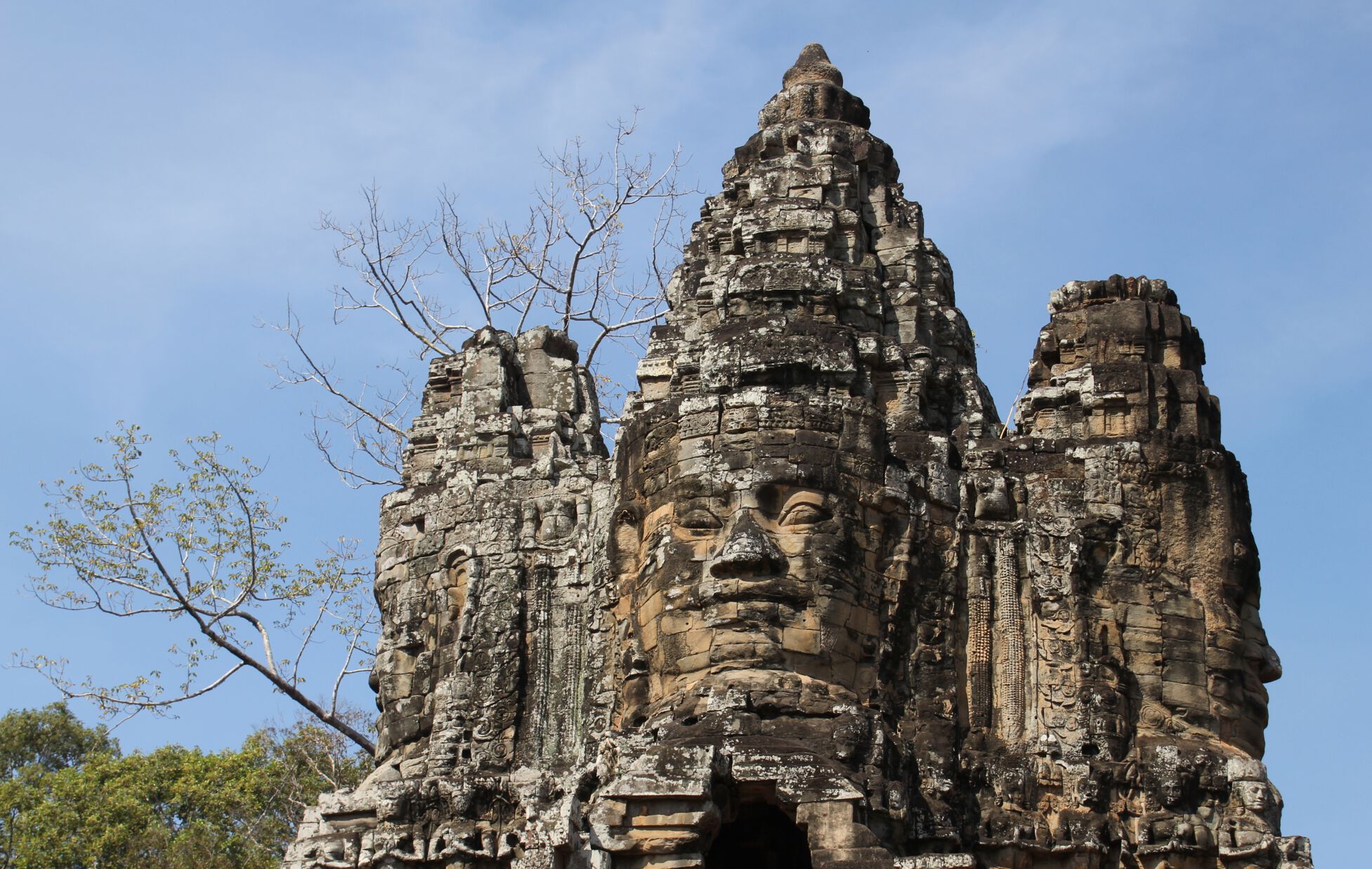 A stone face stands guard above one of the entrance gates to Angkor.
Seeing the temple, partly obscured by tarps and restoration equipment, emerge from the darkness for the first time is a remarkable sight, but it's not exactly the experience of ancient discovery for which I was hoping. After snapping some photos, my mom and I decide to escape into the temple. We climb as high as we can in an attempt to avoid the throngs of tourists. The moment regains some magic when, after sneaking to the top of one of the temple's towers, we see a fantastic expanse of tourists surrounding the reflection pool backed by a lush, fog-covered view of the Cambodian countryside. Nevertheless, I can't help but feel that any chance of feeling like one of the first explorers who stumbled upon Angkor — discovering an ancient city hidden in a remote Southeast Asian jungle — was destroyed by tourists, mass-produced souvenirs, and restoration projects long before I arrived.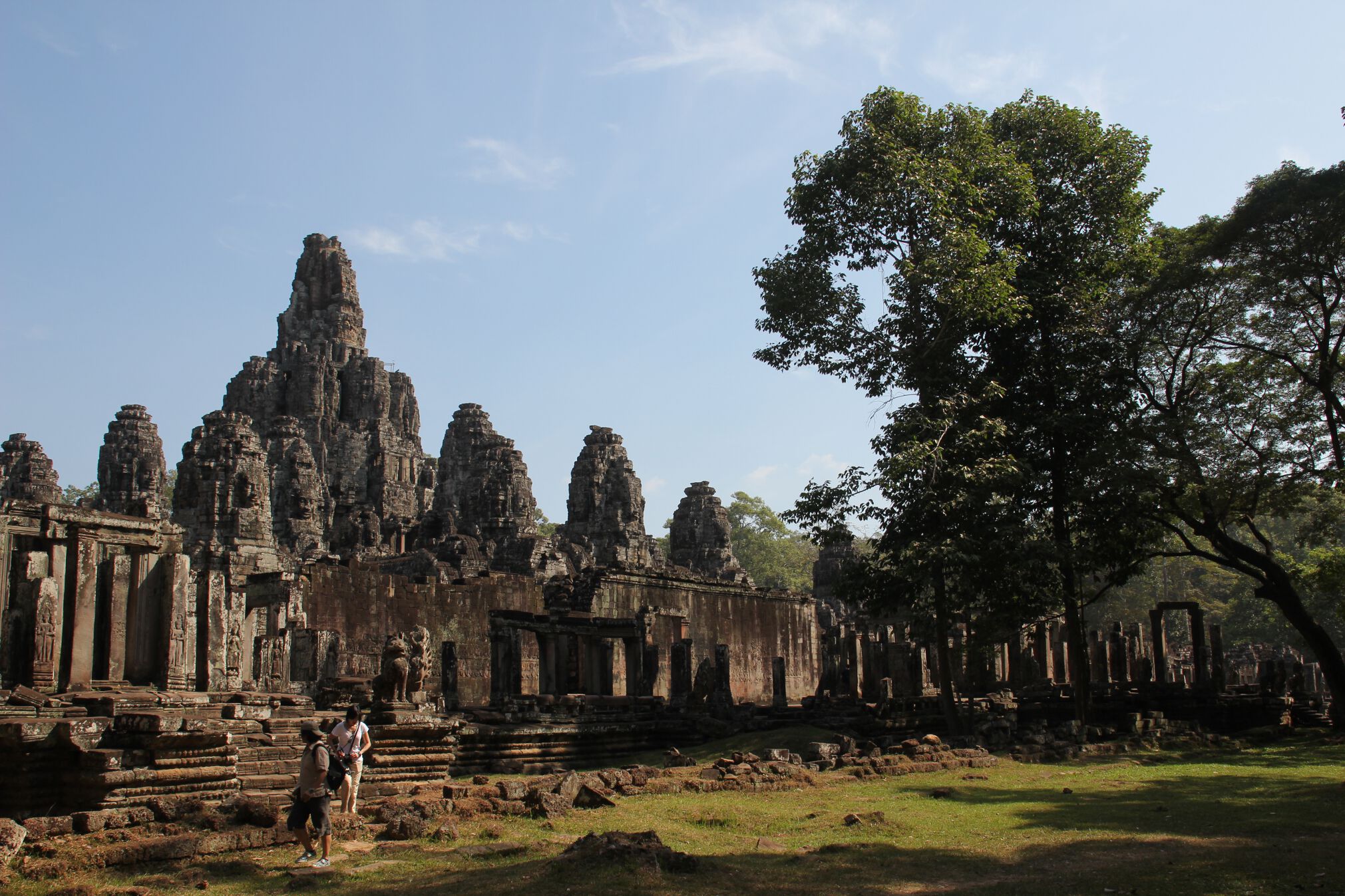 Hundreds of stone faces watch over visitors to the Bayon temple in Angkor Thom.
This is one of the reasons that, when we visit another site, Angkor Thom, with our friends Bill, Stu, Shelley, and our Cambodian guide named Chan, I pronounce it to be my favorite part of Angkor. Angkor Thom, the last capital city of the Khmer Empire (which comprised modern-day Laos, Thailand, Myanmar, and Malaysia) encloses many monuments within its city gates and a large temple called Bayon.
The five of us have seen the seemingly-never-ending hallways of Preah Khan, the island and hidden animal statues surrounding Neak Pean, the reliefs of female dancers (apsaras) at Banteay Kdei, and the enormous trees infiltrating Ta Prohm. We've seen the surprisingly well-preserved bas-reliefs and towers at Angkor Wat at sunset, during the day, and even at sunrise.
But my first glimpse of Angkor Thom burrows deeply and unshakably into my imagination. There aren't many manmade sights on Earth — only India's Taj Mahal and Egypt's Karnak Temple come to mind — that have made me feel this way. Most tourists usually aren't familiar with Angkor Thom before visiting Angkor, because magazines and guidebooks always feature Angkor Wat in the bold headline. As a result, there are fewer tourists with us there — but that's not the full explanation for my dedication to the place.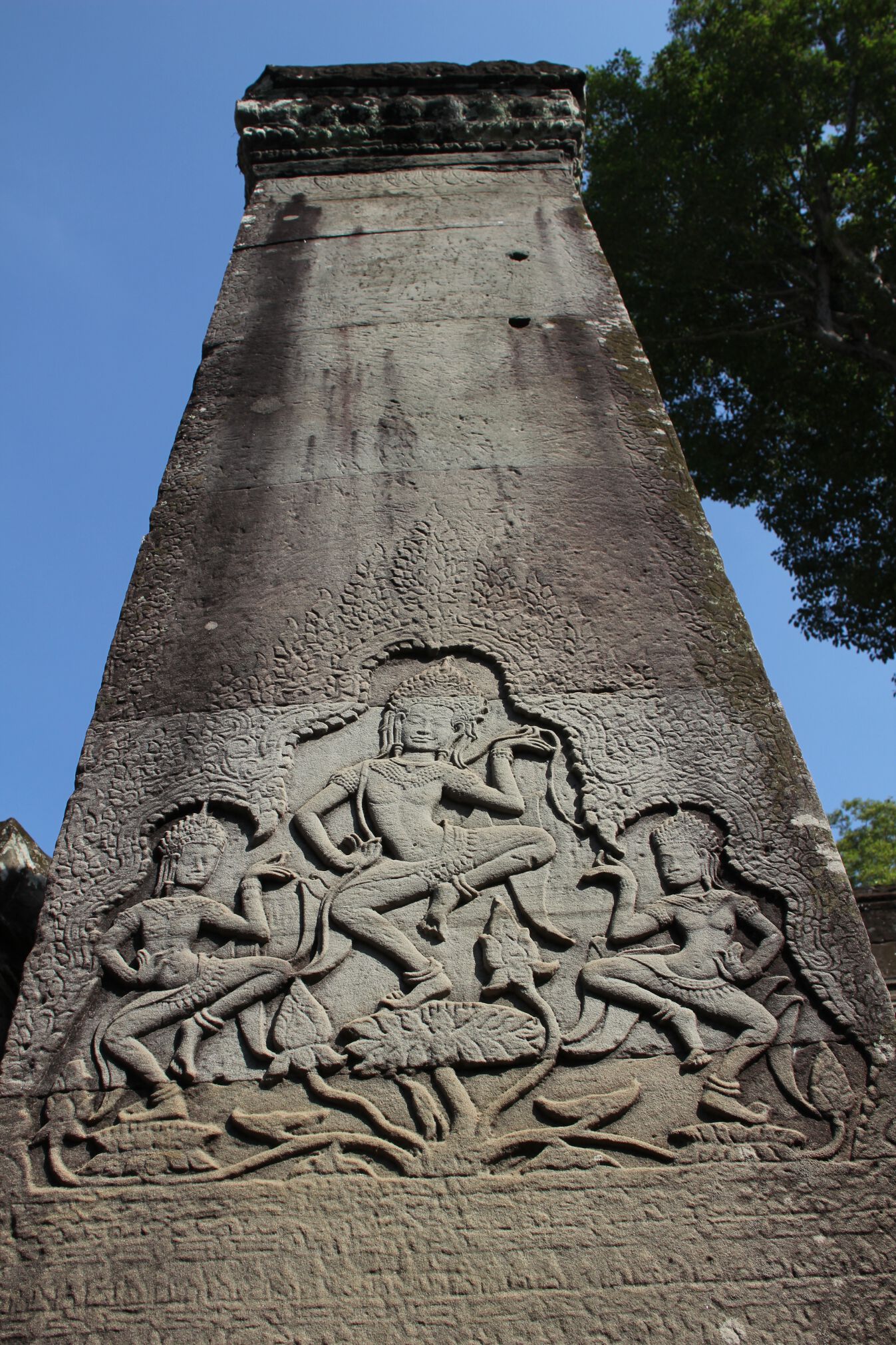 Apsara dancers adorn the walls of Bayon in Angkor Thom.
It's impossible to argue with the fact that the architecture and art at Angkor Wat is extraordinary: the intricate bas-reliefs depicting significant scenes from Buddhist and Hindu history and the quincunx of lotus-bud towers are one-of-a-kind. But the experience of walking through Angkor Thom evokes a unique mood unlike that of Angkor Wat and the rest of Angkor's temples.
In Bayon, we see walls covered with carvings of apsaras (beautiful, supernatural dancers) and devatas (female temple guardians). As we wander through the temple, 216 nearly identical stone faces tower above us, and I find these half-creepy, half-beautiful visages more inspiring than all of the bas-reliefs in Angkor Wat. With so many enormous faces looking down at me, I somehow feel a sense that something or someone more powerful than I is watching over me.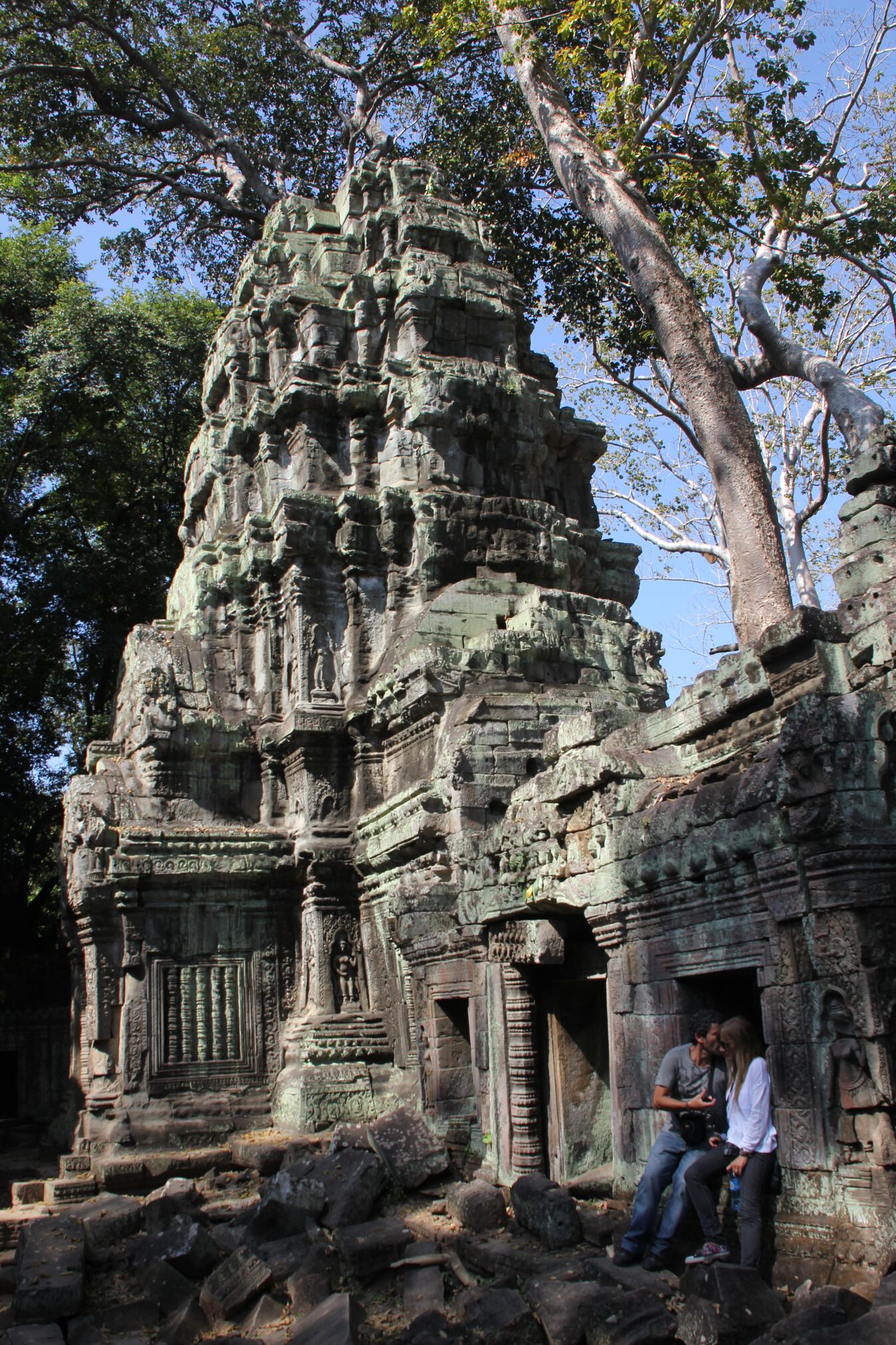 A couple kisses in Ta Prohm.
Of course, part of this feeling could be that, for me, this visit to Angkor is the end of a two-month Asian adventure, which has included a trek to Everest Base Camp with my brother, a two-week solo backpacking trip through India, and a cycling trip across Vietnam with my mom. Angkor Thom and Bayon feel like a magical ending to an already brilliant travel experience.
At the end of the day, our guide, Chan, leads us back to our luxury hotel (I know, I know), which is preparing for a Western-style New Year's Eve celebration. In the evening, boxing matches will be staged, an enormous ice sculpture of the words "Happy New Year 2011" will be floating in the hotel pool, and a group of young Cambodian singers will sing American 1980s hits (including "Material Girl," of which I am sure they are totally unaware of the cultural implications), all for us. Afterward, I will celebrate New Year's Eve with thousands of other tourists on Bar Street, a Siam Reap thoroughfare lined with bars and clubs playing popular American dance hits that has become one of the nightlife capitals of Southeast Asia.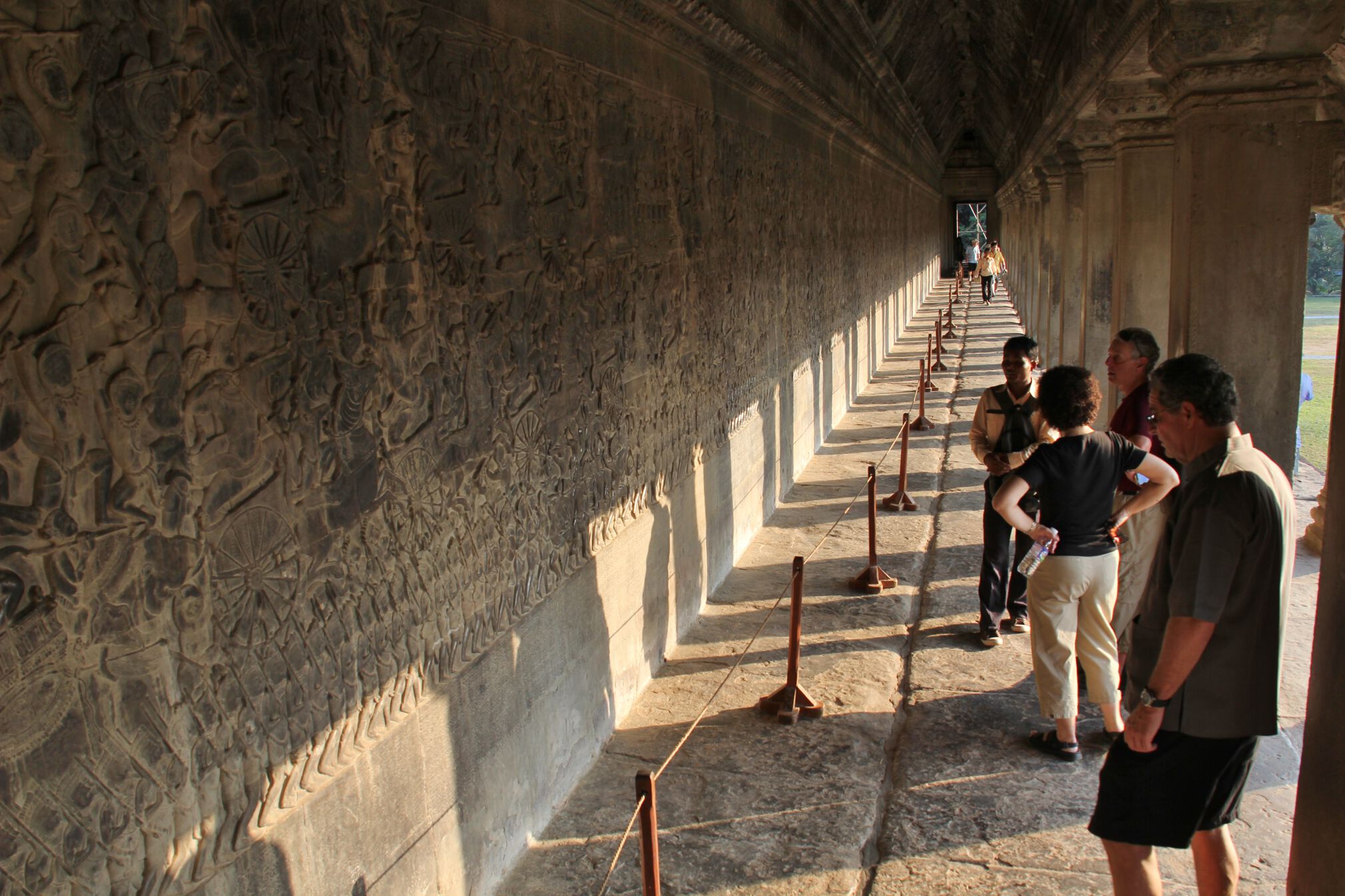 Tourists look at the beautiful and intricate bas-reliefs in Angkor Wat.
As we say goodbye to Chan, he glances over at a wireframe of a flying sleigh covered in Christmas lights driven by Santa Claus and his reindeer that the hotel has erected on the front lawn.
"Excuse me, but may I ask you one question before you go? I don't really understand Christmas," Chan admits, looking confused. "Why do the reindeer fly? And how?"
"They fly so that they can carry Santa's sleigh around the world to deliver toys and gifts," my mom explains.
"Toys? Where do they come from? Who pays for them?" Chan asks innocently. I realize that trying to explain the logistical intricacies and quirks of Christmas to a grown man who didn't grow up surrounded by Christmas pageants and decorated department store windows is almost impossible.
It's a strange moment. I start thinking about how to answer his questions, but I stop. I look out toward the paved roads and luxury hotels and restoration projects that have changed the ancient Khmer capital forever.
Mostly, I decide, I want to tell him that reindeer fly and Santa's elves make all of the toys. I want to keep the magic alive just a little bit longer.
How to Take a Cycling Trip Through Angkor
Cycle:
70.8 km
370 m gain — 370 m loss
1 m min — 90 m max
OVERVIEW: Angkor is a Cambodian city that served as the capital of the Khmer Empire. It's the largest religious complex in the world, covering 386 square miles, including 72 temples and buildings.
LOGISTICS: To get to Angkor, most take one of the many direct flights from Bangkok, Thailand to Siam Reap International Airport, though there are also direct flights from Ho Chi Minh City, Hanoi, Incheon, and Singapore. For a cheaper trip, it's also possible to take a bus (10 to 14 hours, US $10 to US $12) or a taxi (3 to 4 hours, US $40) from Bangkok or Phnom Penh (US $5). Finally, boats to Siam Riep are also available from Phnom Penh (US $20, 5 to 6 hours). In Angkor, we stayed at the luxury Borei Angkor Resort and Spa, though much cheaper, adequate accommodations are also available.
CYCLING: Our three-day cycling trip through Angkor was an add-on to our Vietnam cycling trip that we booked through bicycle vacation company Ciclismo Classico. The company arranged a cycling guide, bicycles, a chase van, luxury hotel accommodations, meals, and the route for us. Using a company like Ciclismo Classico is a great choice if the idea of planning a cycling trip in Southeast Asia on your own seems too daunting. But, if you're only planning on cycling Angkor, it is easy to rent bicycles when you arrive for cycling through the complex (US $1 to $2 per day).
ROUTE: View our route and download the Without Baggage Cycling Vietnam and Cambodia GPS track in GPX or KML format.