JULY 25, 2017 — On December 28, 2016, President Obama set aside 1.3 million acres of federal land in southeastern Utah, to be known as Bears Ears National Monument. To protect the land, Obama used the Antiquities Act, the same law that Teddy Roosevelt used in 1908 to protect the Grand Canyon. Native American groups and environmentalists hailed Obama's decision, but oil, gas, and mining companies and Utah Republicans opposed the creation of the Monument. In May, I asked my friend Jake to join me on a trip to Utah for a hiking and paddling trip to explore Bears Ears. There, we discovered adventure — and an ongoing political fight that epitomizes the strange culture war sweeping America.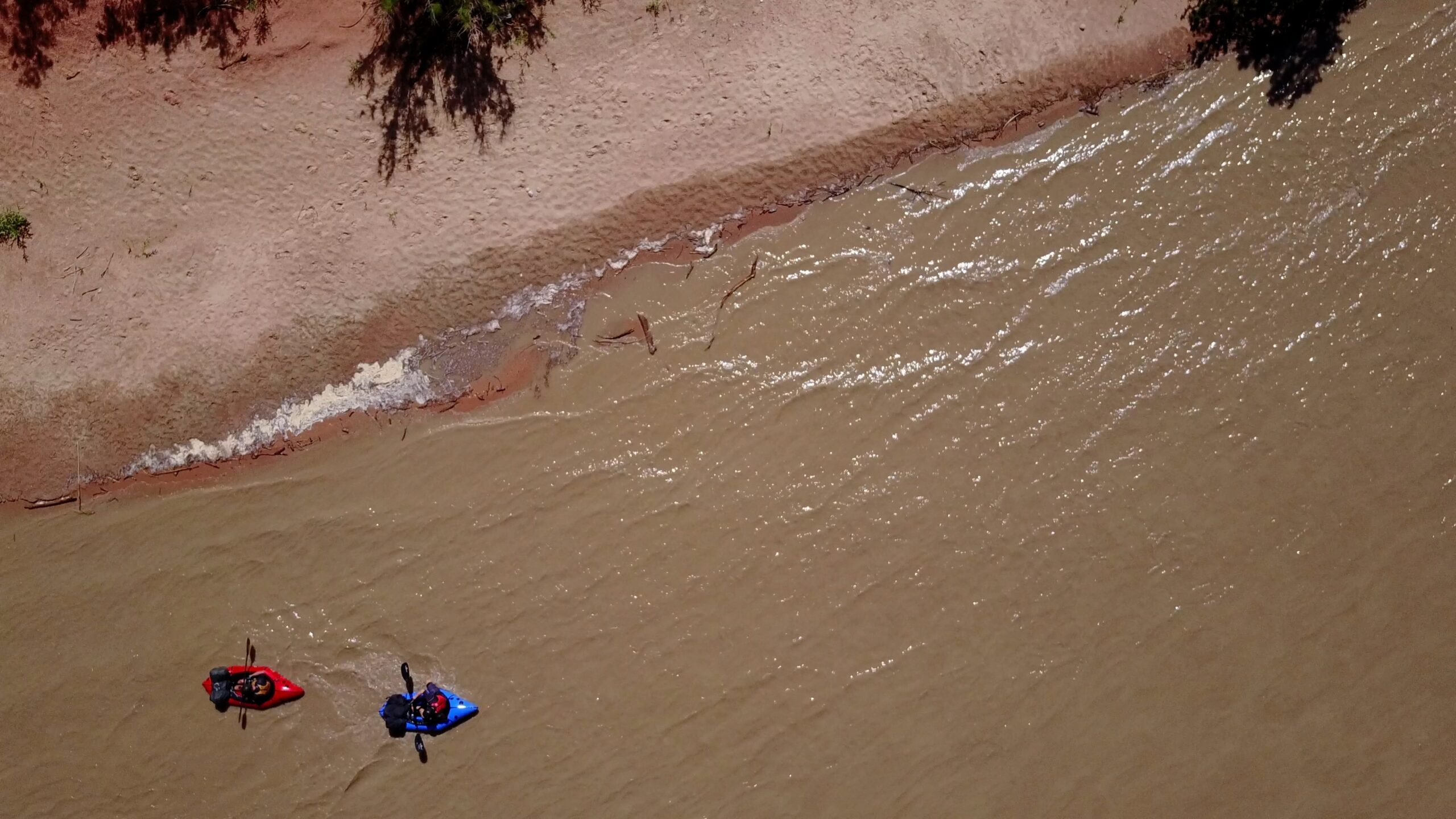 Packrafters paddle down the San Juan River.
How to Hike and Packraft Bears Ears and the San Juan River
Packraft:
Bears Ears National Monument,
Utah
4 days
40.8 miles
5,005 ft gain — 4,353 ft loss
3,708 ft min — 6,173 ft max
OVERVIEW: The one-way packrafting trip starting at the Honaker Trailhead in Bears Ears National Monument, down the San Juan River, and through Slickhorn Canyon to Polly Mesa, is a strenuous, three or four day wilderness trip with 18 miles of hiking and 23 miles of paddling. The route takes hikers on the historic, rugged Honaker Trail, down a beautiful section of the San Juan River, and, finally, through Slickhorn Canyon, with fantastic scenery, archaeological sites, remarkable geographic features, and desert wildlife.
LOGISTICS: Fly to Salt Lake City, Utah (5-hour drive), Flagstaff, Arizona (4-hour drive), or Grand Junction, Colorado (4-hour drive). (You can also consider Page, St. George, or Moab, if you're flying from a nearby regional airport.) Rent two cars — high-clearance vehicles are essential; four-wheel-drive is recommend in case of rain — and drive them to the Kane Gulch Ranger Station to pick up your overnight permit. Then, drive both cars for 30 minutes to Polly Mesa by driving on south UT-261, then turning west onto Slick Horn Road (after 9.6 miles, unmarked and unpaved) and leaning left onto Point Lookout Road (after 2.6 miles, unmarked). Leave one car there, and drive the other car to the Honaker Trailhead above the San Juan River by returning to UT-261 and continuing south for 18.3 miles. Then, turn right on UT-316 and then lean right after a half mile onto Johns Canyon Road.
PERMITS: A float permit from the Bureau of Land Management is required year-round to paddle the 102-mile section of the San Juan River between Montezuma Creek and Clay Hills, Utah. Permits are issued through a pre-season lottery and by reservation for the permits remaining after the lottery. Permits can be reserved on Recreation.gov. In addition, a permit is required year-round for those hiking or camping in Grand Gulch or Slickhorn Canyon. Overnight permits must be obtained on the morning of the first day of the trip at the Kane Gulch Ranger Station, though permits can be reserved up to 90 days in advance by calling the the BLM Monitcello Field Office at (435) 587-1510.
PACKRAFTS: The itinerary below requires packrafts, five-pound rafts that can fit into a backpack. They tend to be stable, forgiving crafts that flow over waves easily and are resilient when bouncing off sharp rocks. Hypothermia is a risk; it's easy to get very cold while rafting in cold weather because you expend less energy than you do while hiking. Packrafts position you almost directly on the water's surface, so you will get wet. Wear warm, synthetic clothing, and put on more layers than you would for hiking. Be sure to bring a patch kit (duct tape, Aquaseal) in case a valve leaks or you manage to punch a hole in the raft — otherwise, you could end up with an unexpected, long hike home.
ROUTE: We completed this trip in four days, though the first two days could easily be compressed into one.


DAY 1: Hike from Honaker Trailhead to Honaker Camp (3.2 mi, 1,458 ft descent, 3 hours)
DAY 2: Packraft from Honaker Camp to Johns Canyon (14.9 mi, 3 hours)
DAY 3: Packraft from Johns Canyon, through Government Rapid, to Slickhorn Canyon (7.8 mi, 3 hours) and hike into Slickhorn (2.7 mi, 1,162 ft gain, 3 hours, difficult)
DAY 4: Hike from Slickhorn Canyon to Polly Mesa (10.6 mi, 3,308 ft gain, 8 hours)
View the route below or download the
Without Baggage
Bears Ears Packraft GPS track in
GPX
or
KML
format.